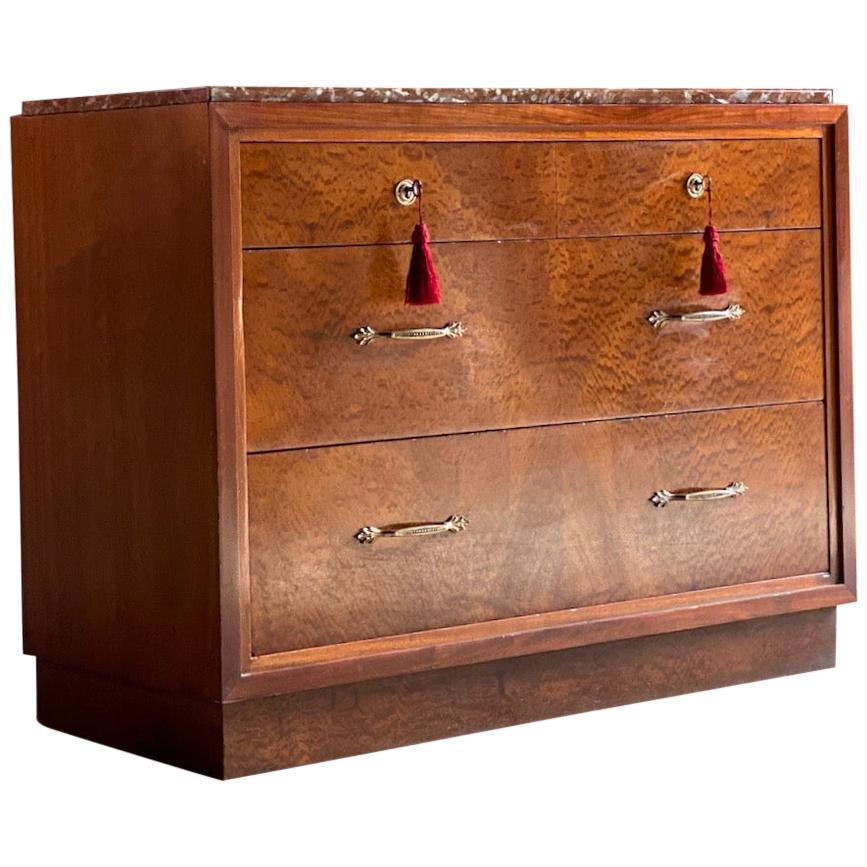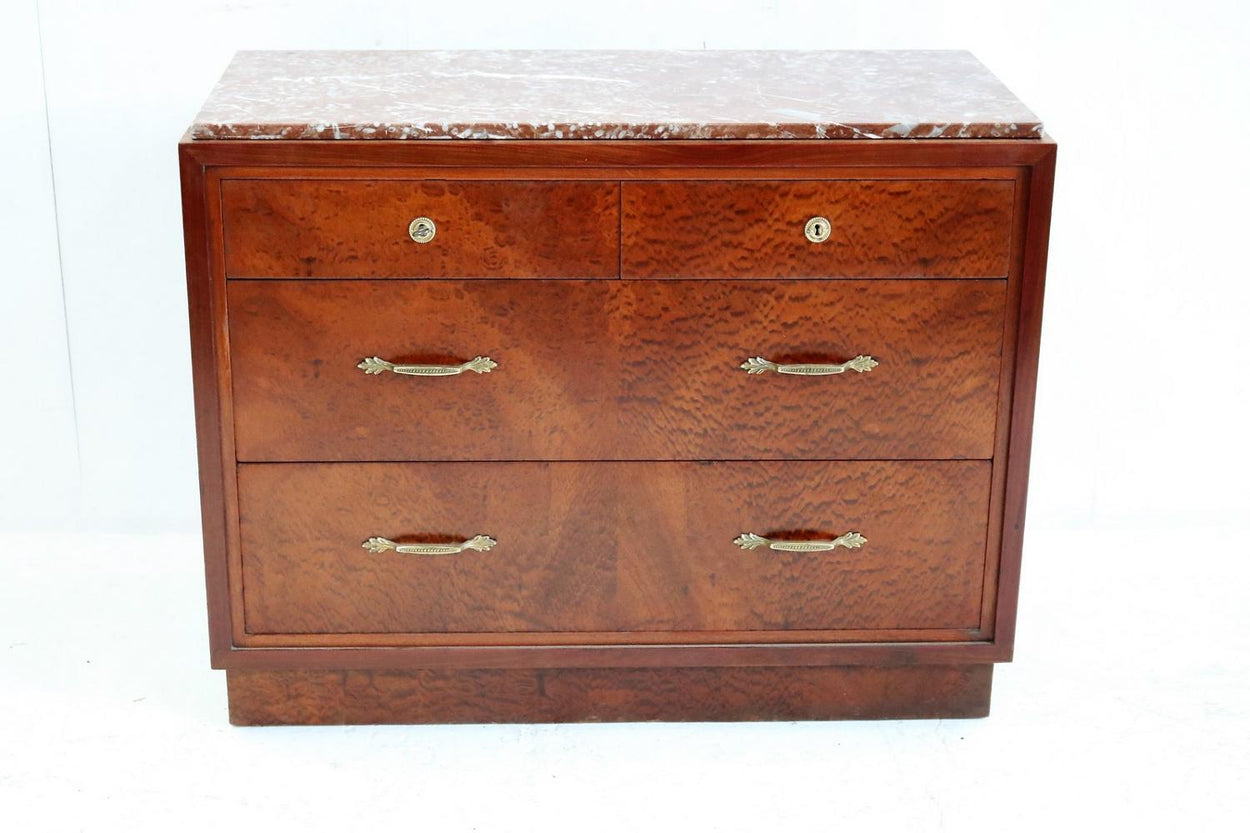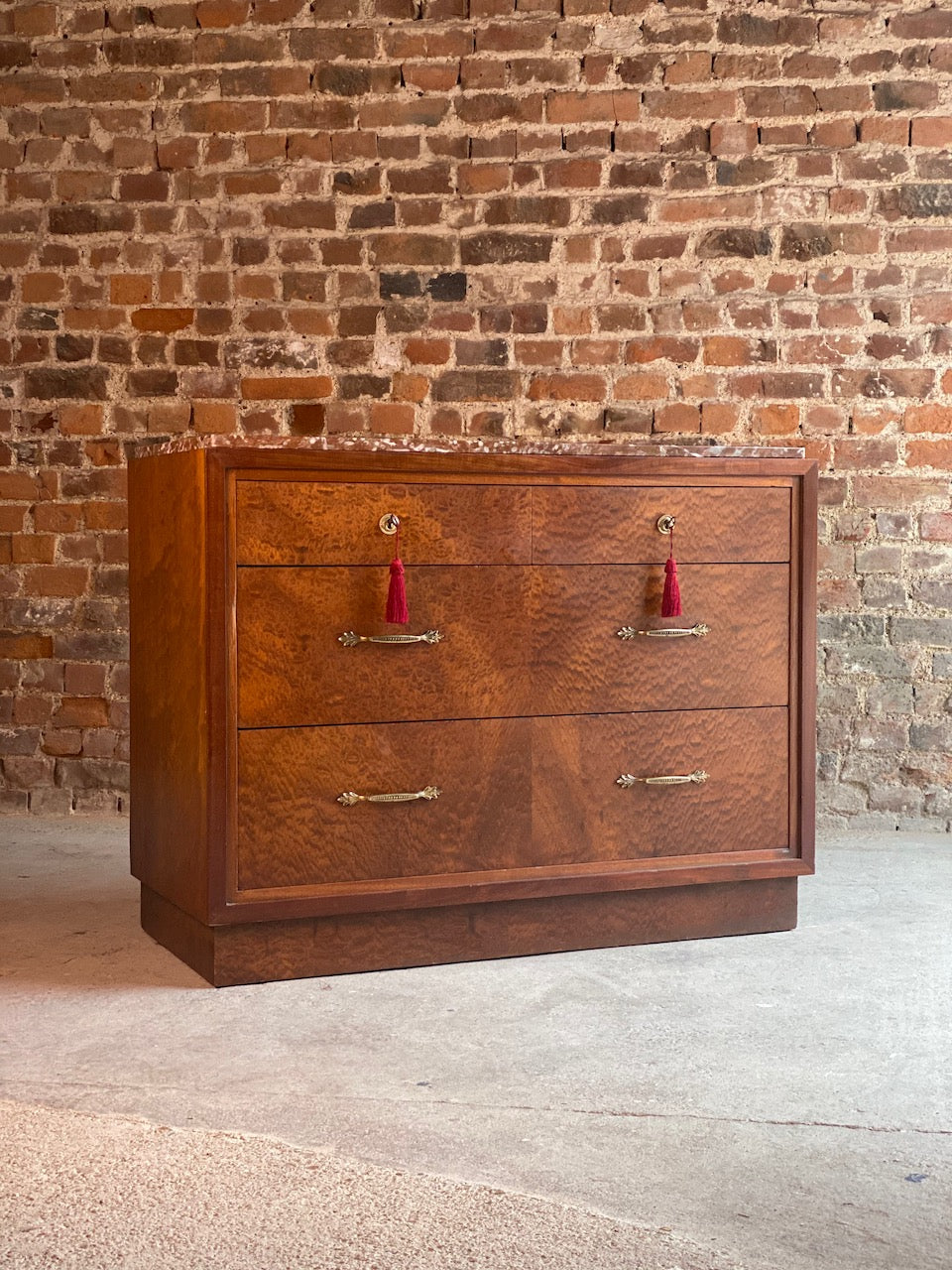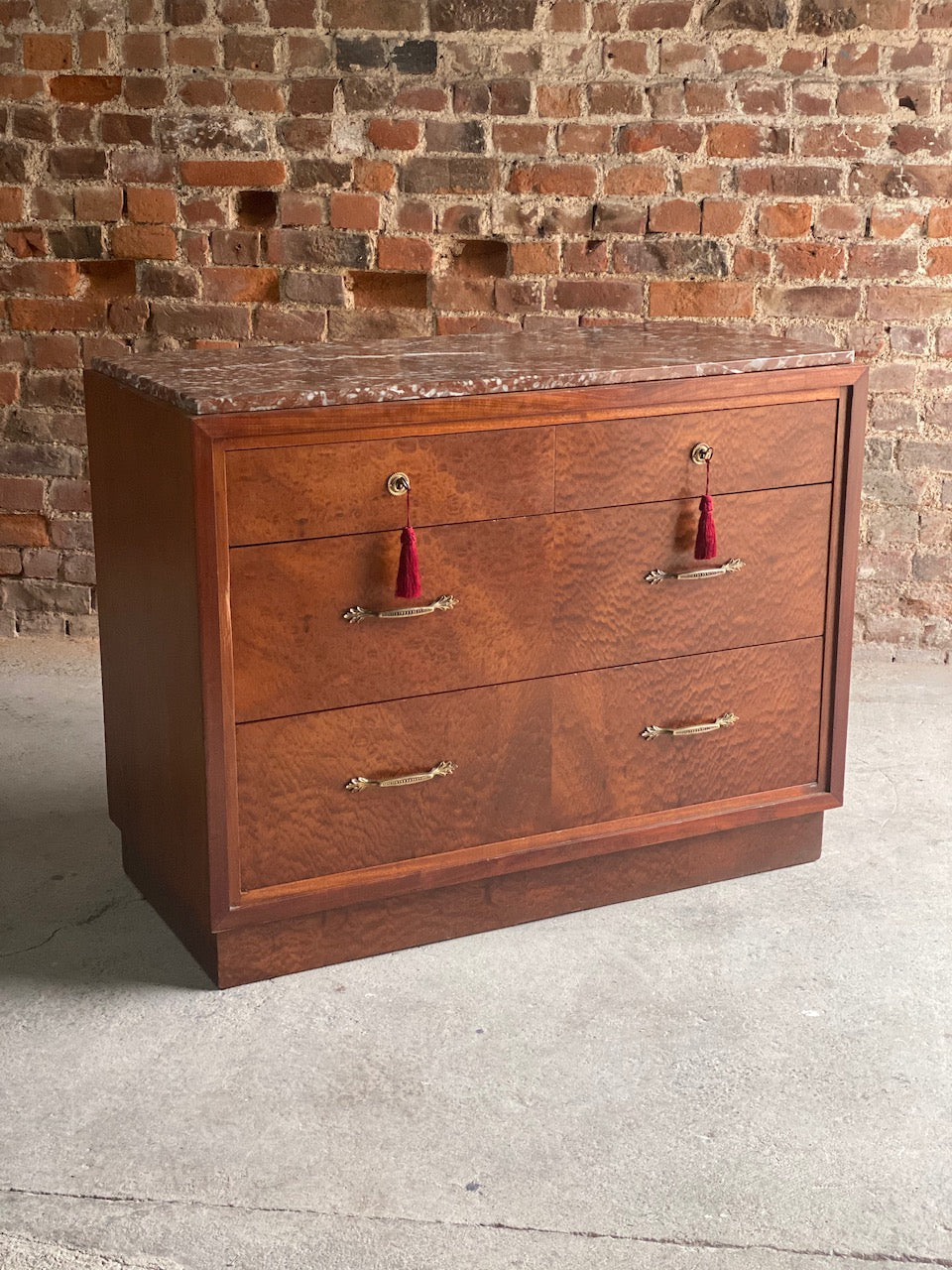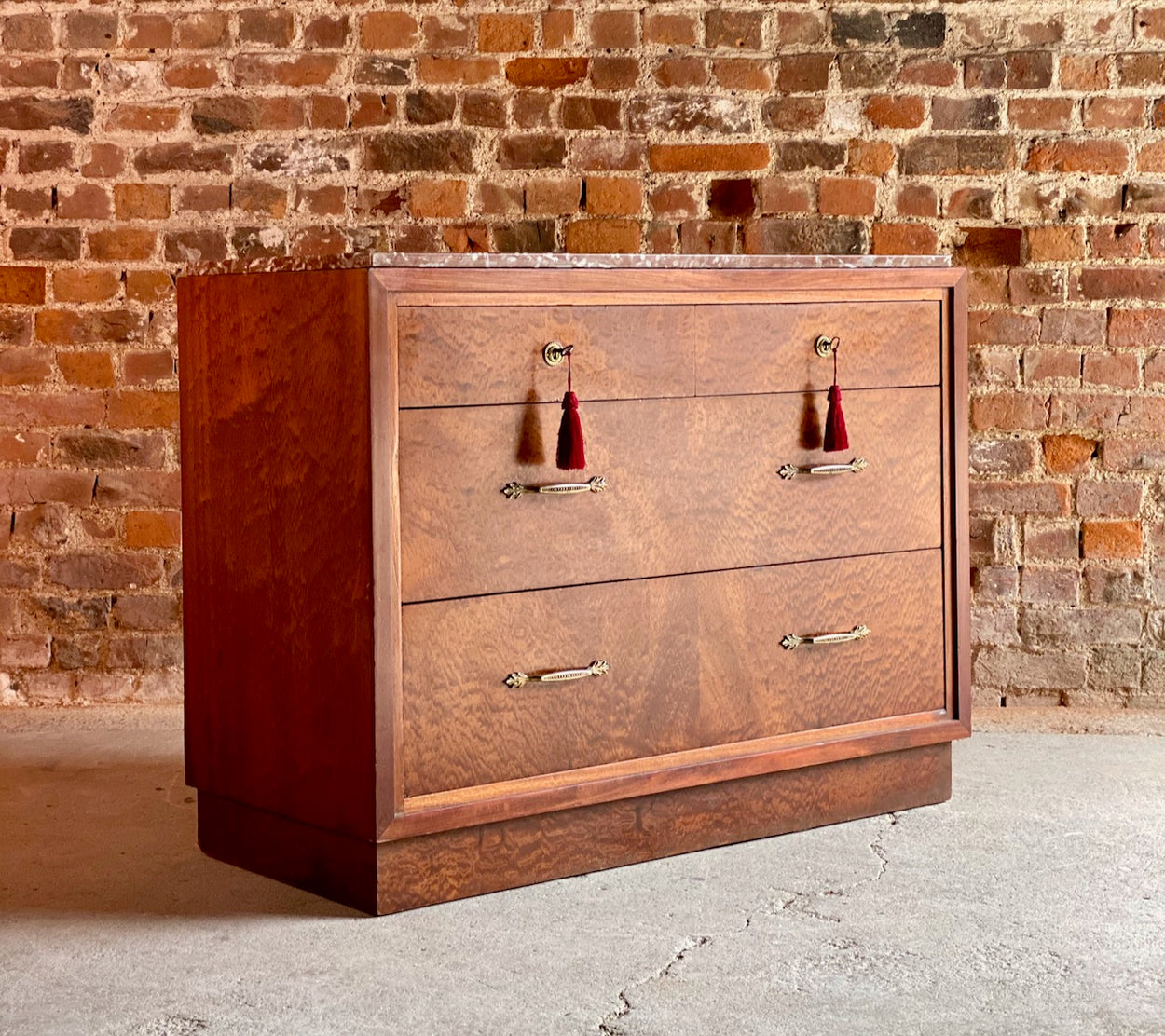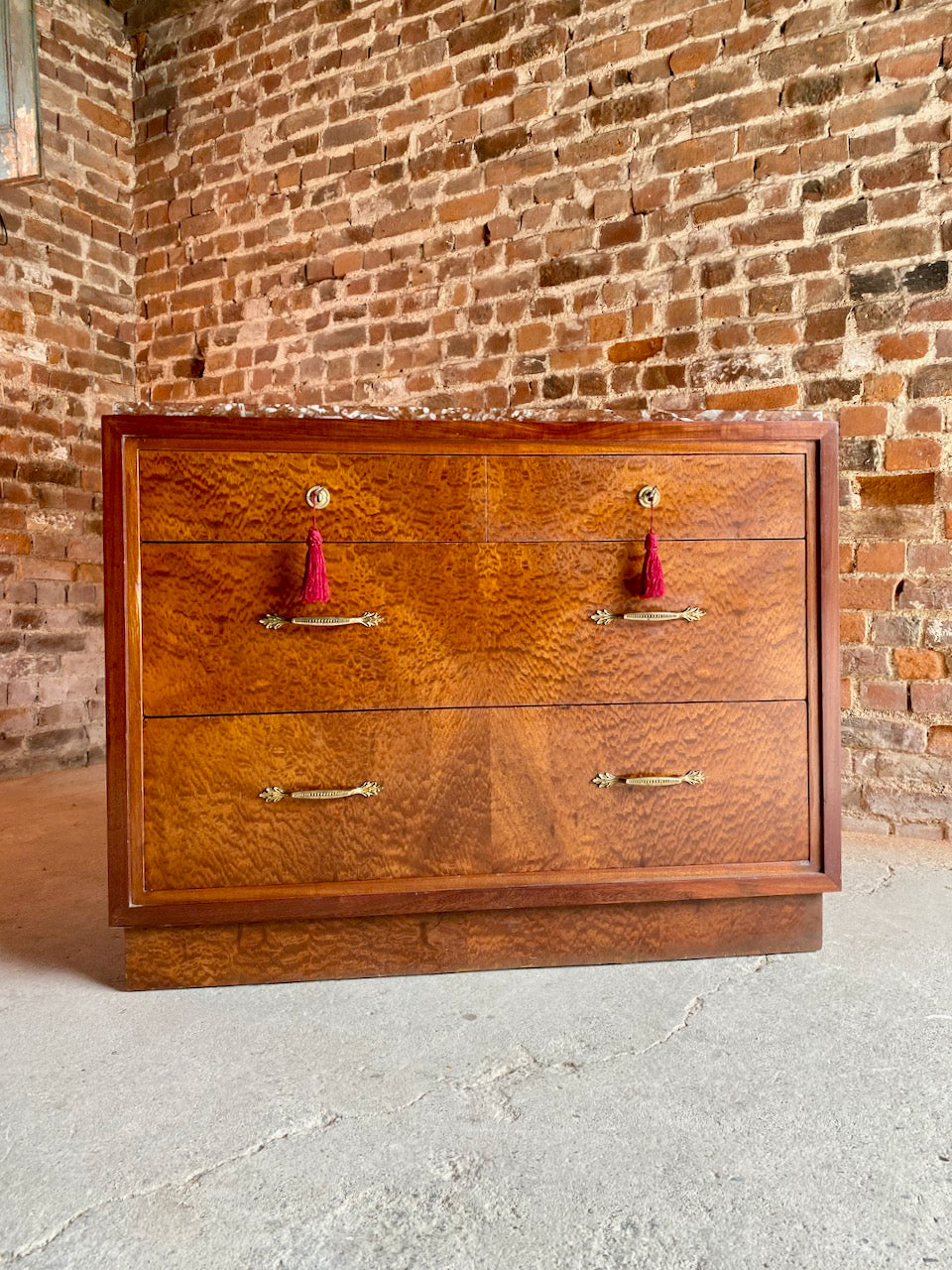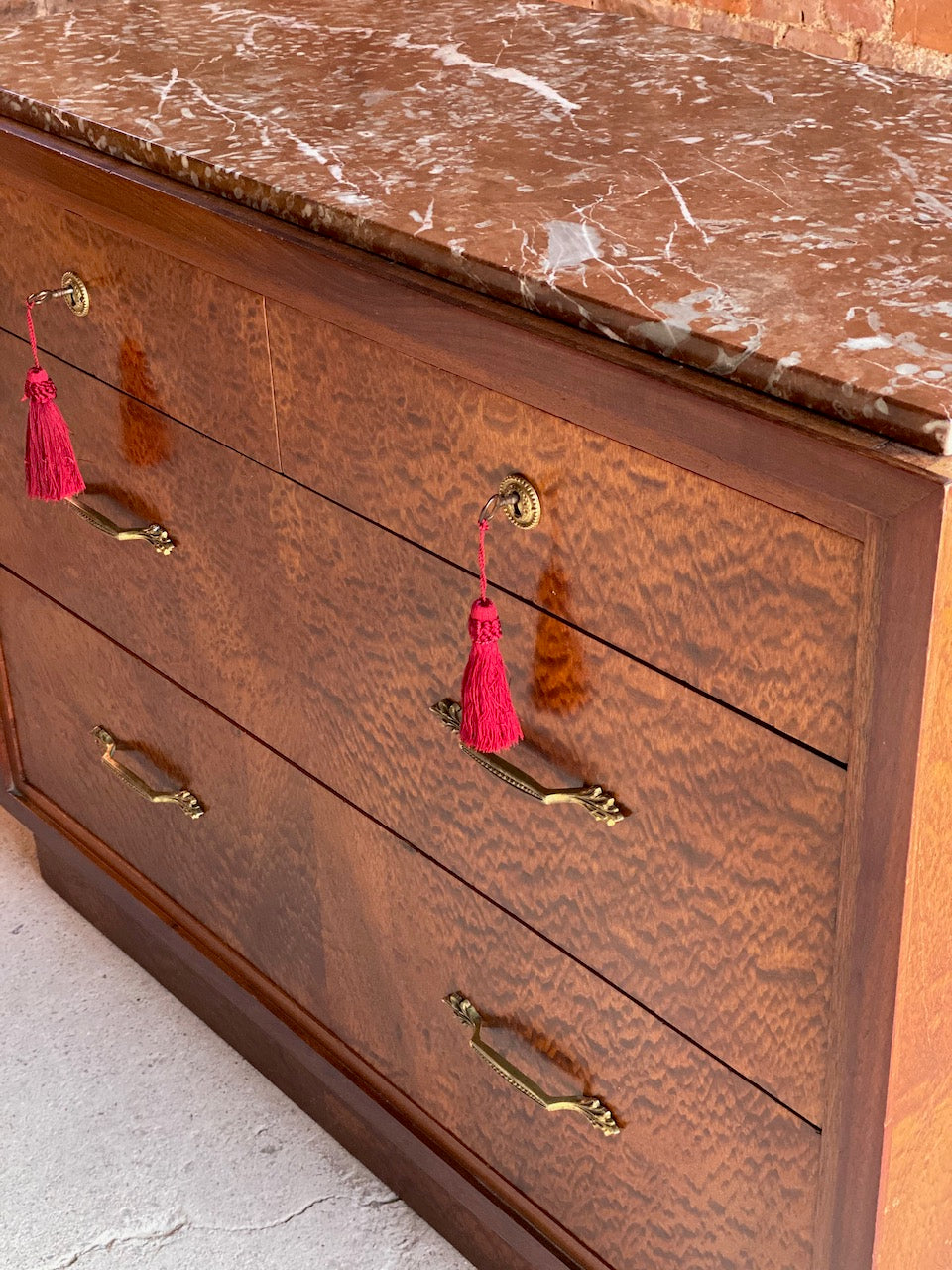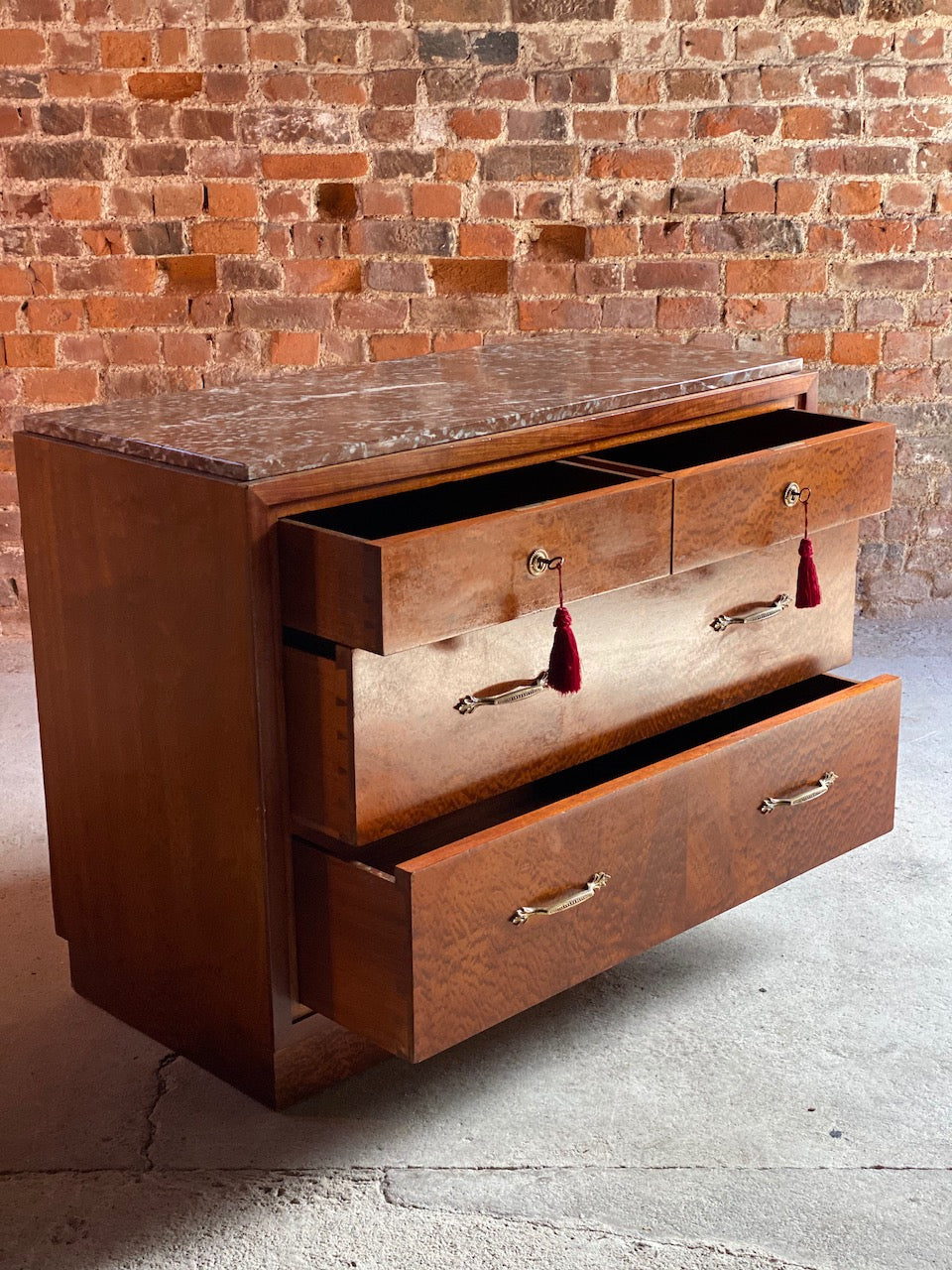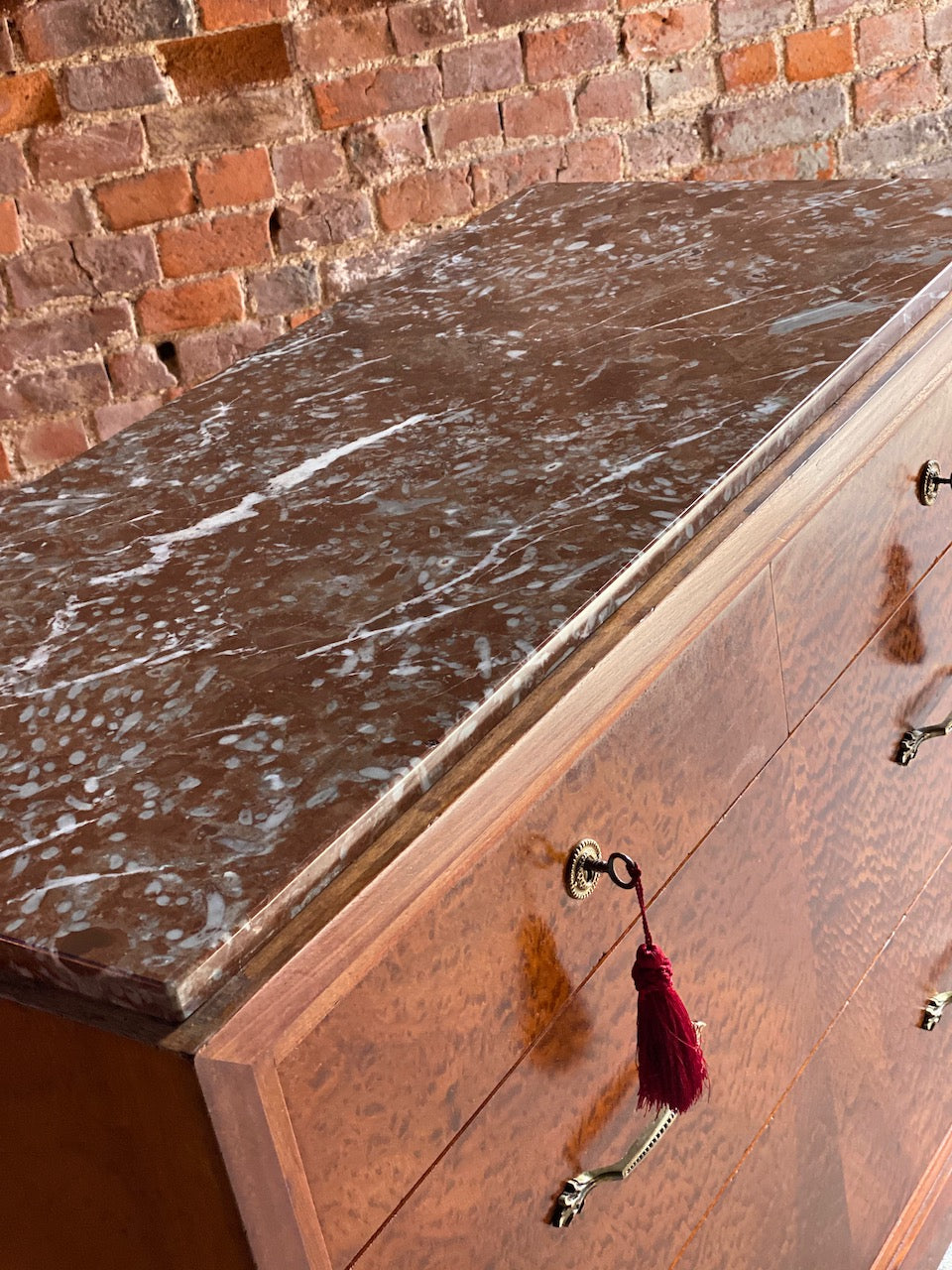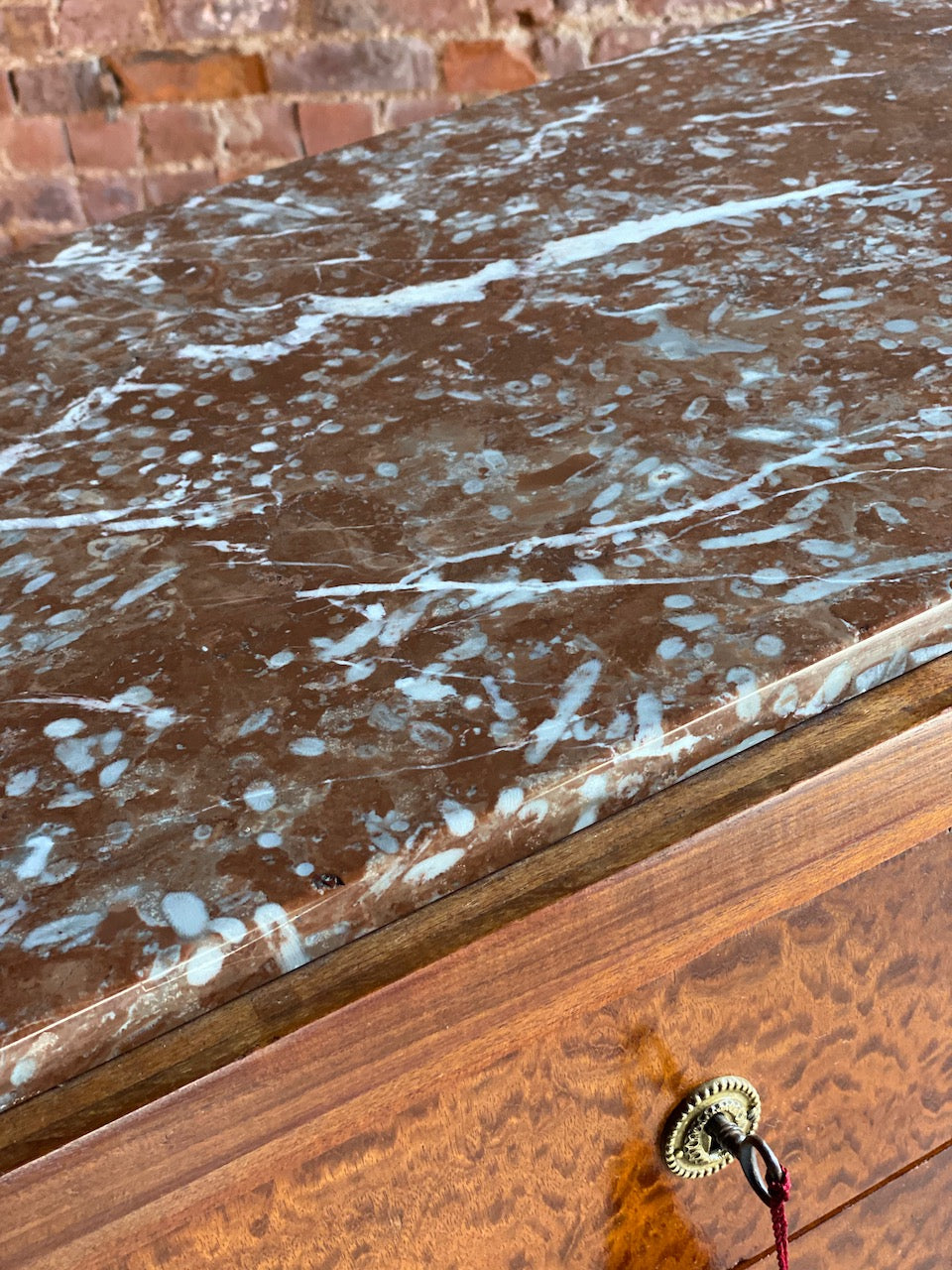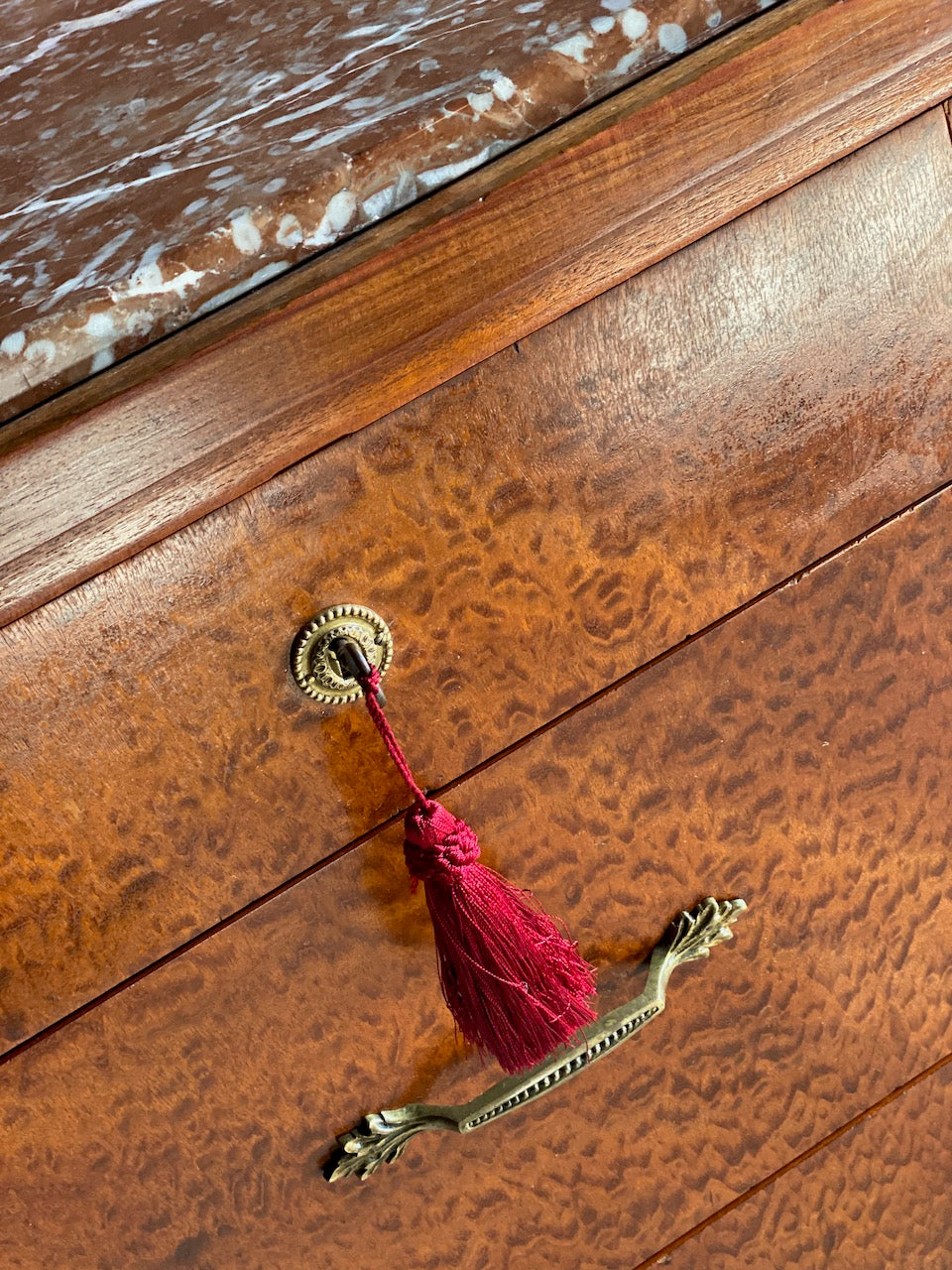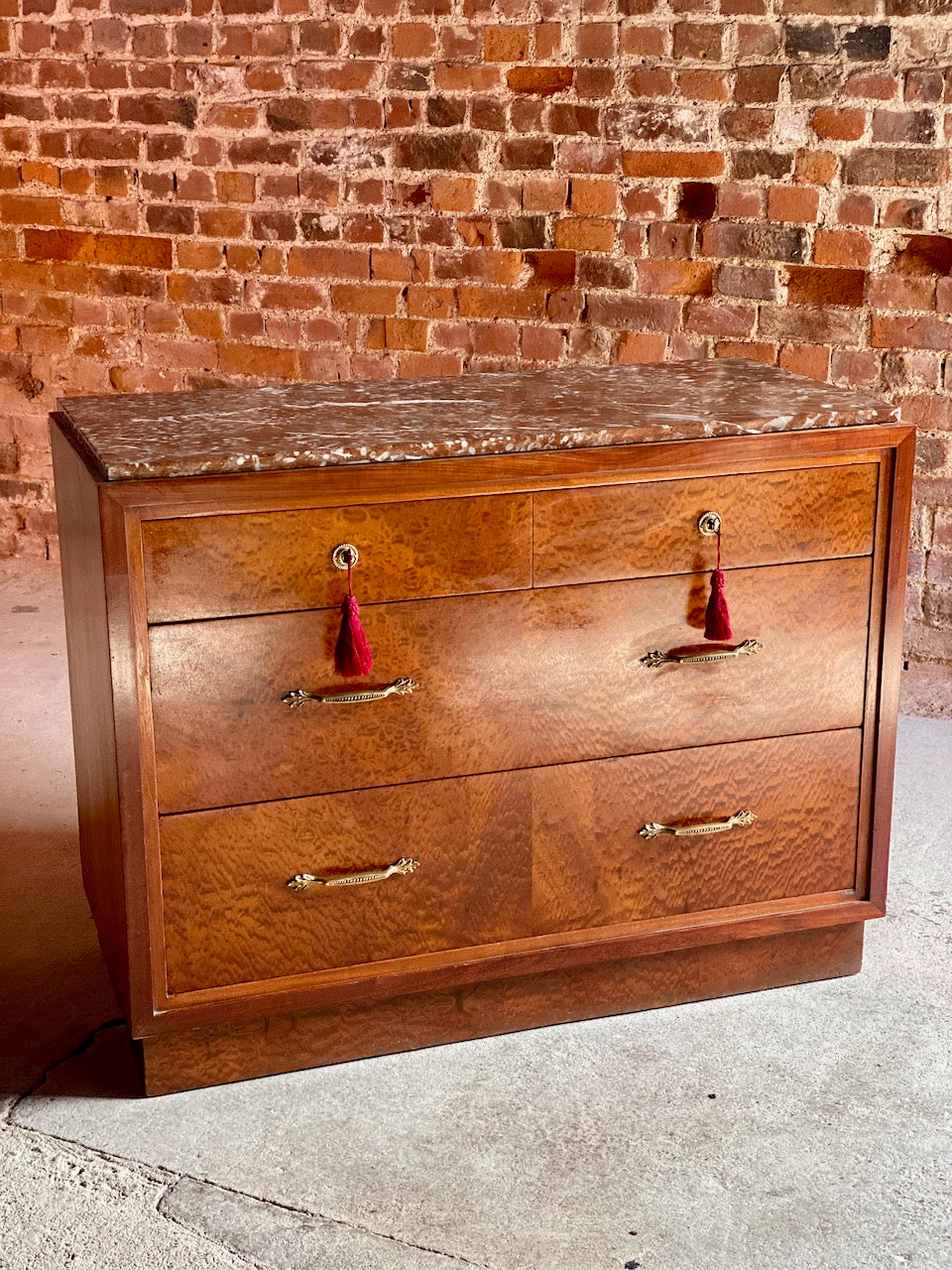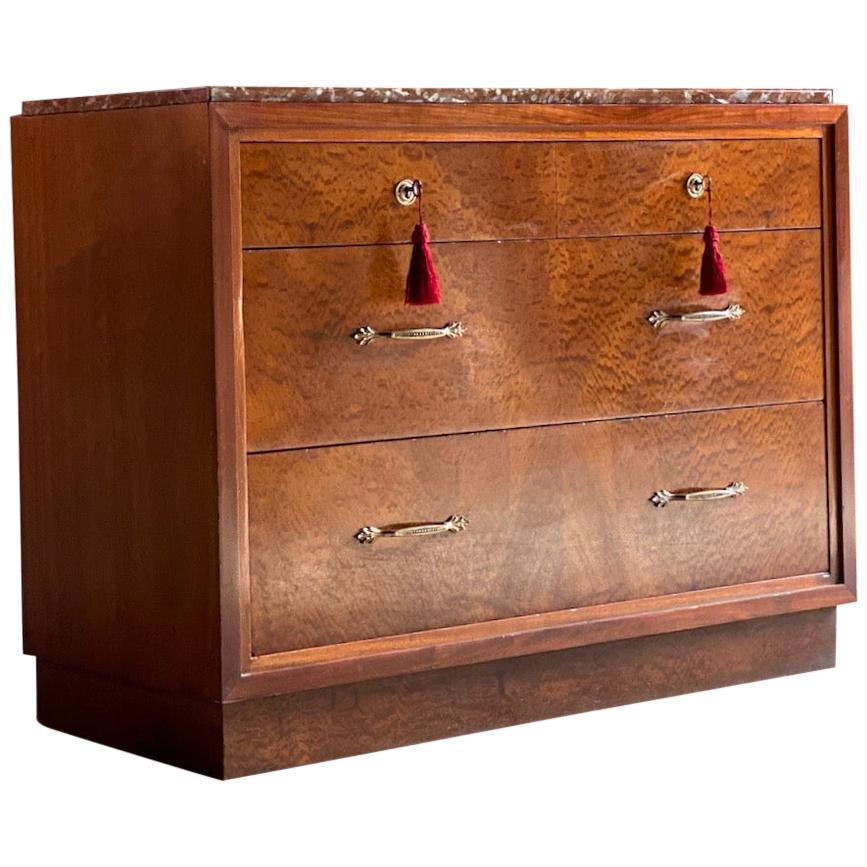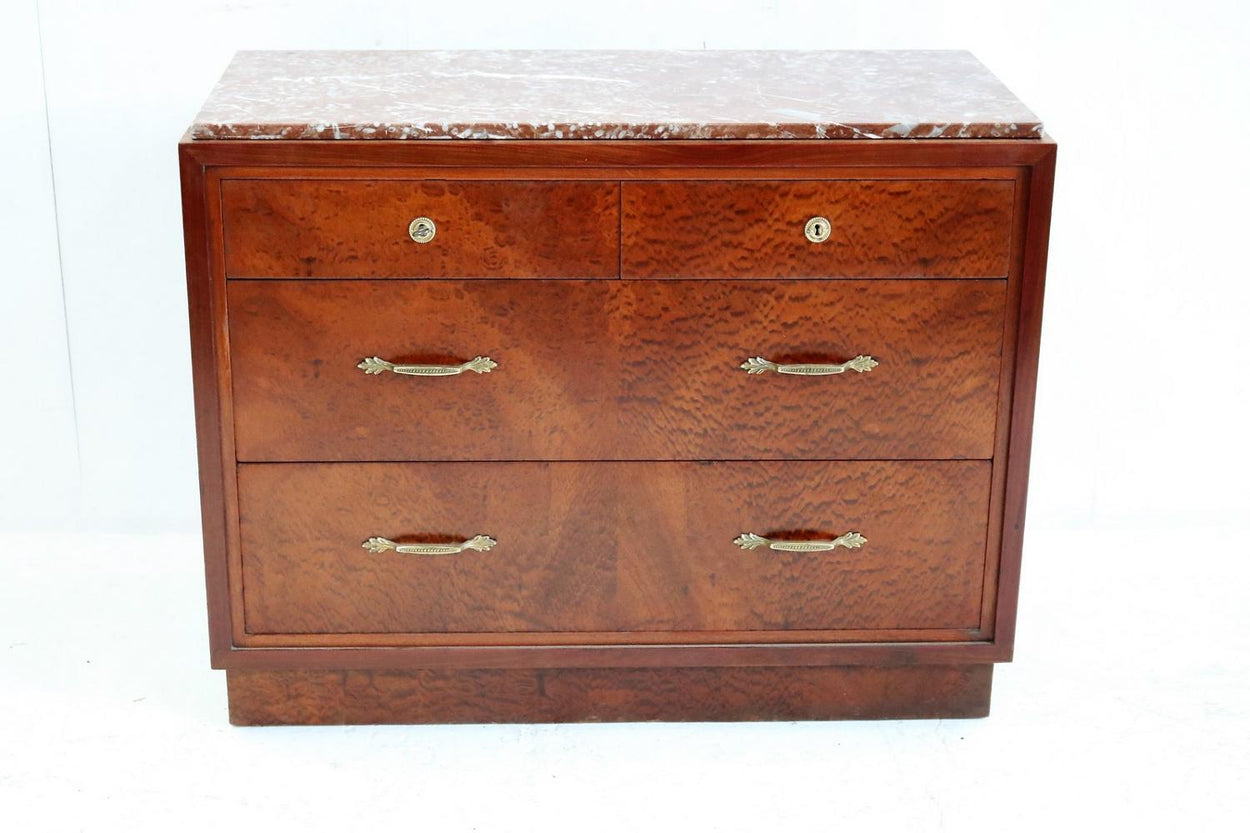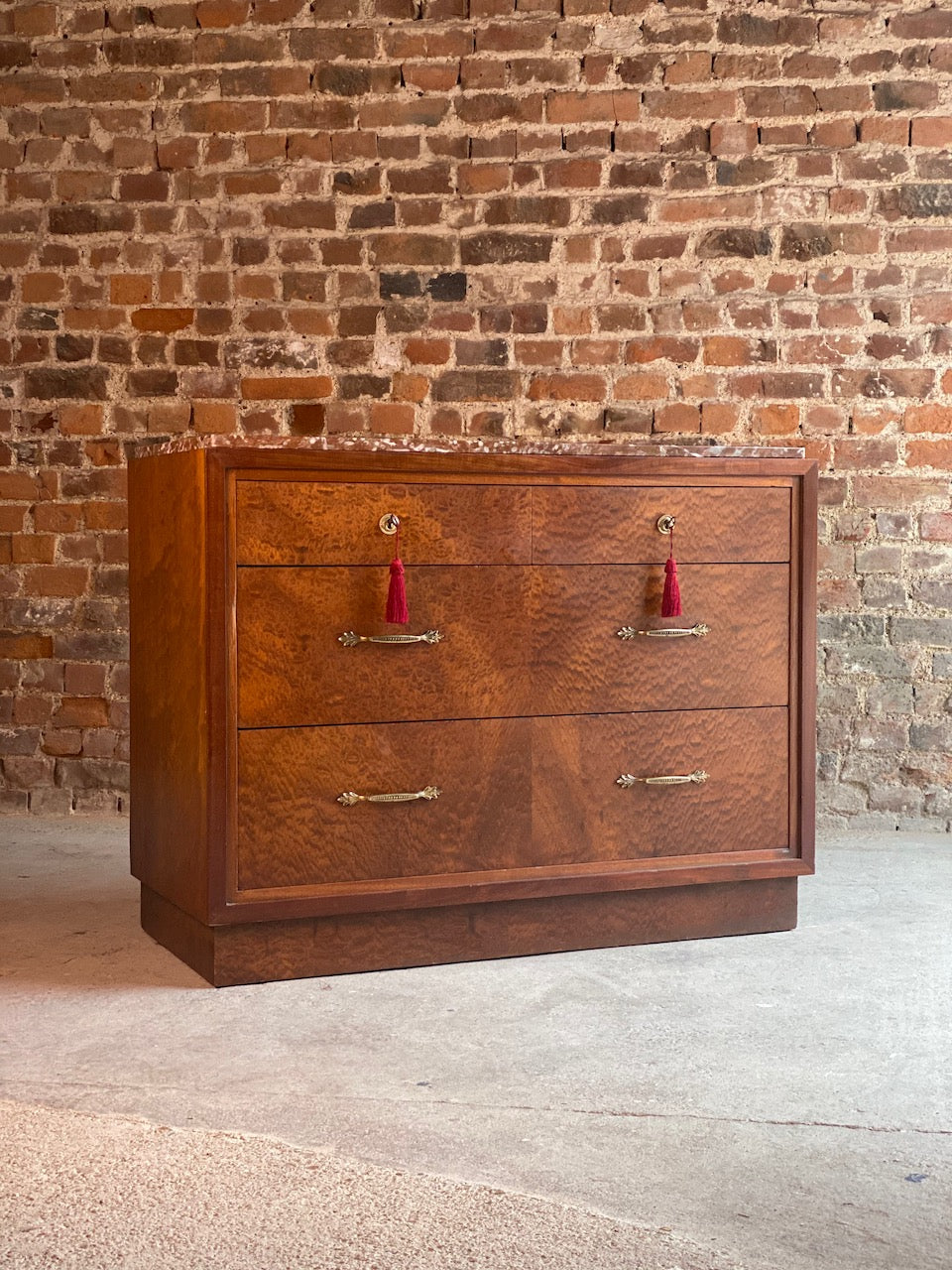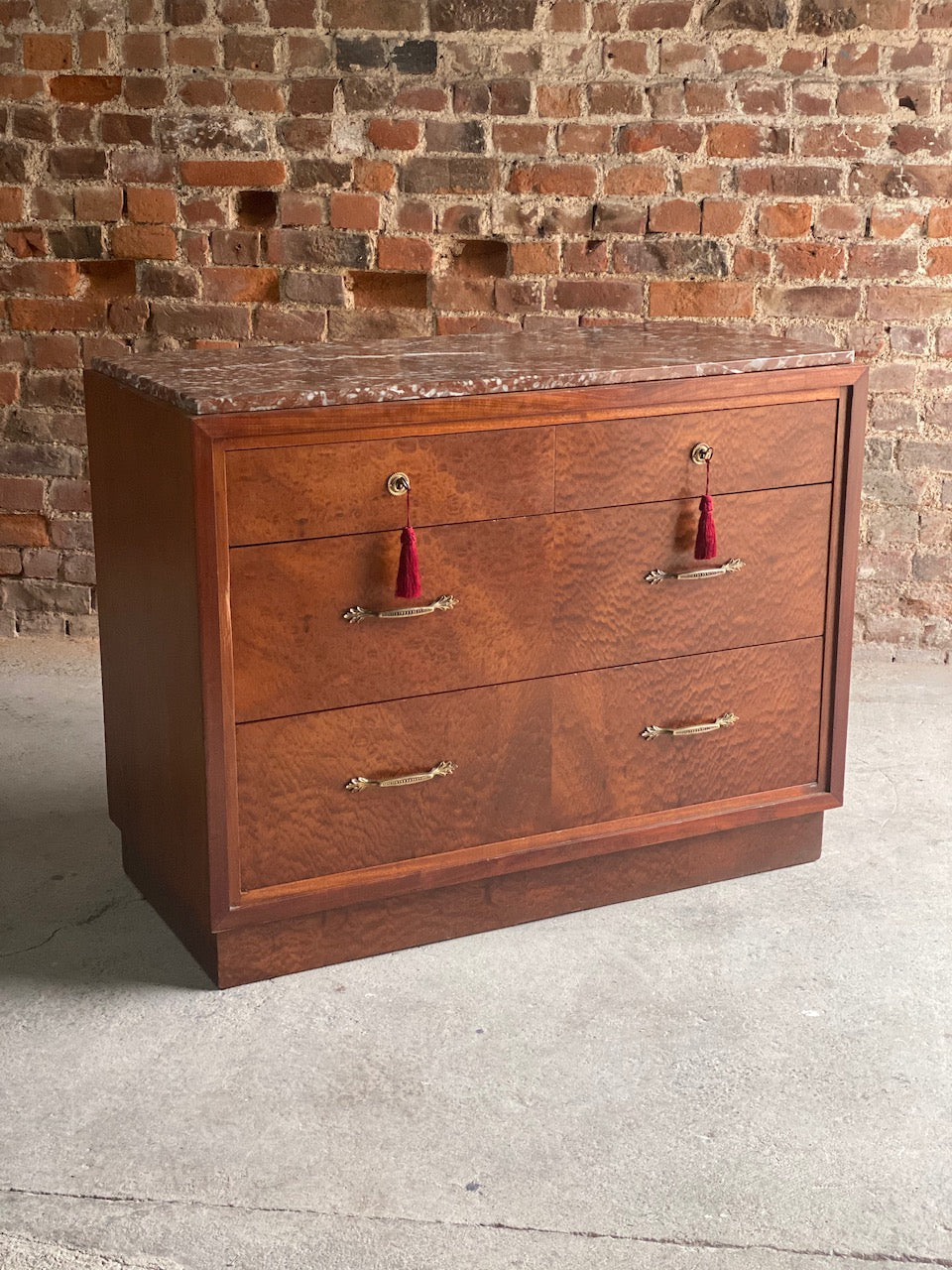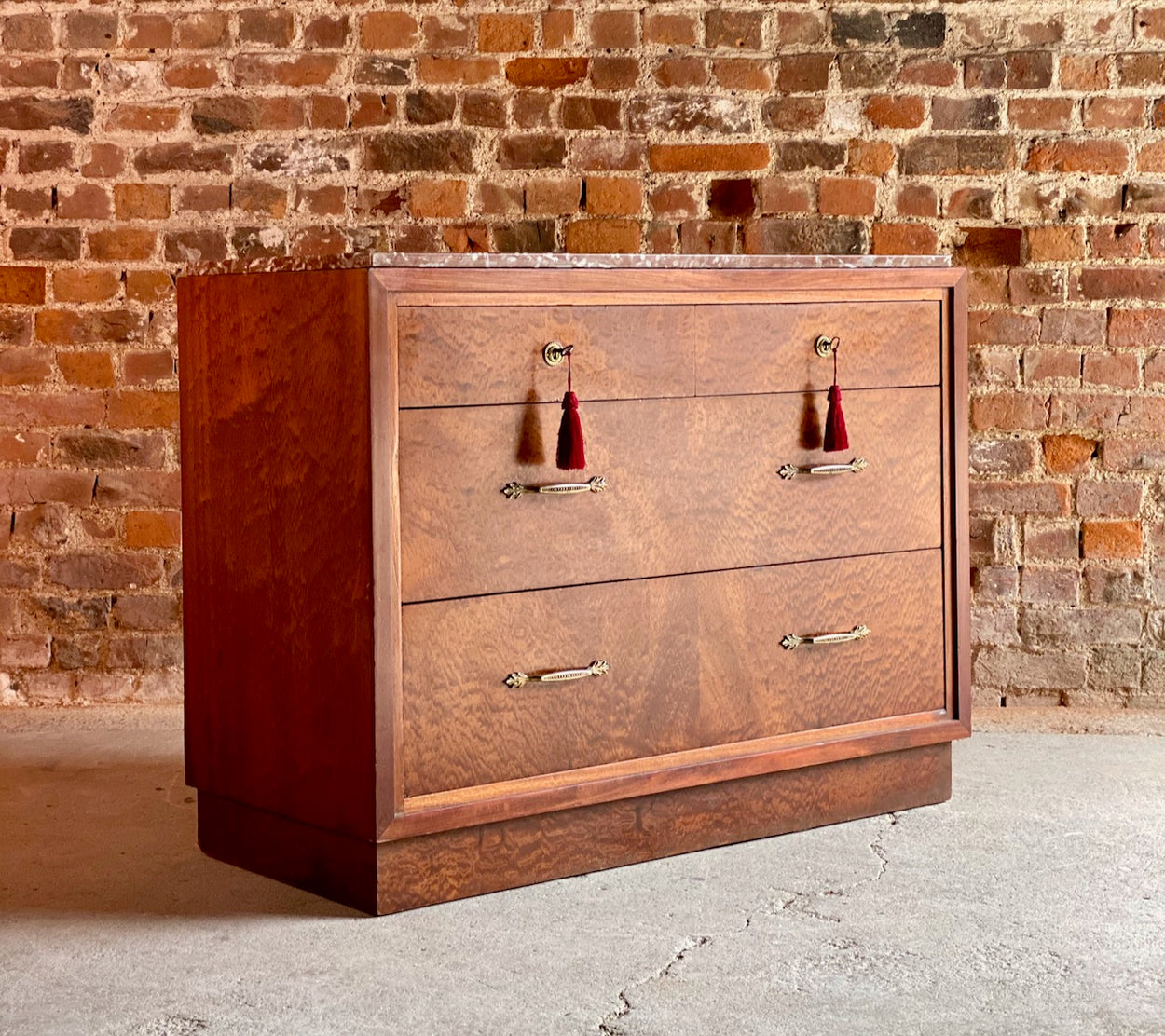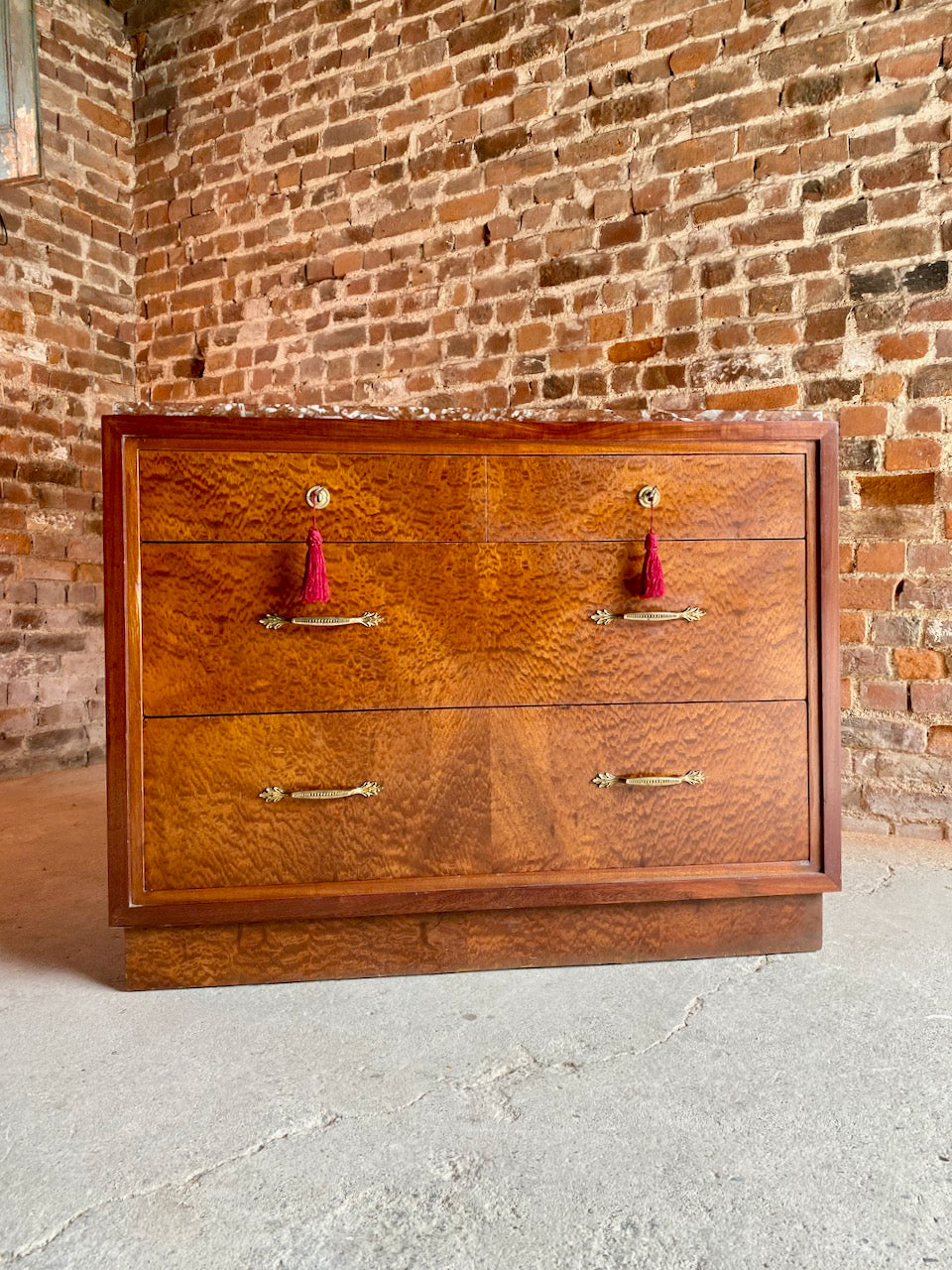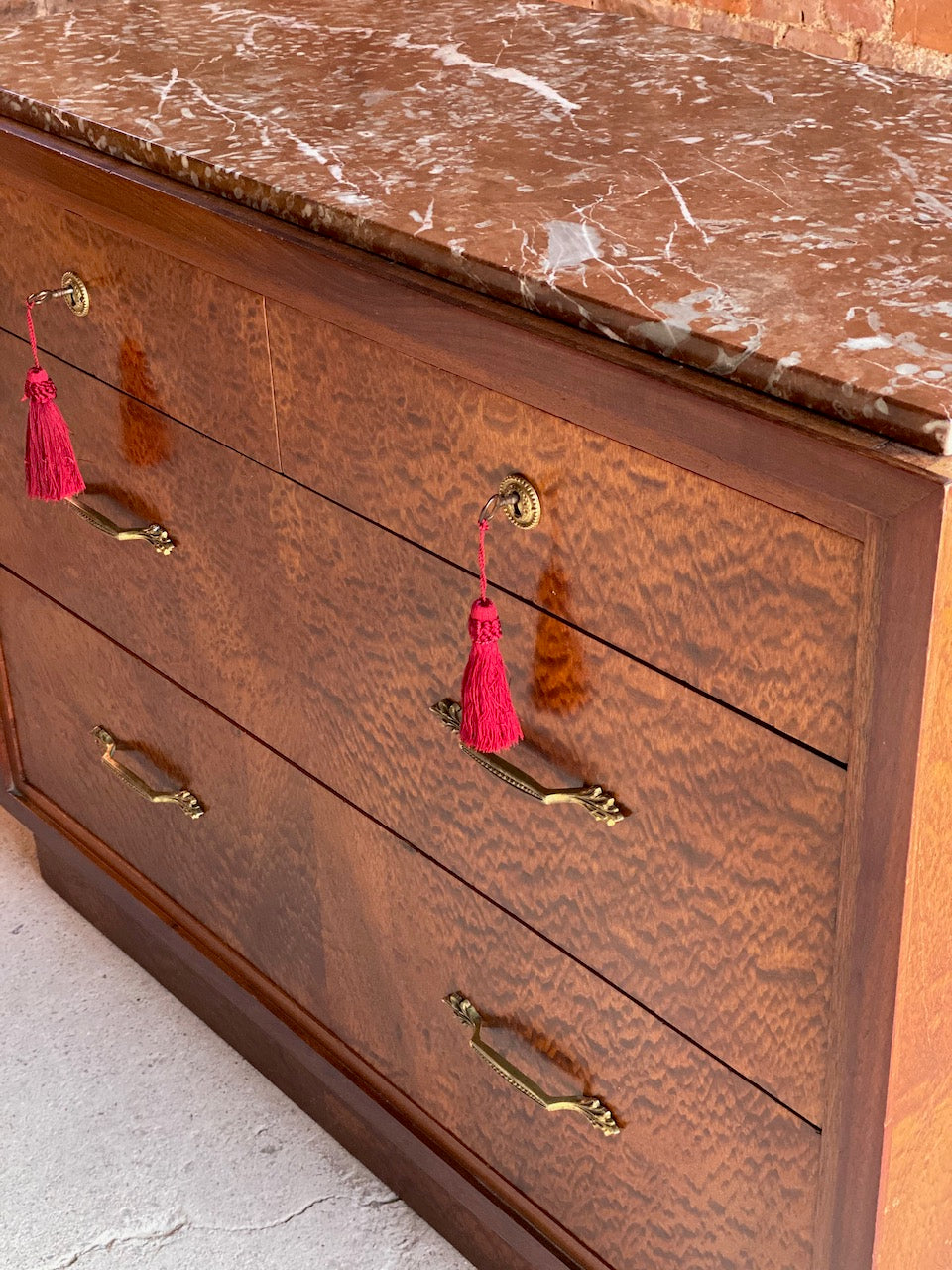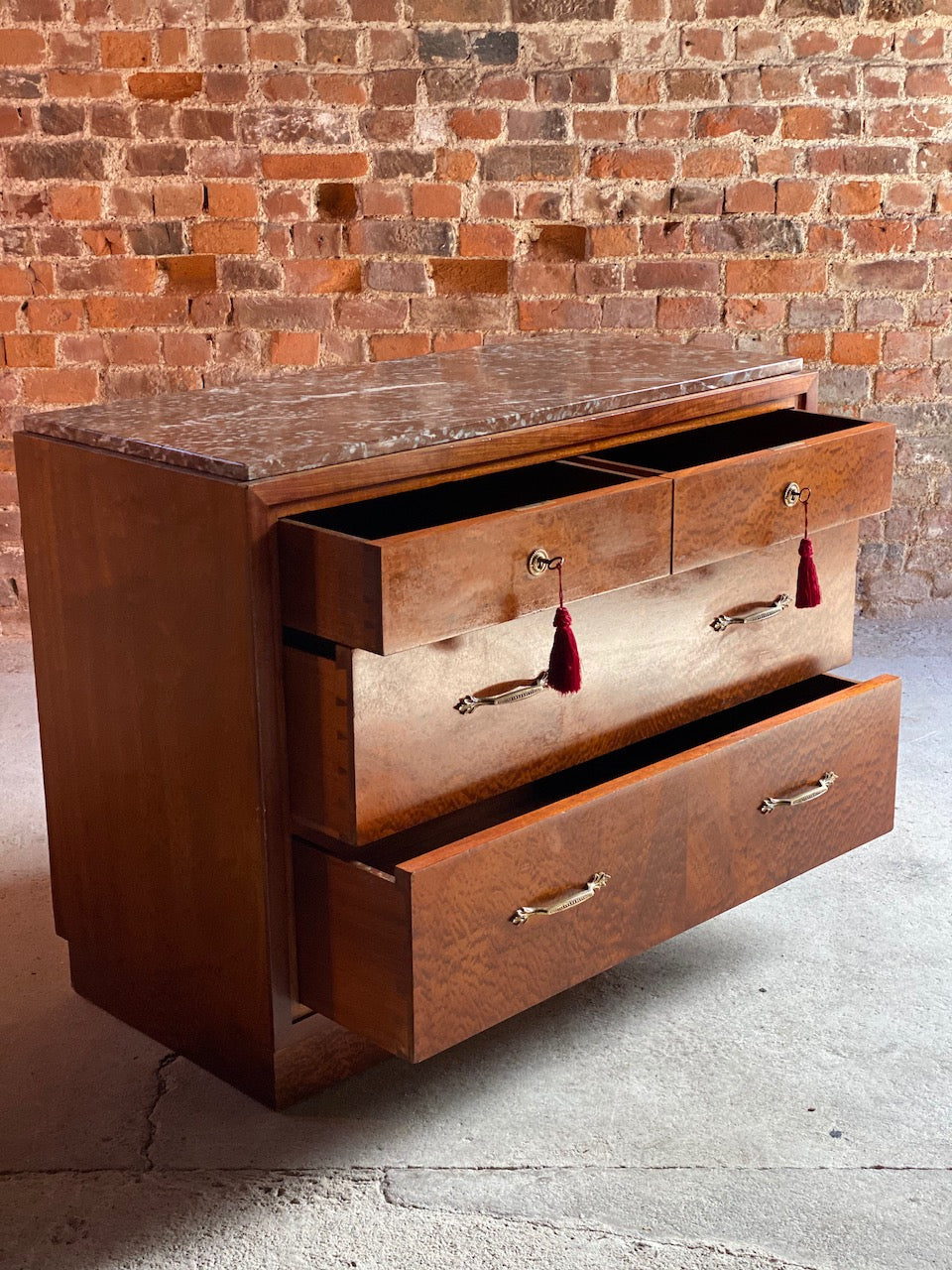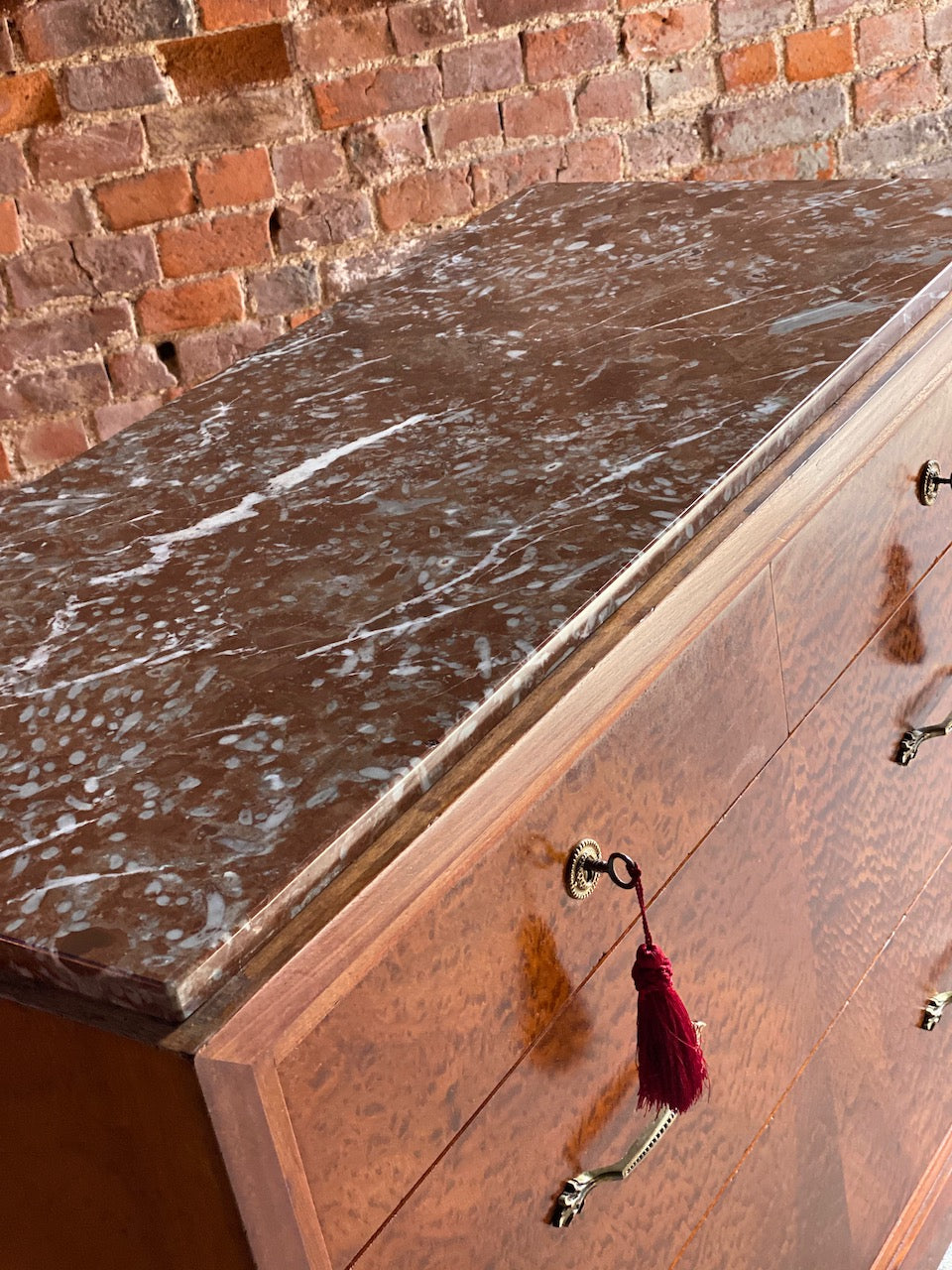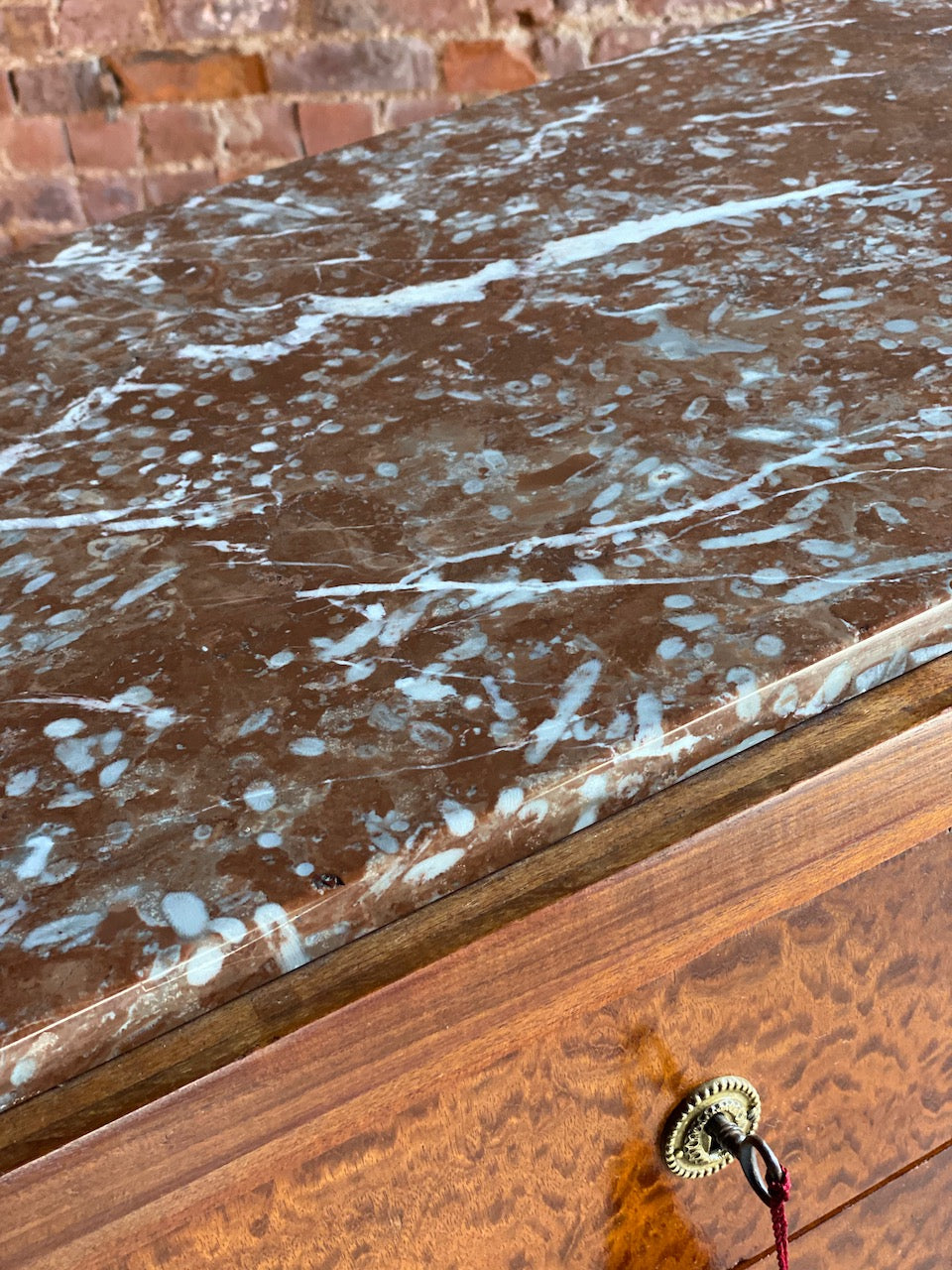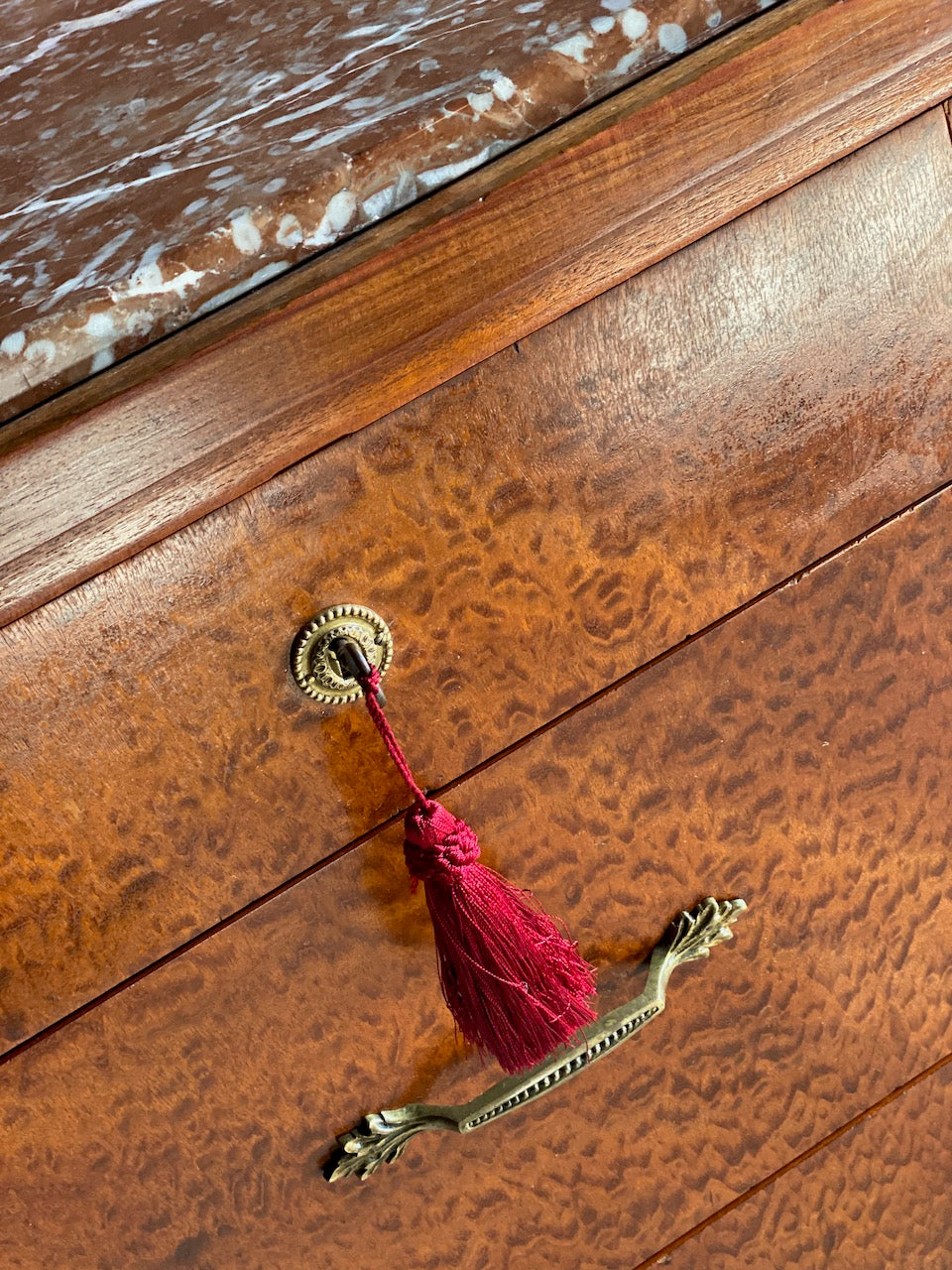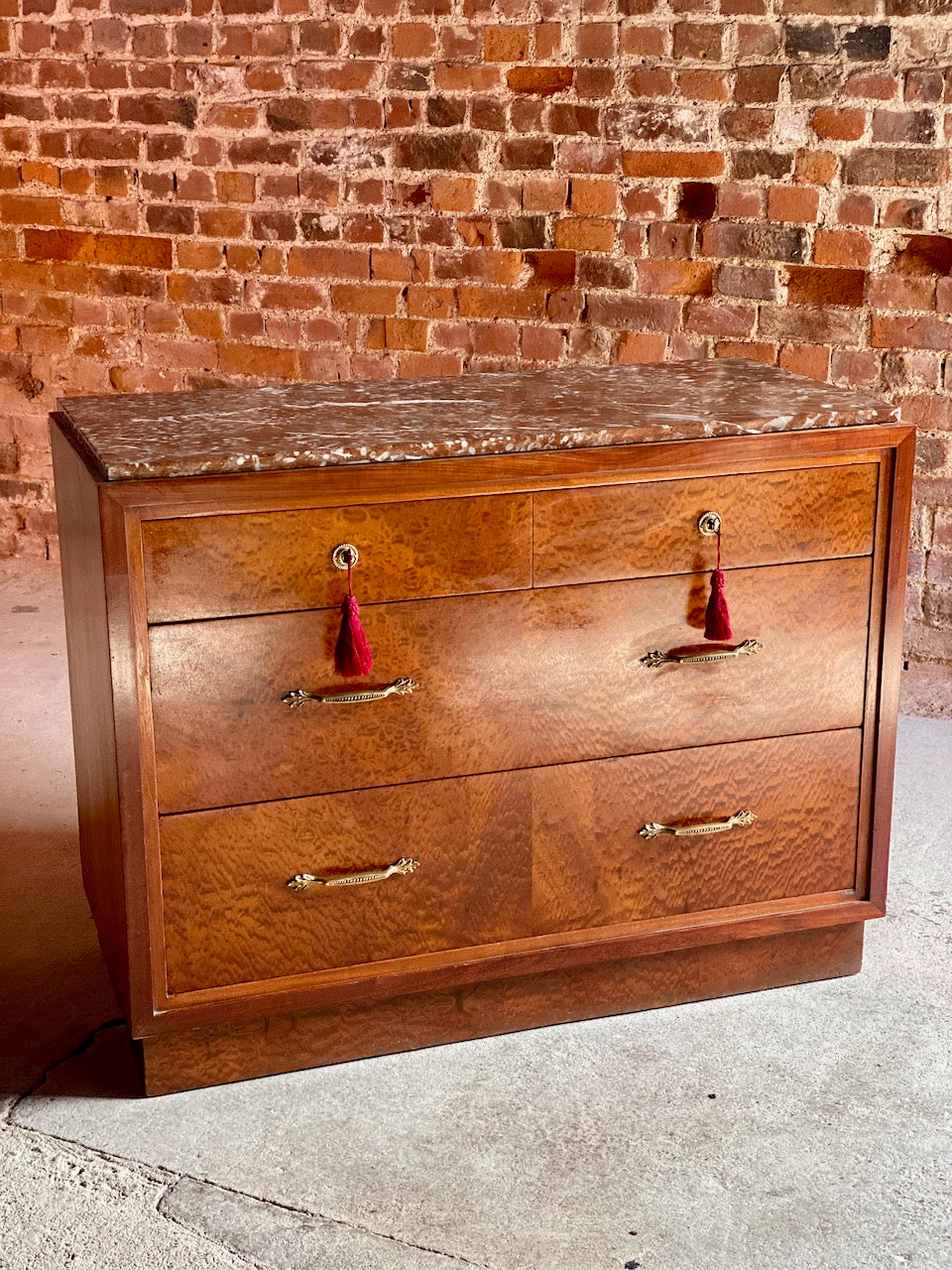 Art Deco Thuya Marble Top Commode Chest of Drawers France Circa 1930
SOLD
Art Deco Thuya Marble Top Commode Chest of Drawers France Circa 1930

Magnificent early 20th century Art Deco continental Thuya Marble Topped Commode France circa 1930, The rectangular top with reddish brown with white veined Italian marble over two short and two long drawers, the front with figured burled Thuya wood raised on a plinth base.

Thuya Burl
Thuya wood (pronounced two-ya) is from the Thuya tree (Tetraclinis articulata in Latin, and Araar in Moroccan). This biblical tree is a conifer from the cedar family, and is exclusively native to Morocco. This highly praised conifer grows only in the forests of the Atlas mountains east of Essaouira, the beautiful coastal town famous for its ancient and contemporary history, museums, art galleries, world music festival, and above all for its Thuya wood craftsmanship. Thuya wood was highly praised by Romans and Greeks, and its oils were used in religious rituals and ceremonies. Thuya trees reach maturity over many decades. Still the praised part of this tree is not the trunk, but the burl buried in the ground. The burl has a deeper color, a more concentrated aroma, and a fascinating grain. Today these burls are very scarce and hard to locate, extract, and transport. High demand over the centuries has greatly reduced the Thuya forests, and looking for underground burls is something like sifting through sand for grains of gold. Moreover, most of these burls are very small, therefore the fact that most of the items made from this luxurious wood are of a small nature. Another hindrance is that burls generally have large splits and defects that need to be cut out. When luck strikes and a large solid burl is found, it is bid on by artisans, and is sold to the highest bidder. Burls are moved from mountainous areas on mules and donkeys as they are the only form of transportation suited to the task. All that having been said, the real value of the Thuya handcrafted goods is in the highly skilled artists who intricately design Thuya burls into breathtaking masterpieces.
Very good condition with traces of age and use, not restored, all drawers open and close smoothly, no signs of past or present woodworm, comes with two keys, one working the other decorative, excellent patina.

Depth: 20" inches / 51cm
Width: 43" inches / 110cm
Height: 34" inches / 86cm

Free delivery is offered to England & Wales only when buyer pays full asking price, next day delivery is not possible due to the size of the piece, please allow between 7-14 days delivery