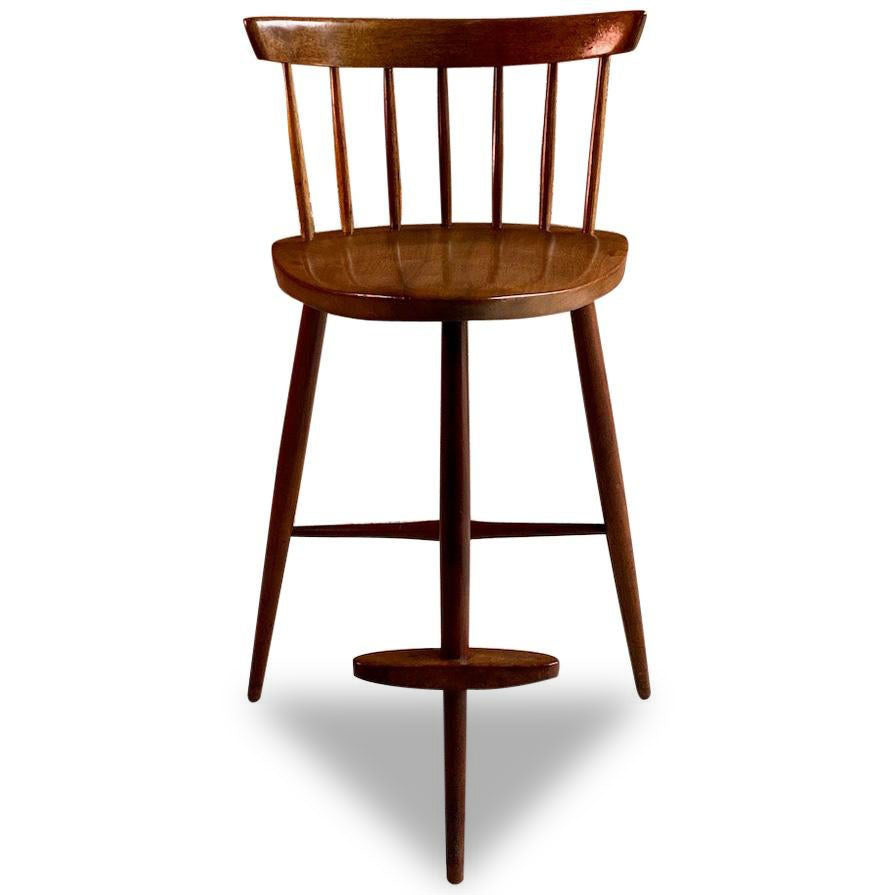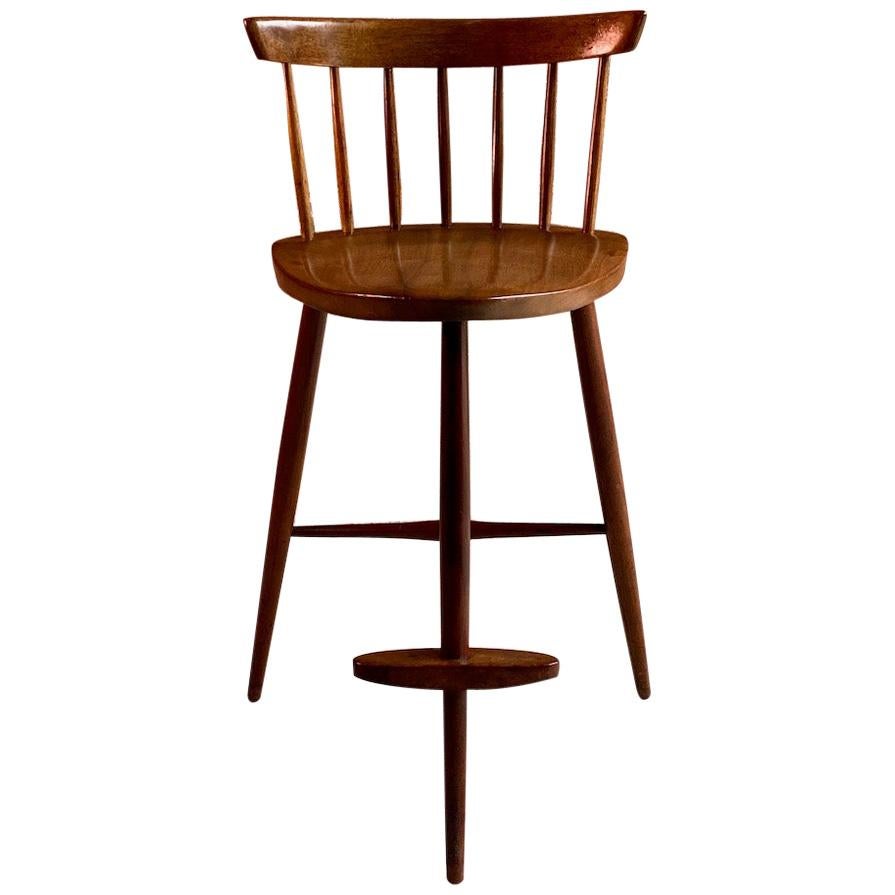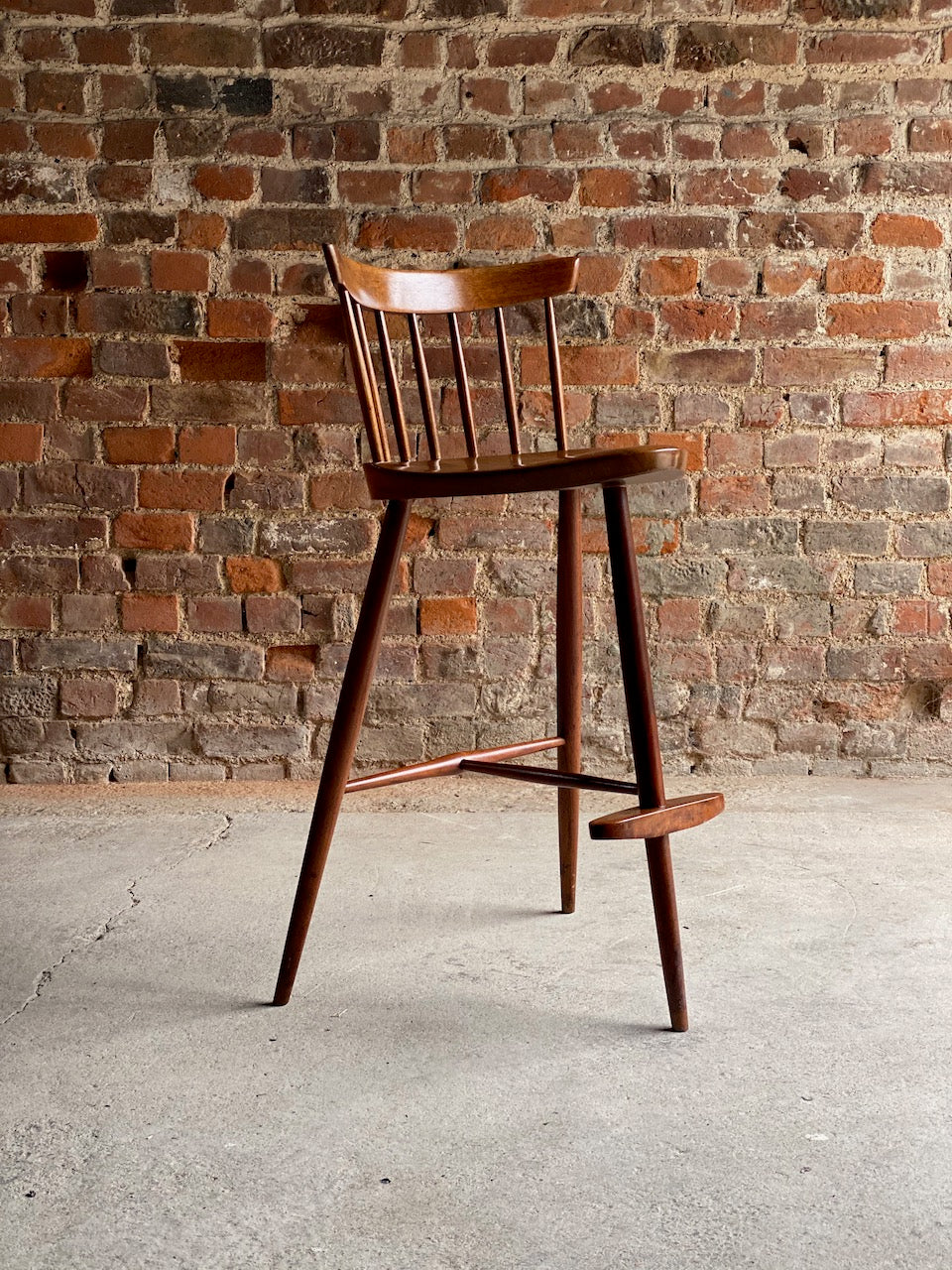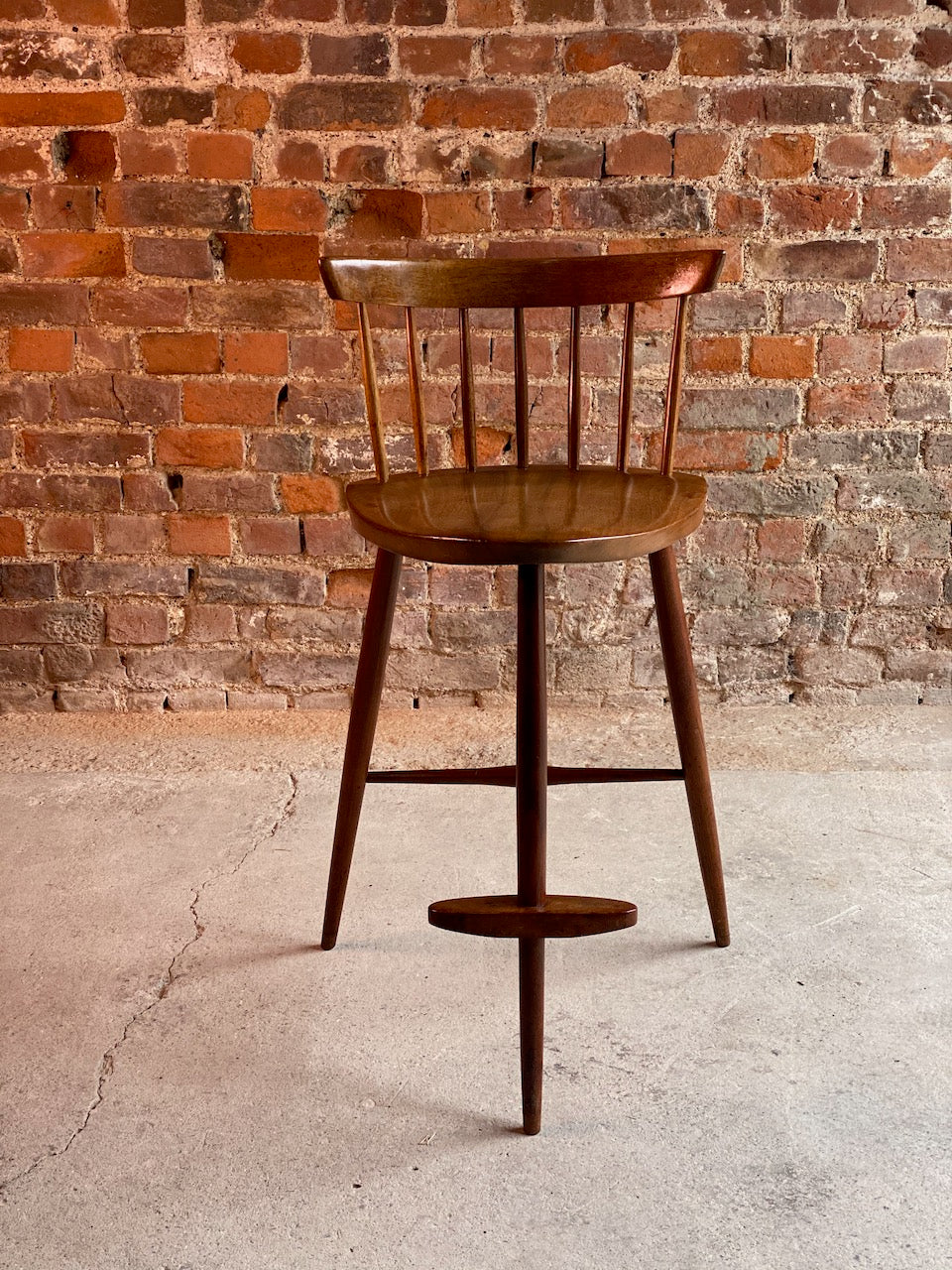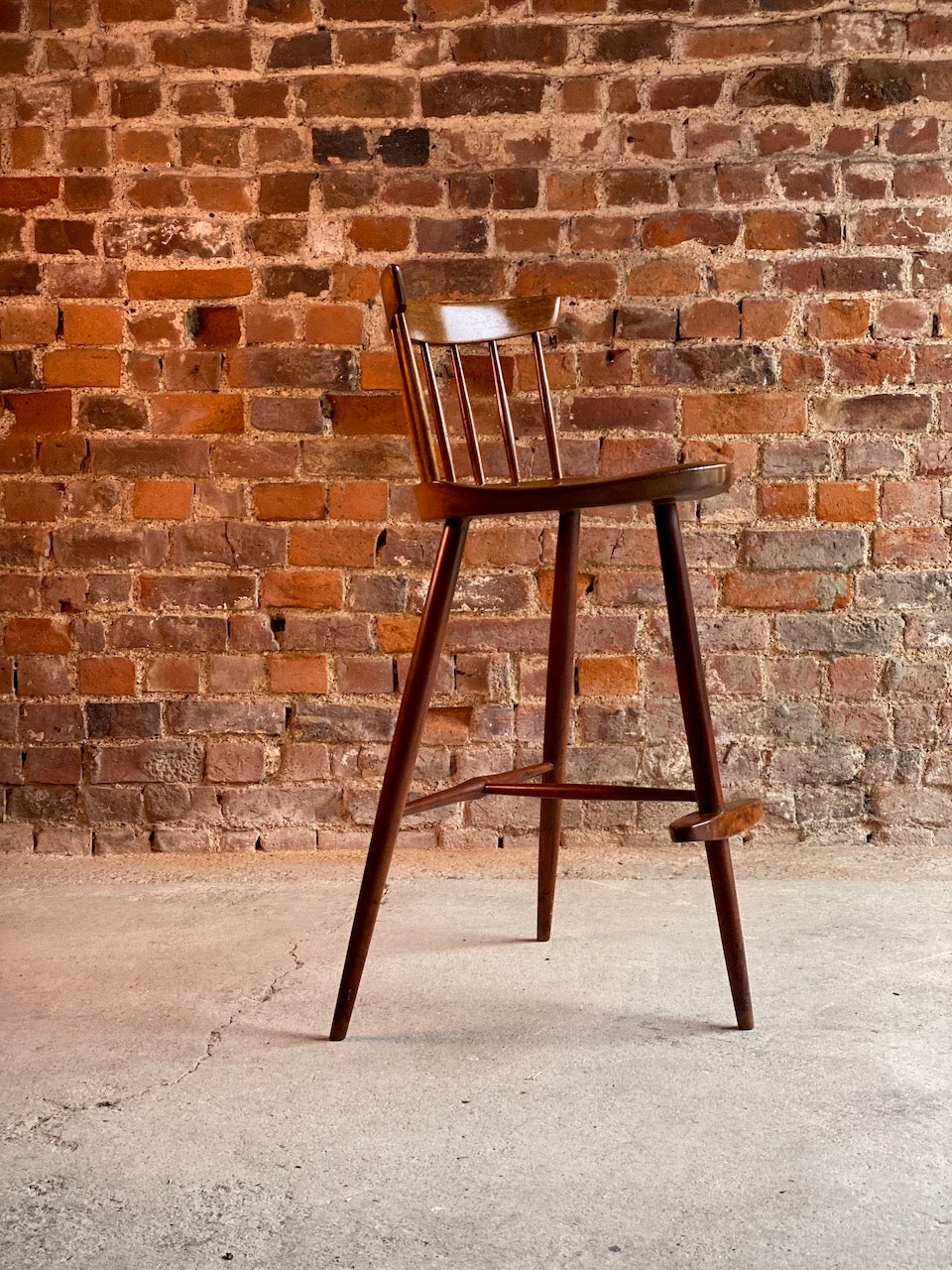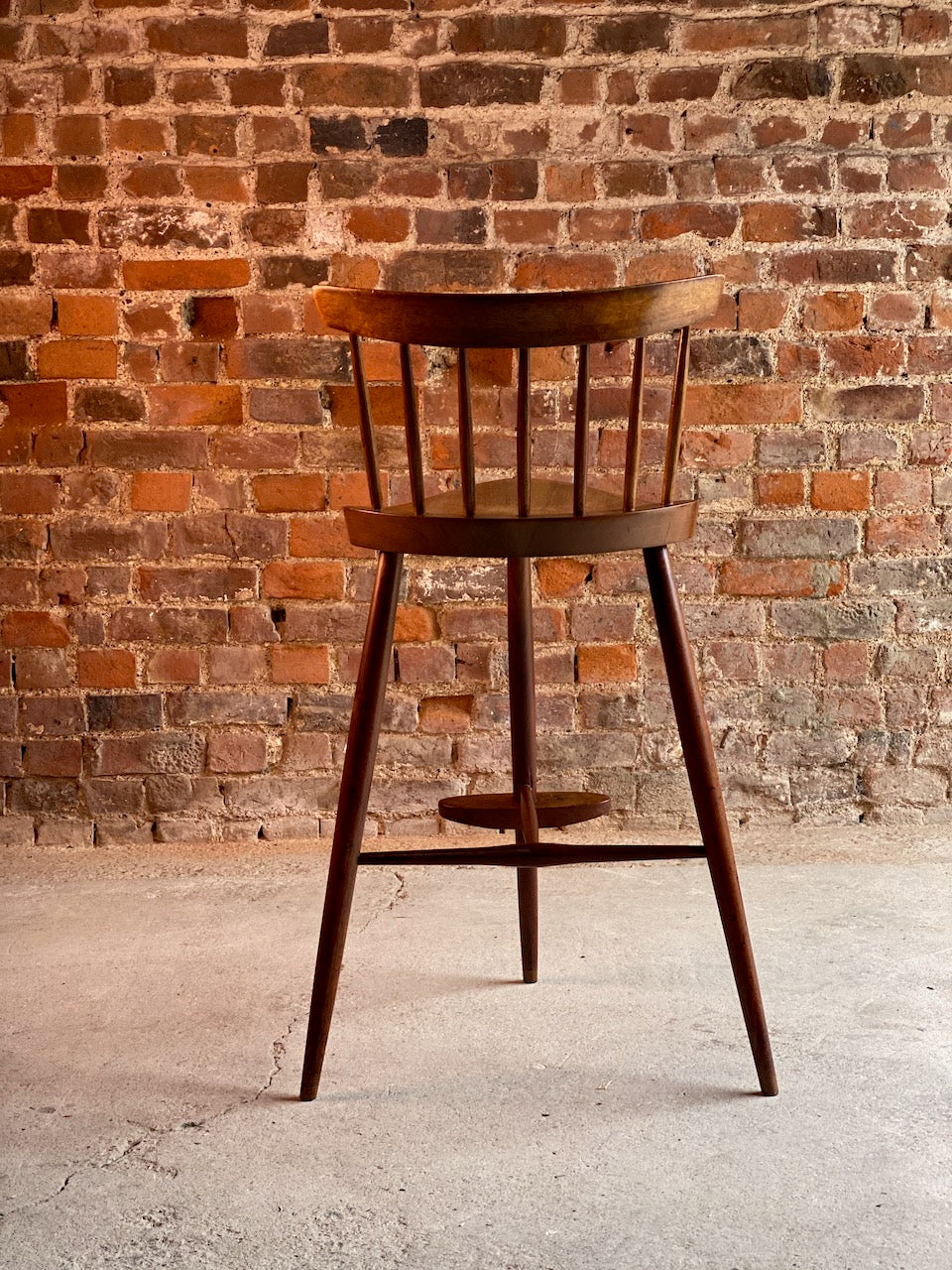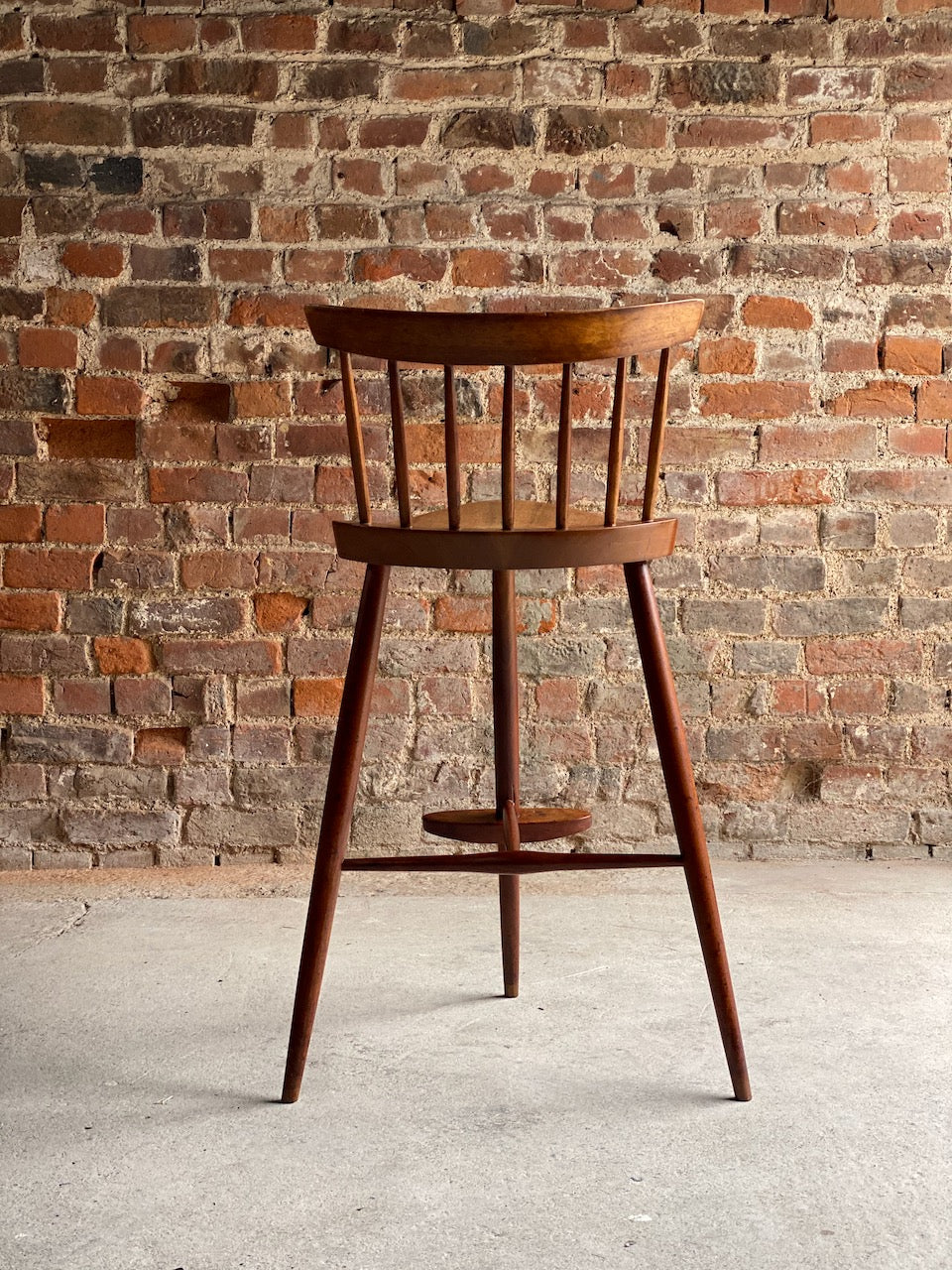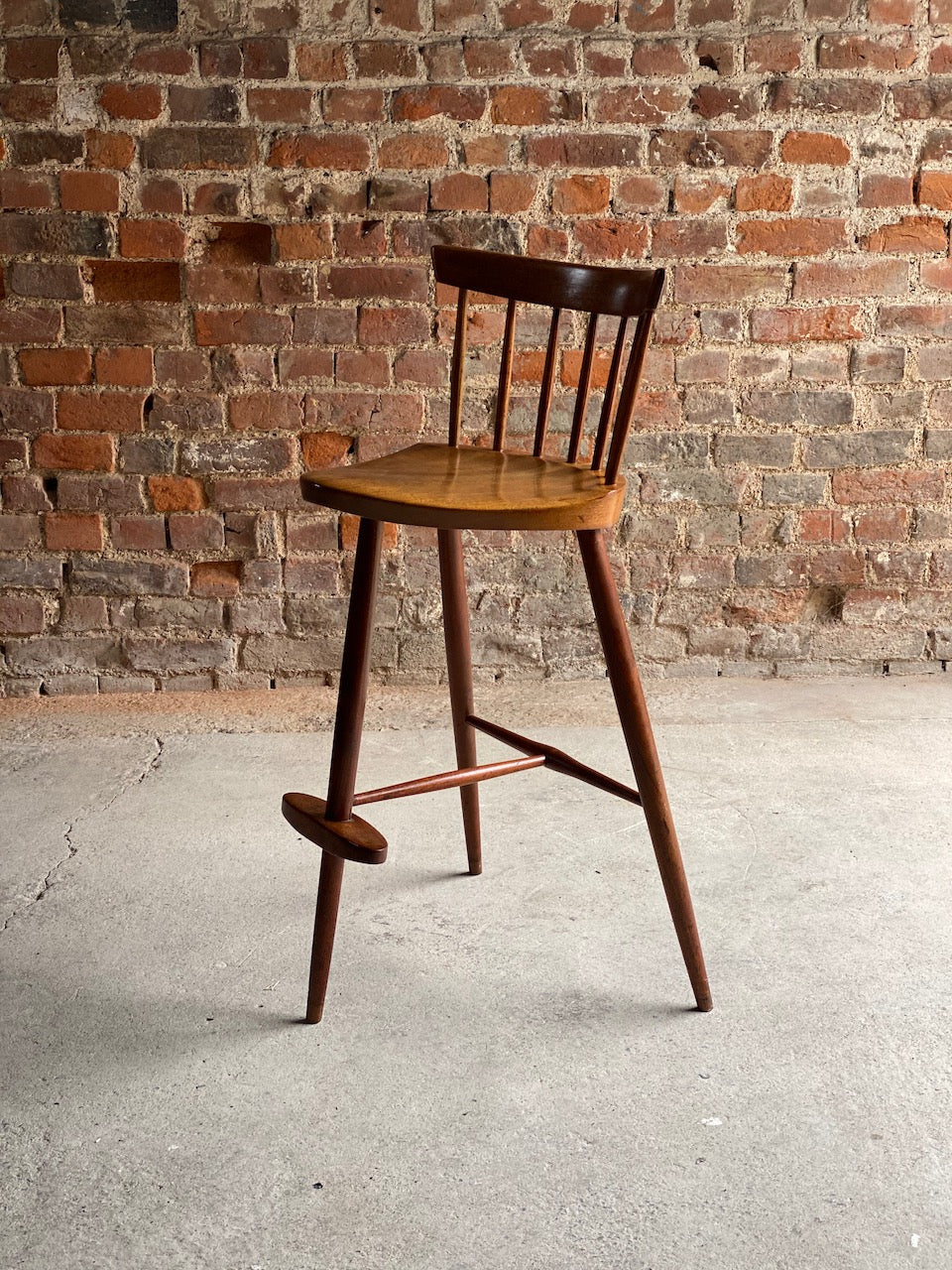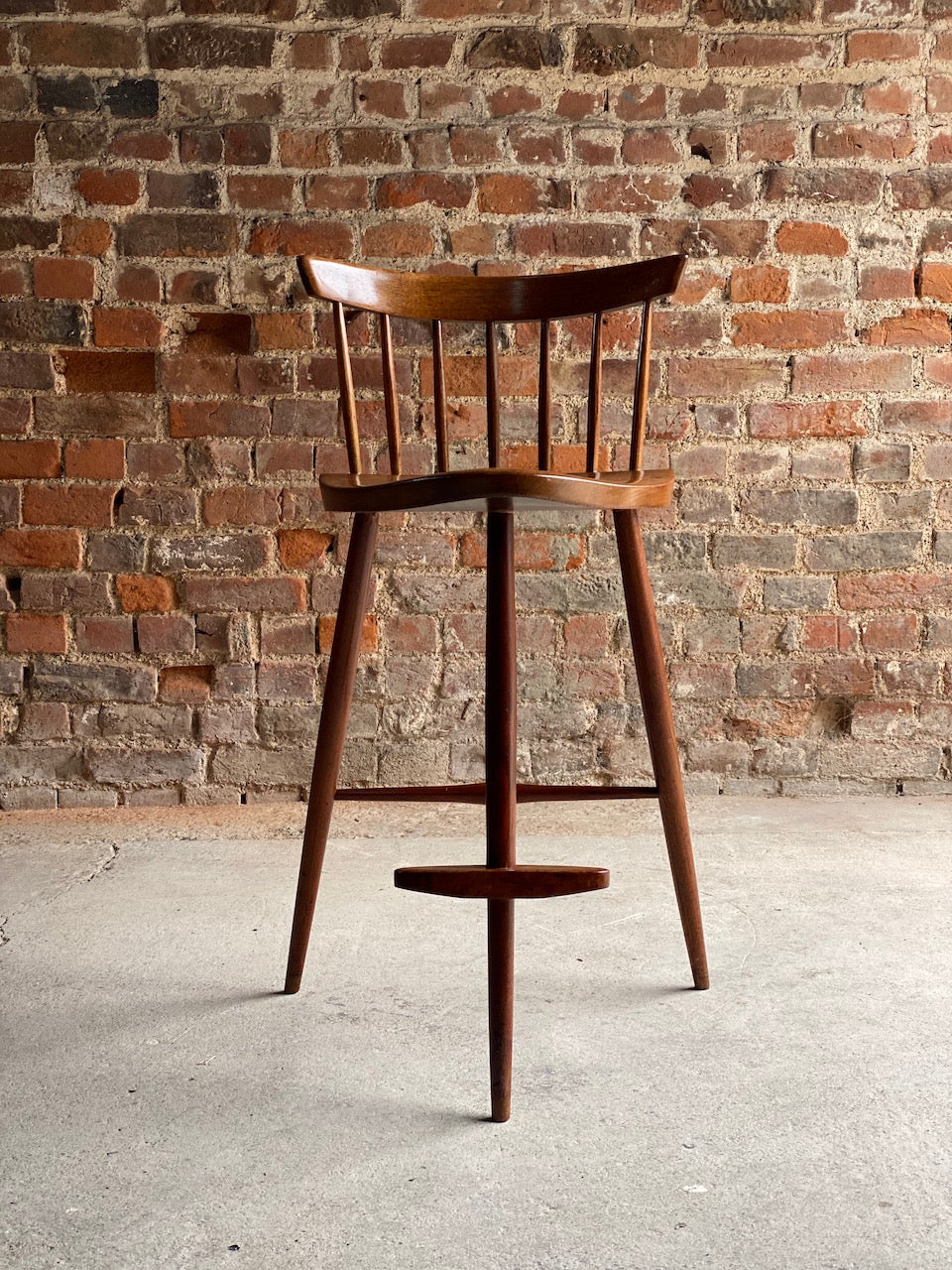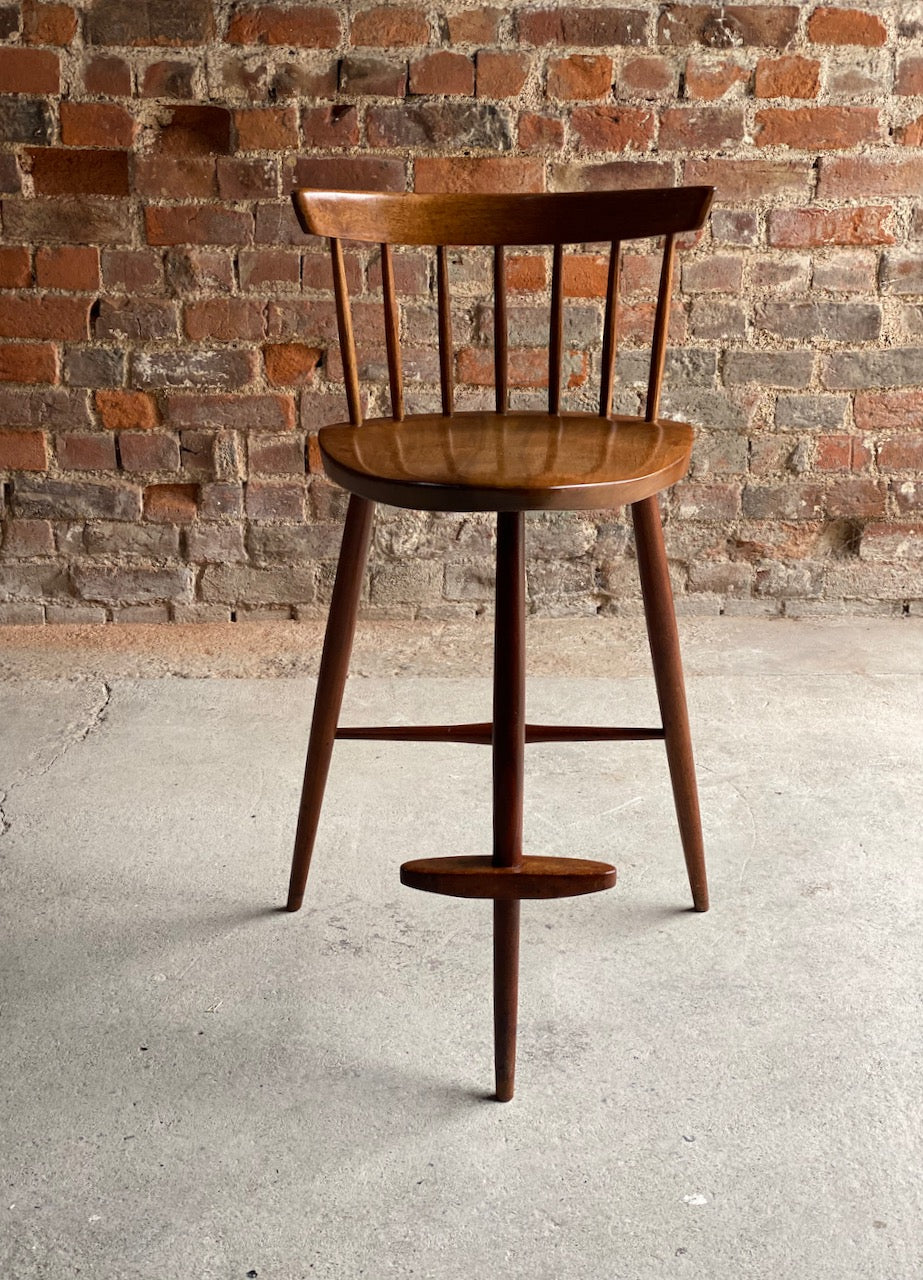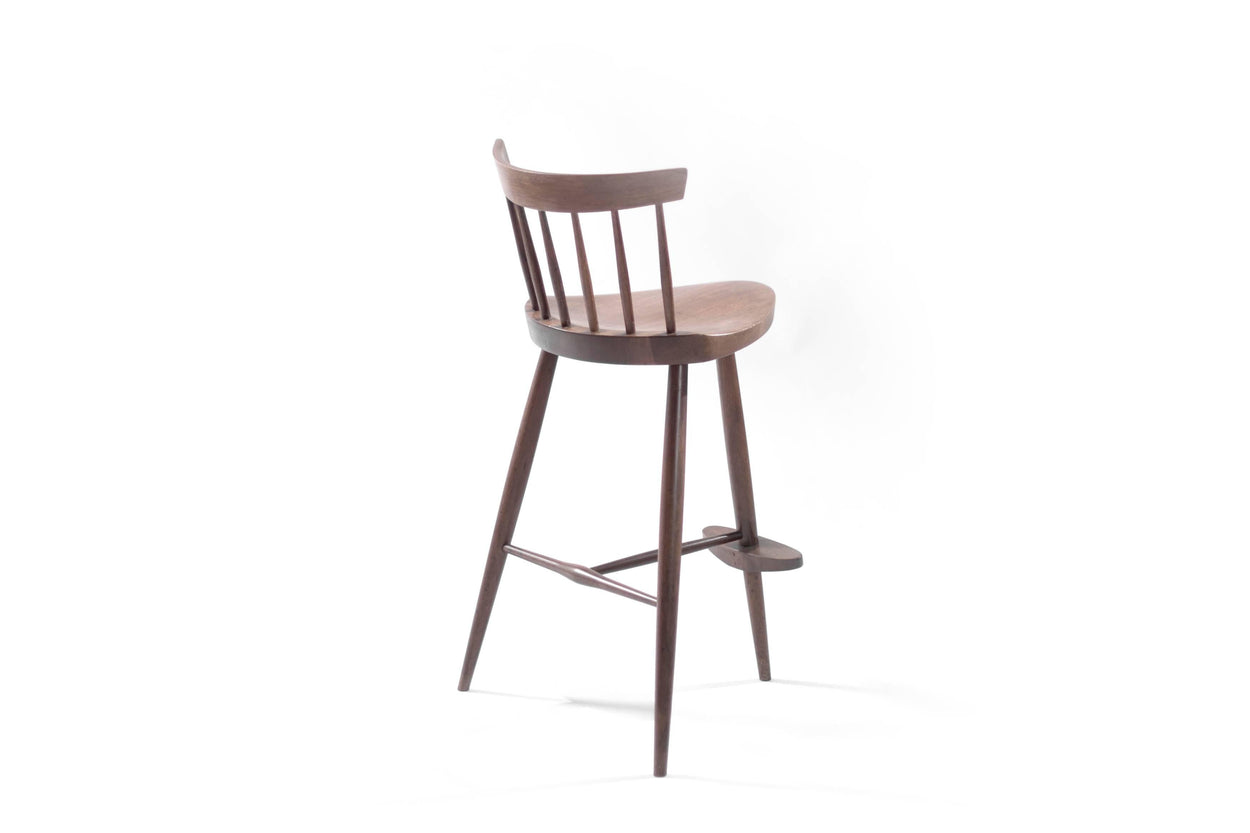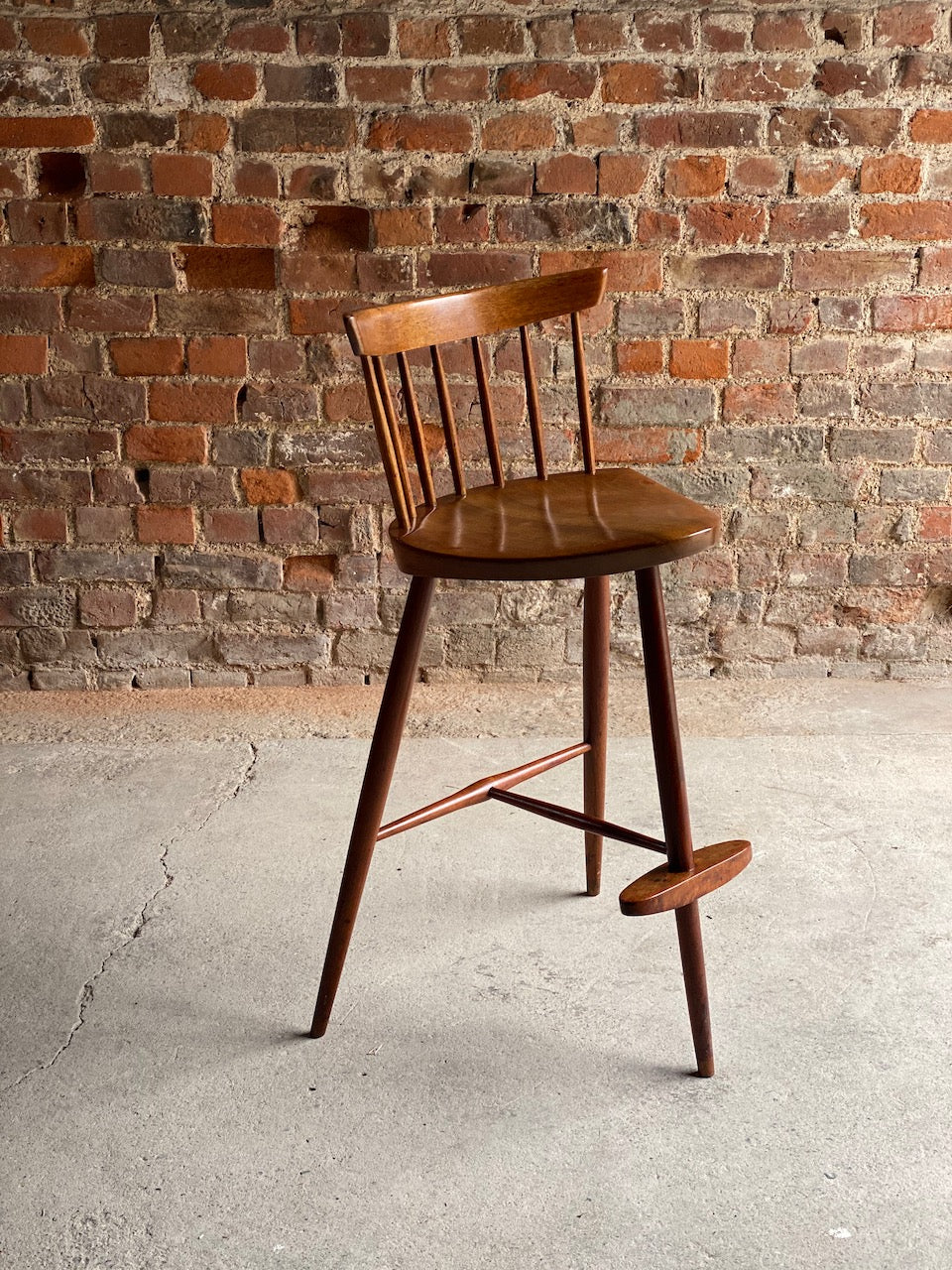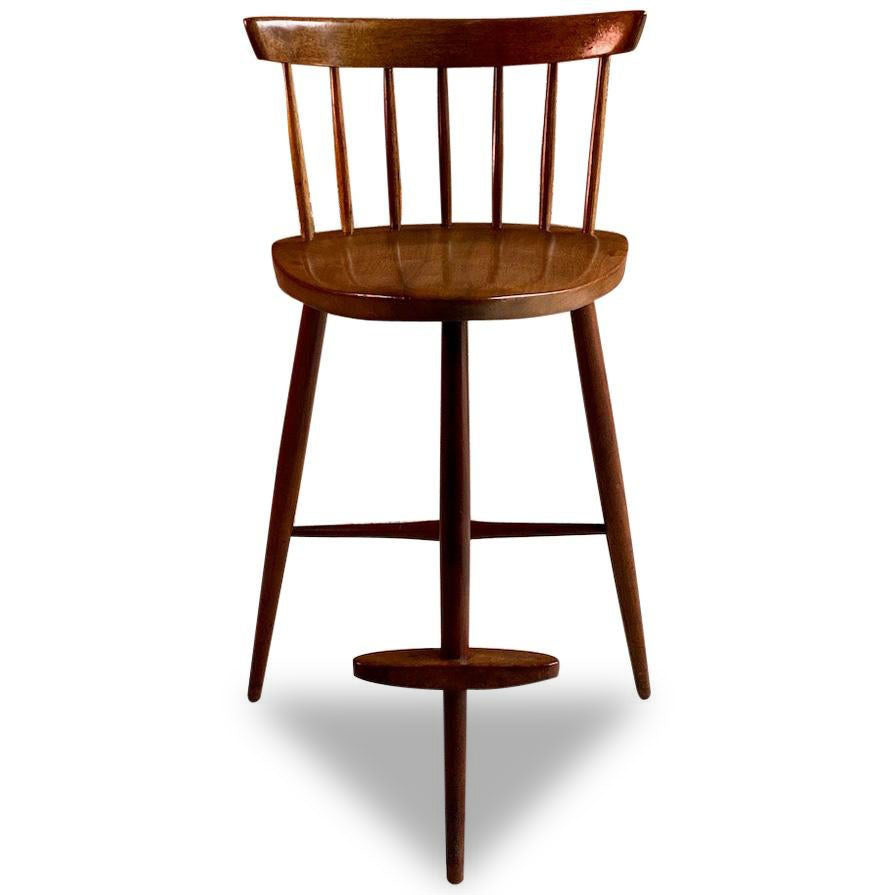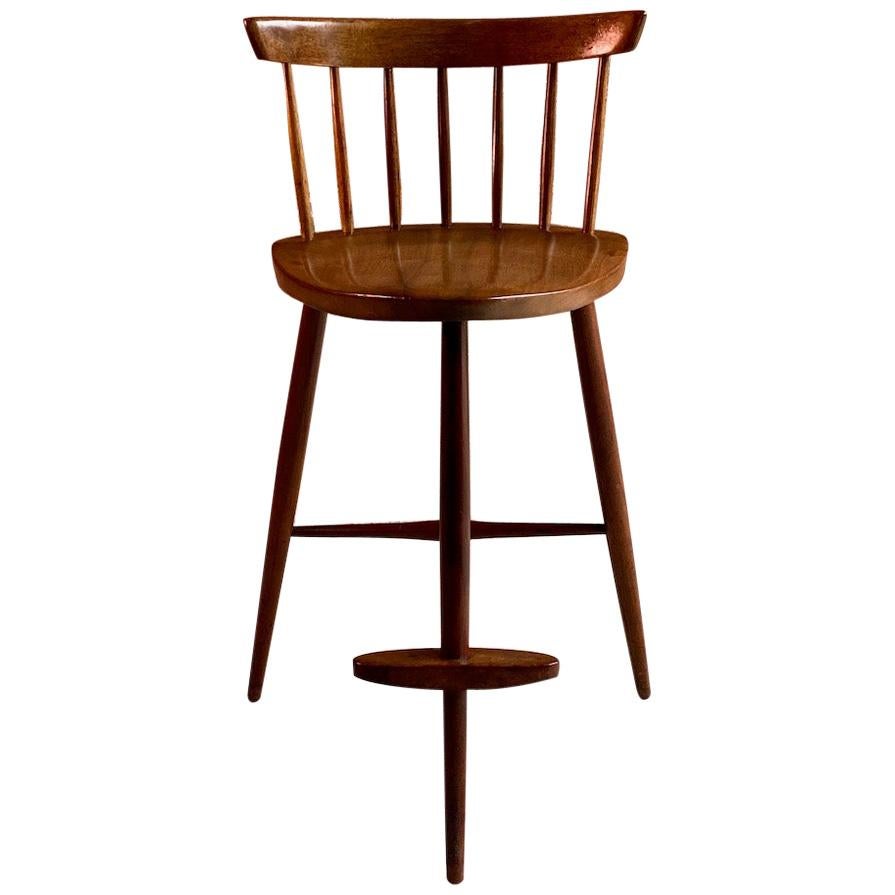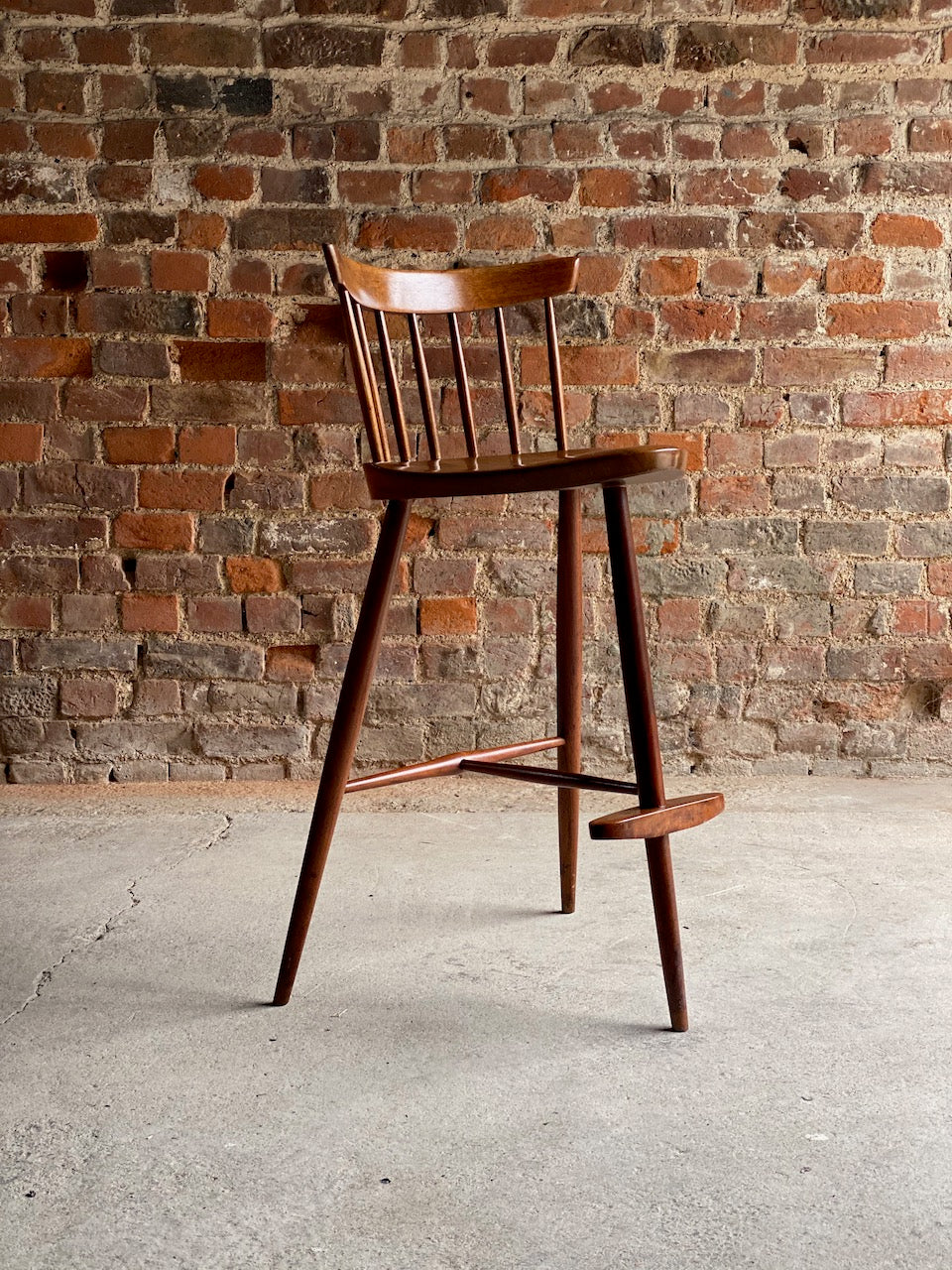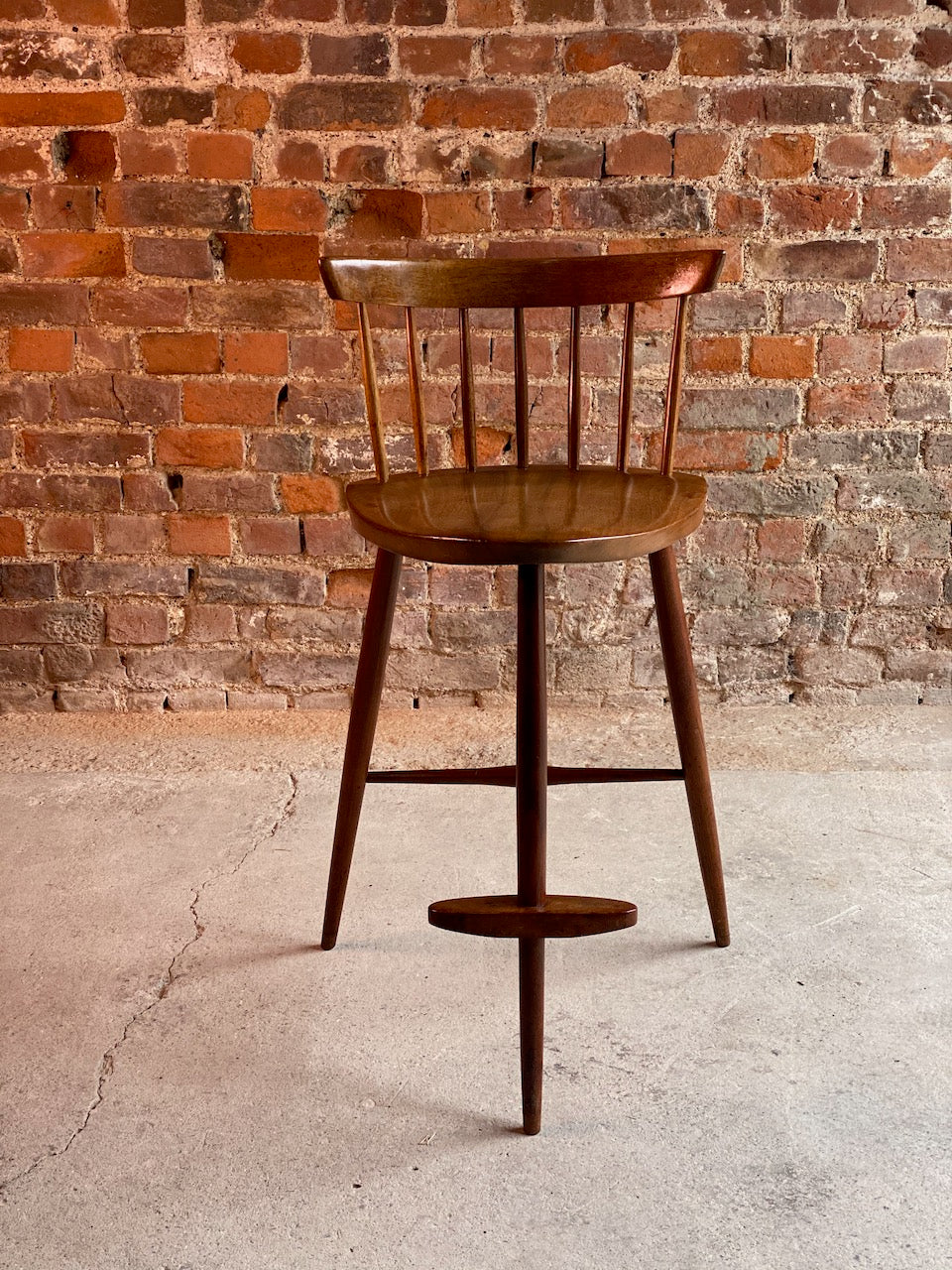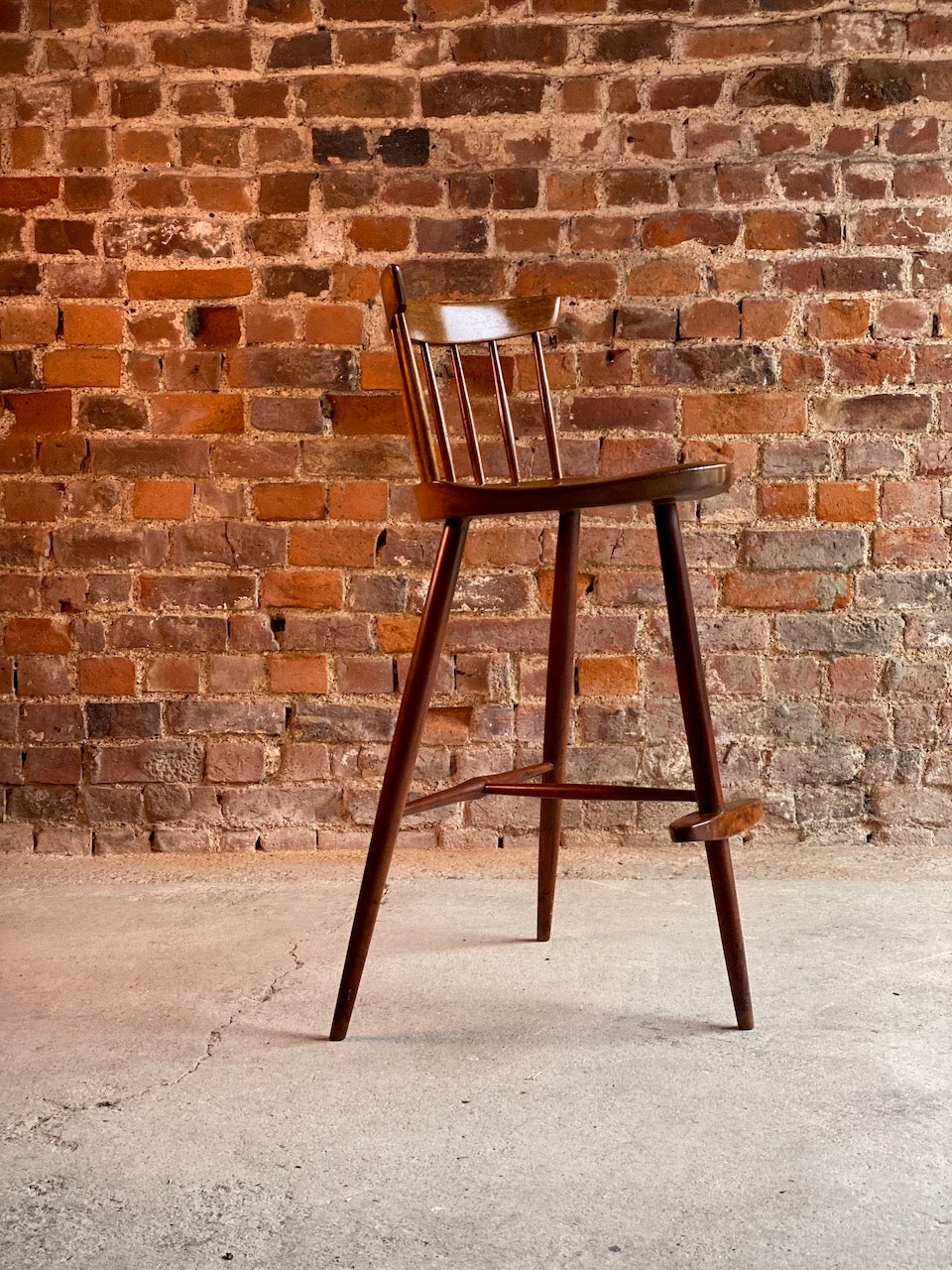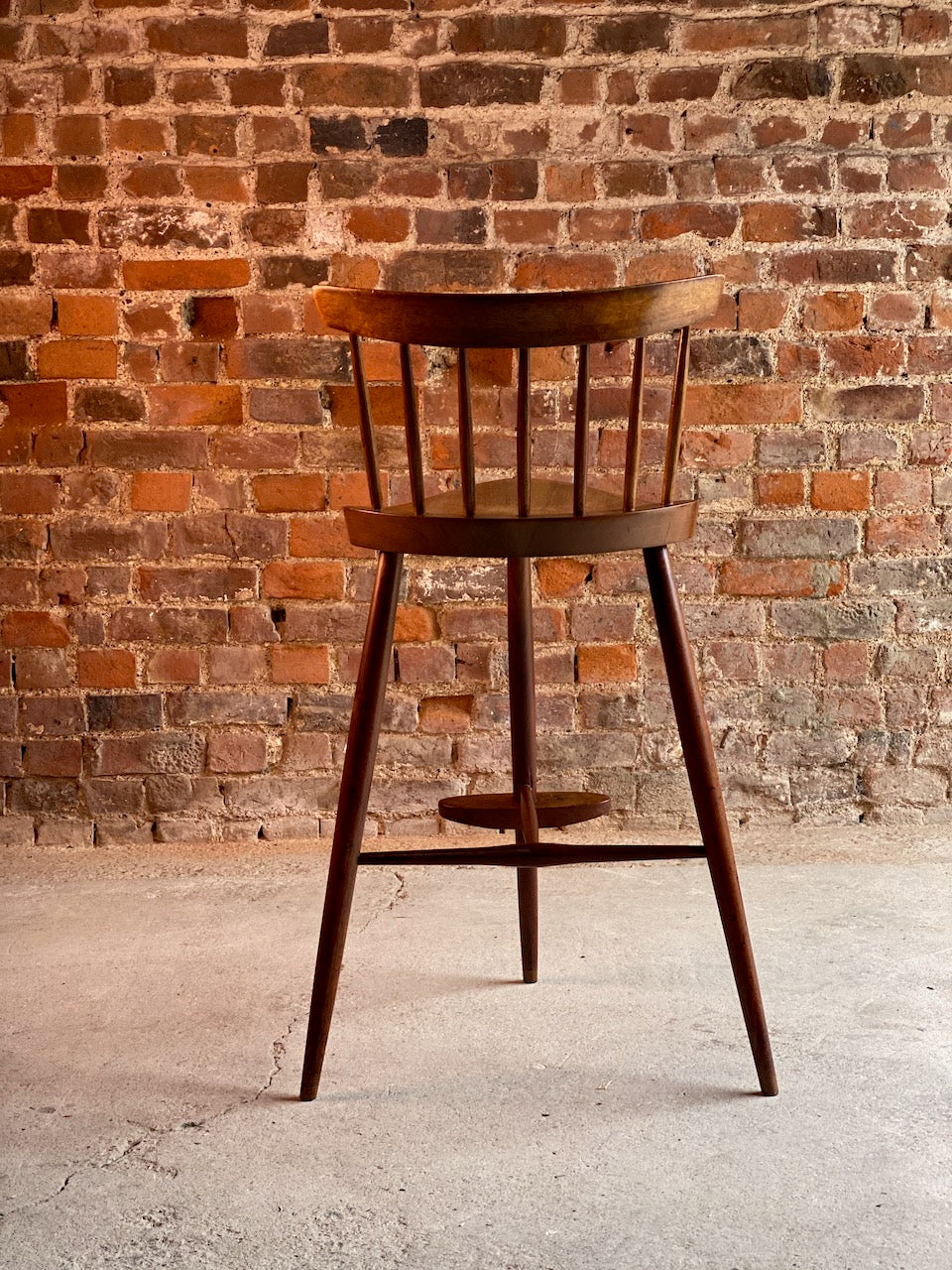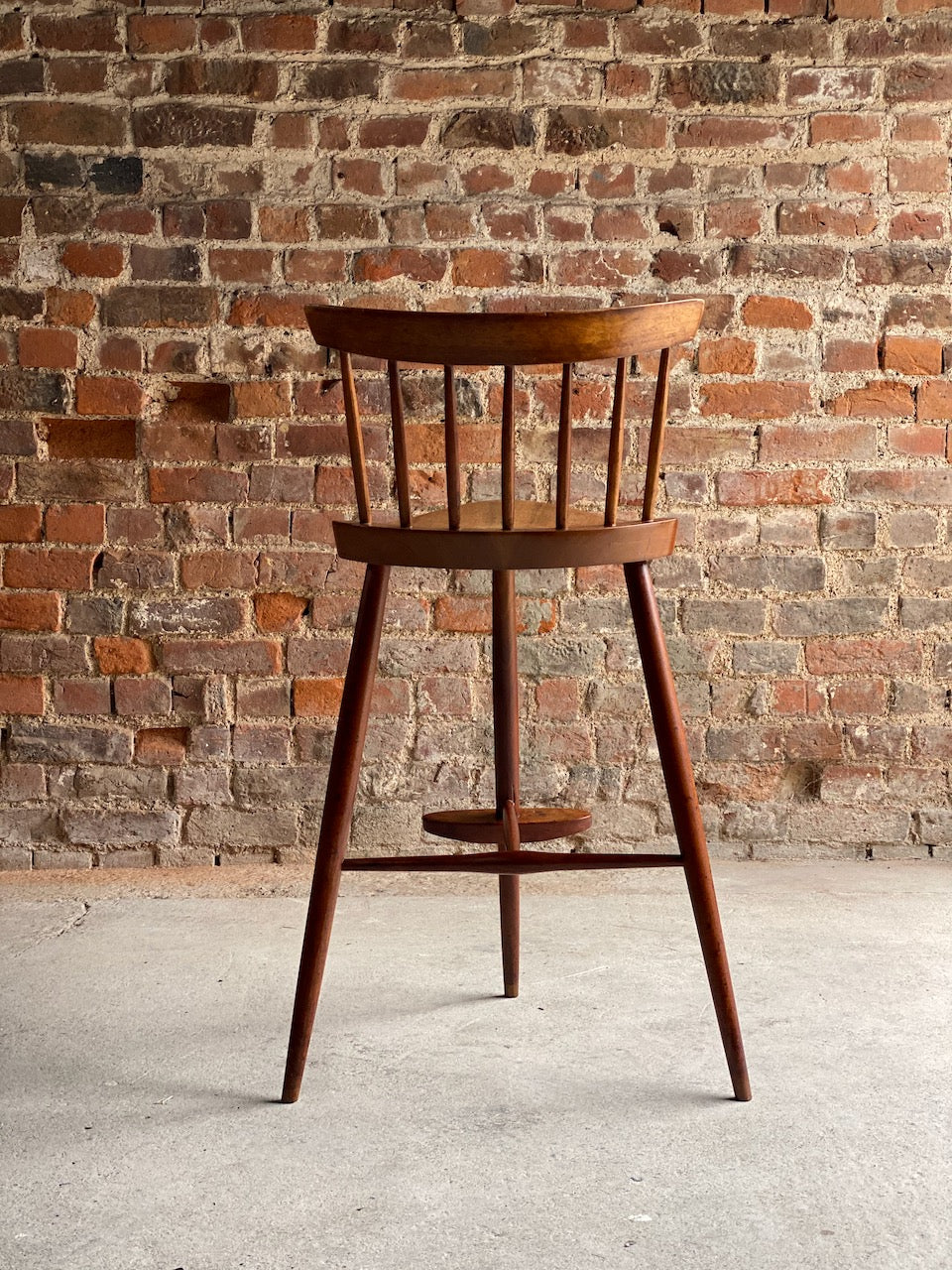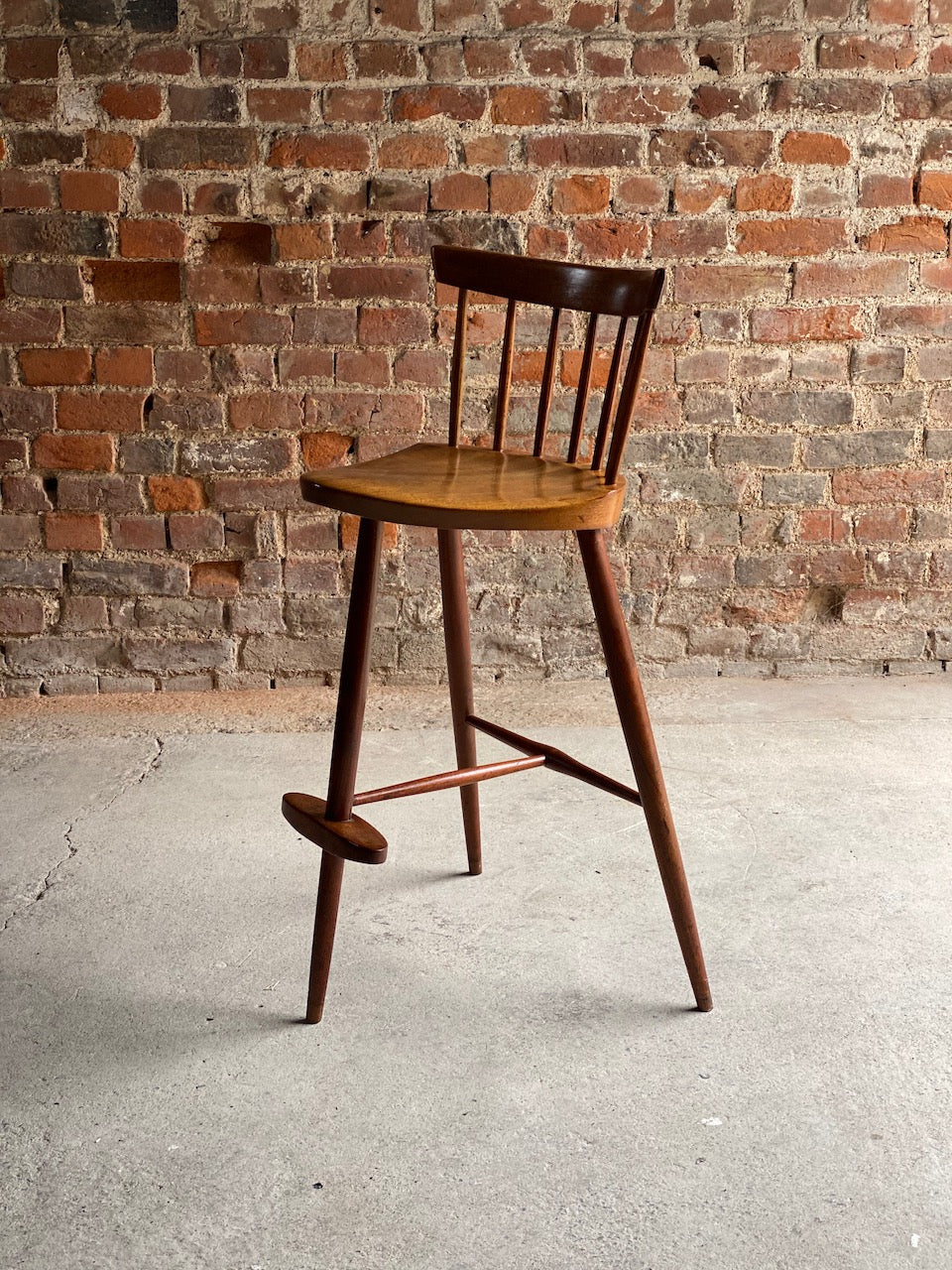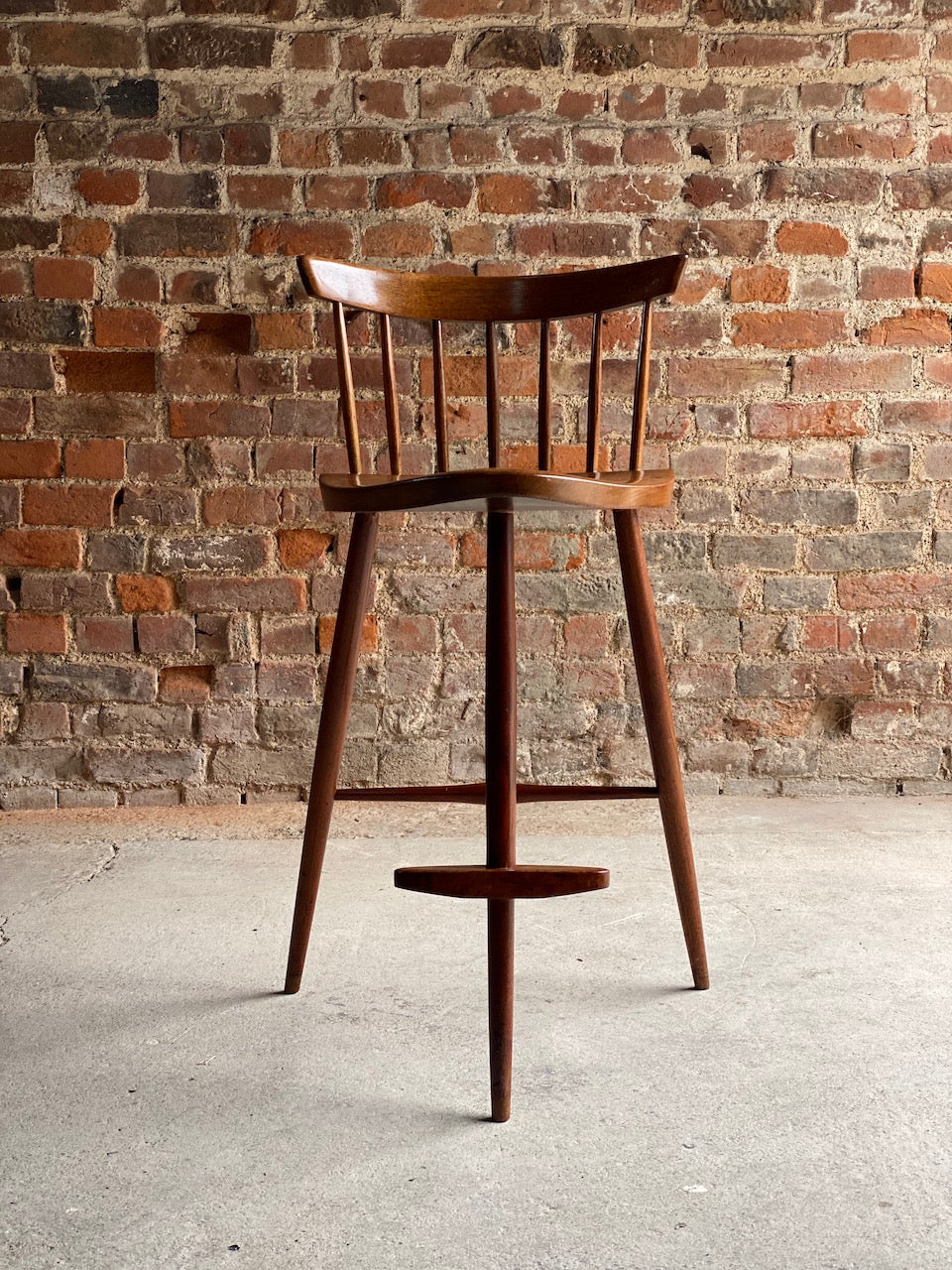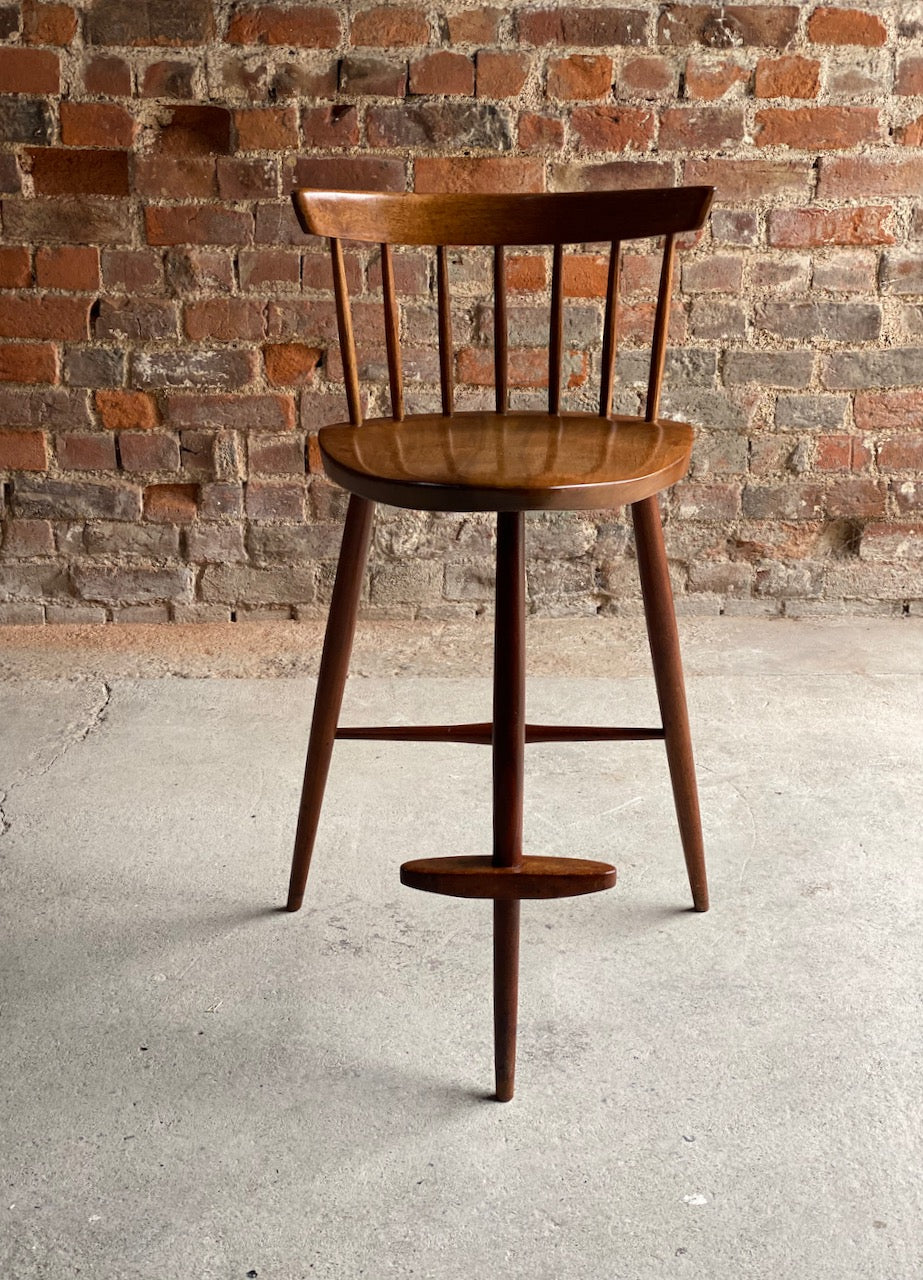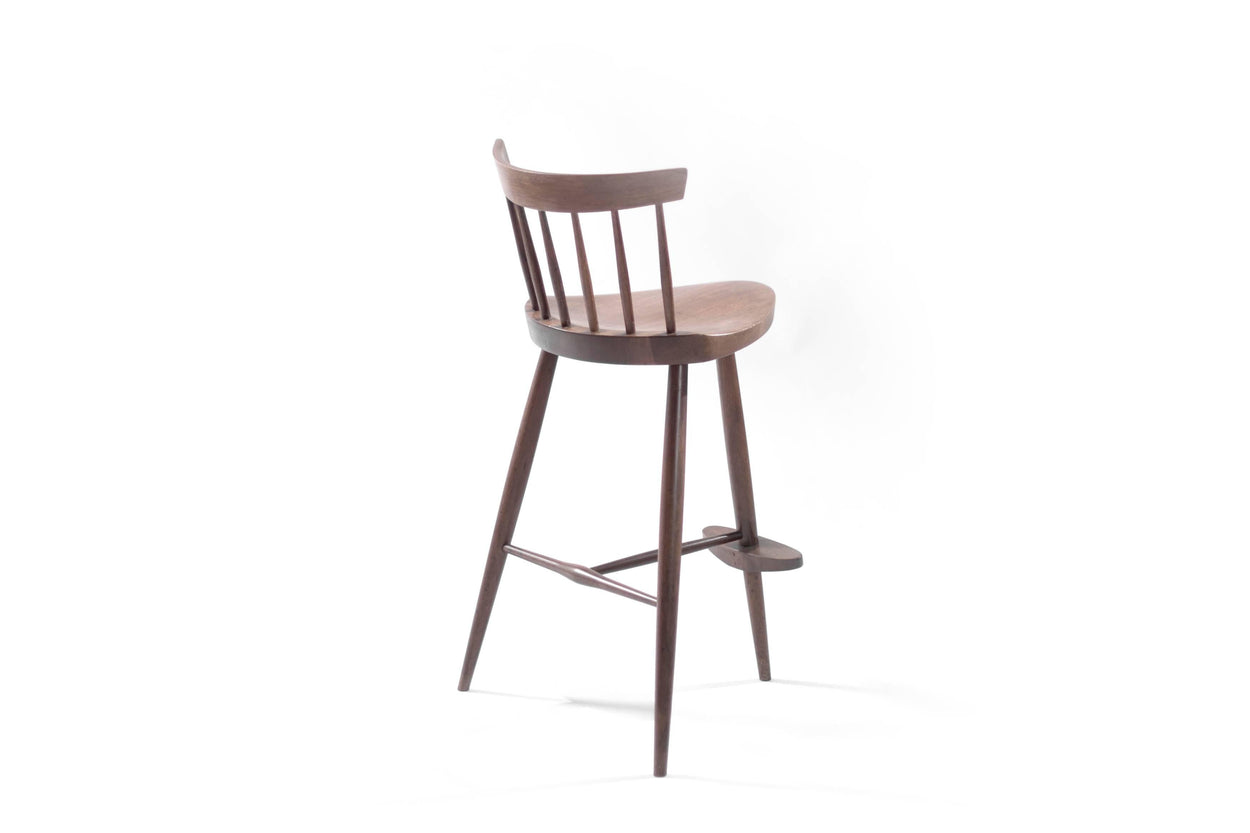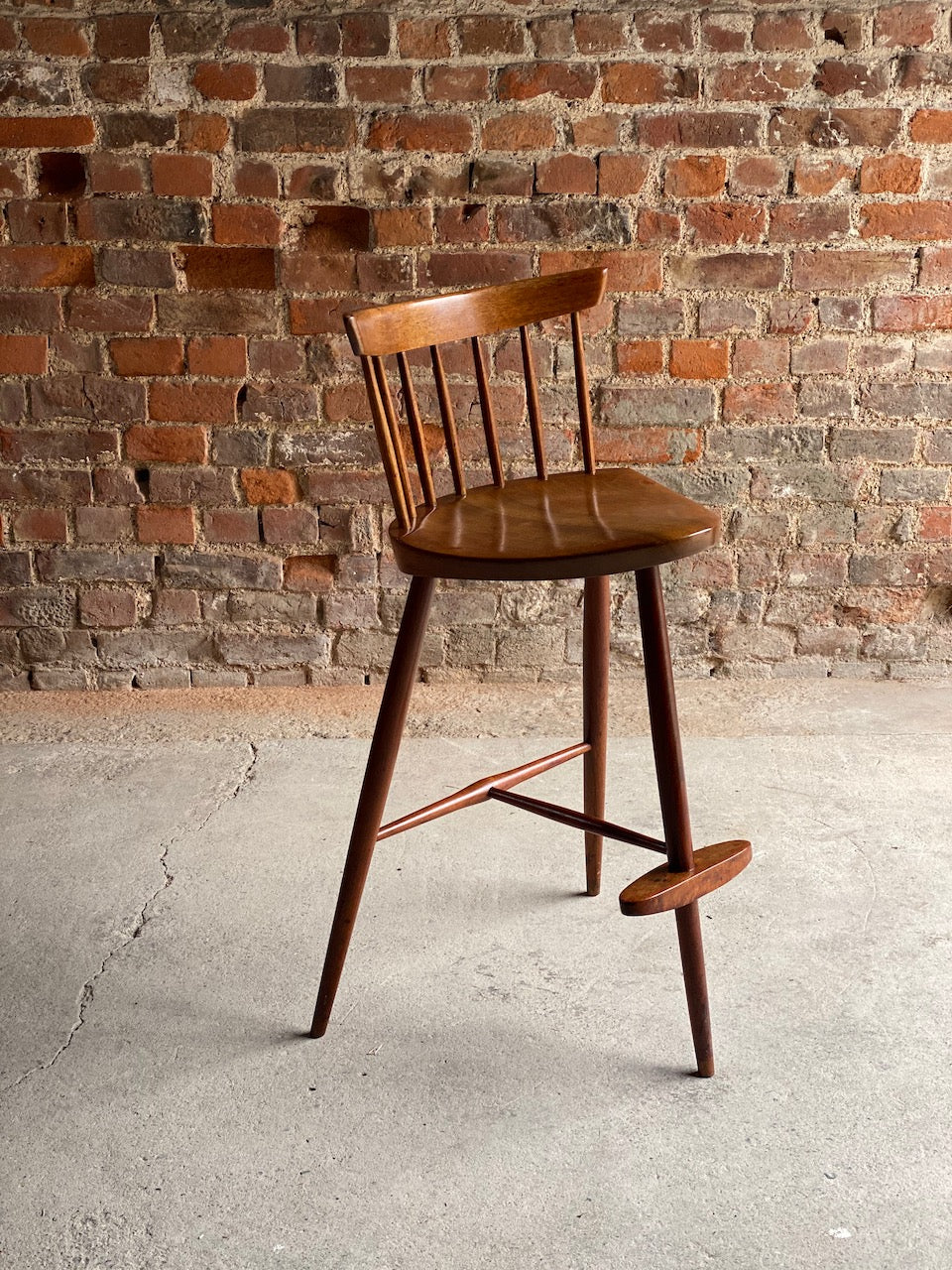 George Nakashima Mira High Stool American Black Walnut Circa 1960
SOLD
George Nakashima Mira High Stool American Black Walnut Circa 1960

Original early production model George Nakashima  'Mira High Stool' American Black Walnut & Hickory dated 1960, this Stool was handcrafted by George Nakashima in his Woodworker complex, New Hope Studios in Pennsylvania, this stunning tripod stool with its beautifully hand-hewn backrest, spindles and ergonomically triangular shaped seat, raised on three splayed, tapered dowel legs, united by stretchers and one footrest to the front leg, comes with original Order Card from New Hope, PA / USA, around 1960

In the workshop of George Nakashima, the soul of the tree was celebrated. "It is an art- and soul-satisfying adventure to walk the forests of the world, to commune with trees," Nakashima said, "to bring this living material to the work bench, ultimately to give it a second life."

The George Nakashima Woodworker Complex, located in New Hope, Pennsylvania, was the home of the internationally renowned furniture designer and architect George Nakashima. The 12 acre complex has 21 buildings, all designed by Nakashima. The assortment of buildings, scattered across a wooded forest and open lawns, served as Nakashima's home and workspace until his death in 1990. Nakashima is recognised as one of America's most eminent furniture designer-craftsman and his style of "organic naturalism" can be seen in the buildings, landscape, and furniture located in the George Nakashima Woodworker Complex.

Working out of his compound in rural New Hope, Pennsylvania, George Nakashima produced some of the most original and influential furniture designs of the post-war era. Nakashima aimed to give trees a second life, choosing solid wood over veneers and designing his furniture to highlight the inherent beauty of the wood, such as the form and grain.

After returning to the U.S. in 1940, Nakashima's family was interned in an American concentration camp, a horrible ordeal that nevertheless introduced him to traditional Japanese joinery by way of a Nisei woodworker he met in the camp. He incorporated these techniques and also drew on American vernacular forms, such as the Windsor chair.
George Nakashima
USA
Original
Mira High Stool
American Black Walnut
Hickory
Hand Crafted
Early Production by Nakashima
1960
Investment
Free UK delivery
Practical & Beautiful
This piece is offered in excellent original condition with no restorations, wonderful walnut patina.

Height: 37" inches / 94cm
Width: 18" inches / 46cm
Depth: 21" inches / 53cm
Seat Height: 27.5" inches / 70cm
Free delivery is offered to England & Wales only when buyer pays full asking price, next day delivery is not possible due to the size of the piece, please allow between 7-14 days delivery