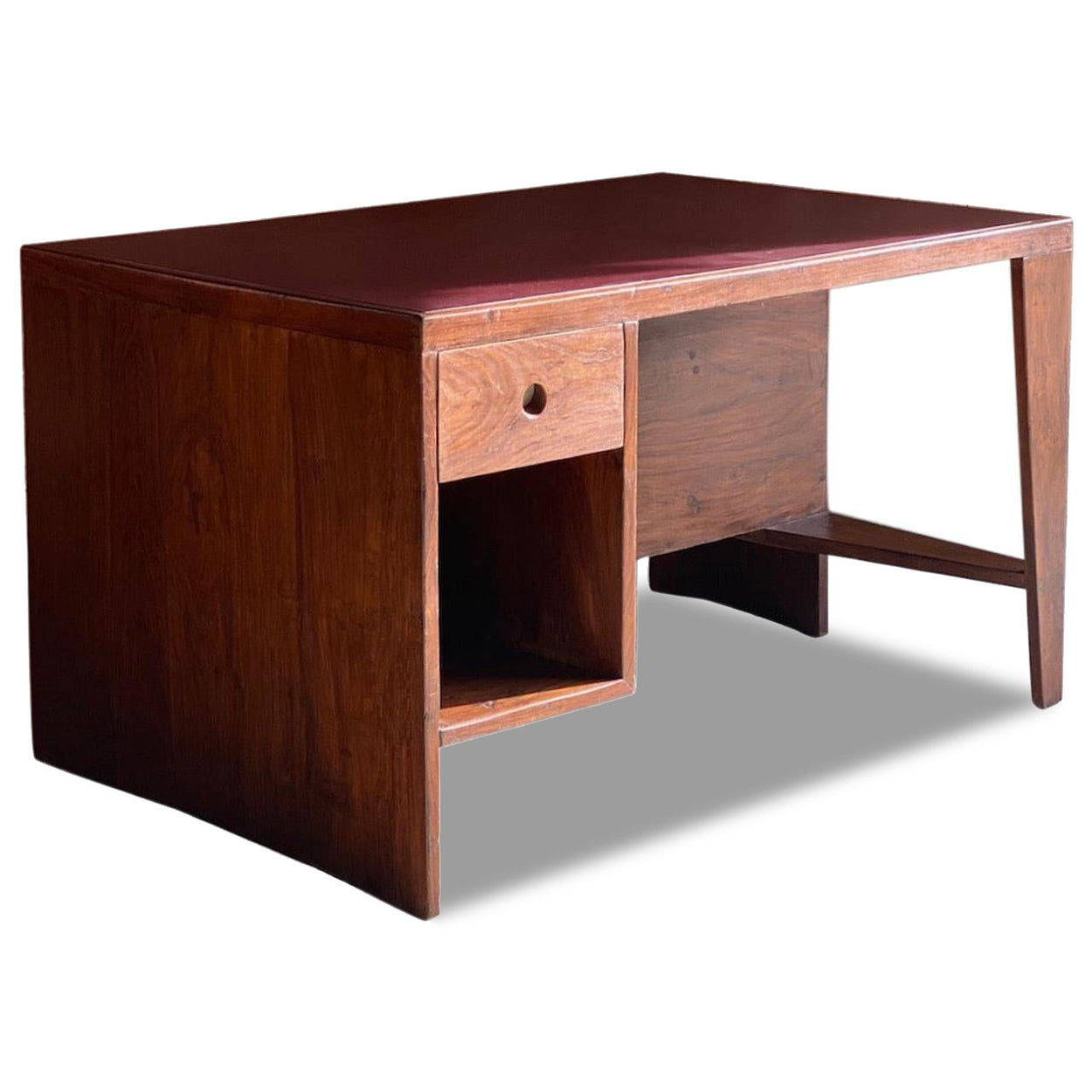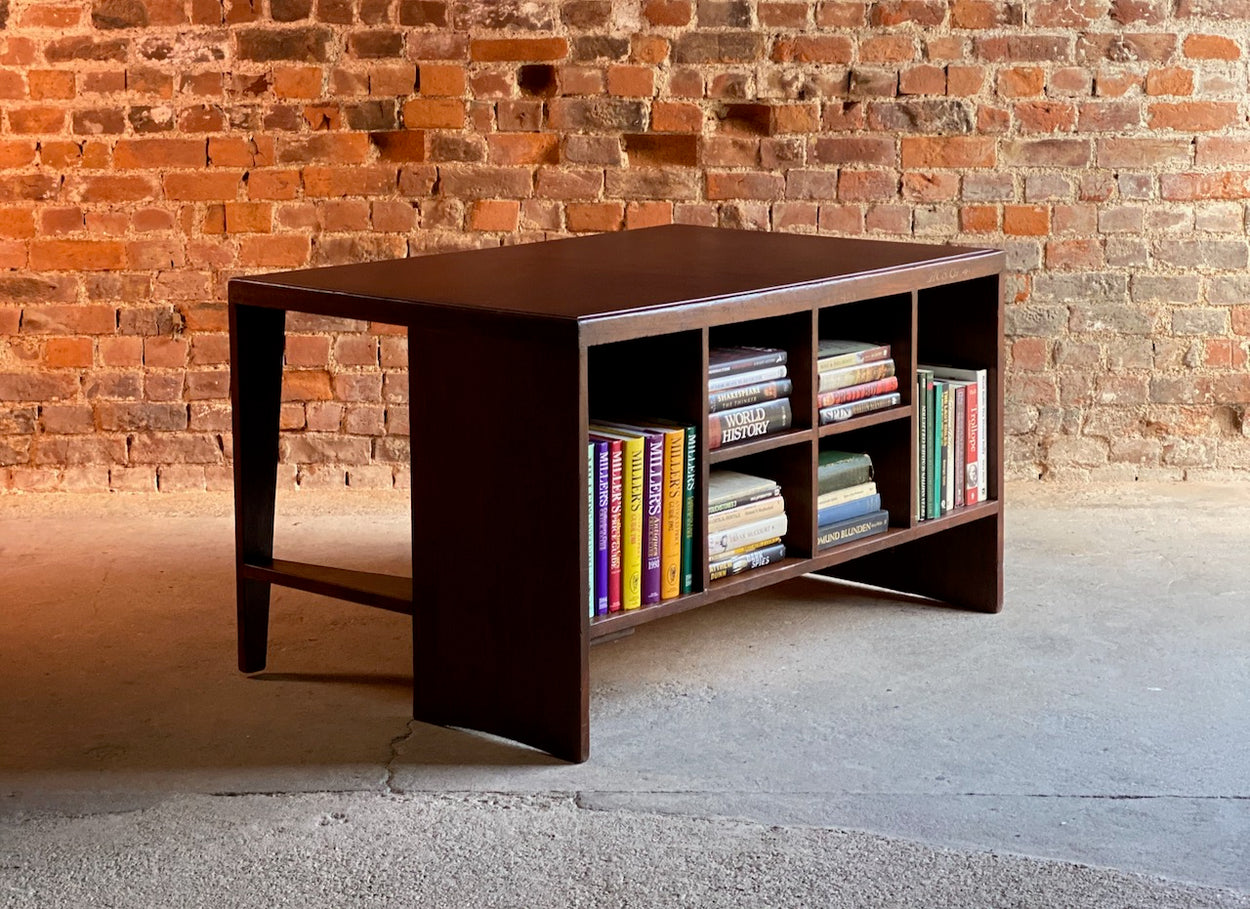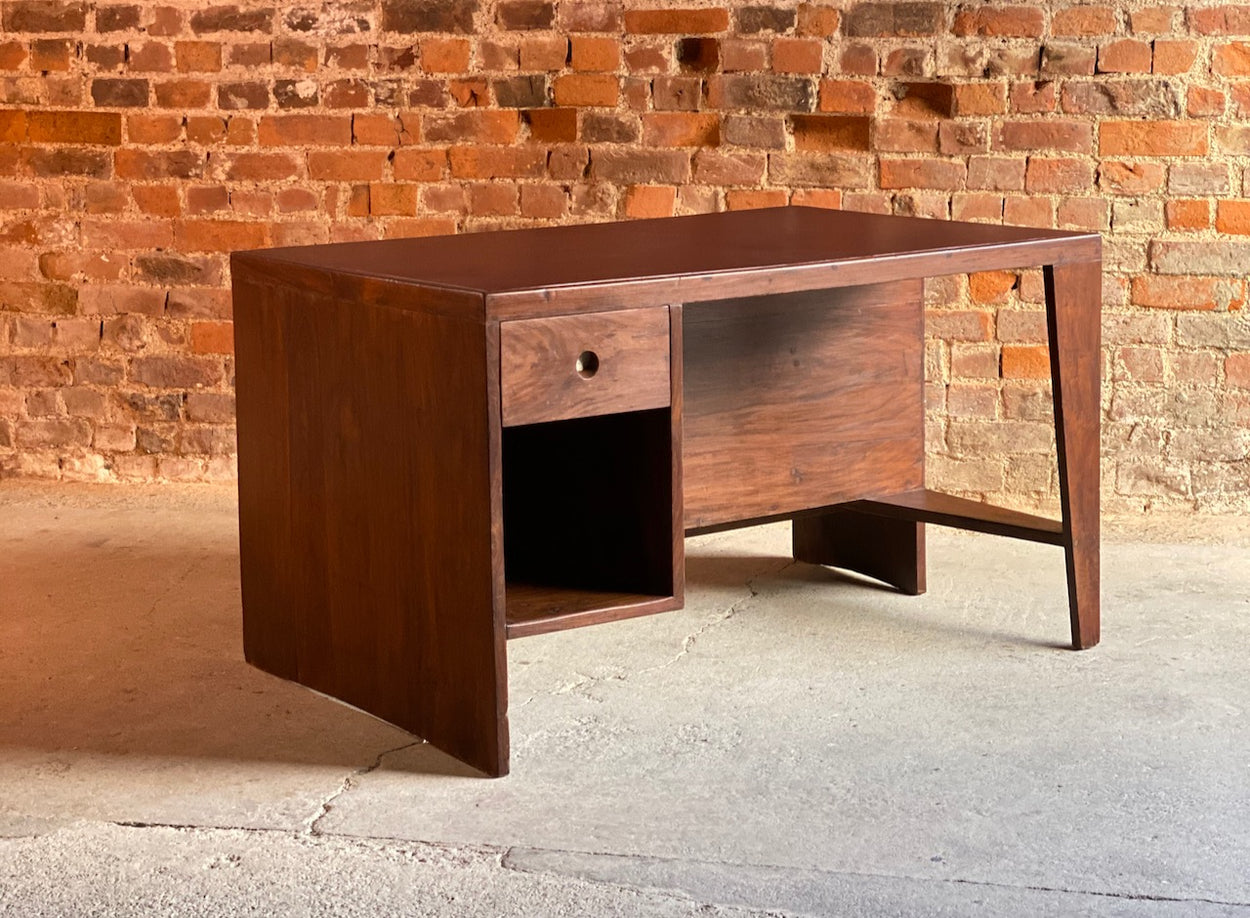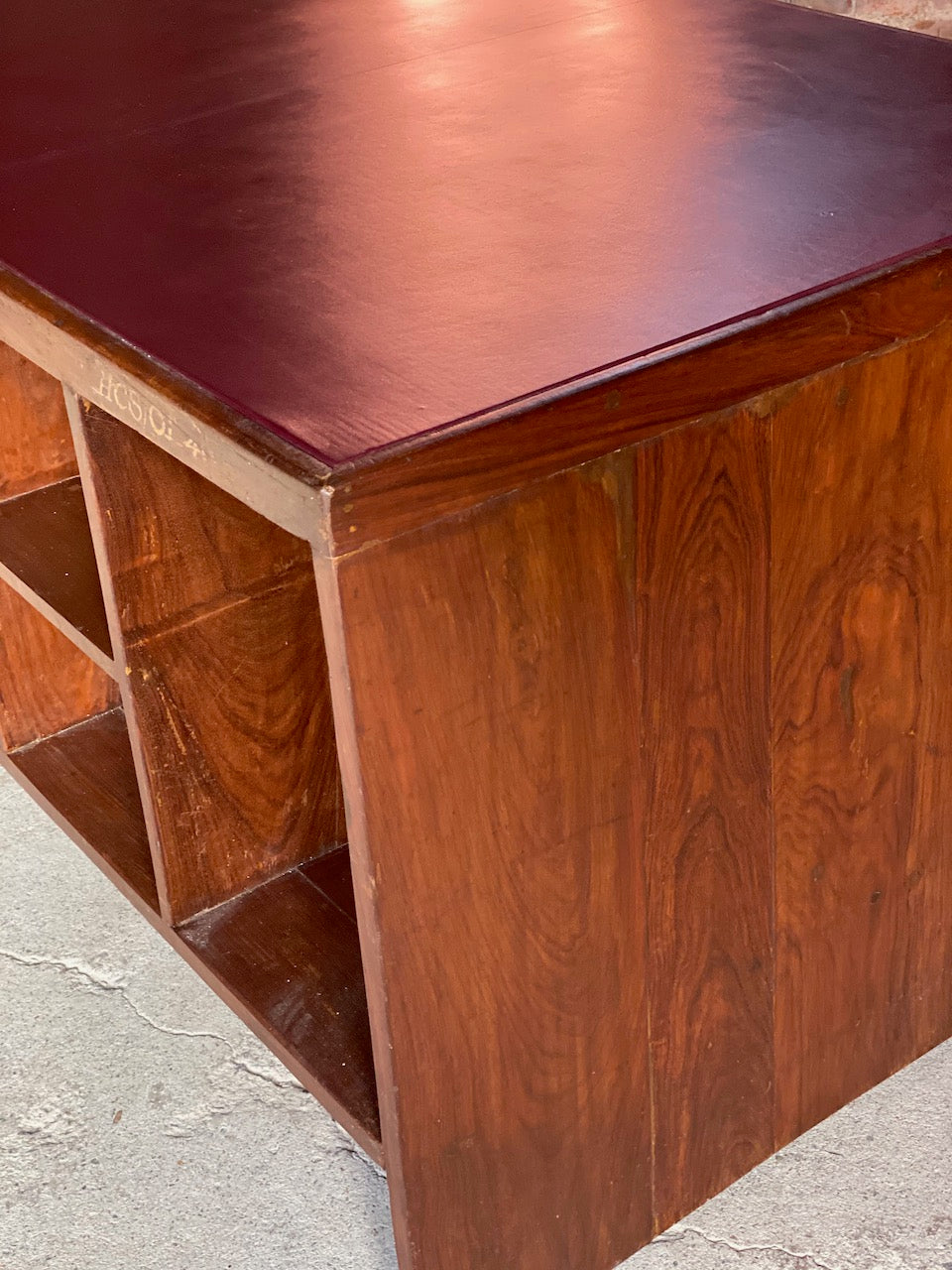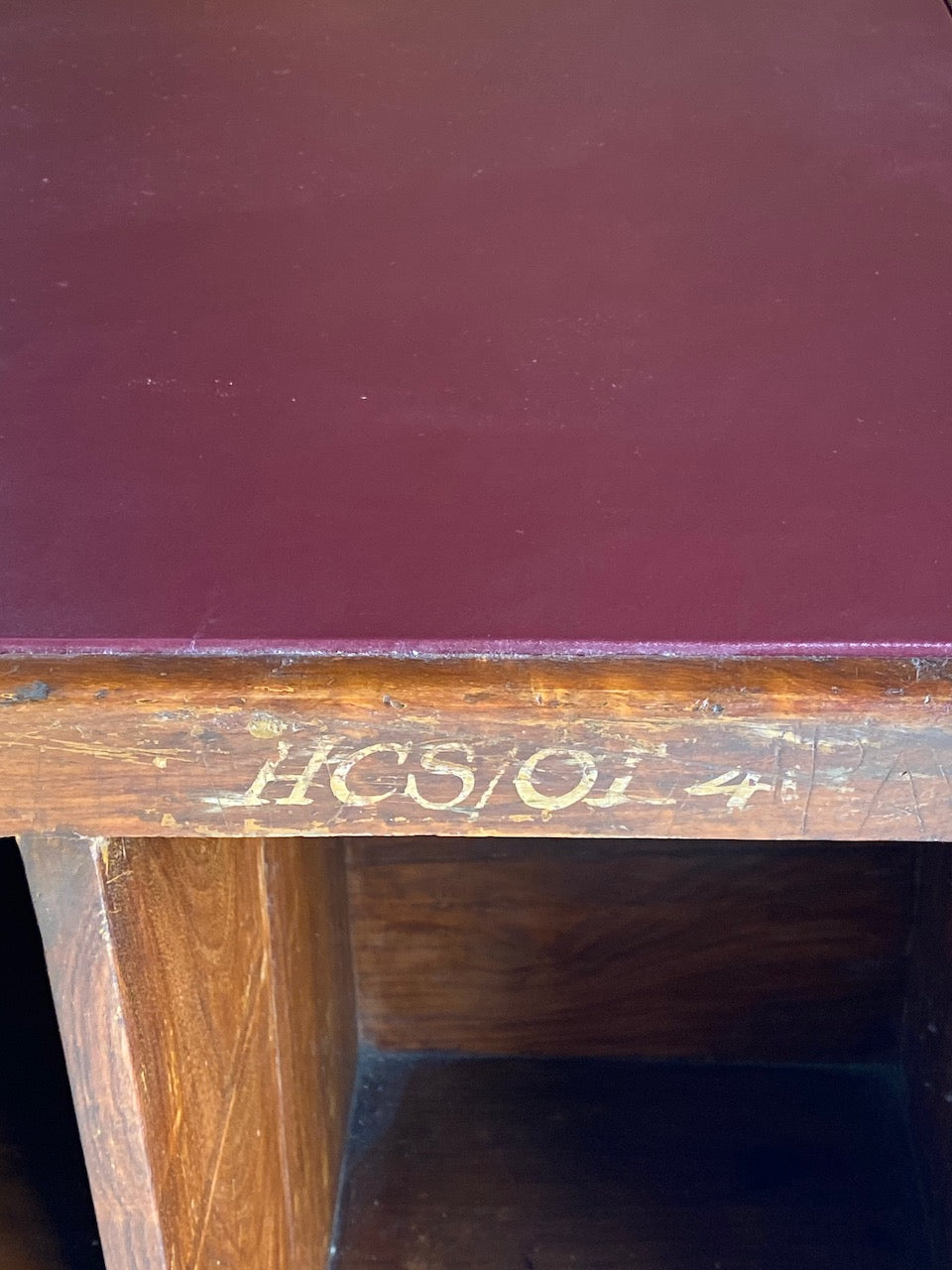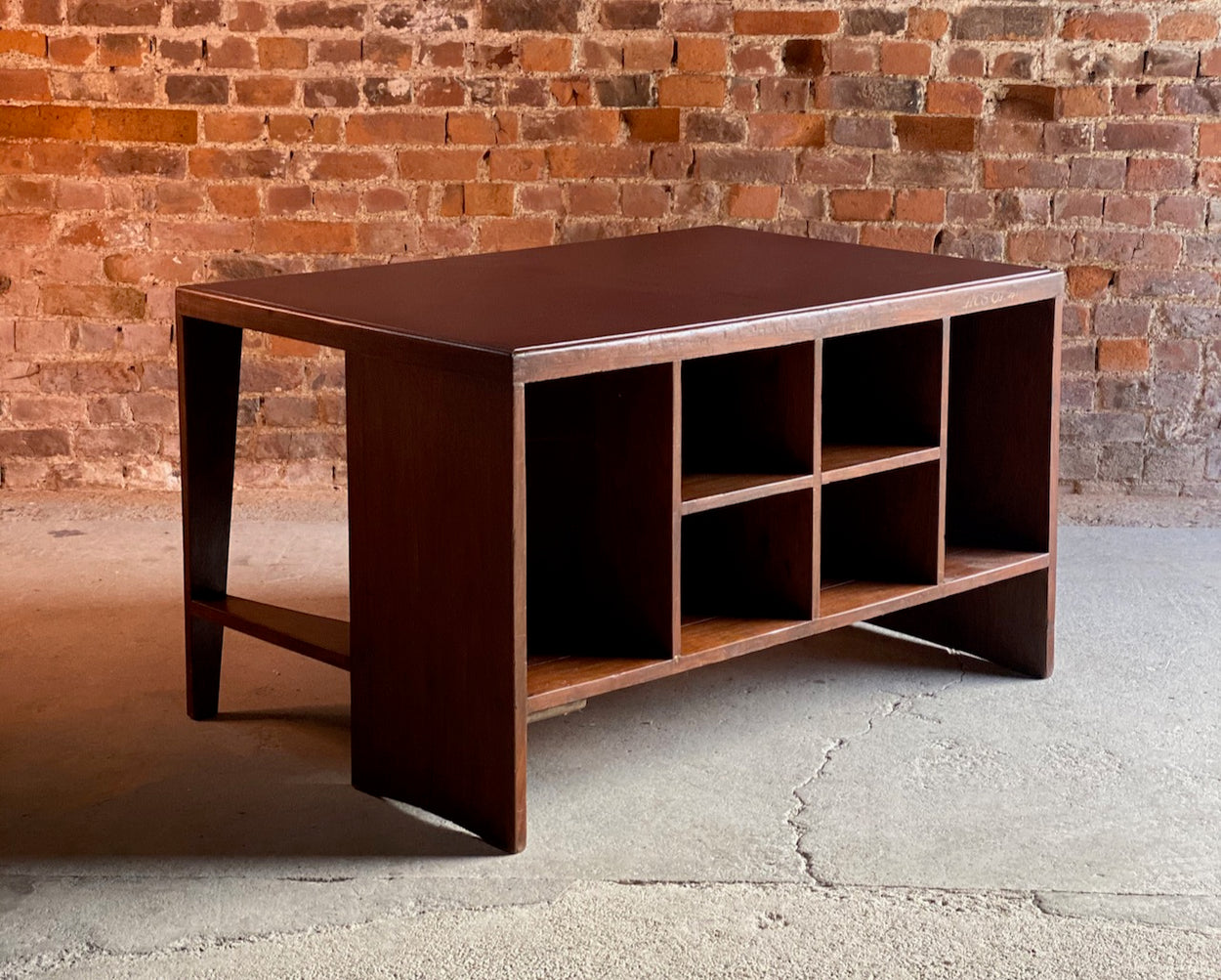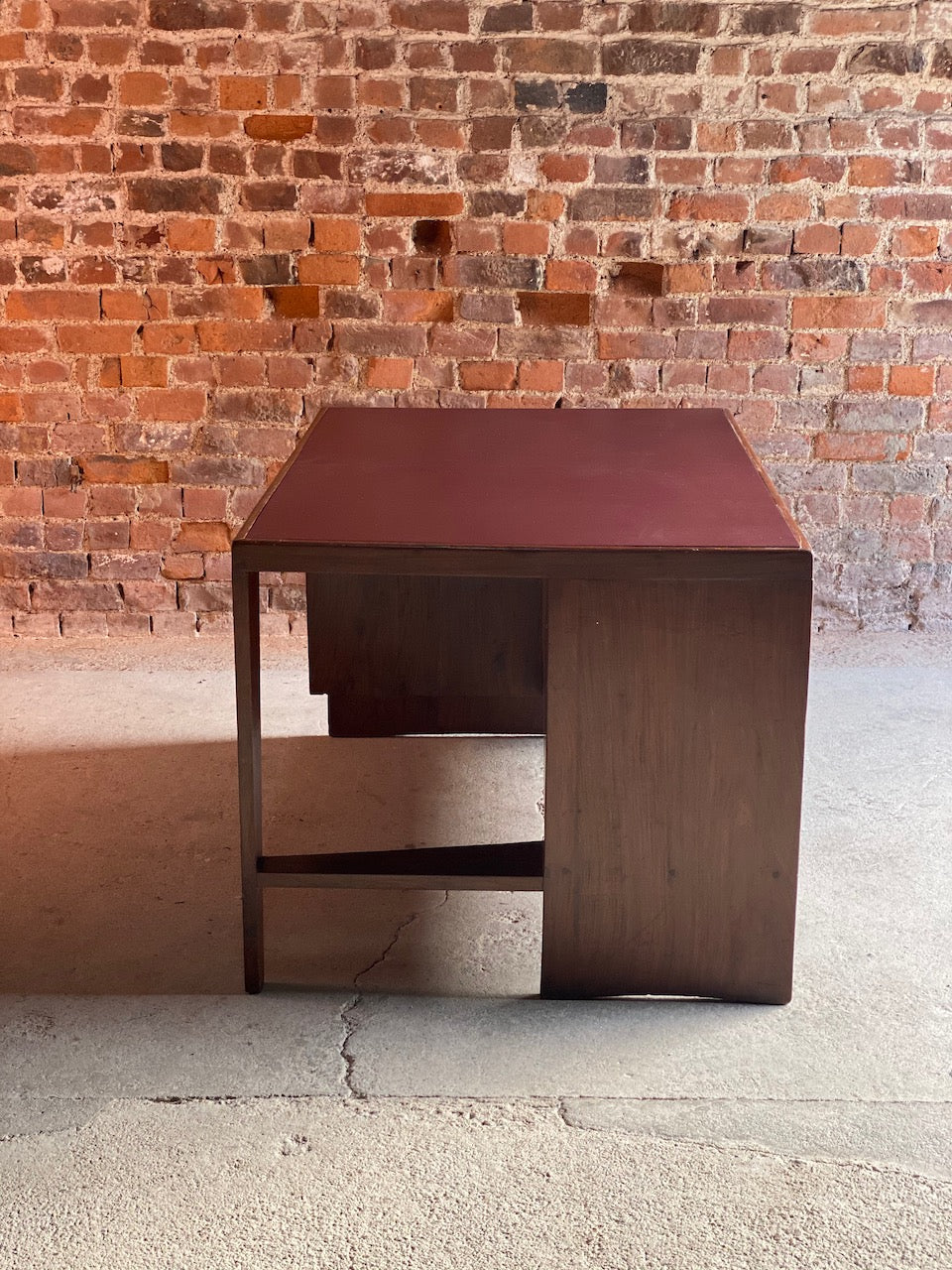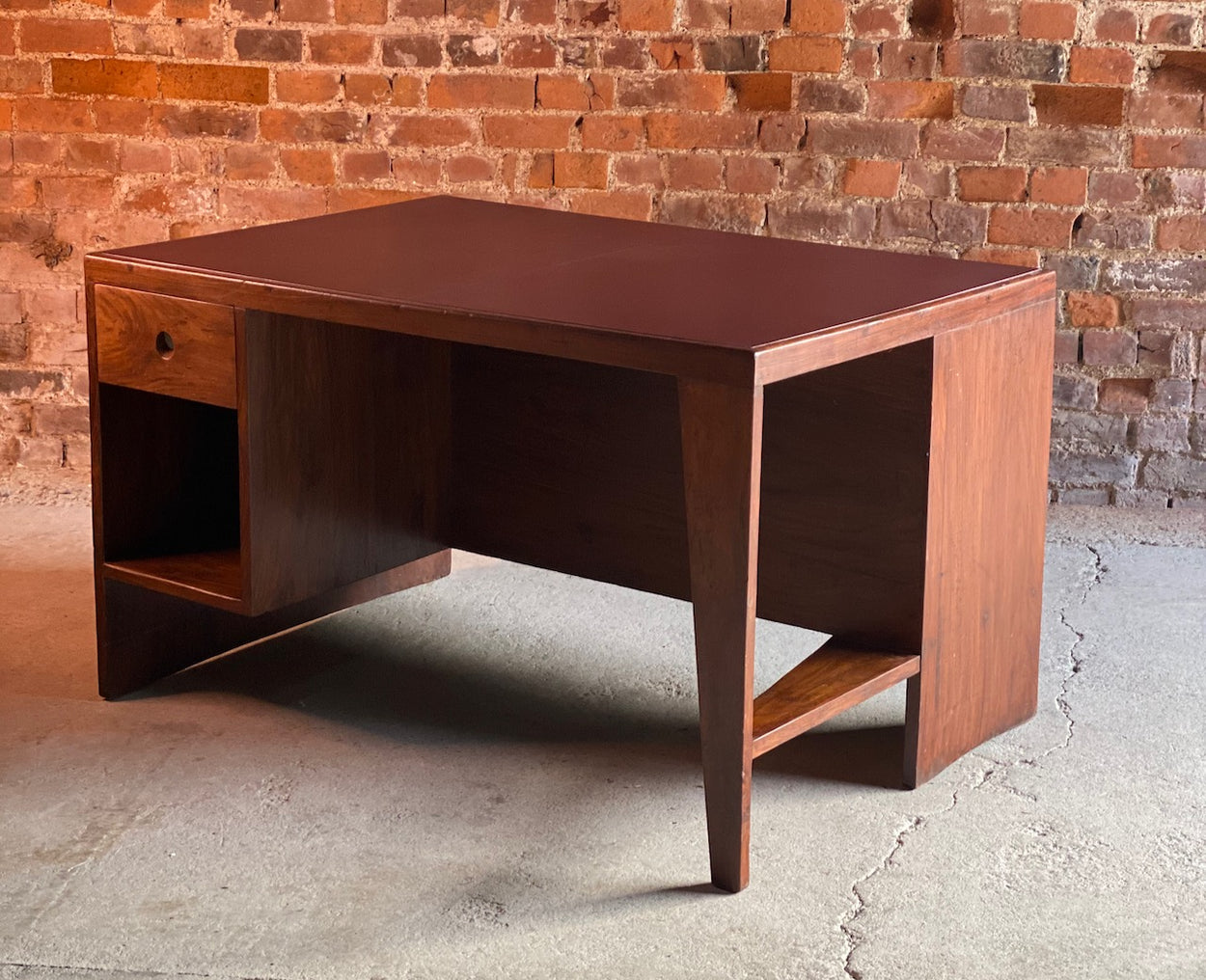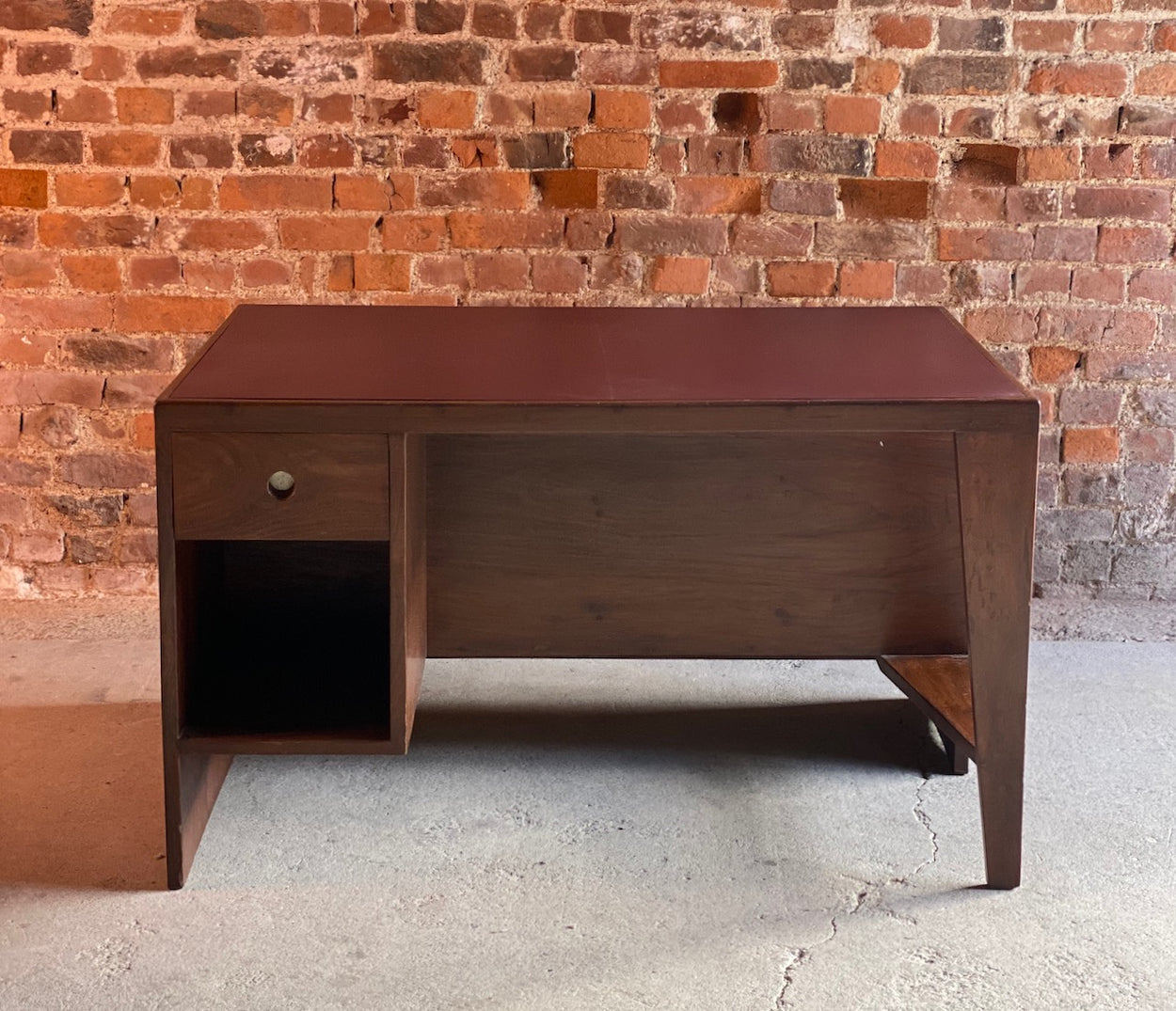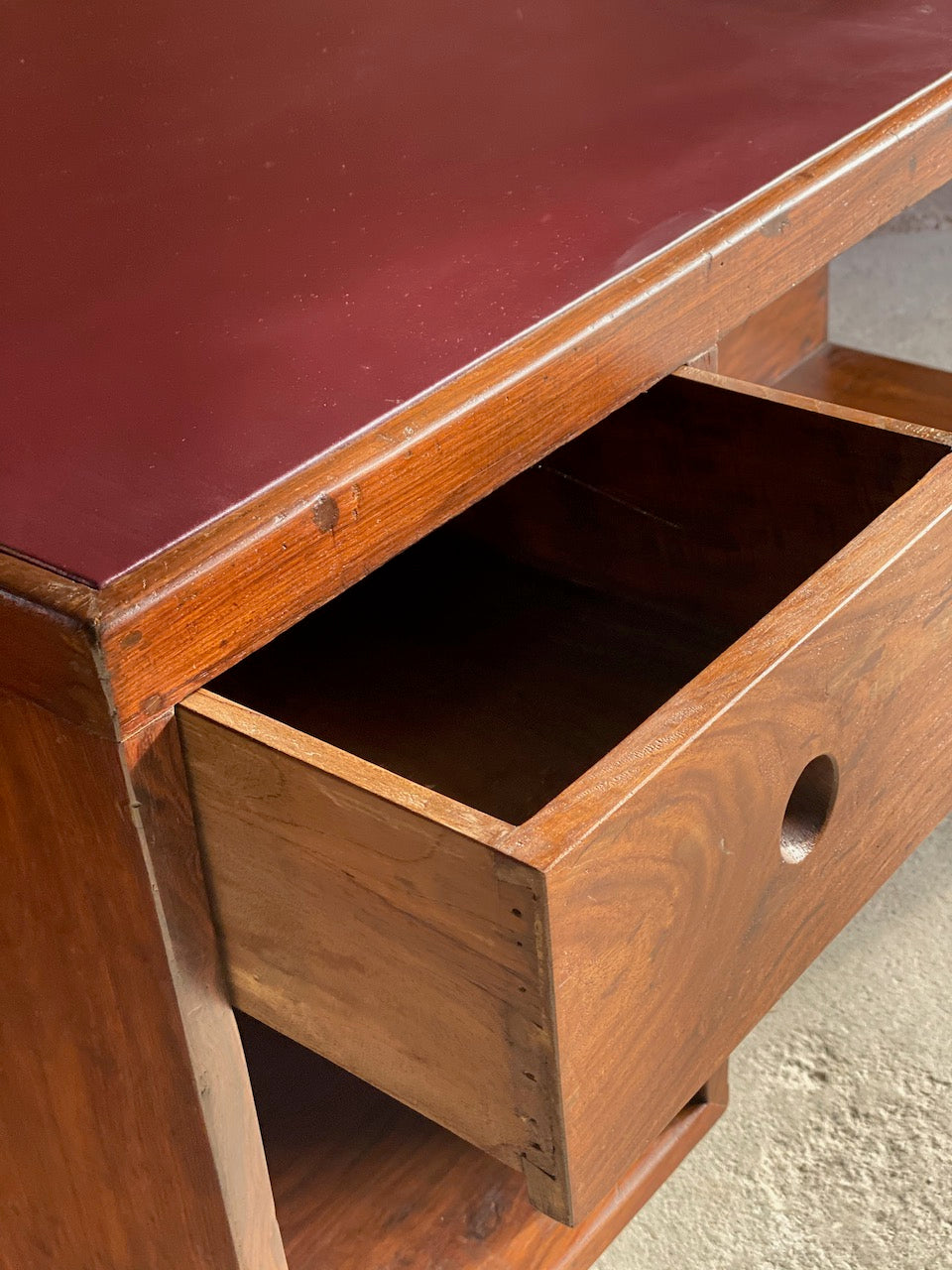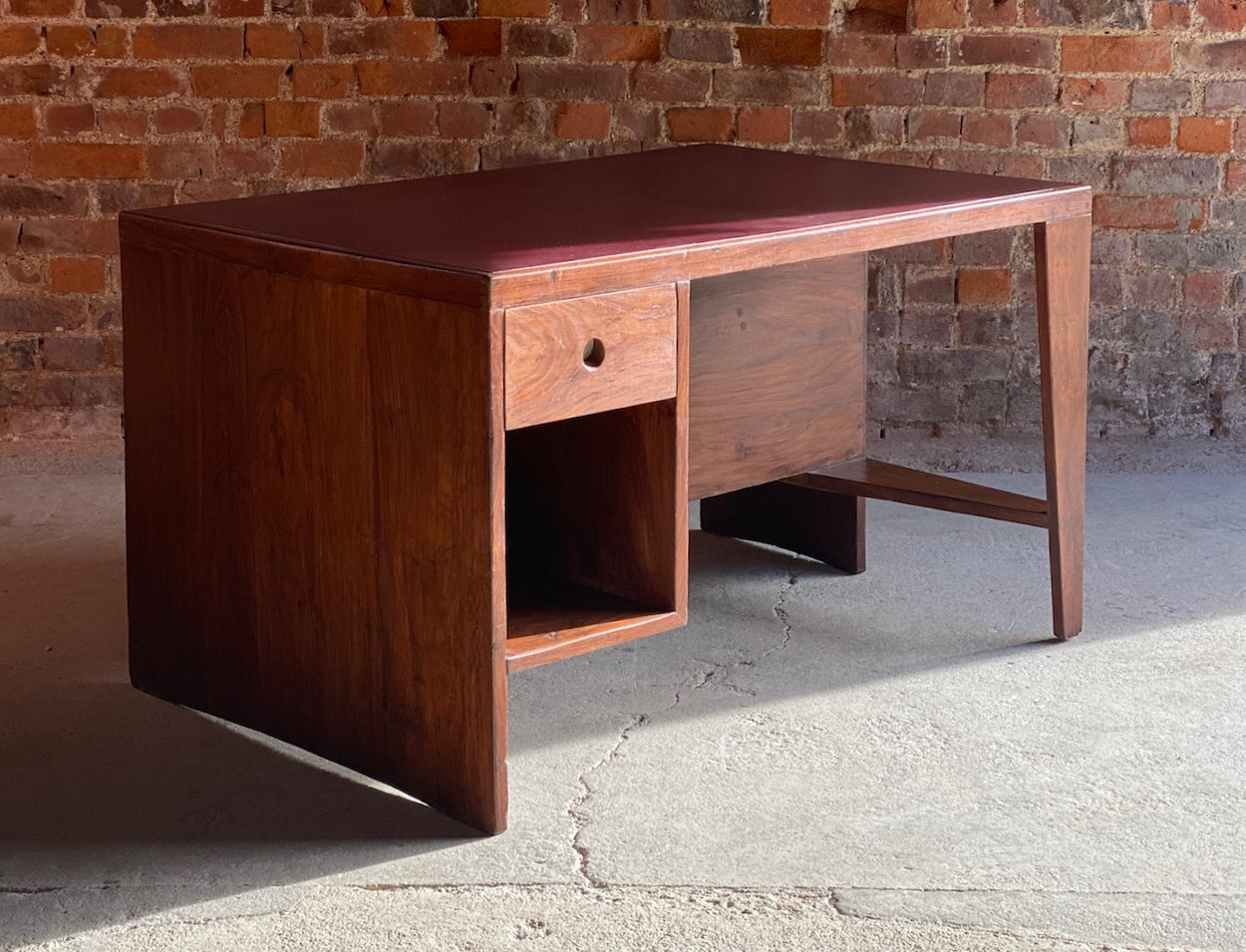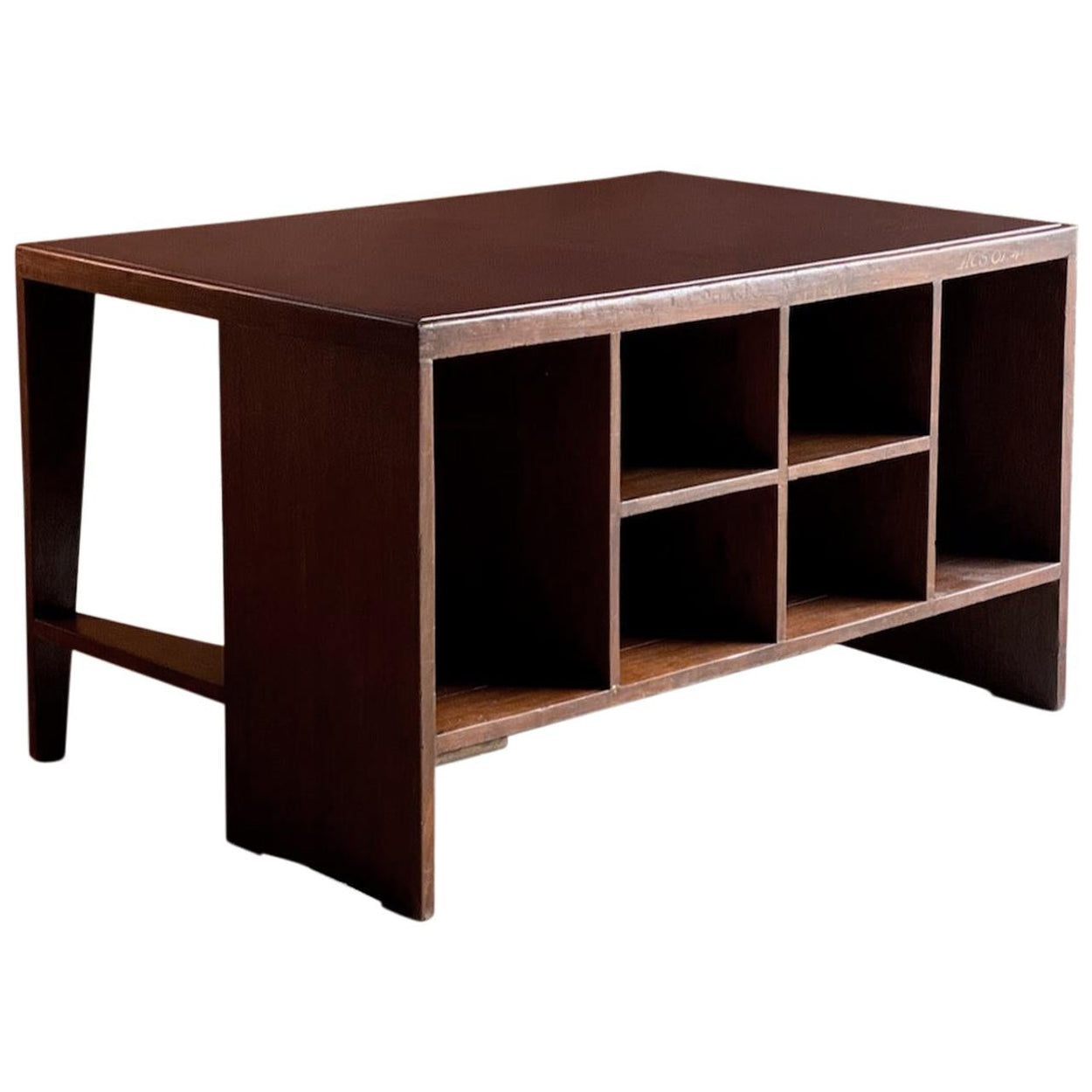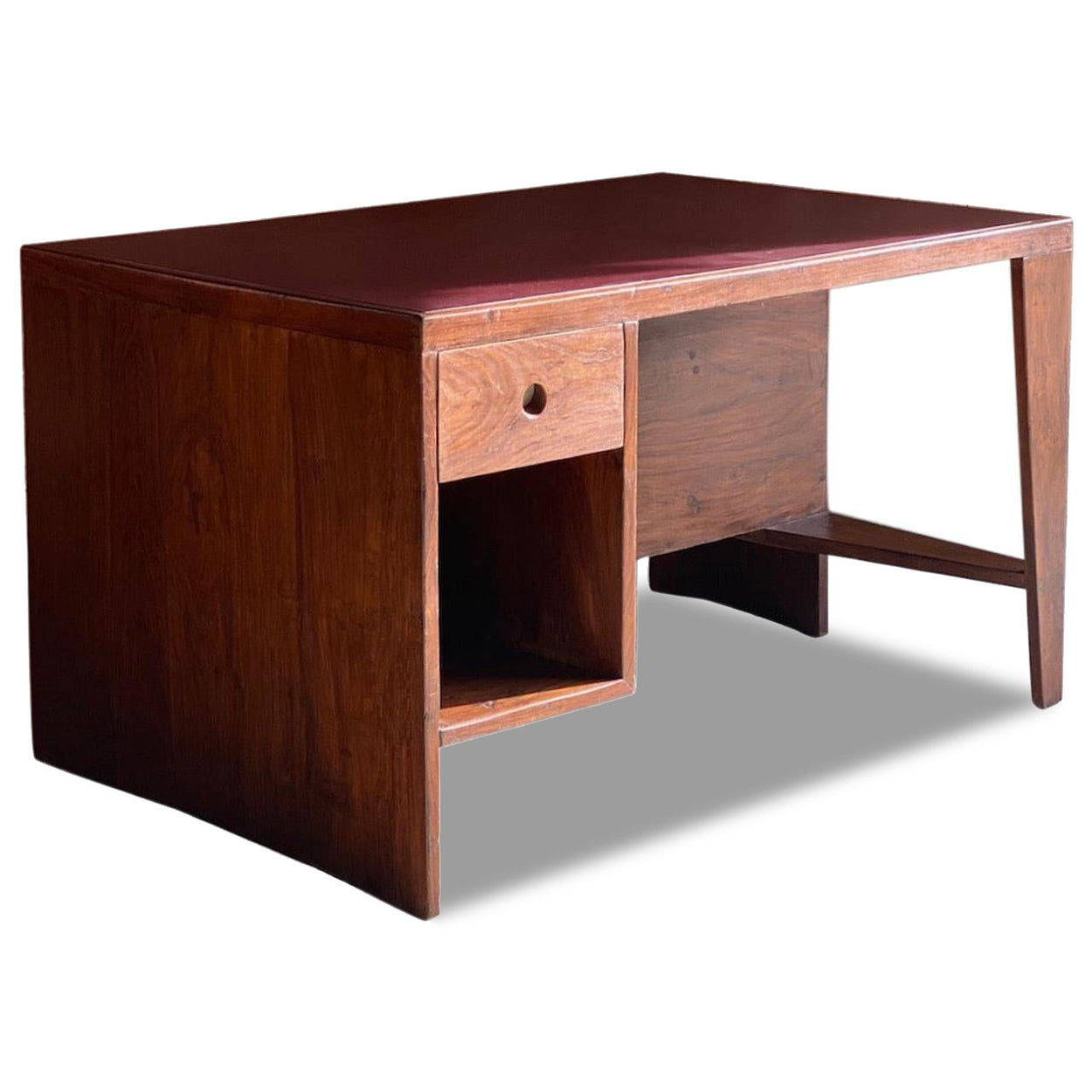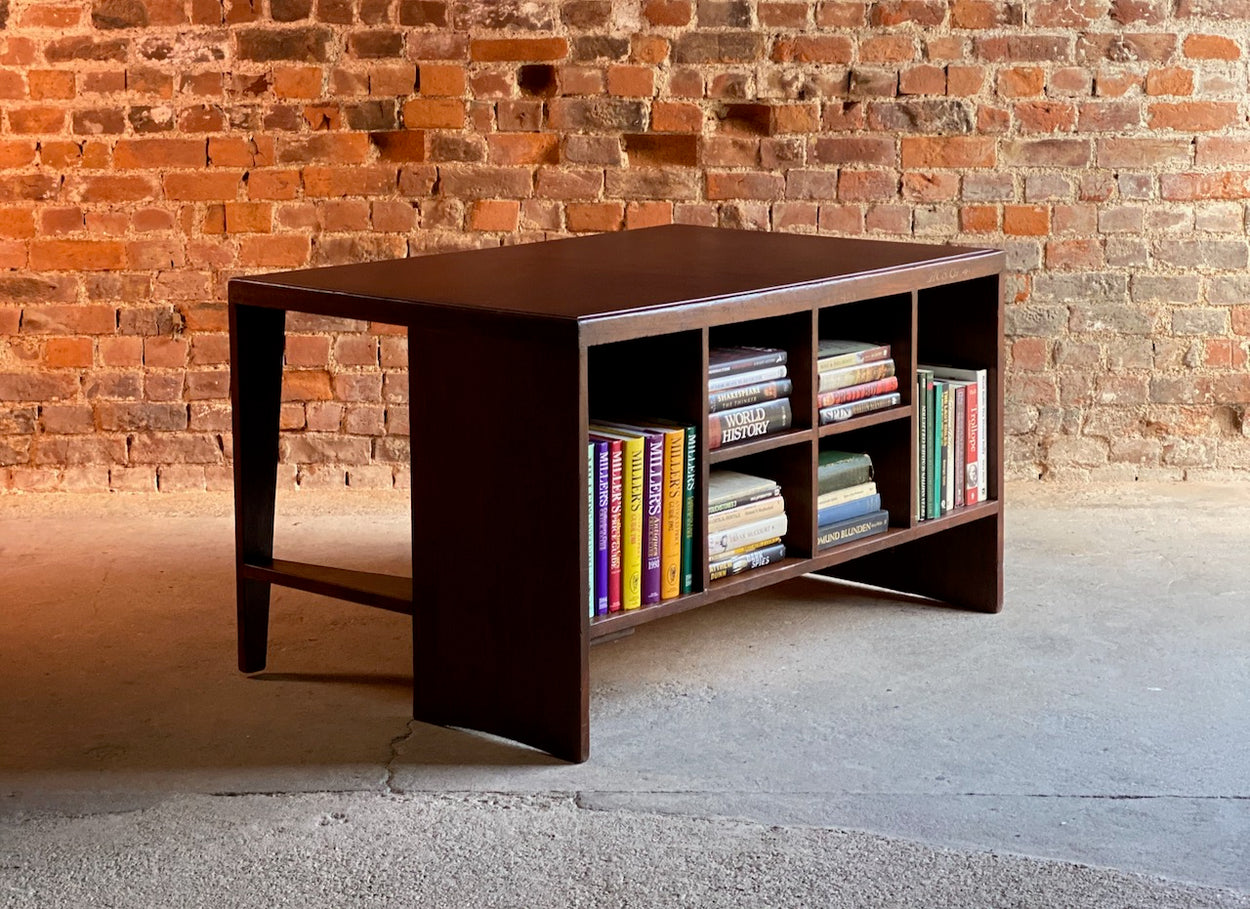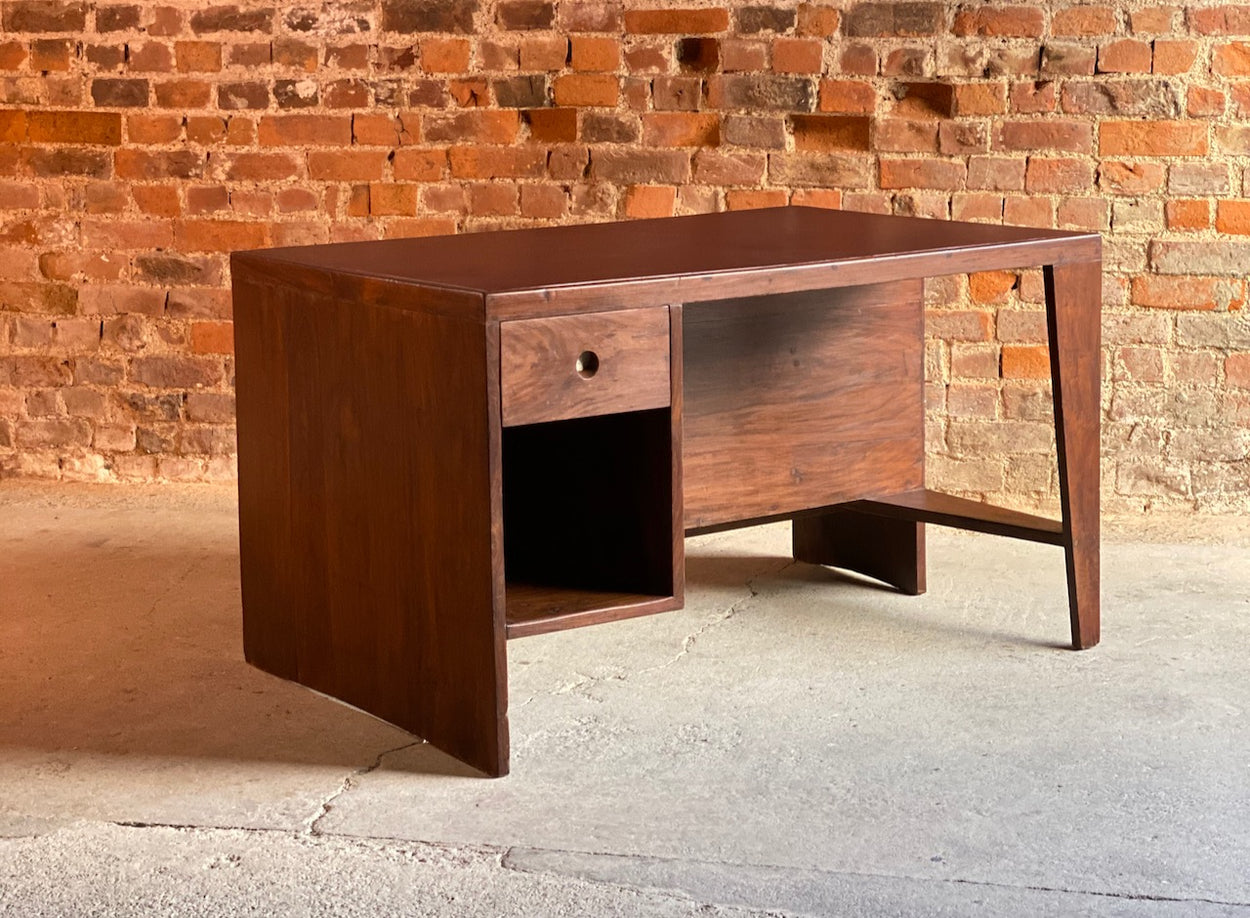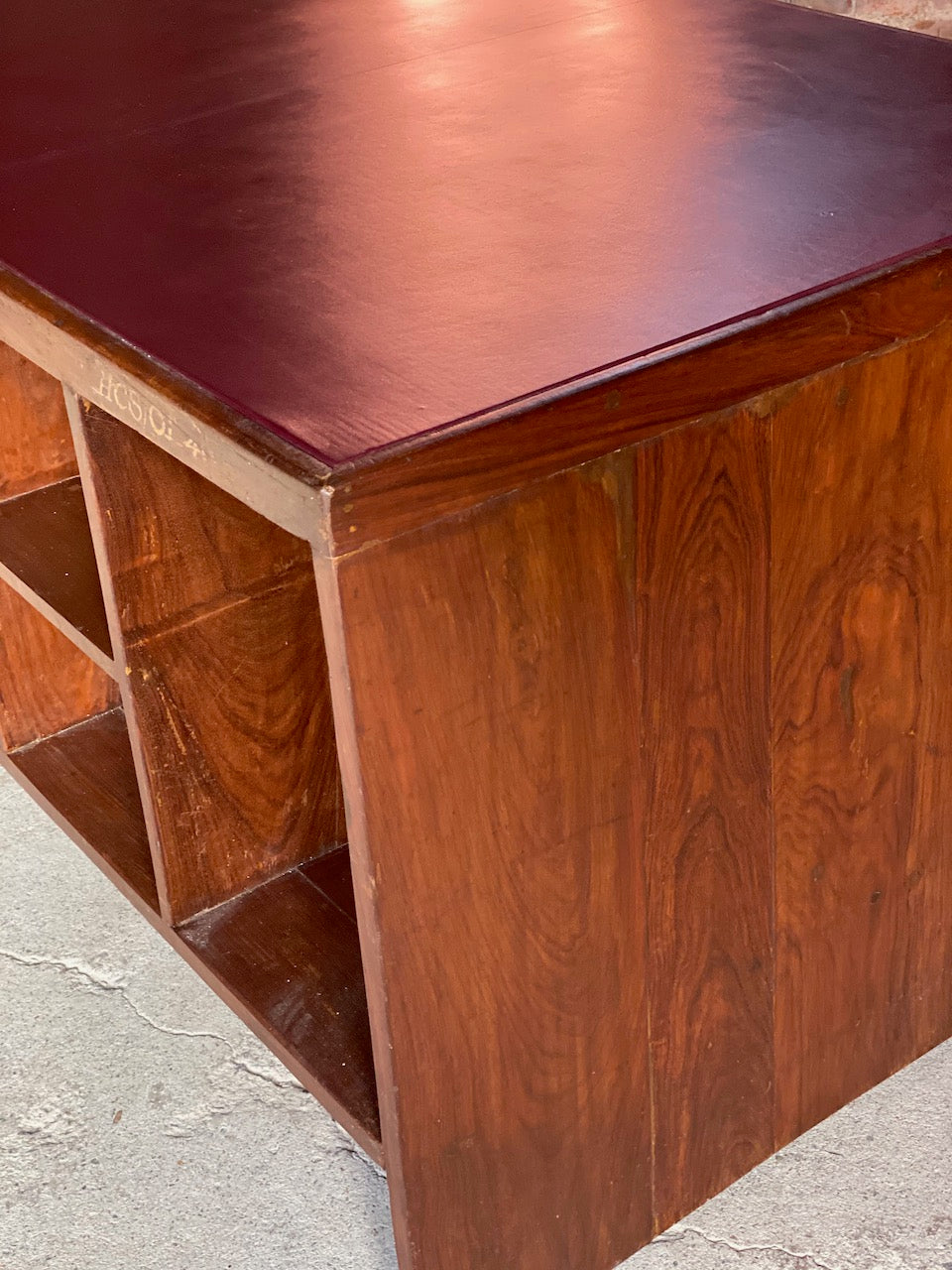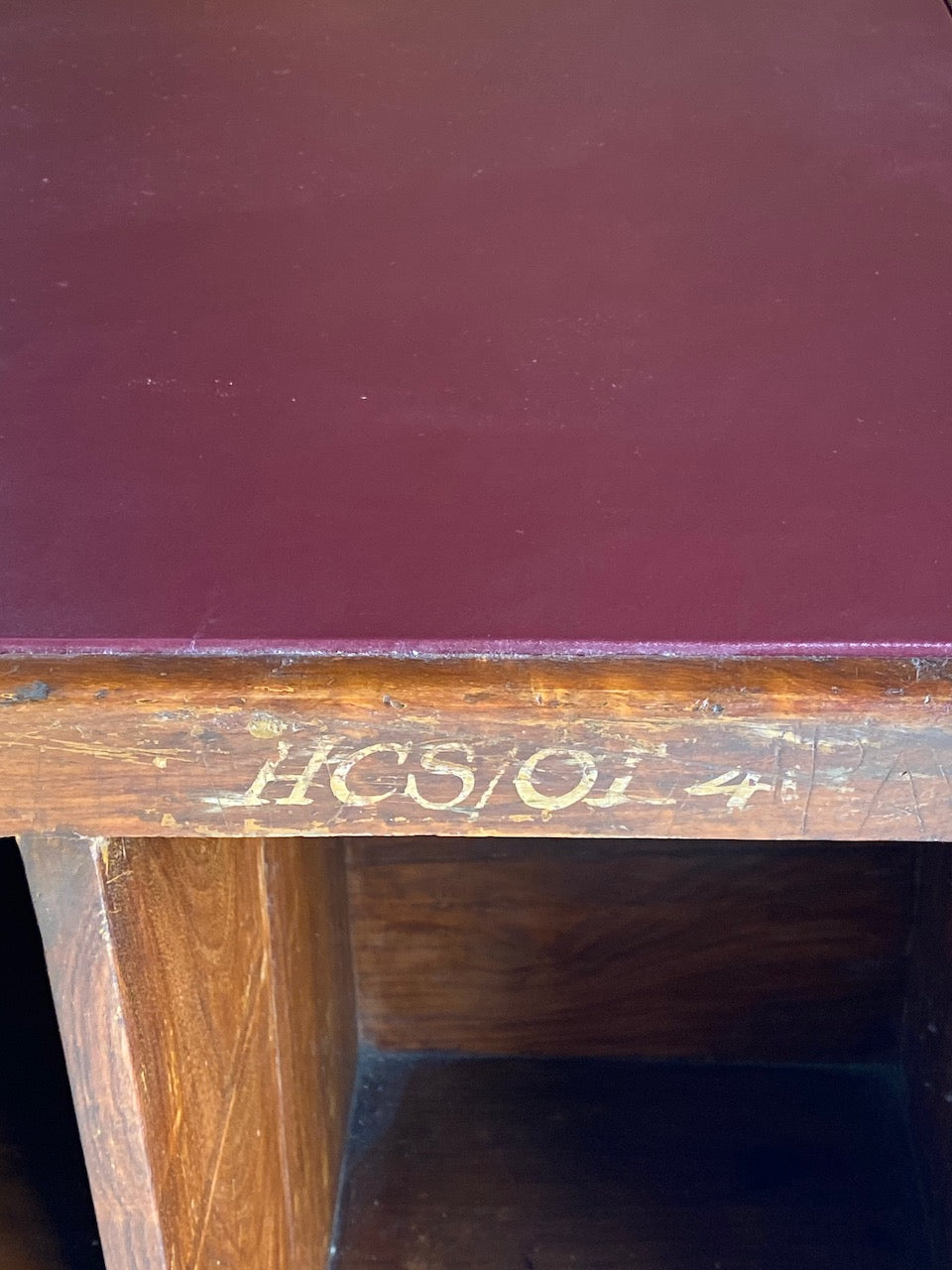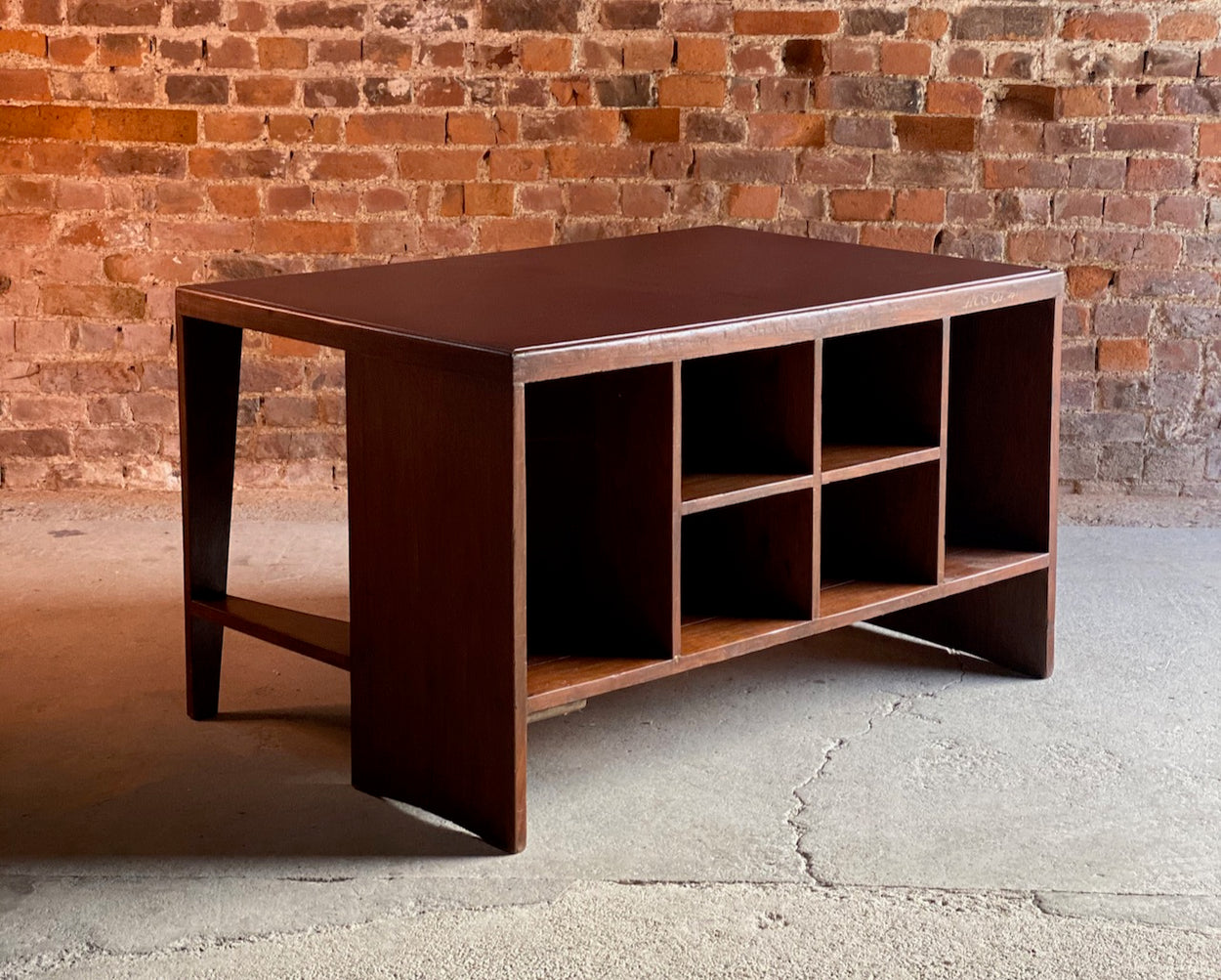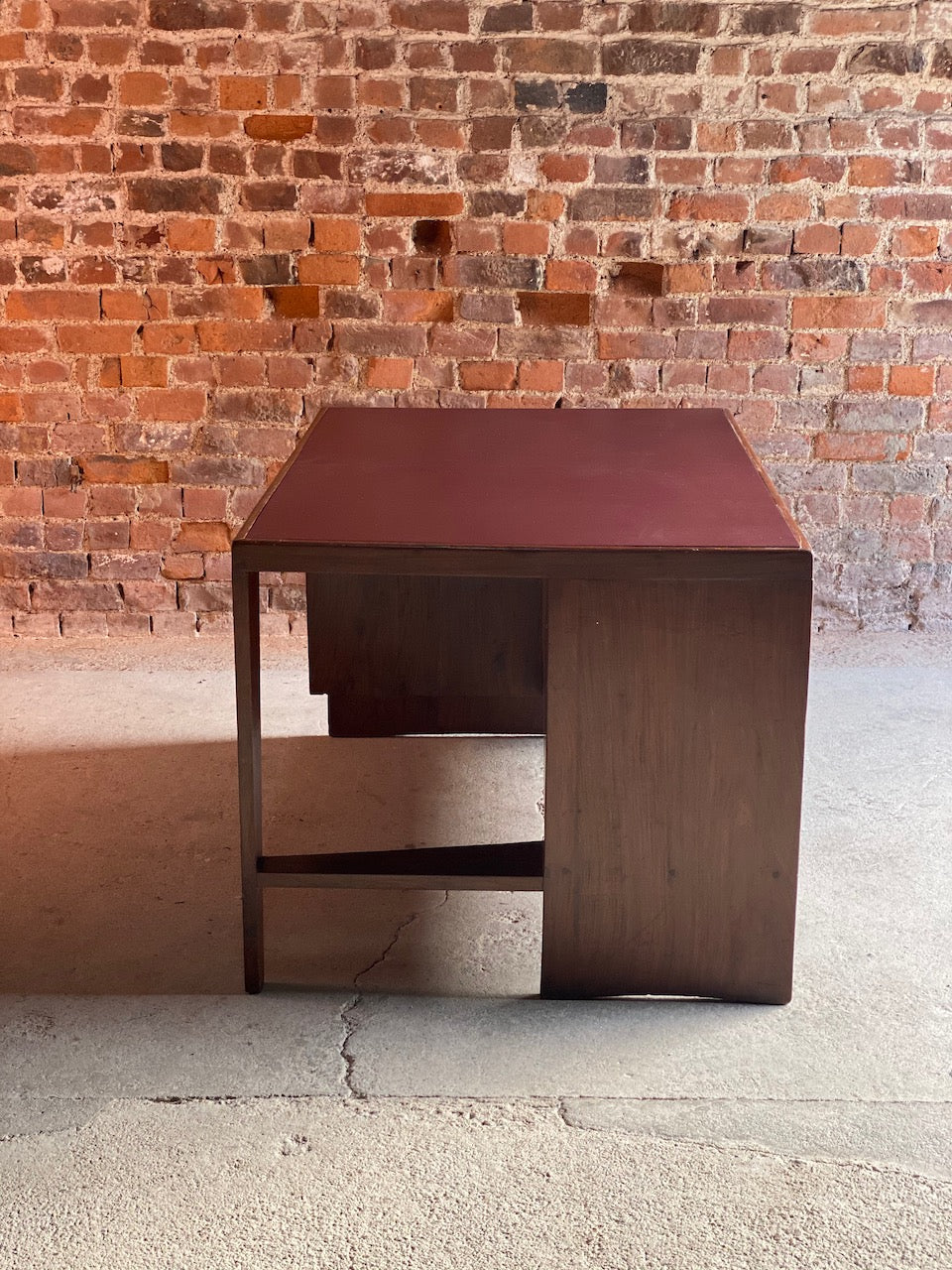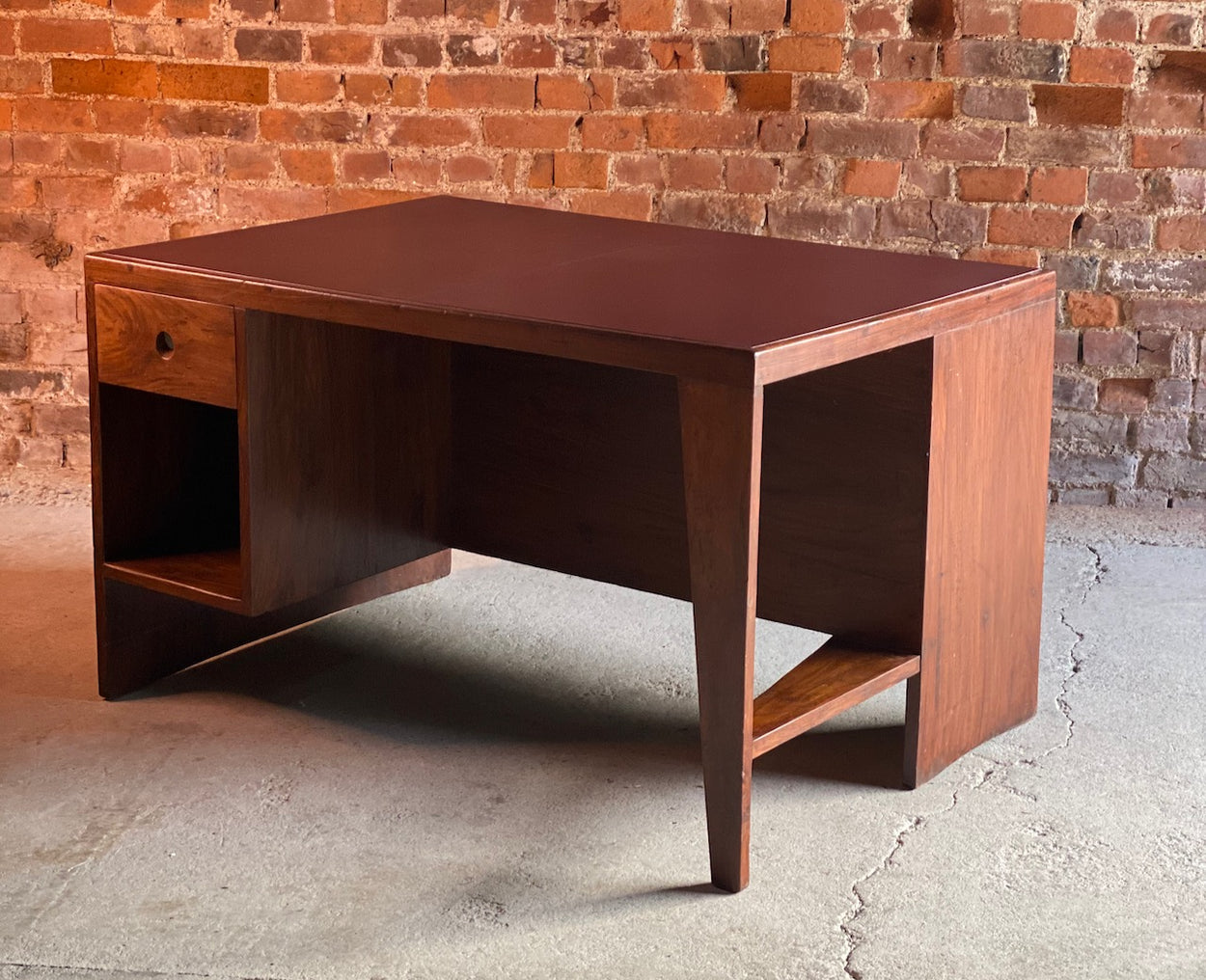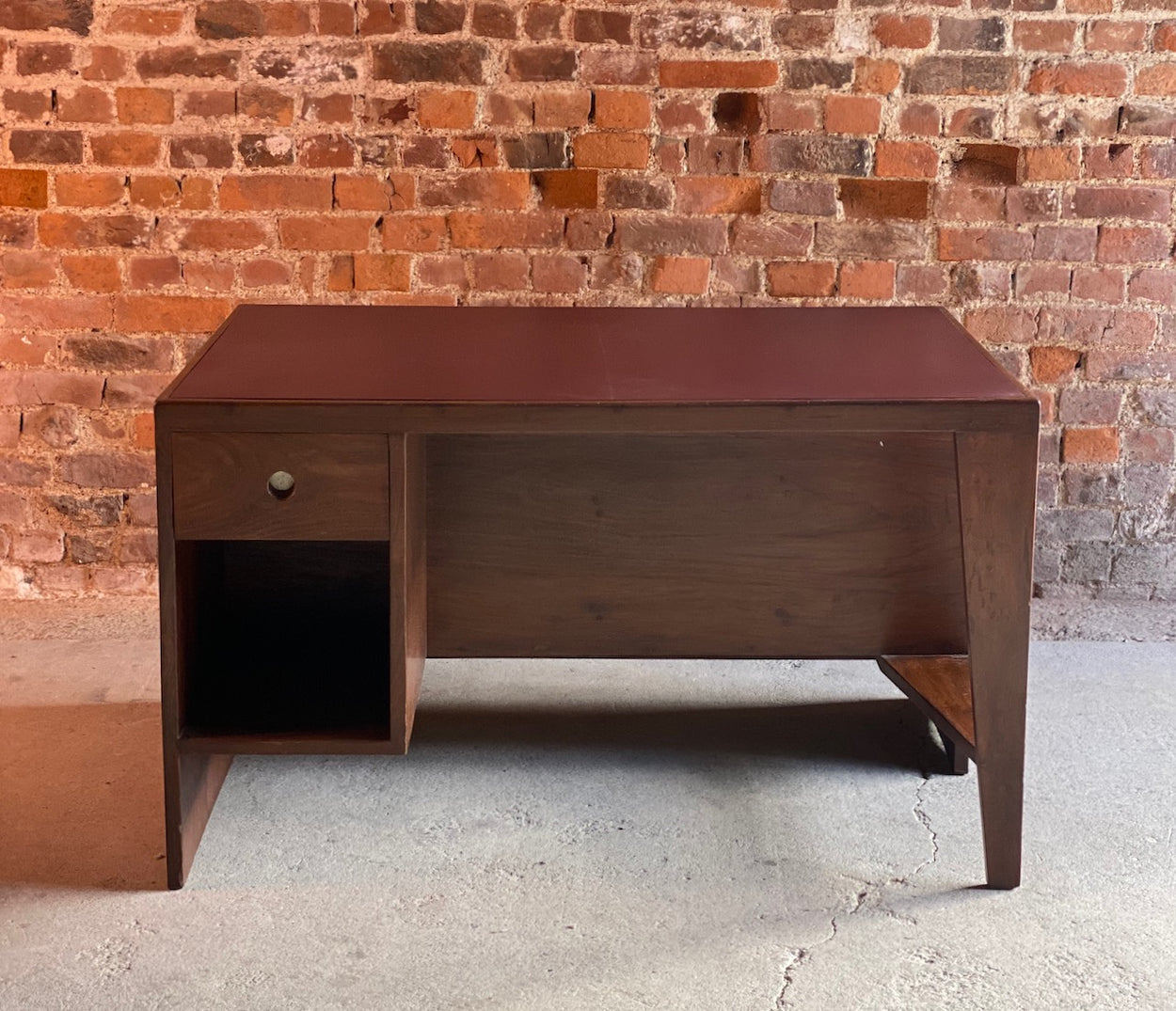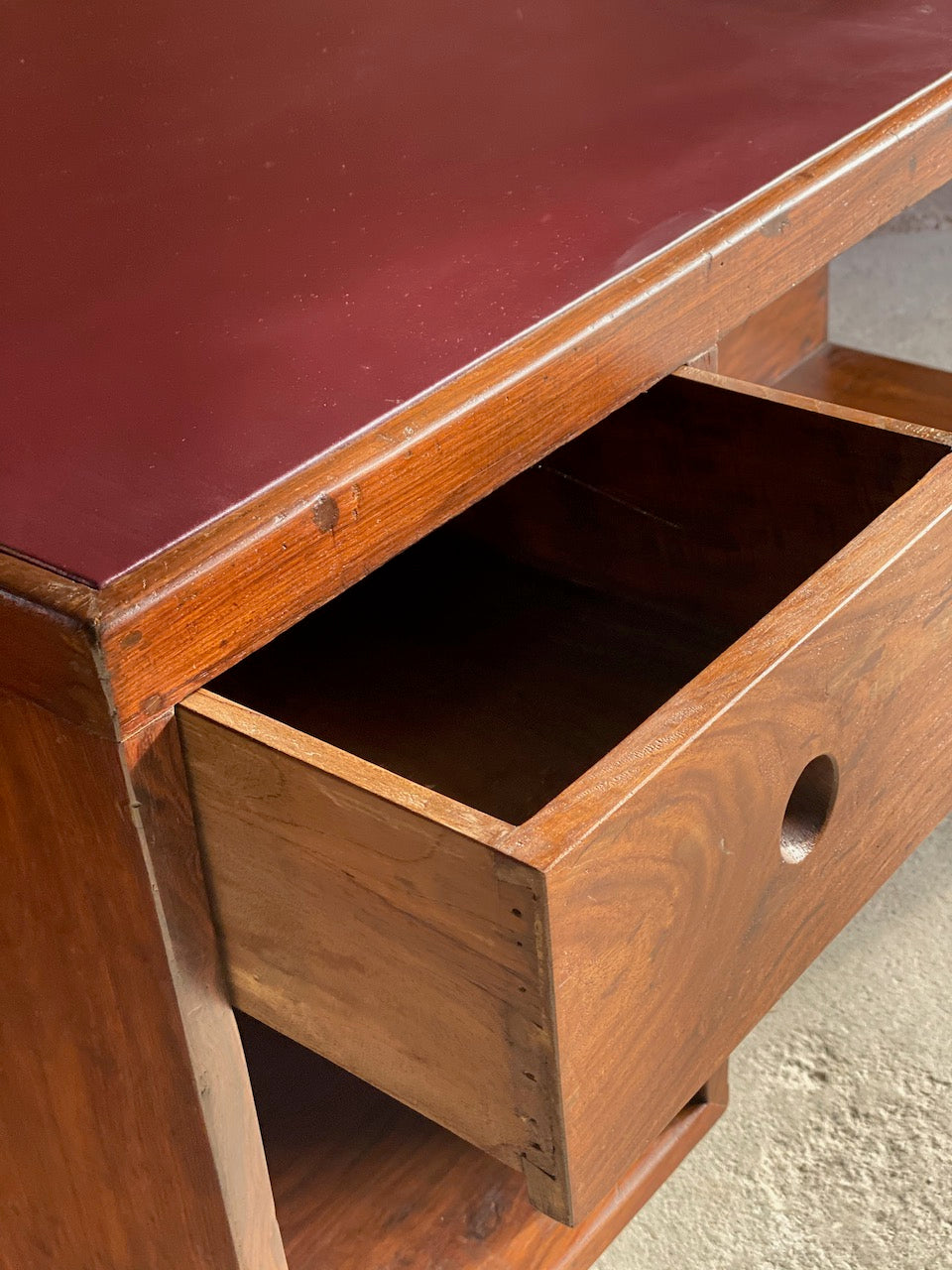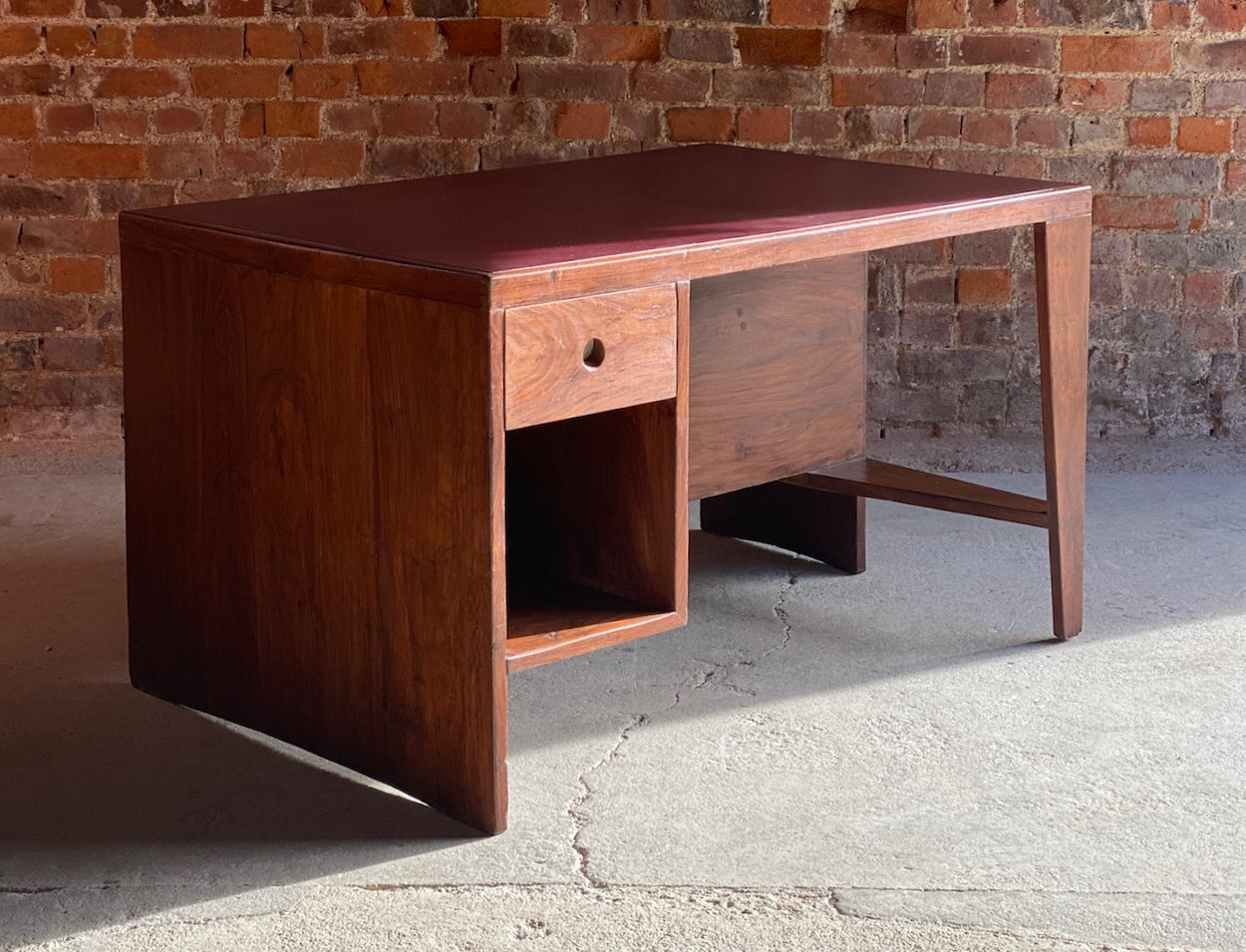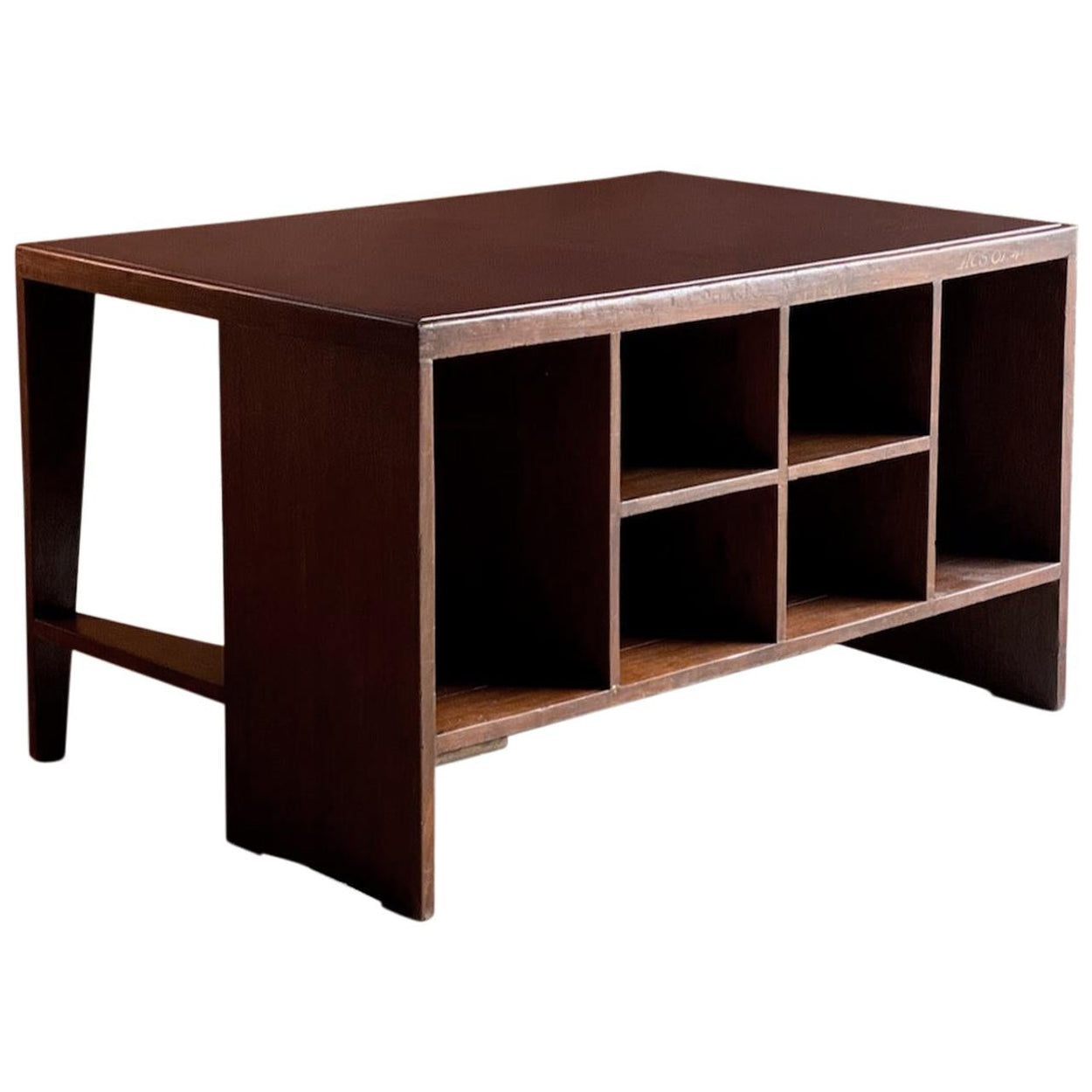 Pierre Jeanneret Rosewood Pigeonhole Desk Model PJ-BU-02-A Circa 1955
SOLD
Pierre Jeanneret Sissoo Rosewood pigeon hole desk with integrated bookcase, Model PJ-BU-02-A  circa 1955, Indian Sissoo rosewood desk with rectangular leather inset top over single pull out drawer above storage space, fixed slab leg to the left and narrow tapered leg to the right with a wedged stretcher adjoining the rear slab leg, to the reverse visitors side of the desk is a harmoniously integrated pigeonhole bookcase with four central compartments and two larger compartments either side creating ample storage space, the rear of the desk is marked with its original now slightly faded identification code bearing the letters: HSC / OL 4,  a timeless classic with perfectly balanced geometry and simple utility, this desk is a striking example of modernist visionary Jeanneret's seamless fusion of form and function, designed by Pierre Jeanneret for the Secretariat  Administrative Buildings in Chandigarh, India.

Background:
Born in Geneva in 1896, Swiss painter, architect, and designer Pierre Jeanneret studied architecture at the École des Beaux-Arts. After graduating in 1921, he worked in the Parisian architectural office of the Perret brothers, pioneers in the use of reinforced concrete. By 1923, he had set up an architectural practice in Paris with his cousin, Le Corbusier (1887-1965). The two worked side-by-side throughout their prolific careers, and Jeanneret's contribution to the partnership has become increasingly recognised. Their pivotal, 1926 manifesto, Five Points Towards a New Architecture, is considered to be a pillar of modernist thought and the intellectual foundation of their legendary work. Both architects were members of the Union des Artistes Modernes (UAM). Around the years of World War II, the partnership between Jeanneret and his cousin was interrupted; Jeanneret joined the French resistance, while Le Corbusier did not.
Between 1927 to 1940, Jeanneret and Le Corbusier collaborated with French designer Charlotte Perriand  (1903-1999). Together the group created a number of now-iconic furniture designs, which were characterised by minimalist, geometric forms fabricated in industrial materials like tubular steel. Important designs that emerged from this collaboration include the LC4 Chaise Lounge (1928) and the Fauteuil Grand Confort seating collection (1928). Both designs were put into production by Thonet in 1930 and by Cassina in 1965.
After World War II, Jeanneret and Perriand teamed up with French designer Jean Prouve to develop pre-fab housing concepts, including the town planning of Puteaux, France.
One of Jeanneret's most enduring solo works is his Scissor Chair, which was designed in 1947 and manufactured by Knoll between 1948 and 1966. It features a simple, maple wood structure hinged together by circular brass struts and topped with two upholstered cushions.
In 1950, Le Corbusier suggested reforming their partnership to execute the master plan for Chandigarh, the capital of the Indian state of Punjab. Jeanneret lived on location and presided over the project. He assimilated the Indian building tradition with the architectural and technical solutions he formulated with his cousin. He stayed in Chandigarh for fifteen years, and the city evolved into a landmark of modernist architecture. Many of Jeanneret's most sought-after furniture designs were created for office interiors in Chandigarh.

Jeanneret died in Lausanne in 1967; in accordance with his wishes, his ashes were scattered on the Sukhna Lake in Chandigarh, India.
Pierre Jeanneret
Le Corbusier
Original
Model PJ-BU-02-A
Executive Desk
Pigeon Hole Bookcase
Sissoo Rosewood
Leather
Chandigarh
Circa 1955
Investment
Rare
Free UK Delivery
The desk is offered in excellent condition and has age related wear, knocks, marks and splits, the desk has the original markings to the rear of the desk which are lightly faded, the leather top is a later edition, the rosewood with a wonderful reddish patina, no weakness to the joints.

Width: 48" / 122cm
Depth: 33" / 84cm
Height: 28" /  71cm

Free delivery is offered to England & Wales only when buyer pays full asking price, next day delivery is not possible due to the size of the piece, please allow between 7-14 days delivery