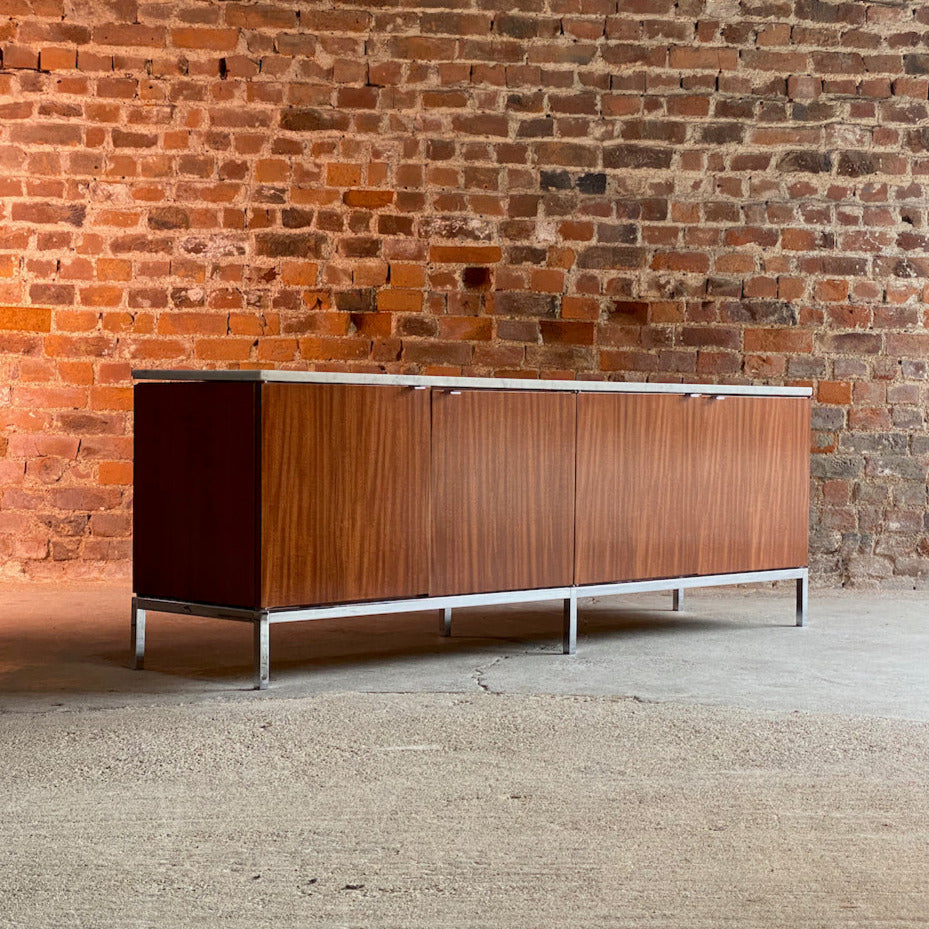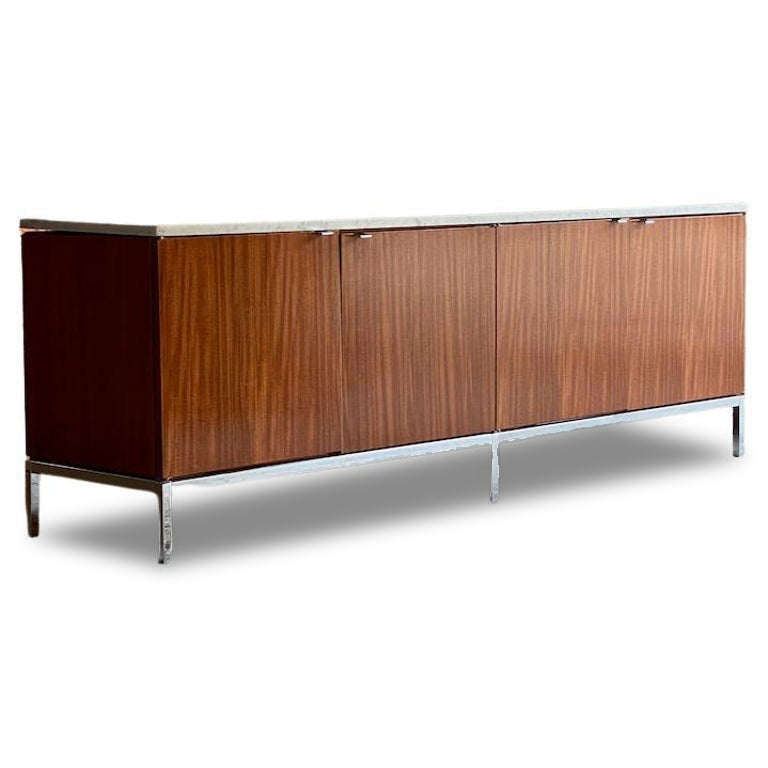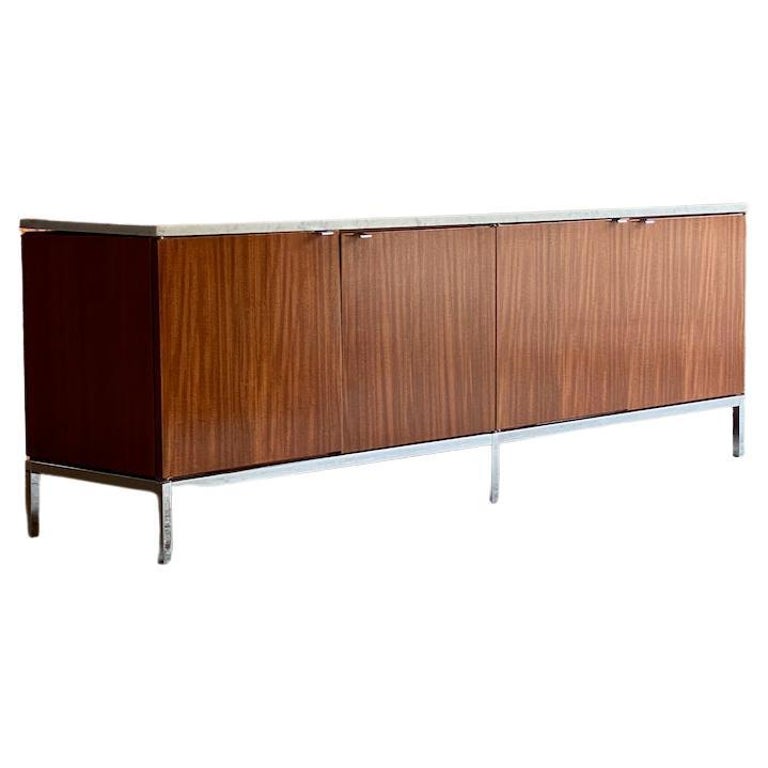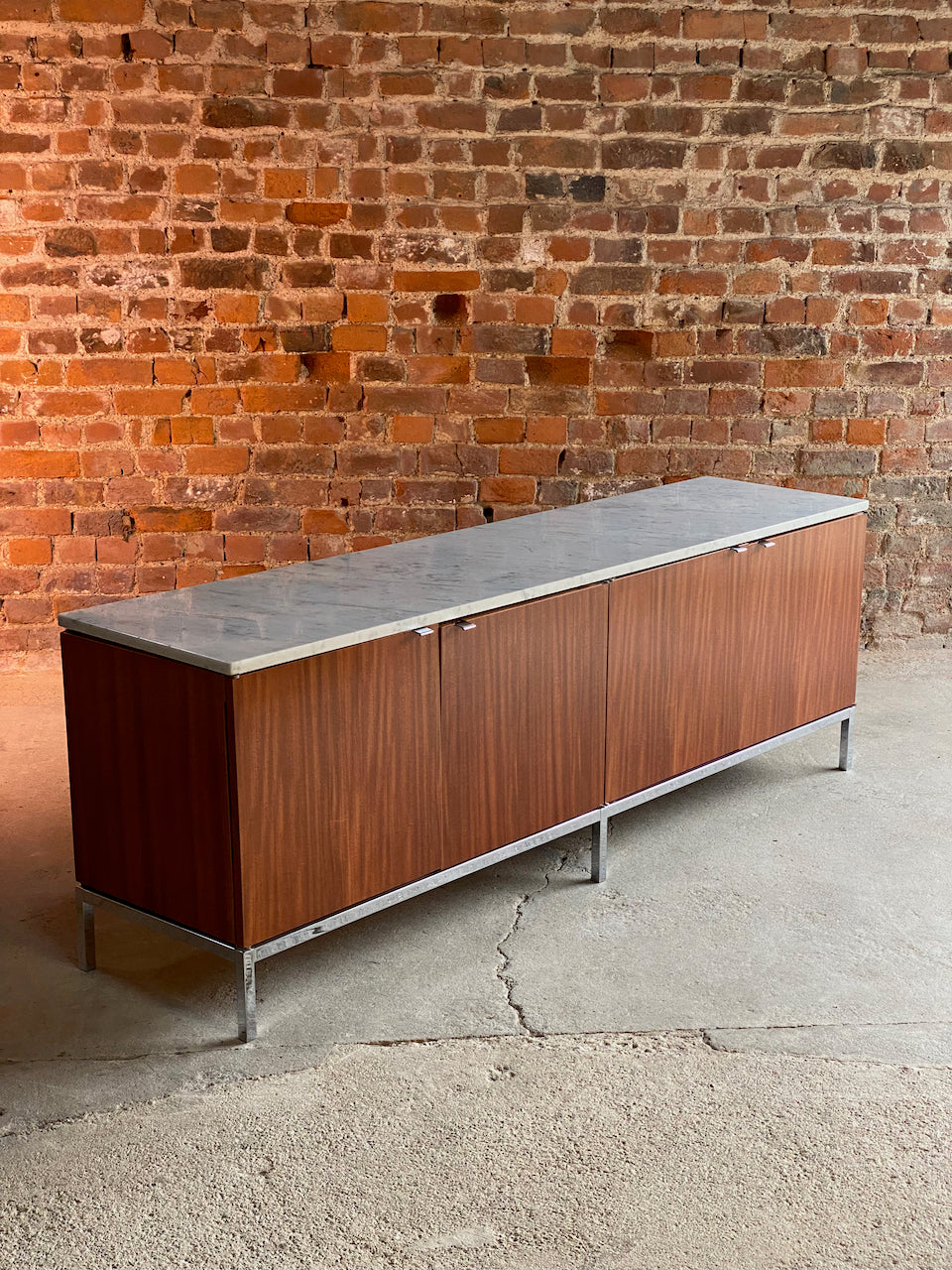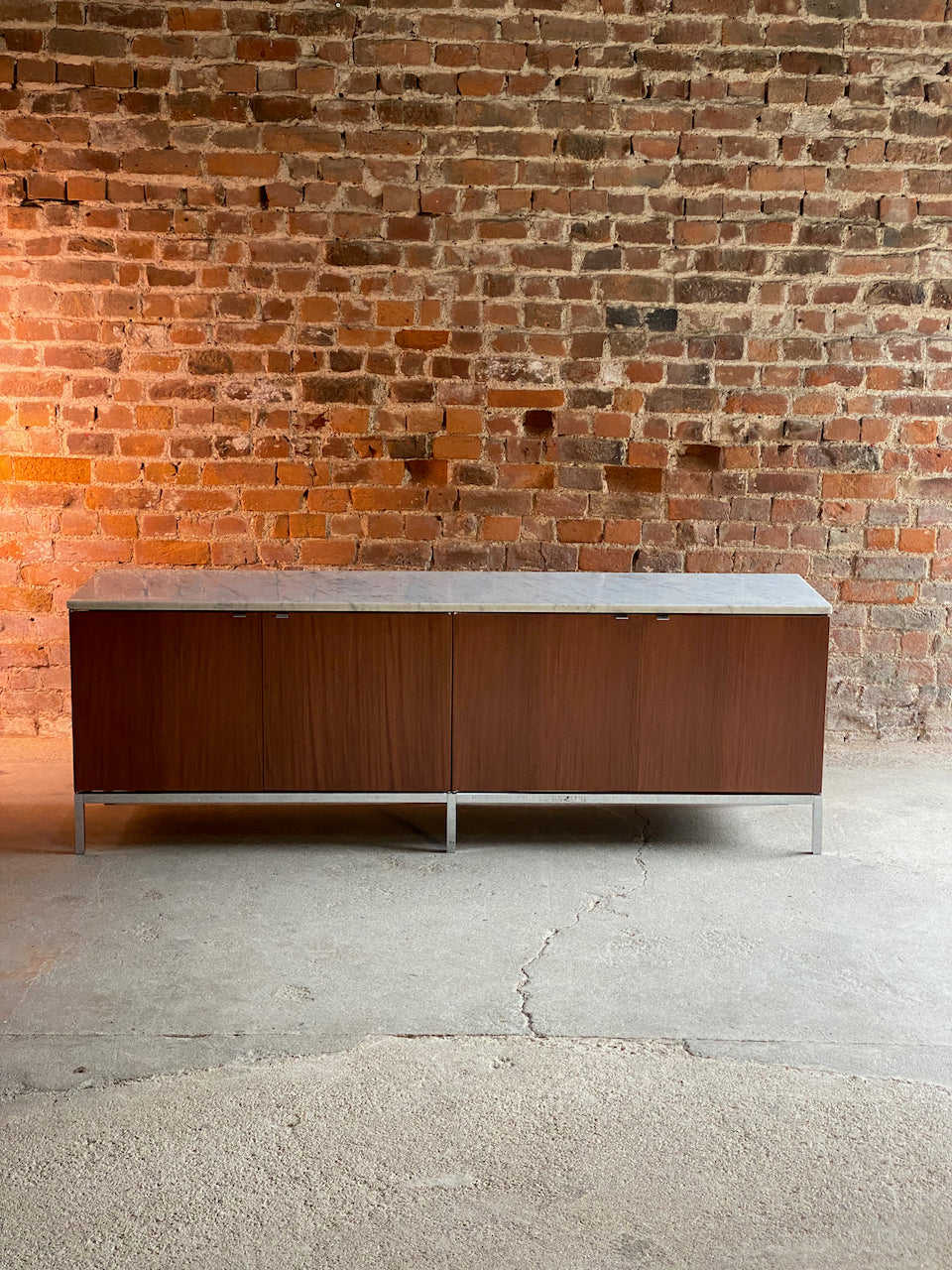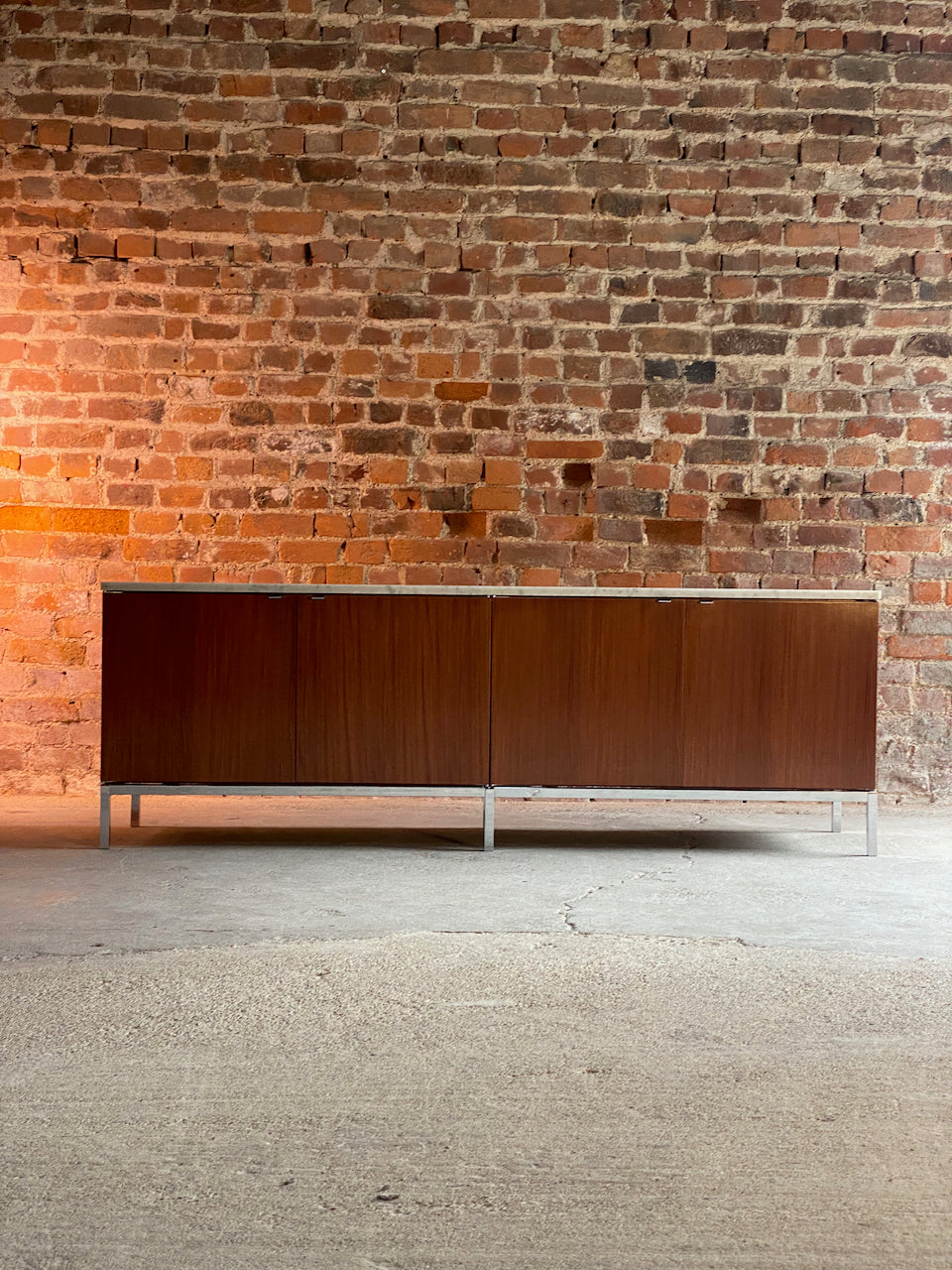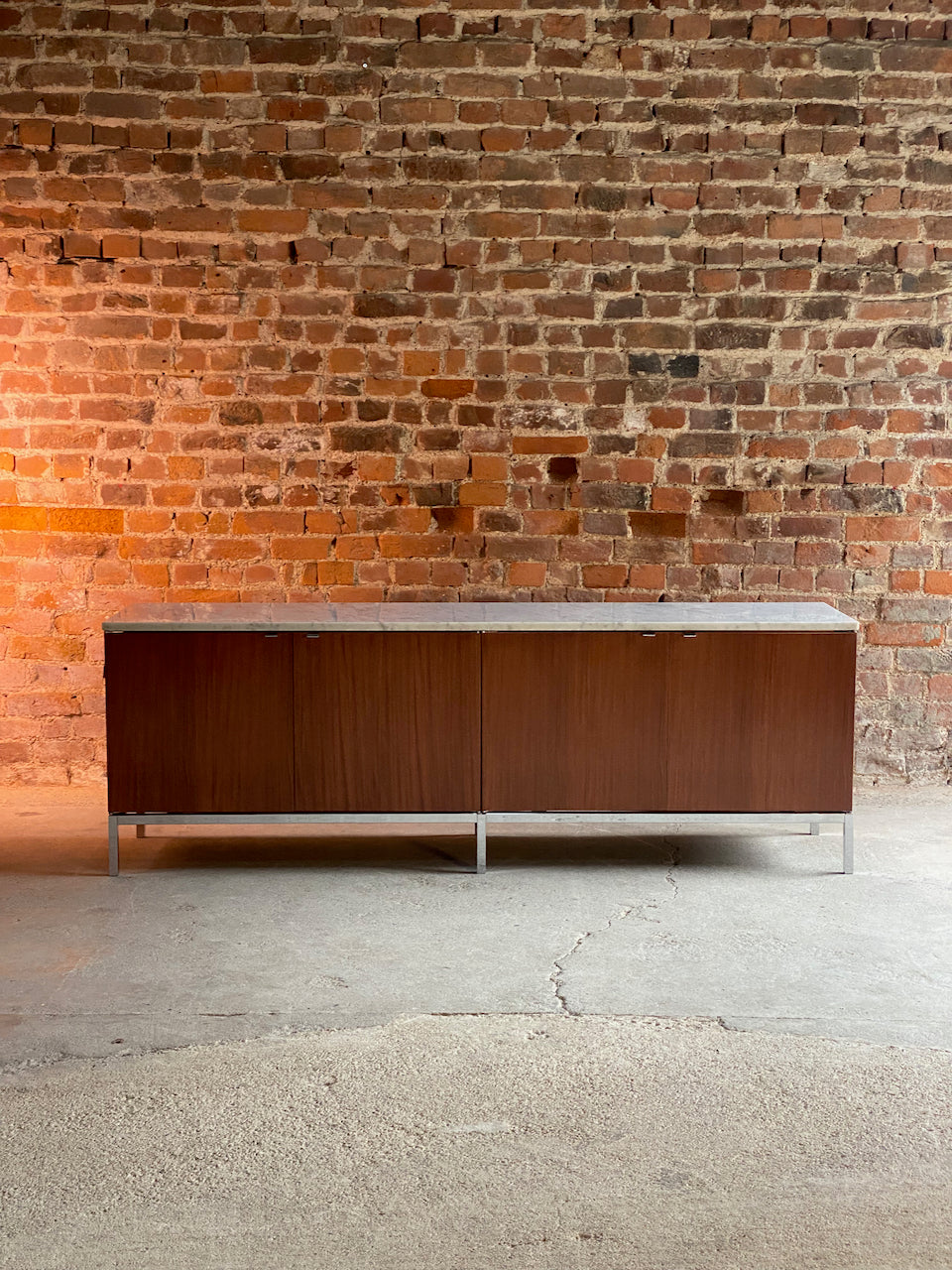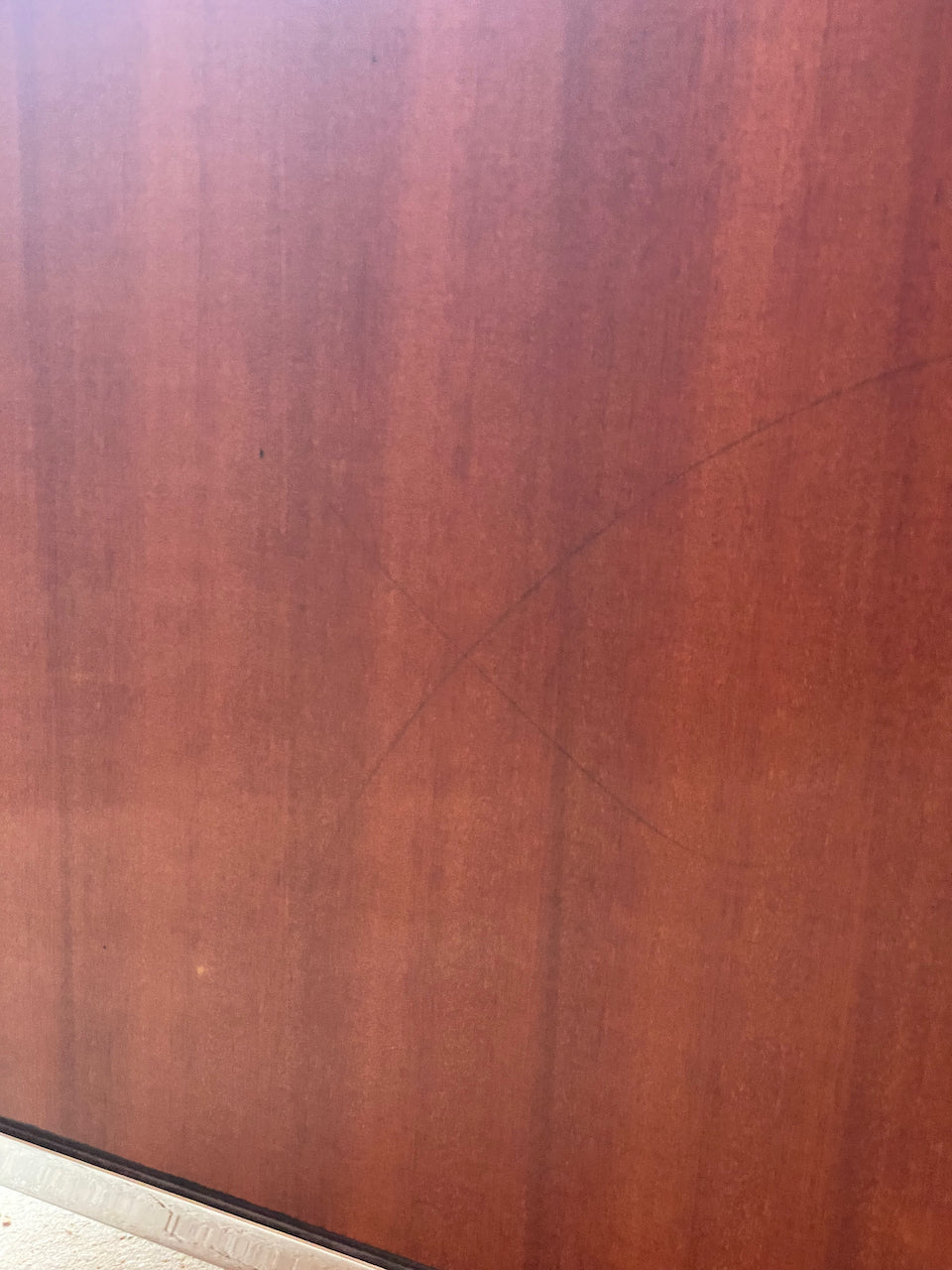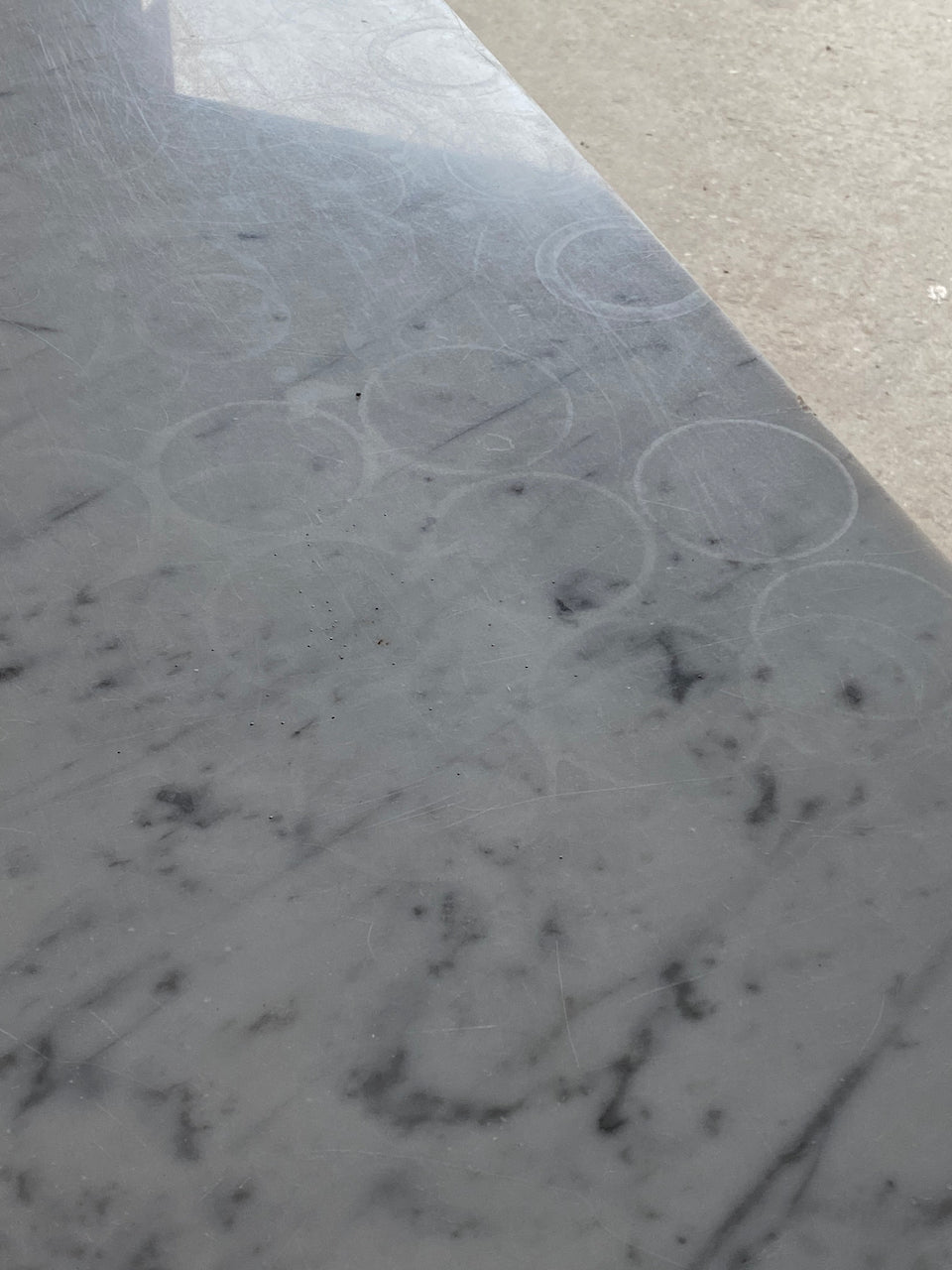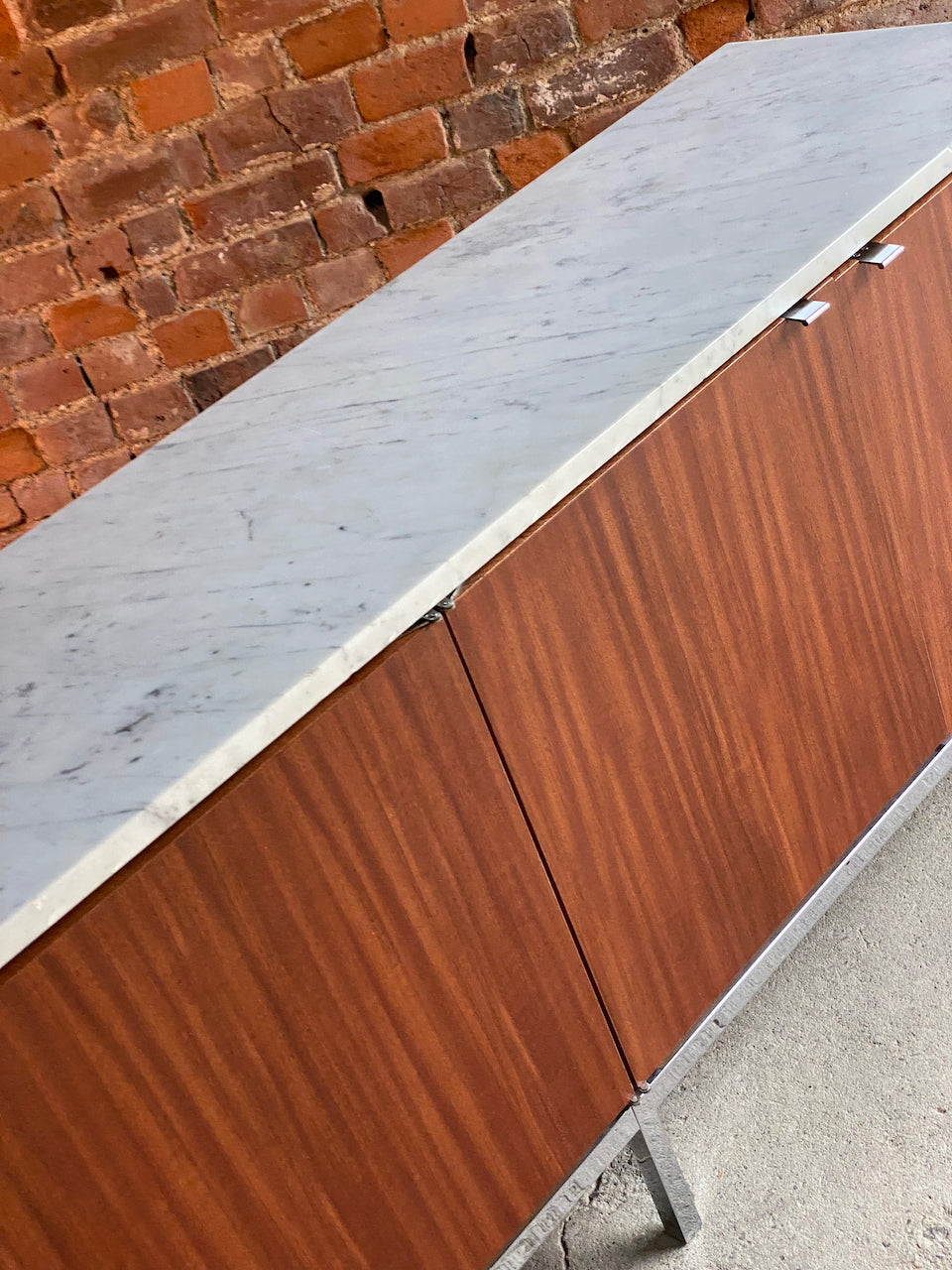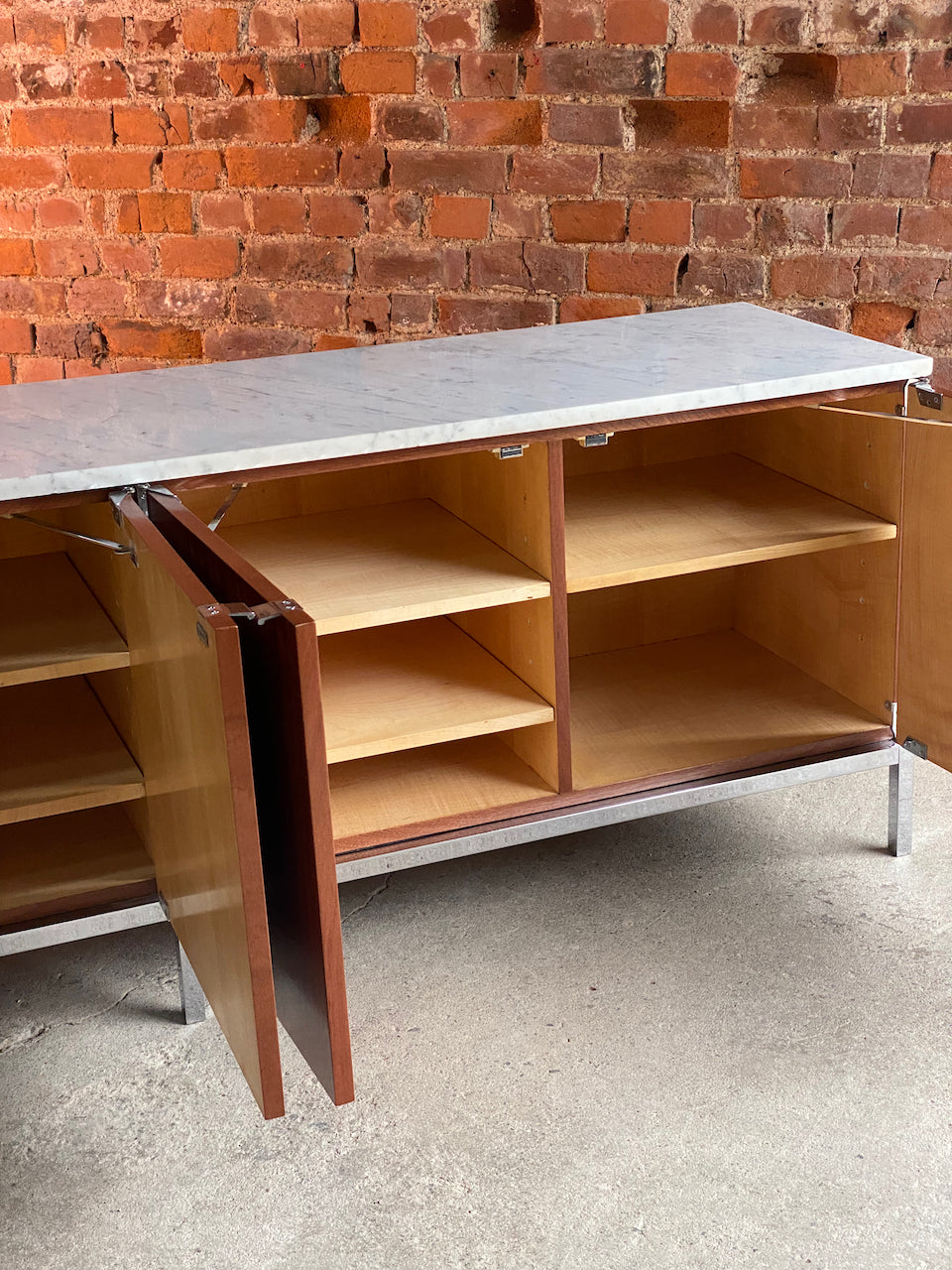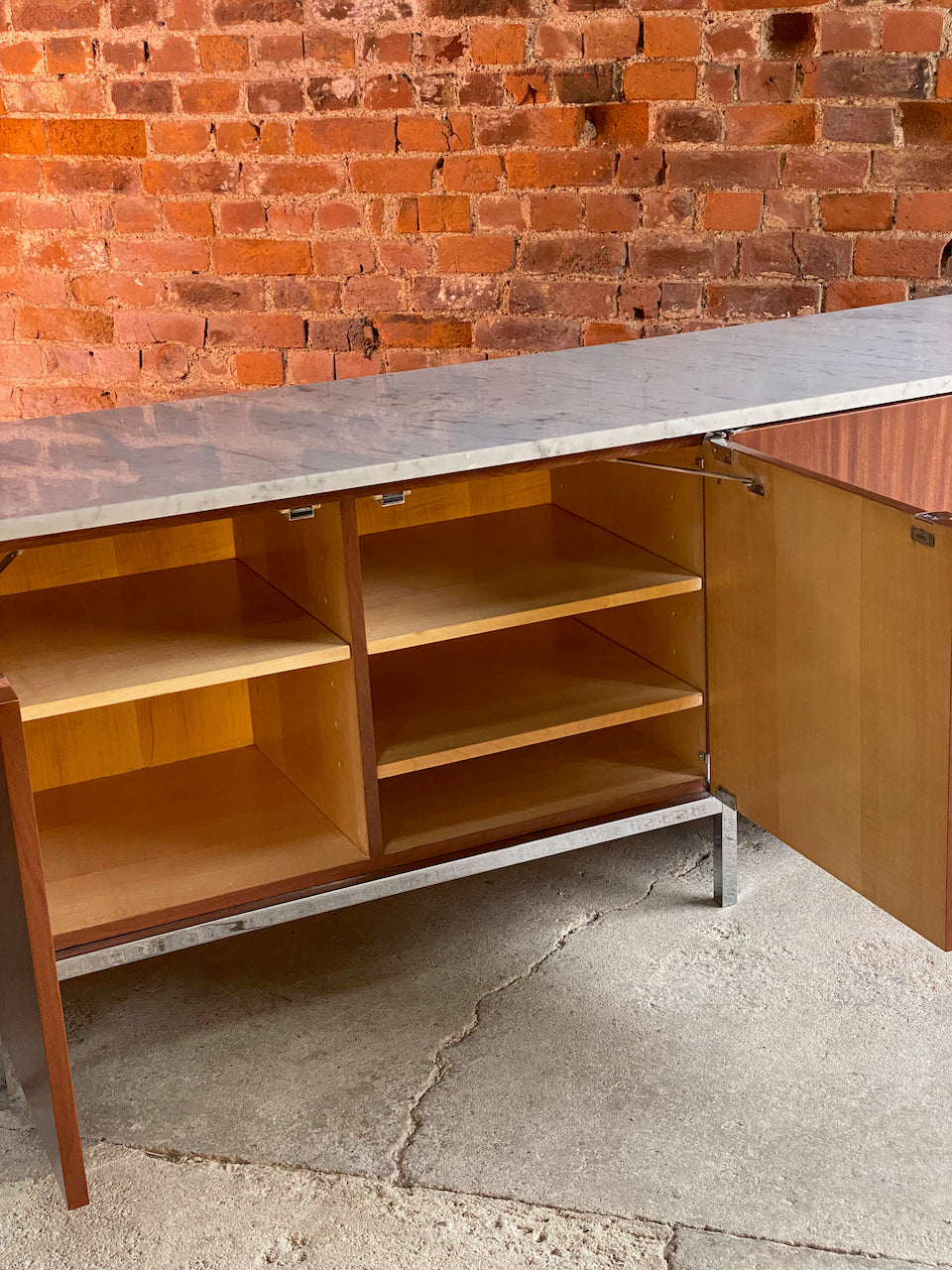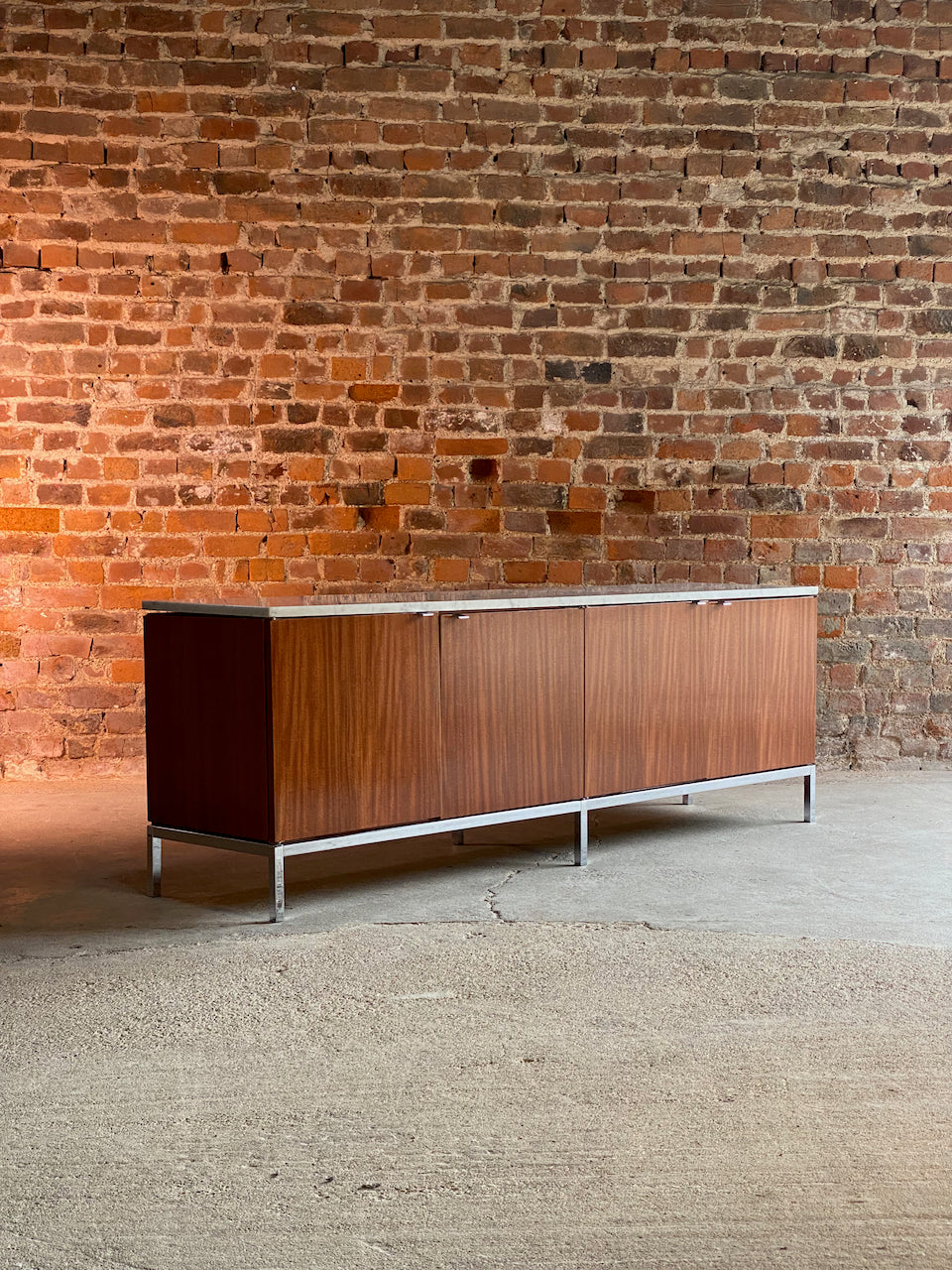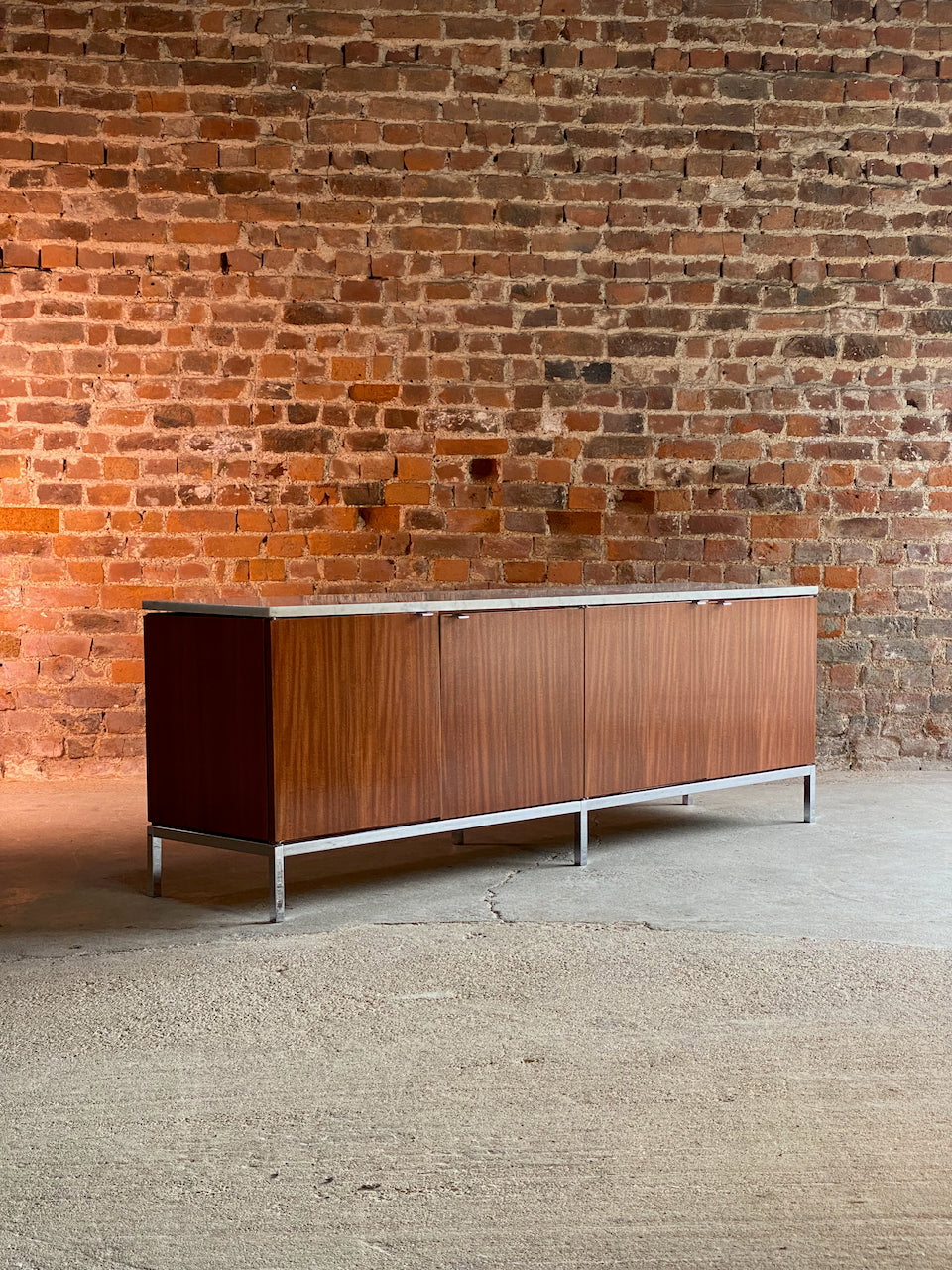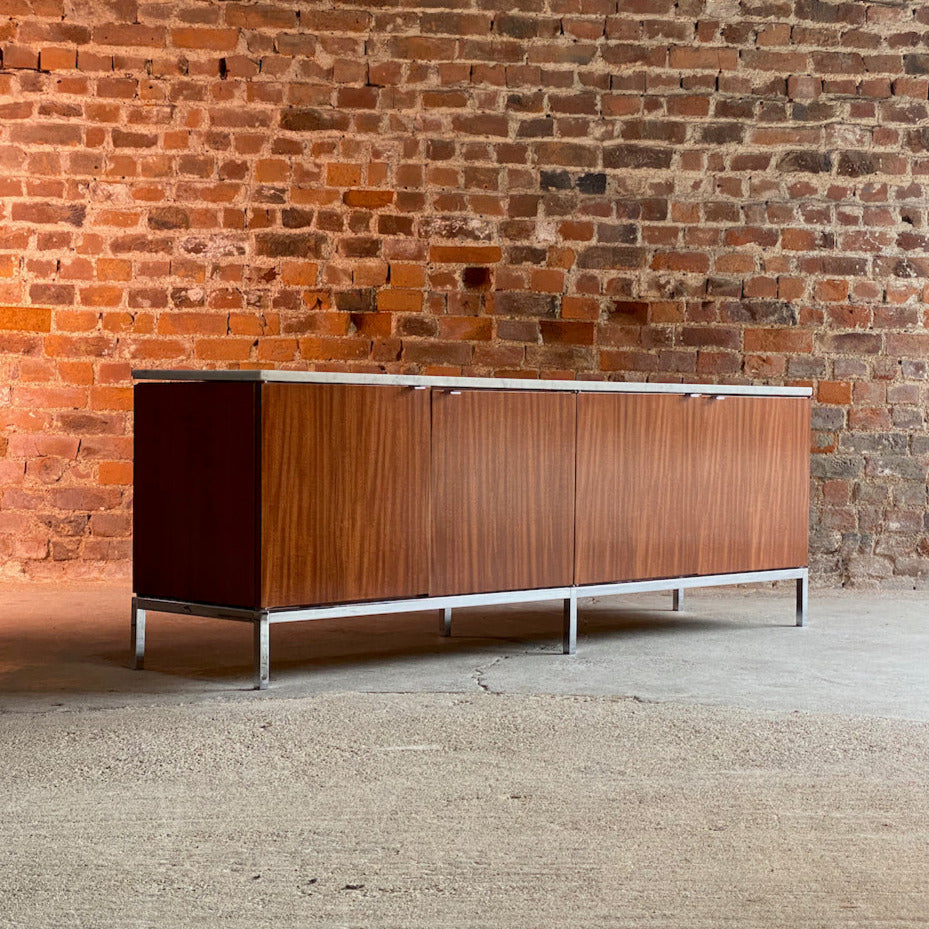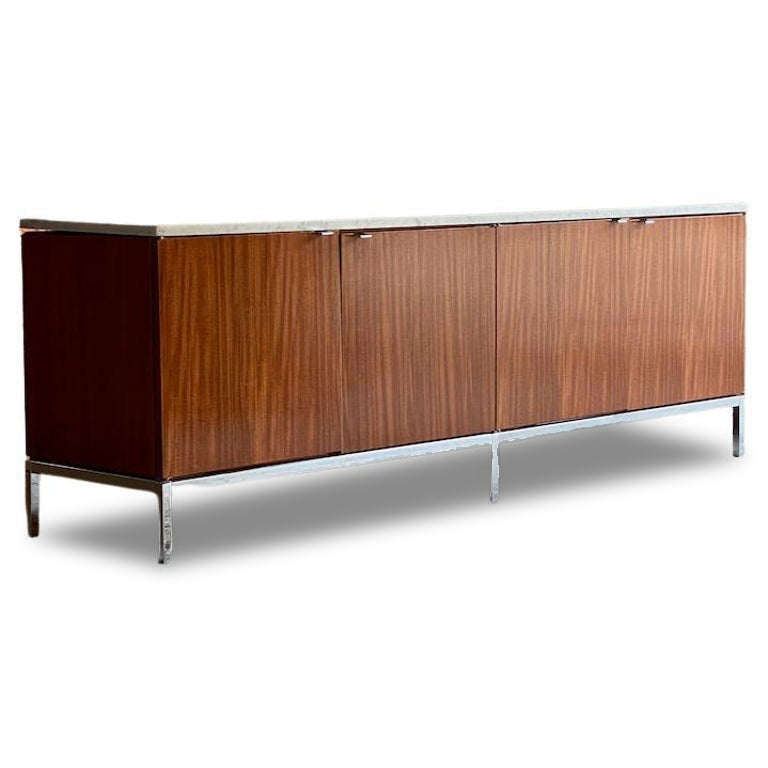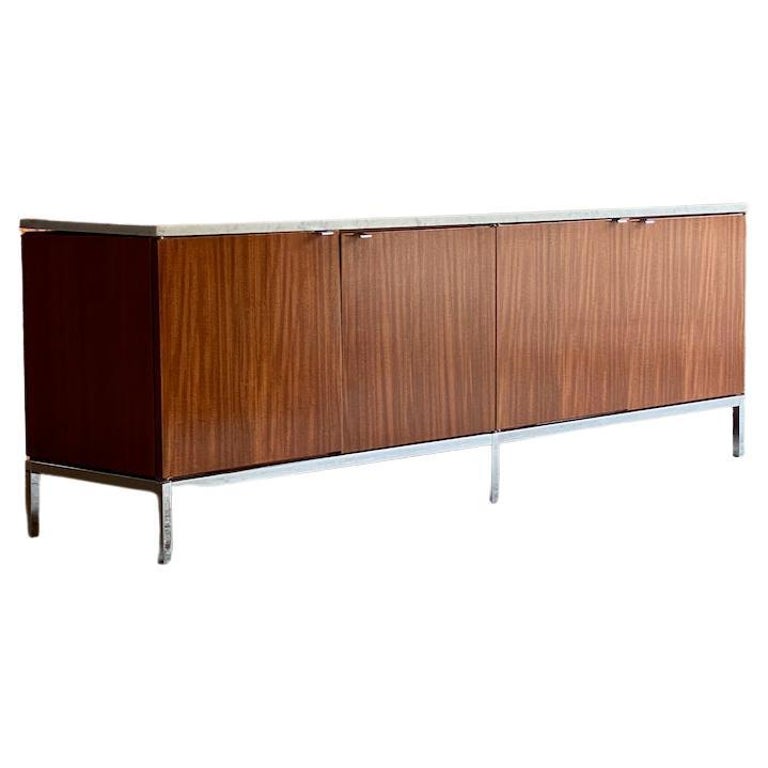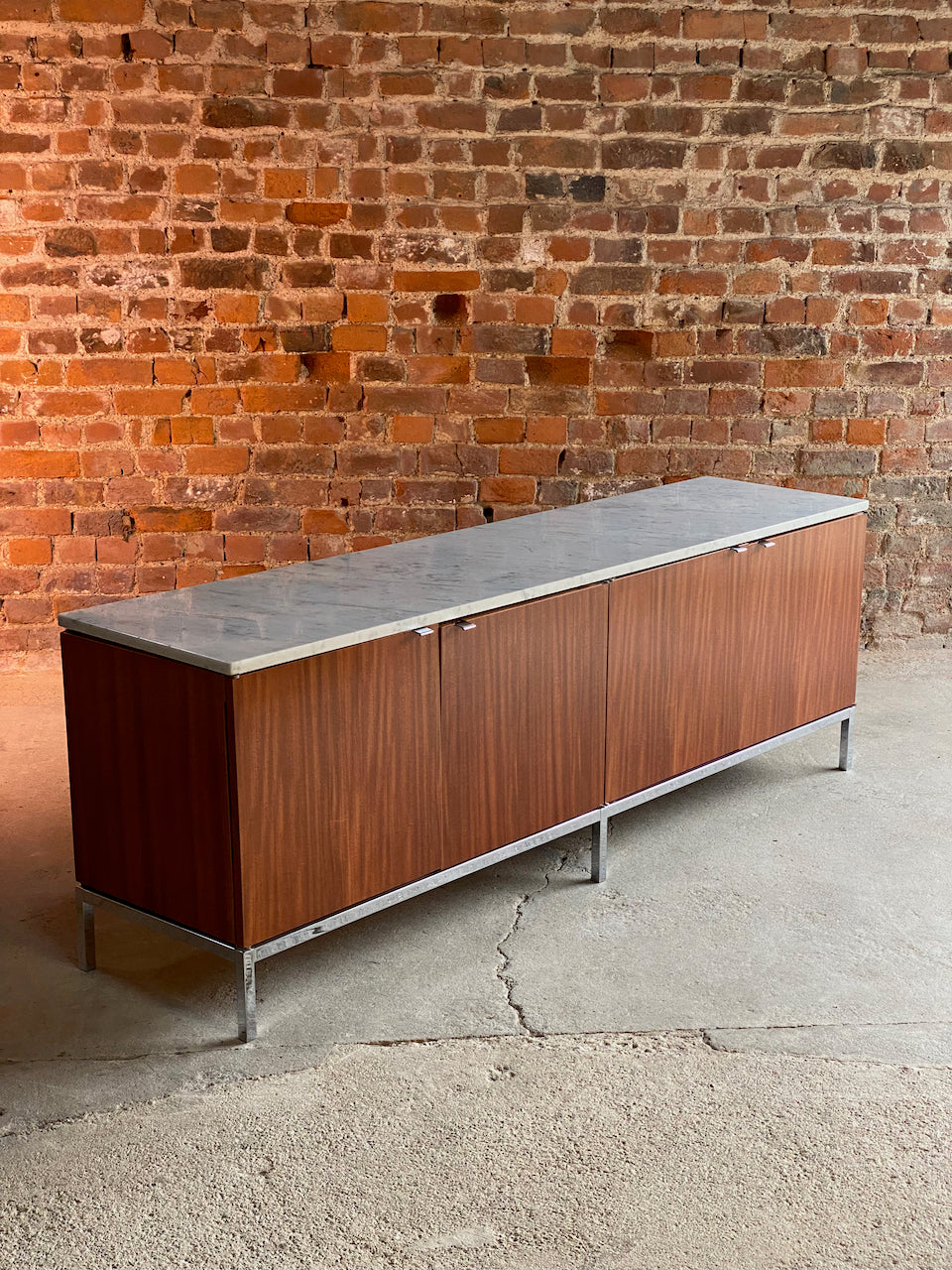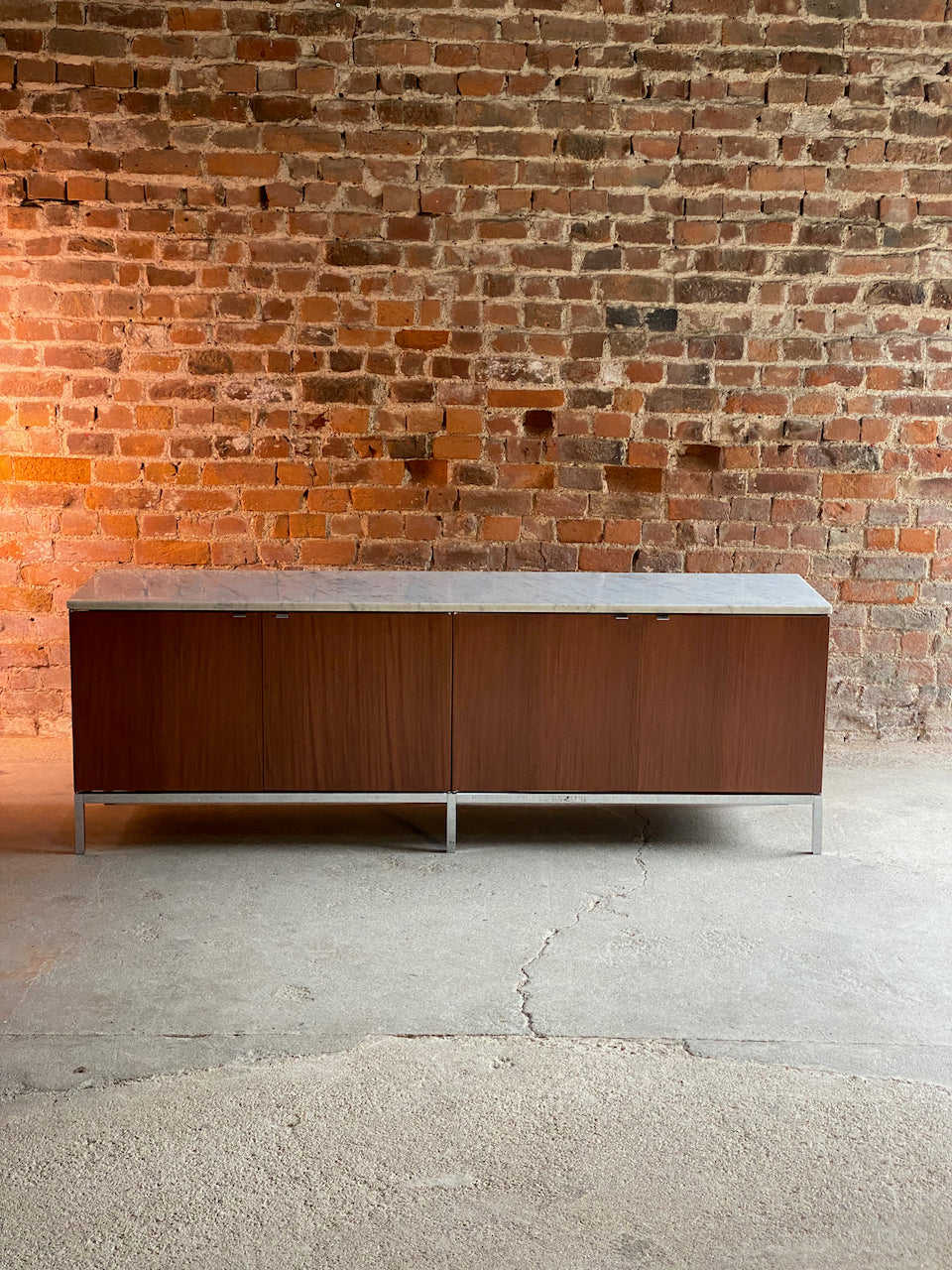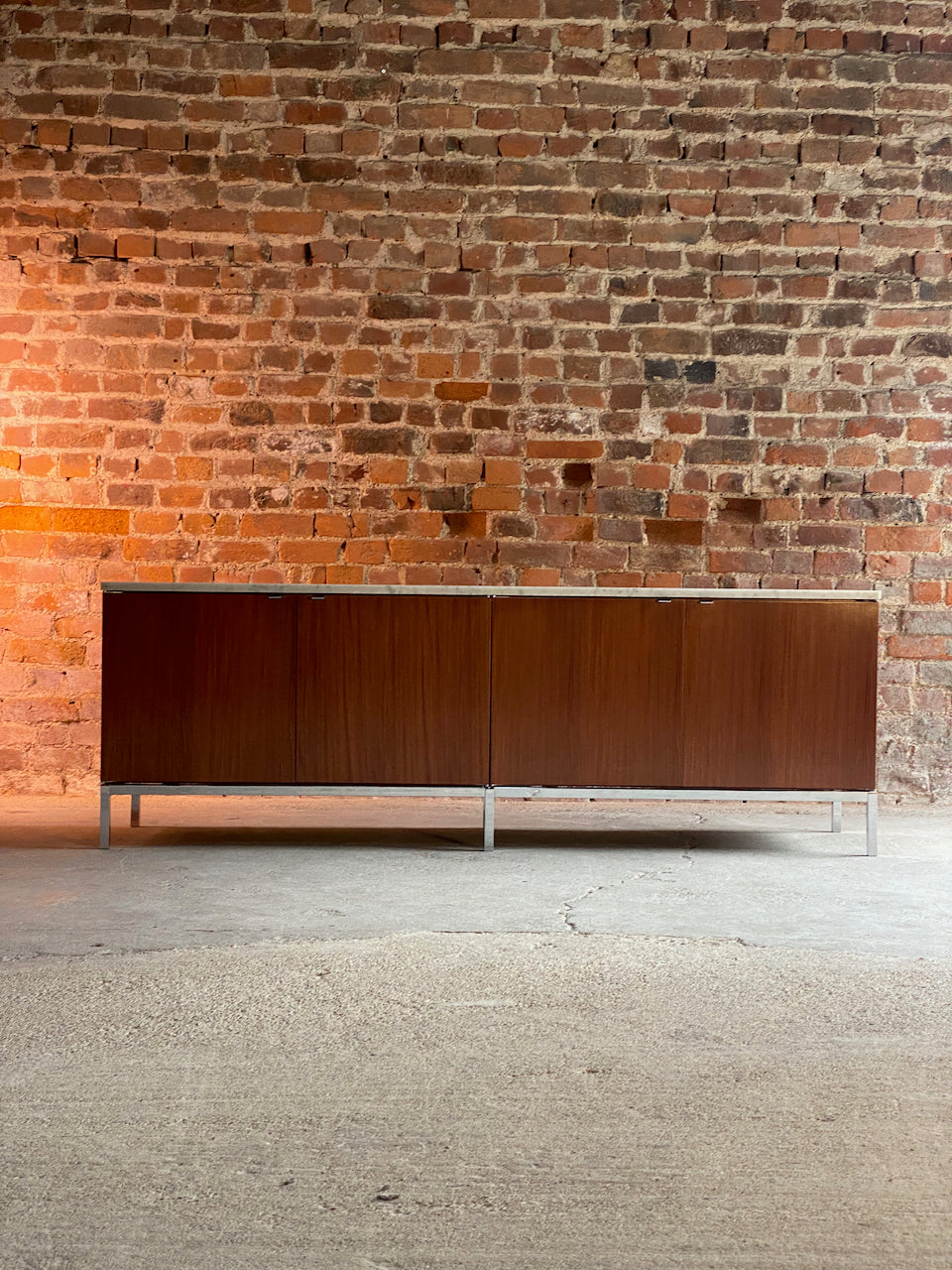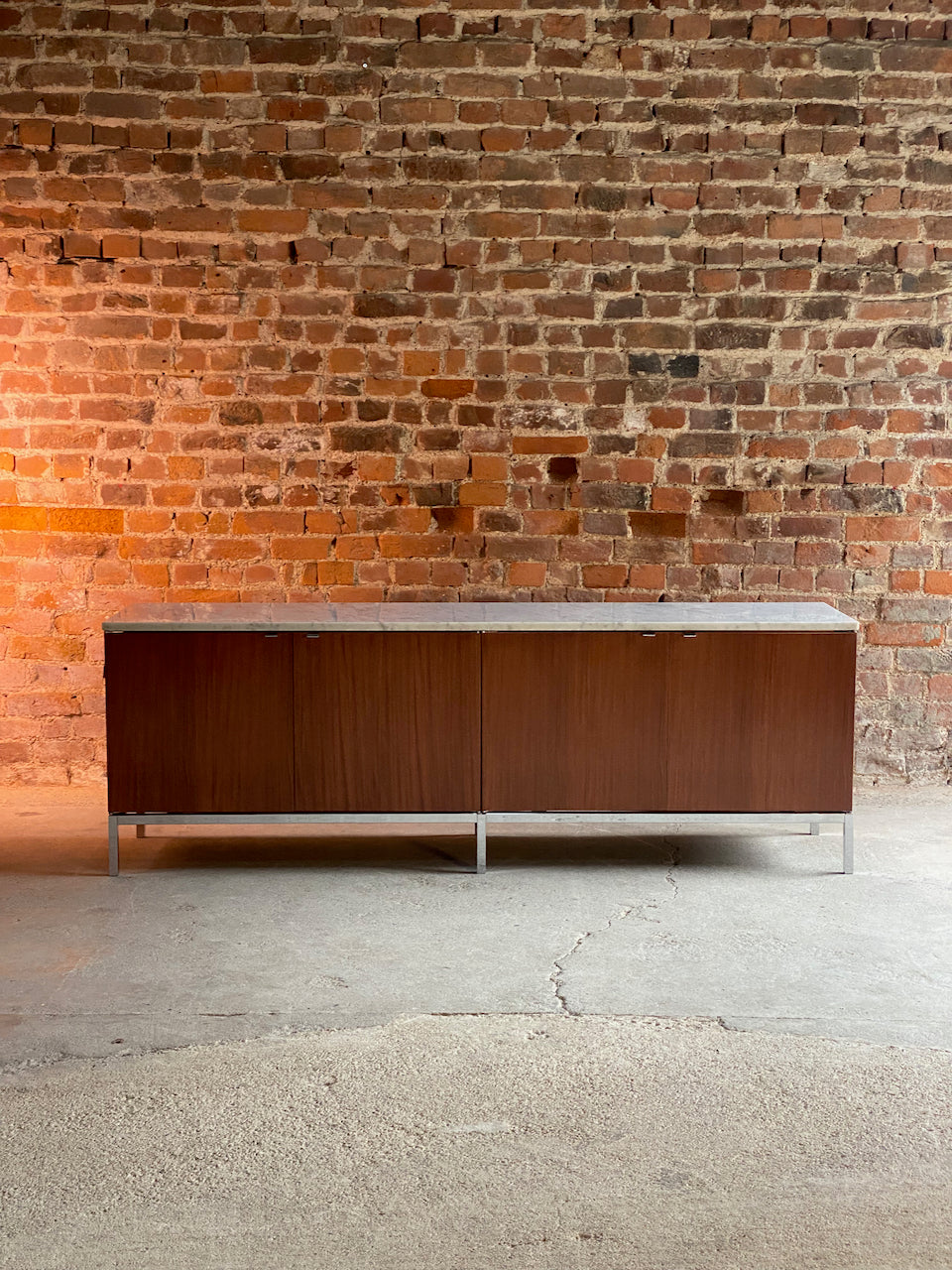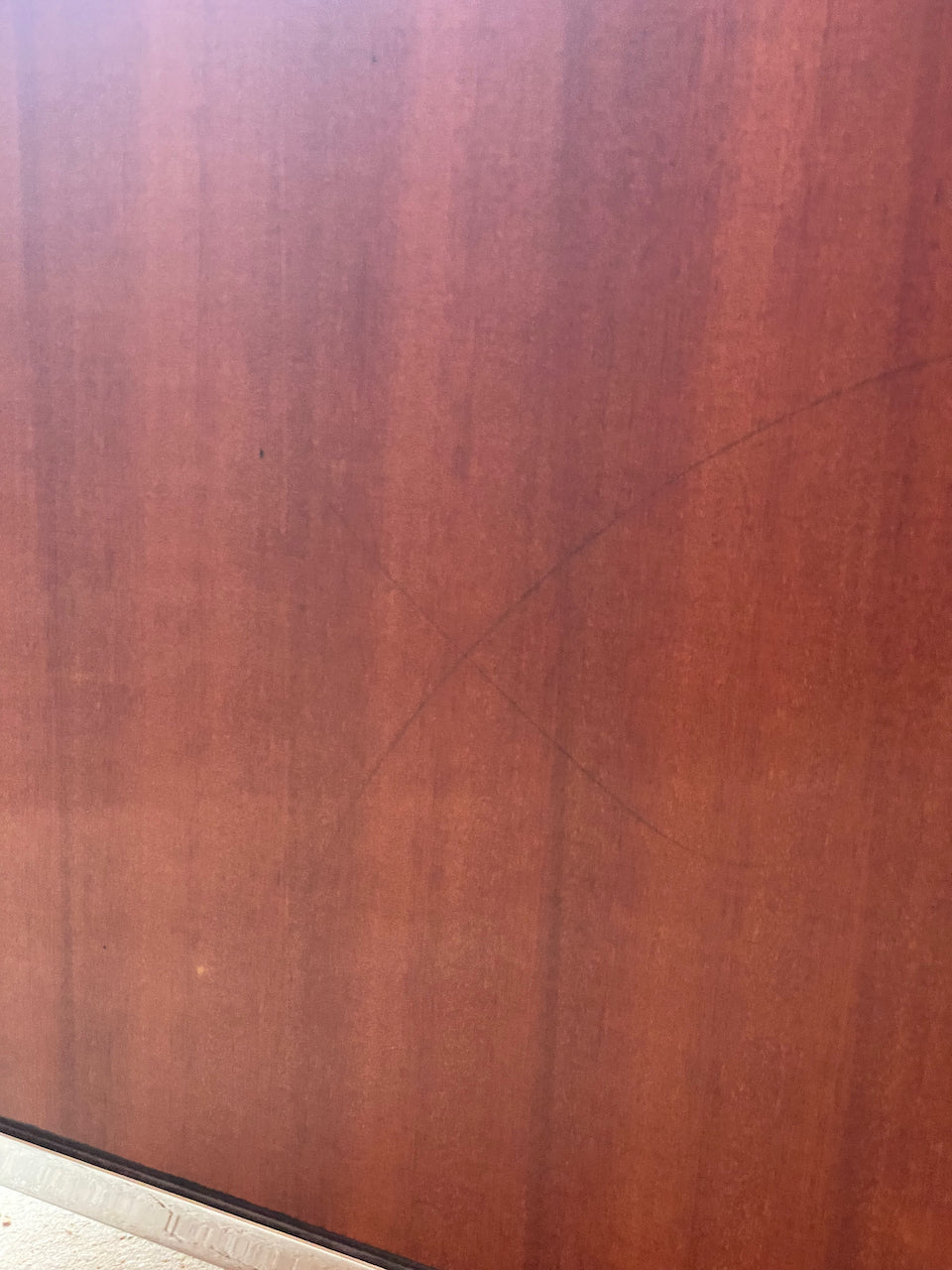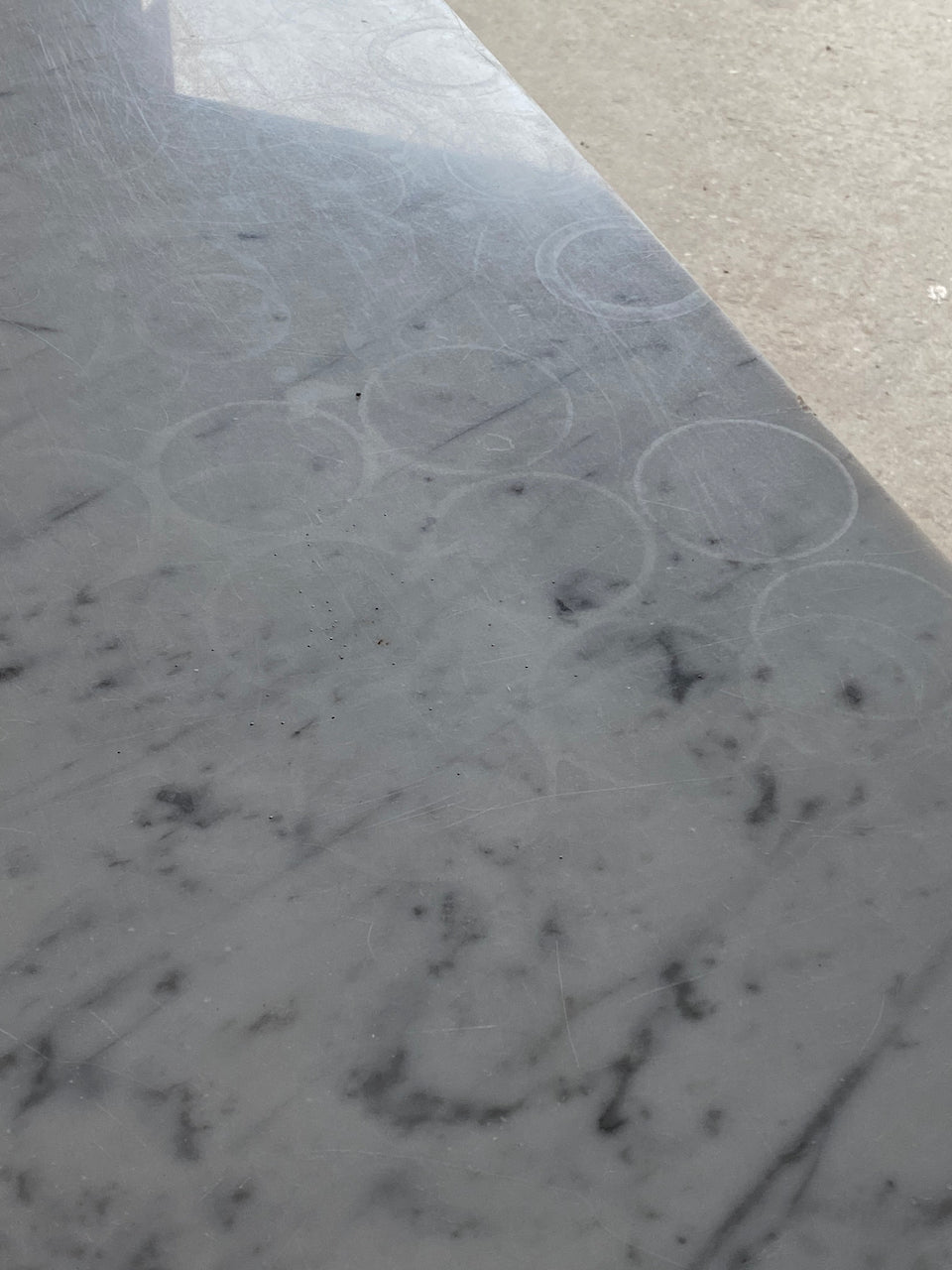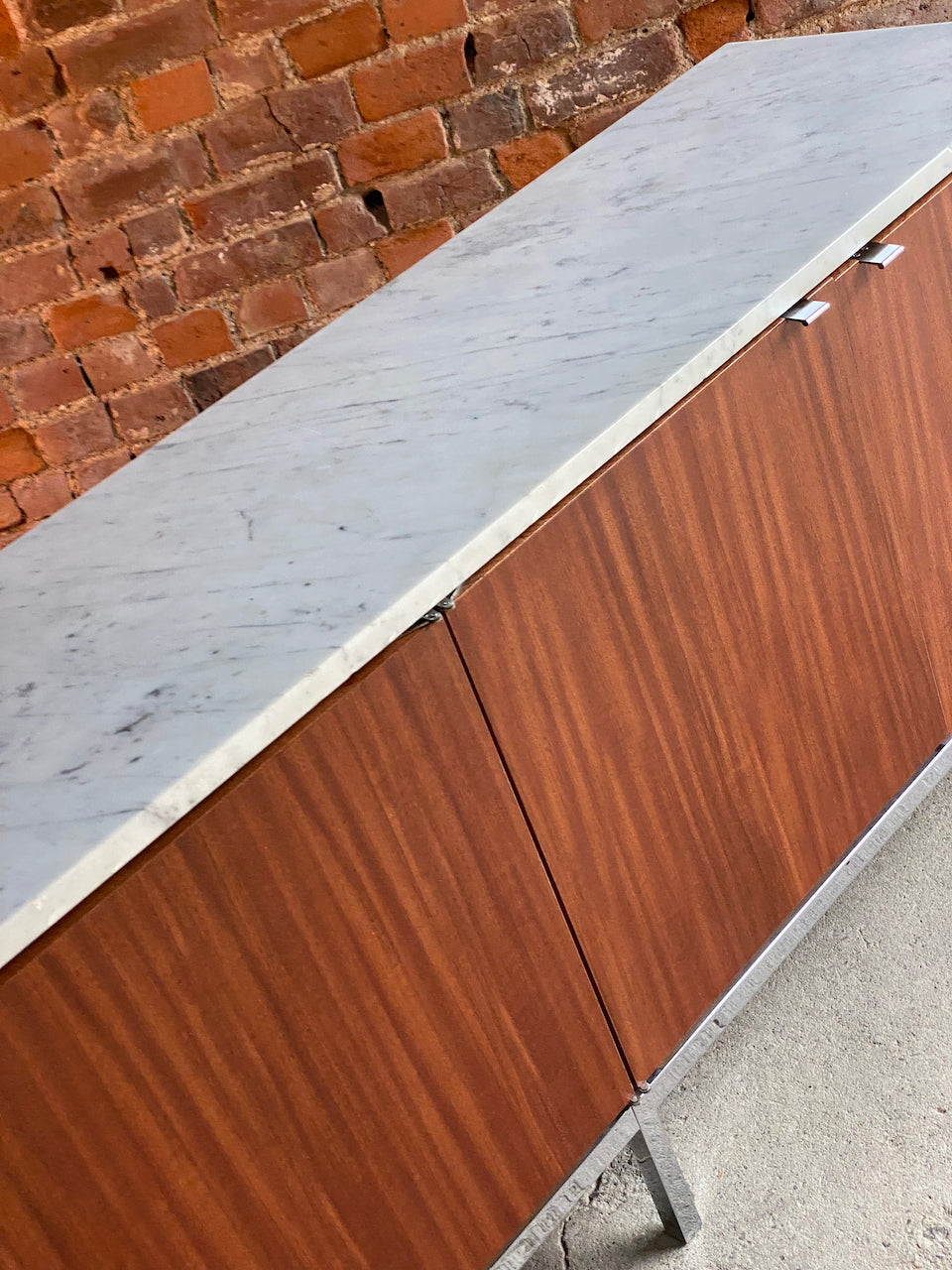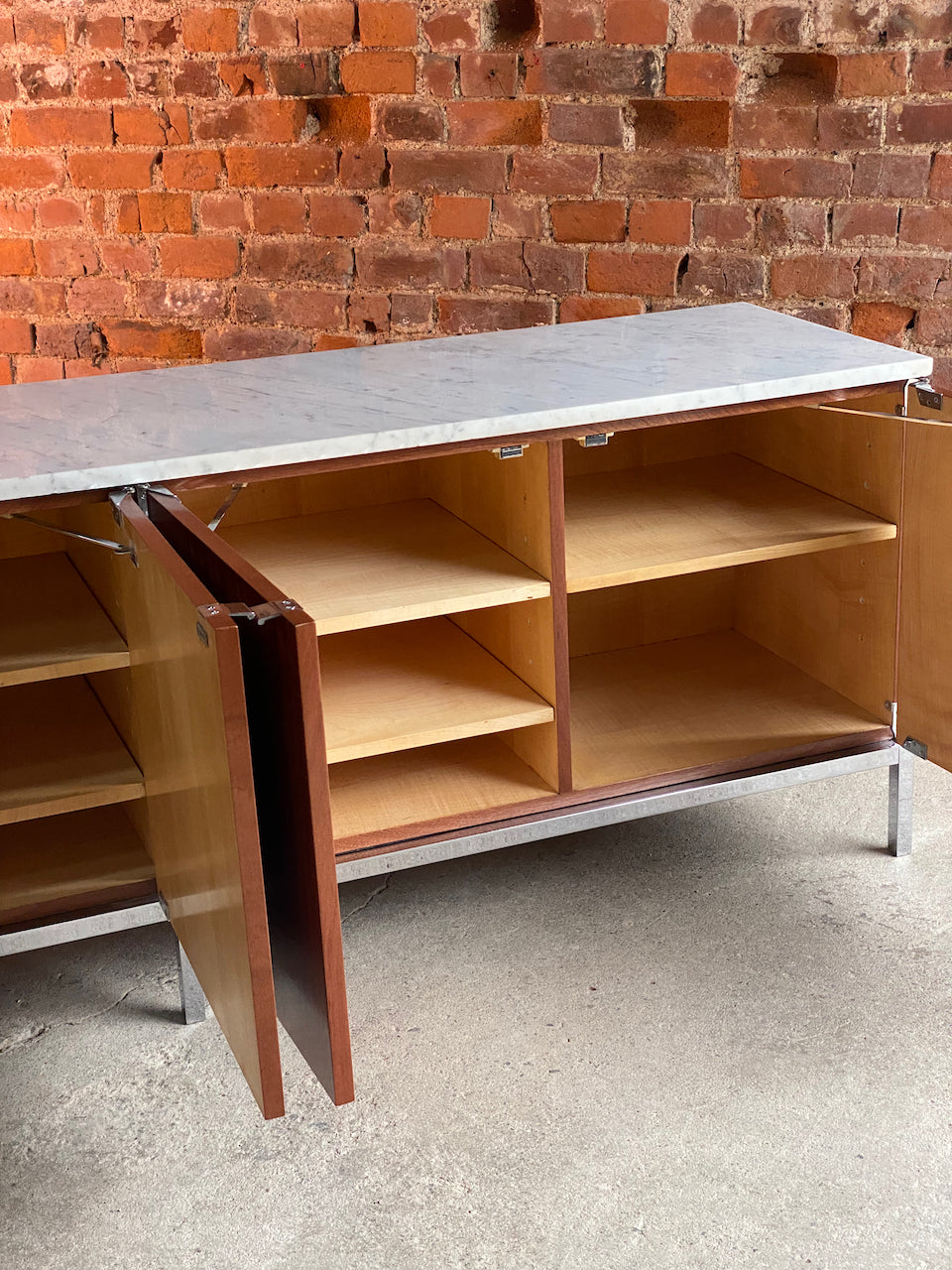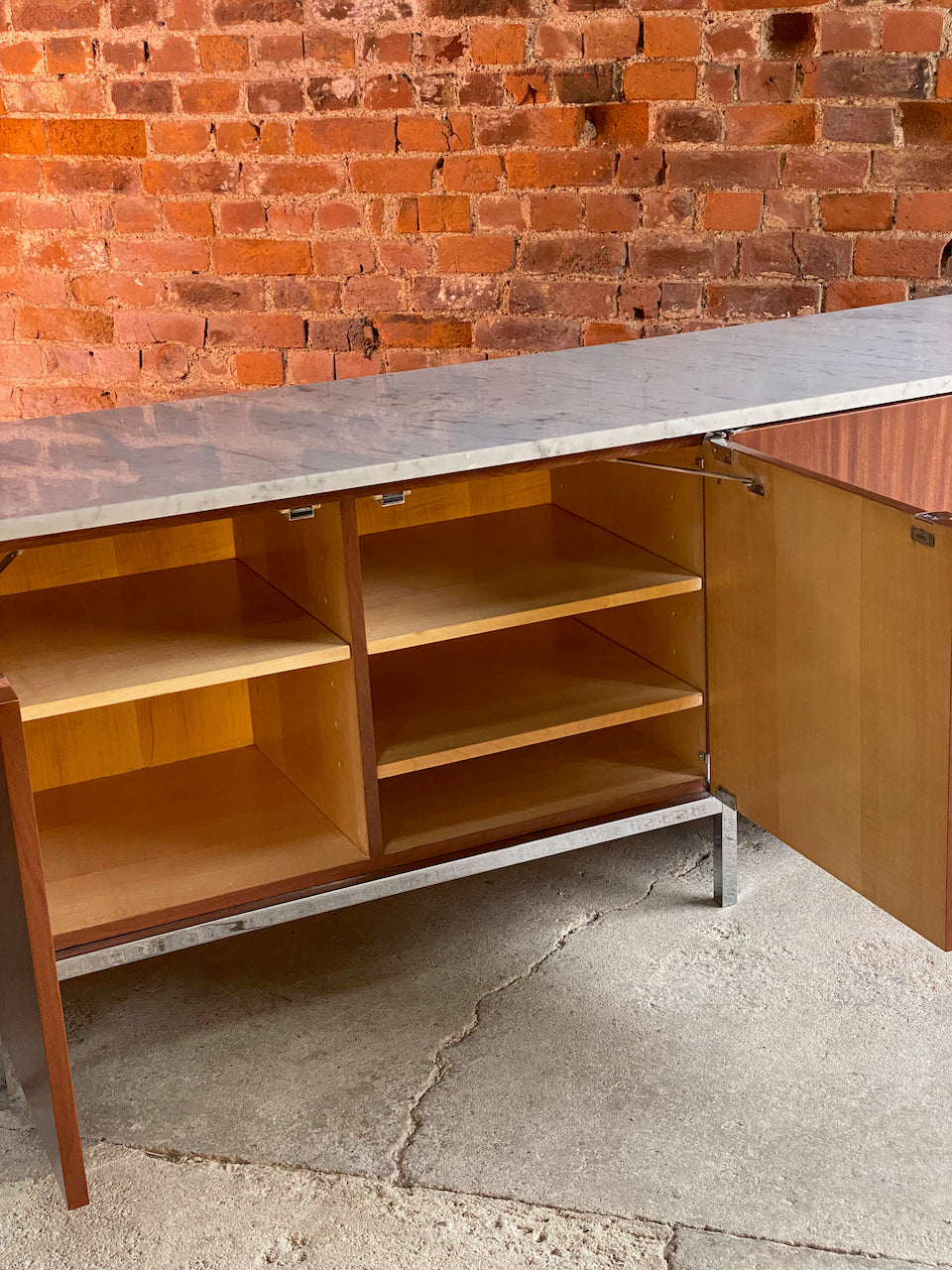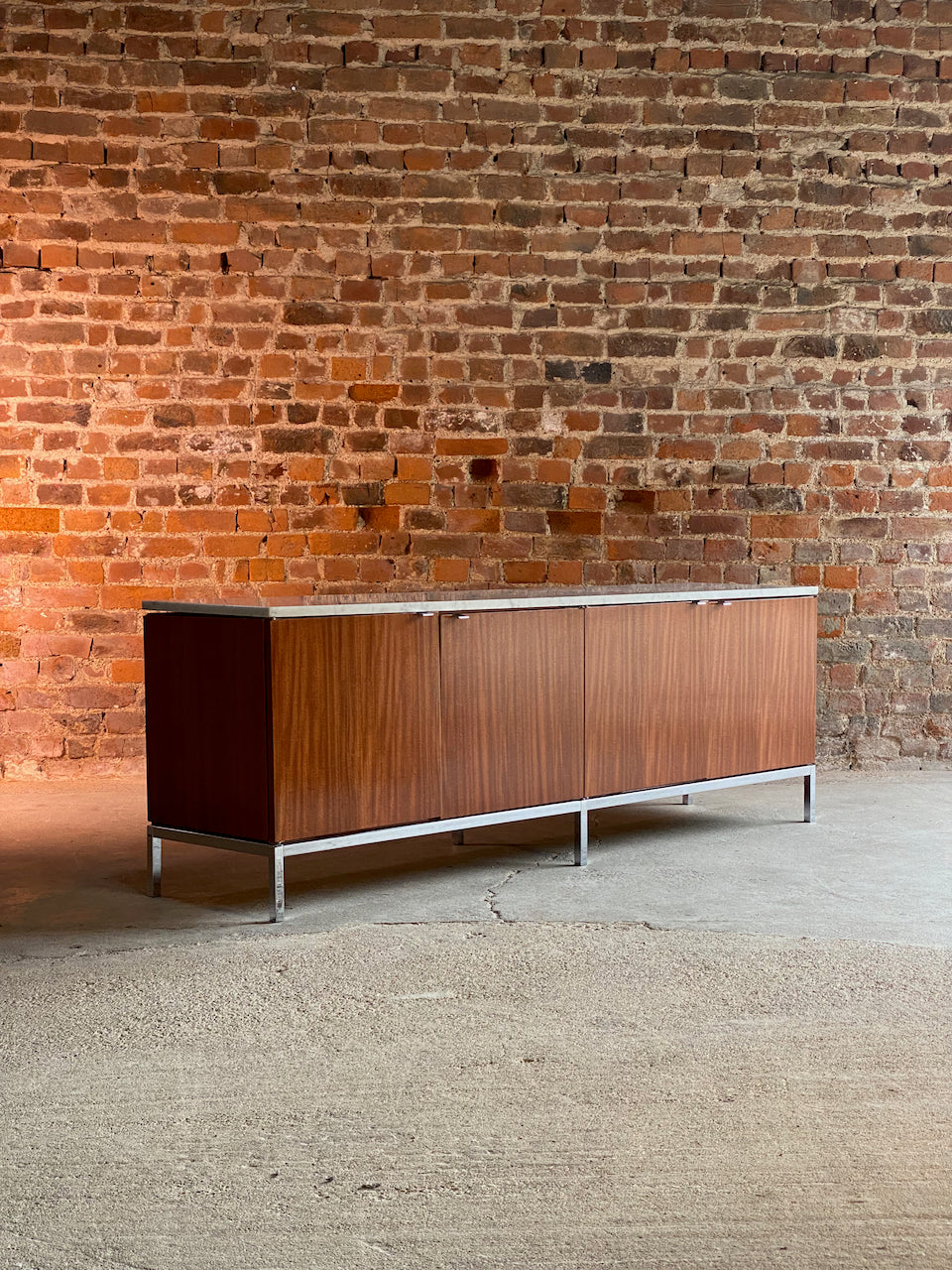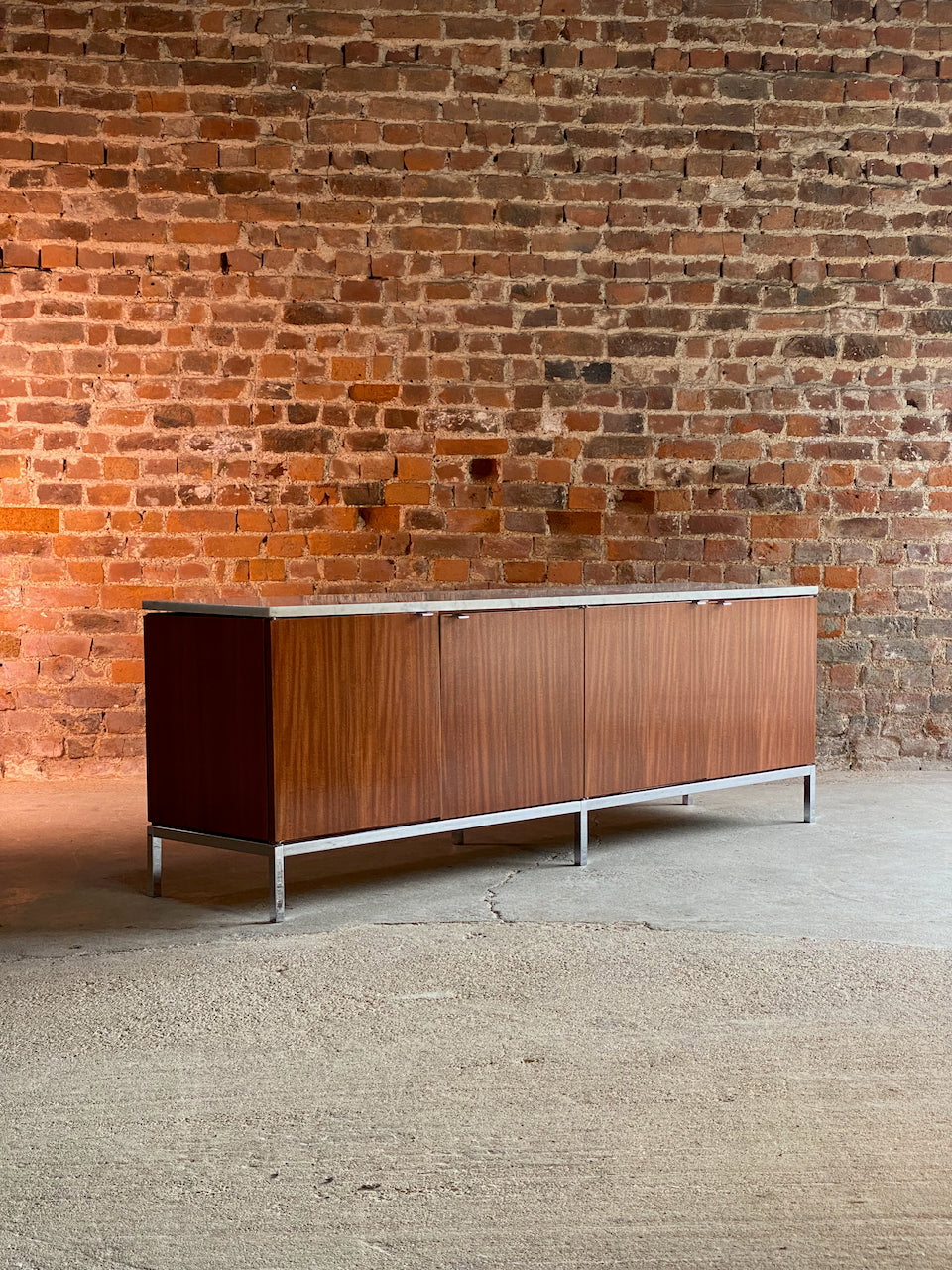 Florence Knoll Marble & Teak Credenza USA 1970s
Florence Knoll Marble & Teak Credenza USA 1970s

Magnificent mid century modern Florence Knoll Teak & Marble Credenza for Knoll International, USA  circa 1970s, original marble topped teak credenza, the marble top is a high-end natural stone desirable for its distinctive look and precious rarity and is distinctive with its thick, bold veining, over an arrangement of four cupboards with six internal adjustable shelves, raised on a polished chromed base, reserve now

Provenance: From a private collection in Kensington London

About the creator:
Florence Marguerite Knoll Bassett (née Schust; May 24, 1917 – January 25, 2019) was an American architect, interior designer, furniture designer, and entrepreneur who has been credited with revolutionising office design and bringing modernist design to office interiors. Knoll and her husband, Hans Knoll, built Knoll Associates into a leader in the fields of furniture and interior design. She worked to professionalize the field of interior design, fighting against gendered stereotypes of the decorator. She is known for her open office designs, populated with modernist furniture and organised rationally for the needs of office workers. Her modernist aesthetic was known for clean lines and clear geometries that were humanised with textures, organic shapes, and colour.

Florence Marguerite Schust was born in Saginaw Michigan to Frederick Emanuel (1881–1923) and Mina Matilda (Haist) Schust (1884–1931), and was known in familiar circles as "Shu" Frederick Schust was born about 1882 in either Switzerland or Germany, was a native German speaker, and the 1920 United States Federal Census describes him as the superintendent of a commercial bakery. Mina was born about 1887 in Michigan, and her parents had been born in Canada. Knoll was orphaned at a young age, her father died when she was 5, her mother died when she was 12. She was placed under the care of Emile Tessin, who had been designated by Mina Schust as Knoll's legal guardian in the event of her death. Tessin made arrangements for Knoll to attend boarding school. After visiting, Knoll recalls feeling the Cranbrook educational community was the right place for her.

Knoll attended Kingswood School for Girls (1932-1934), part of the Cranbrook Educational Authority in Bloomfield Hills, Michigan. There she was mentored by Rachel de Wolfe Raseman, the art director at Kingswood. Together they designed a home which integrated interior and exterior, sparking her interest in architecture and bringing her to the attention of Eliel Saarinen , the Cranbrook Academy of Art President.  Eliel and Loja Saarinen practically adopted Knoll; she spent summers with the family in Finland and befriended their son, Eero Saarinen  who even gave her impromptu architectural history lessons.  Eero Saarinen. She attended the architecture department at Cranbrook Academy of Art for one year in 1934–35, In 1935, she studied town planning at the School of Architecture at Columbia University . She returned to Michigan in 1936 to undergo surgery and enrolled in the architecture department at Cranbrook again. From 1936-37, she explored furniture-making with Eero Saarinen and Charles Eames. In the summer of 1938 she met Alvar Aalto, who praised Architectural Association   in London as a "terrific school," Knoll went on to attended from 1938-1939.[4] There she enjoyed the focus on studio work and was influenced by Le Corbusier's International style. She left as World War II  was spreading.
From 1940-1941, Knoll furthered her architectural educations under leading figures of the Bauhaus  movement. In 1940, she moved to Cambridge, Massachusetts, and worked briefly as an unpaid apprentice for Walter Gropius and Marcel Breuer. Though her studies had been repeatedly interrupted by ill health and international events, Knoll was determined to finish her degree. She enrolled at the Chicago Armour Institute (now the Illinois Institute of Technology) in fall 1940.She went to specifically study under Mies van der Rohe  and received a bachelor's degree in architecture in 1941. Knoll's design approach was profoundly influenced by Mies, resulting in clarified designs with rigorous geometries.

After graduating Knoll moved to New York in 1941, taking jobs with several New York architects, including Harrison & Abramovitz. "Being a woman, I was given interiors," Knoll stated about her time at Harrison & Abramovitz. While there, she worked with Hans Knoll to design an office for Harry Stimson. Afterwards she continued the partnership, moonlighting as a designer for the Hans G. Knoll Furniture Company, which included designing their showroom. In 1943, she joined the Hans Knoll's company and founded their interior design service, the Knoll Planning Unit. She and Hans Knoll were married in 1946, when she became a full business partner and the company became known Knoll Associates, Inc.
Knoll Associates
The pairing led to success as Florence Knoll helped Hans Knoll turn what was a small furniture company into an international powerhouse. Florence Knoll was the design force and Hans Knoll was entrepreneurial and charismatic. A new furniture factory was established in East Greenville Pennsylvania , and dealers of Knoll's furniture were carefully added over the next several years. Knoll Showrooms and retailers expanded internationally, by 1960 the company was doing $15 million dollars of business annually. The Knoll showrooms embodied their humanised modern designs, showing customers how to use their new furniture. Their first showroom was opened in 1948 in New York City followed by those in Dallas, Chicago, San Francisco, Paris, Los Angeles, Southfield, Michigan and other cities. The company expanded internationally forming Knoll International in 1951, as well as moved into textiles, forming Knoll Textiles.

Knoll felt architects should contribute their design ability to furniture as well, and she brought her international connections, designer friends, and former teachers to Knoll. She managed to get architects including Eero Saarinen, Marcel Breuer, Pierre Jeanneret and Hans Bellman to design furniture for Knoll. Famously, Knoll asked Saarinen to design a chair that was "like a great big basket of pillows that I can curl up in," resulting in his classic Womb chair. Knoll and Saarinen had to work with a fiberglass boat builder in order to manufacture the chair.  Knoll persuaded her former teacher, Mies van der Rohe, to give Knoll the rights to the Barcelona Chair which he had designed with Lilly Reich in 1929. Knoll also tapped artists to create furniture, such as Isamu Noguchi , whose cyclone table (1950) became a Knoll replica. Knoll had the sculptor, Harry Bertoia  spend two years in his studio to see if he could translate his metal work into furniture resulting in his well known wire chairs. She managed to attract Knoll's considerable stable of designer talent by paying commissions and royalties and ensuring credit for designs.

When Hans Knoll died in a car accident in 1955, Florence Knoll took over as president of all three Knoll companies (Knoll Associates, Knoll Textiles, and Knoll International). She sold the companies to Art Metal Construction Company in 1959, though continued on as president of all three companies until 1960. In 1960, she moved to Florida with her second husband, Harry Hood Bassett. However, she stayed in charge of design for all of Knoll until 1965. In the ten years since she had taken primary responsibility for Knoll, she had doubled the size of the company to become one of the most influential design businesses in the world.
American
Mid Century Modern
Florence Knoll
Teak
Marble
Credenza
1970s
Original
Investment
Practical & Beautiful
Free UK Delivery

Overall in excellent original condition, no odours or smells, no stains to the interior, all doors open and close smoothly, the marble top has minor nibbles to some of the edges and some minor stains, scratches and ring marks, these could easily be polished out, we have left as is as they are barely noticeable, a new piece of marble can be supplied if so required, there are pencil crosses to the rear backside of the cabinet which again could be easily polished out.

Length: 75" / 190cm
Depth: 18" / 46cm
Height: 26" / 66cm

Free delivery is offered to England & Wales only when buyer pays full asking price, next day delivery is not possible due to the size of the piece, please allow between 7-14 days delivery