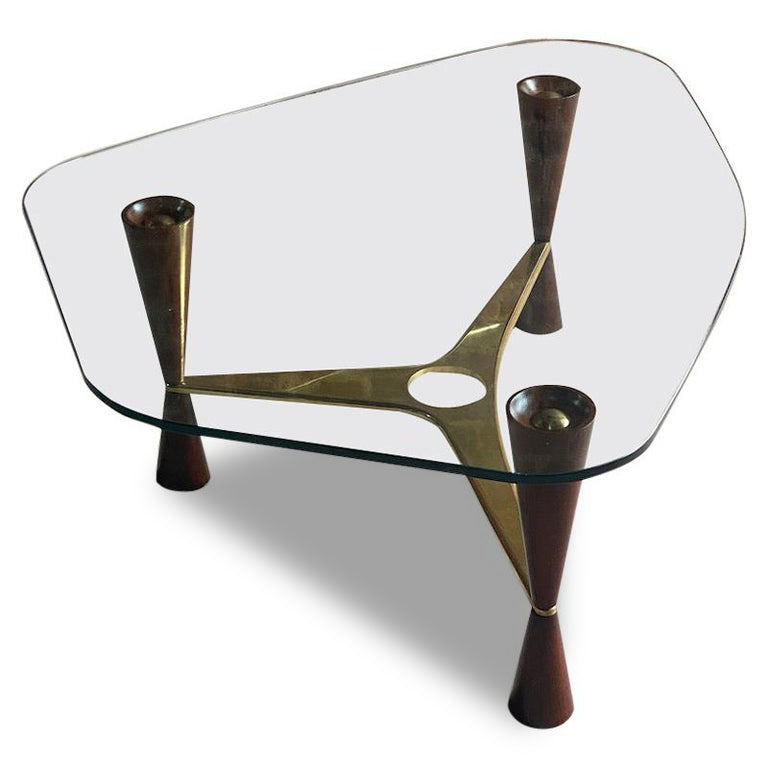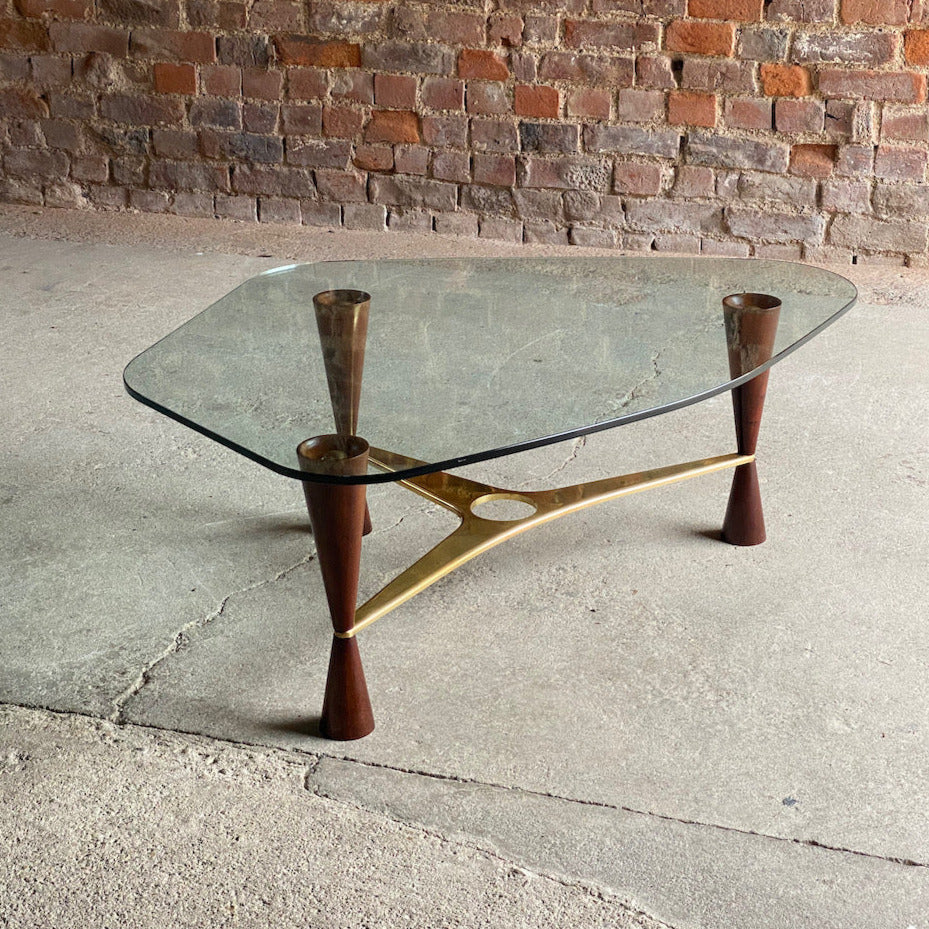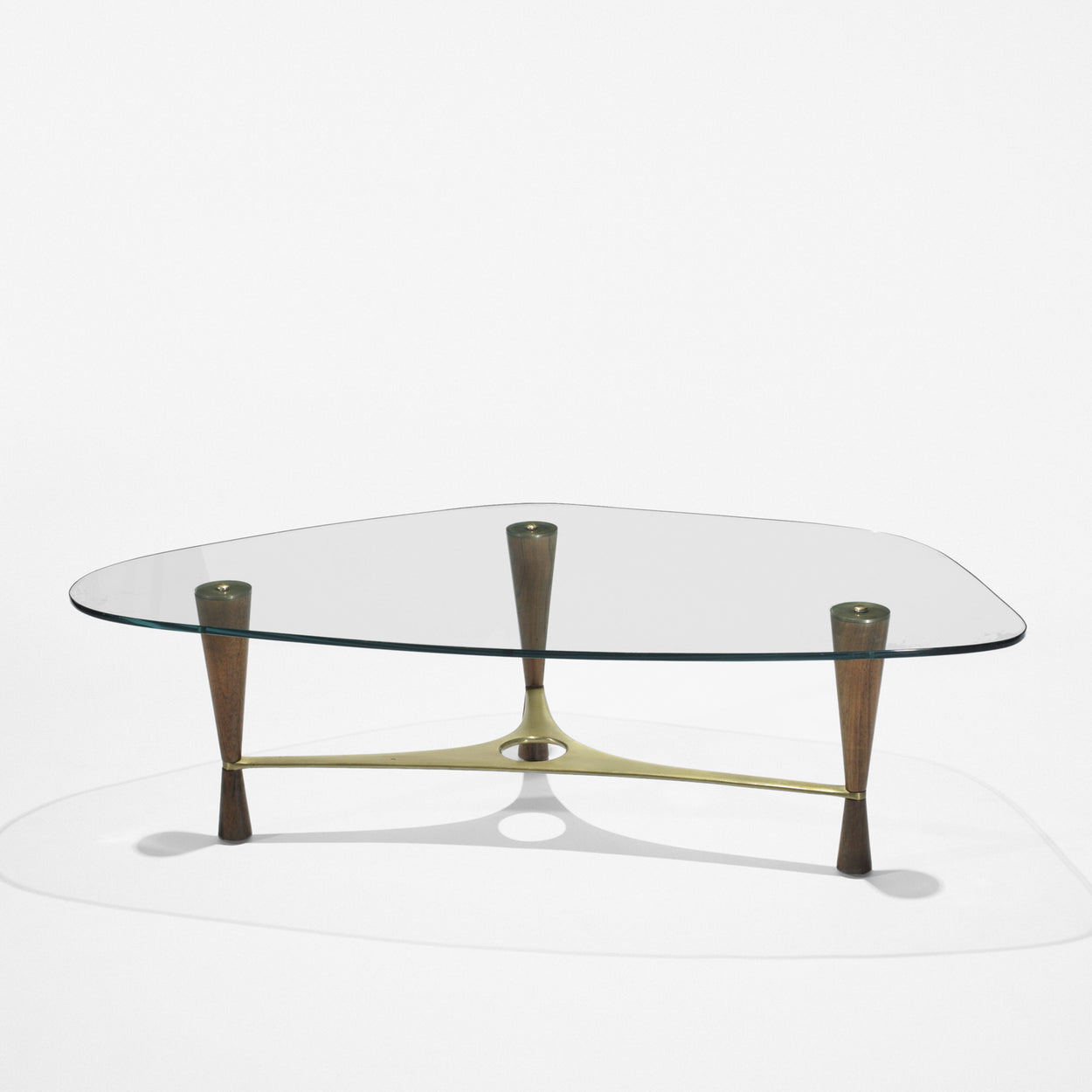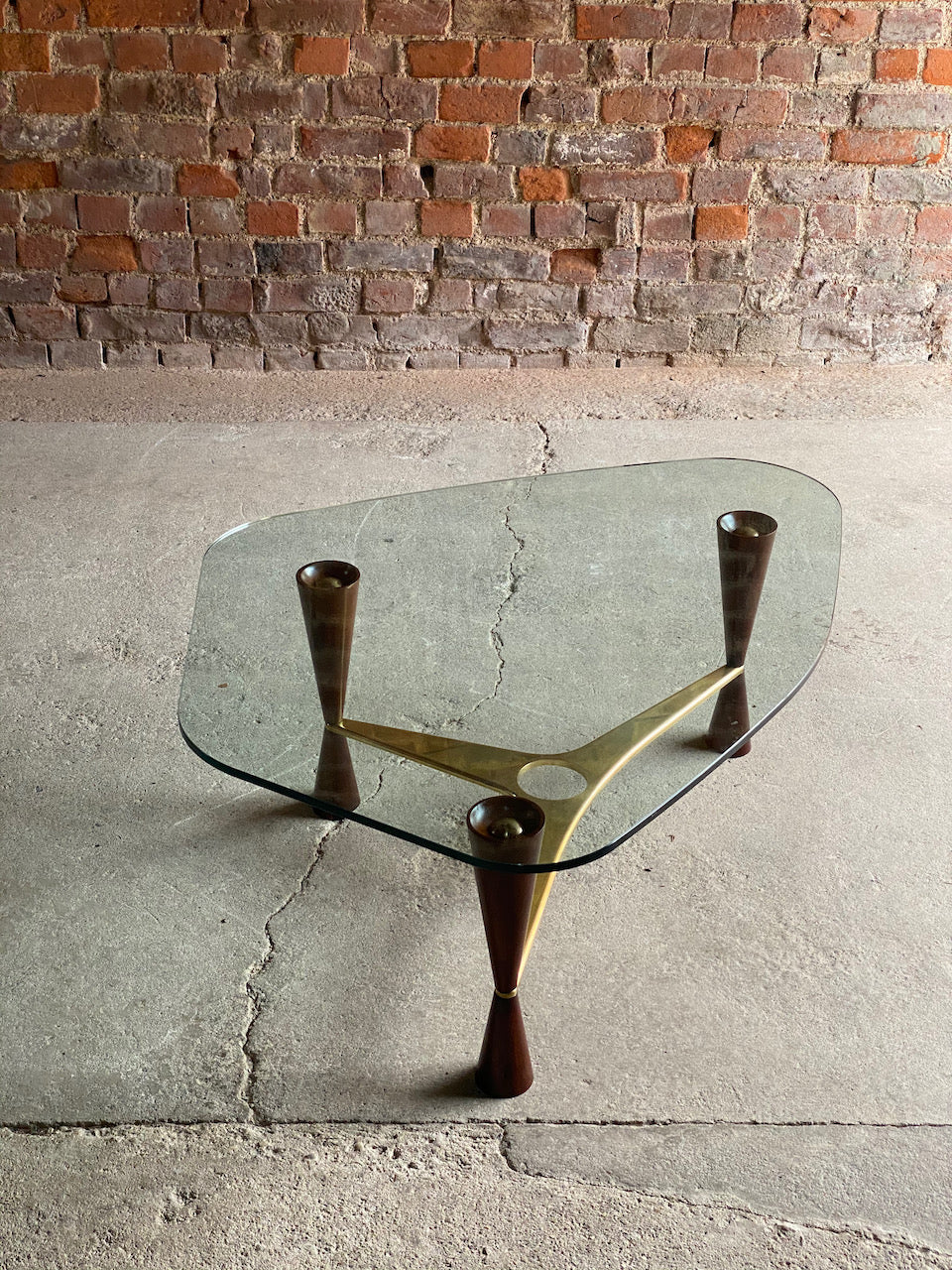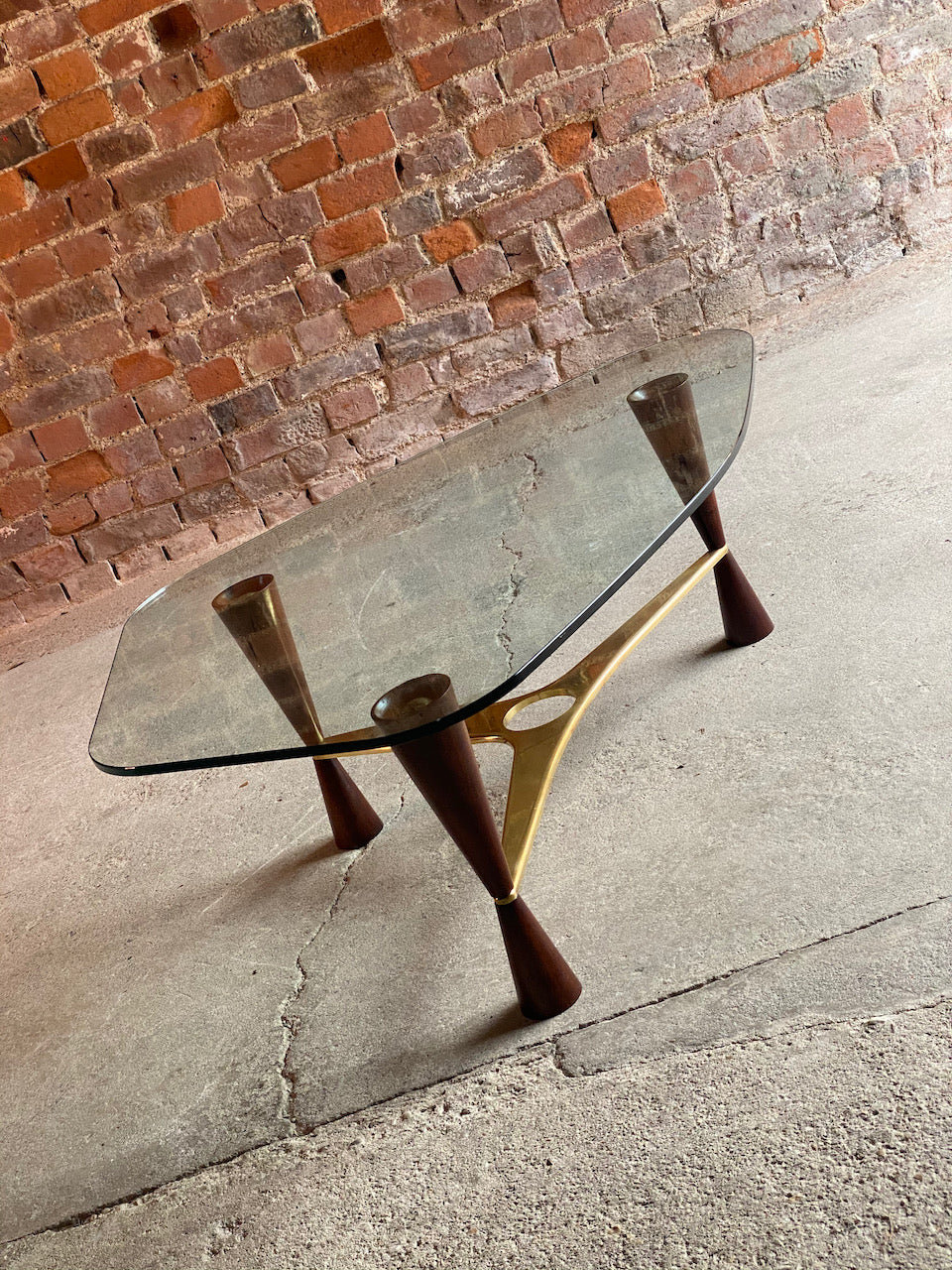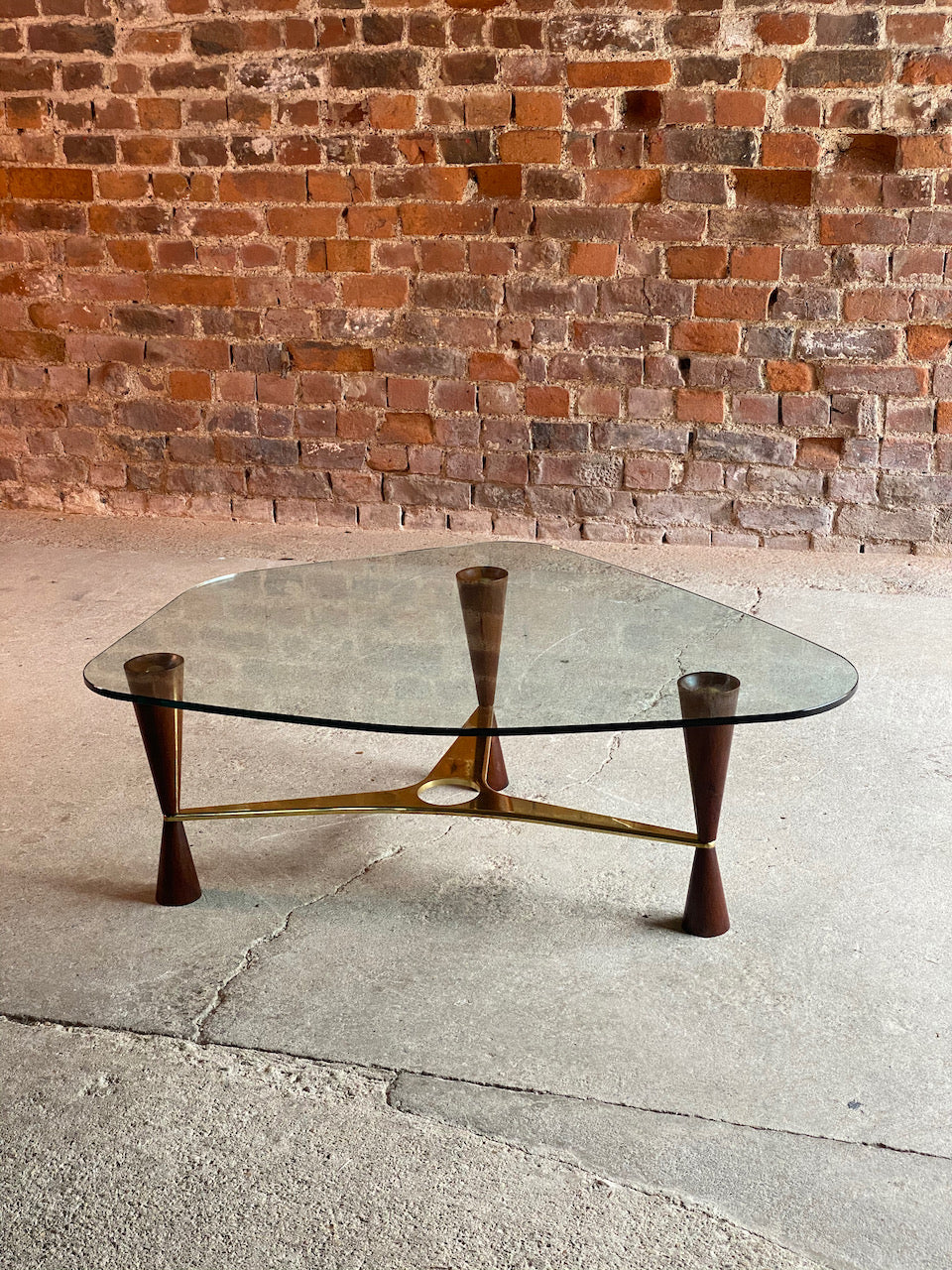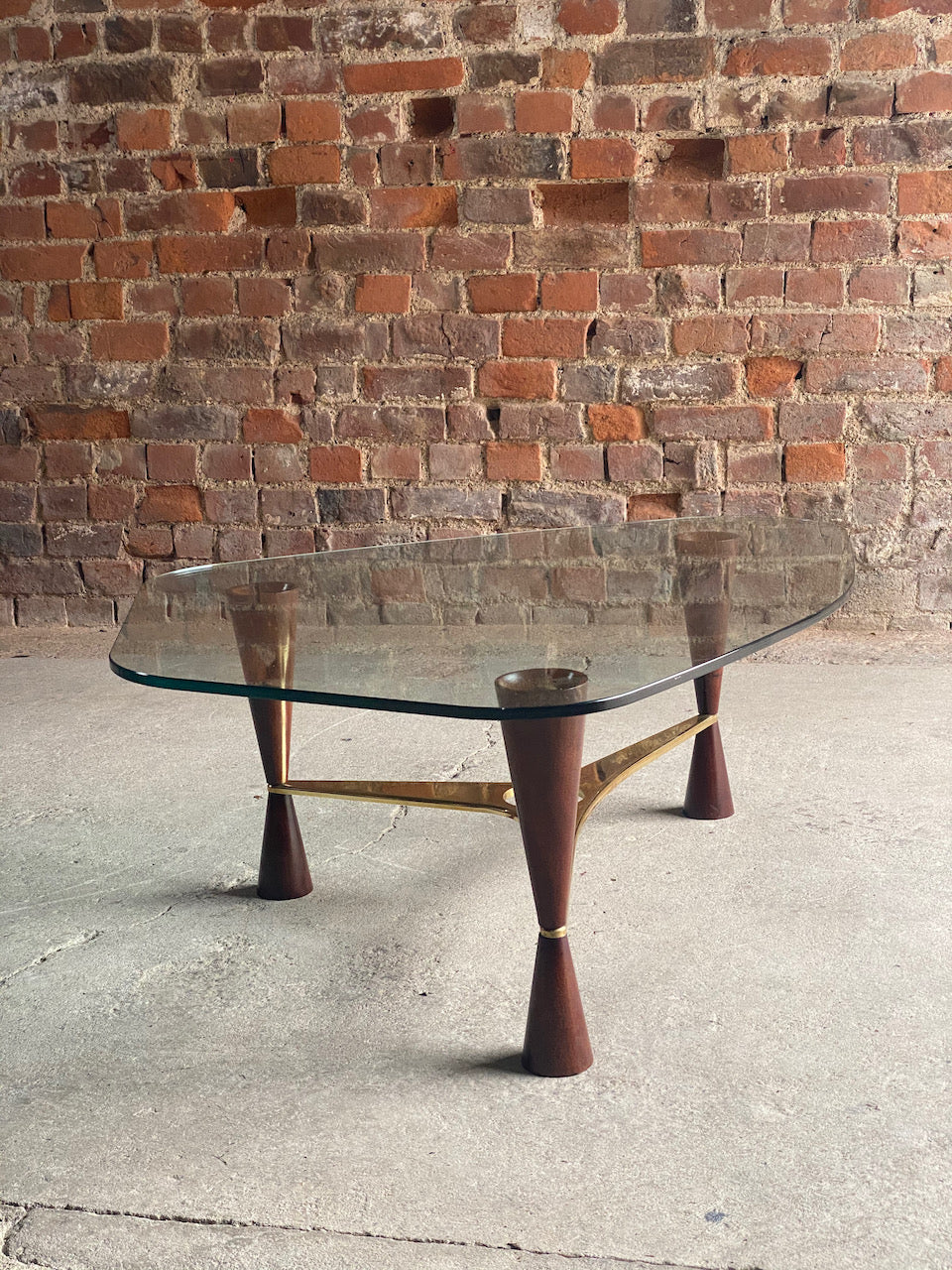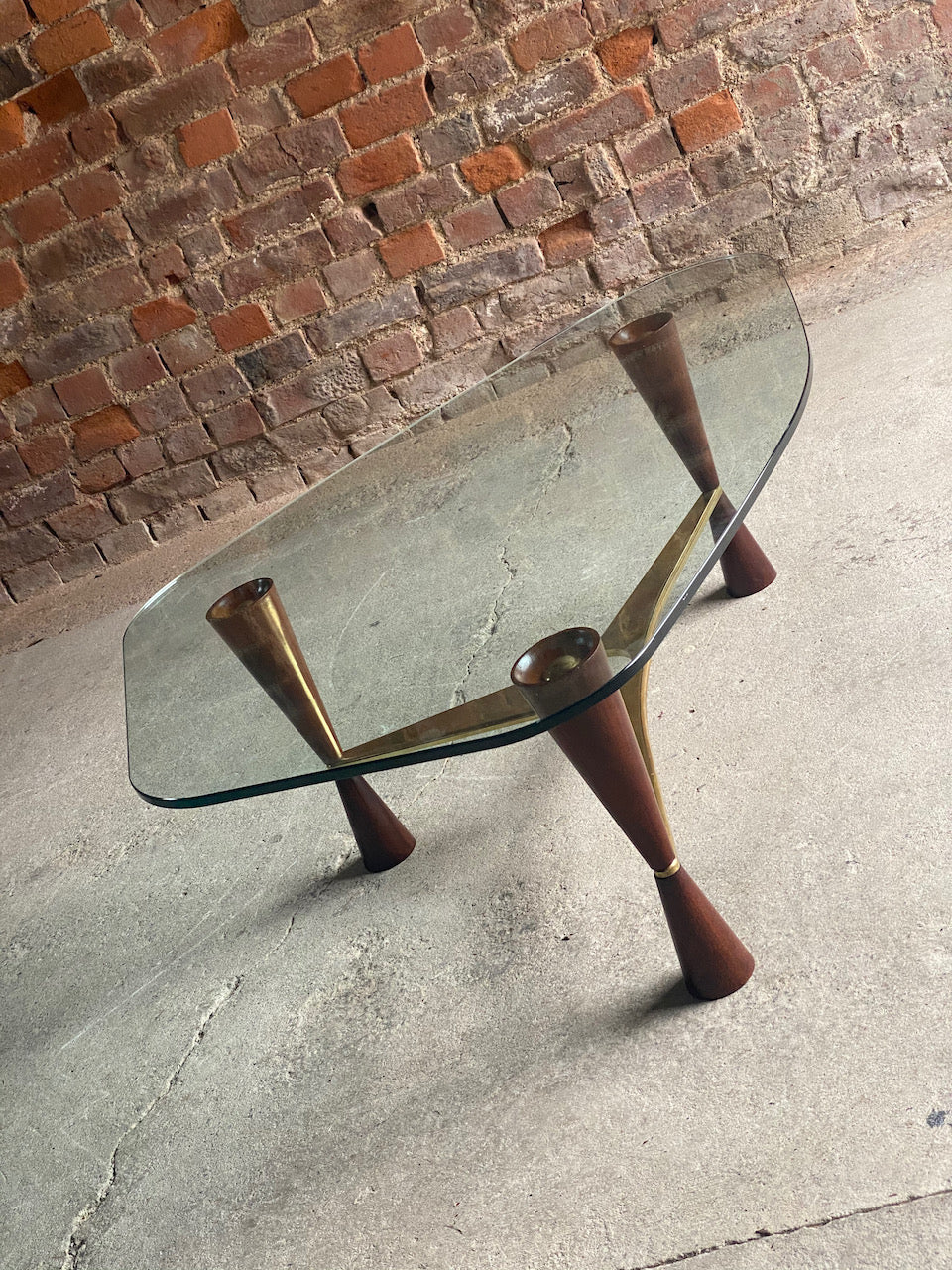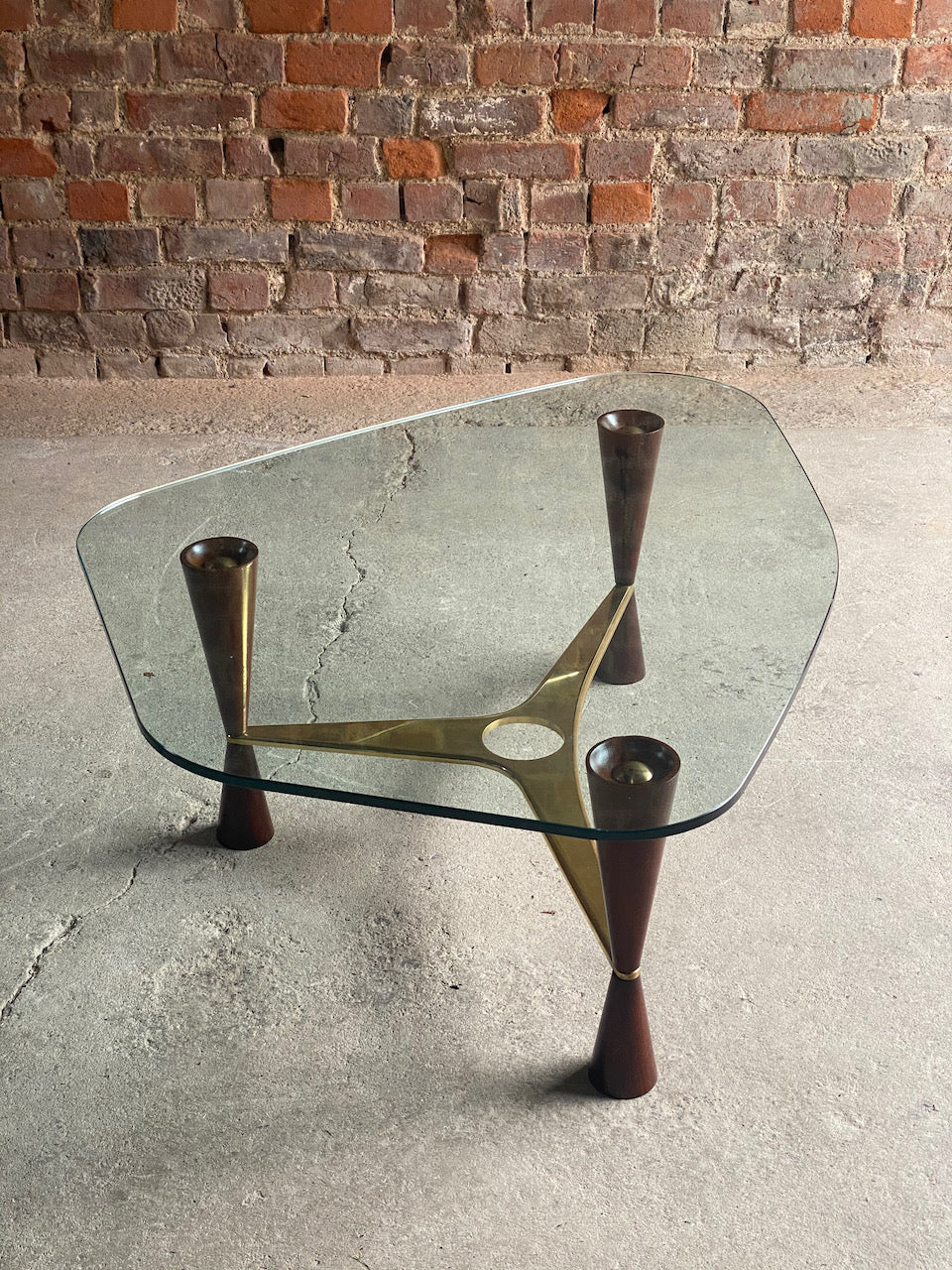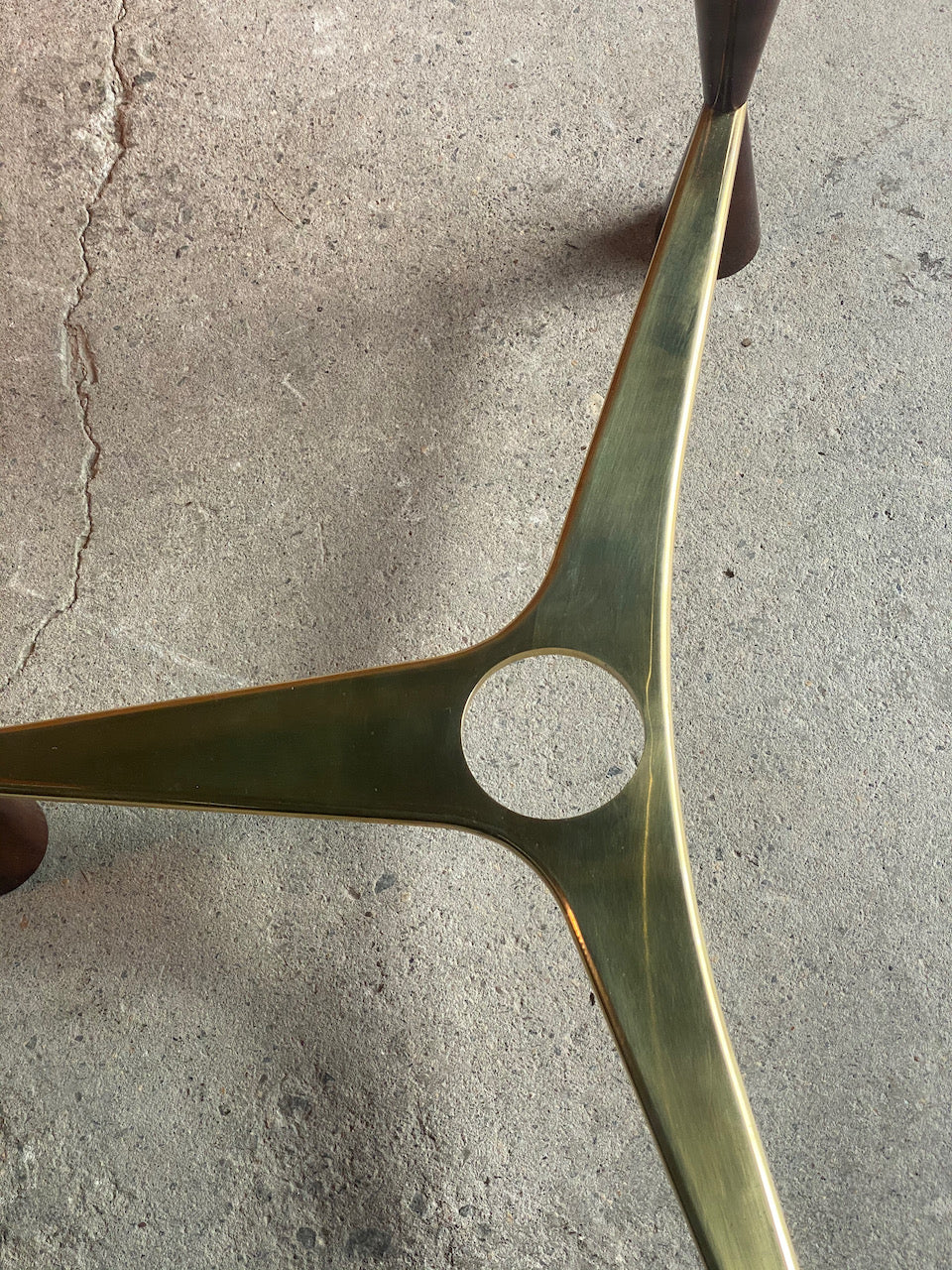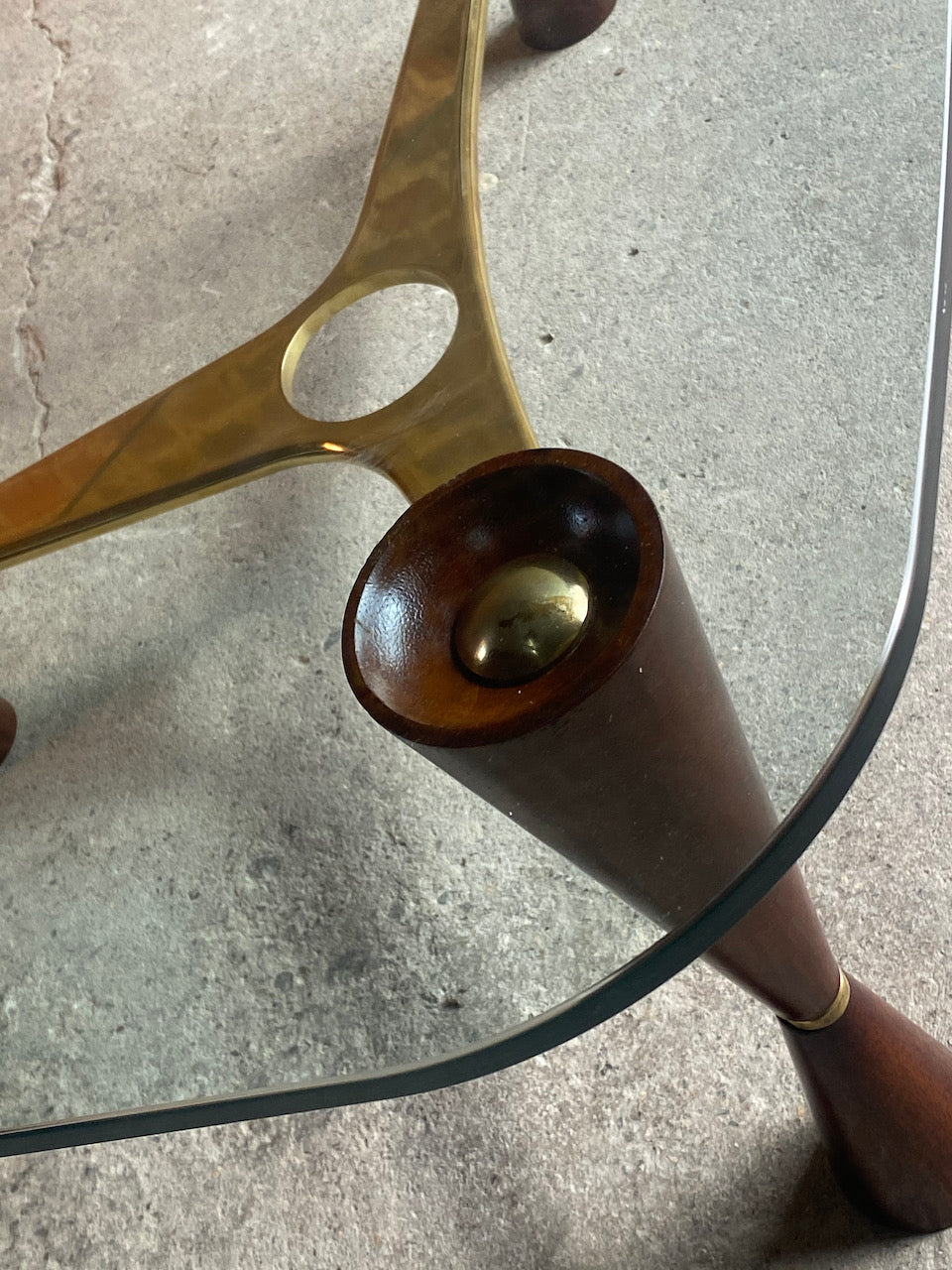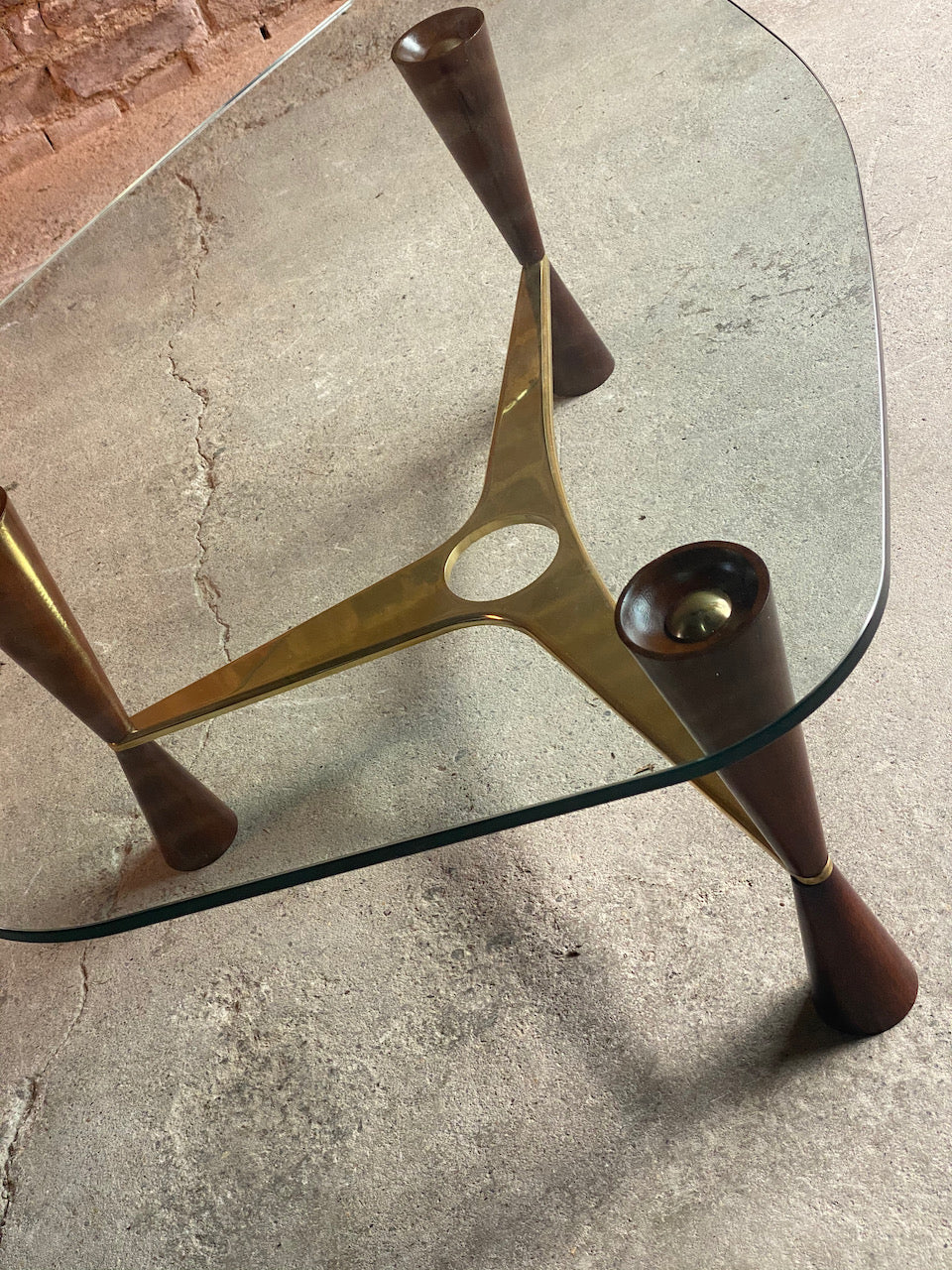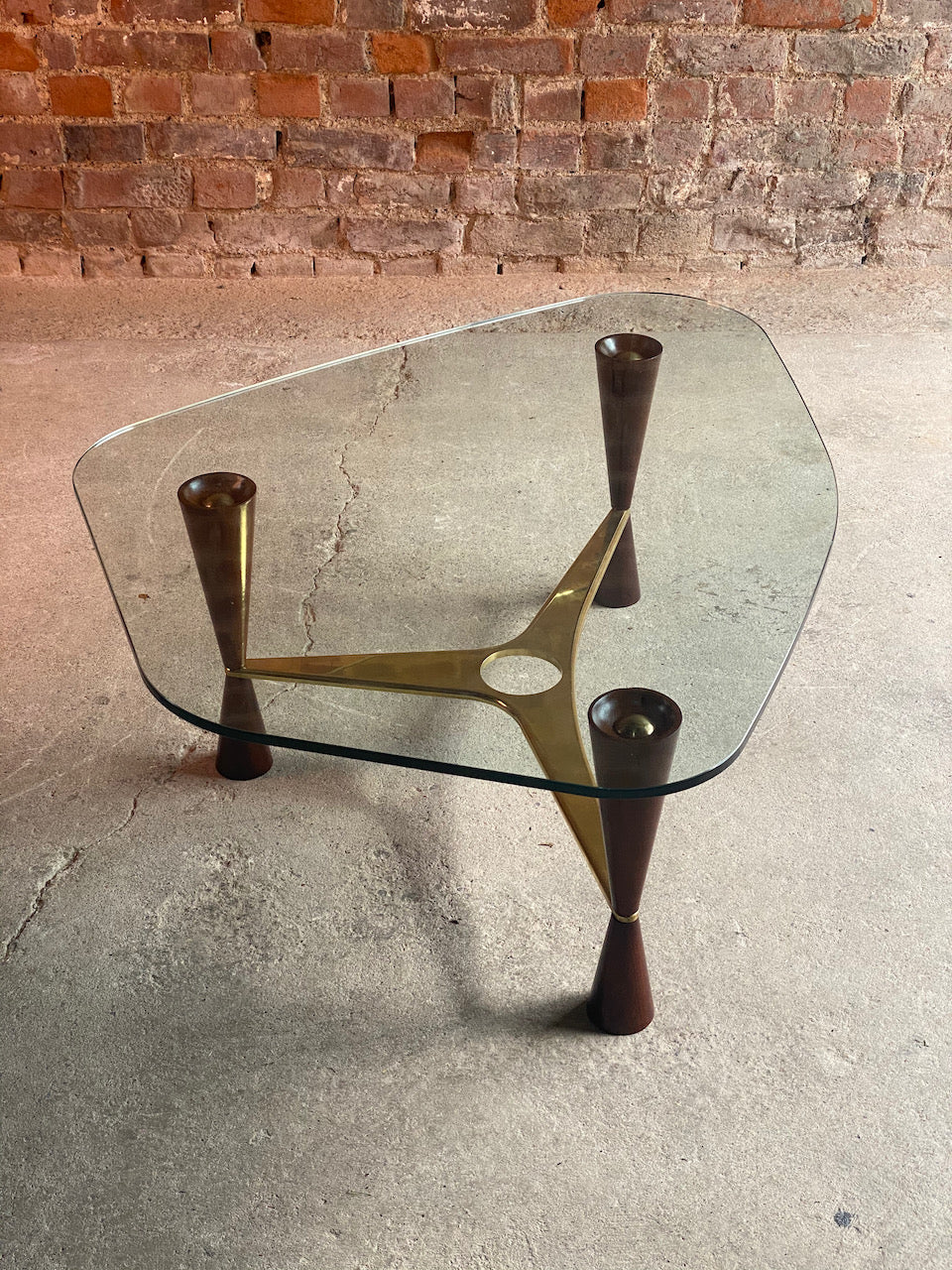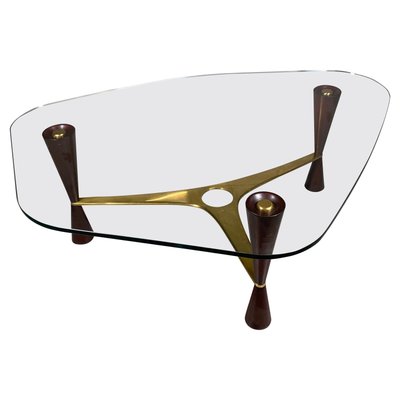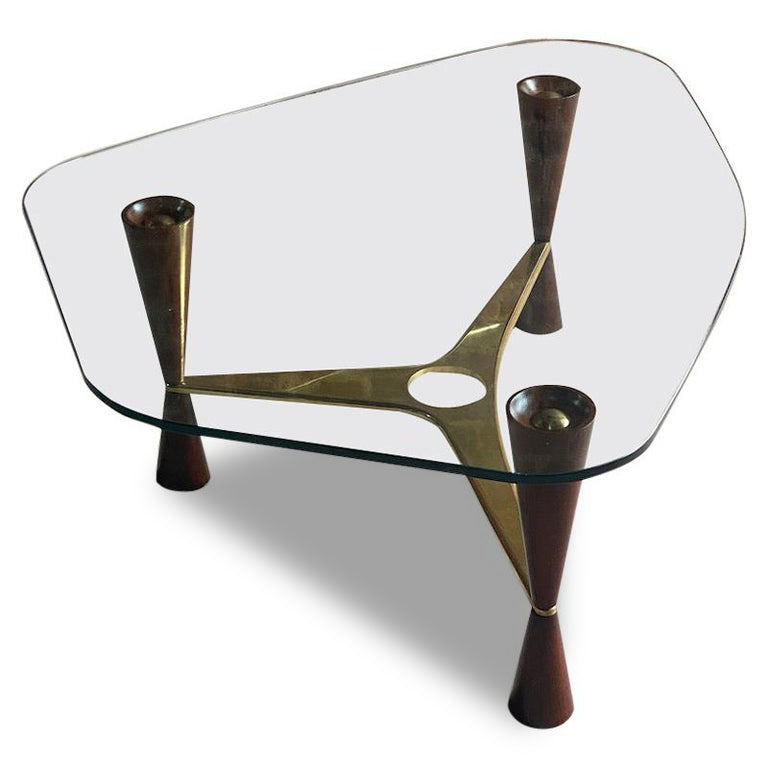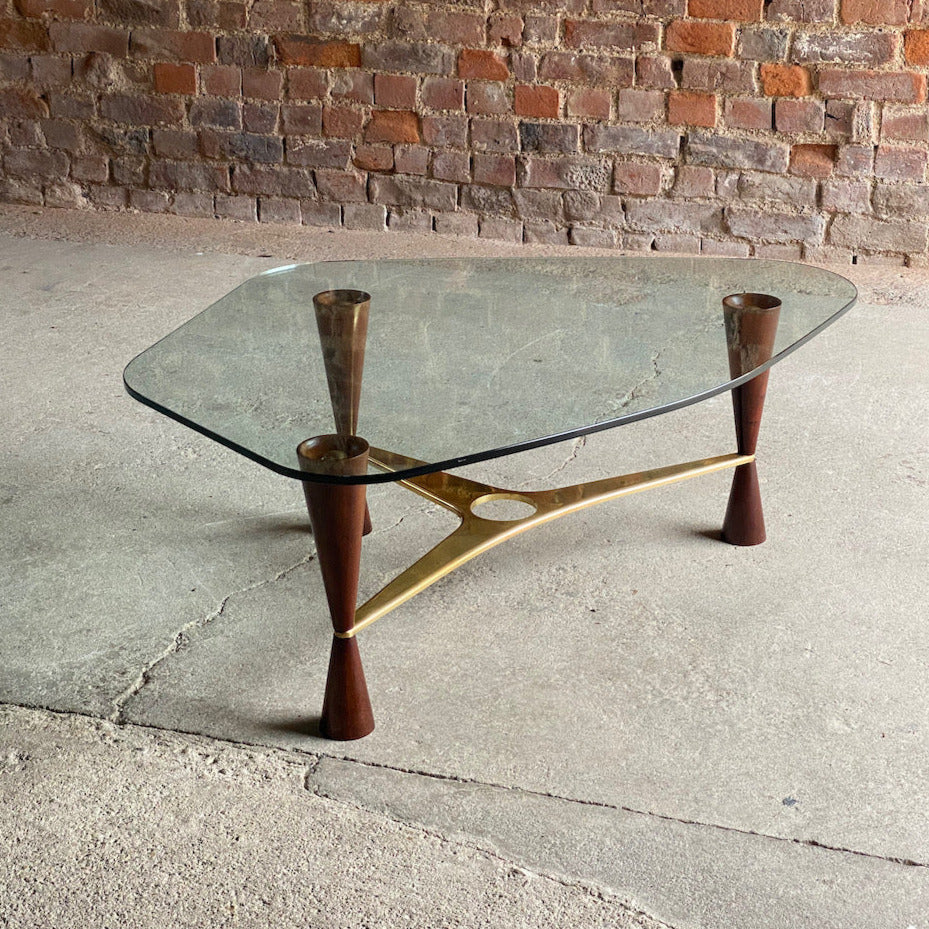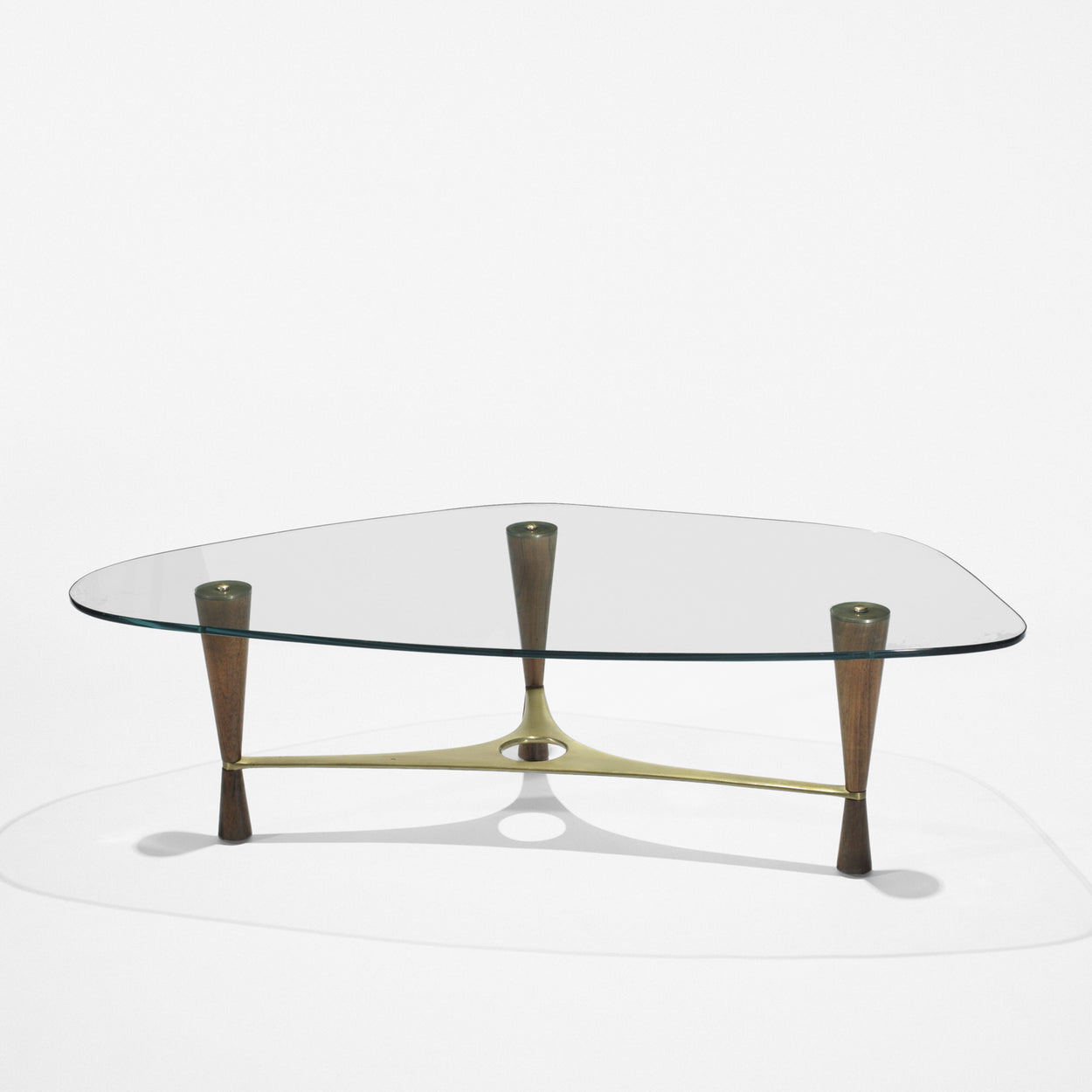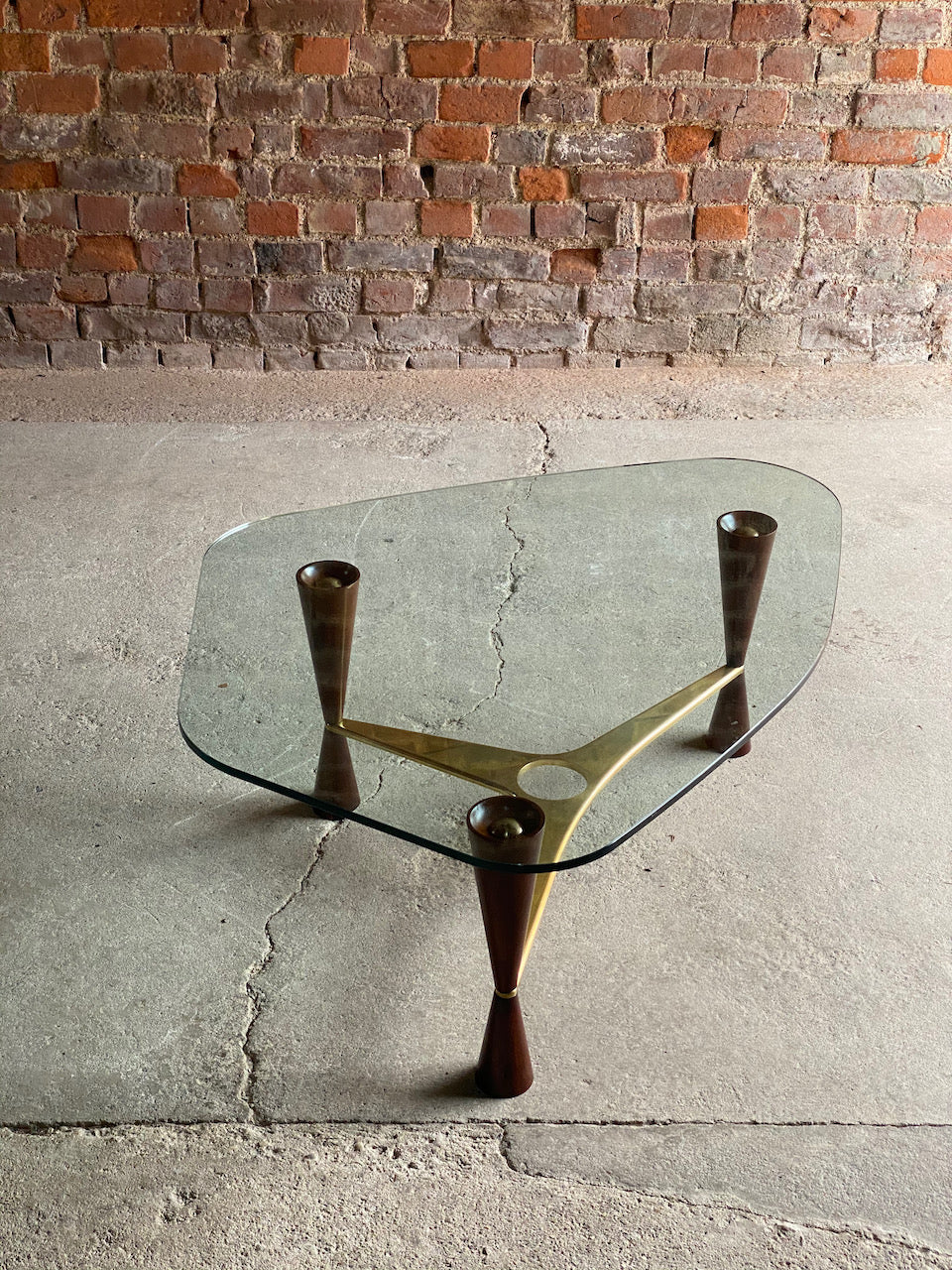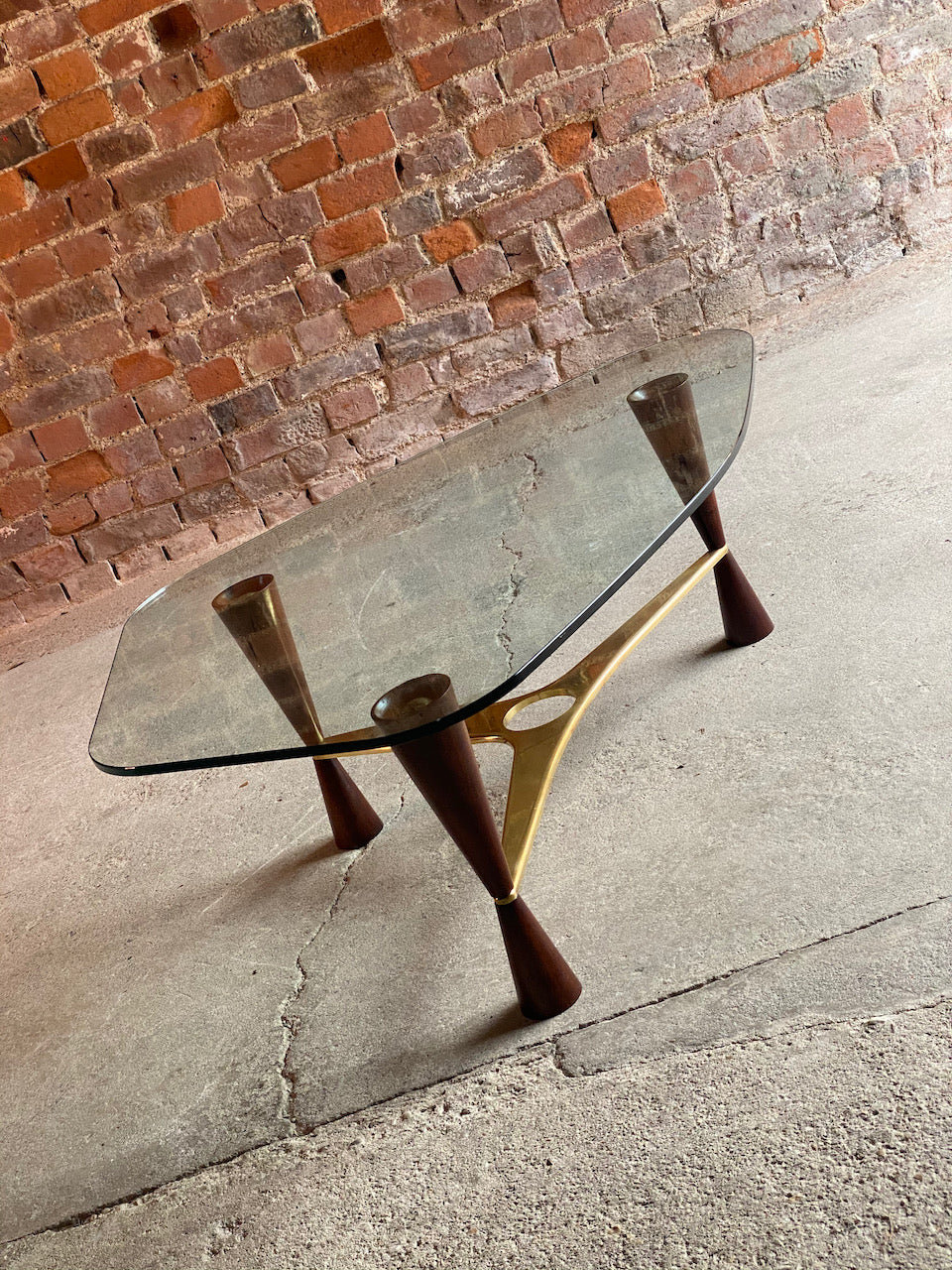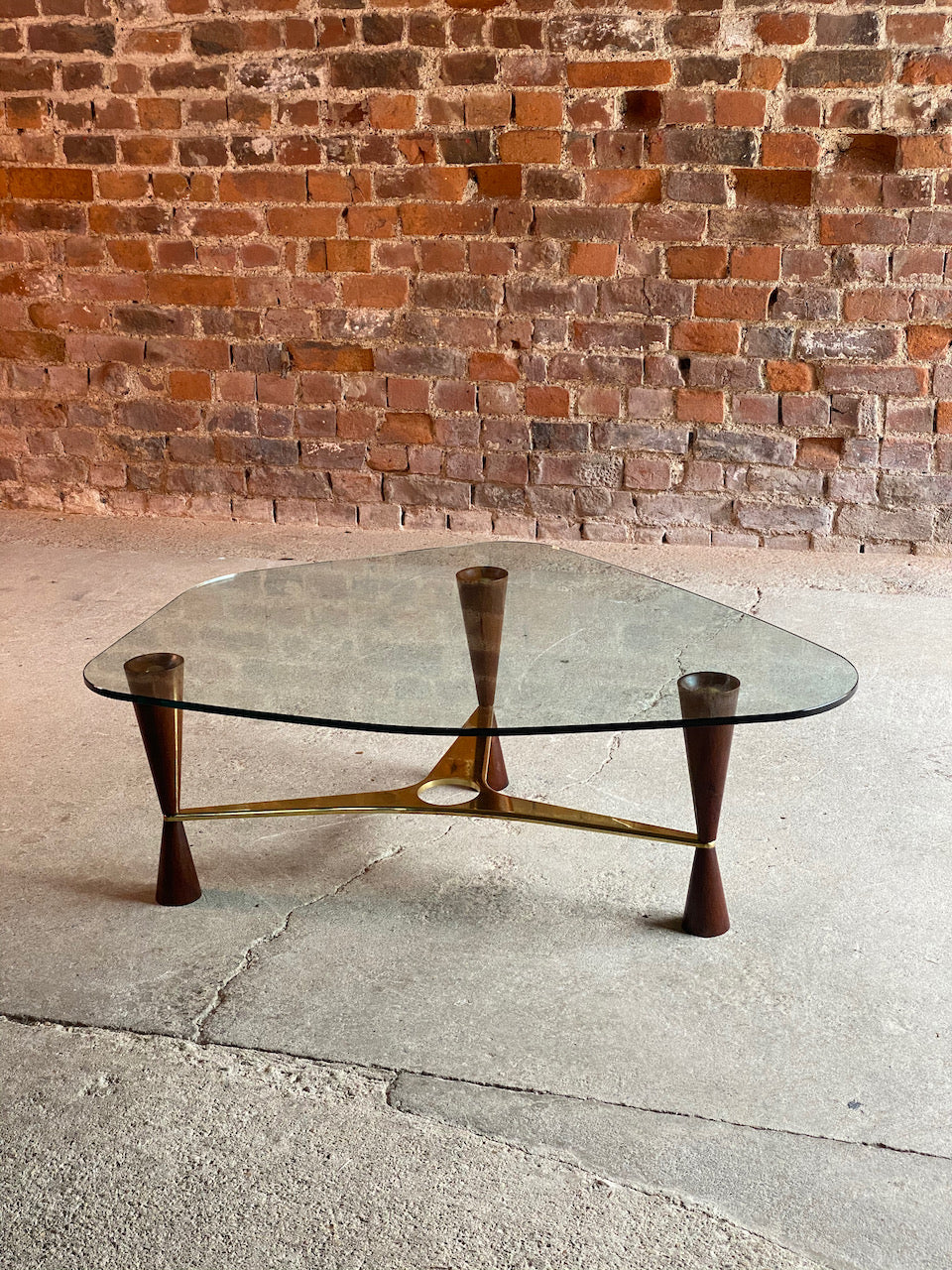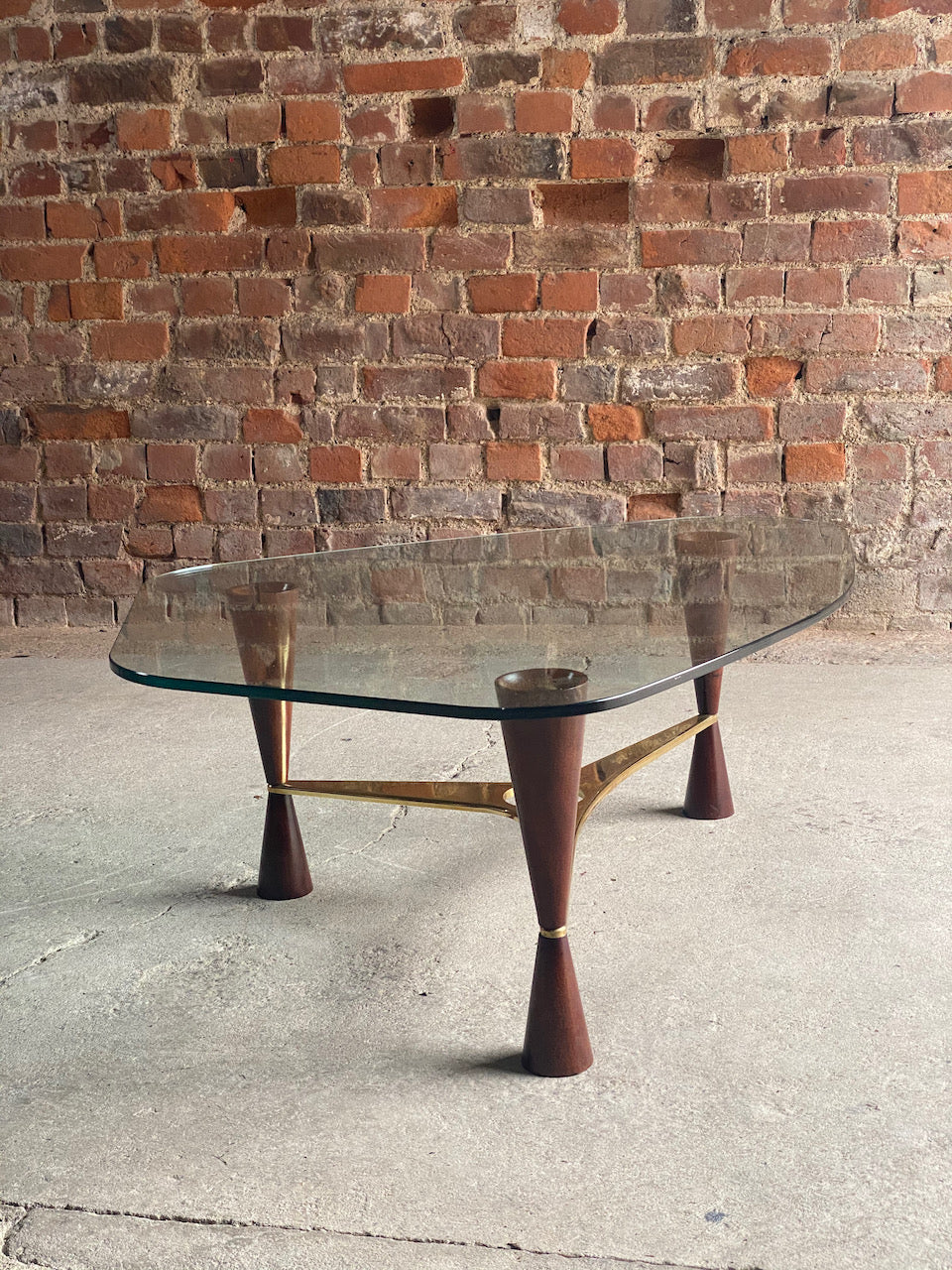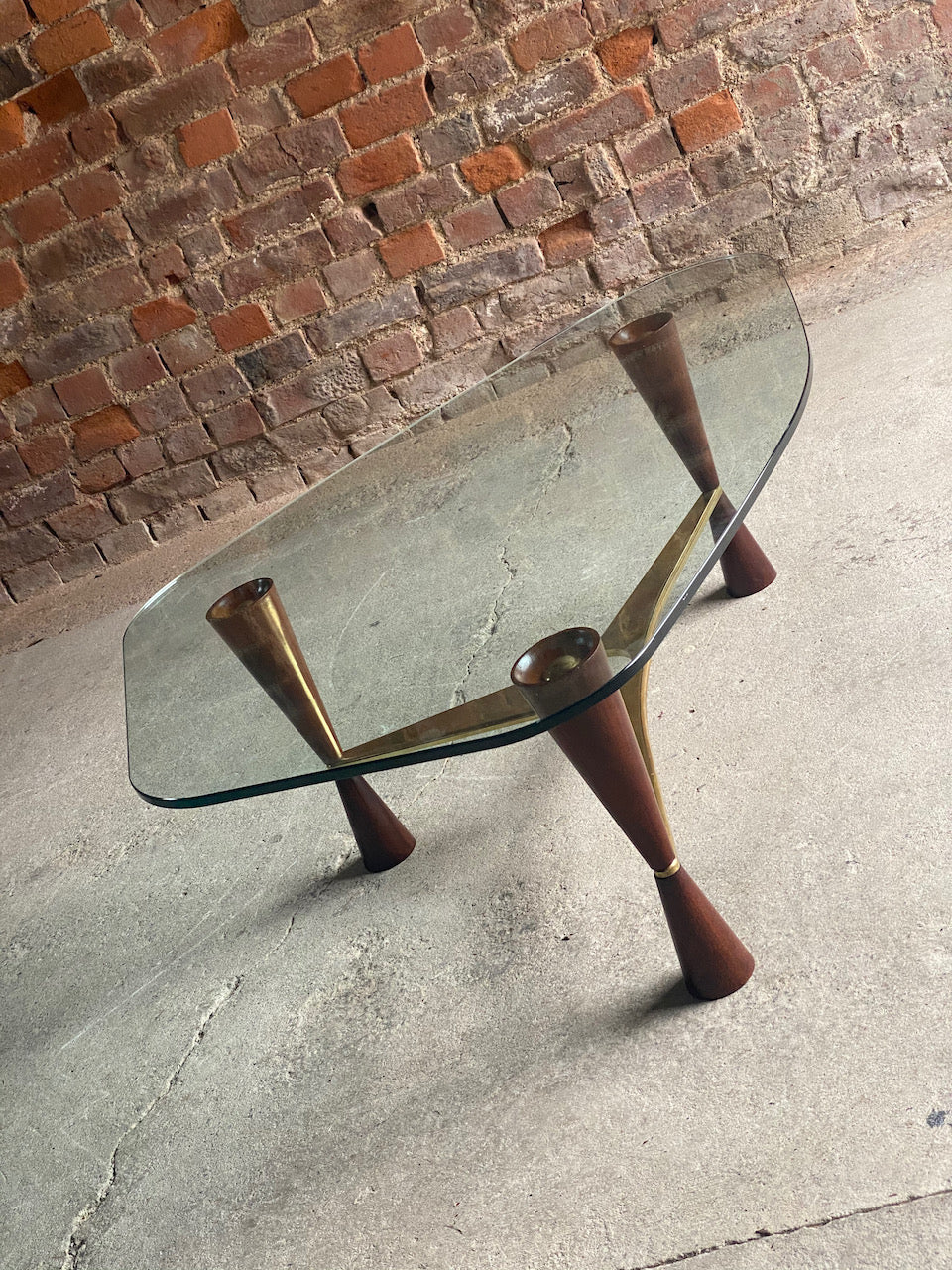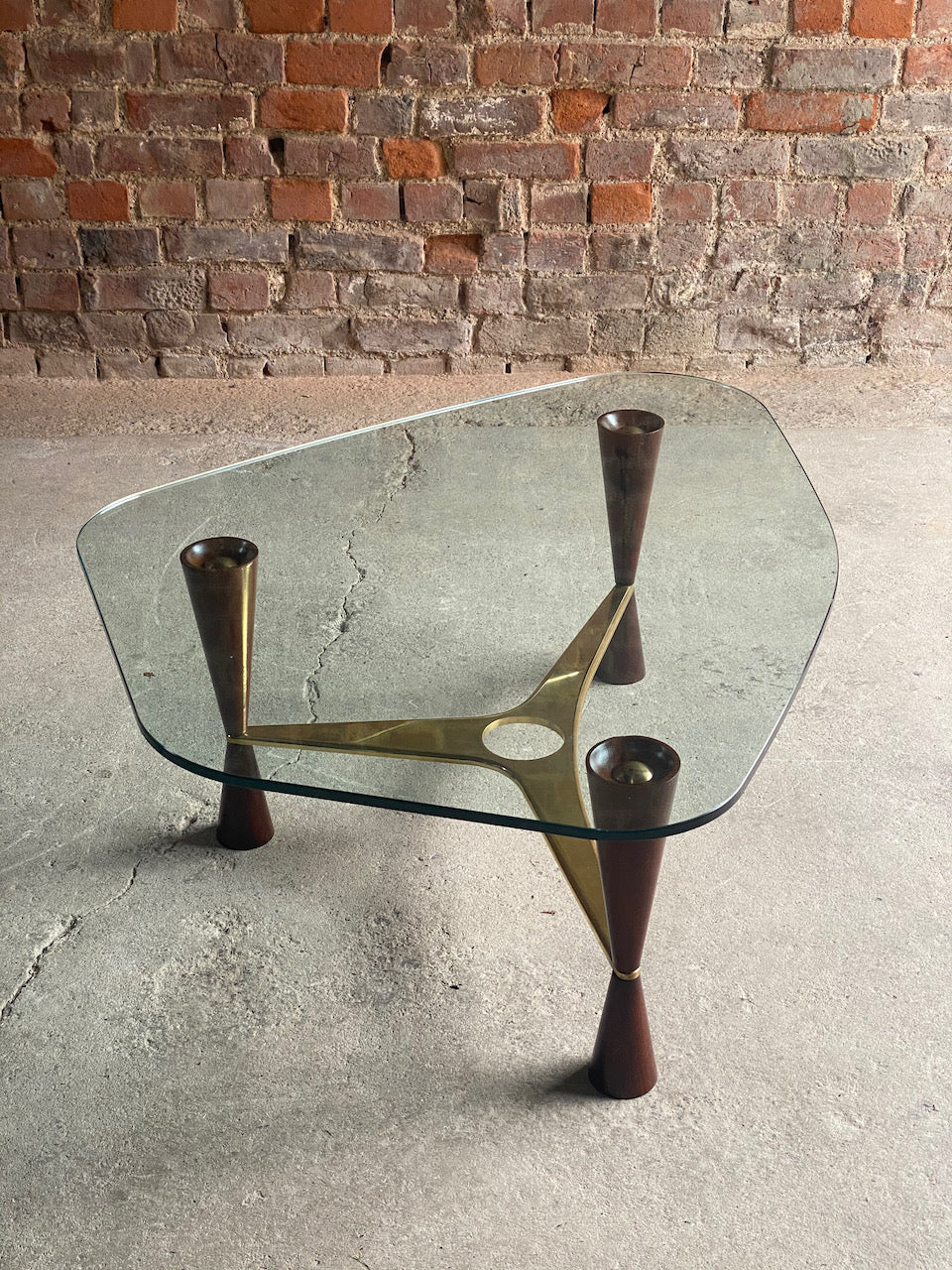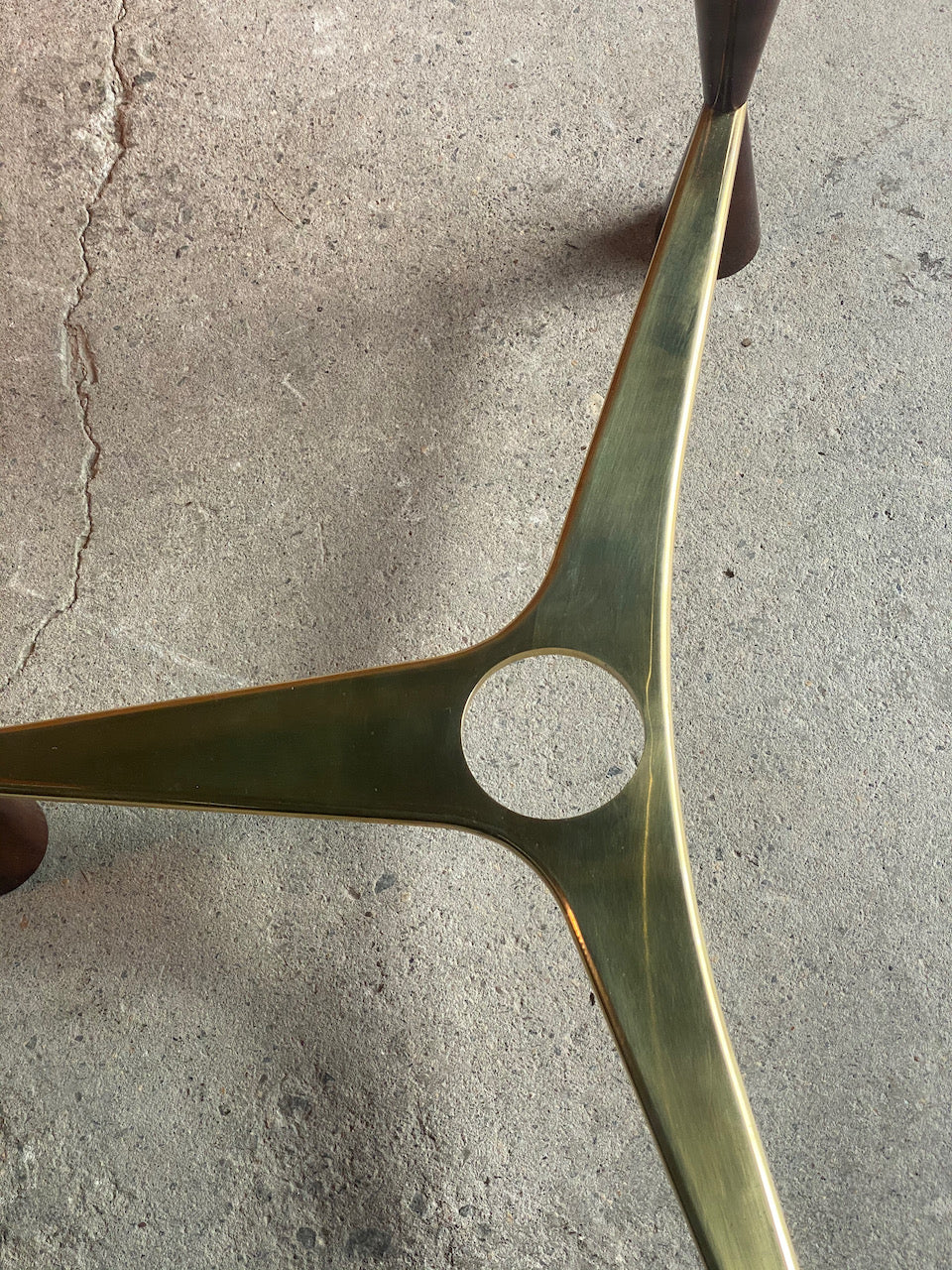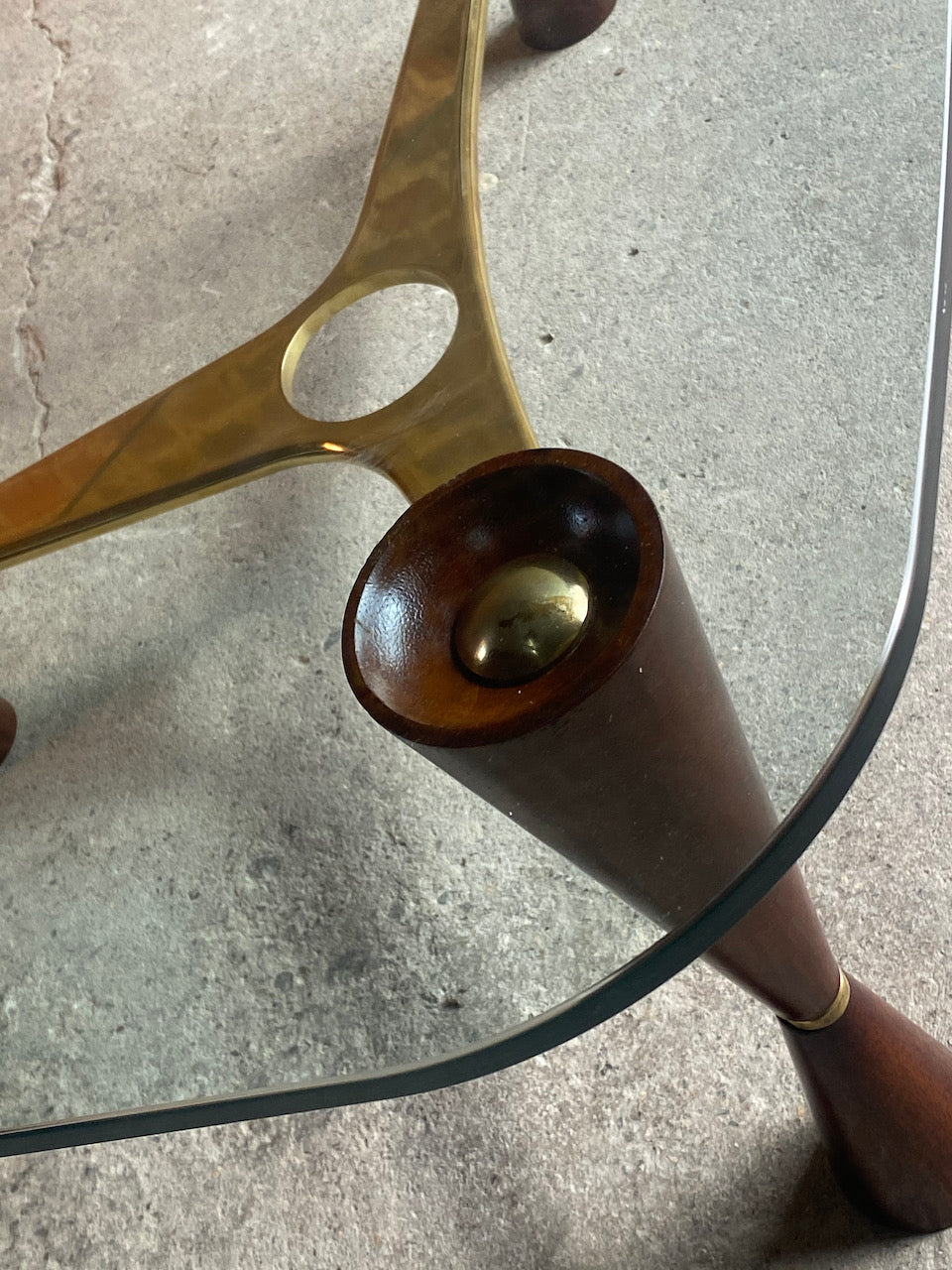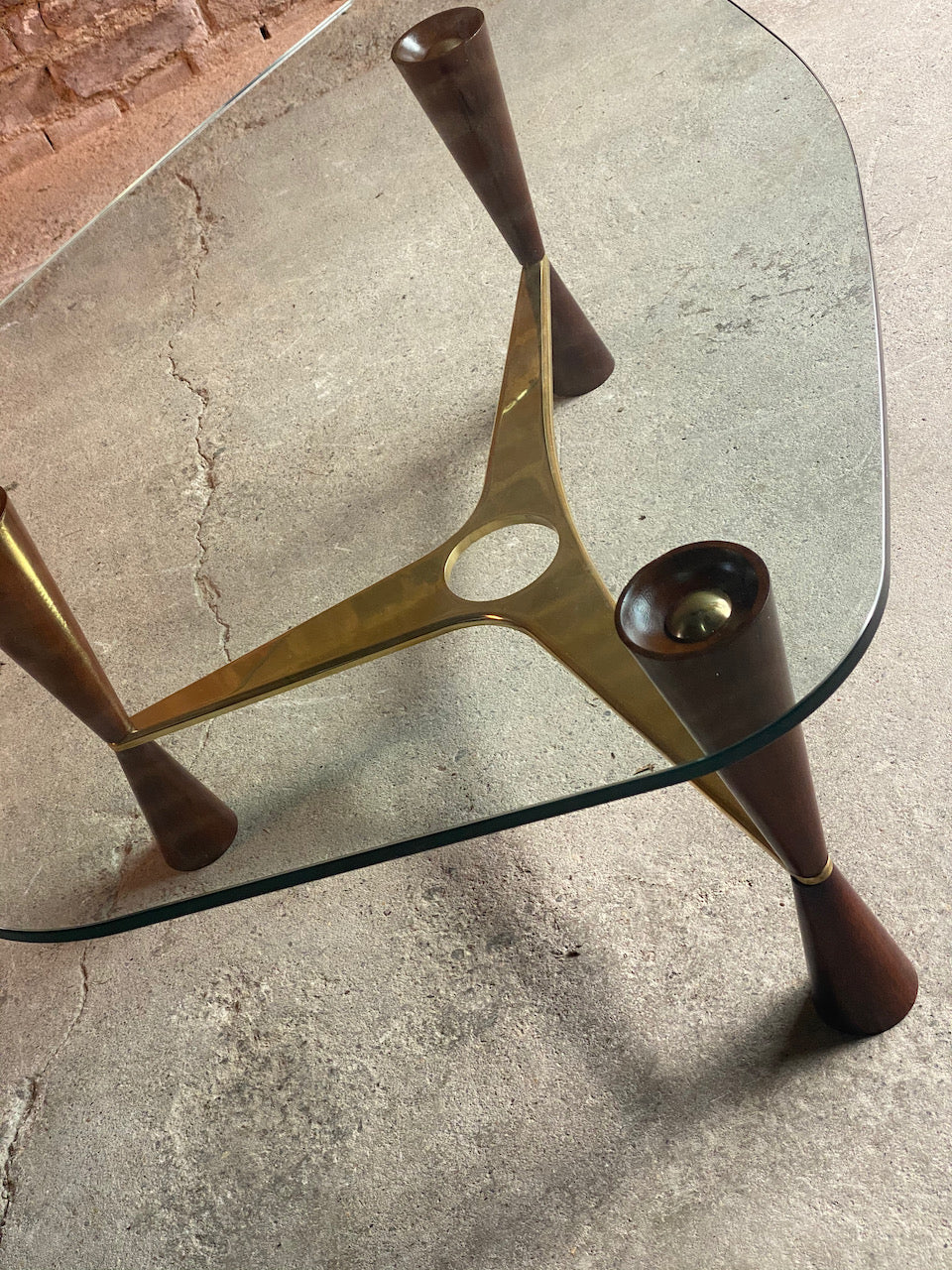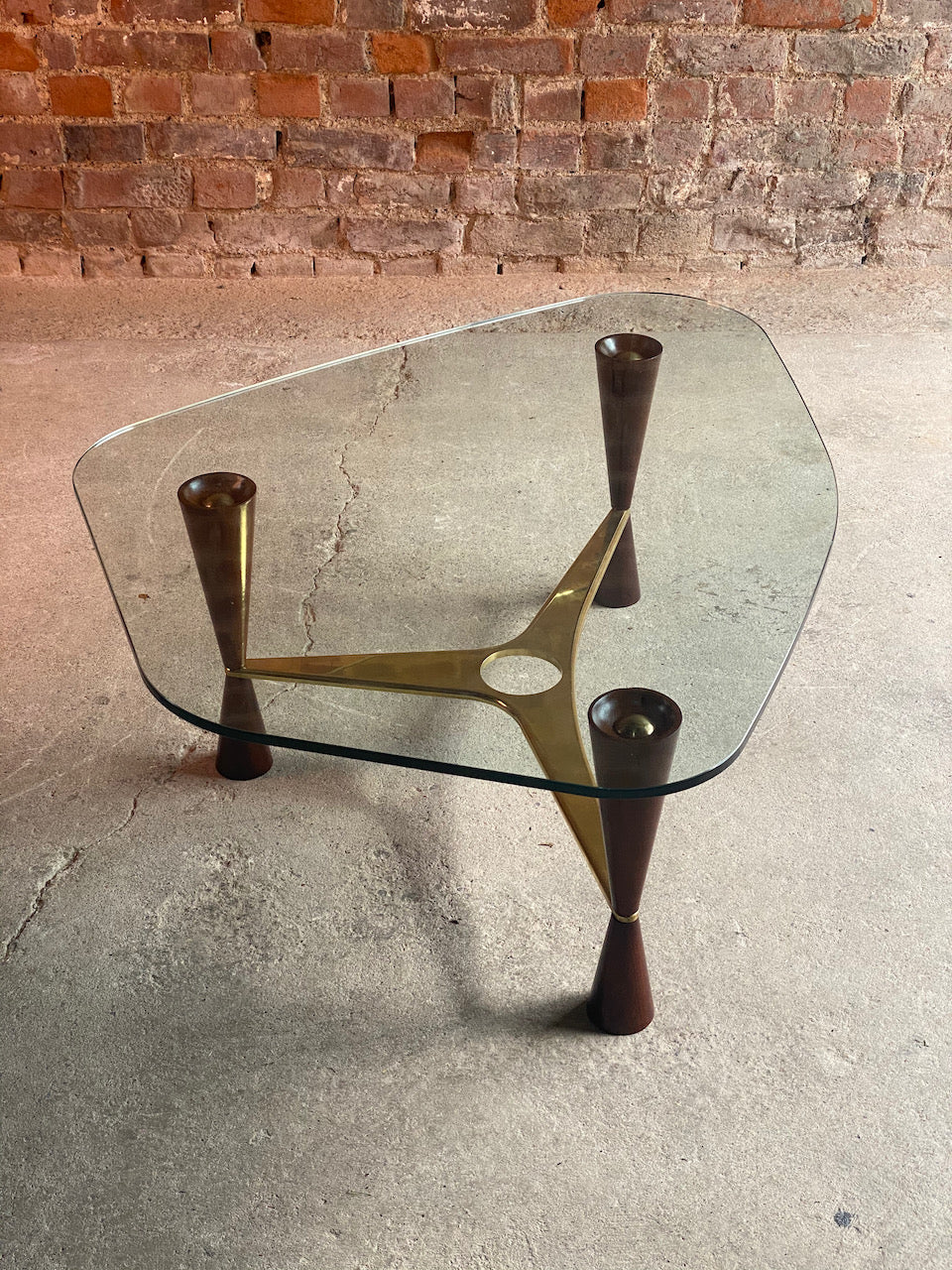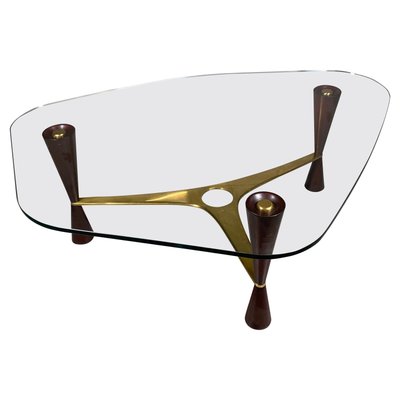 Edward Wormley Model 5309 Brass, Walnut & Glass Coffee Table by Dunbar USA 1955
SOLD
Edward Wormley Model 5309 Brass, Walnut & Glass Coffee Table by Dunbar USA 1955

Magnificent Mid Century Modern Edward Wormley Model 5309 Walnut, Brass & Glass Coffee Table for Dunbar Furniture USA 1955, the "irregular quadrilateral" freeform glass top sits neatly on top of three tapered legs united by a  single solid brass stretcher with a circular cutout, a true classic design that melds function with art, Edward Wormley's designs conceive a subdued sort of modernism, designing elegant furniture that fits into any decorating scheme which doesn't shout for attention, reserve now

Edward Wormley (USA, 1907–95)
As the longtime director of design for the Dunbar Furniture Company,  Edward Wormley was, along with such peers as George Nelson at Herman Miller Inc and Florence Knoll of Knoll Inc, one of the leading forces in bringing modern design into American homes in the mid 20th century. Not an axiomatic modernist, Wormley deeply appreciated traditional design, and consequently his work has an understated warmth and a timeless quality that sets it apart from other furnishings of the era.
Wormley was born in rural Illinois and as a teenager took correspondence courses from the New York School of Interior Design. He later attended the Art Institute of Chicago but ran out of money for tuition before he could graduate. Marshall Field hired Wormley in 1930 to design a line of reproduction 18th-century English furniture; the following year he was hired by the Indiana-based Dunbar, where he quickly distinguished himself. It was a good match. Dunbar was an unusual firm: it did not use automated production systems; its pieces were mostly hand-constructed. For his part, Wormley did not use metal as a major component of furniture; he liked craft elements such as caned seat backs, tambour drawers, or the woven-wood cabinet fronts seen on his Model 5666 sideboard of 1956. He designed two lines for Dunbar each year — one traditional, one modern — until 1944, by which time the contemporary pieces had become the clear best sellers.
Mid Century Modern
USA
Edward Wormley
Dunbar Furniture
Coffee Table
Model 5309
Walnut
Brass
Glass
1955
Investment
Practical & Beautiful
The table is offered in wonderful original condition with no restorations or damage.

Dimensions:
Width: 43.5" / 110.49cm
Depth: 34" / 83.36cm
Height: 16.5" / 41.91cm
Free delivery is offered to England & Wales only when buyer pays full asking price, next day delivery is not possible due to the size of the piece, please allow between 7-14 days delivery