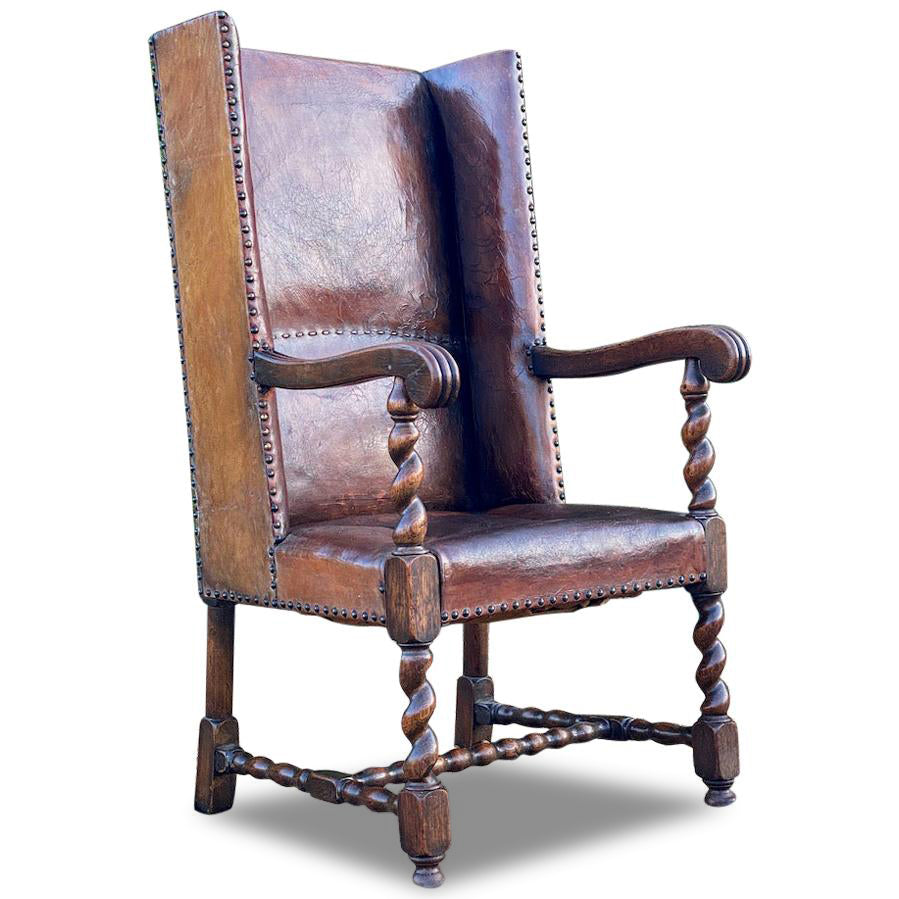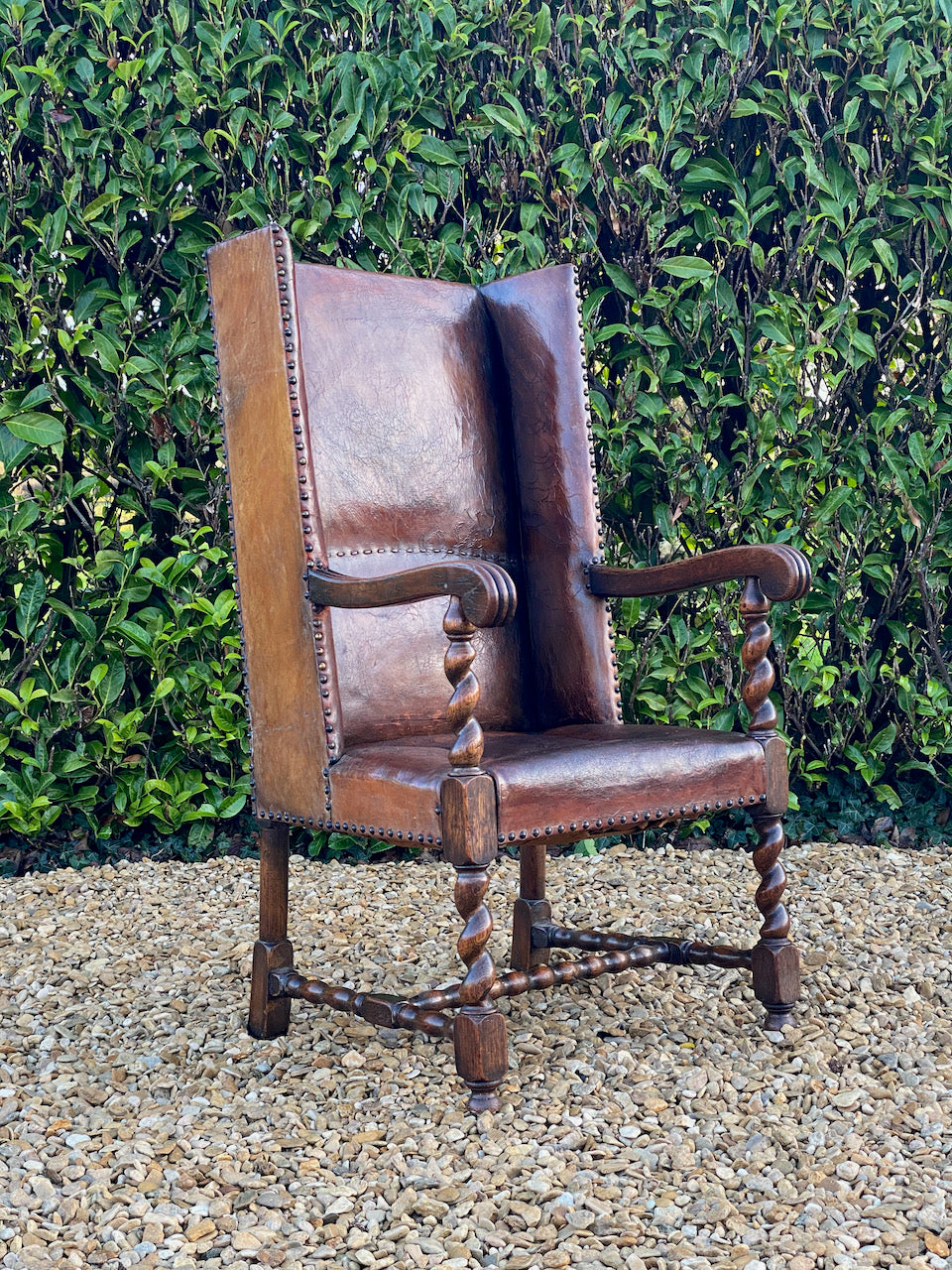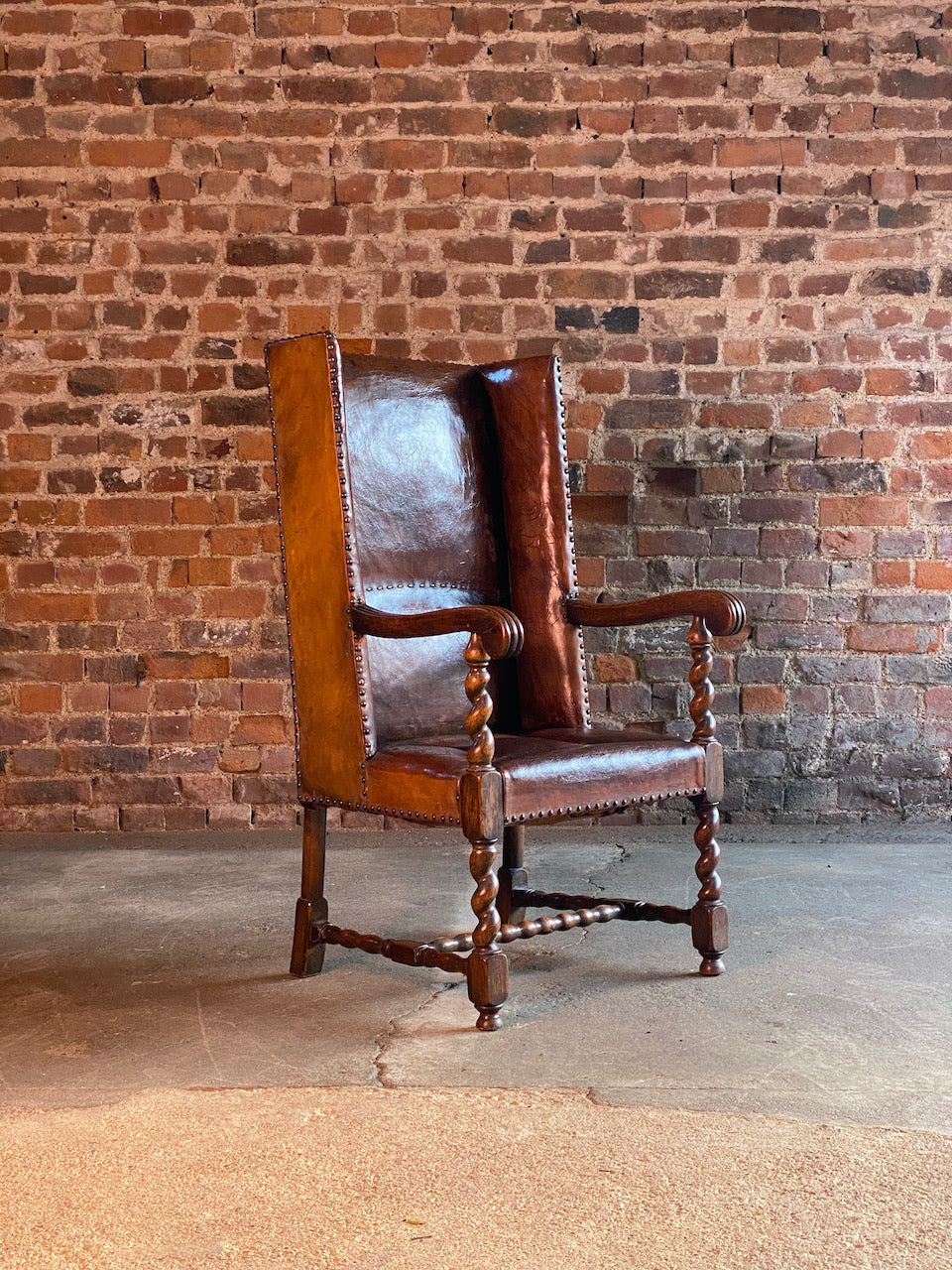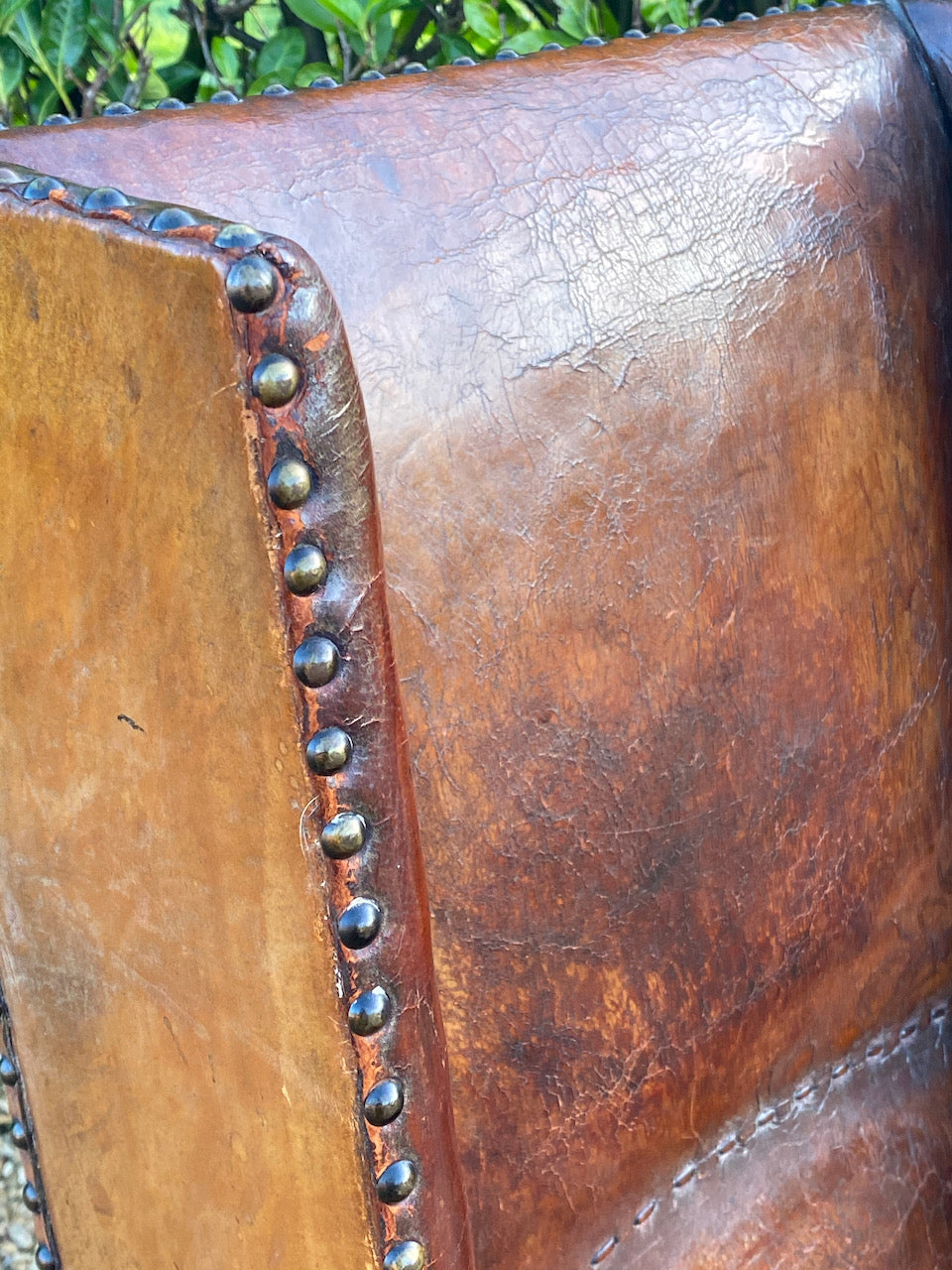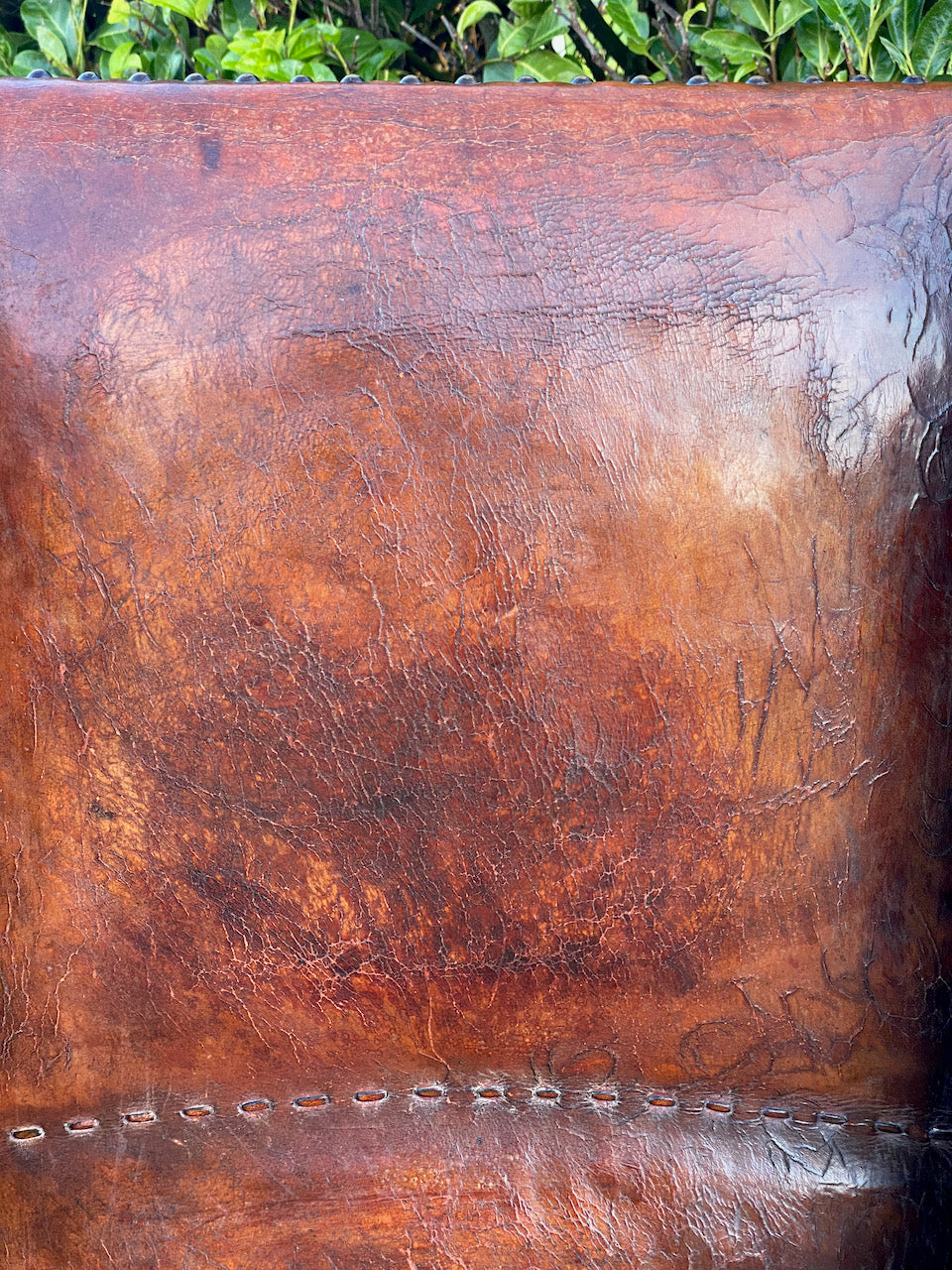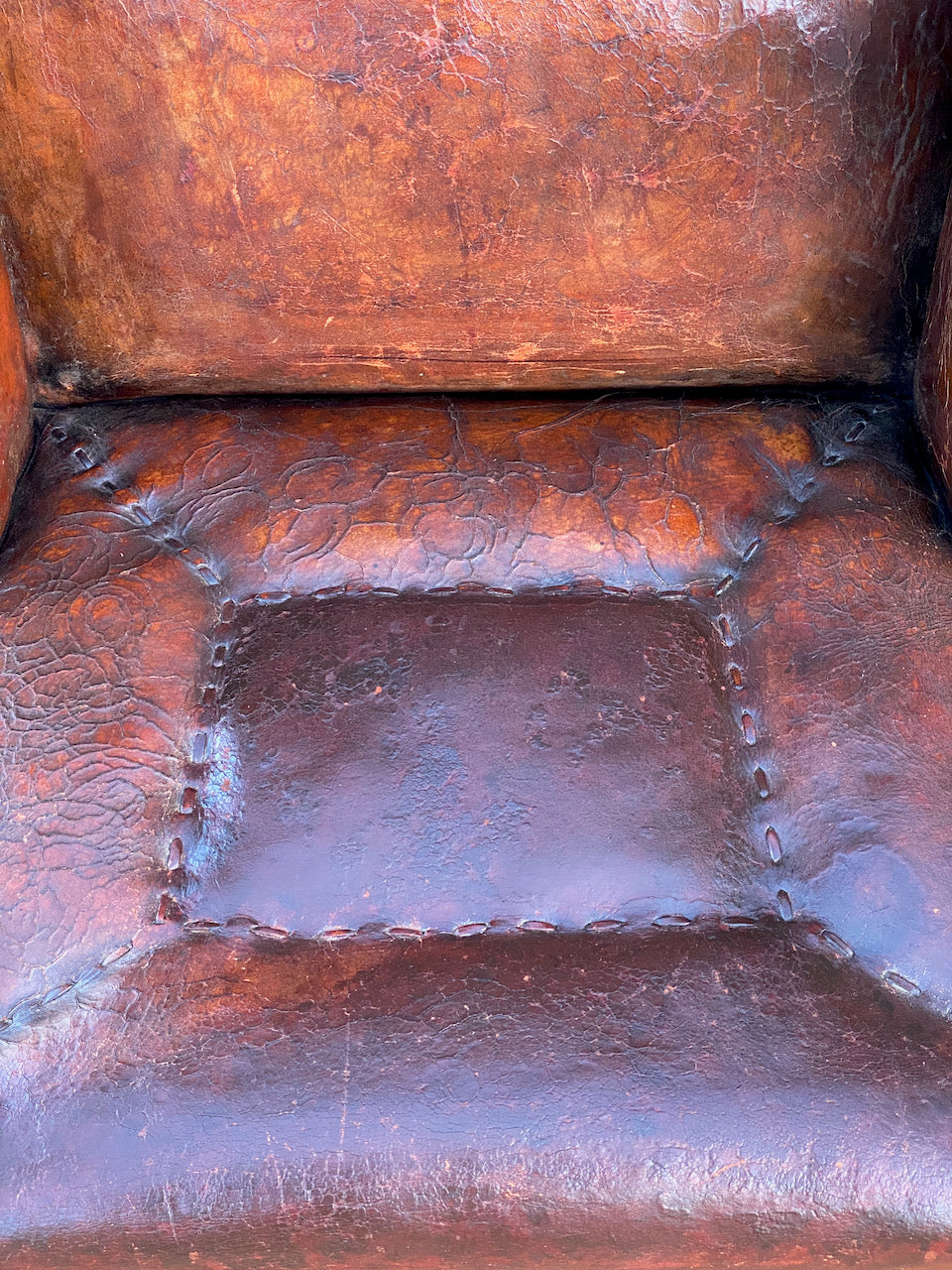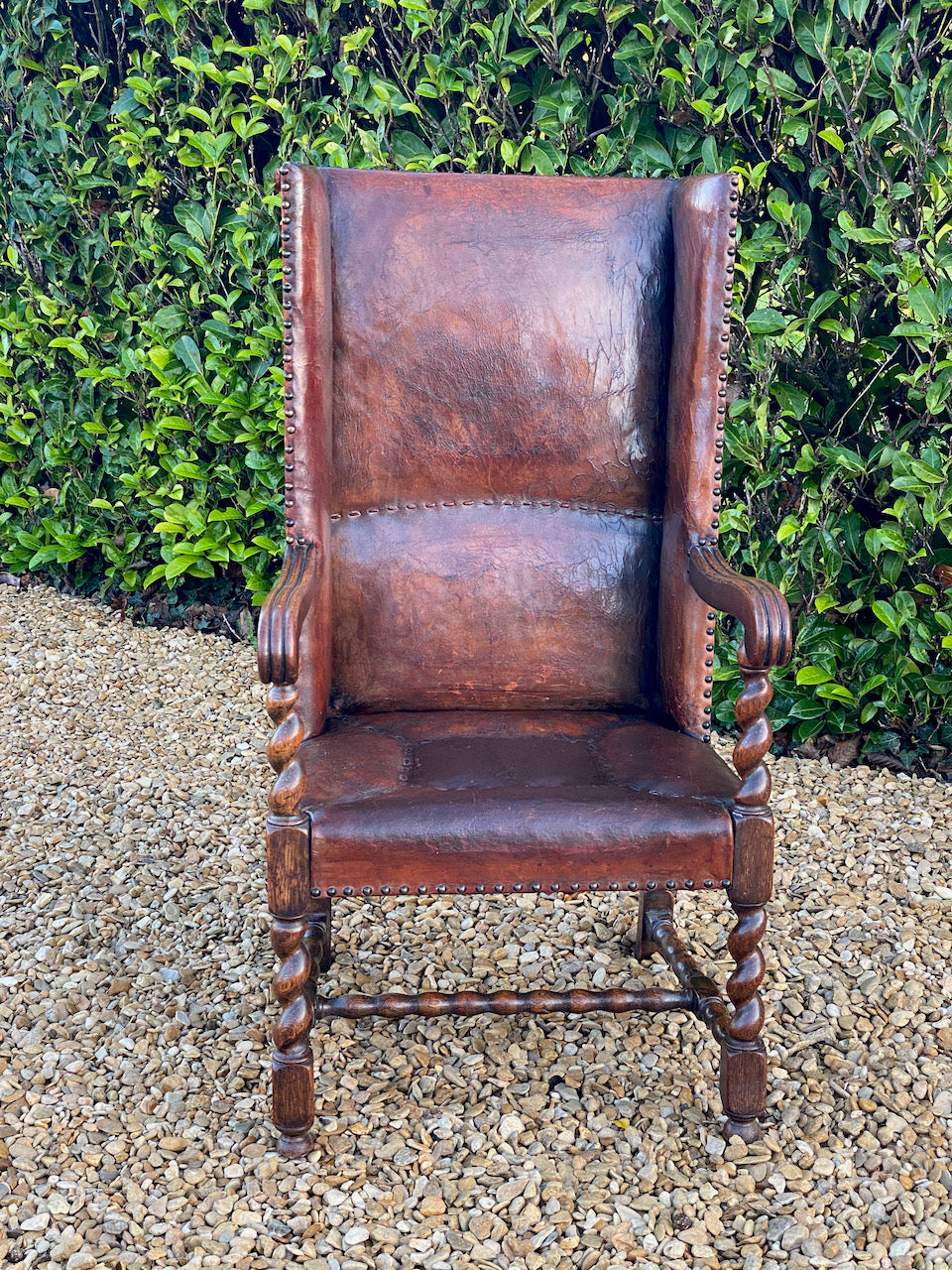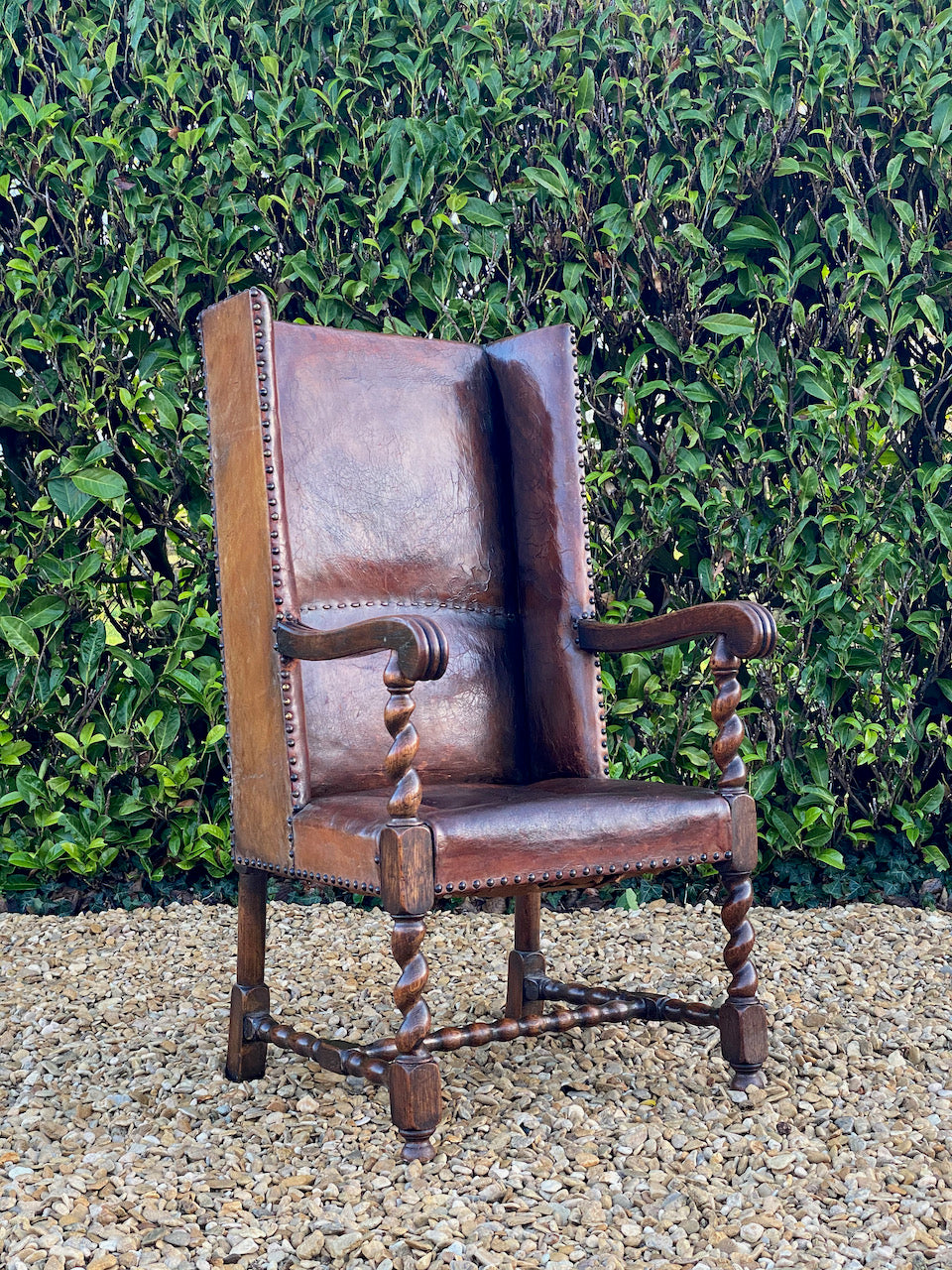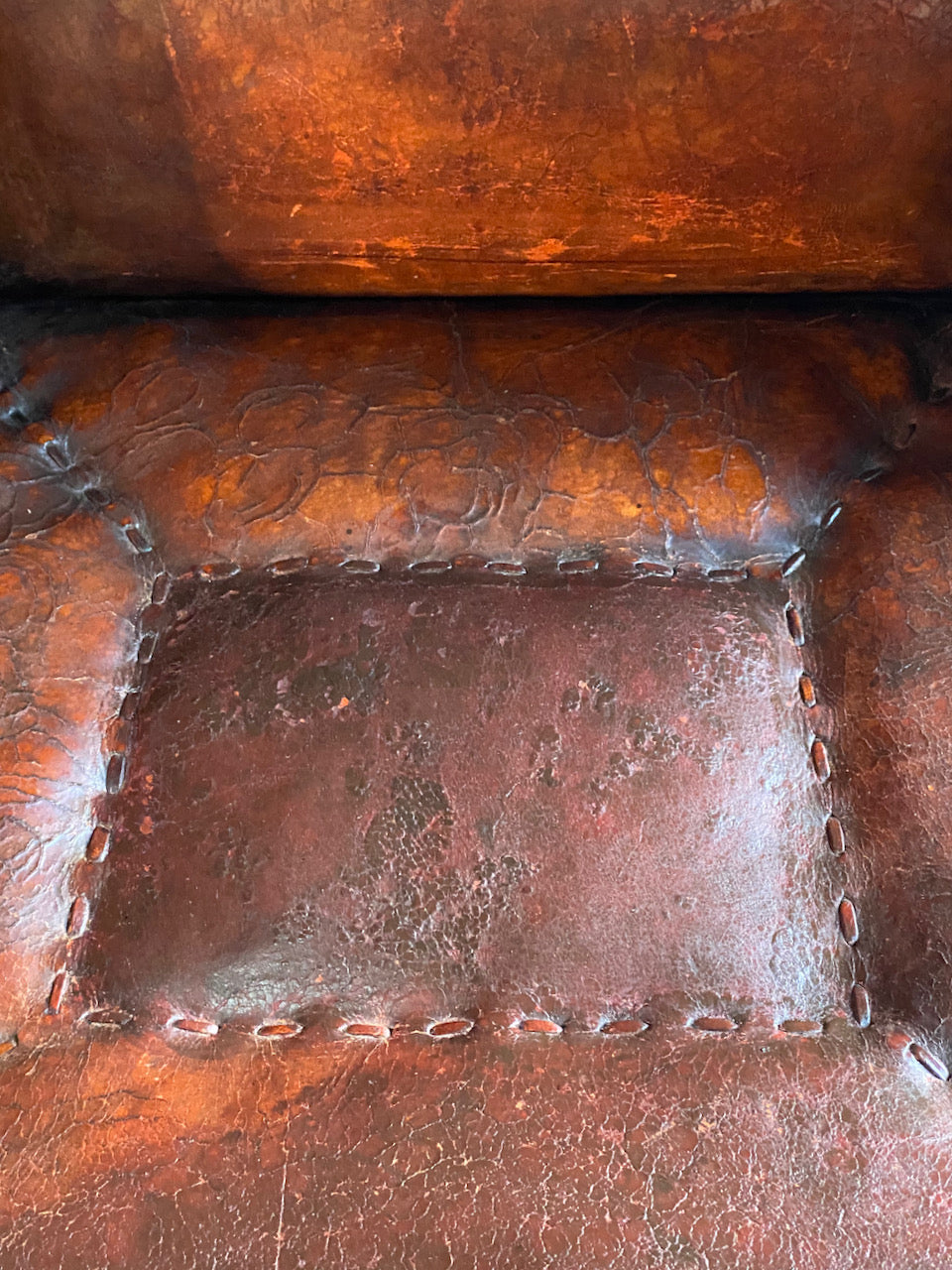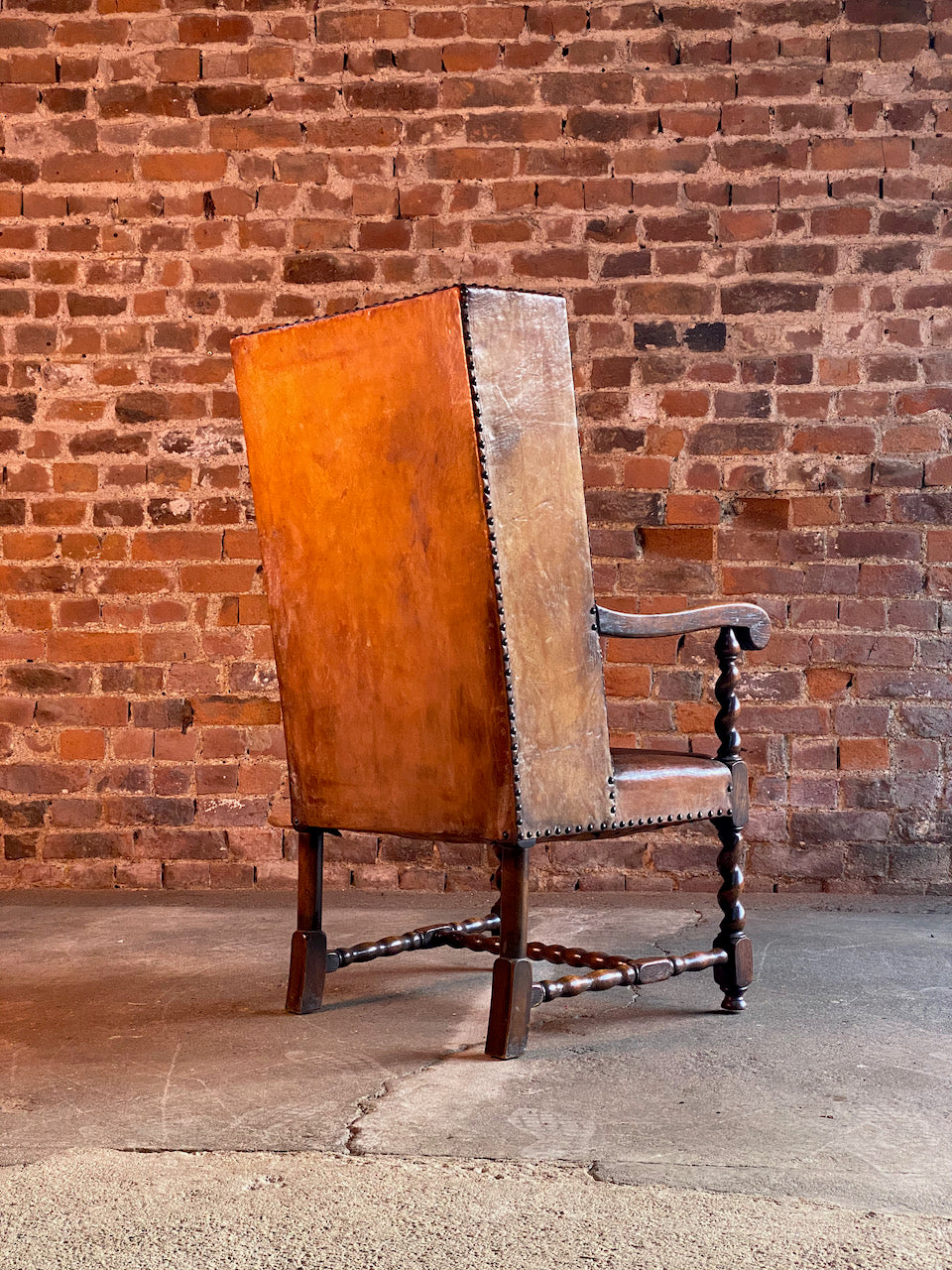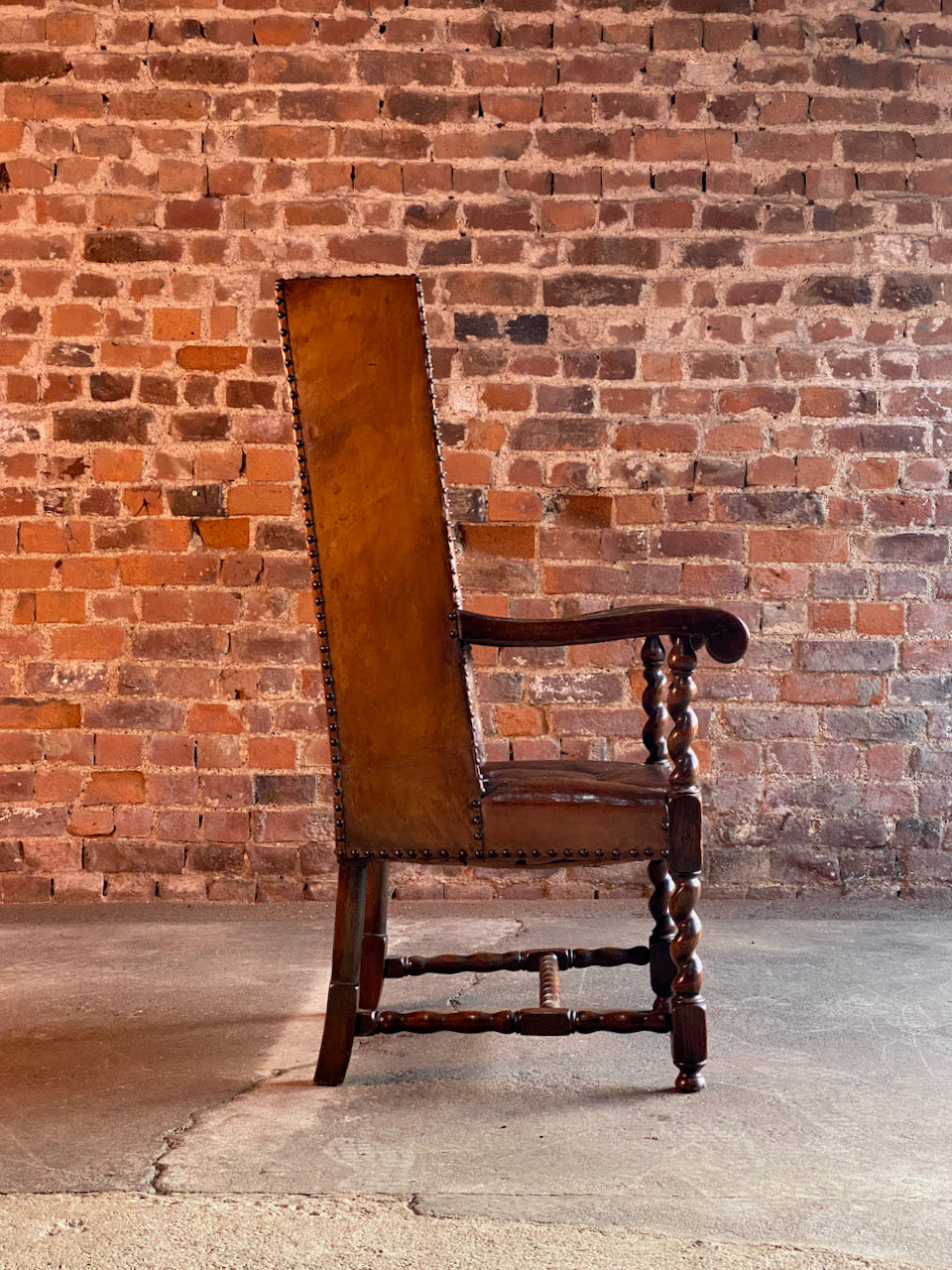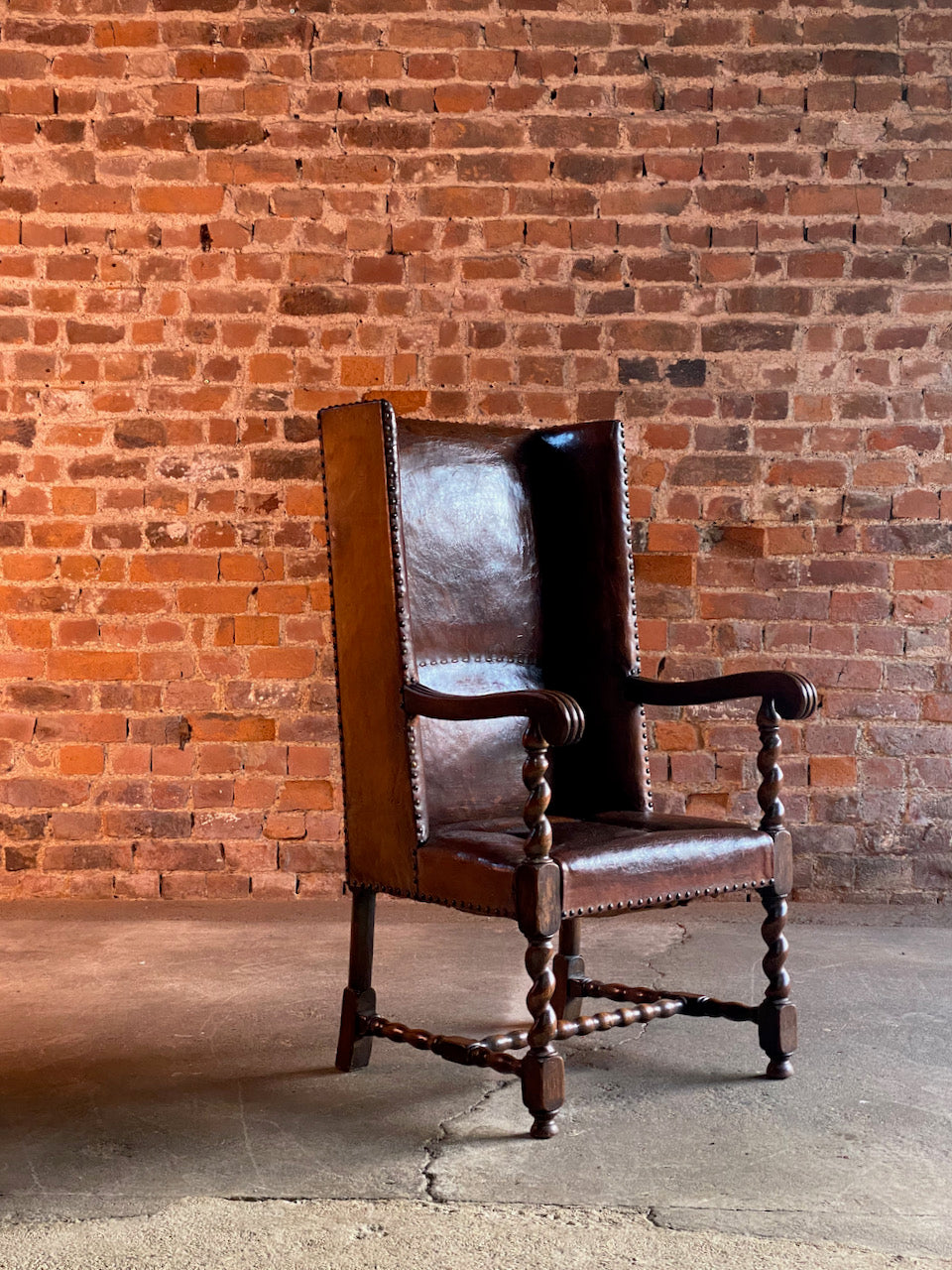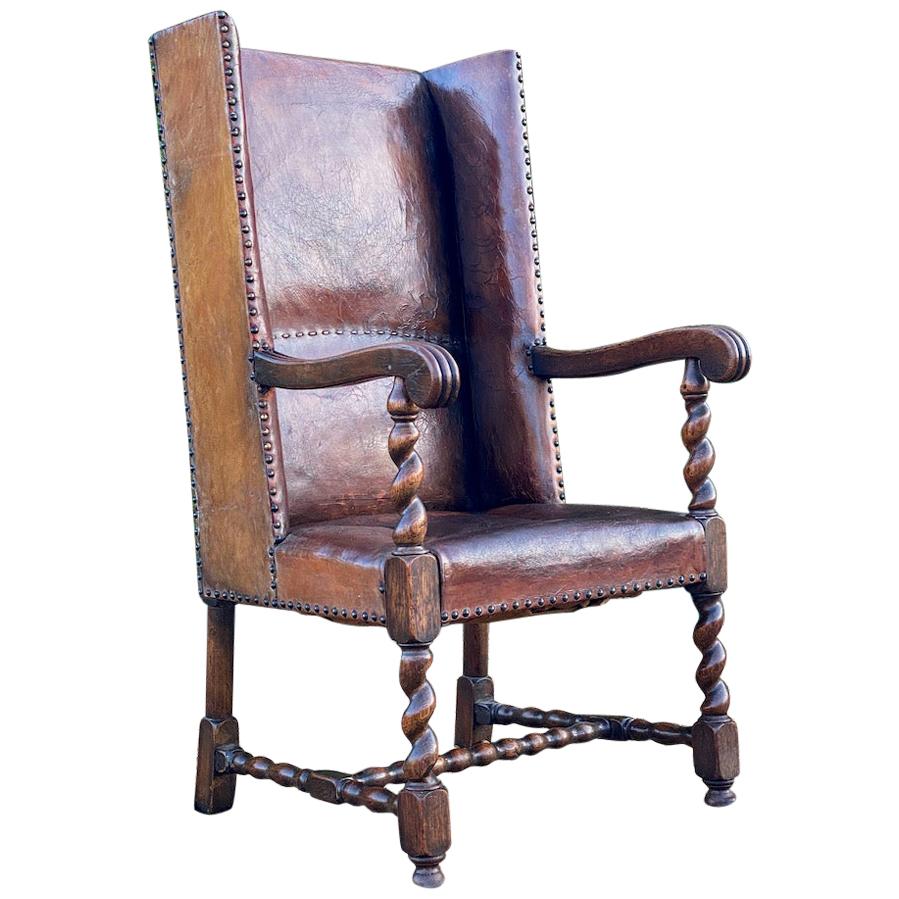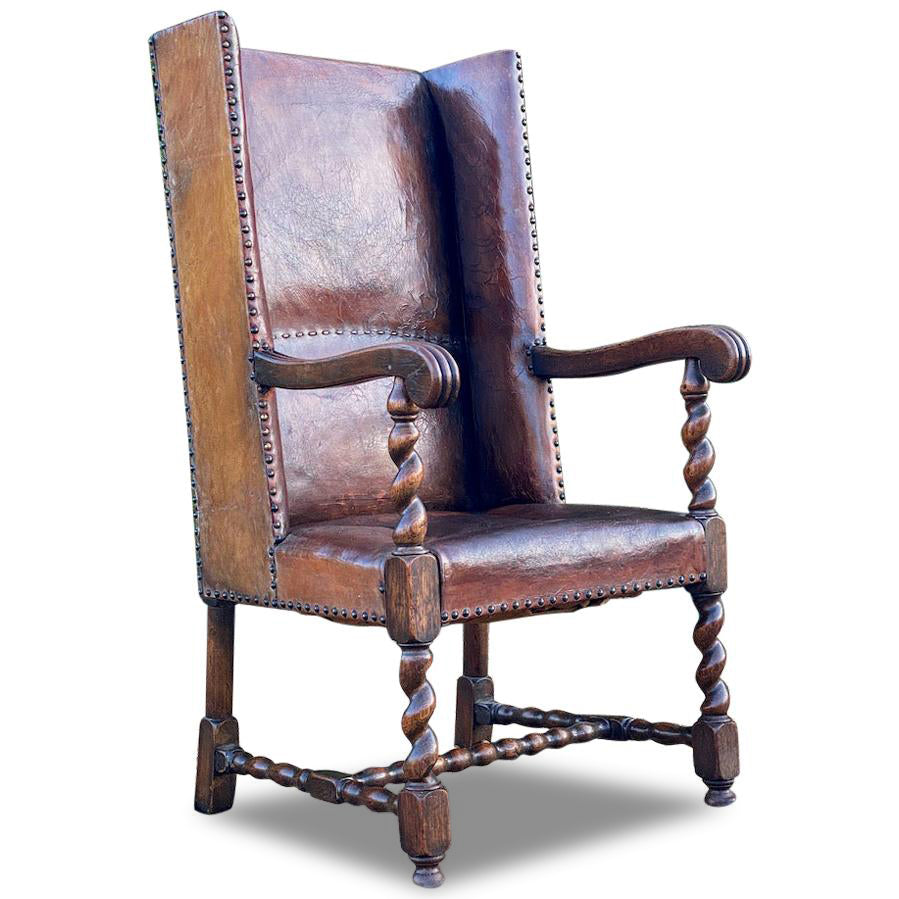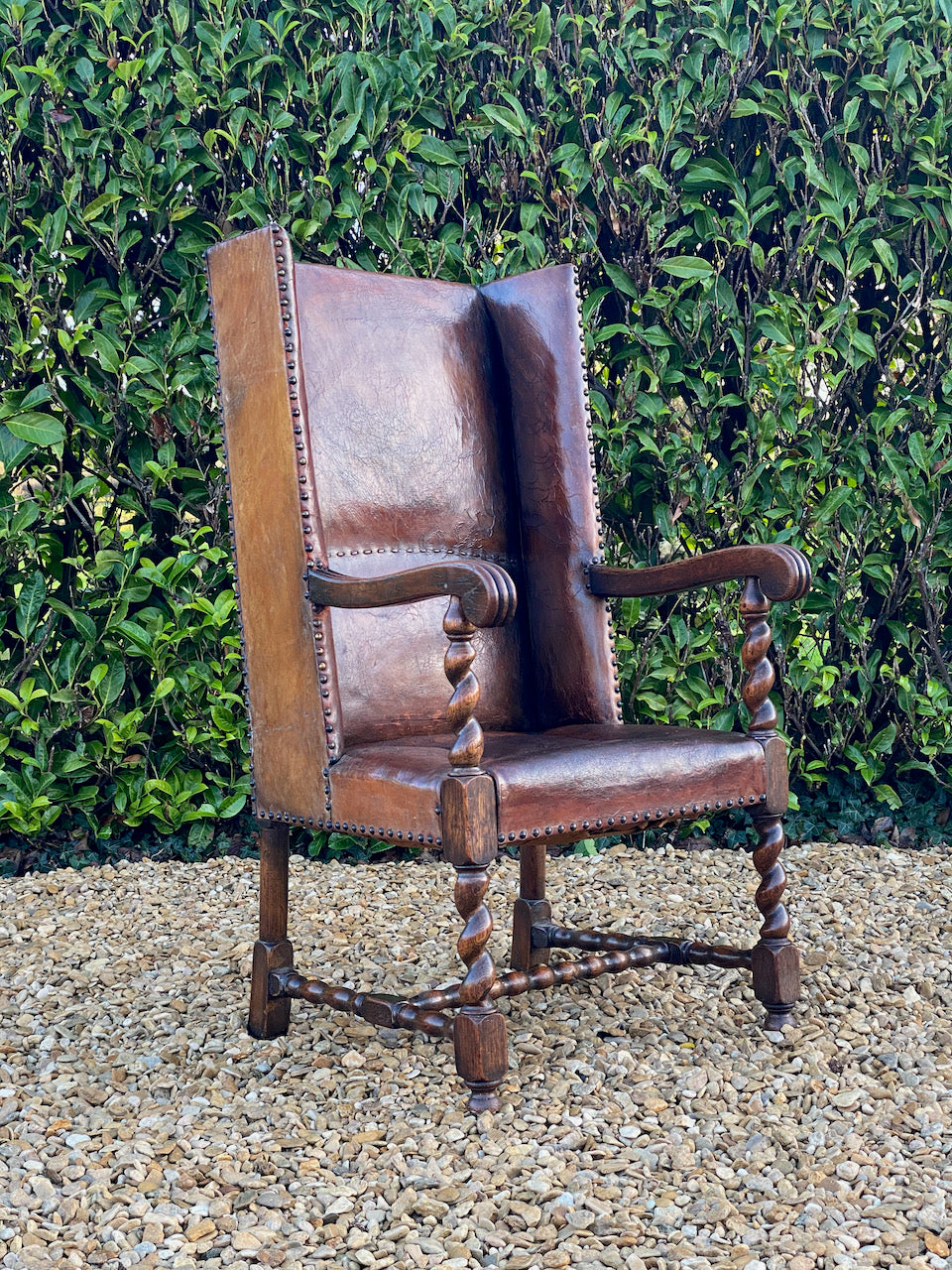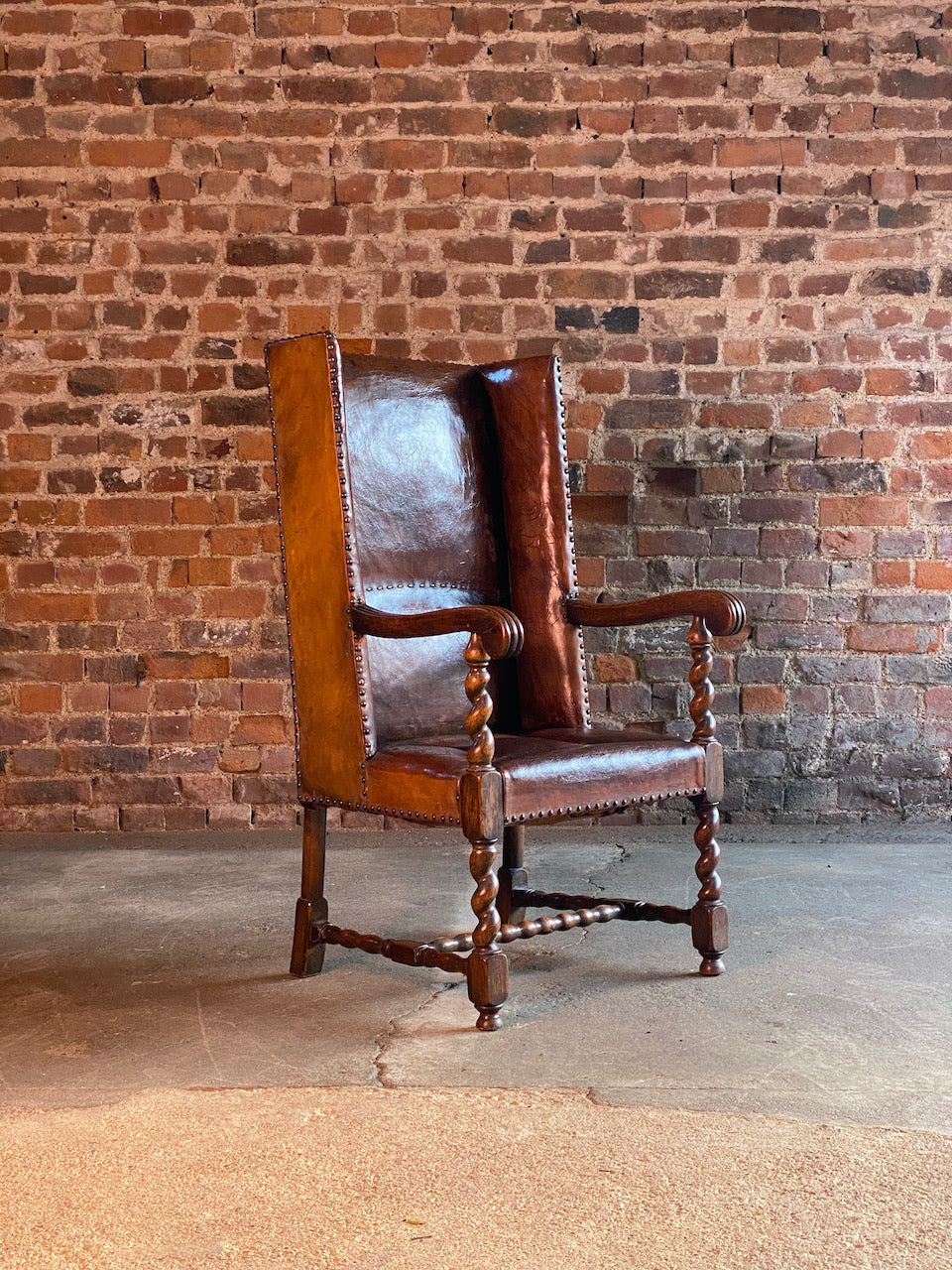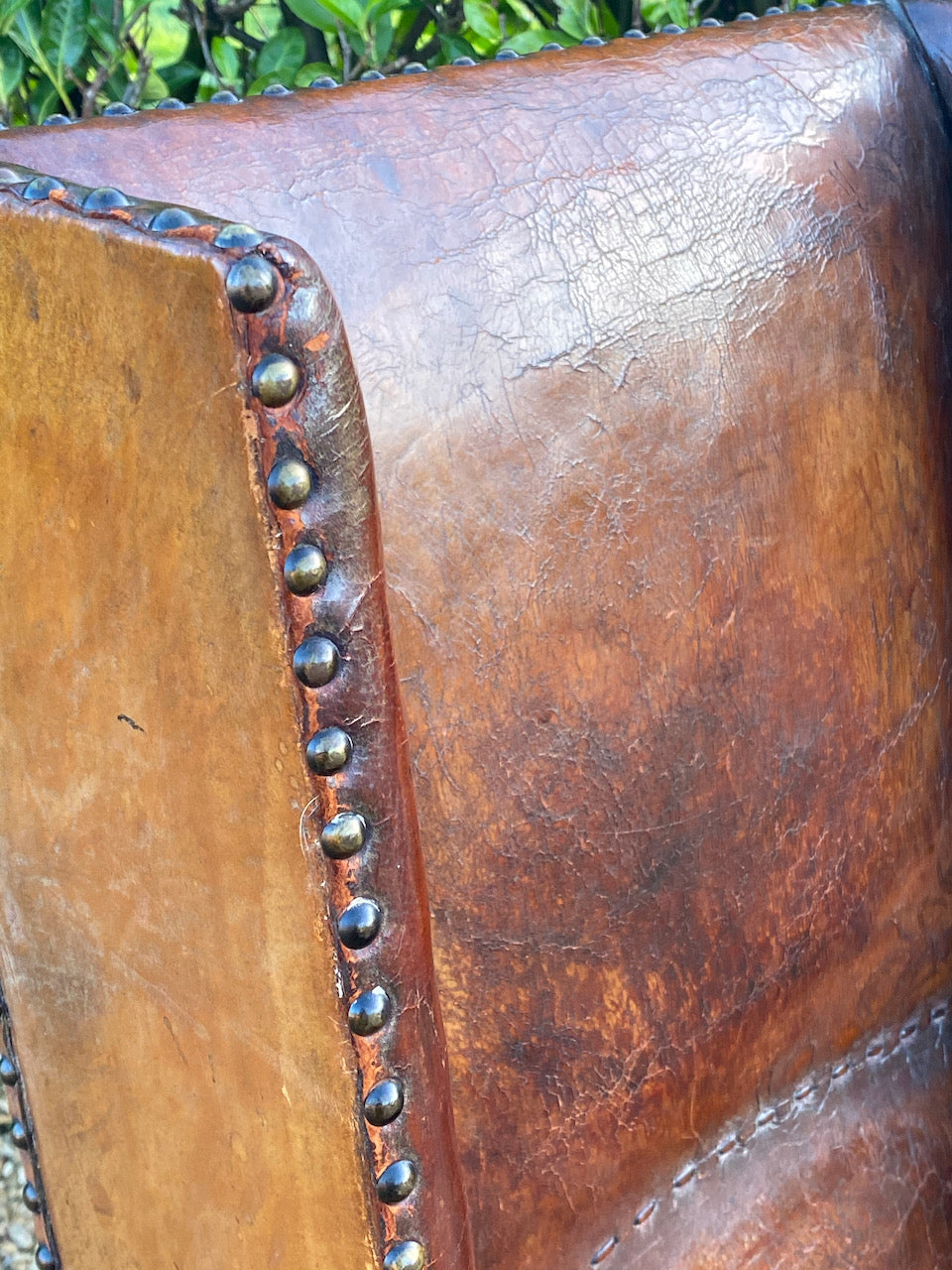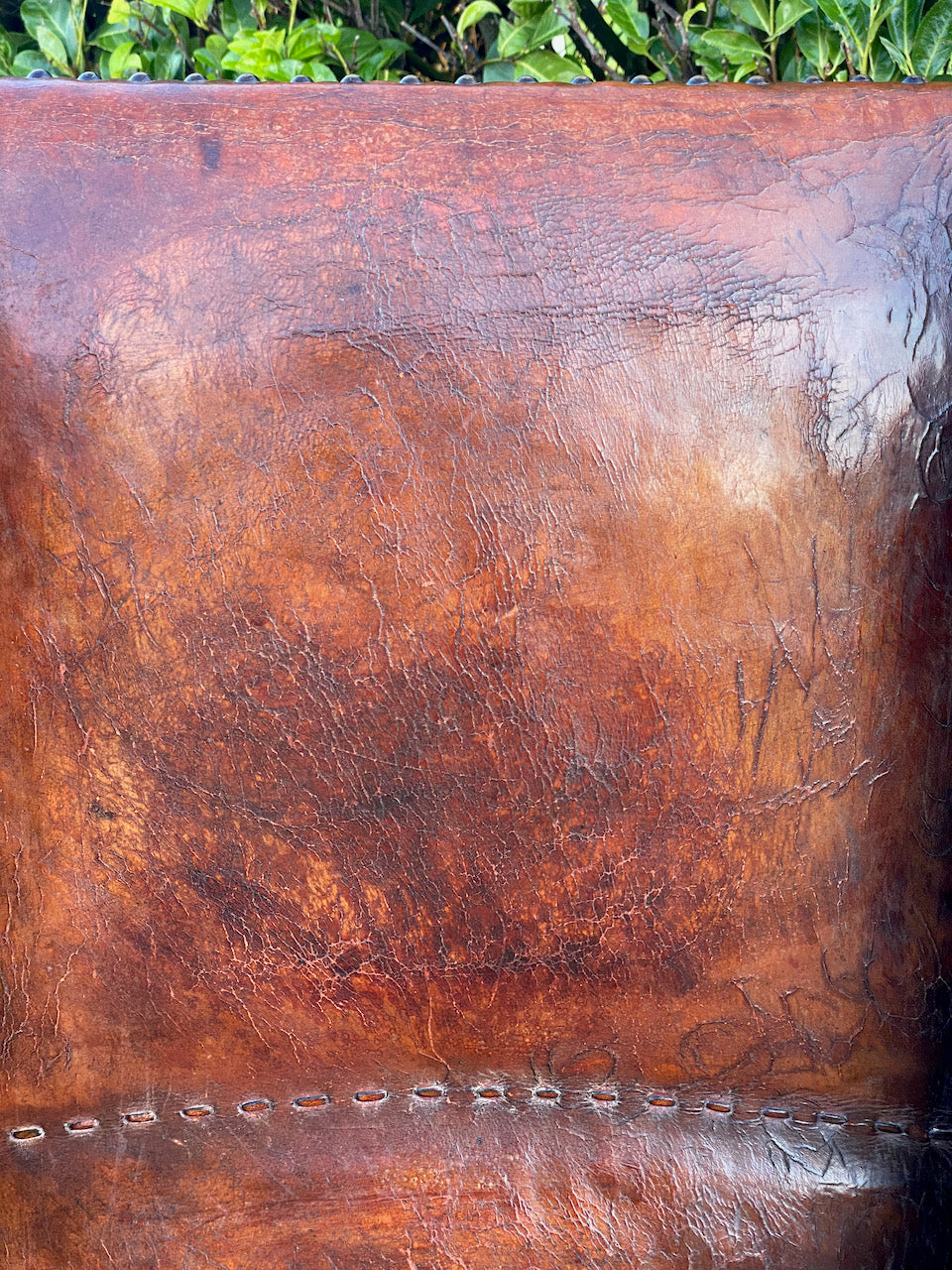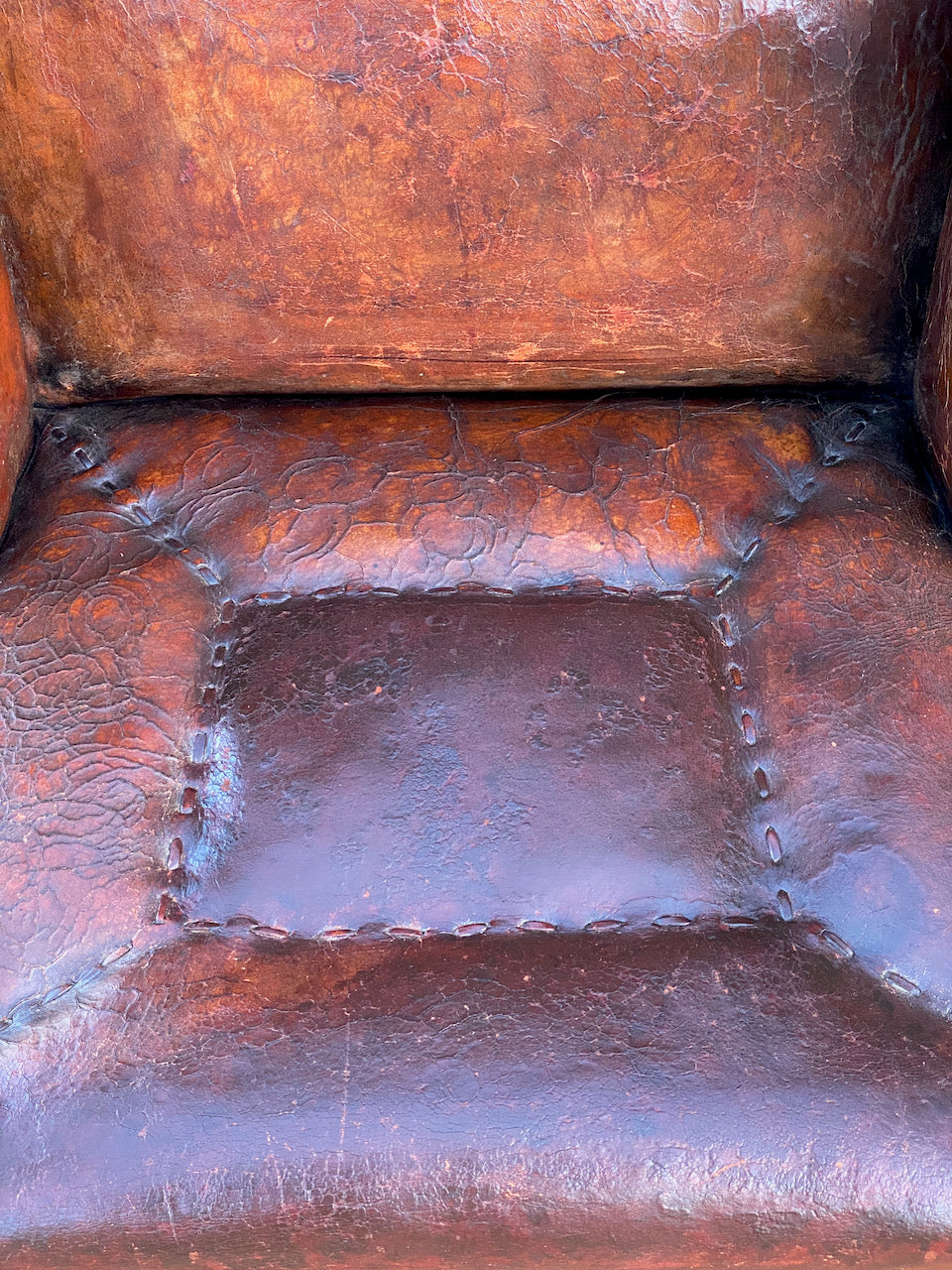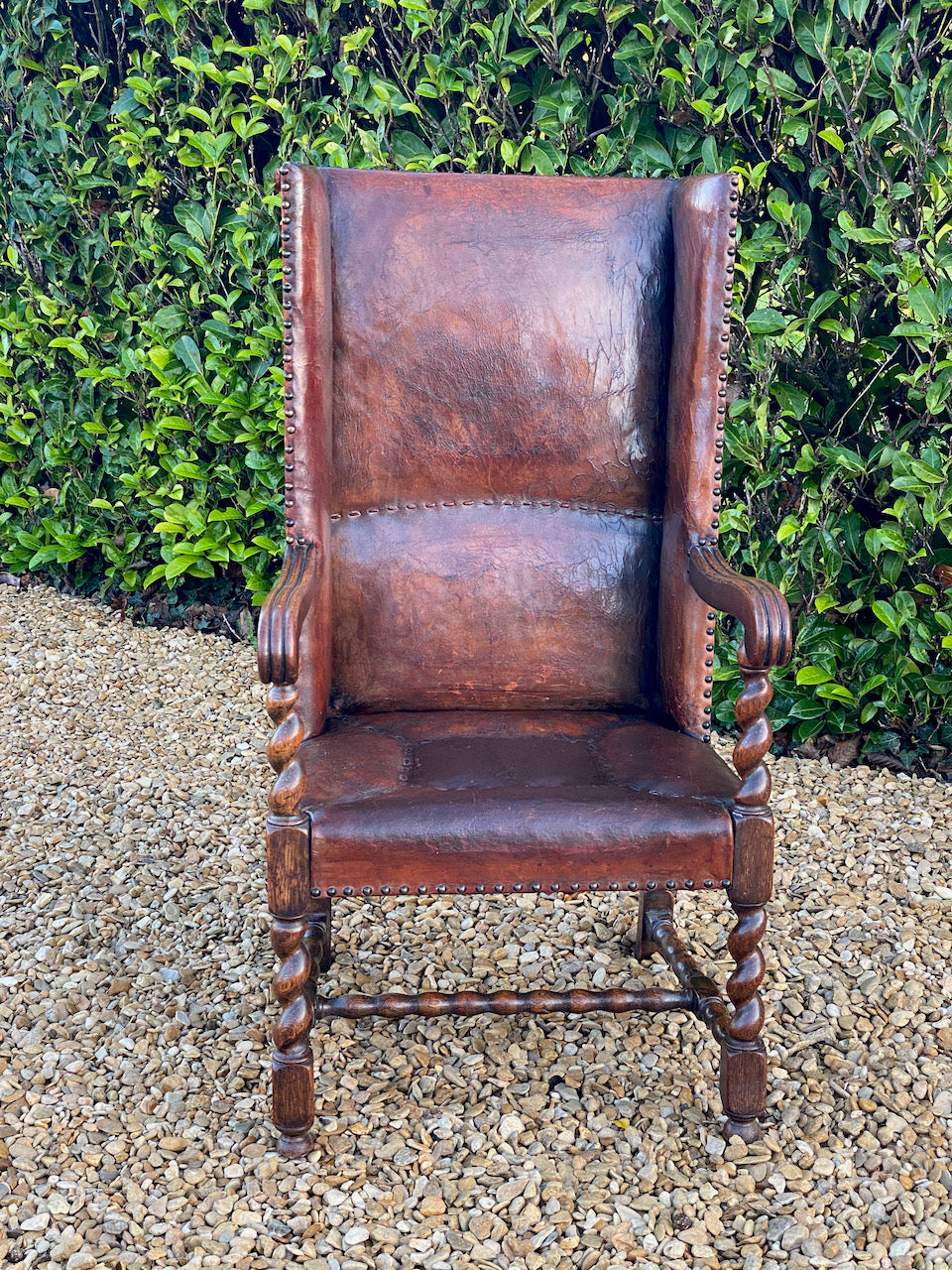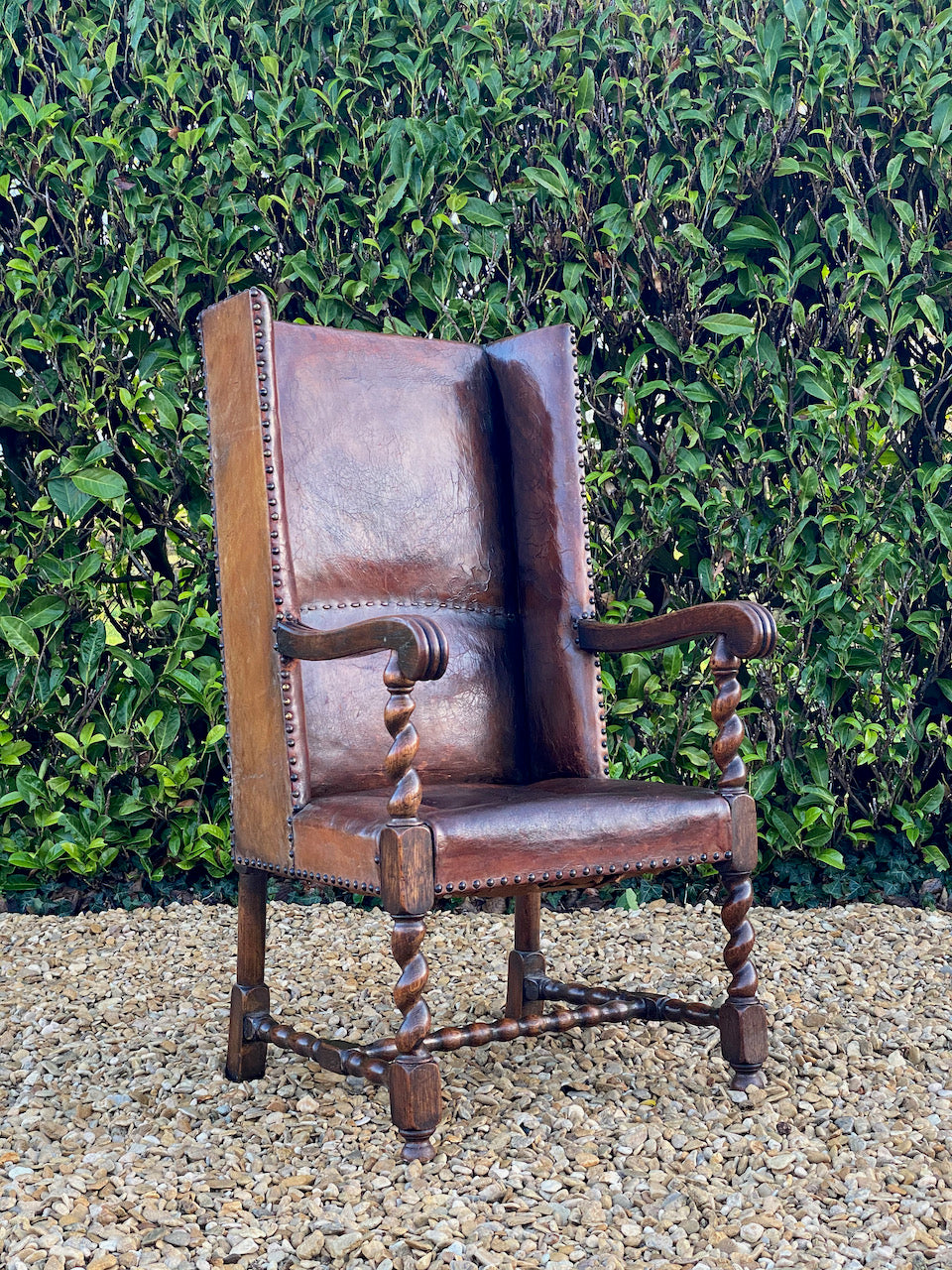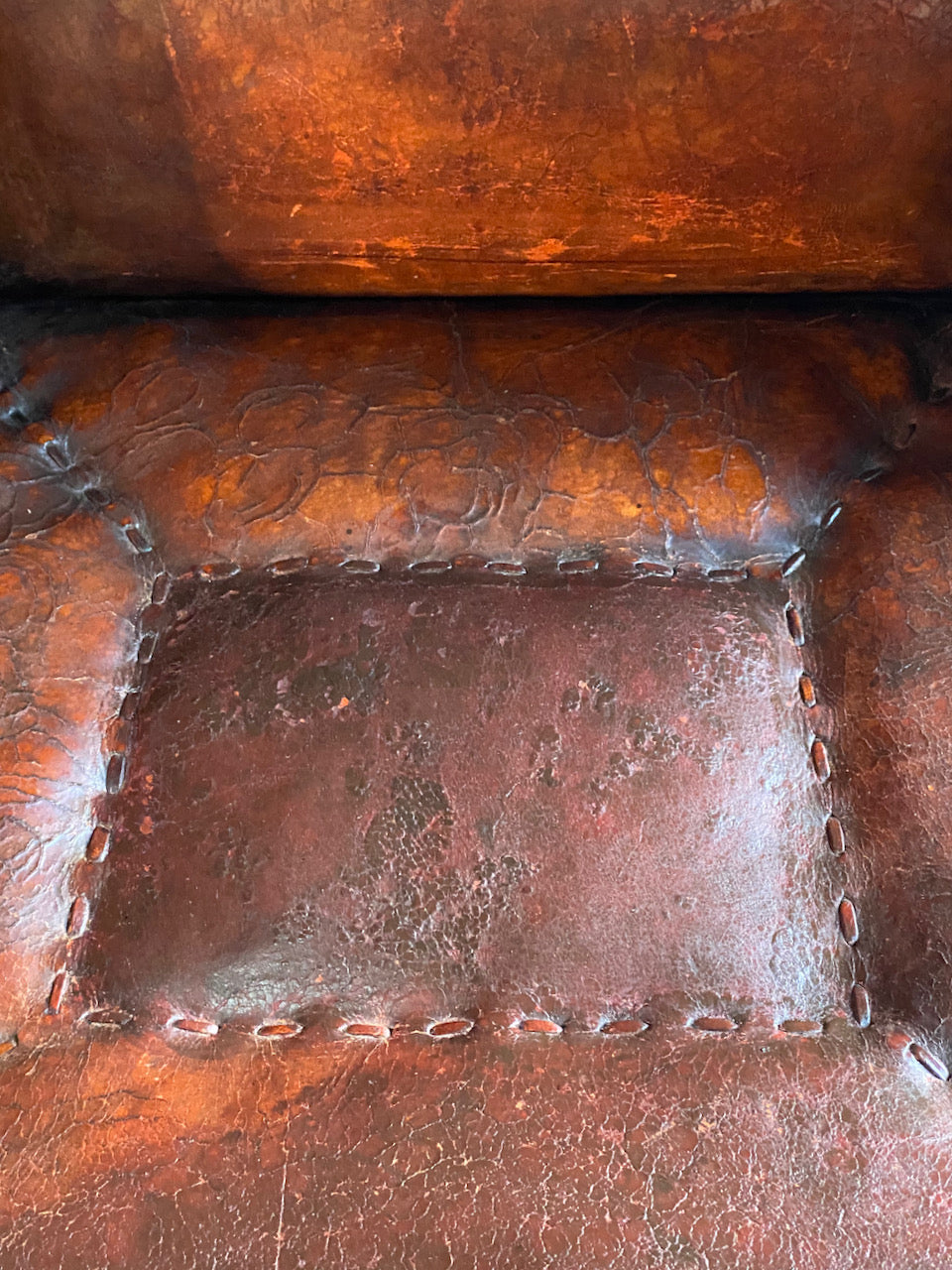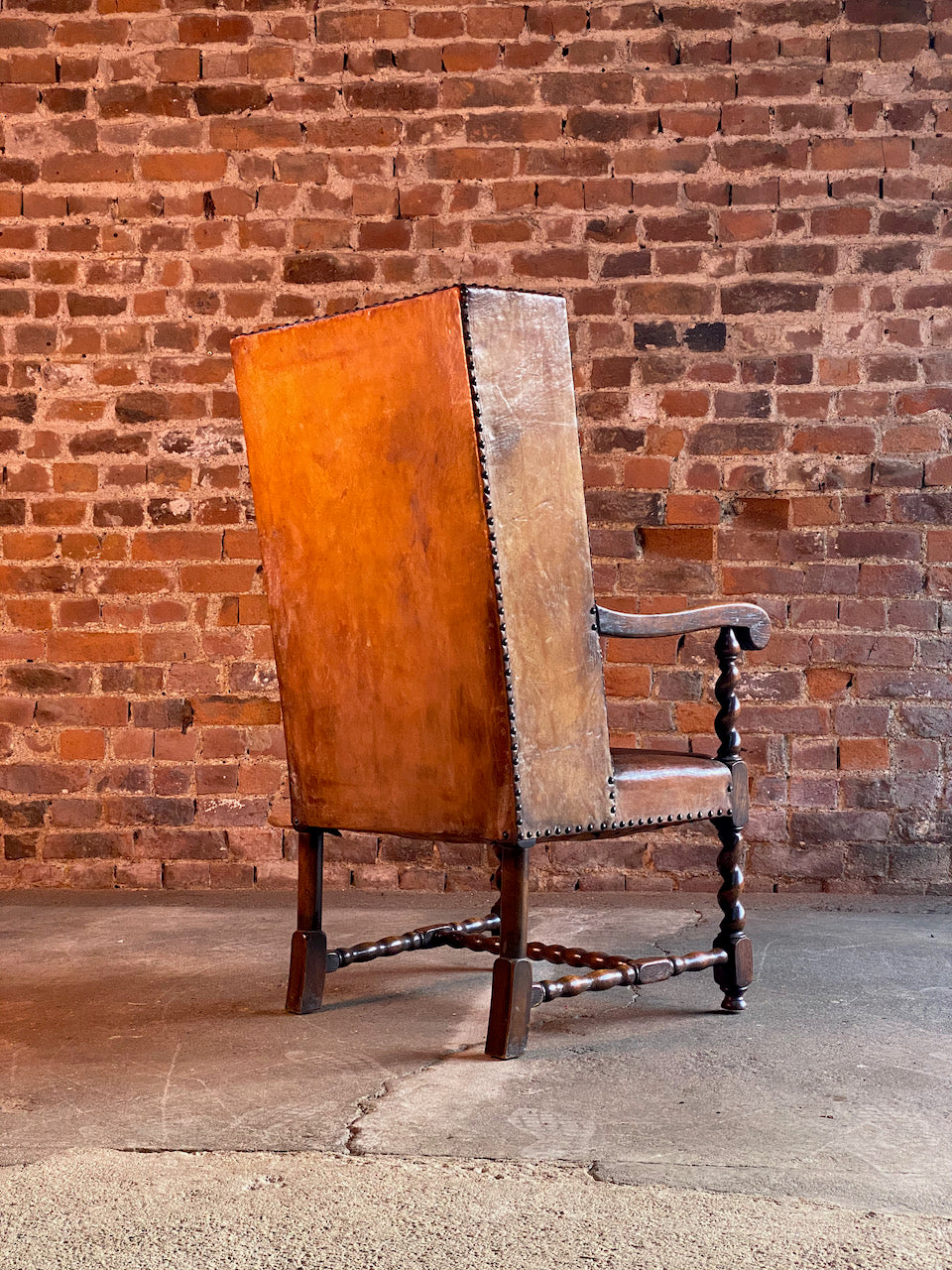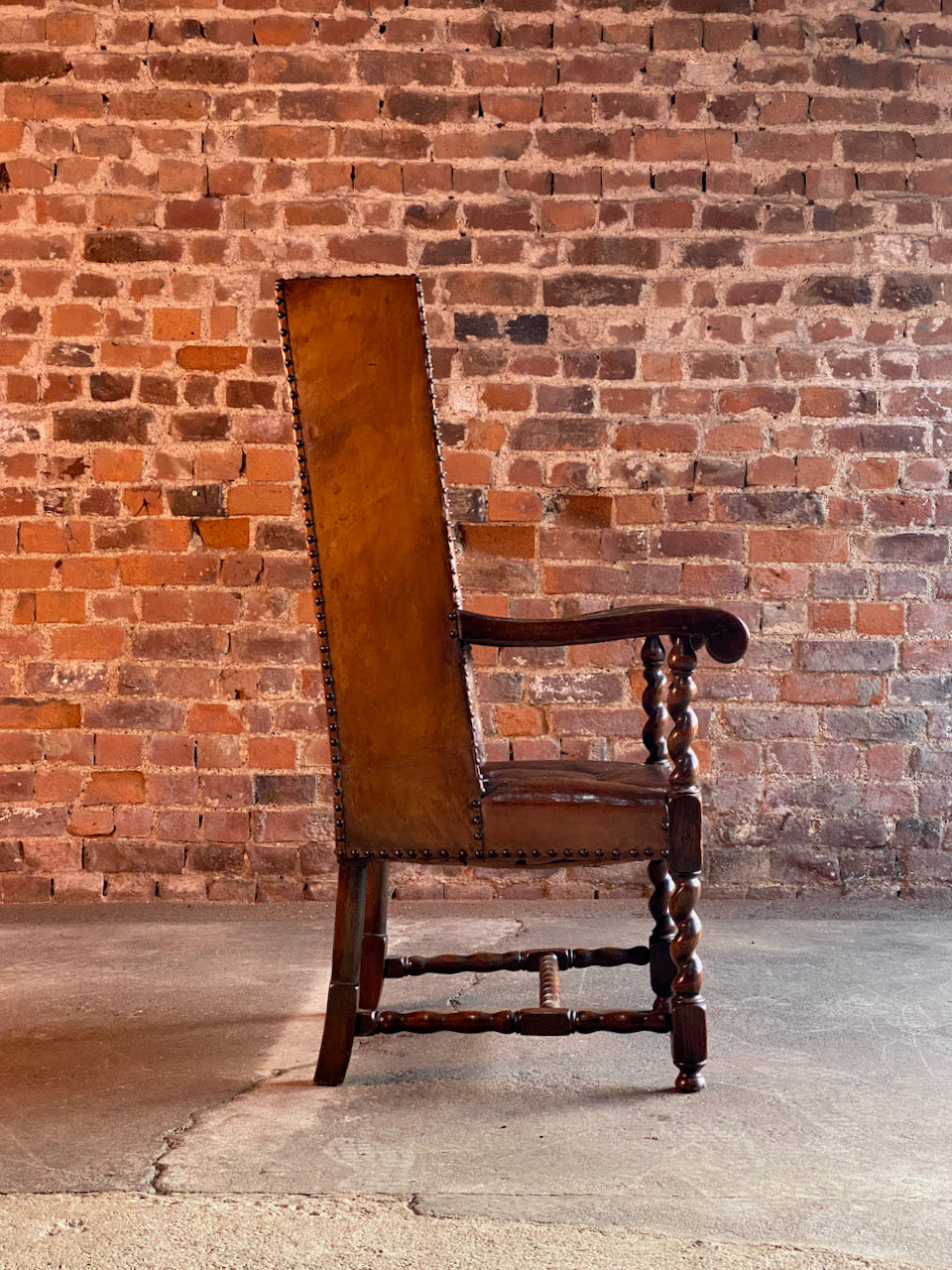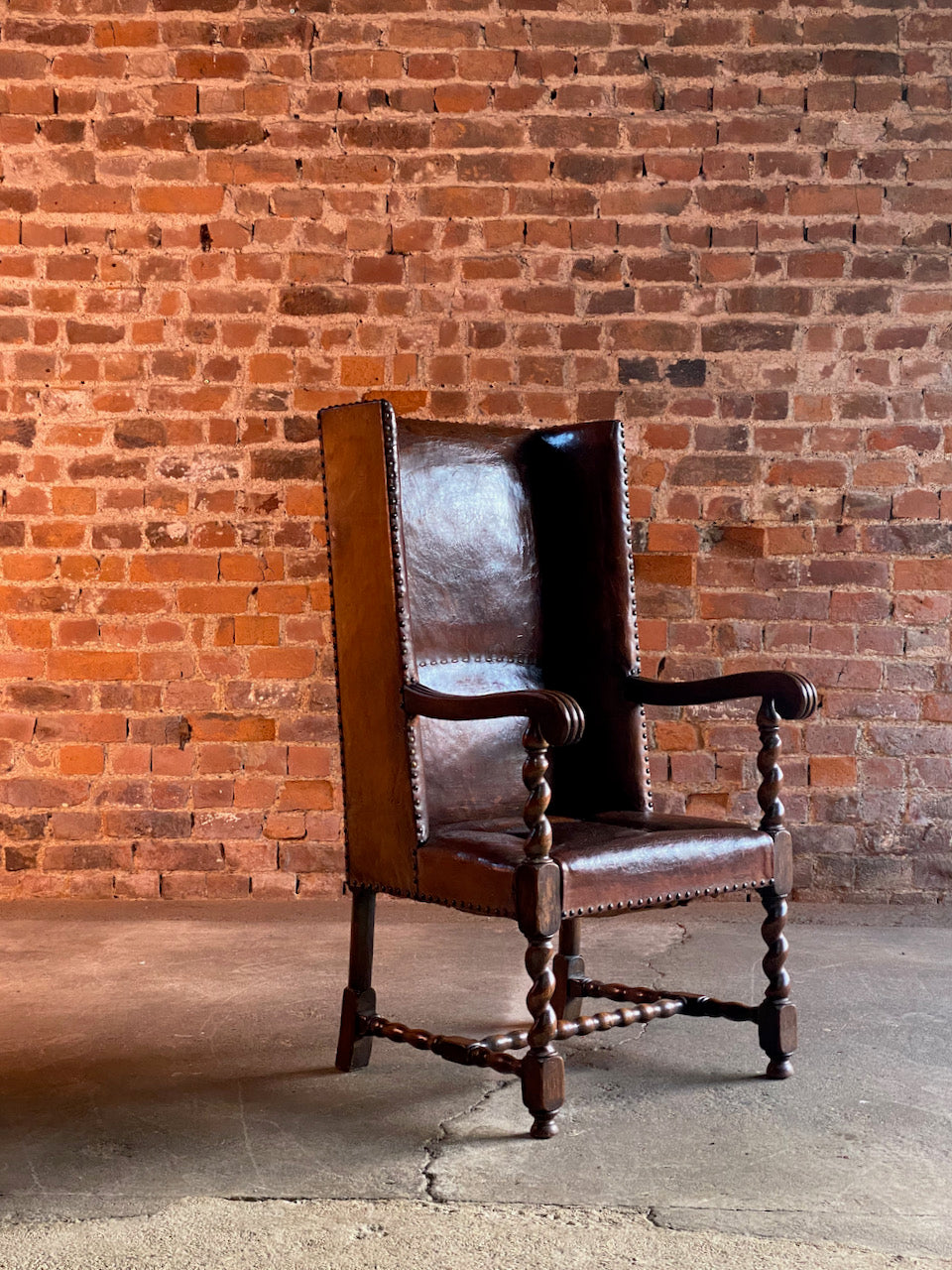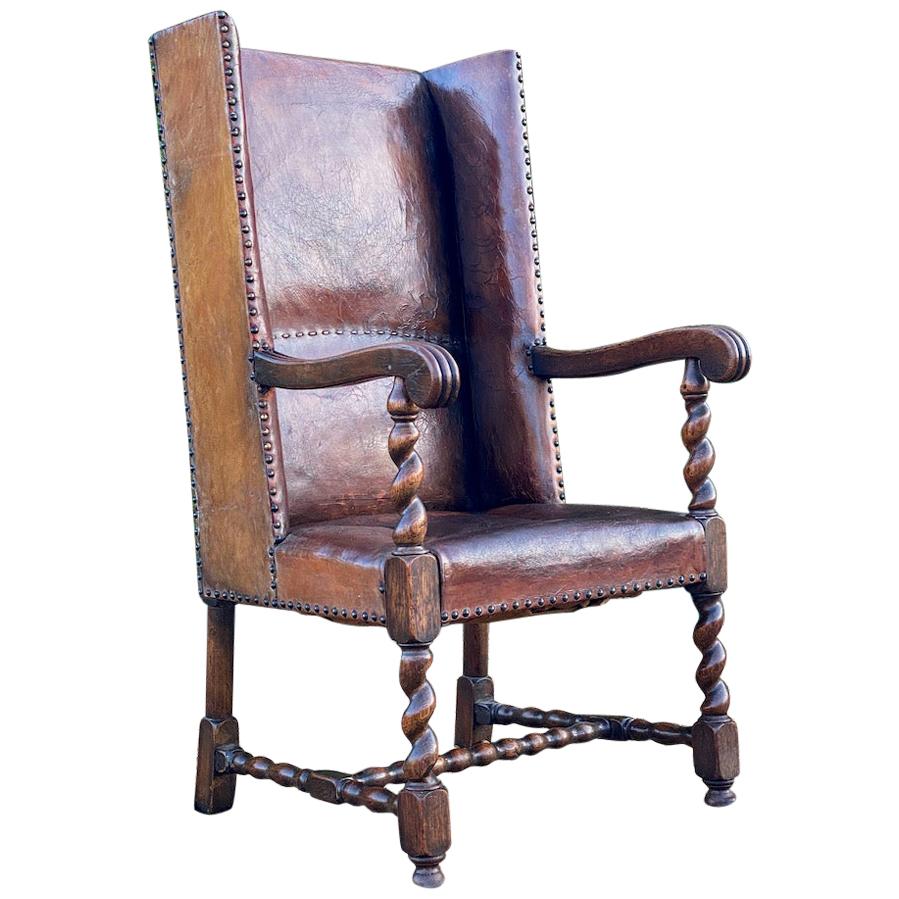 Exceptional George IV Leather & Oak Wingback Armchair England Circa 1820
SOLD
Exceptional George IV Leather & Oak Wingback Armchair England Circa 1820
An exceptional early 19th century George IV leather and oak wingback armchair England circa 1820, the design is very much in the Charles II or William and Mary style, the tall angular winged back armchair is covered in the most exquisite strong patinated aged brown leather upholstery showing its age through deep historical shaped creases, beautiful brass stud work around the wings, back and front of seat, the seating area and back with a broad leather stitch work detail, scrolled arms with extended paws supported by turned barley twist uprights, the front and back legs united by a cotton reel H stretcher, the whole is in excellent antique condition and you would be hard pressed to find another chair like it anywhere, serious personality and character with that tired country house look,  this chair is an interior designers dream, reserve now.

When this chair was made George IV was King of England:

George IV was 48 when he became Regent in 1811, as a result of the illness of his father, George III. He succeeded to the throne in January 1820.

He had secretly and illegally married a Roman Catholic, Mrs Fitzherber, in 1785. In 1795 he officially married Princess Caroline of Brunswick, but the marriage was a failure and he tried unsuccessfully to divorce her after his accession in 1820 (Caroline died in 1821). Their only child Princess Charlotte died giving birth to a stillborn child, in 1817, aged 21.

An outstanding, if extravagant, collector and builder, George IV acquired many important works of art (now in the Royal Collection), built the Royal Pavilion at Brighton, and transformed Windsor Castle and Buckingham Palace. George's fondness for pageantry helped to develop the ceremonial side of monarchy.

After his father's long illness, George resumed royal visits; he visited Ireland and Hanover in 1821 (it had not been visited by its ruler since the 1750s), and Scotland in 1822, which had not been visited by the monarch since Charles II's Scottish Coronation in 1651.
Beset by debts, George was in a weak position in relation to his Cabinet of ministers. His concern for royal prerogative was sporadic; when the Prime Minister Lord Liverpool fell ill in 1827, George at one stage suggested that ministers should choose Liverpool's successor.

In 1829, George IV was forced by his ministers, much against his will and his interpretation of his coronation oath, to agree to Catholic Emancipation. By reducing religious discrimination, this emancipation enabled the monarchy to play a more national role.

George's profligacy and marriage difficulties meant that he never regained much popularity, and he spent his final years in seclusion at Windsor, dying at the age of 67. His only daughter having died childless, the throne passed to his next brother, William, Duke of Clarence.
Antique
George IV
19th Century
Circa 1820
Armchair
Wingback
Barley Twist Features
Original
Date: 1820
Wood: Oak
Material: Leather
Investment

Very good original antique condition, the leather is exceptional with wonderful patination, no past or present woodworm, no odours or smells, a solid chair no weakness to joints.

Width: 22" / 57cm
Depth: 20" / 51cm
Height: 44" / 112cm
Floor to seat:  17" / 43cm

Free delivery is offered to England & Wales only when buyer pays full asking price, next day delivery is not possible due to the size of the piece, please allow between 7-14 days delivery