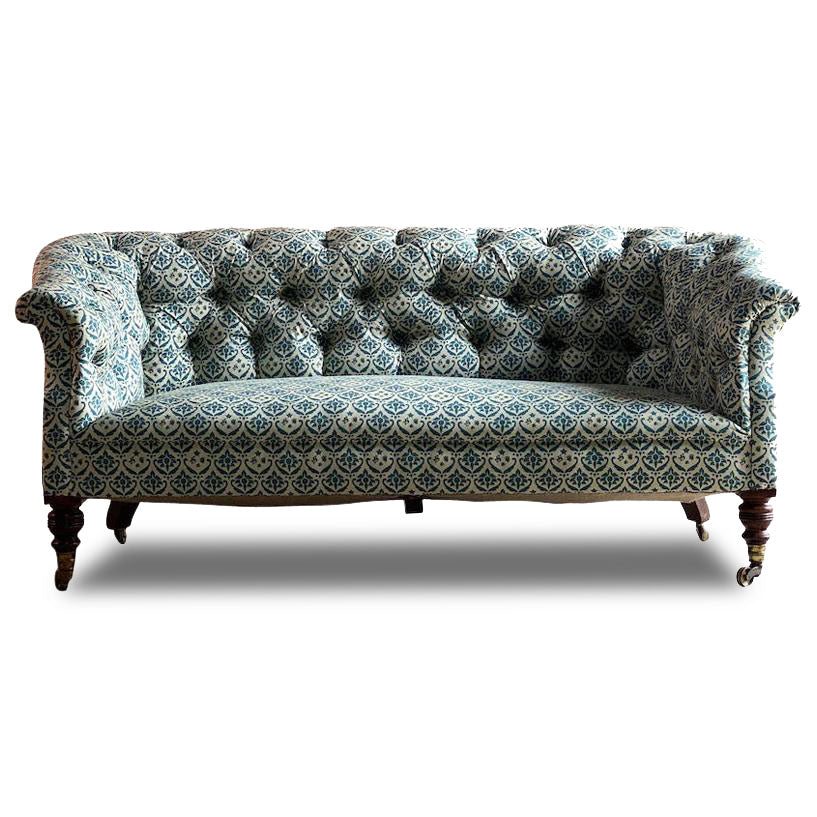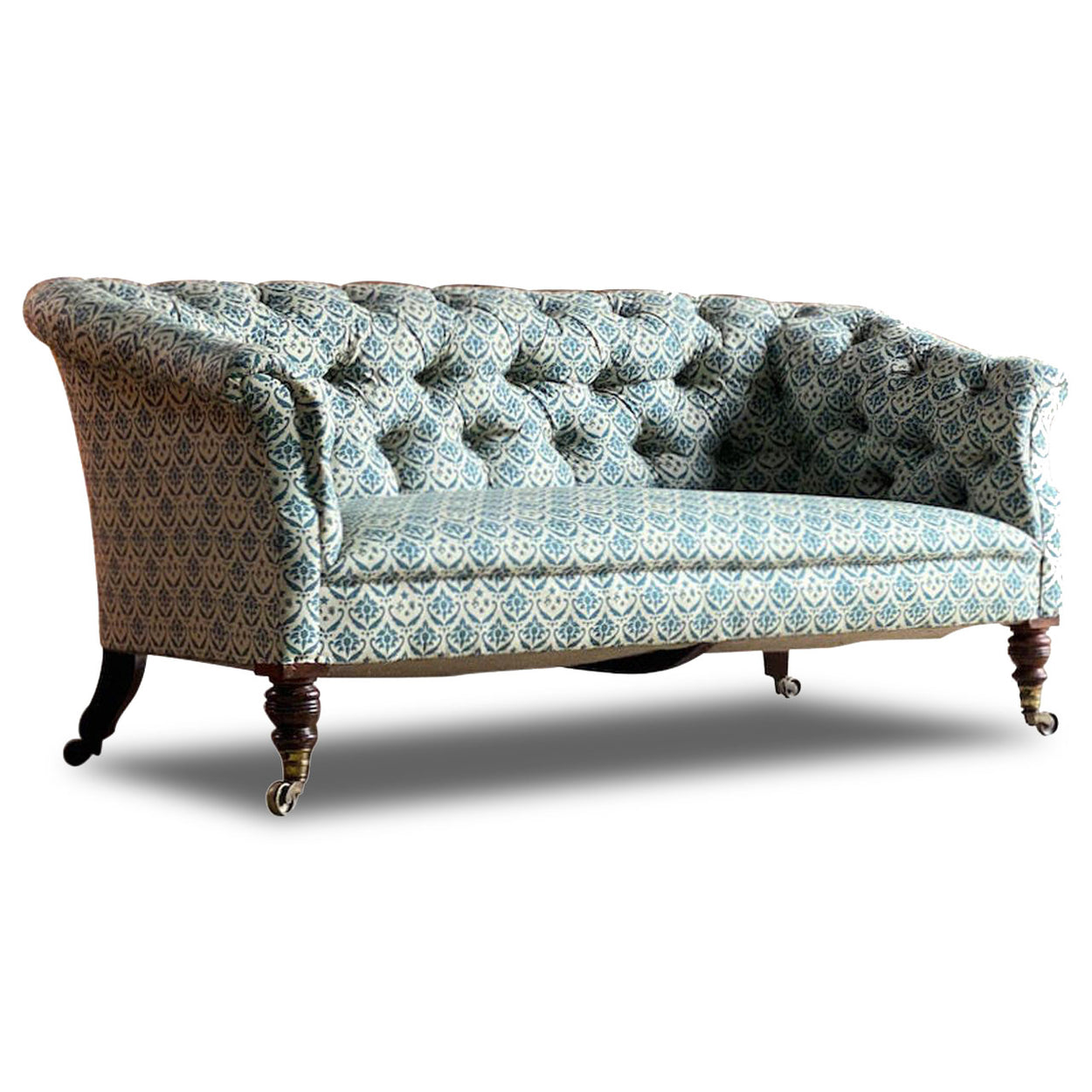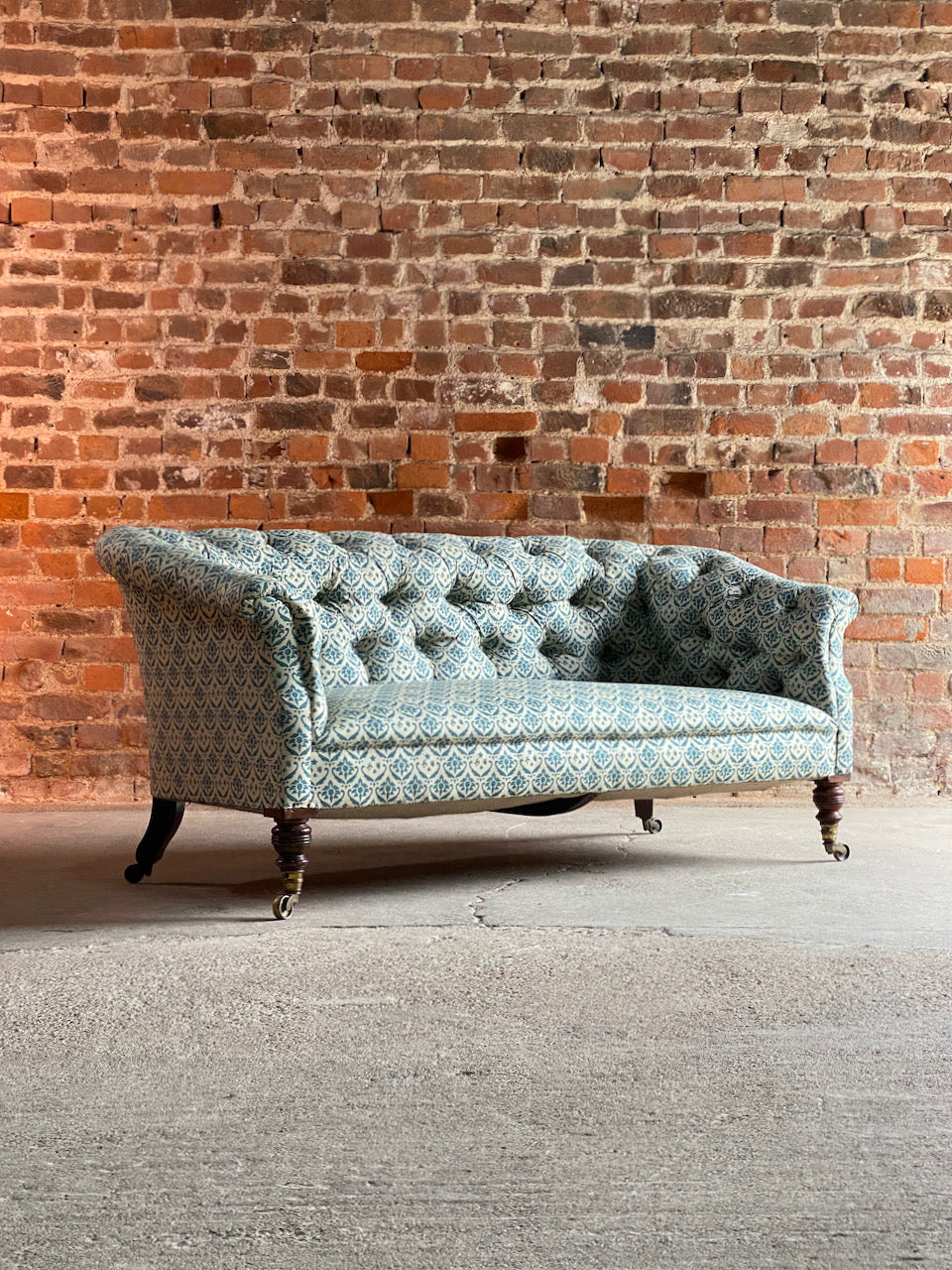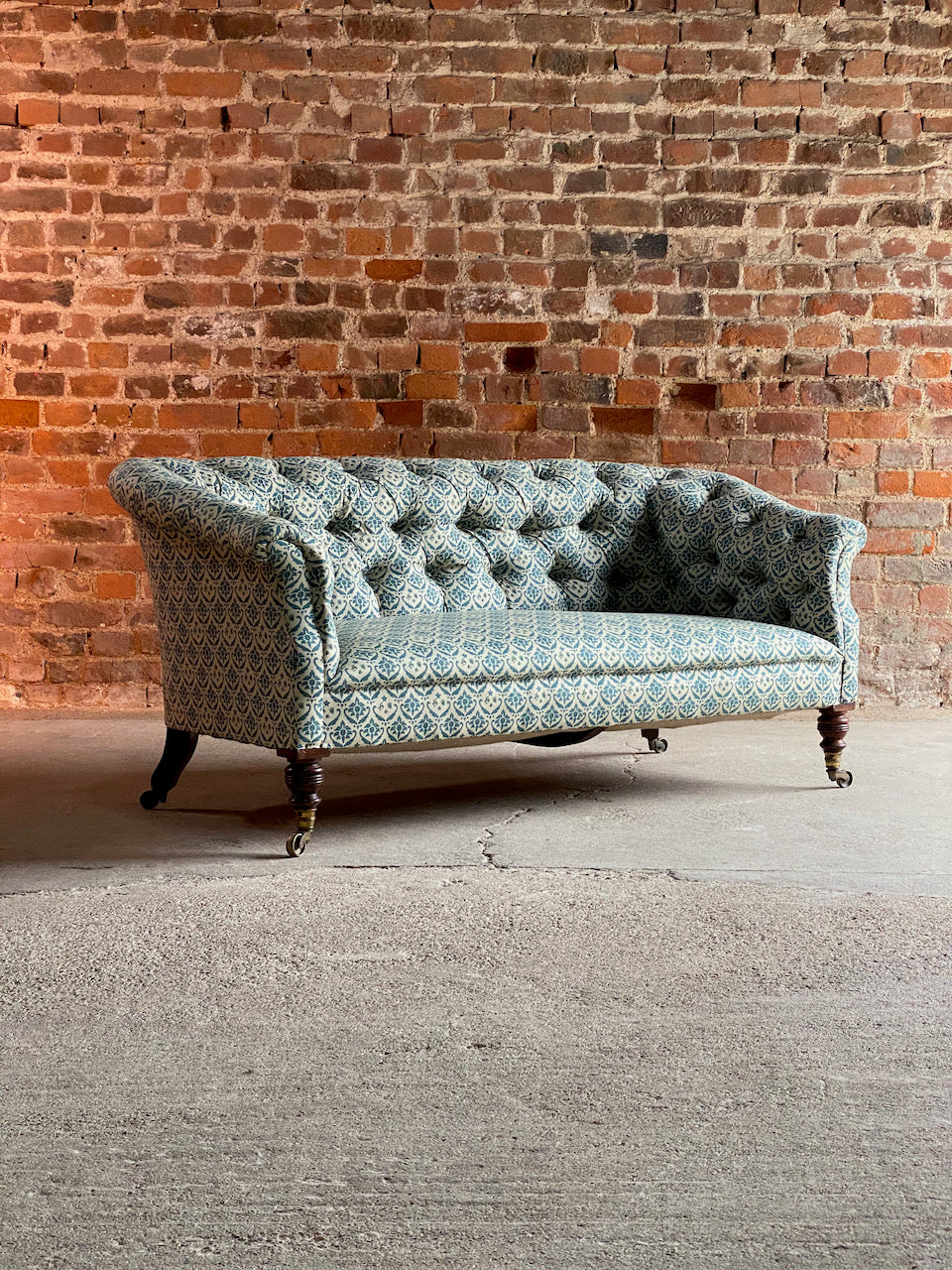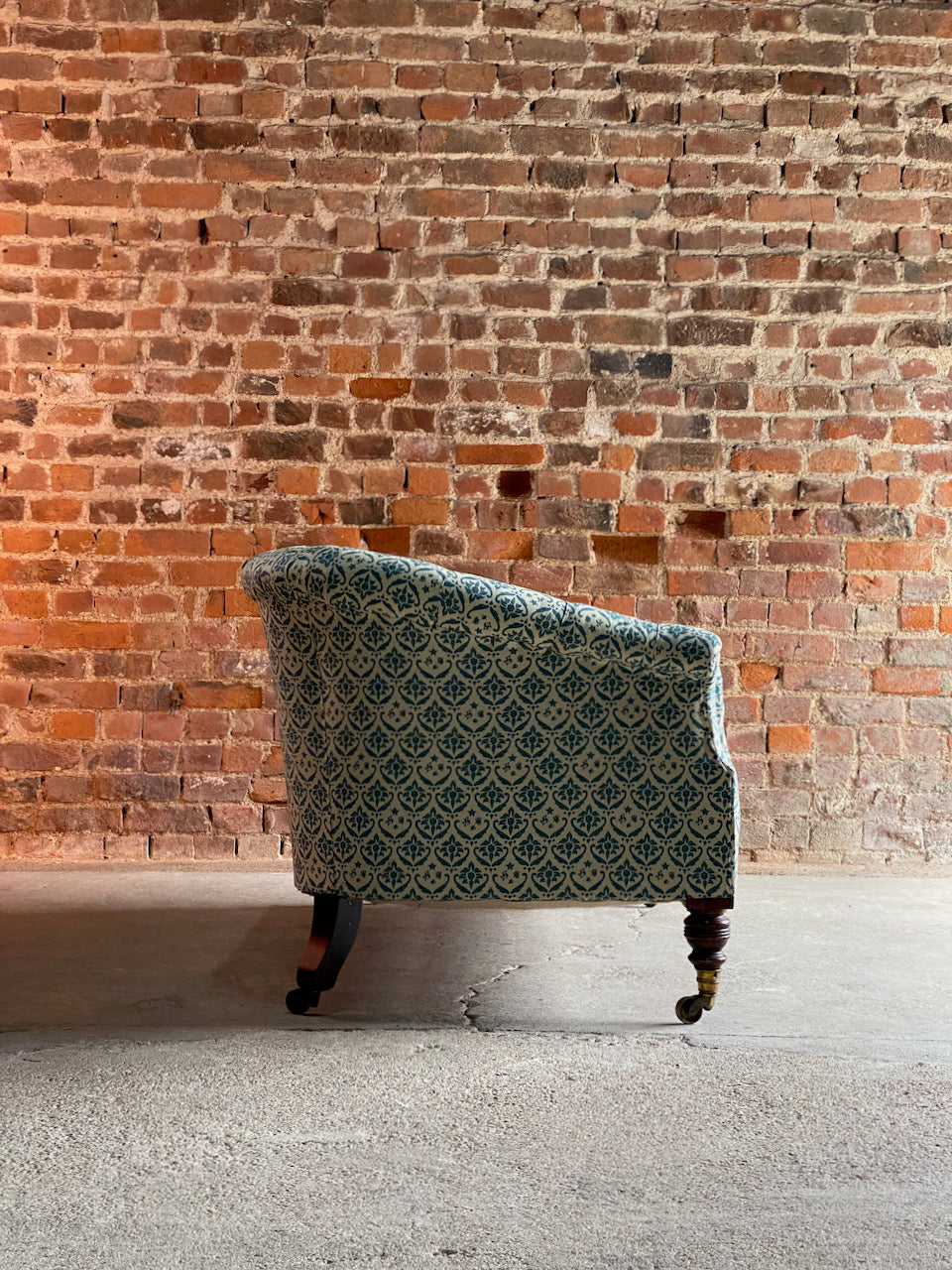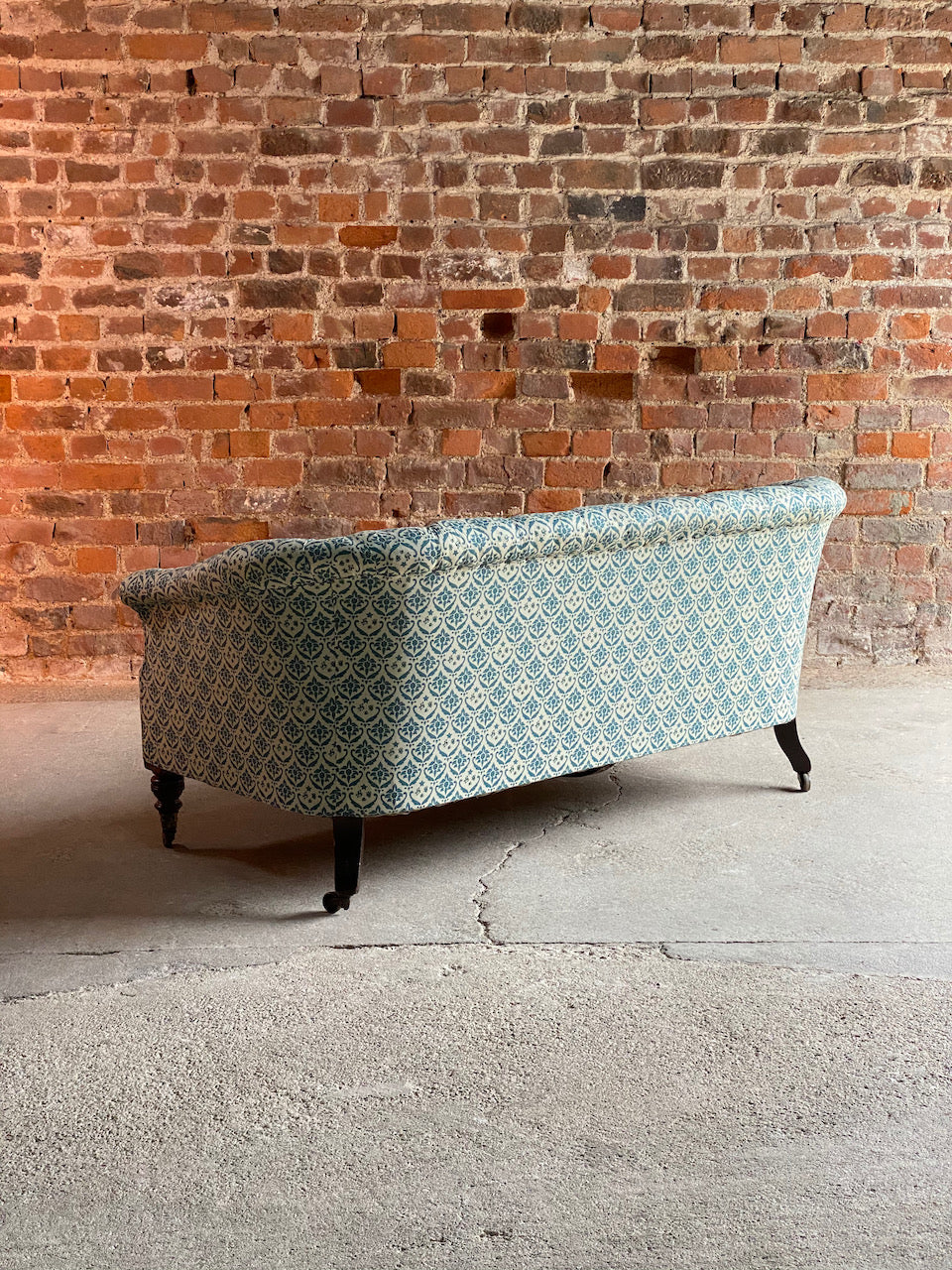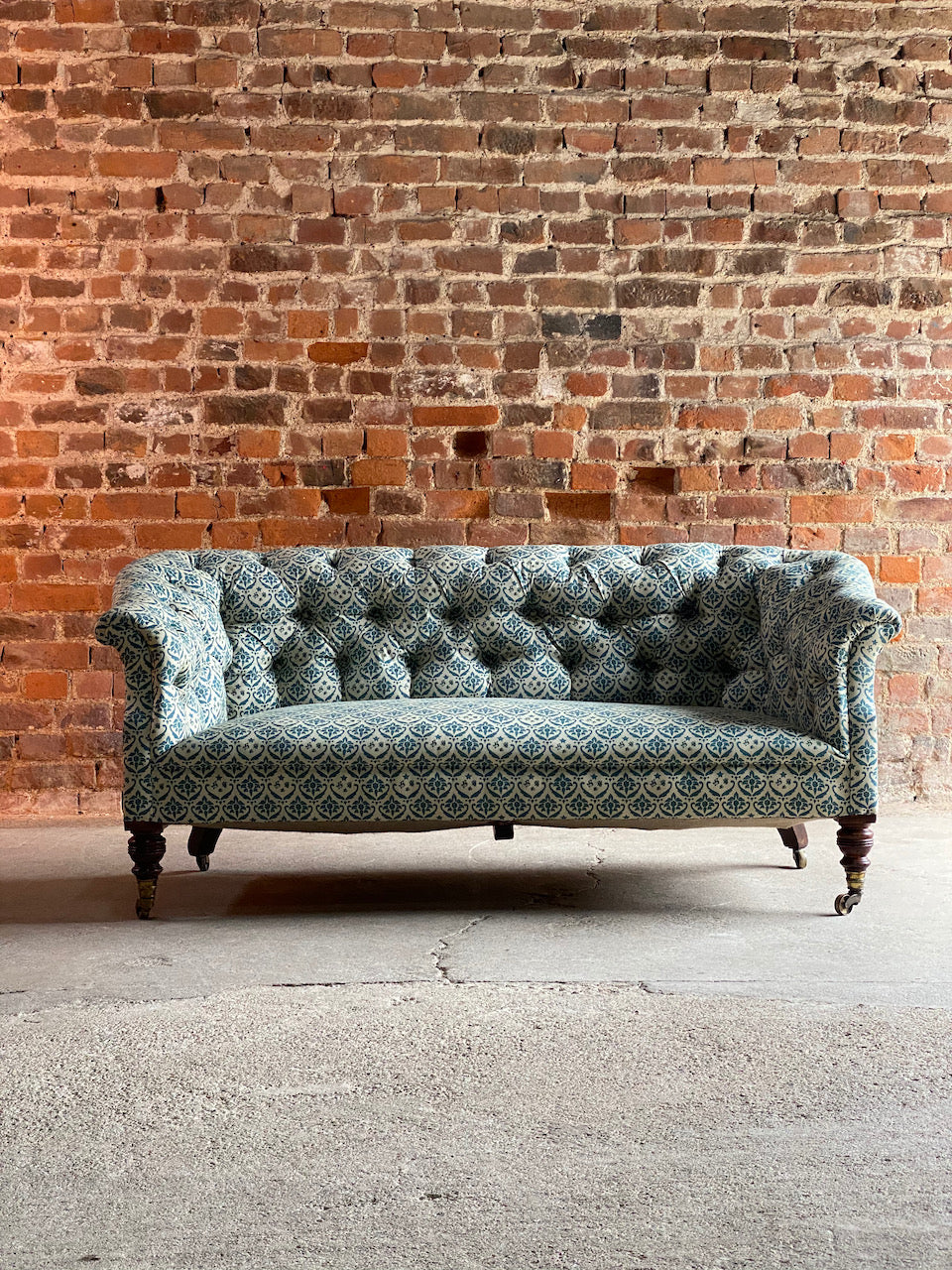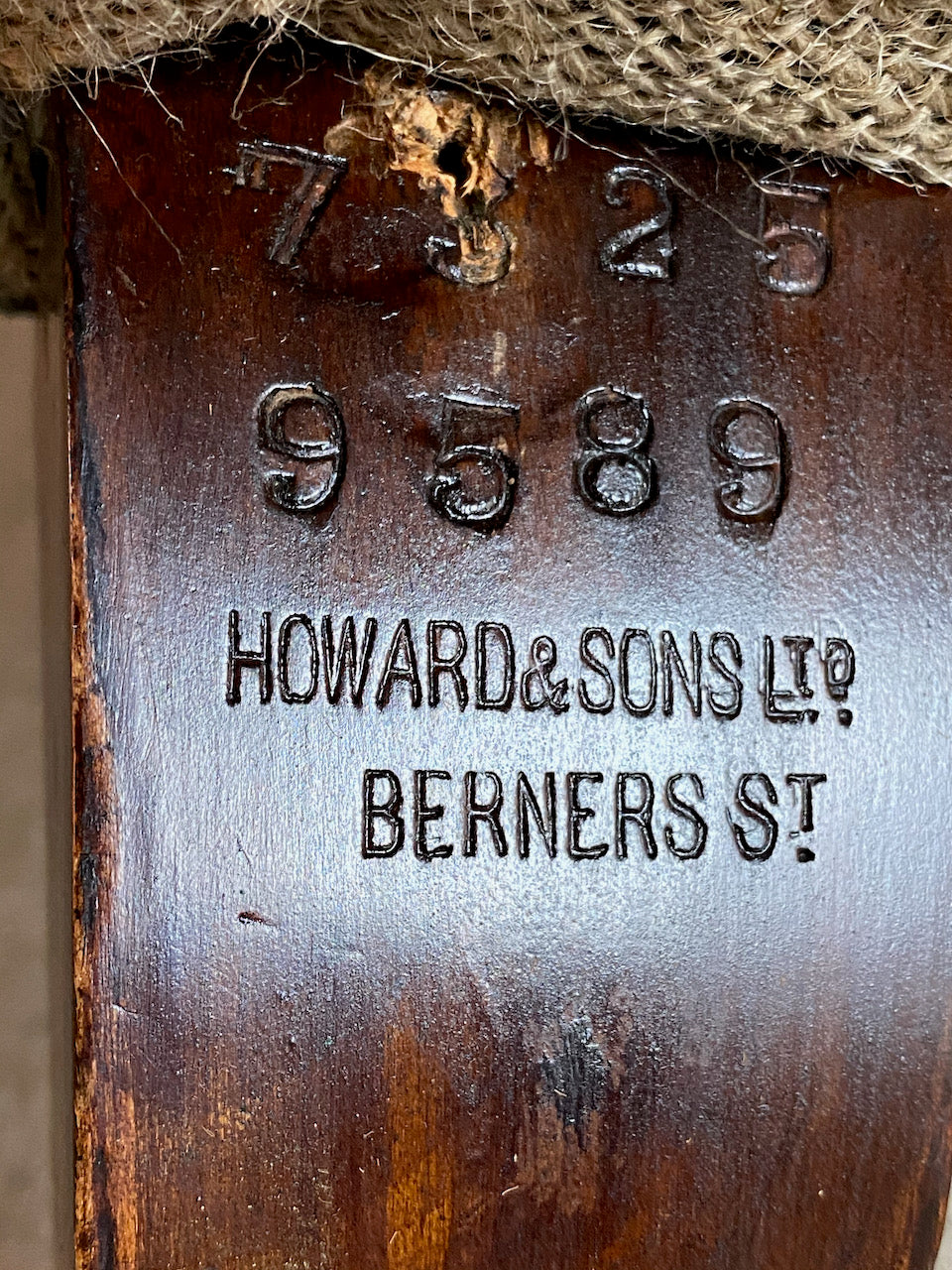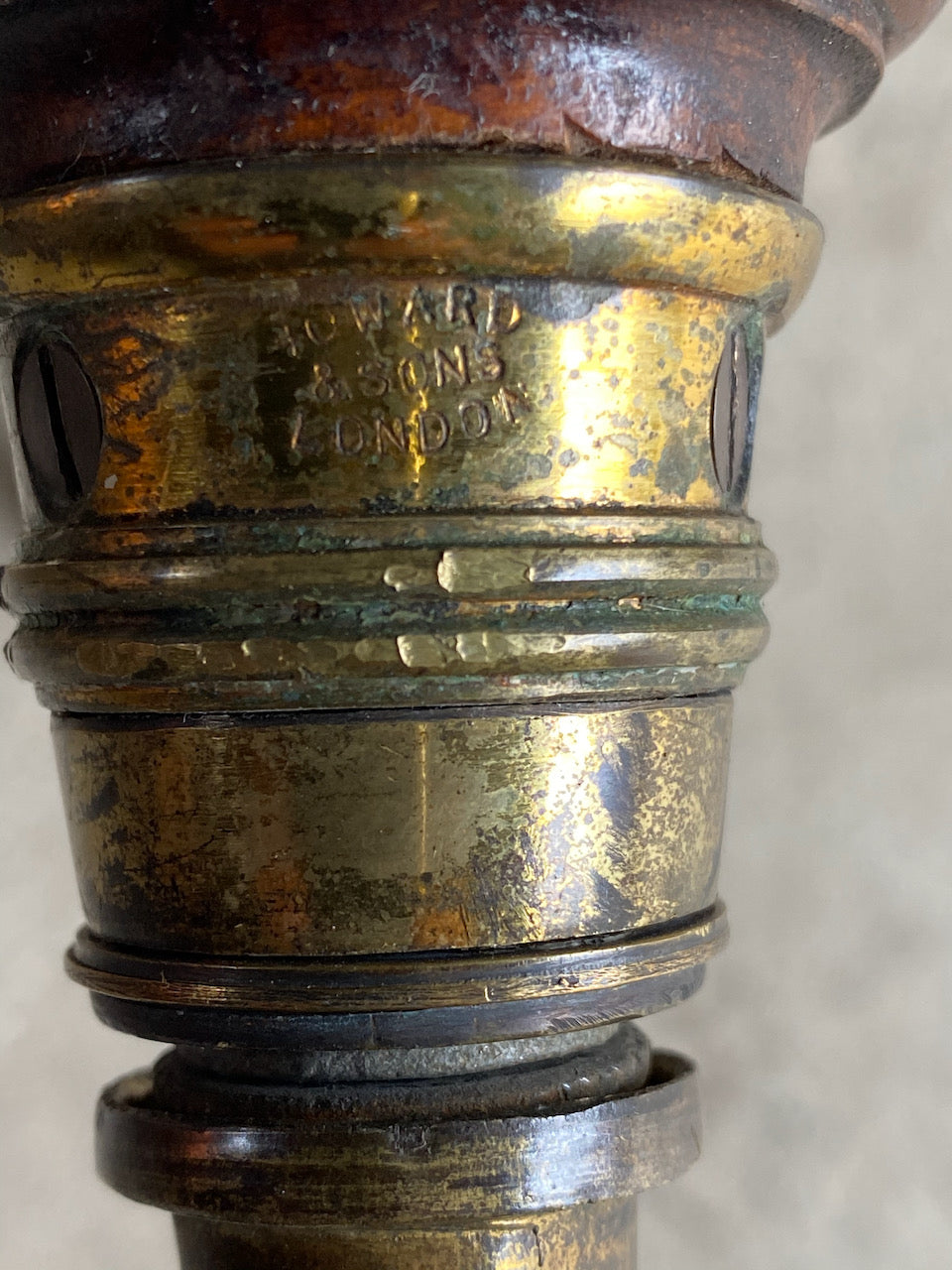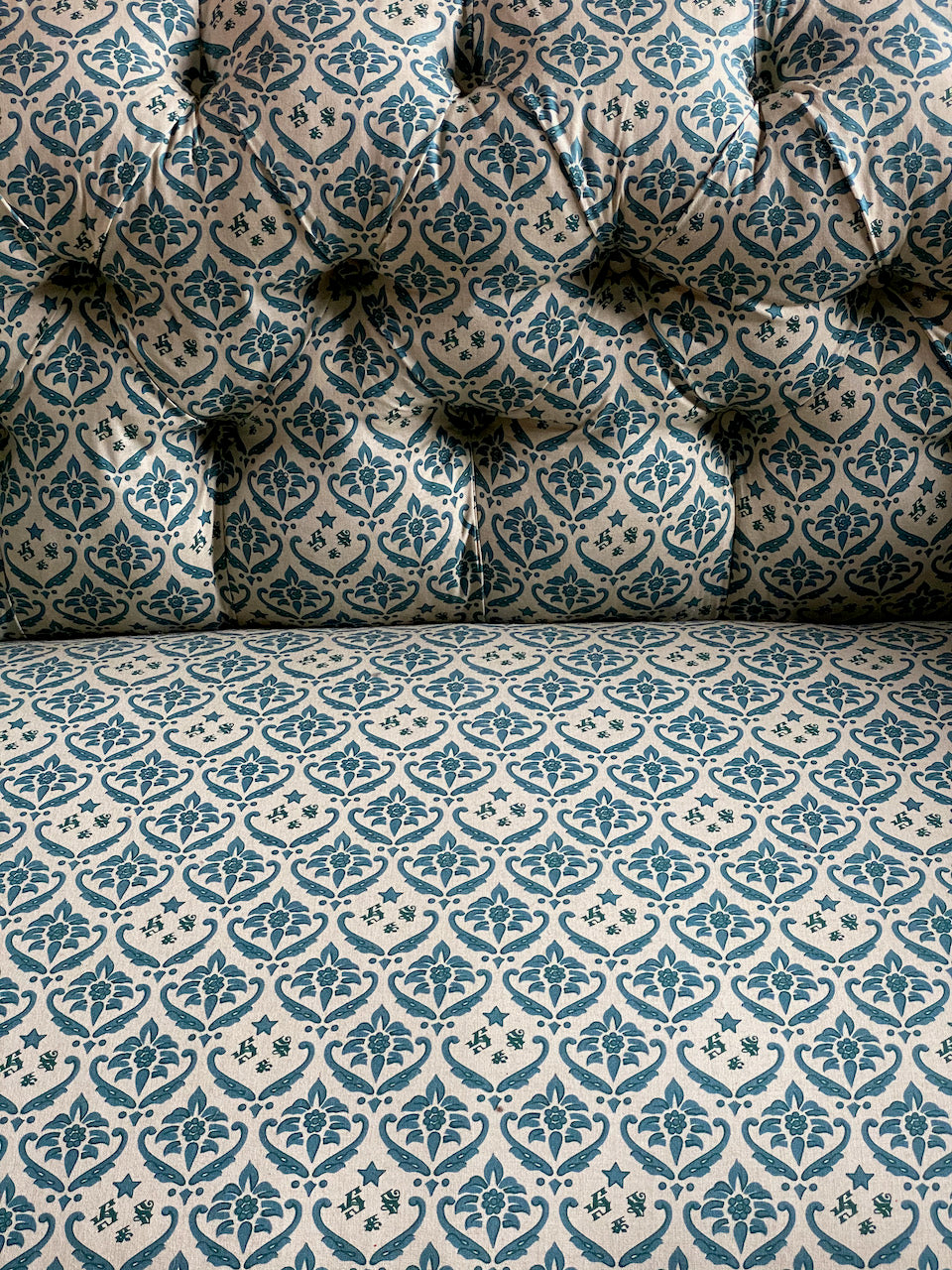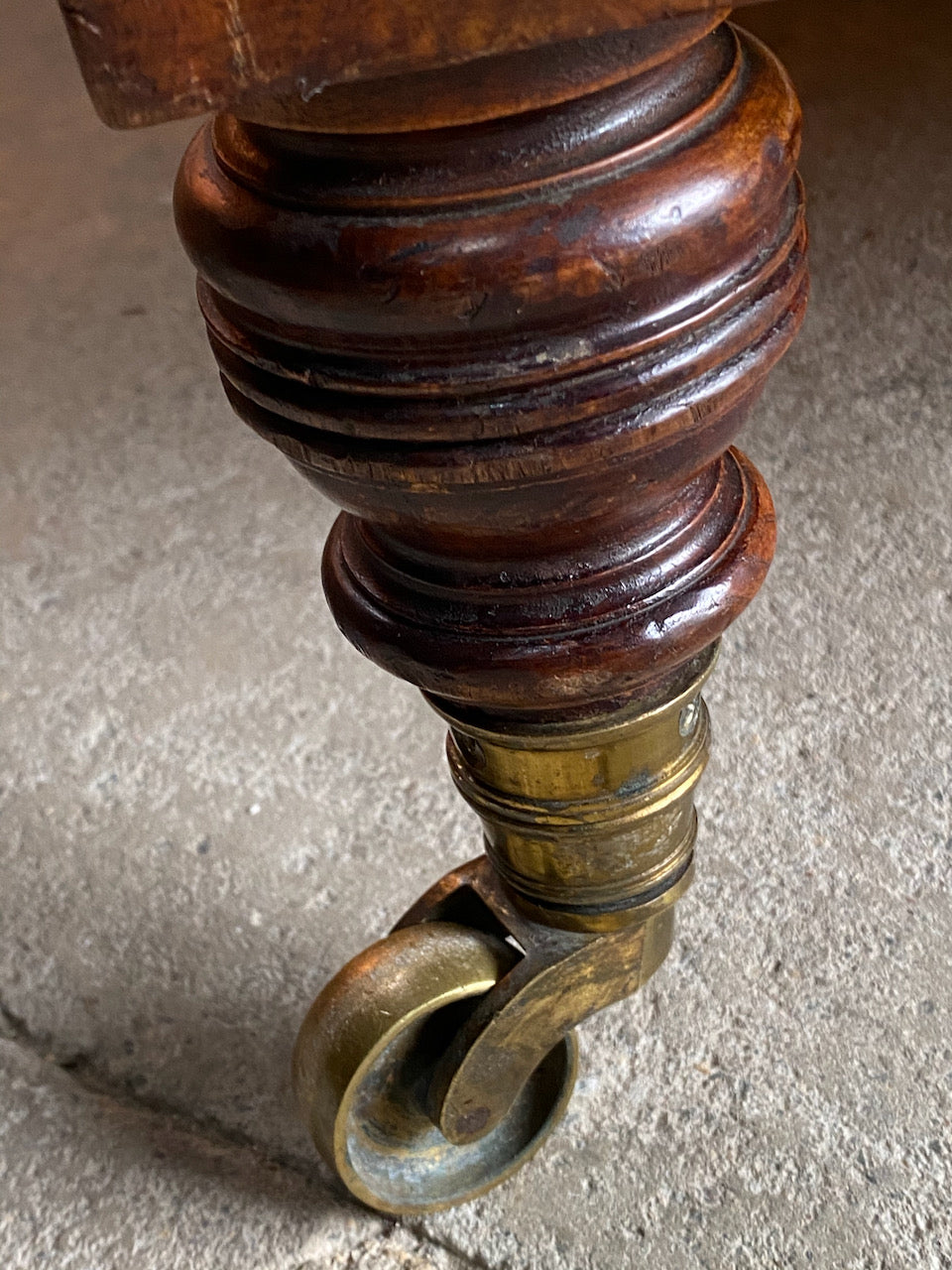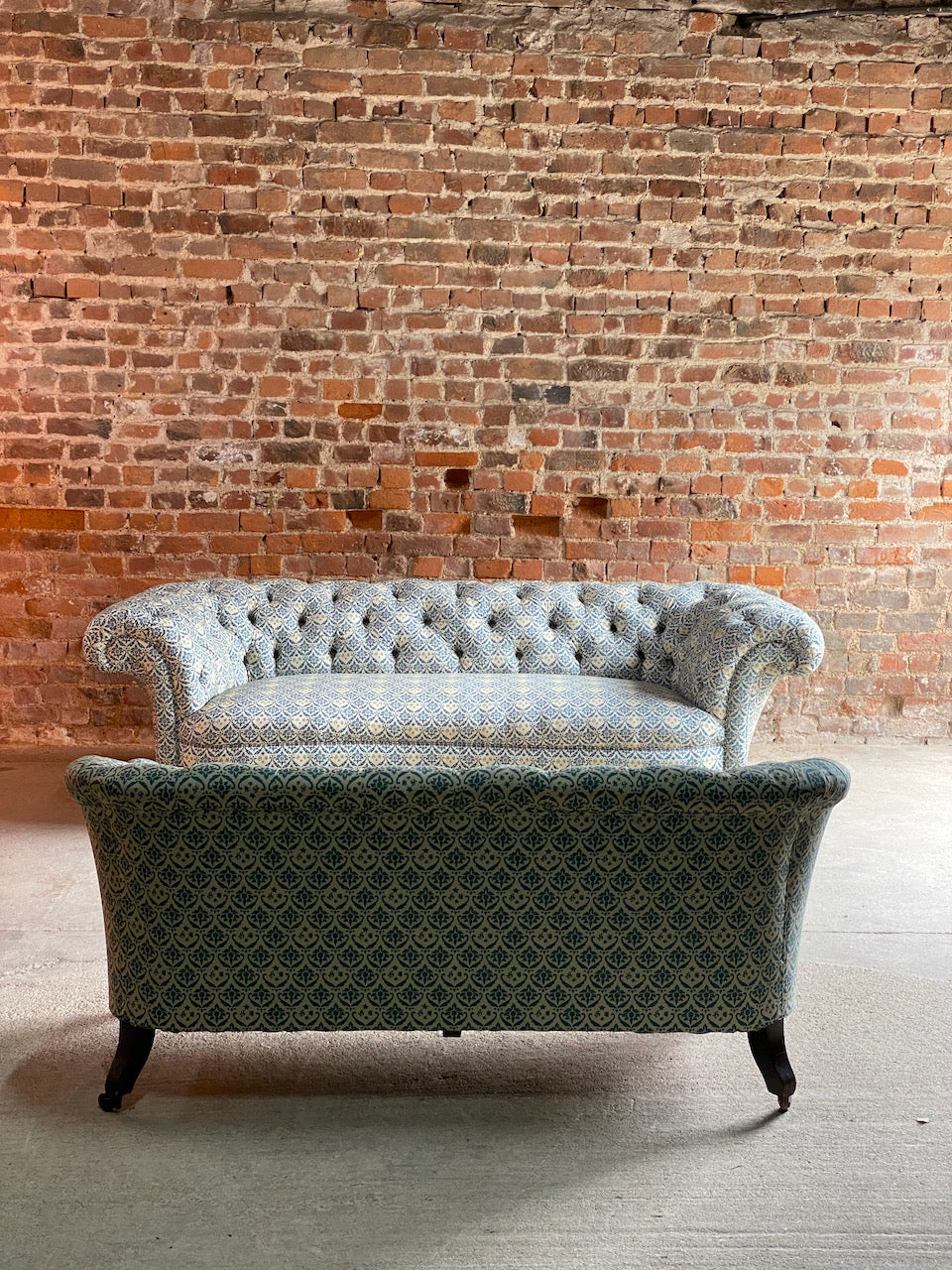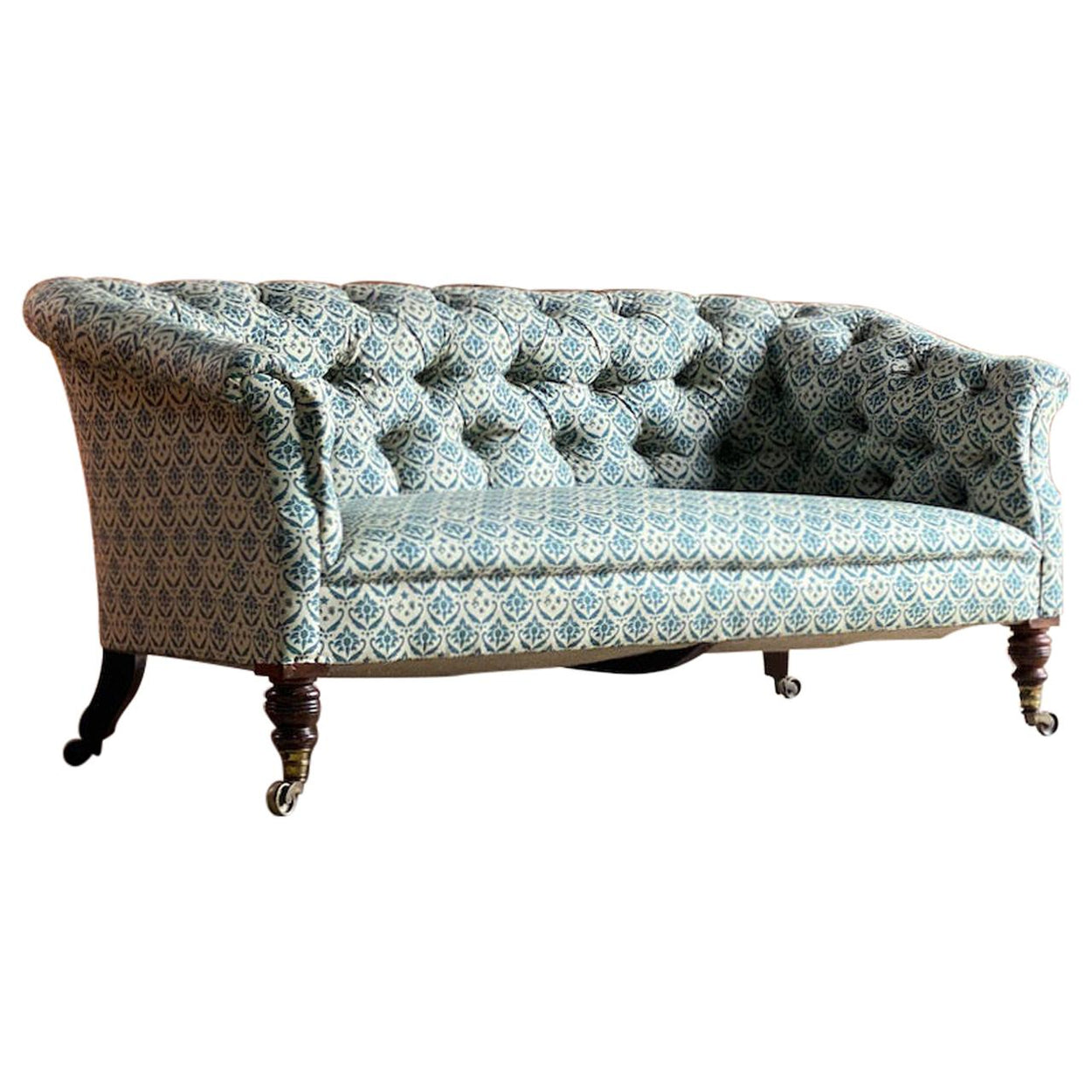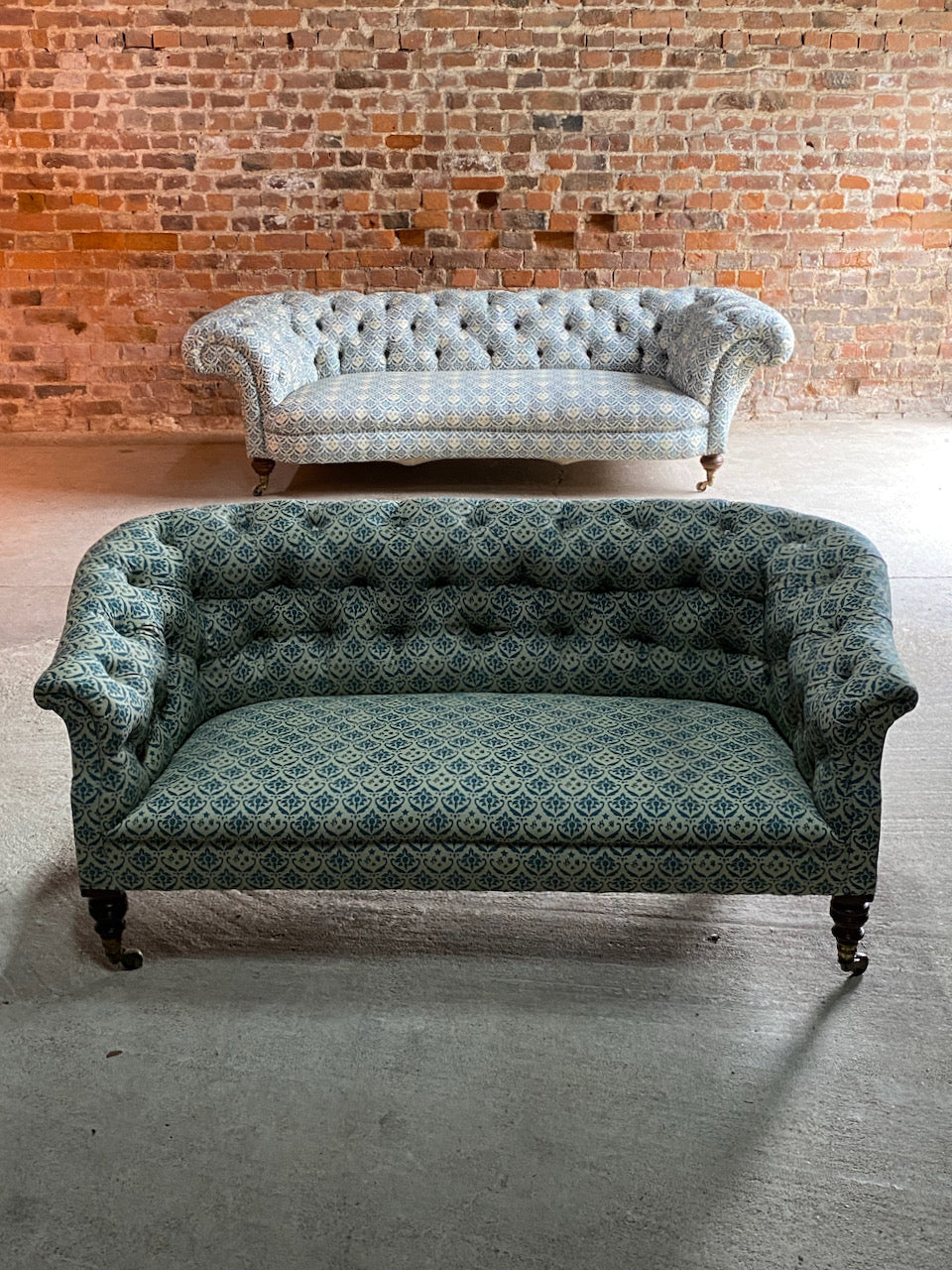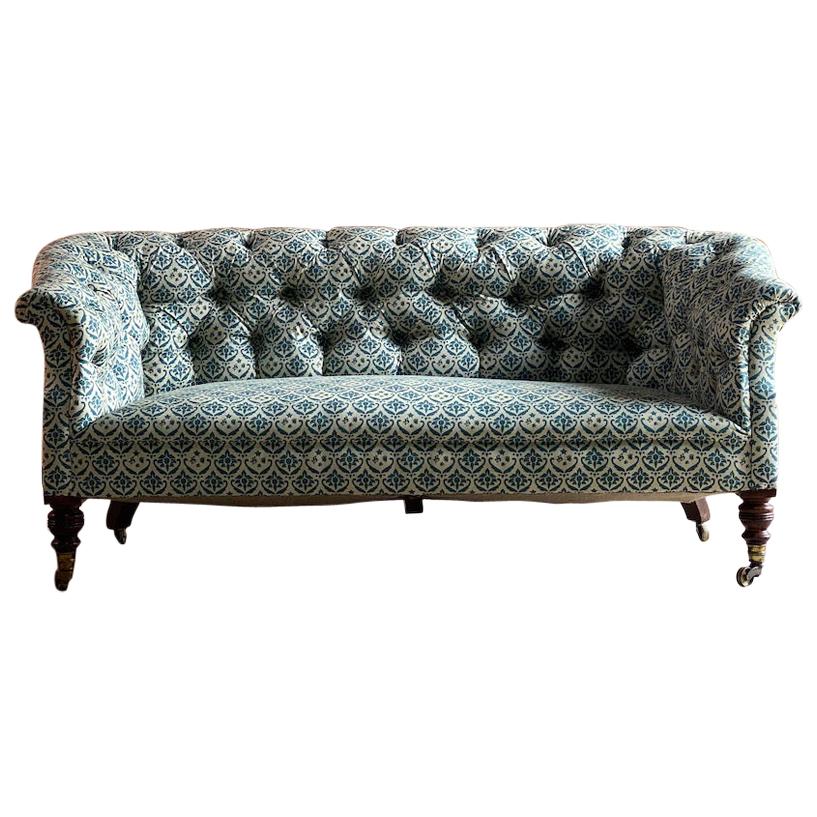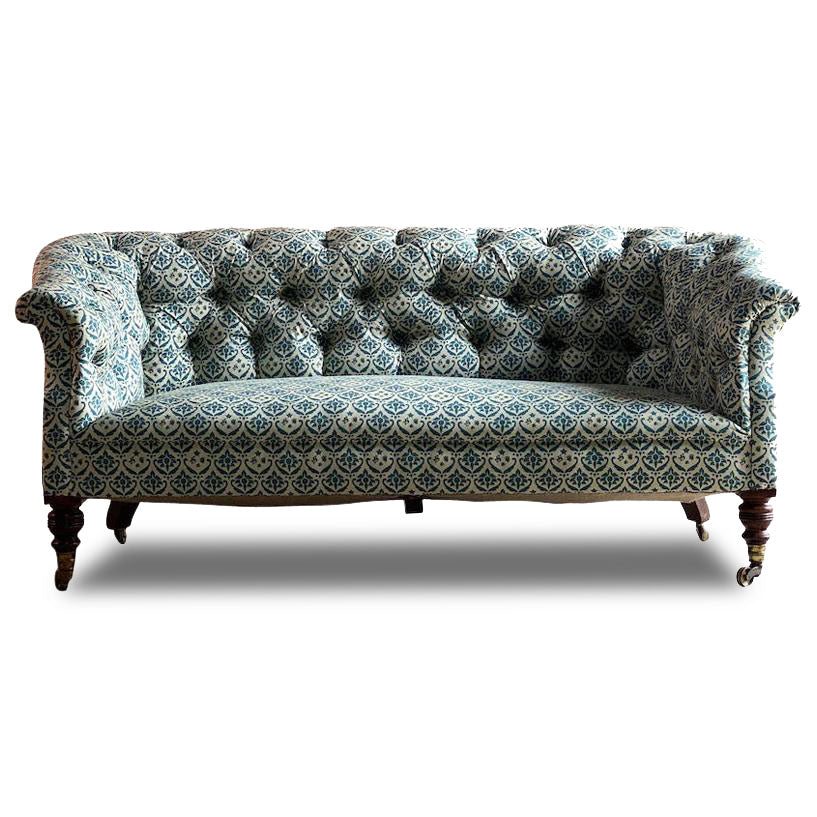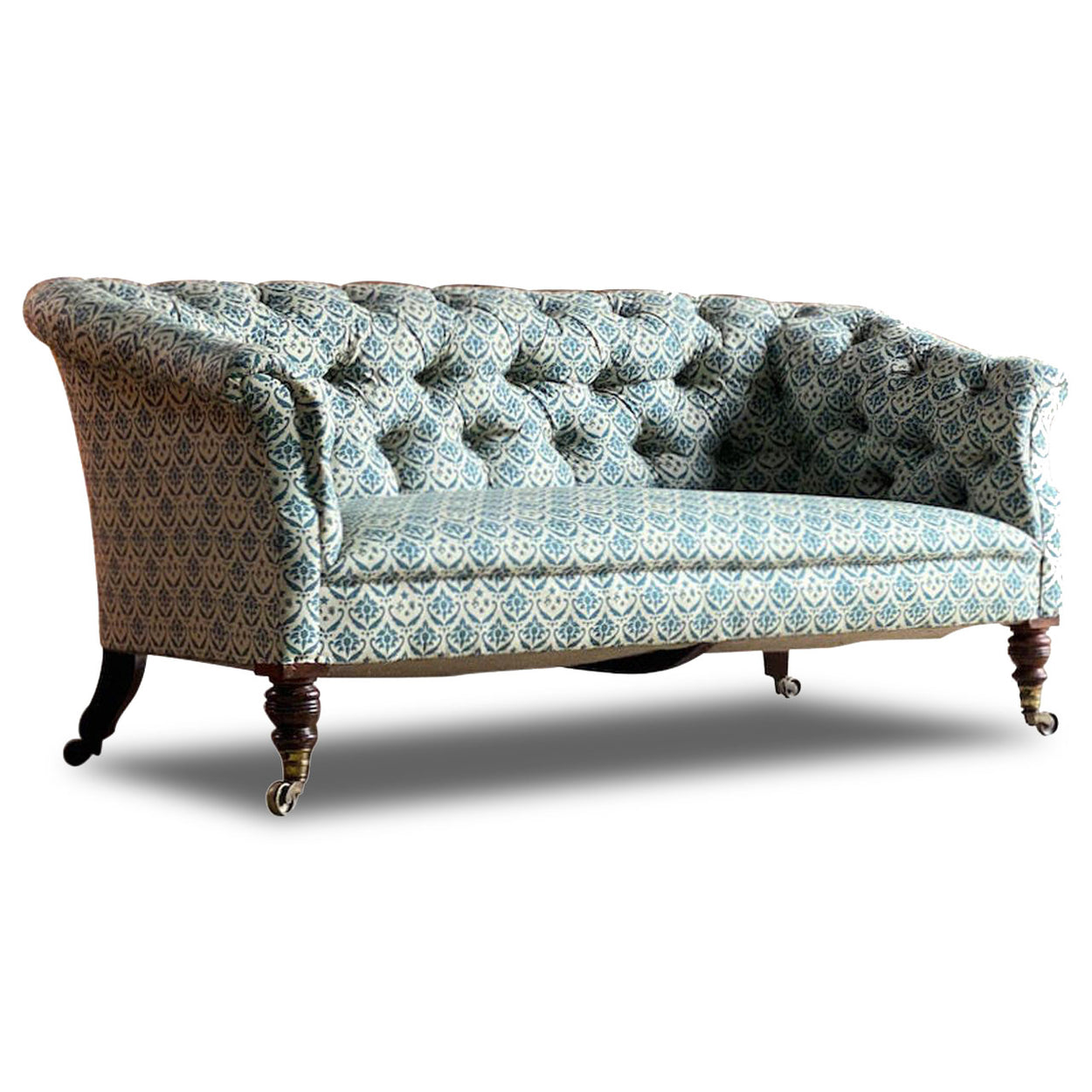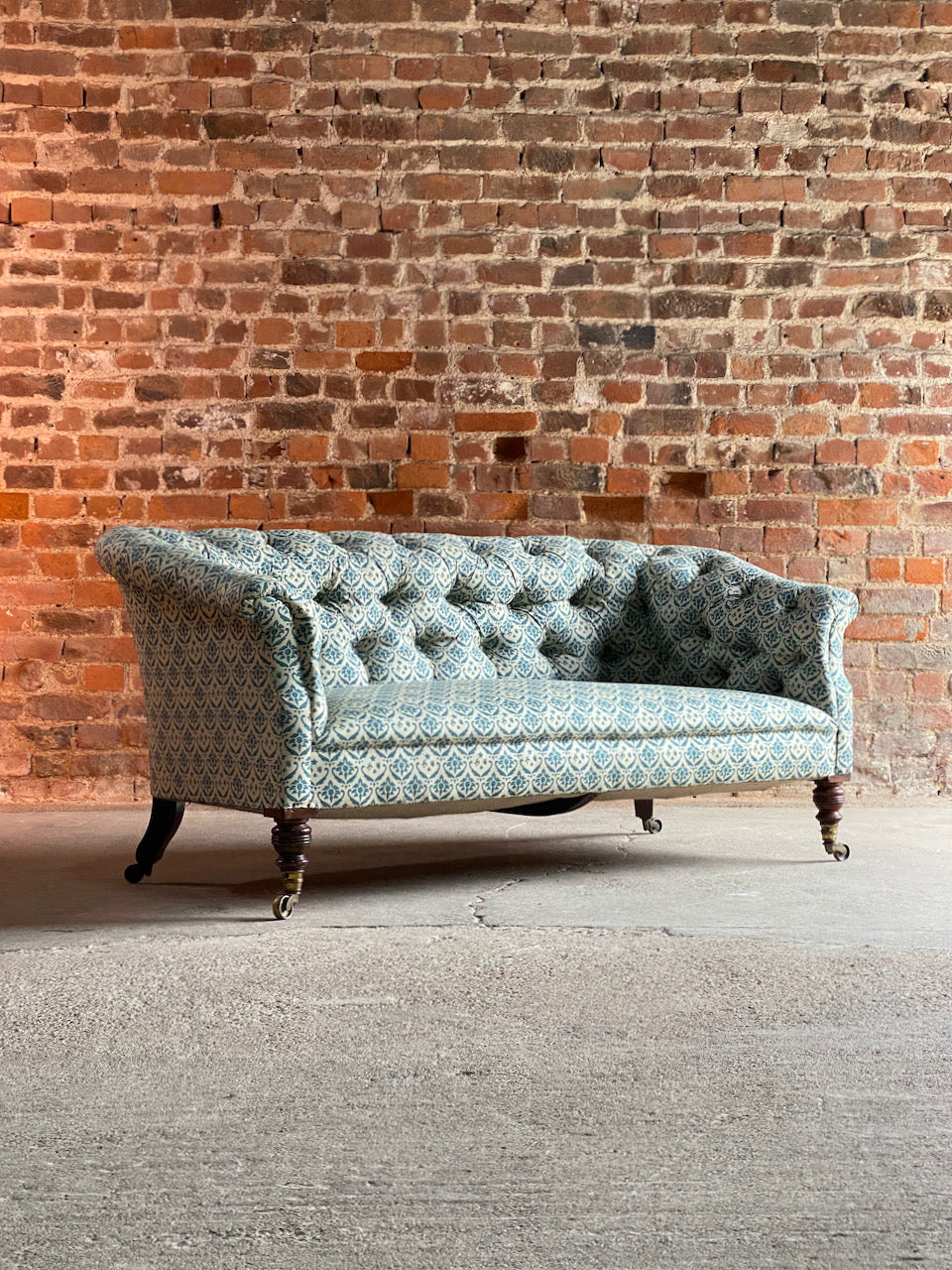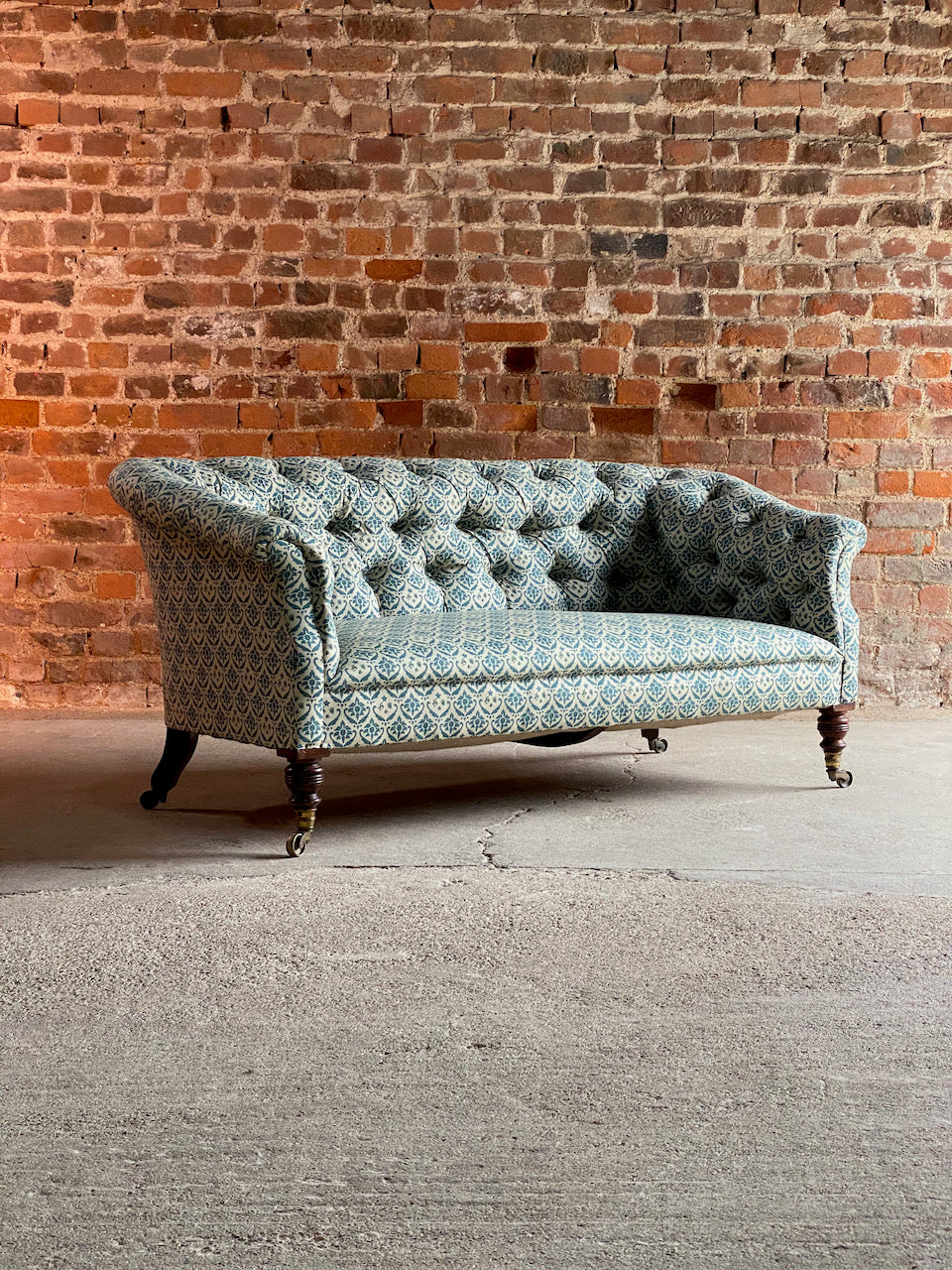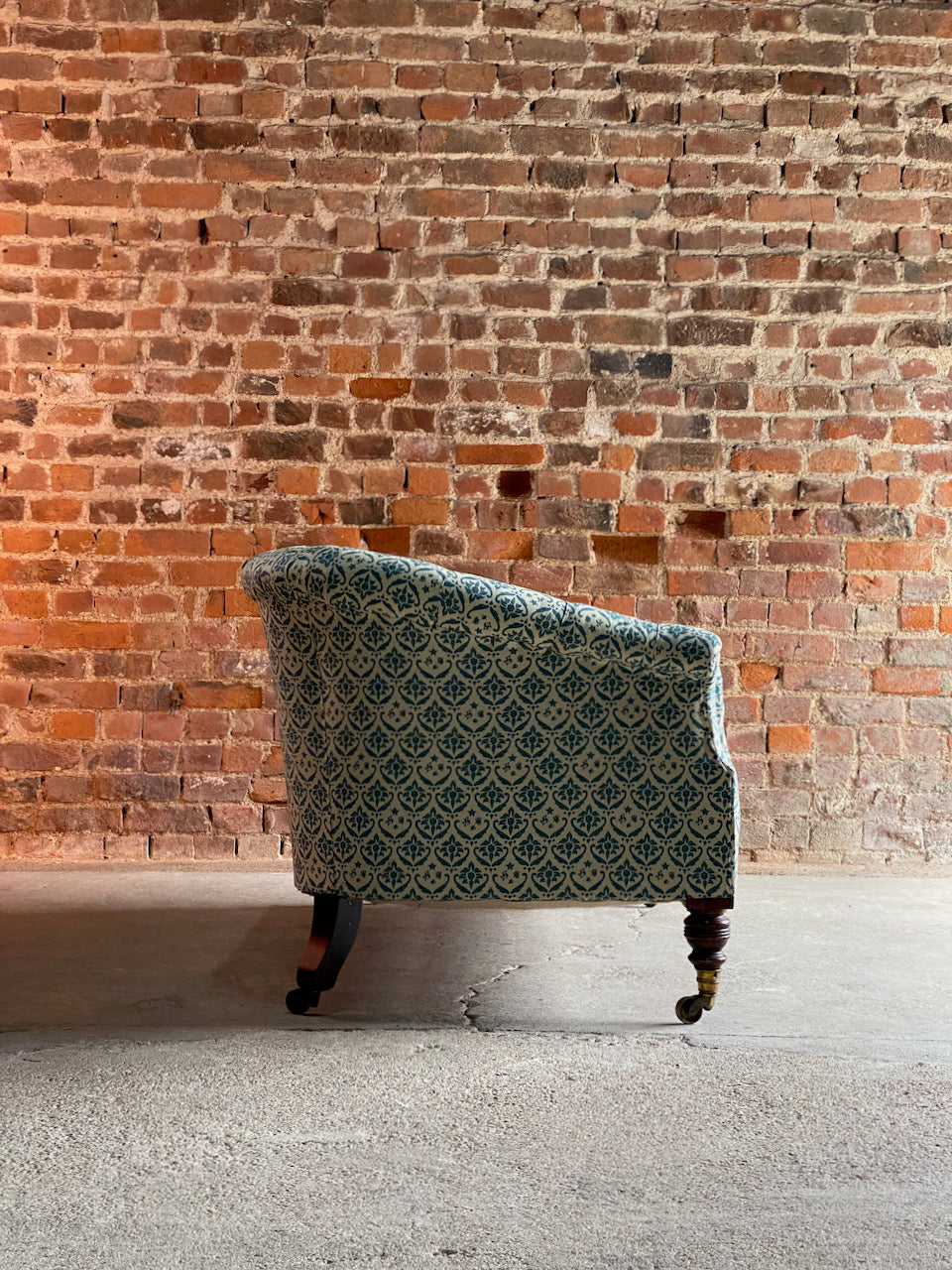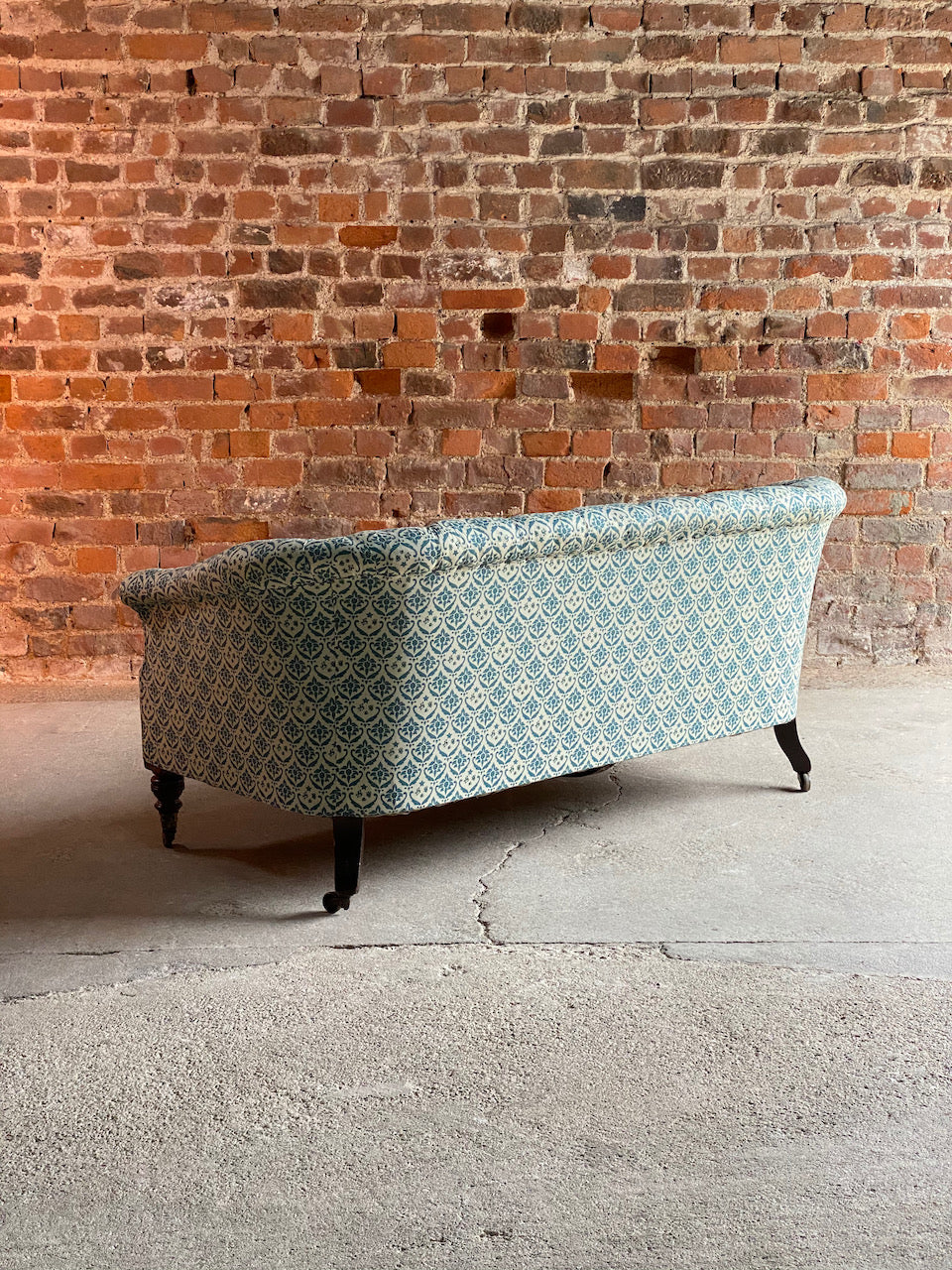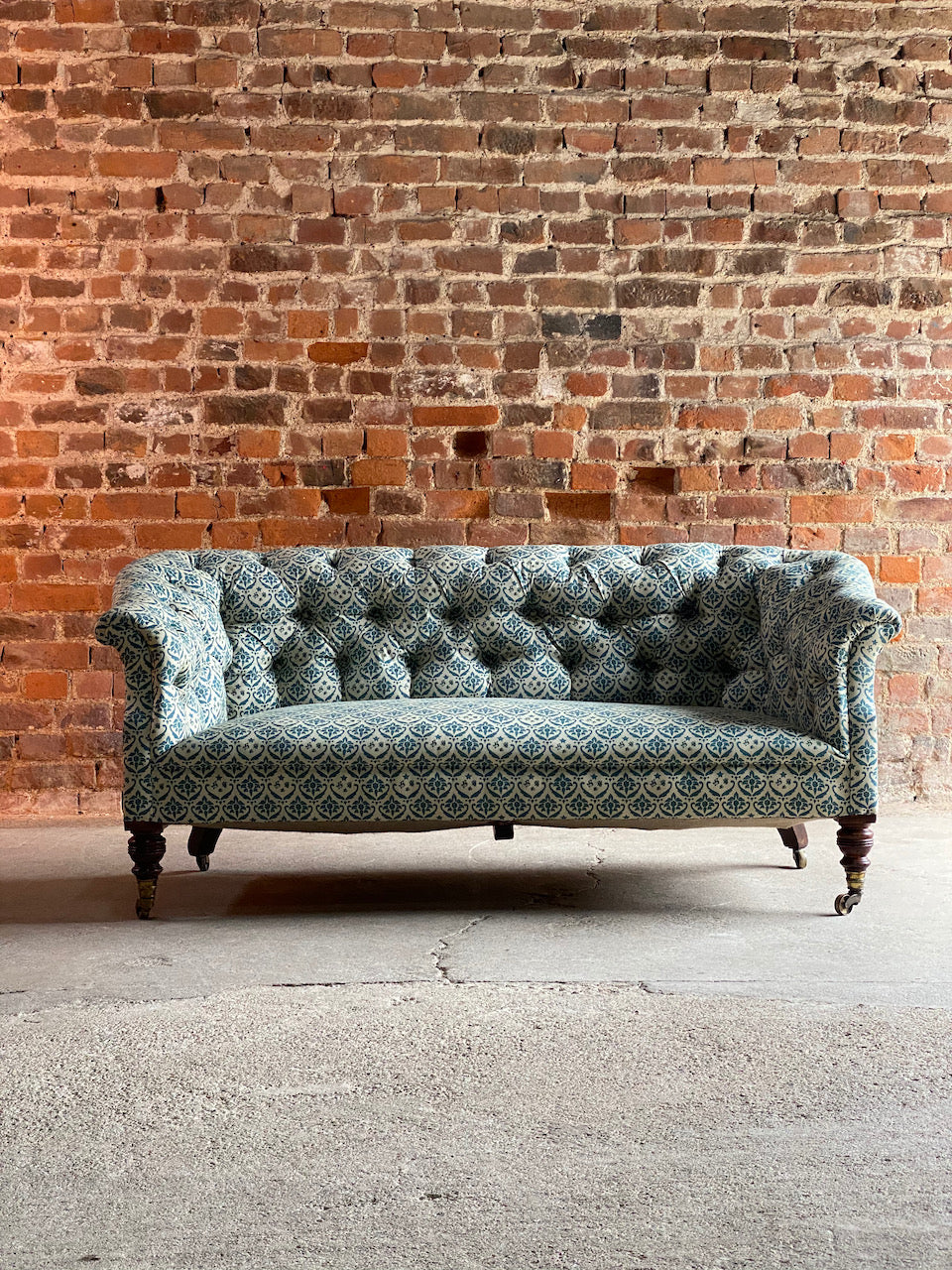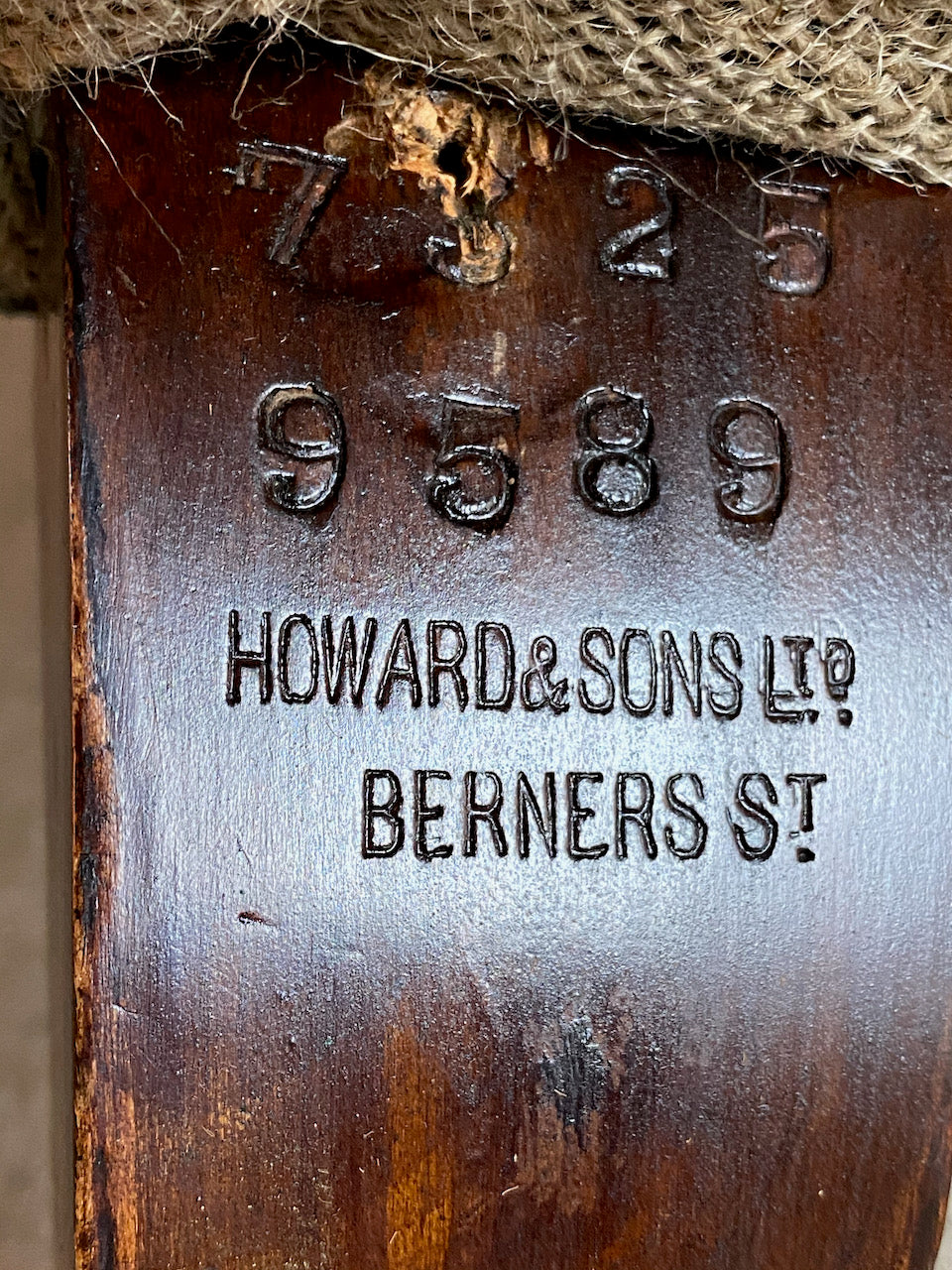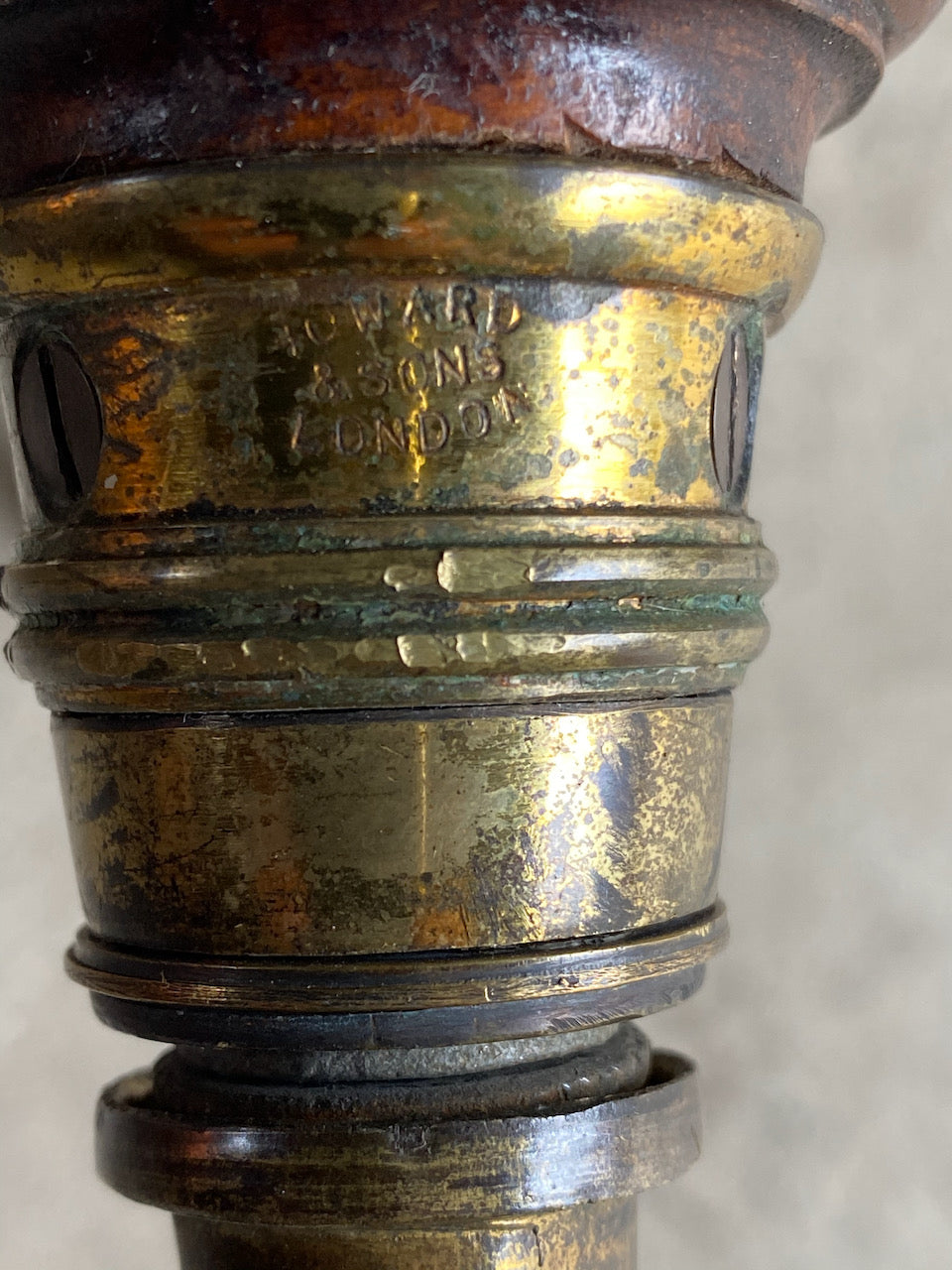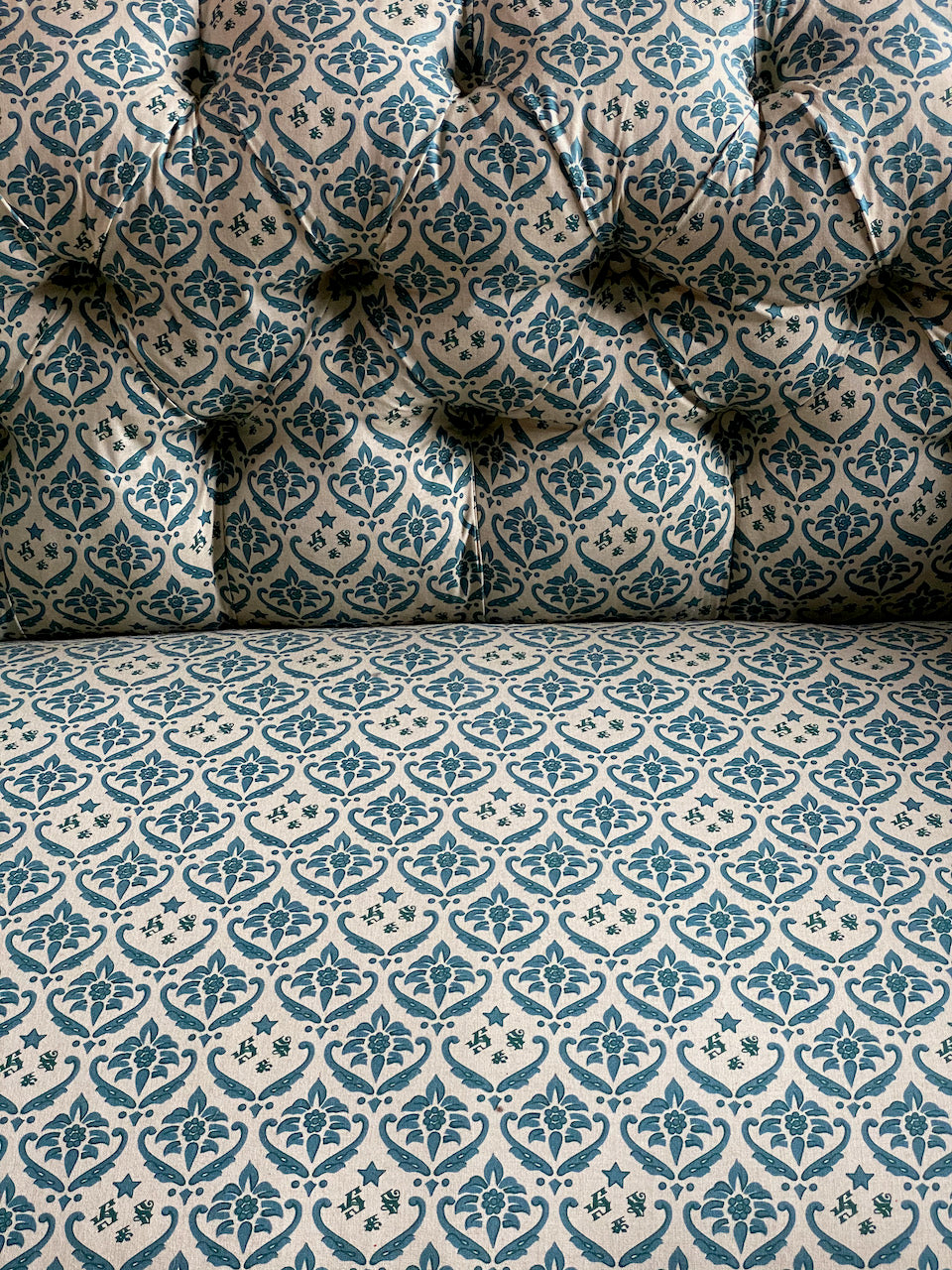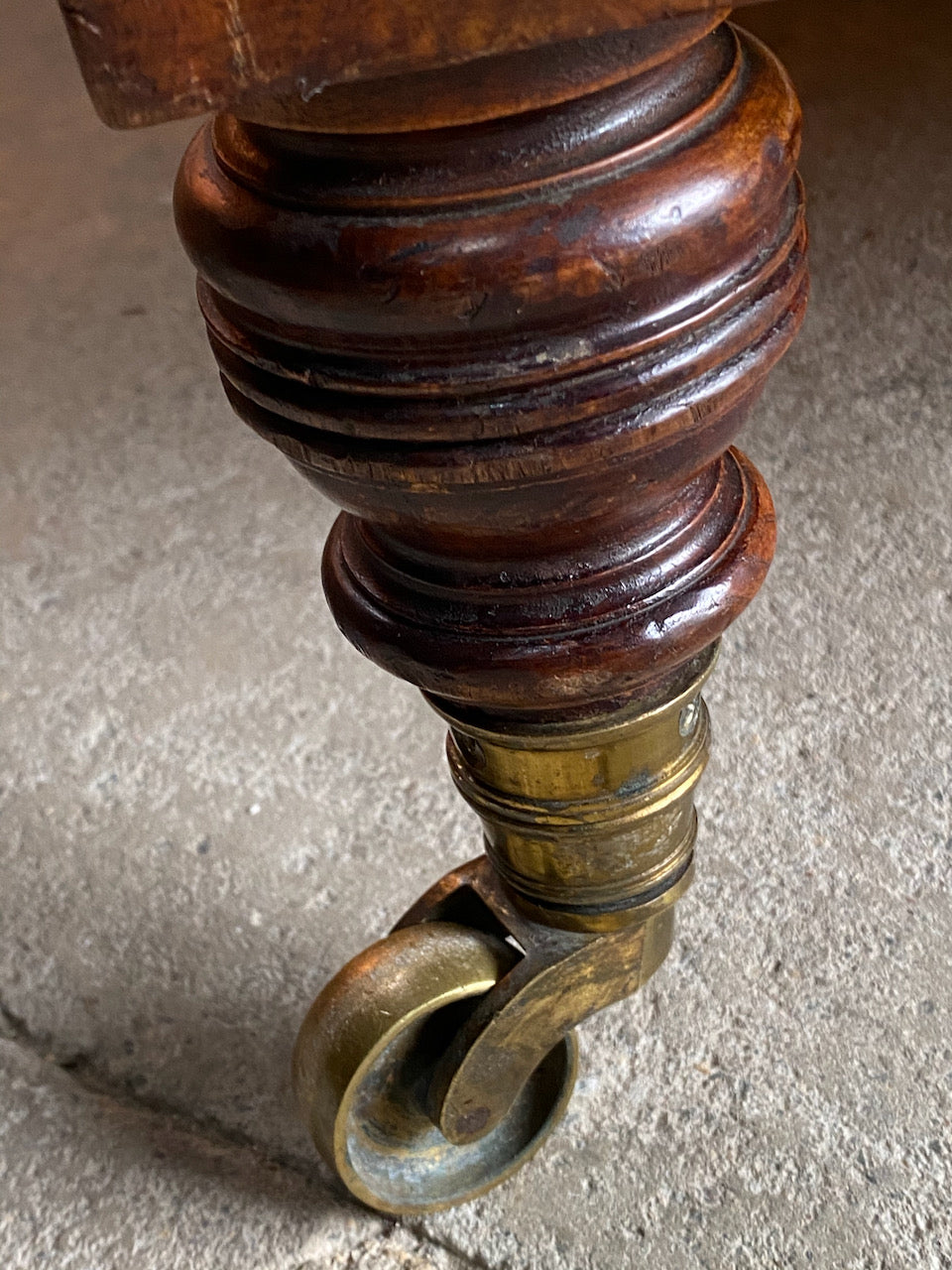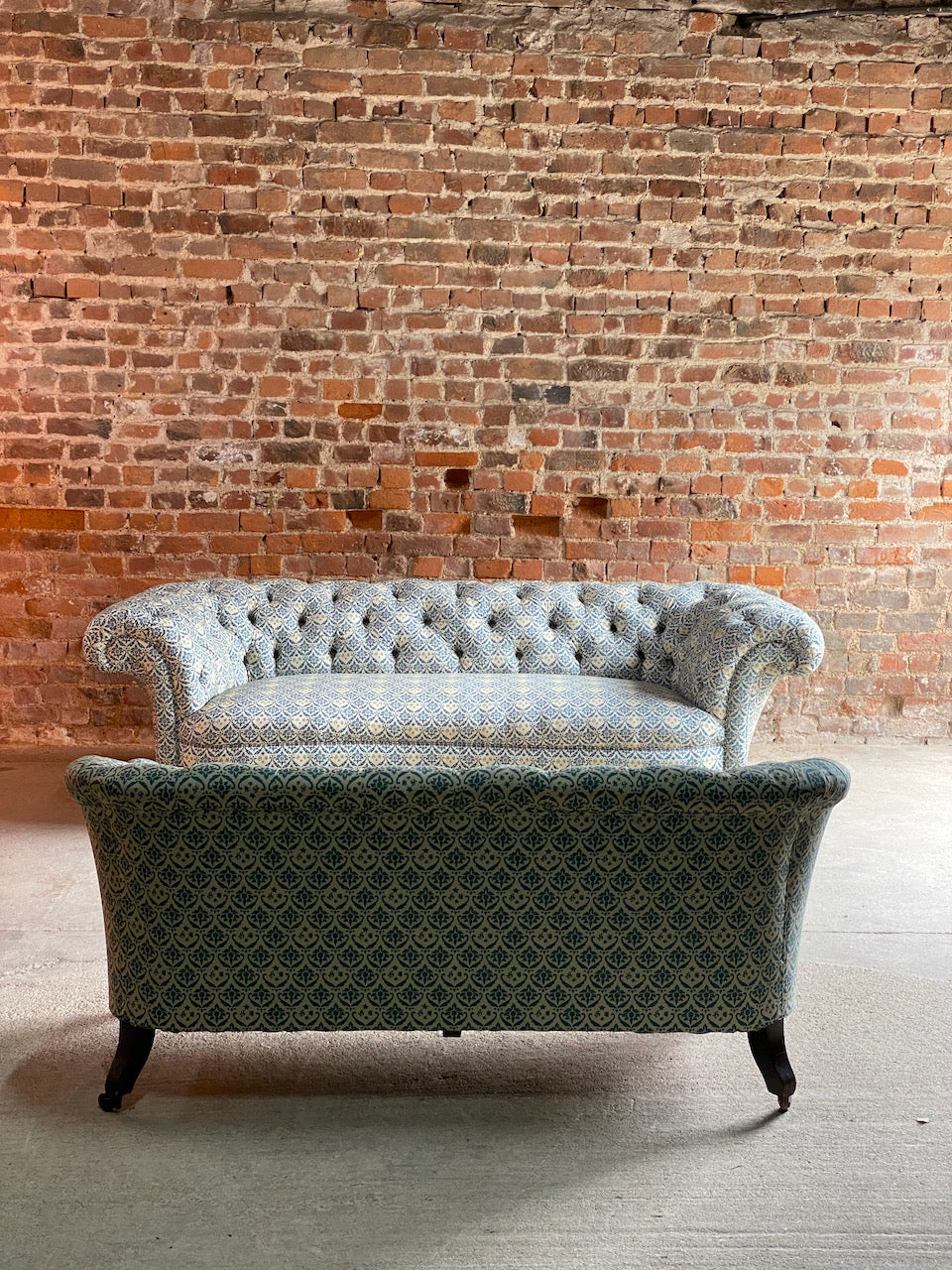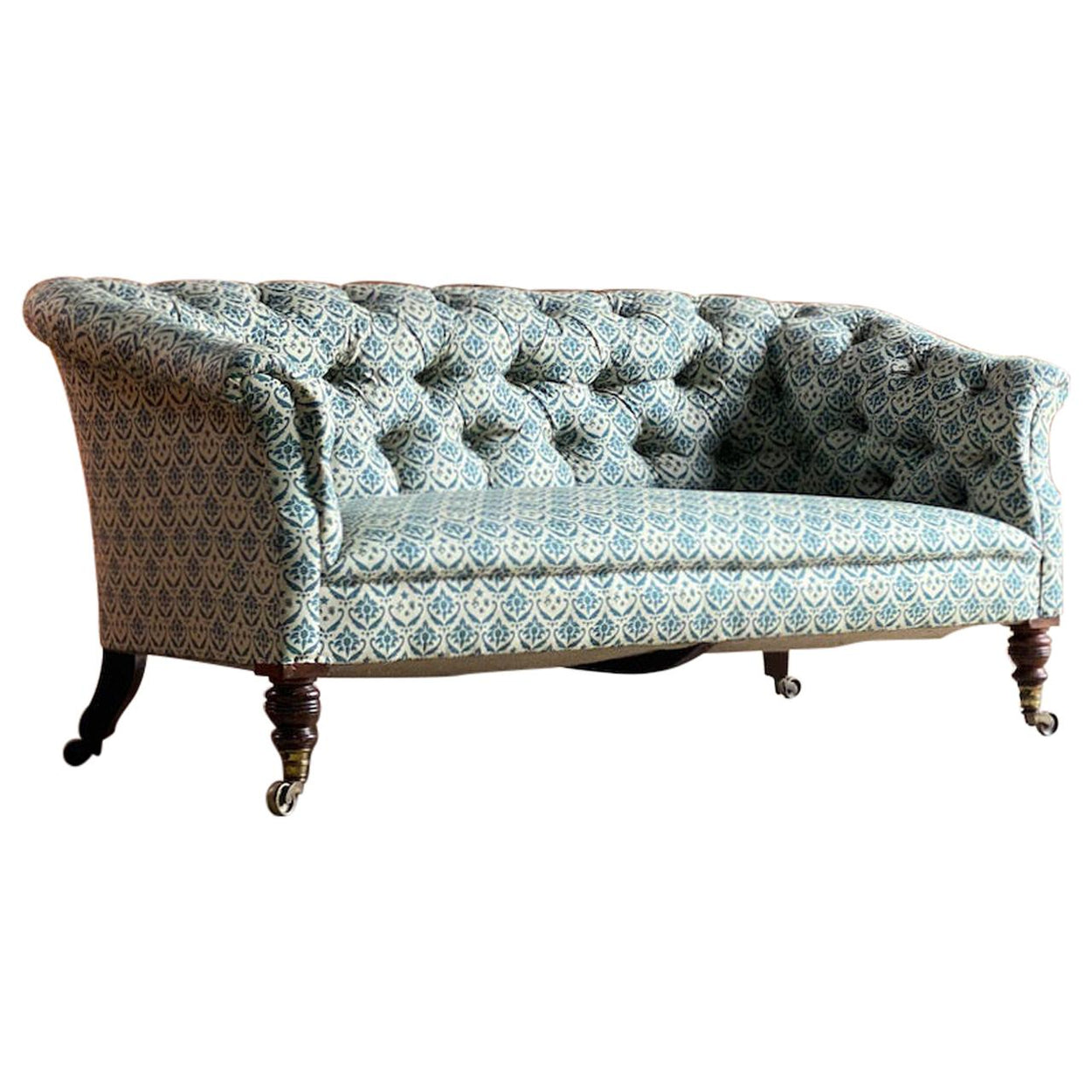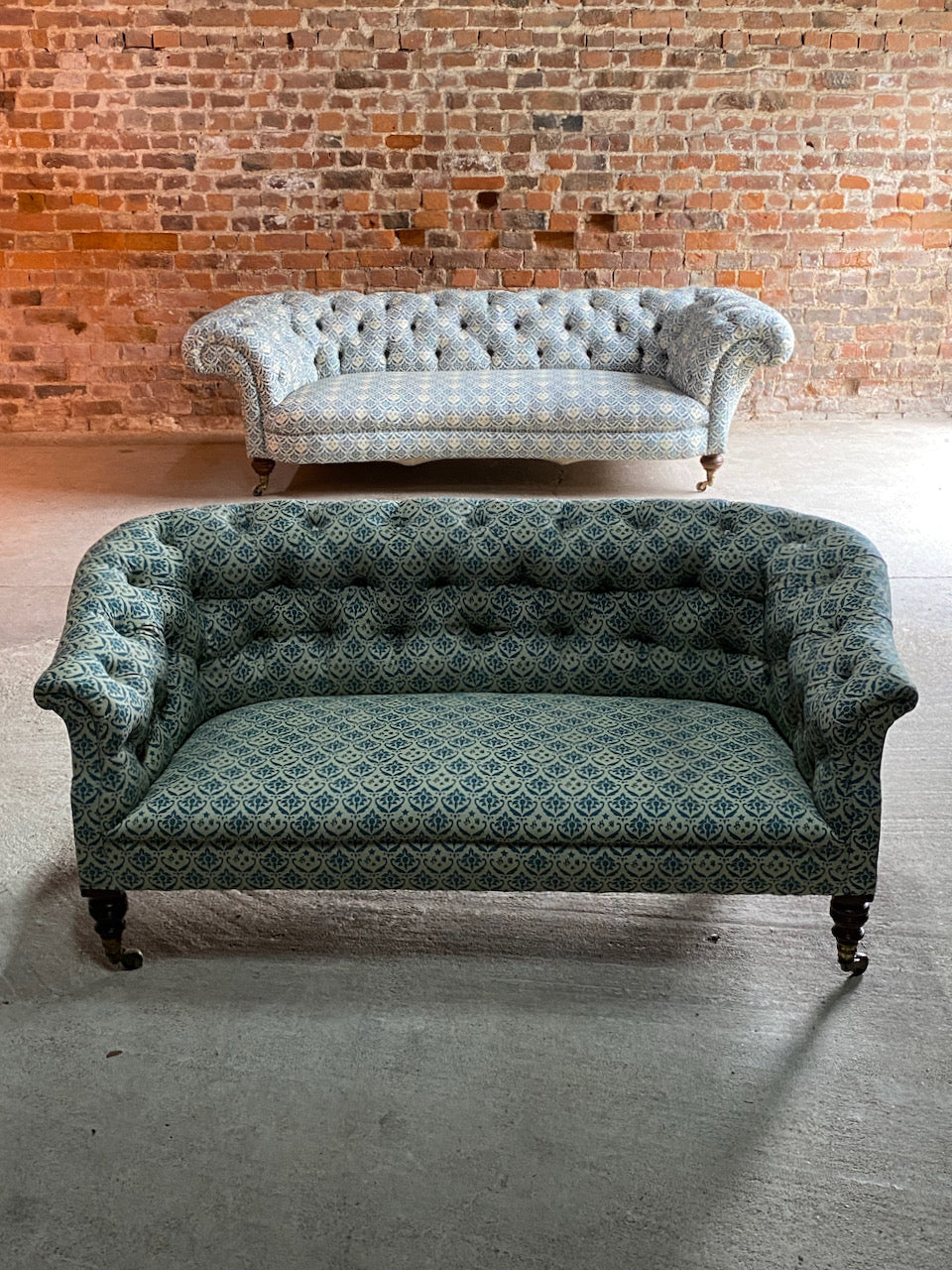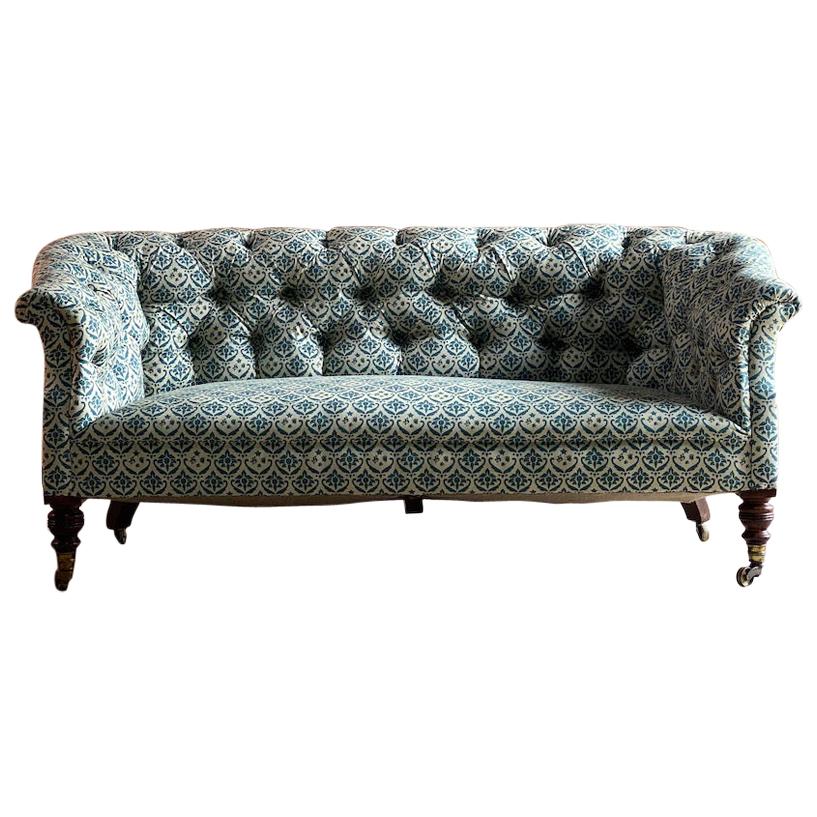 Howard & Sons Chesterfield Sofa 19th Century Circa1850 No: 2
SOLD

Howard & Sons Chesterfield Sofa 19th Century Circa1850 No: 2

Magnificent early 19th century Howard & Sons Chesterfield Button Back Settee England circa 1850,  superb petit and elegant country house sofa, the tufted seat back with bolstered seat having been newly and professionally reupholstered to the highest standard in the traditional manner with horsehair stuffing throughout and covered in original Howard & Sons initialled calico covering with blue ticking, the sofa raised on turned mahogany legs to the front and splayed legs to the rear sitting on brass  cup and castors (the cups to the casters stamped Howard & Sons, this early version preceded the stamp on the actual casters), the back leg stamped with the model number 7325 9589 Howard & Sons Ltd, Berners St, an elegant and extremely comfortable sofa, ideal for big city bijou living, reserve now.

Background: Howard and Sons

In 1820 John Howard started trading at 24 Lemon St, London, as a 'Cabinet Manufacturer'. He was to stay there for nine years until he moved premises to 27 Great Alie St. and then later in 1832 he was to move the small distance to 34 Great Alie St where he would stay and open an upholstery workshop/showroom at 36 Red lion St until 1845 (the Red Lion premises were only used for one year).

It wasn't until 1848 after a short period of non-trading that the company was to take on part of the address more familiar with the company. In 1848 John Howard and Sons started trading at 22 Berners St as 'Cabinet Maker, Upholsterer and Decorator'.
In 1853 John Howard expanded the business into 26 Berners St.

From 1861-89 and 1865-68 there were workshops at Tottenham St, Charlotte Mews and Fitzroy Sq respectively. After Crystal Palace 1862 saw the first big break for the company when they won a prize at only the second Exhibition they attended, the prize was for suite of library furniture.

In1865 the young George Howard patented a method for veneering walls with a wooden veneer, instead of wall paper or paint, This was to evolve into flooring which prompted George to take out a patent in 1867 on the improved production of parquet flooring. From 1865 Howard and Sons were listed as 'Upholsterers, Cabinet Makers and Parquet Flooring Manufacturers by Steam Power'. A further four patents were subsequently taken out on the manufacture and fixing of parquetry to floors and ceilings in November 1879, July 1880 and July and December 1883.

In 1866 George Howard Patented something that would secure his family's company a place in history, he patented the 'Elastic Seat'. His patent totally re-designed the inside workings of traditional upholstery, creating the superior seat, is what they are now widely known only for.

1872 saw the company's most significant move when they settled at the address 25, 26 and 27 Berners St, this was only after they consolidated their workshops in 1869 to the Cleveland Works in Cleveland St. These addresses were to remain unchanged until 1935. Howard and sons were to exhibit and win prizes from this address at the 1878 International Exhibition, the 1894 Antwerp Exhibition and win 1 silver and 2 gold medals at the 1900 Paris Exhibition.

Howard and Sons became a limited company in 1899, and advertised in 1920 as manufacturers of 'Parquet Floors by Electric Power', and were awarded a royal warrant

In 1935 Howard and Sons traded from 31 Old Burlington St where they produced mainly upholstered furniture and then ceased trading in 1947. This was the end of the cabinet making side of the firm under the name 'Howard', as after seven years of silence in 1954 the well established house decorators Lenygon and Morant Ltd advertised as being 'Makers of Howard Chairs and Sofas' from their address at 48 South Audley St, this lasted until 1959 when the name was once again silent. Chairs that follow George Howard's patent are today available at 30 Lyme St from 'Howard Chairs Ltd'.

Howard and Sons would make identification easier by marking their work. Cabinet work would either have paper labels, stamps on later pieces Ivorine labels. Upholstered furniture would have either a name and/or number stamp on the inside of the back foot, a paper label on the hessian or a name stamp on the castor cup or wheel. The content i.e. address on the stamp varies depending on the date of the piece.

Instant identification however can be determined by their favoured use of a variation of turning on the front legs, generally speaking the more squashed this turning the later the piece, a standard square tapered leg was also used..

Some upholstered pieces retain their initialled calico covering, either this or a floral calico were used on all upholstered pieces and were usually covered using a well fitted loose cover also made by Howard and Sons. Both the initialled and floral covers came in a limited range of colours.

It is believed that Queen Elizabeth II has the largest private collection of Howard & Sons chairs in the world.
Antique
19th Century
Howard & Sons Ltd
Chesterfield Sofa
Original
Date: 1850
Maker: Howard & Sons
Wood: Mahogany
Stamped:7325 9589 Howard & Sons Ltd, Berners St
Caster Cups: Stamped Howard & Sons Ltd
Investment
Practical & Beautiful

Very good condition, no weakness to joints, recently re upholstered.

Width: 58" / 148cm
Depth: 32" / 82cm
Height: 28" / 71cm
Floor to seat:  16" / 40cm

Free delivery is offered to England & Wales only when buyer pays full asking price, next day delivery is not possible due to the size of the piece, please allow between 7-14 days delivery