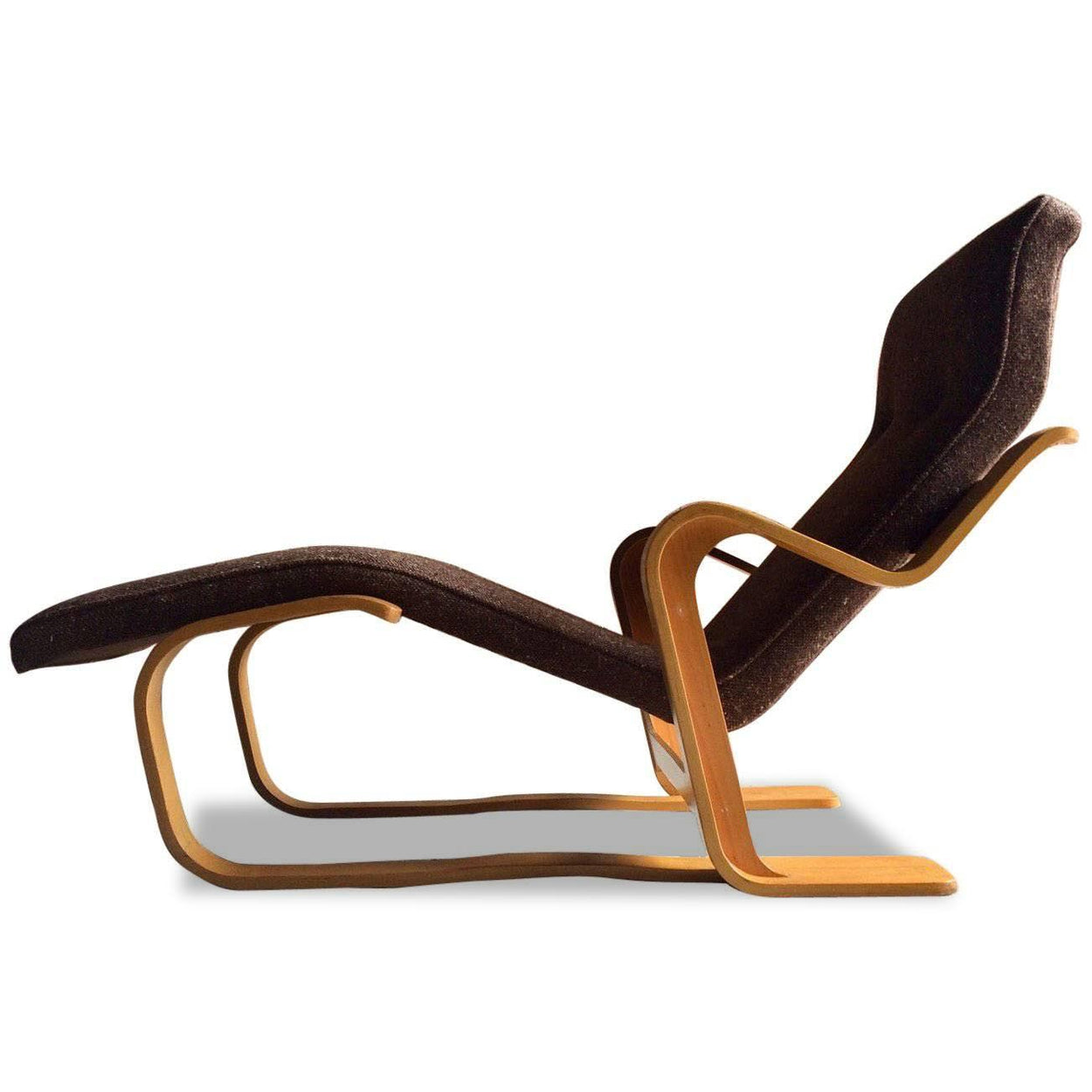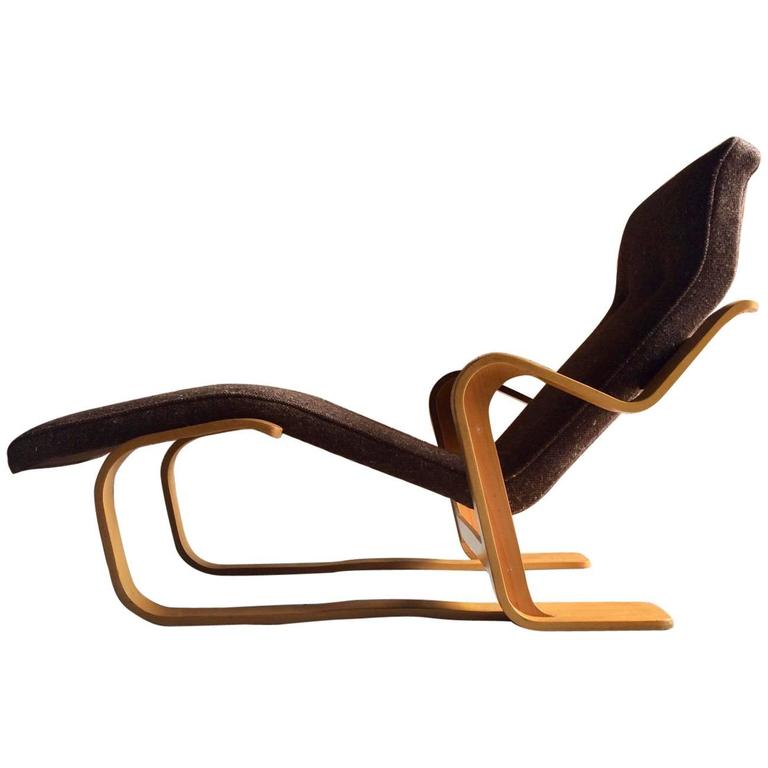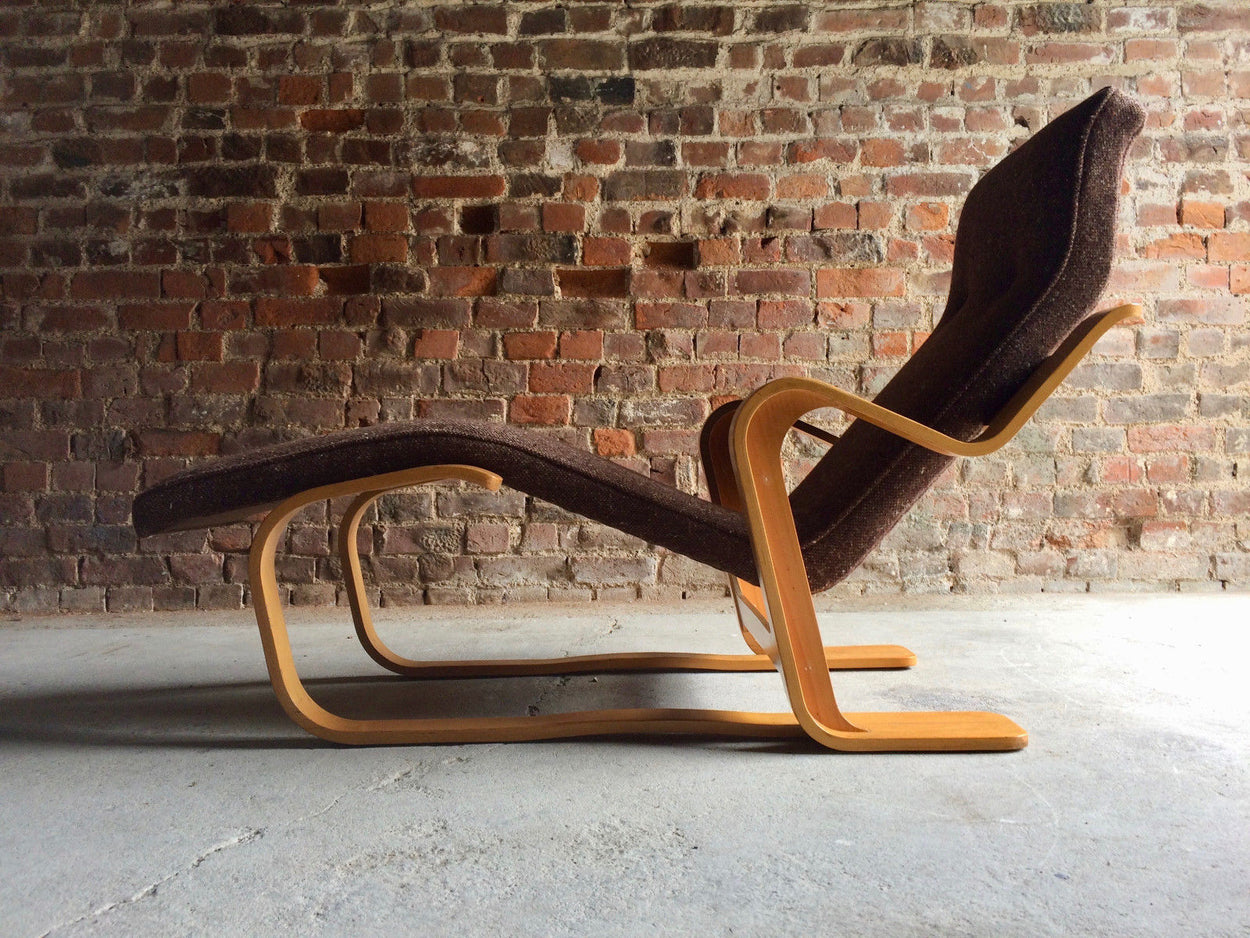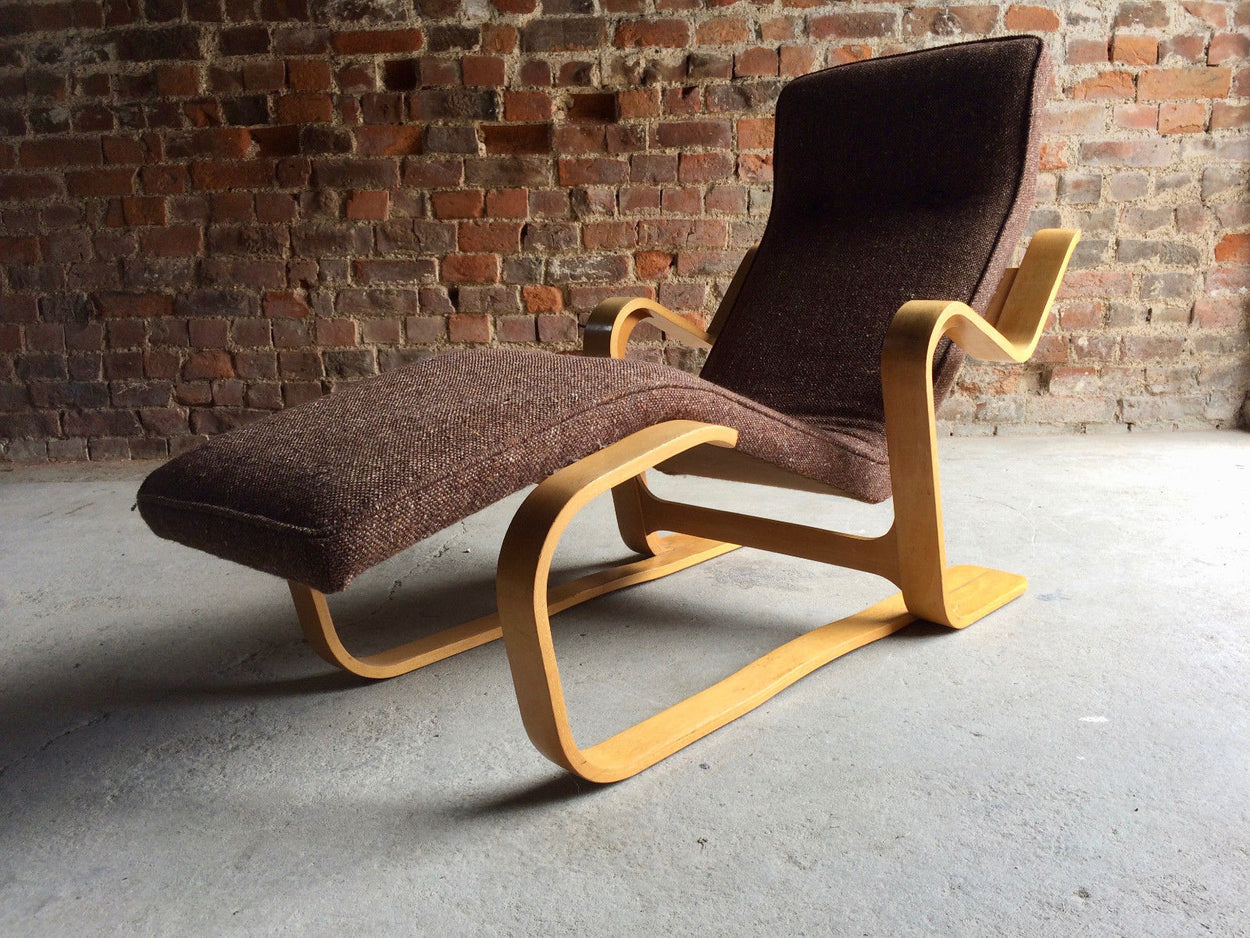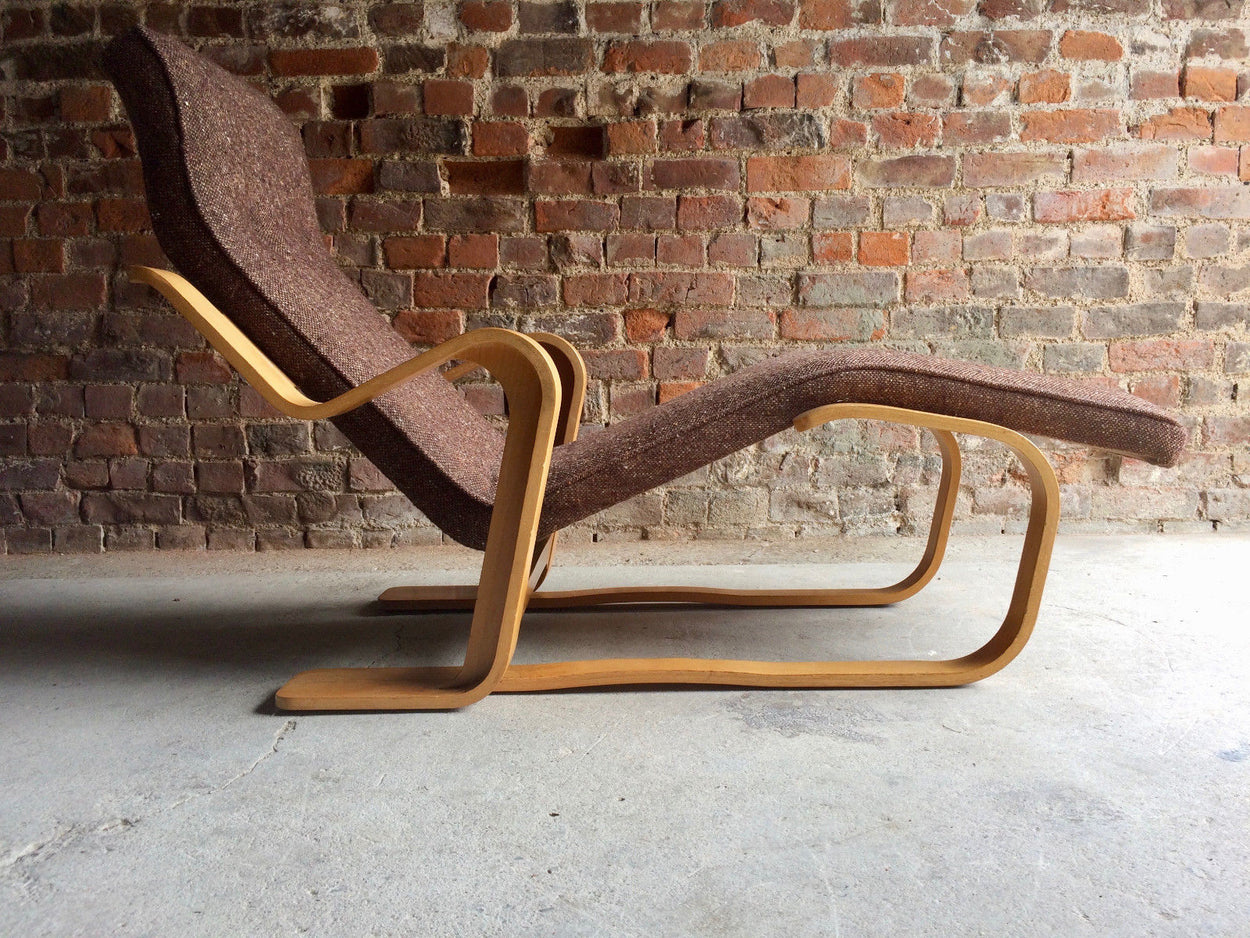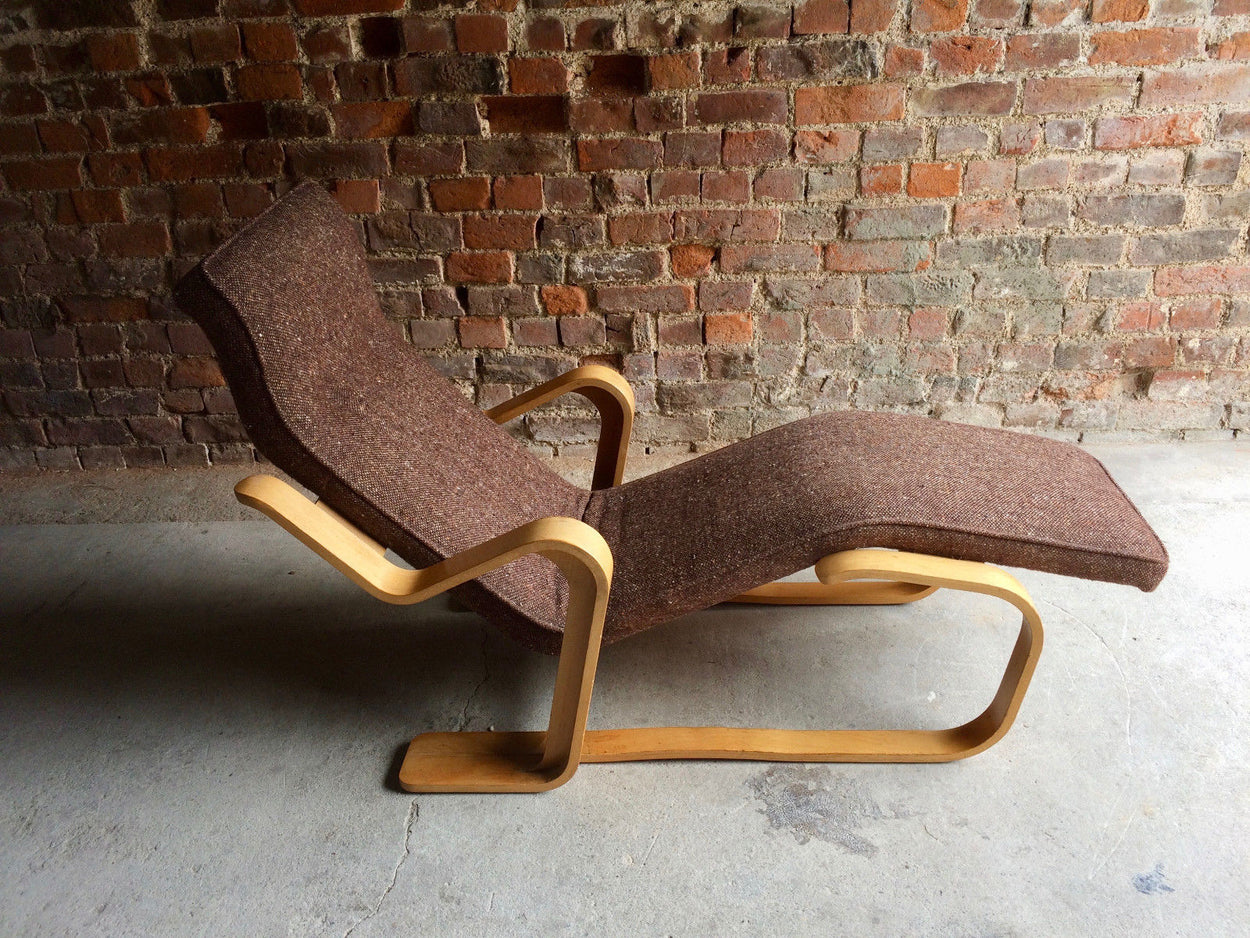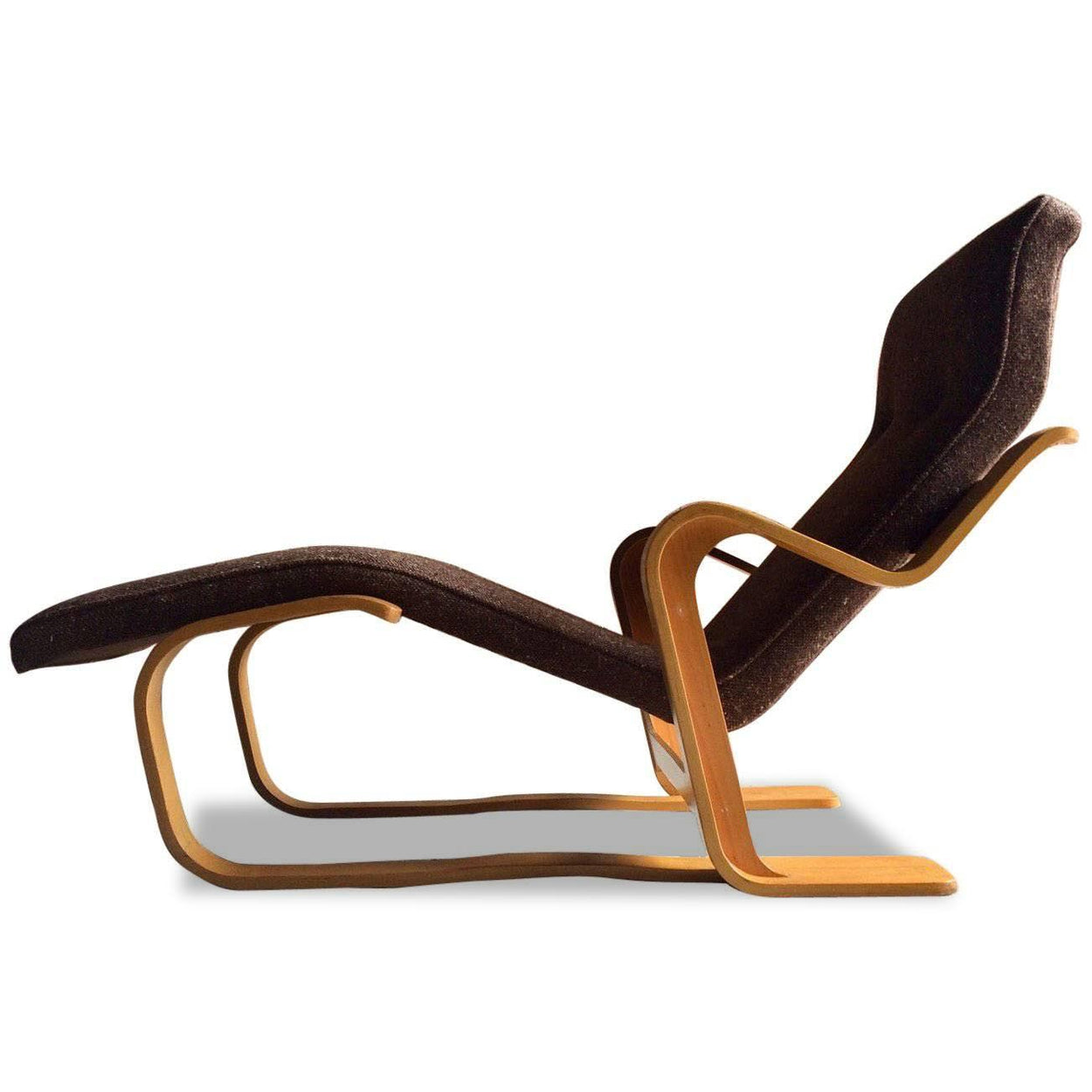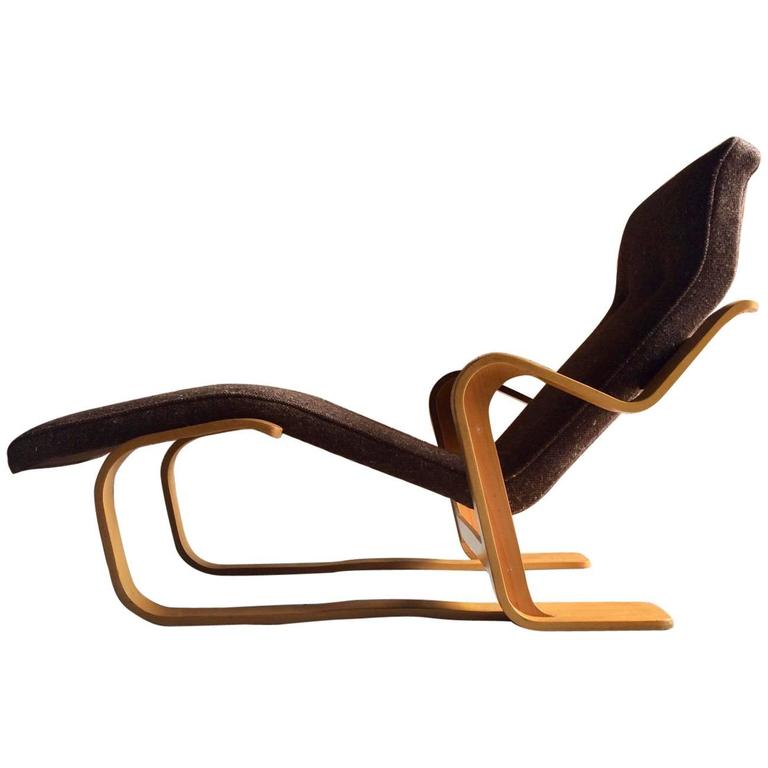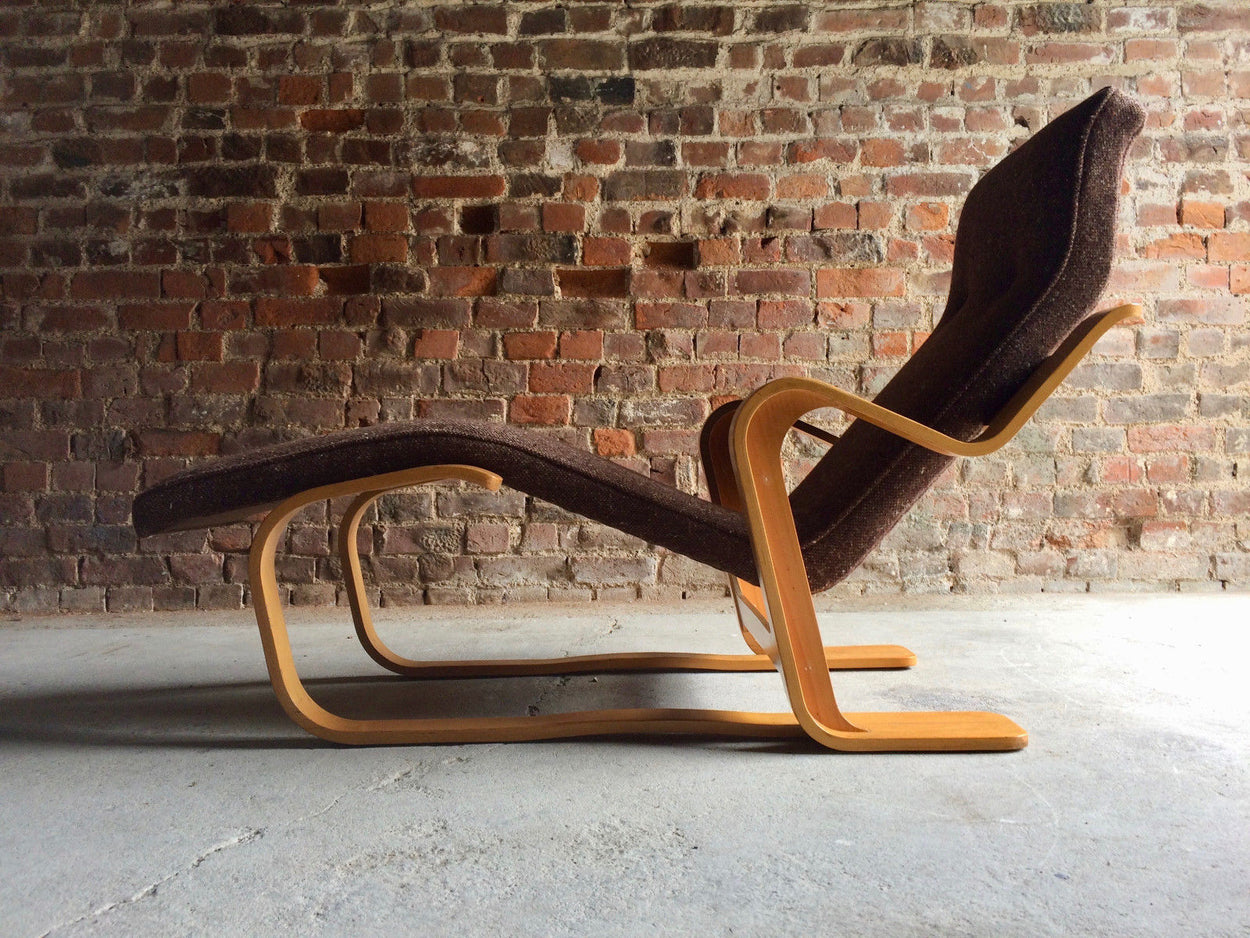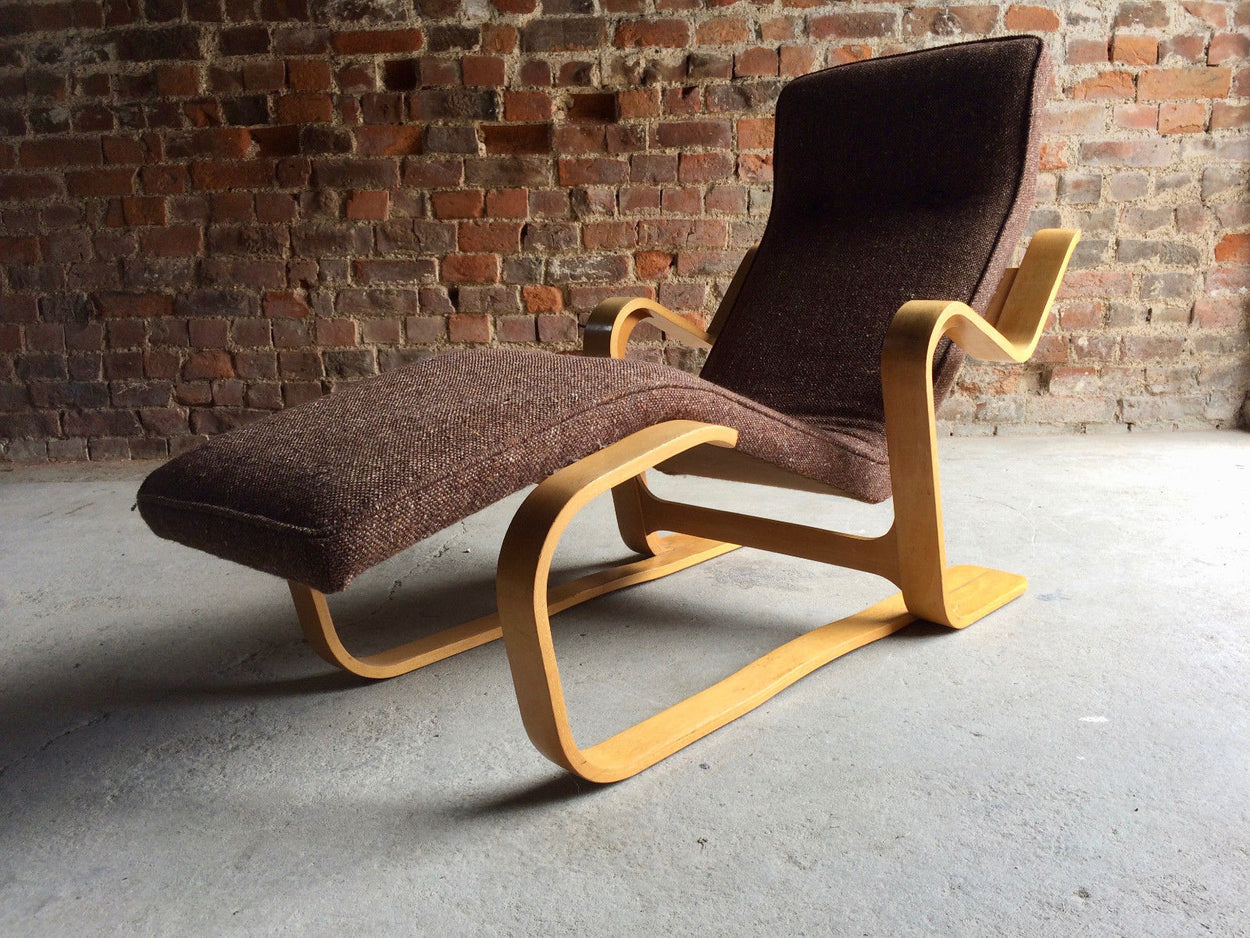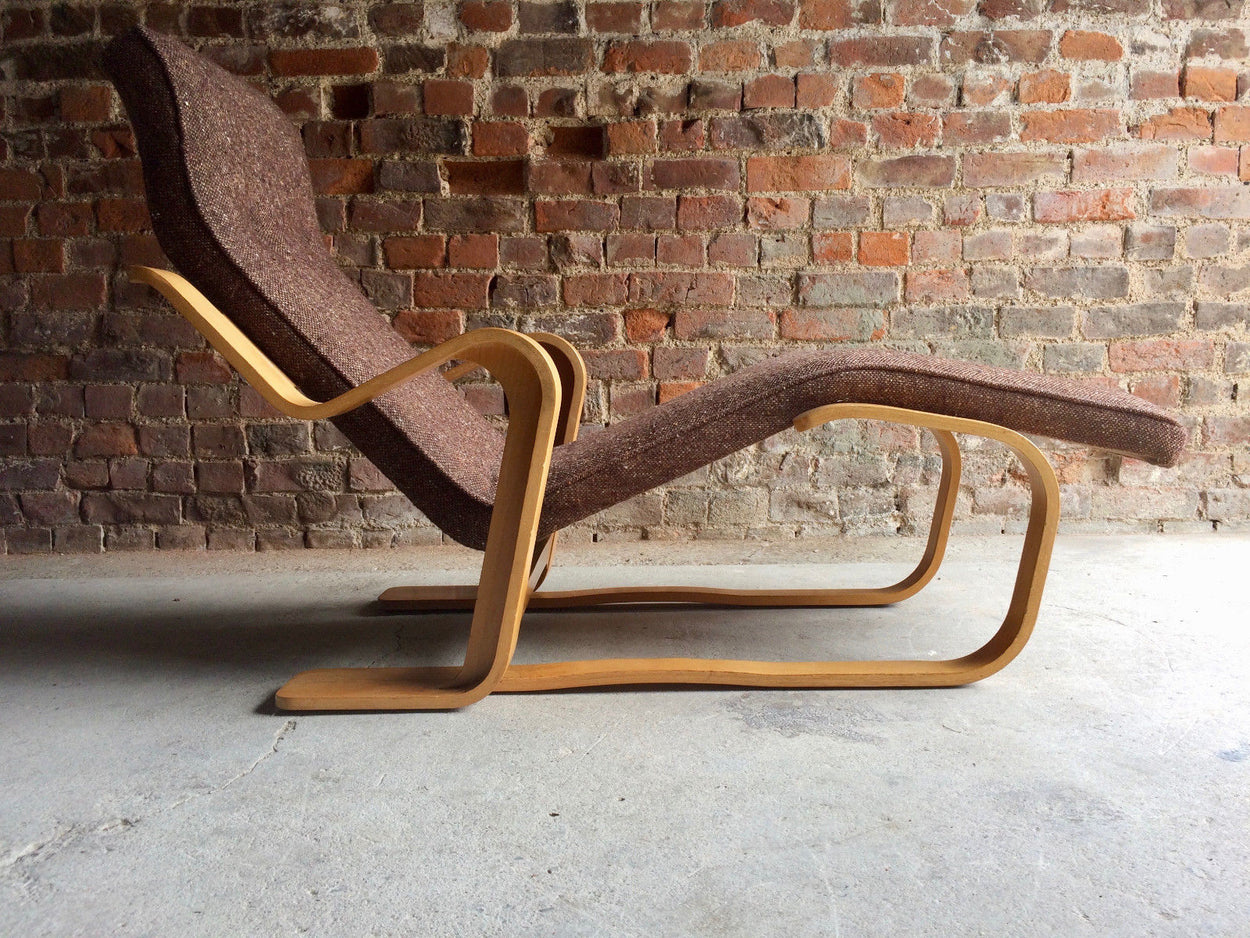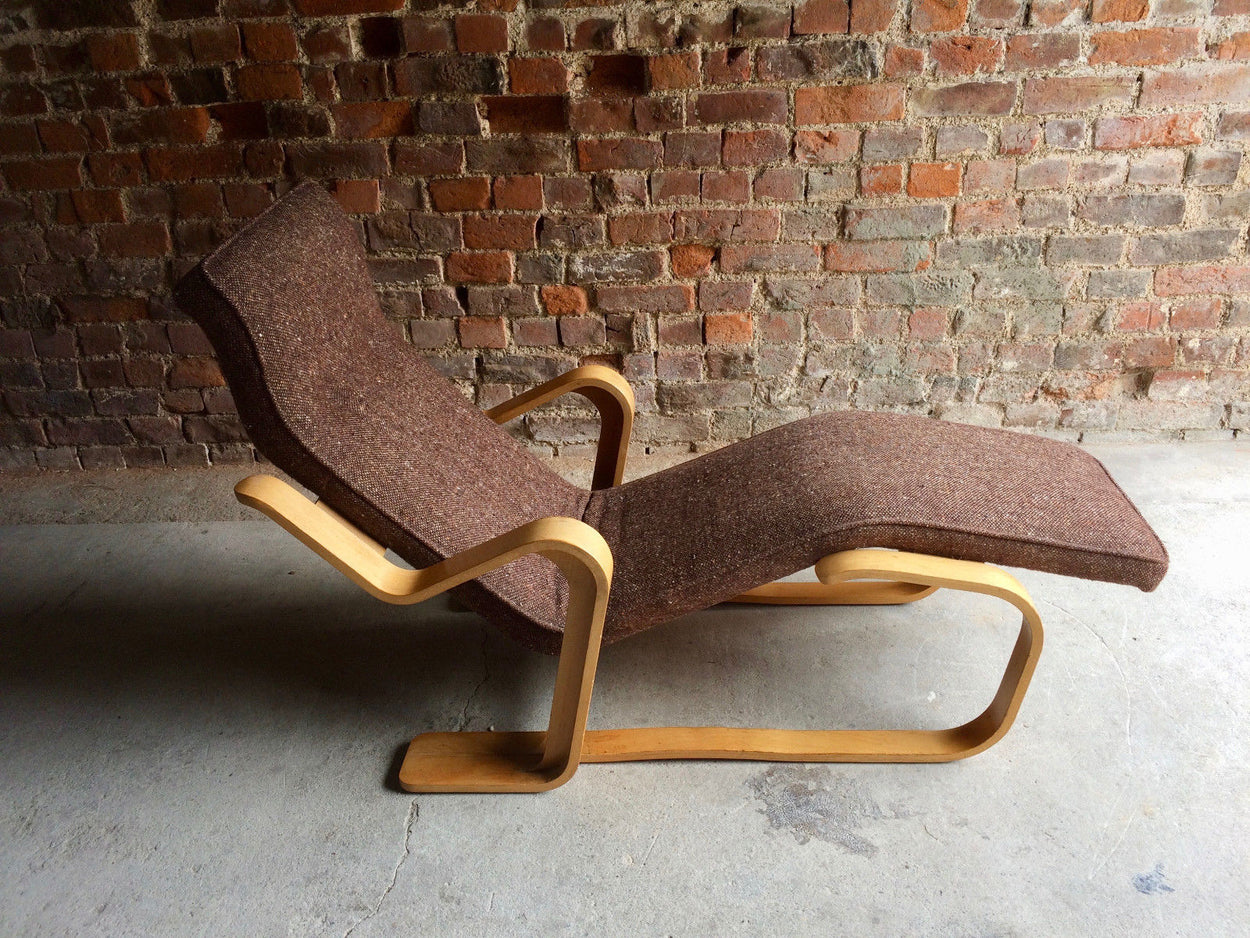 Marcel Breuer Long Chair Chaise Longue Mid Century 1970's Bauhaus
SOLD
MID CENTURY MARCEL BREUER BENT PLY LONG CHAIR CIRCA 1970
A fabulous Marcel Breuer Long Chair (1902-1981) as featured in the Victoria and Albert Museum ((V&A) London, Marcel Breuer has been described as one of the most influential designers of the 20th century. He was an architect and furniture designer, working in both Europe and America. During a brief period in England, Breuer worked on private commissions and as a designer for the furniture manufacturer, Isokon.
The most important achievement of Breuer's two year union with Isokon was the Long Chair in 1936, Initially the seats were sent from Estonia and attached to London-made frames. Isokon would upholster the chair in fabric of the client's choice.
Although the chair's design derives from a Breuer aluminium chair of 1932-33, the use of plywood is influenced by the moulded furniture of Finnish architect Alvar Aalto. The British taste for Modernism favoured the soft curves and warm appearance of wood rather than the harsher aesthetic of metal furniture.
This magnificent example circa 1970's is in excellent original condition and finished in a Brown tweed type fabric, looks amazing!
Statement of significance
The 'Long chair', with its bent frame of laminated birch wood supporting the shaped timber seat and back, was developed soon after Marcel Breuer settled in England in 1935. The chair ranks as one of the highlights of inter-war modernism, its use of moulded plywood anticipating the direction of post-WWII furniture design and manufacture. With its variants, and along with the plywood chairs of the renowned Finnish architect, Alvar Aalto, from the 1930s, the 'Long chair' is one of the earliest examples of 'organic' plywood furniture.
Marcel Breuer (1902-1981) was born in Hungary. He attended the Weimar Bauhaus between 1920 and 1924 and then was the 'Young Master' of its furniture worksop in Dessau from 1925 to 1928. From 1922, Breuer designed innovative wood-slat furniture and from 1925 also metal furniture beginning with his now iconic 'B3' (known as the 'Wassily chair' from the 1960s) , the first modern tubular-steel chair for the domestic interior. From 1929 Breuer also designed cantilevered chairs from bent metal tubing, beginning with 'B32', later known as 'Cesca'. (The firts cantelivered chair was designed by Mart Stam in 1926). The experimental nature of plywood as a new material for furniture making, saw the 'Long chair' undergo several modifications over time for strength and durability. Nonetheless, its gentle contouring and simple, lightweight, elegant form anticipate concerns further elaborated on by prominent post-war designers such as Charles and Ray Eames, George Nelson and Eero Saarinen.
Marcel Breuer left Bauhaus in 1928 and then worked in Berlin, Switzerland and England. He migrated to America in 1937 where he, along with Gropius, attained a celebrated architectural career.
Dimensions:
Height: 32" Inches
Width: 24" Inches
Length: 52" Inches