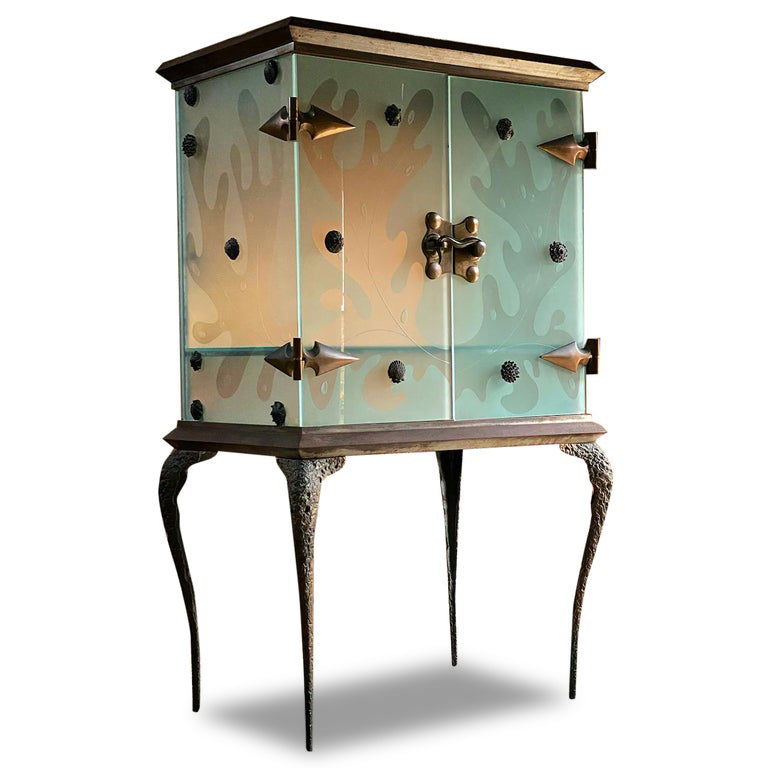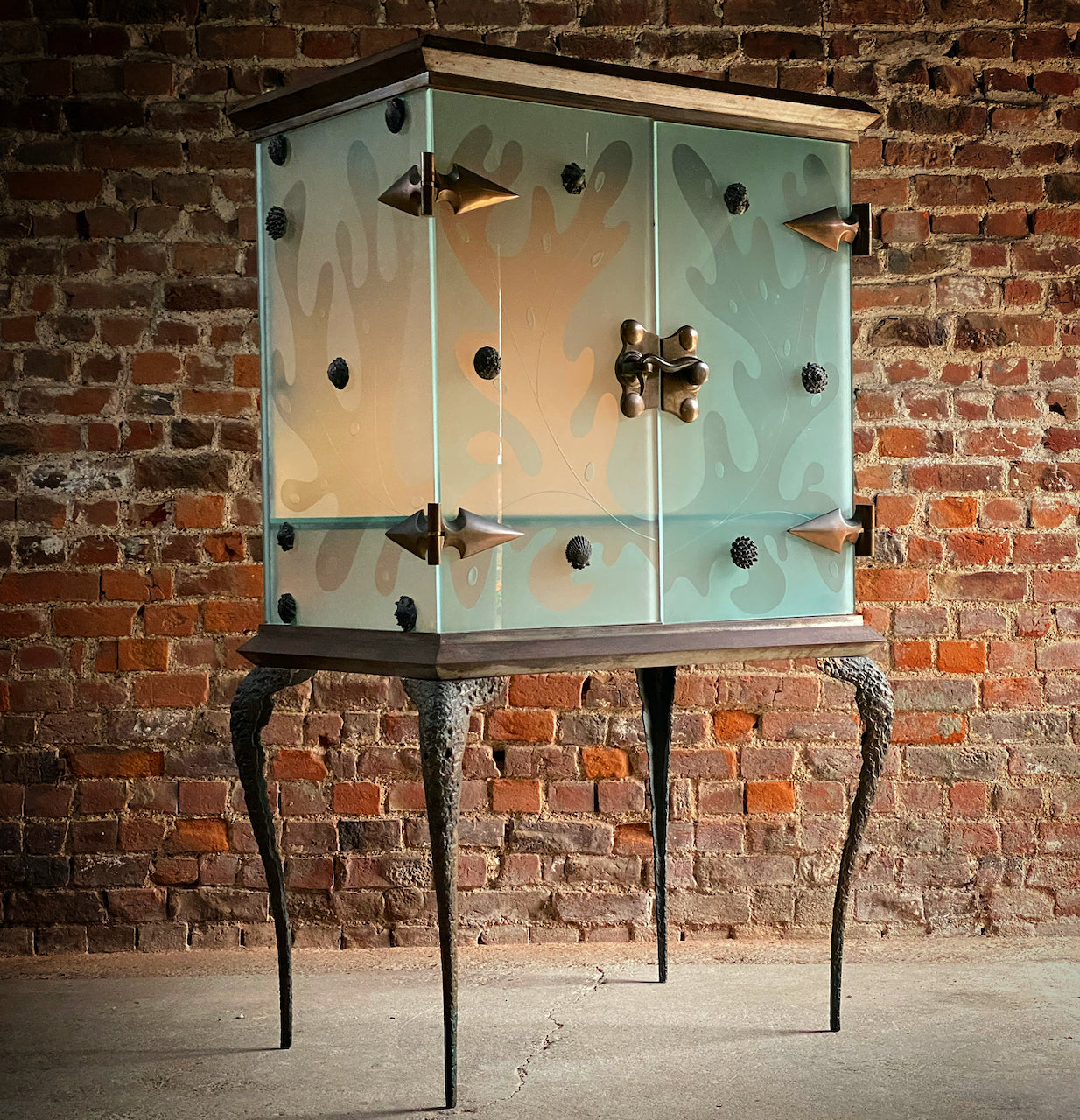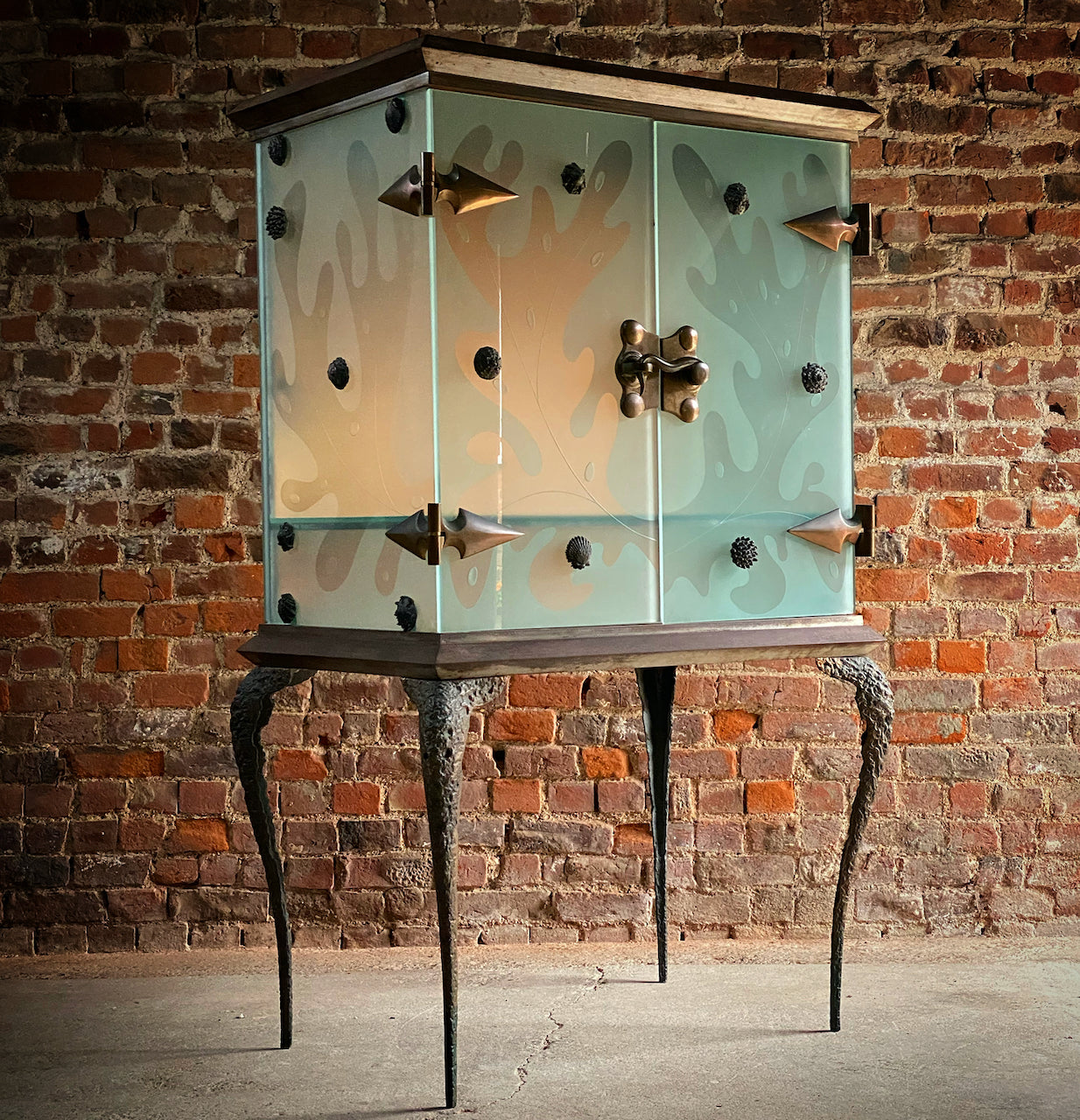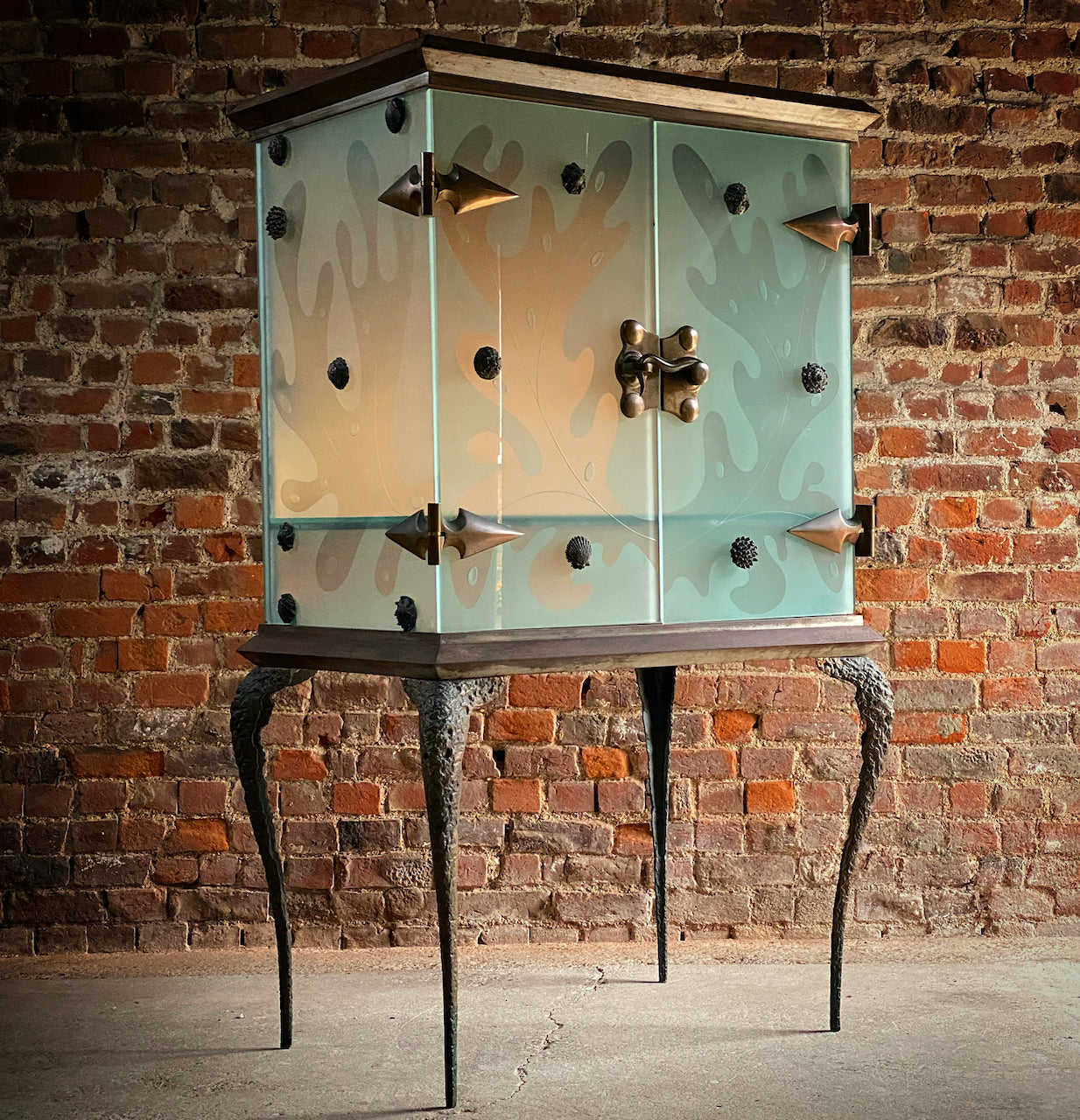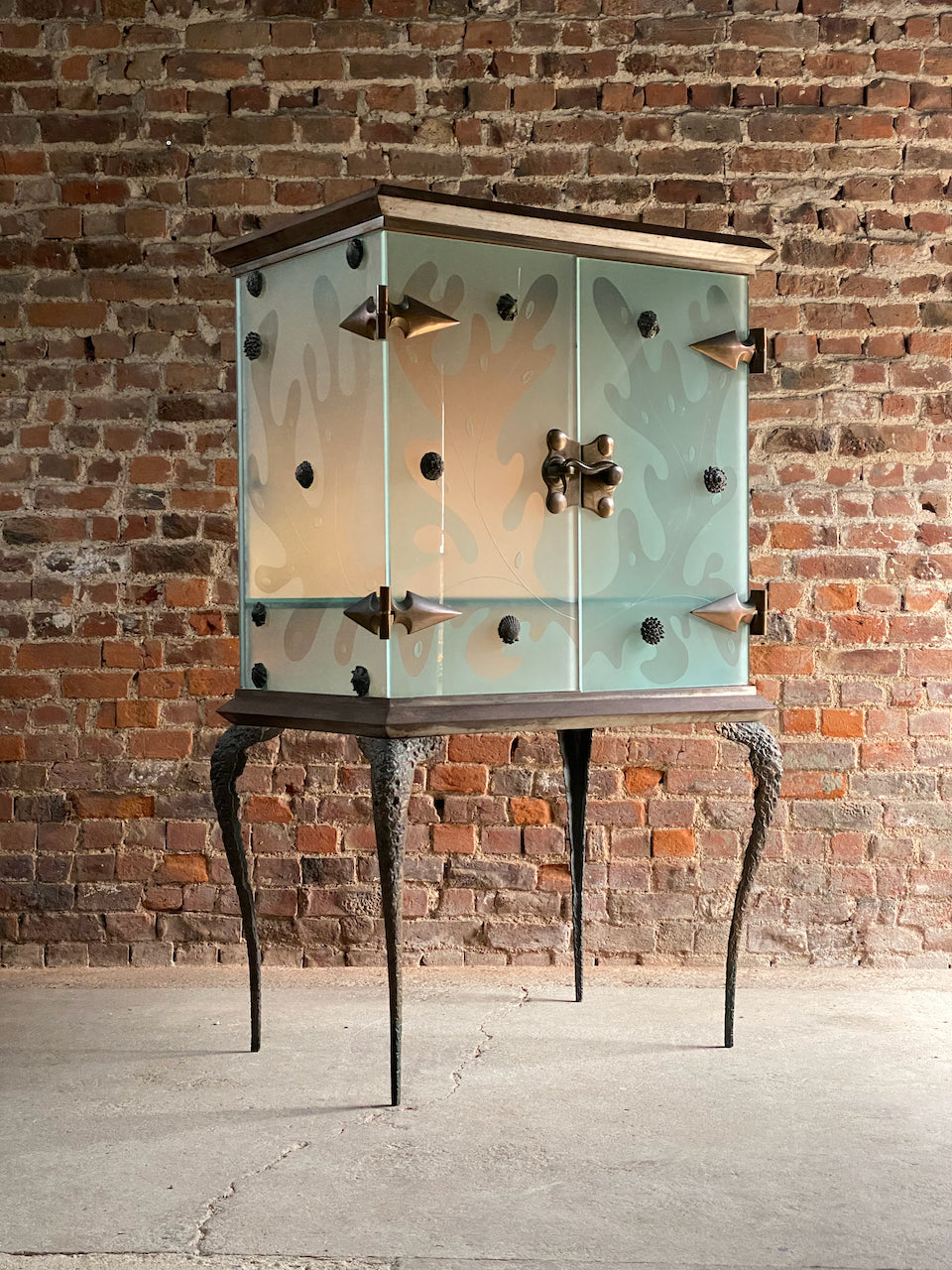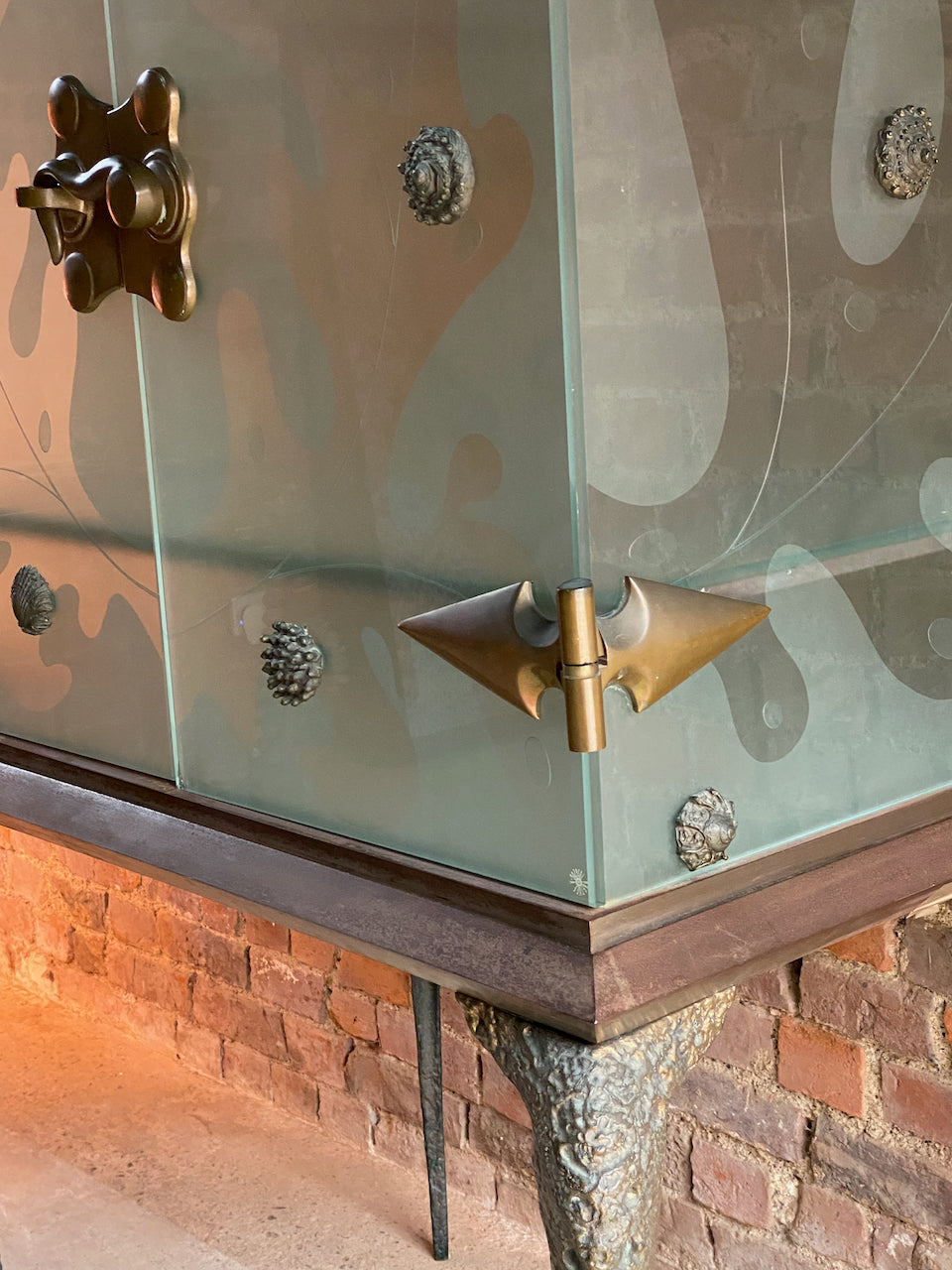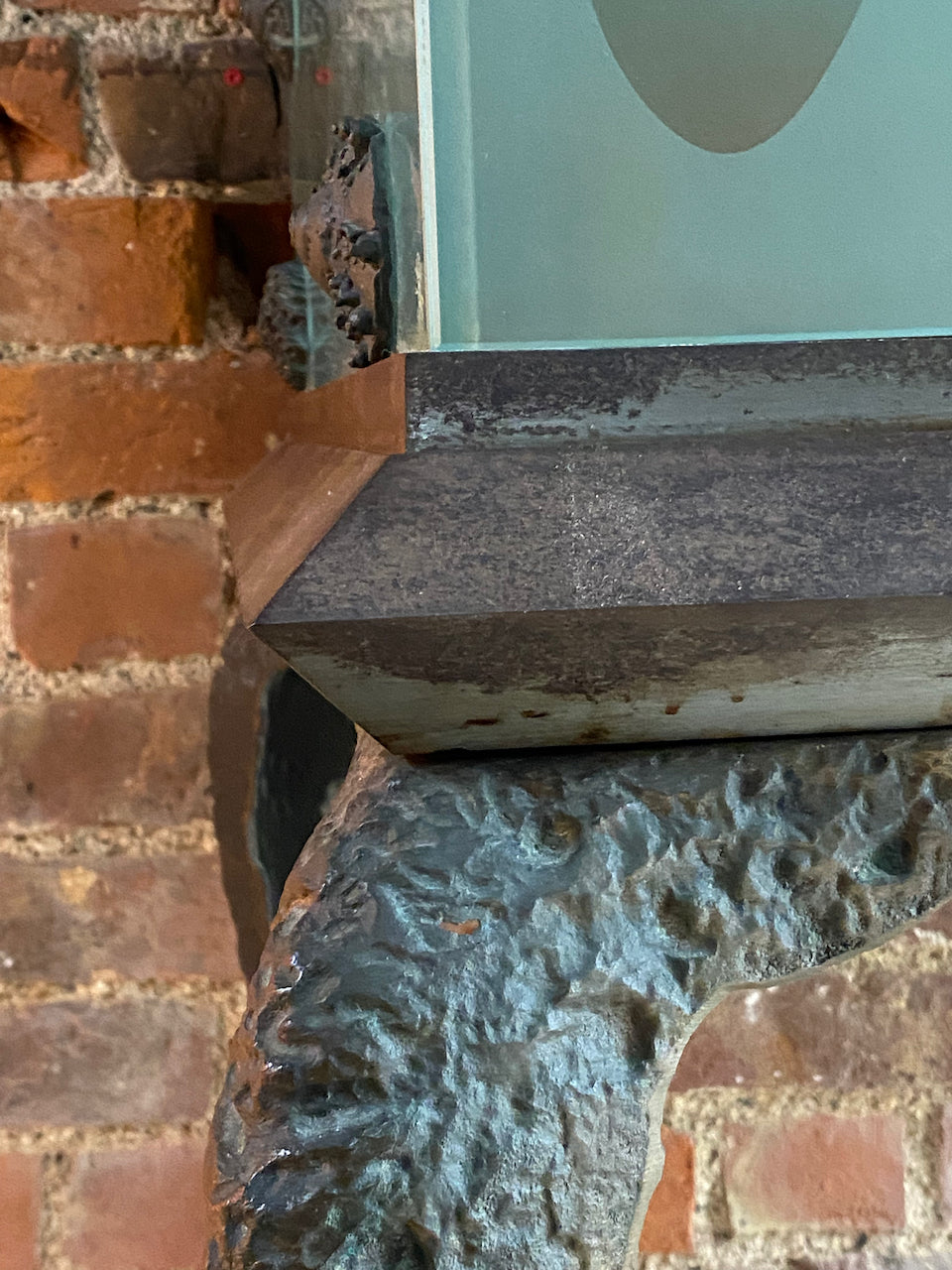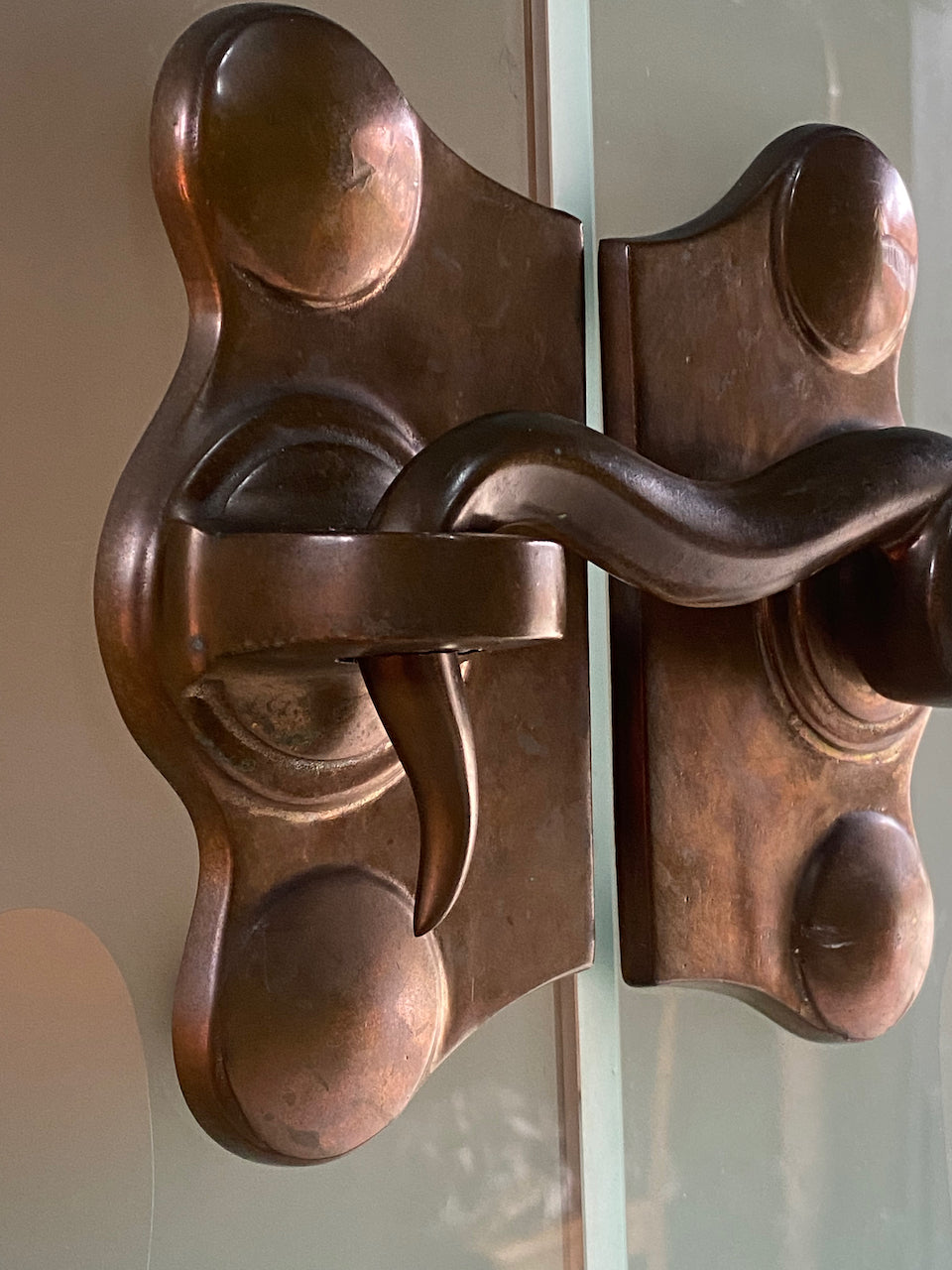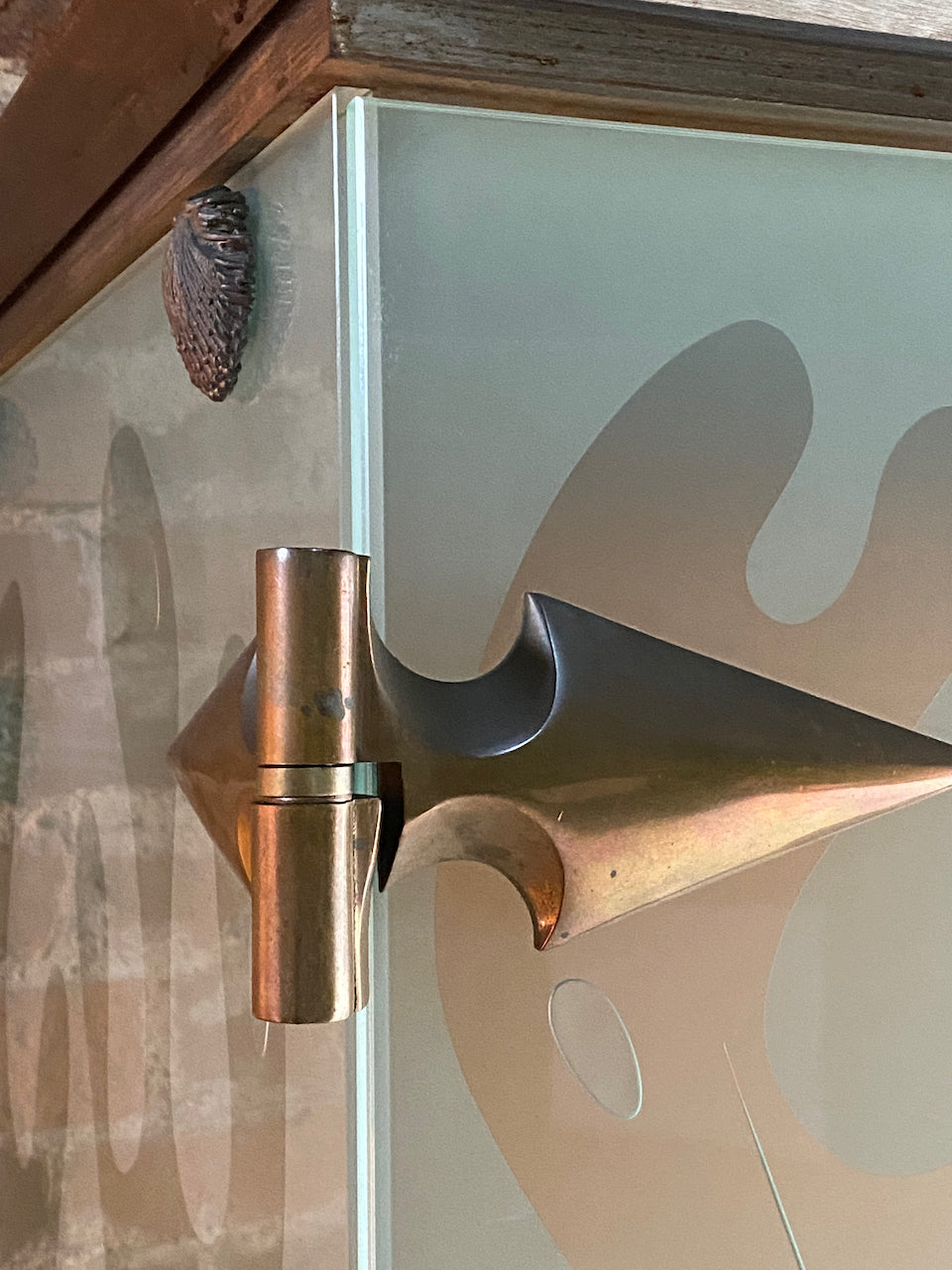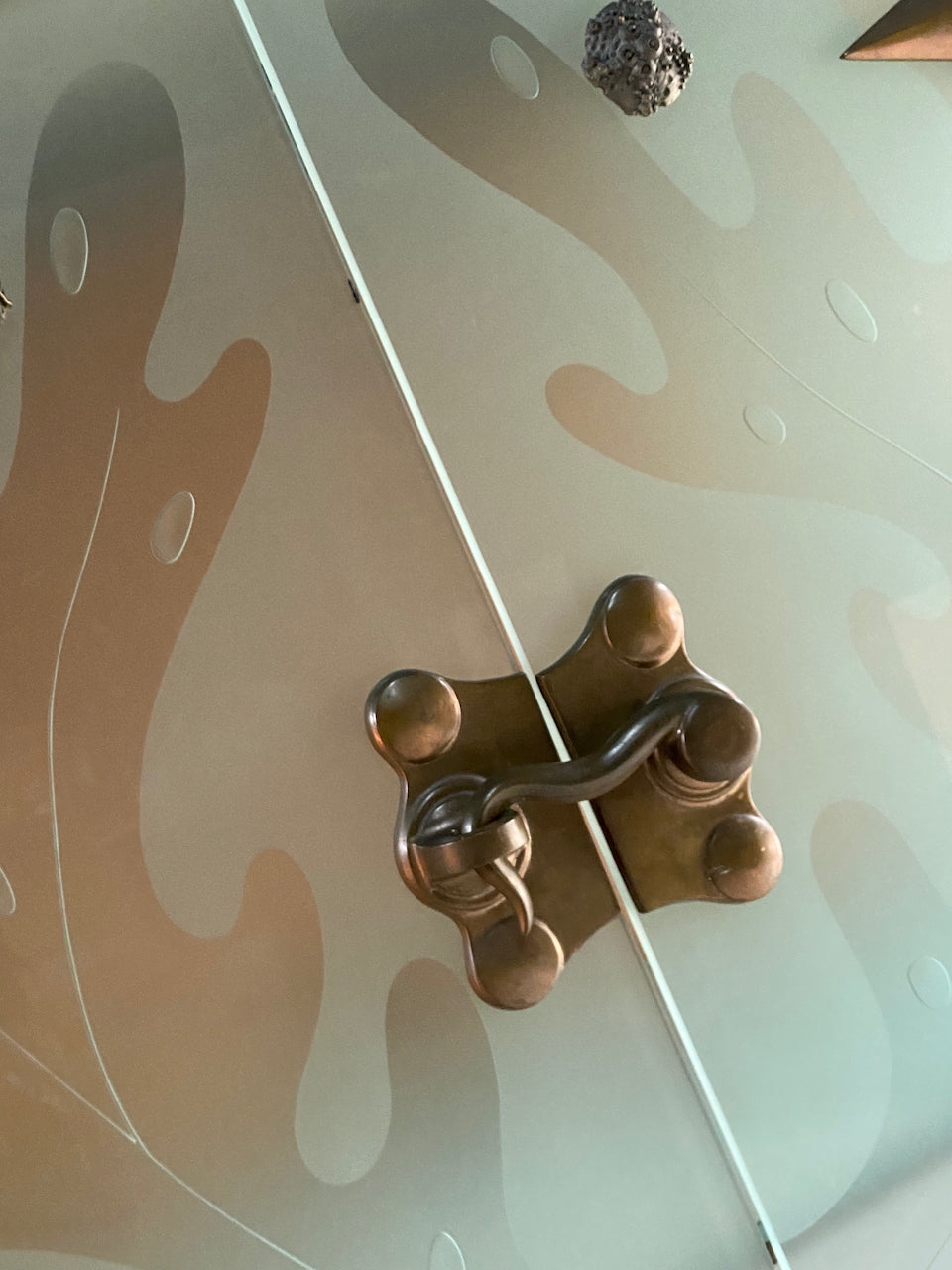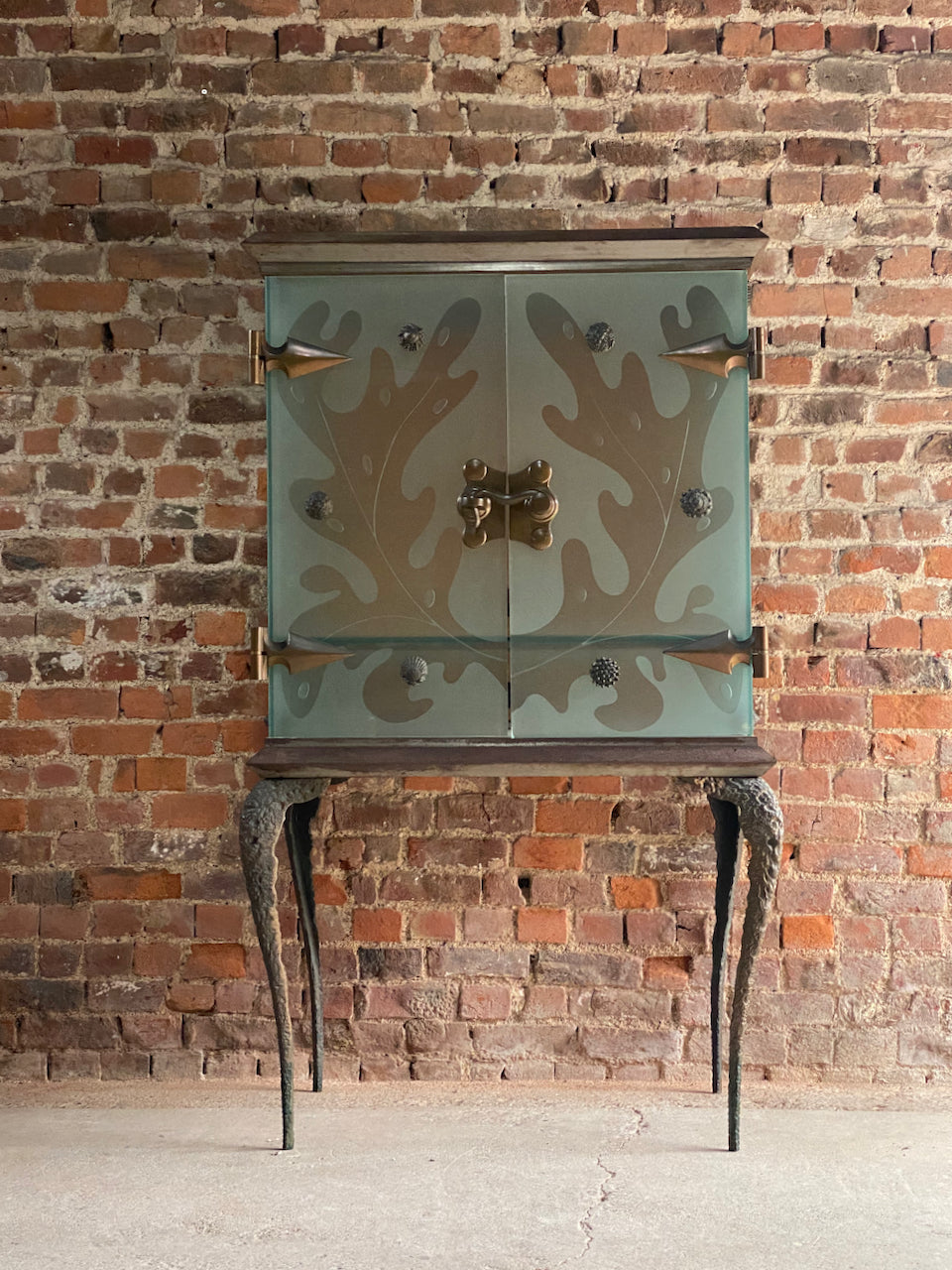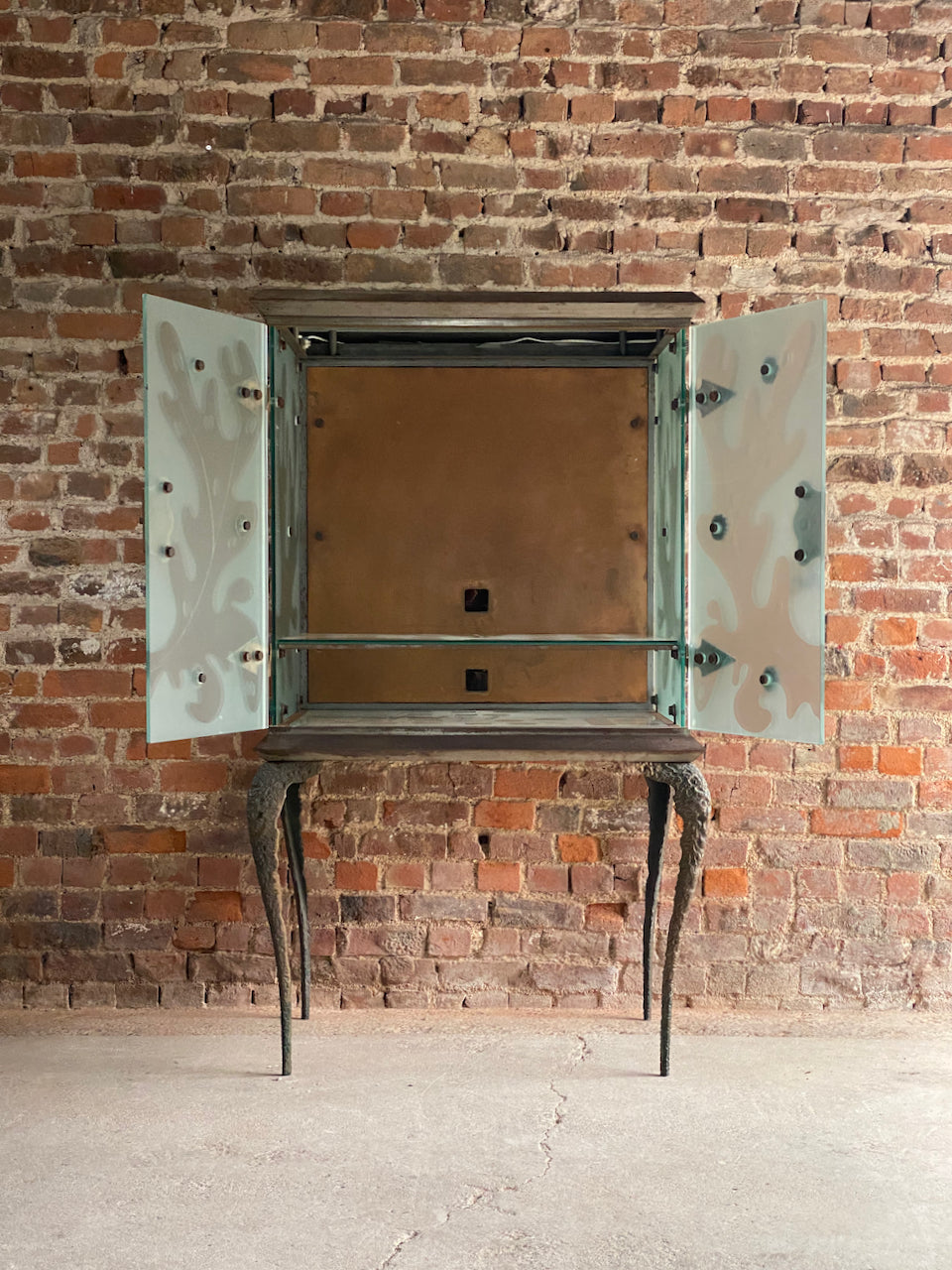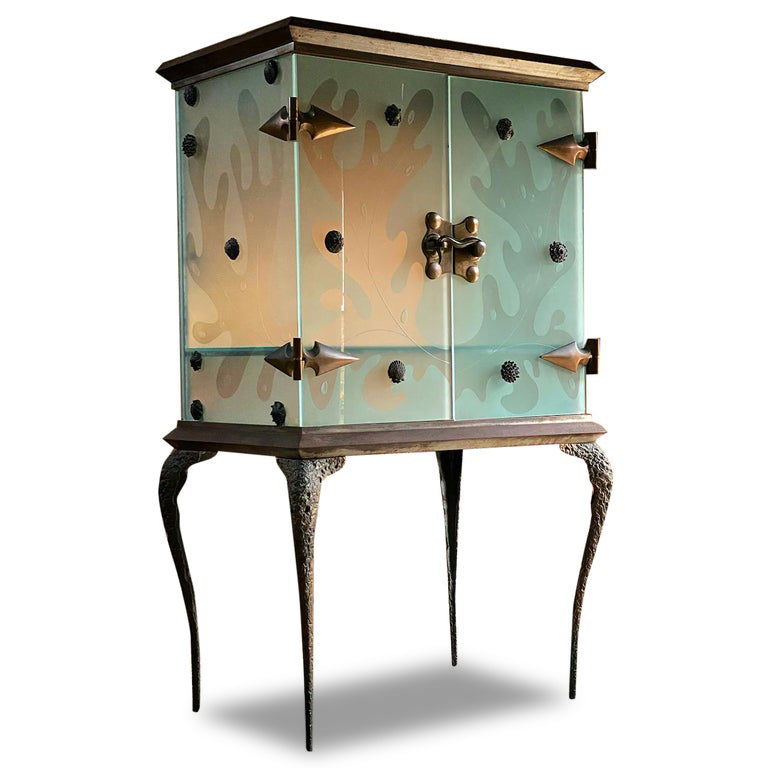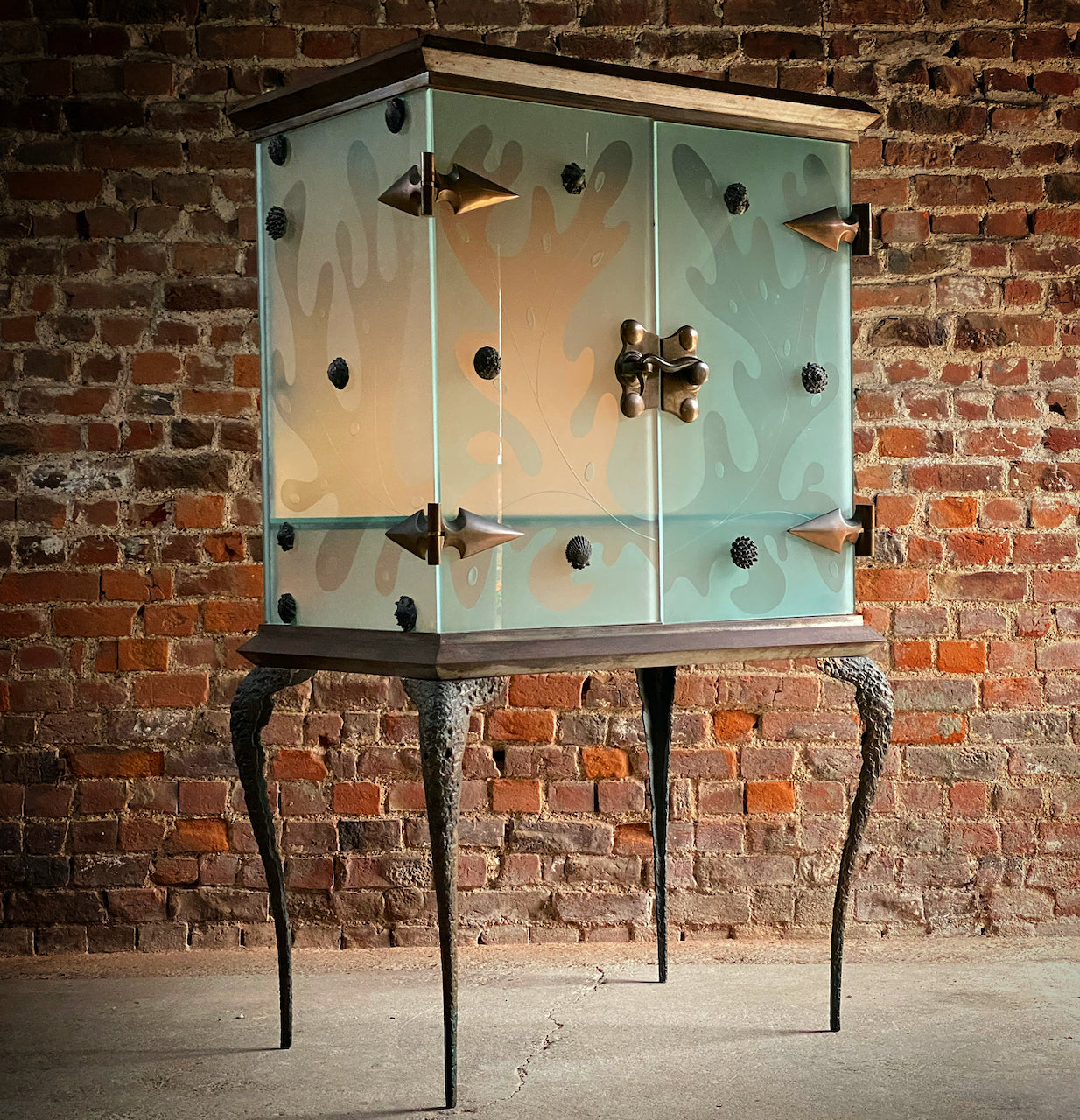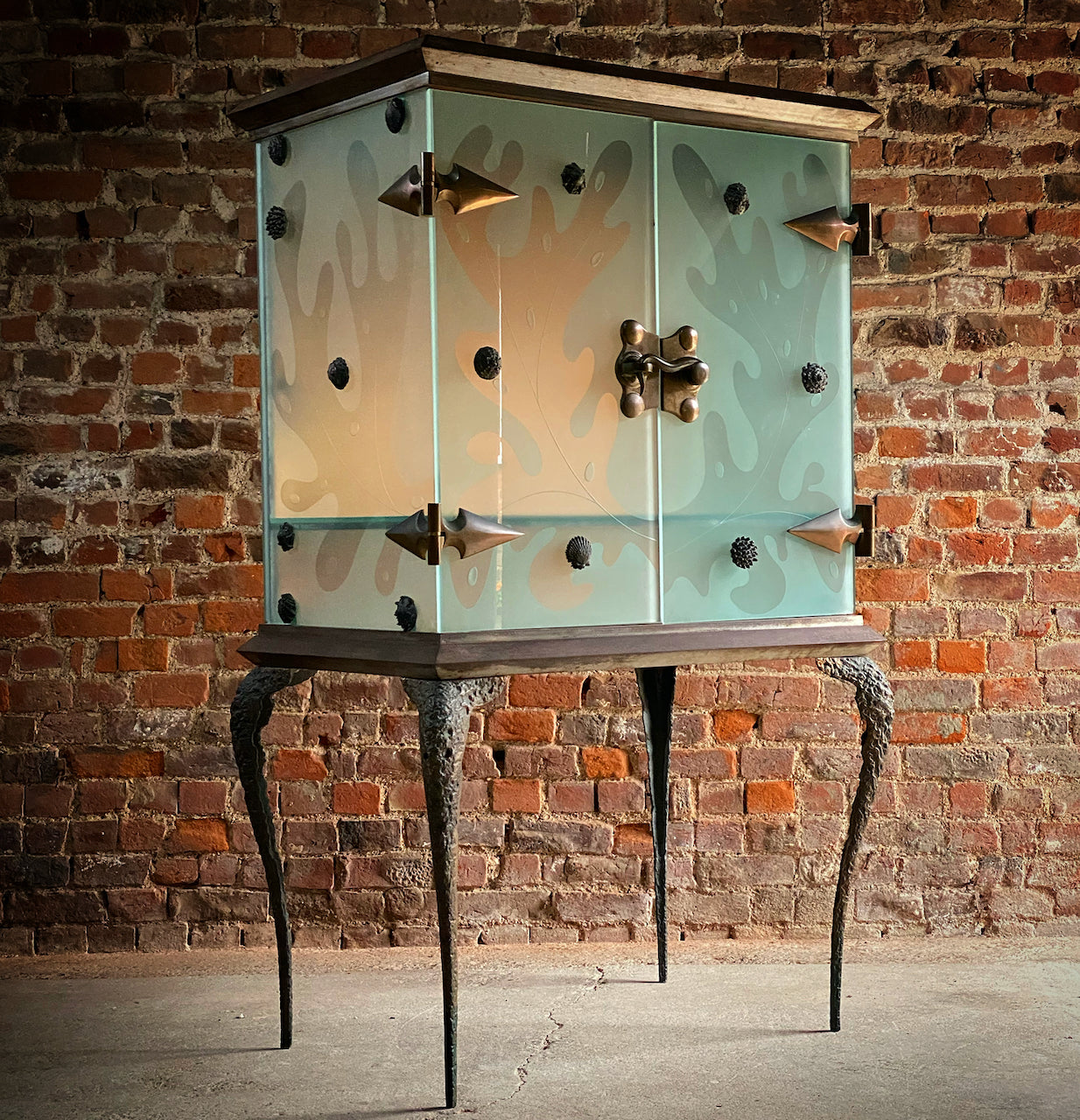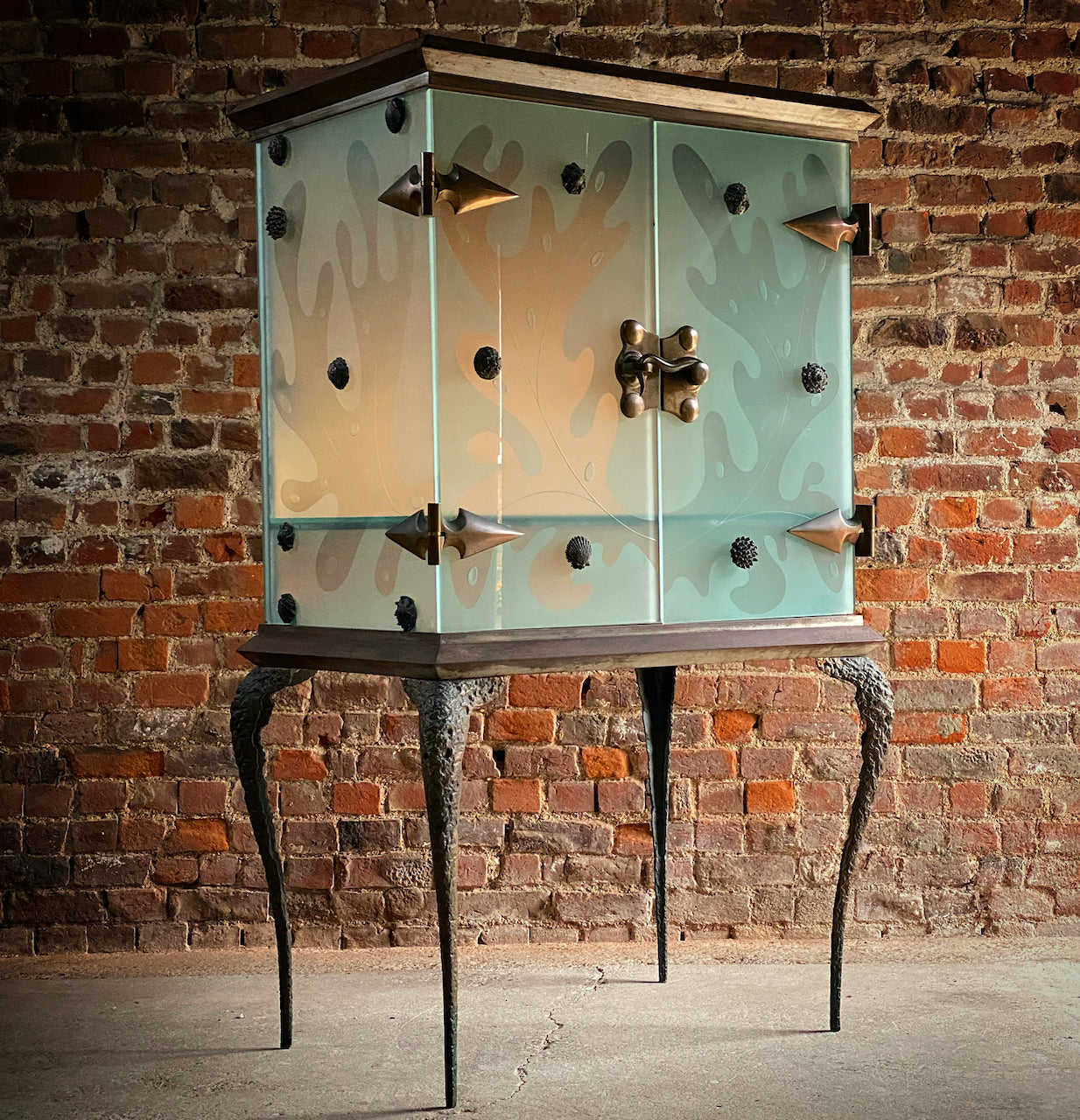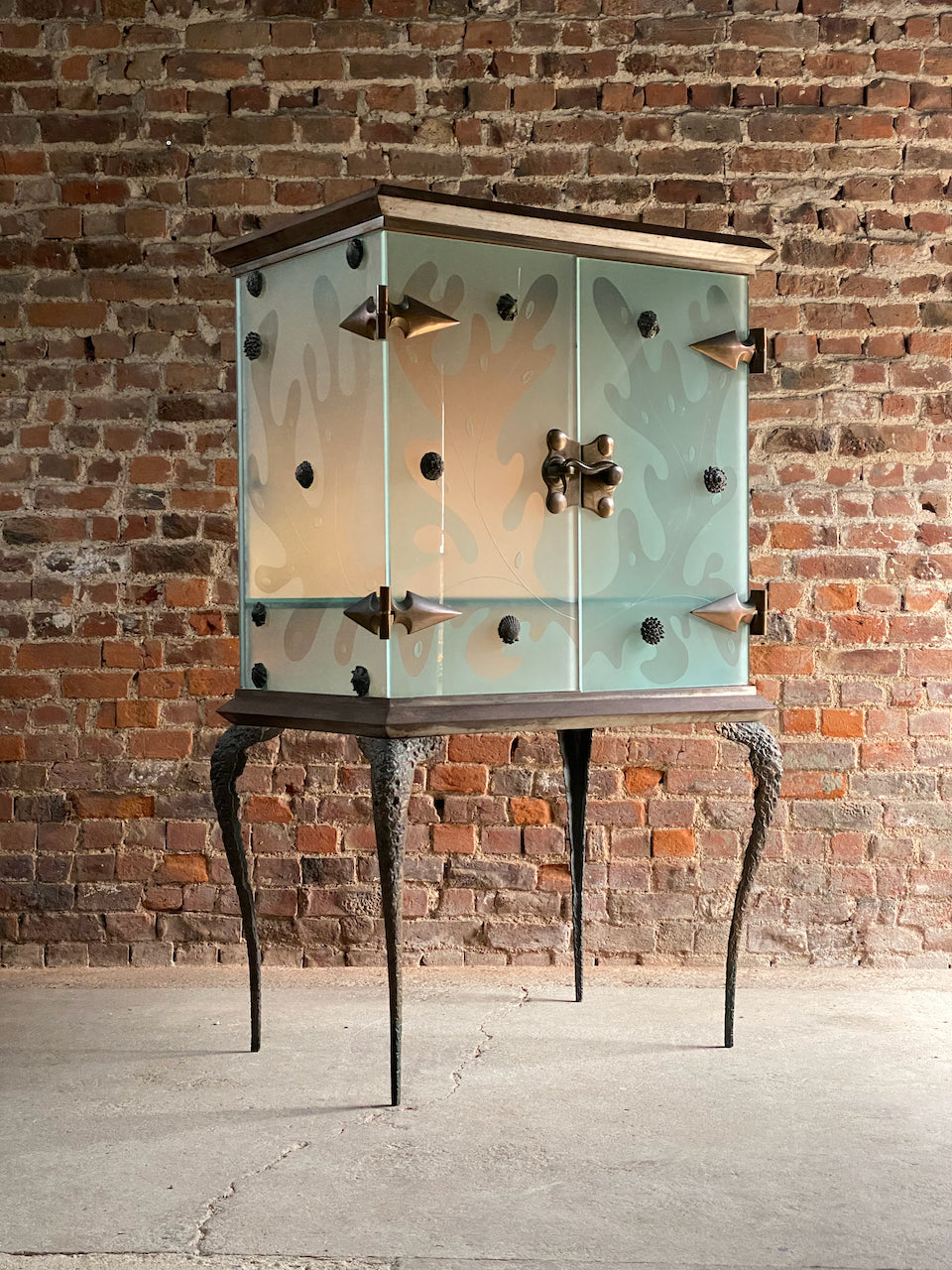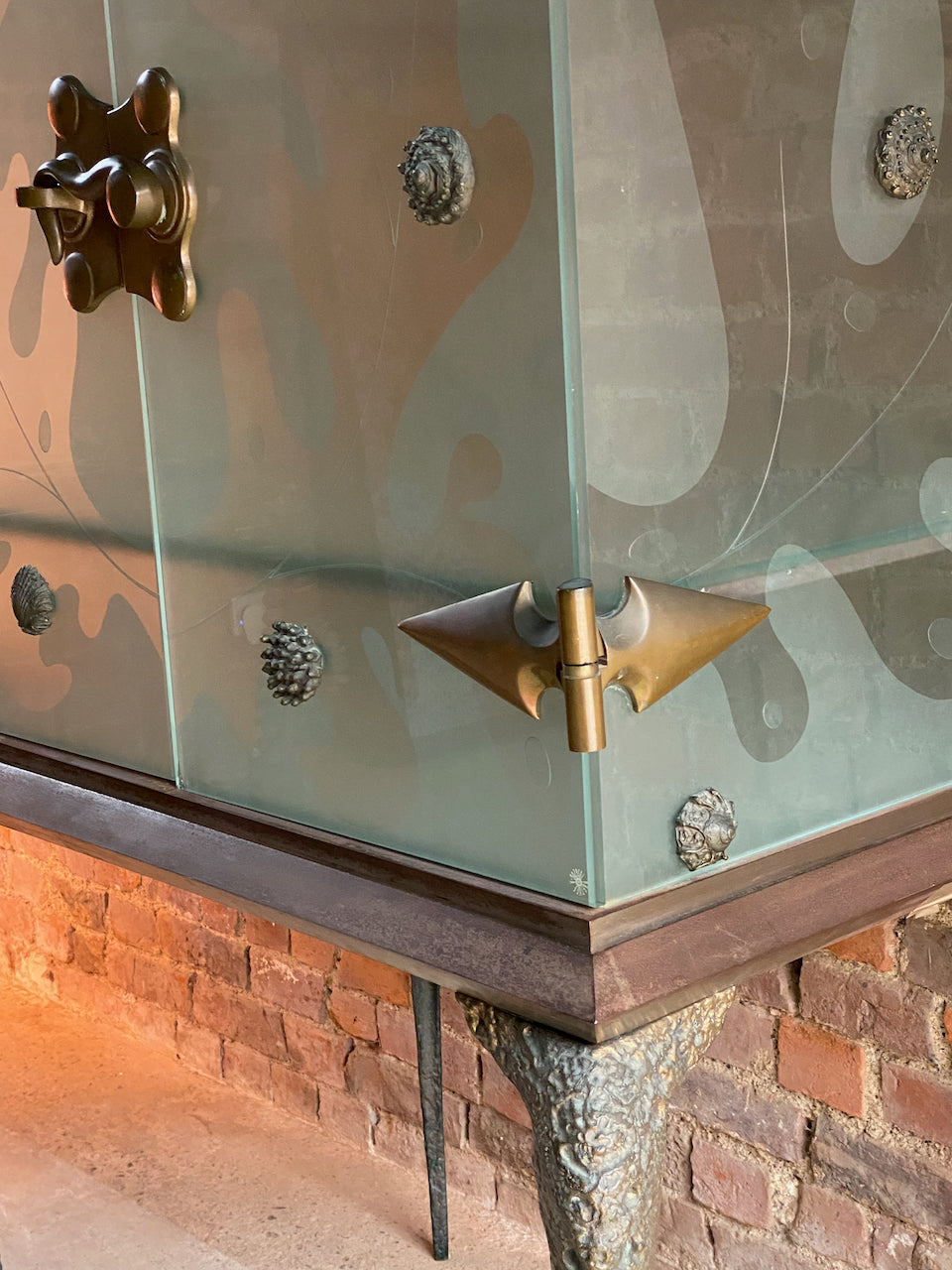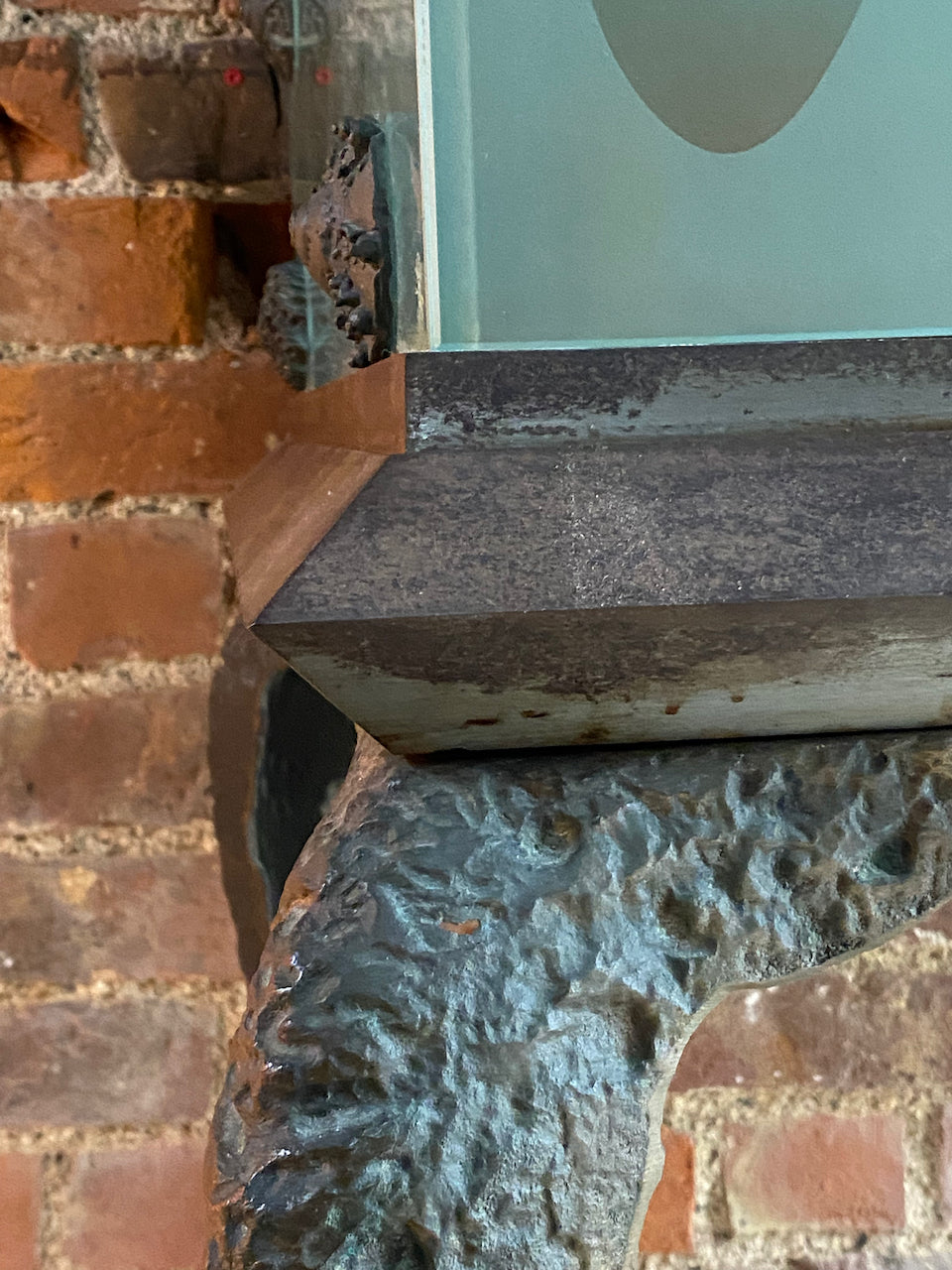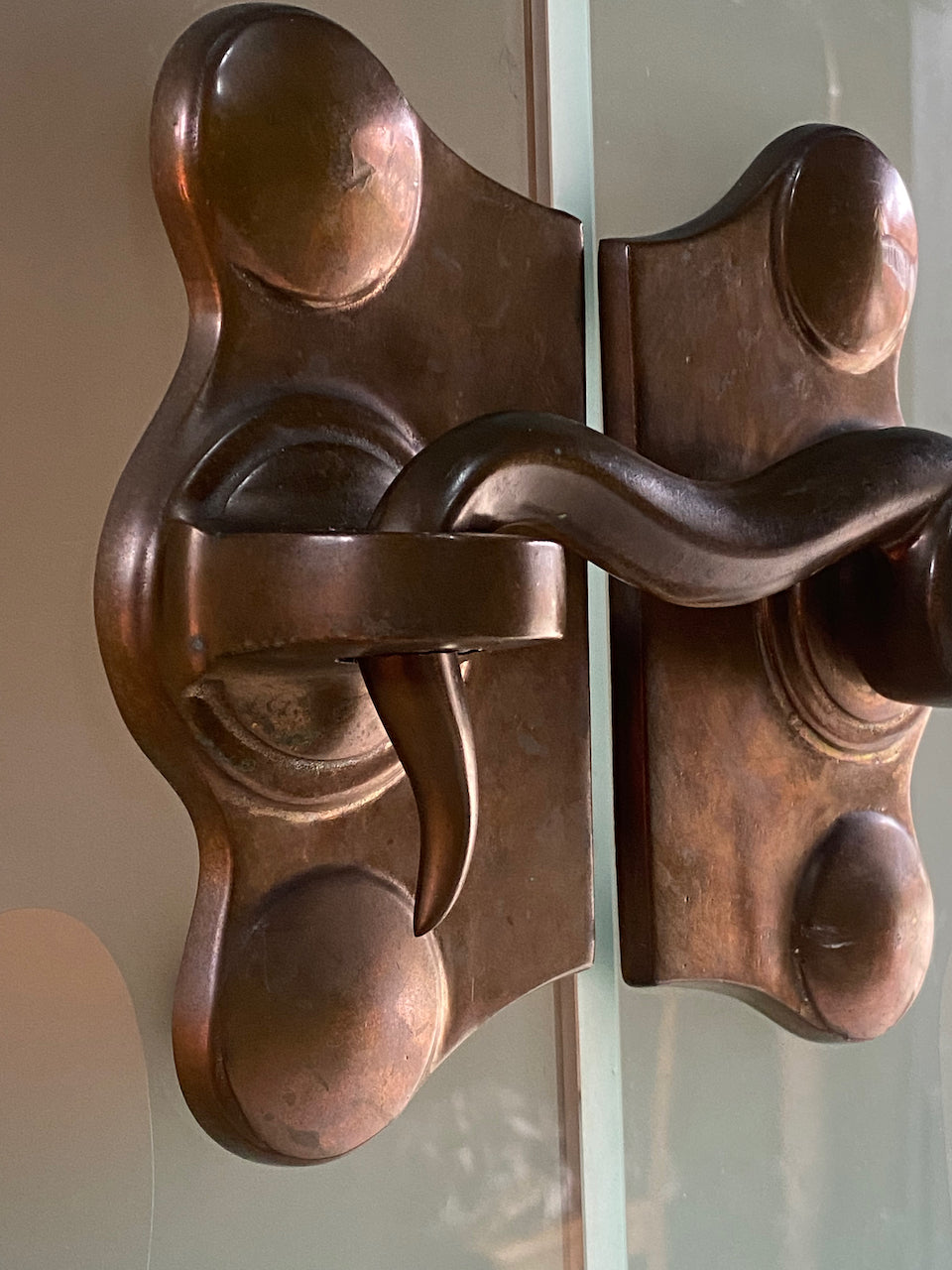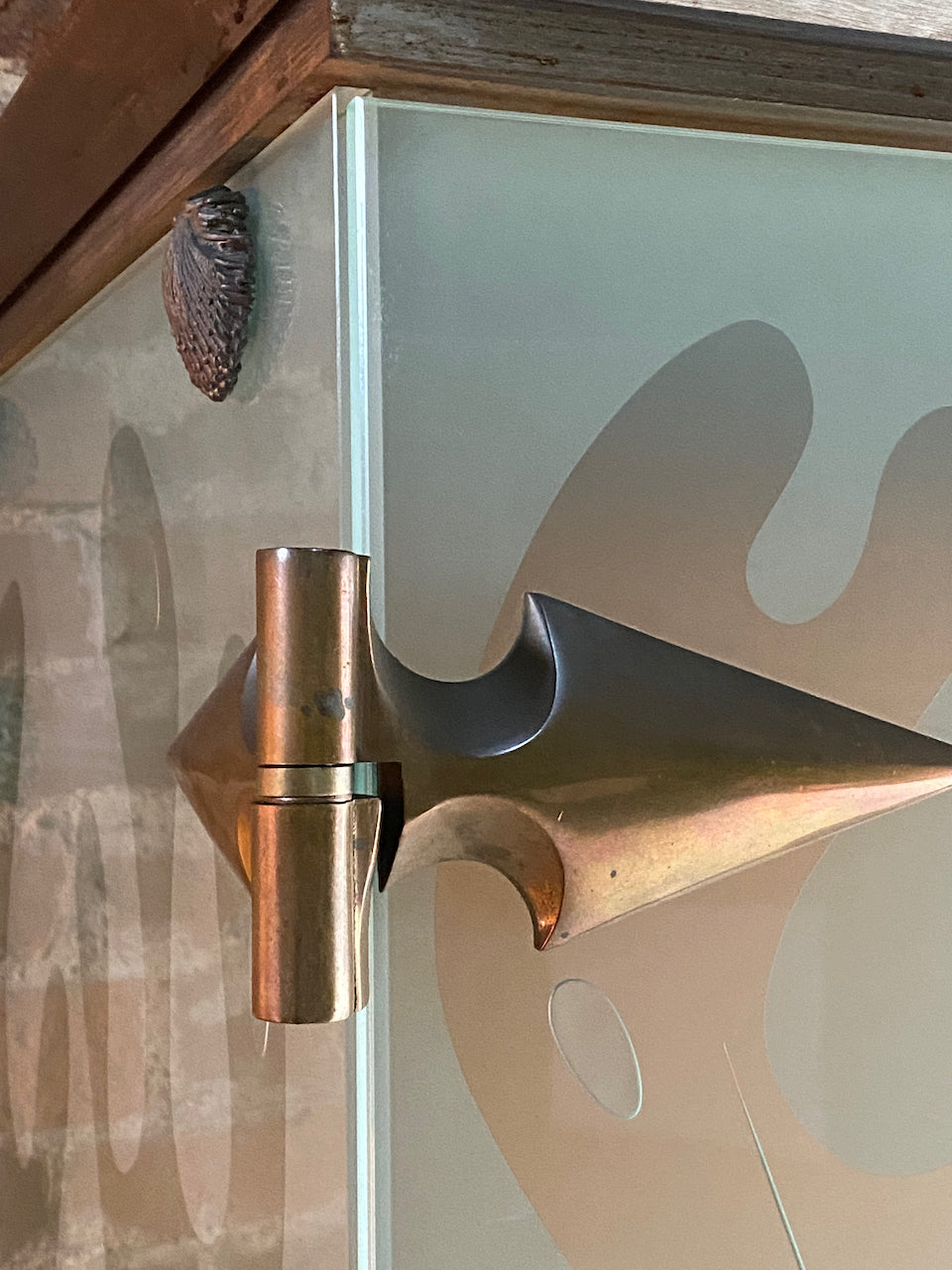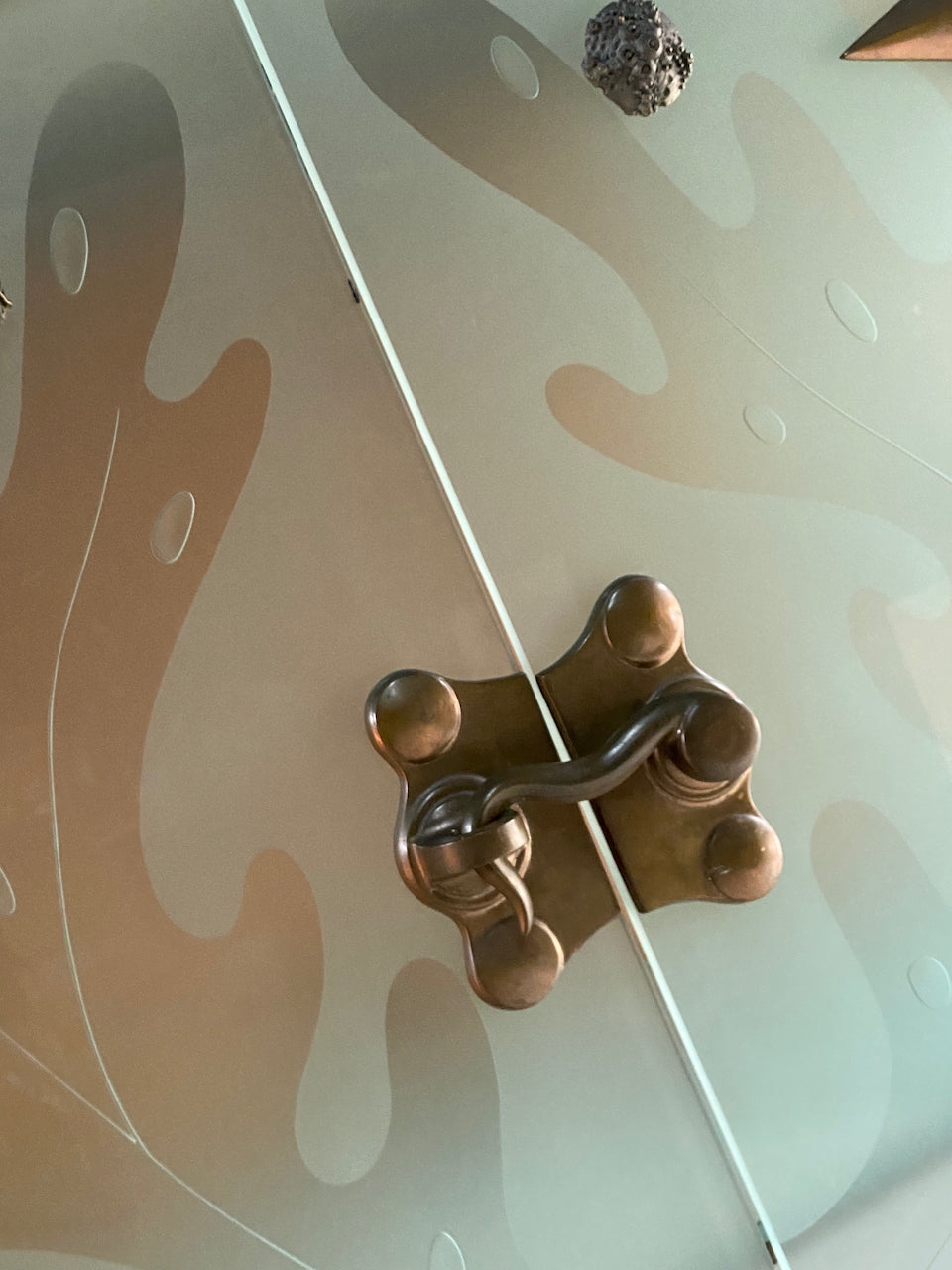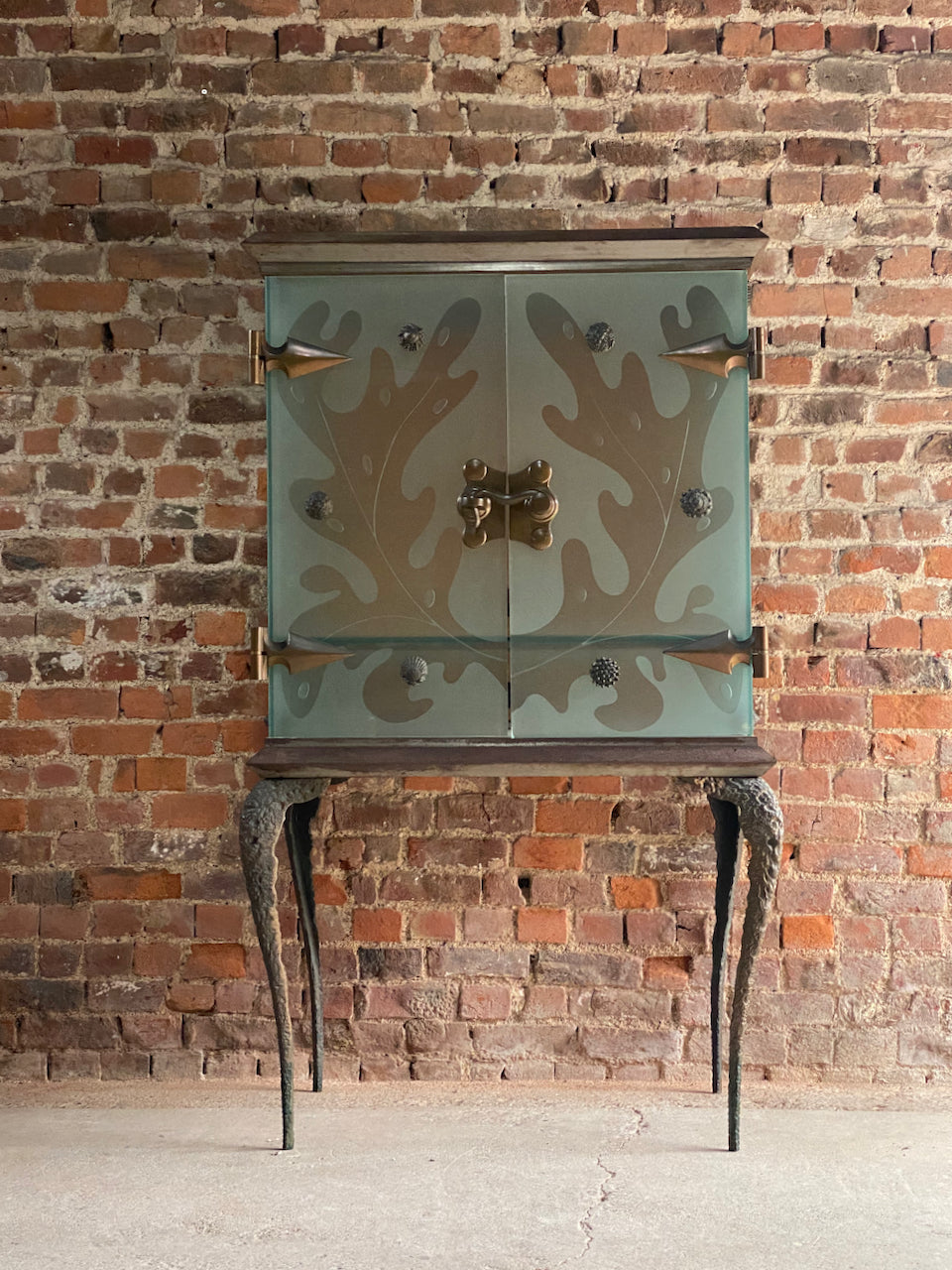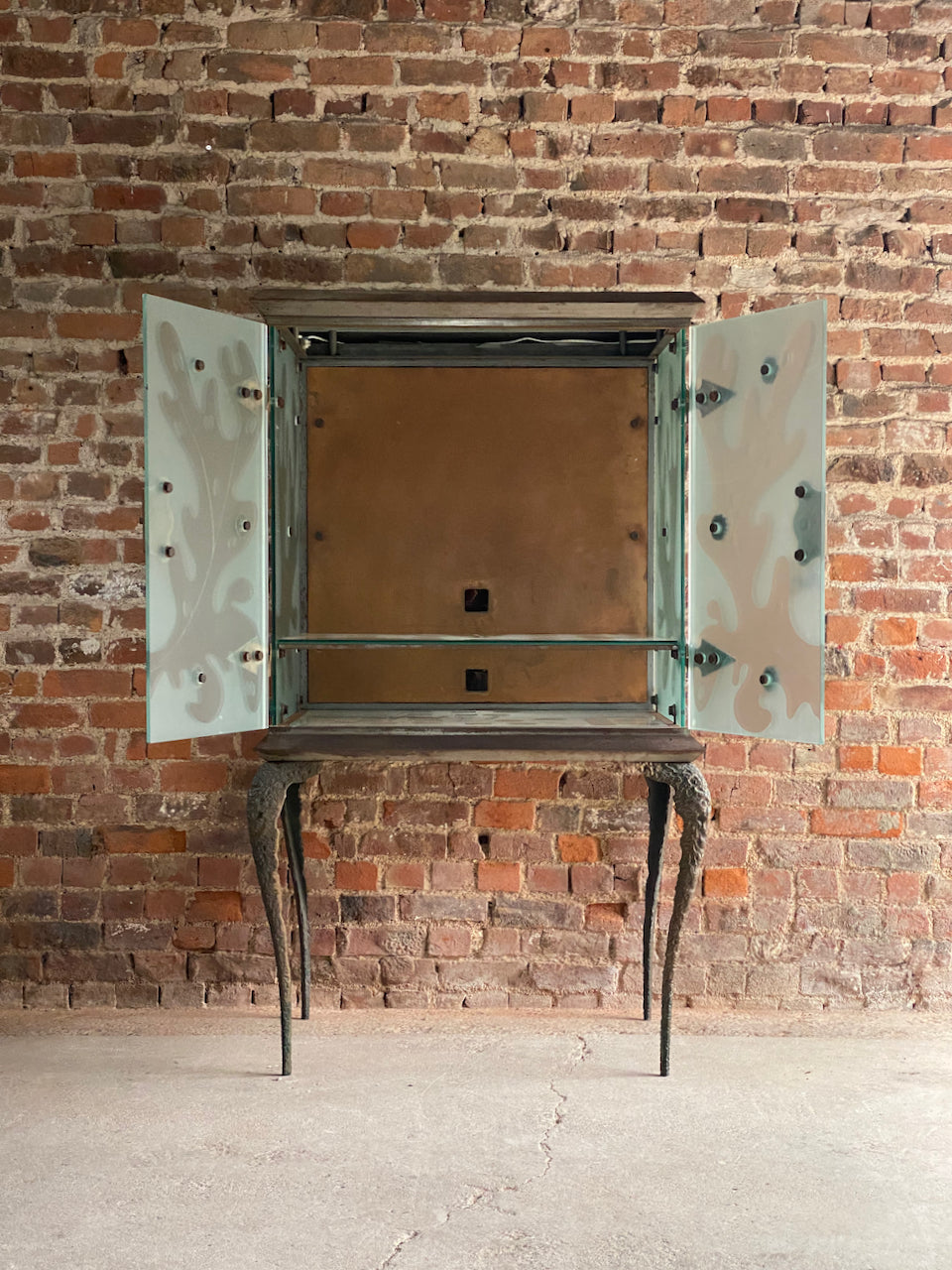 Mark Brazier-Jones Zargazo Cabinet Circa 1998
SOLD
Mark Brazier-Jones Zargazo Cabinet Circa 1998

'Shaken, not Stirred', sublime rare and uniquely worthy of the great man himself, outrageous audacious ridonculous 'Furniture Art' by way of the master craftsman that is Mr Mark Brazier-Jones the 'Zargazo' Cocktail Cabinet finished in Bronze, Copper, Etched & Engraved Glass England circa 1998, the rectangular boxed glazed upper section with two doors opening to reveal an illuminated shelved interior, applied bronze 'sea-creature' roundels with polished bronze hinges and a large brass centralised lock, all raised on naturalistically tall cast bronze cabriole legs, a true MBJ statement piece, 'Sargazo' aka Zargazo (the patterns and shapes on the cabinet) a seaweed which provides a habitat for oceanic wildlife found in Mexico, reserve now

About: Mark Brazier-Jones was born in New Zealand in 1956 and moved to the UK at the age of 12. After earning a BA in ceramic sculpture, he found work in the emerging music video business. In the late 1970s and early '80s, he designed and built sets for the likes of David Bowie, Duran Duran, Spandau Ballet, Freddy Mercury, and Elton John.

As he became enmeshed in the legendary London warehouse party scene, he developed a close friendship with both Tom Dixon and Nick Jones, members of local band Funkapolitan. The three friends started the Creative Salvage Group in 1983, later to be joined by André Dubreuil.

After a few years, Brazier-Jones moved to the countryside and returned to his ceramic roots. Soon he was sculpting furniture to be cast in bronze. He conceived his first limited-edition chair, the Wingback, in 1987; it was sold out before the start of 1988. Other standouts from Brazier-Jones' career include the Bond Armchair (ca. 1990), San Demas Lounge (1996), and Duchess Chandelier (2010).

Brazier-Jones's work can be found in museum's around the world, like the Victoria & Albert in London, Museum of Art & Design in New York, and Musée des Arts Décoratifs in Paris, as well as many important private collections.
Mark Brazier-Jones
Drinks Cabinet
Media Cabinet
Glass
Steel
Brass Copper
Etched Glass
Original
Rare
Date: 1990s
Practical & Beautiful
Investment
Very good original condition, age related marks and patina, extremely heavy

Width: 40" / 102cm
Depth: 28" / 71cm
Height: 68" / 173cm

Free delivery is offered to England & Wales only when buyer pays full asking price, next day delivery is not possible due to the size of the piece, please allow between 7-14 days delivery