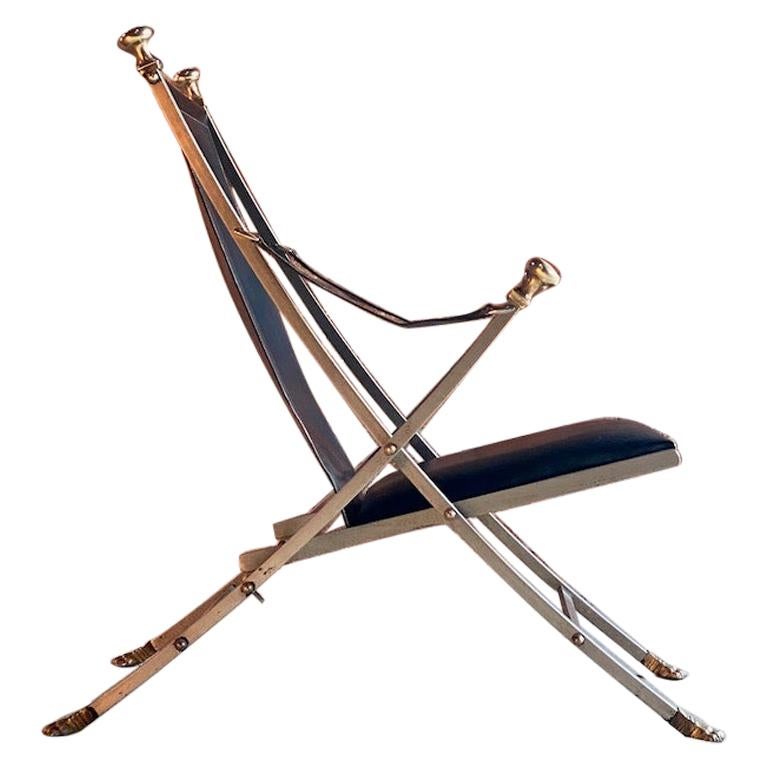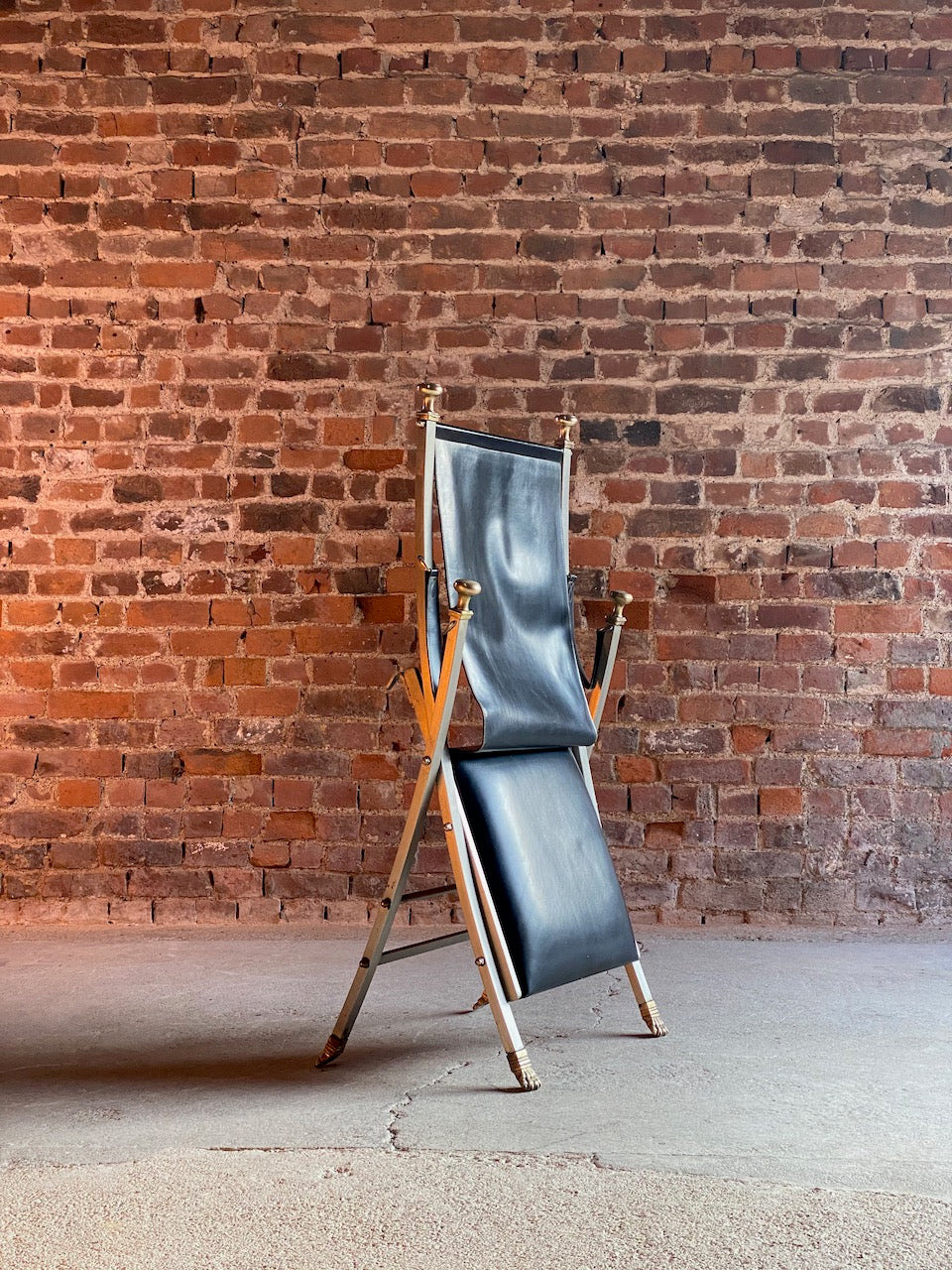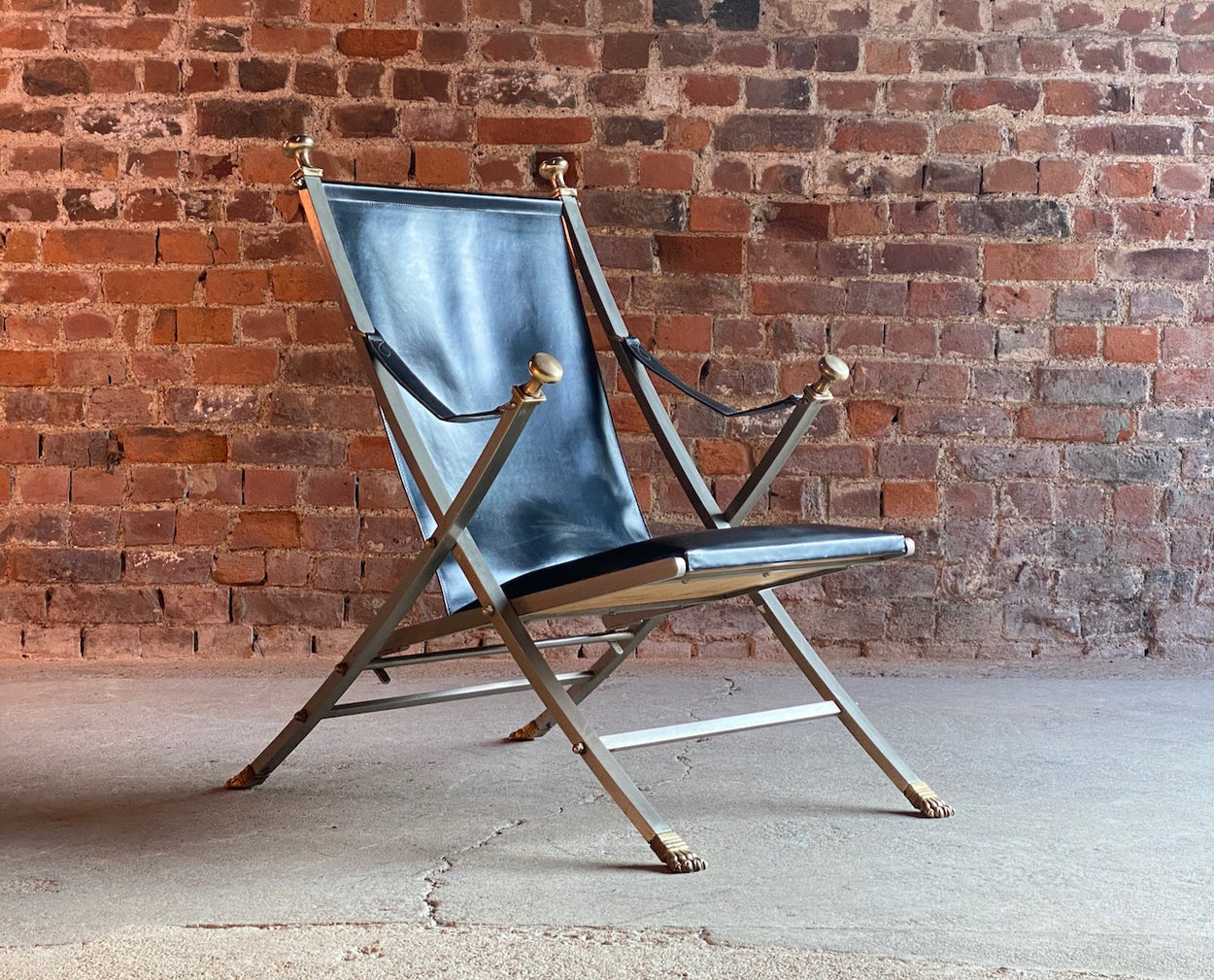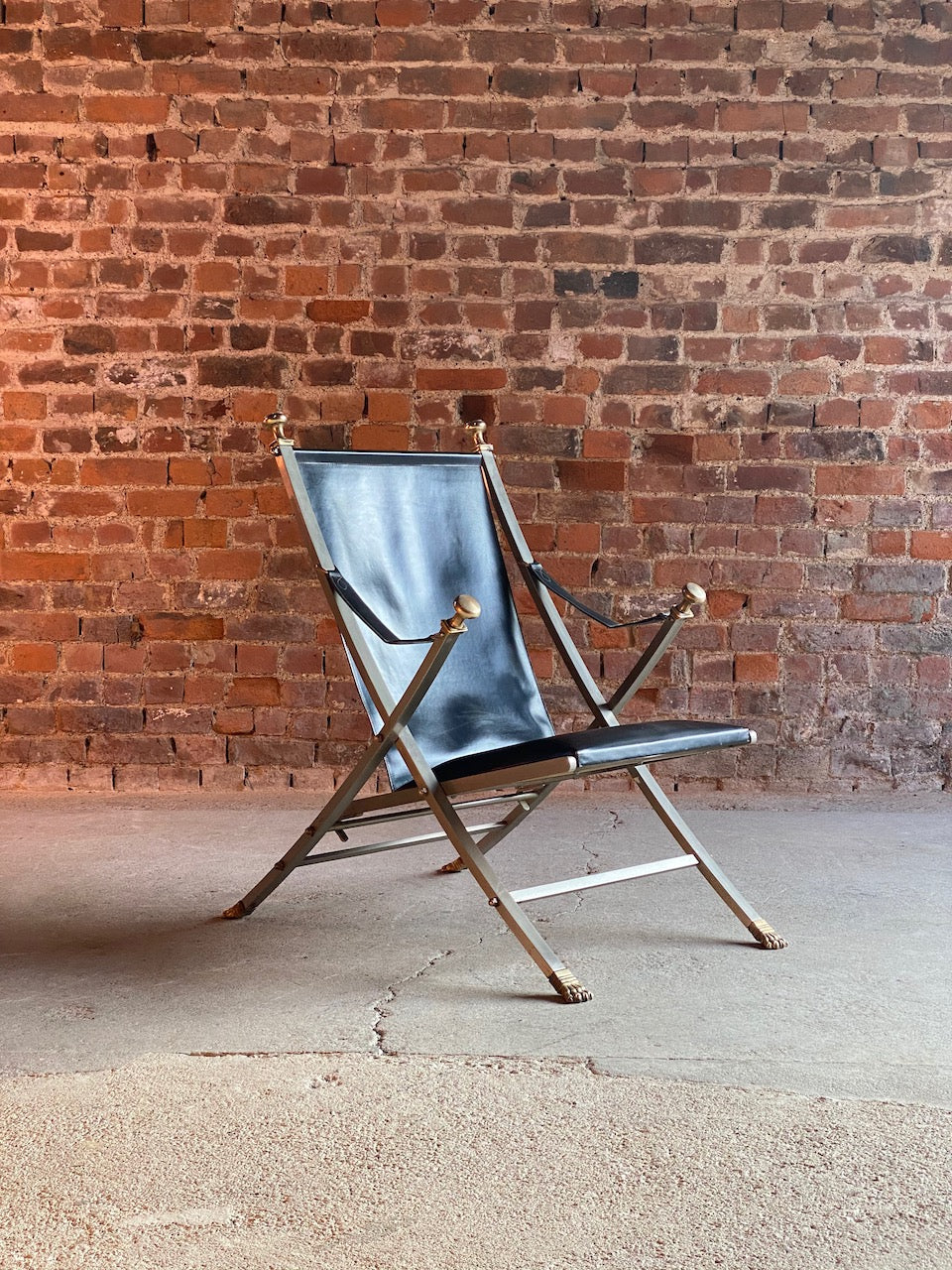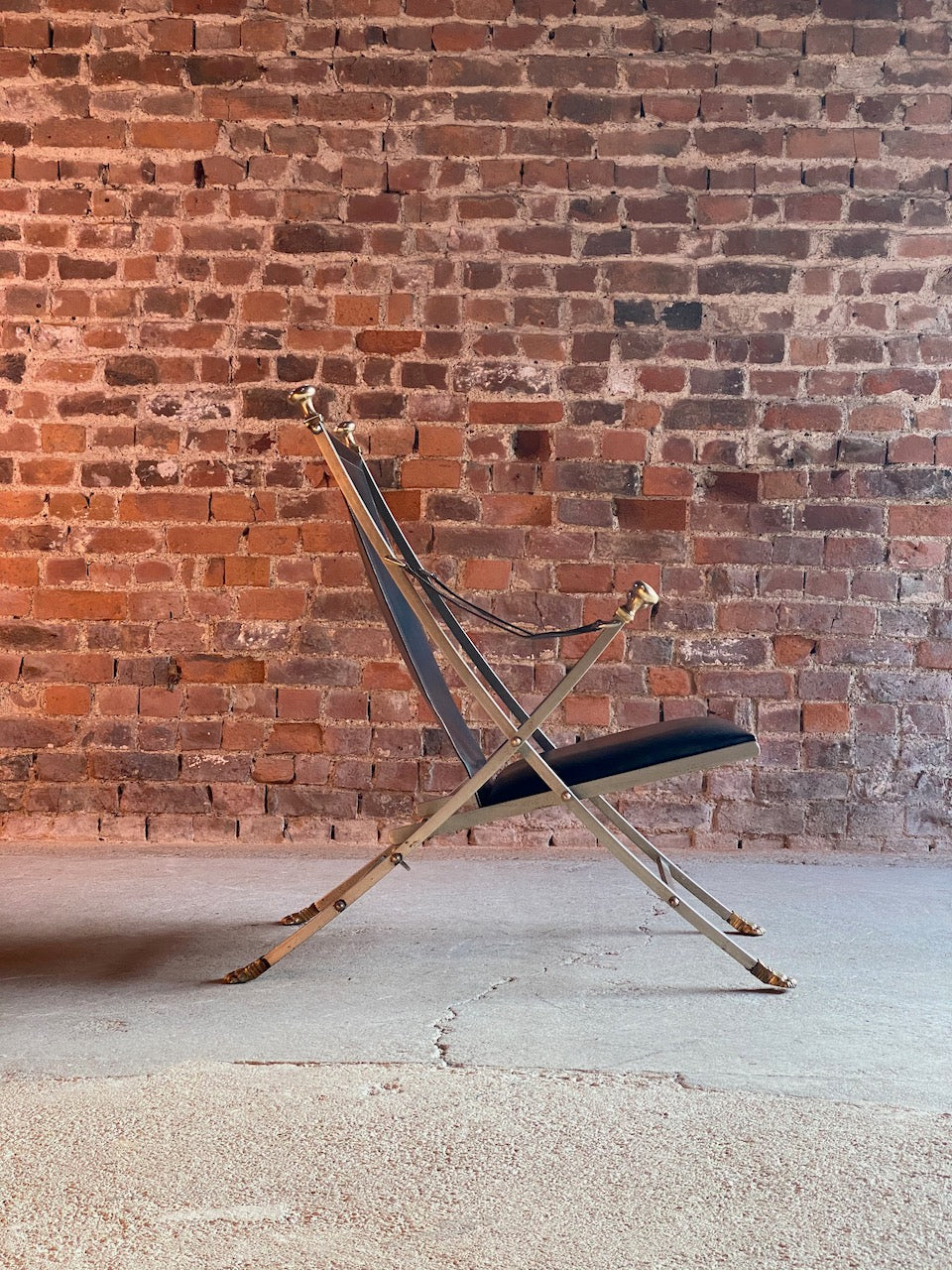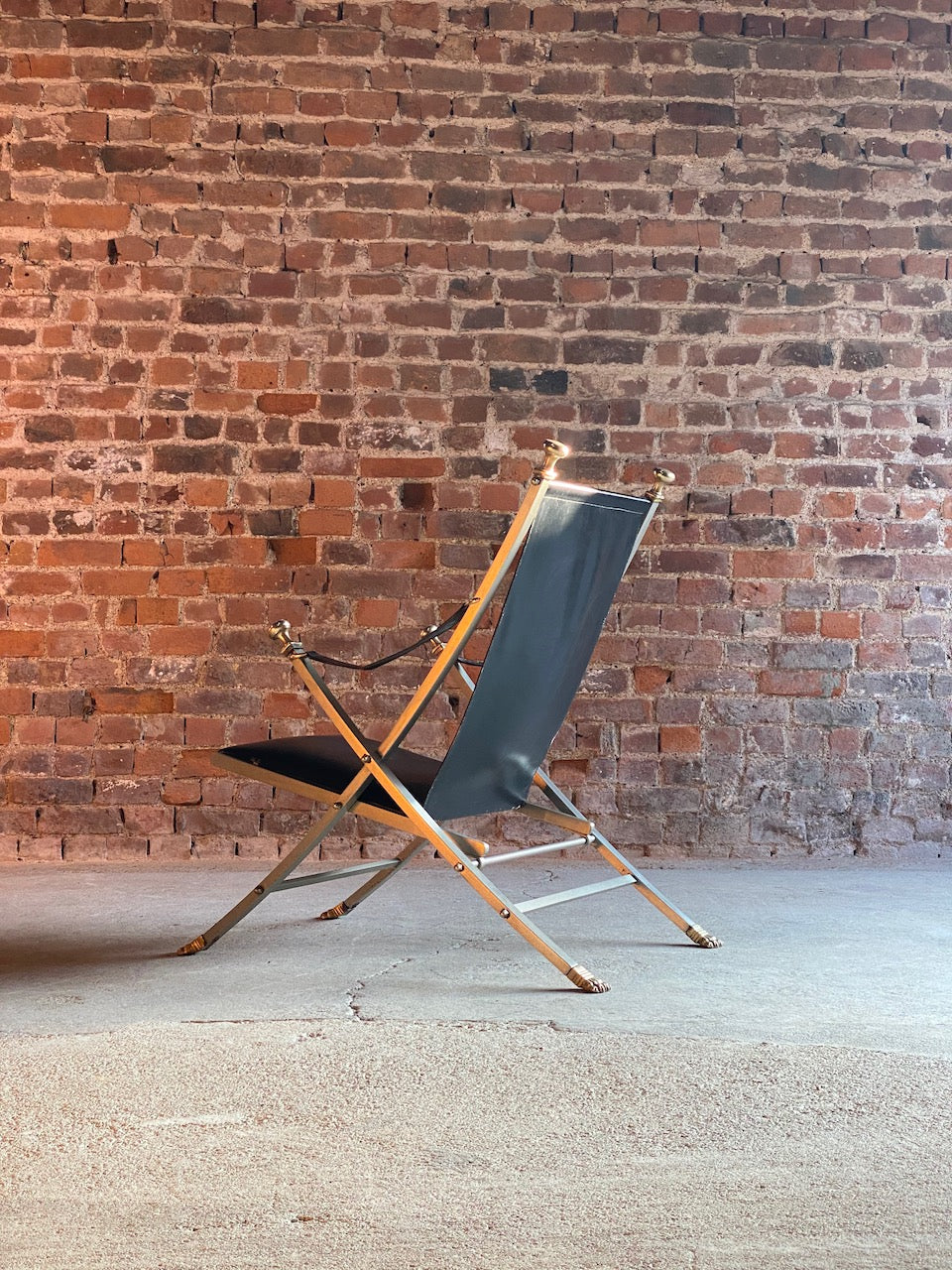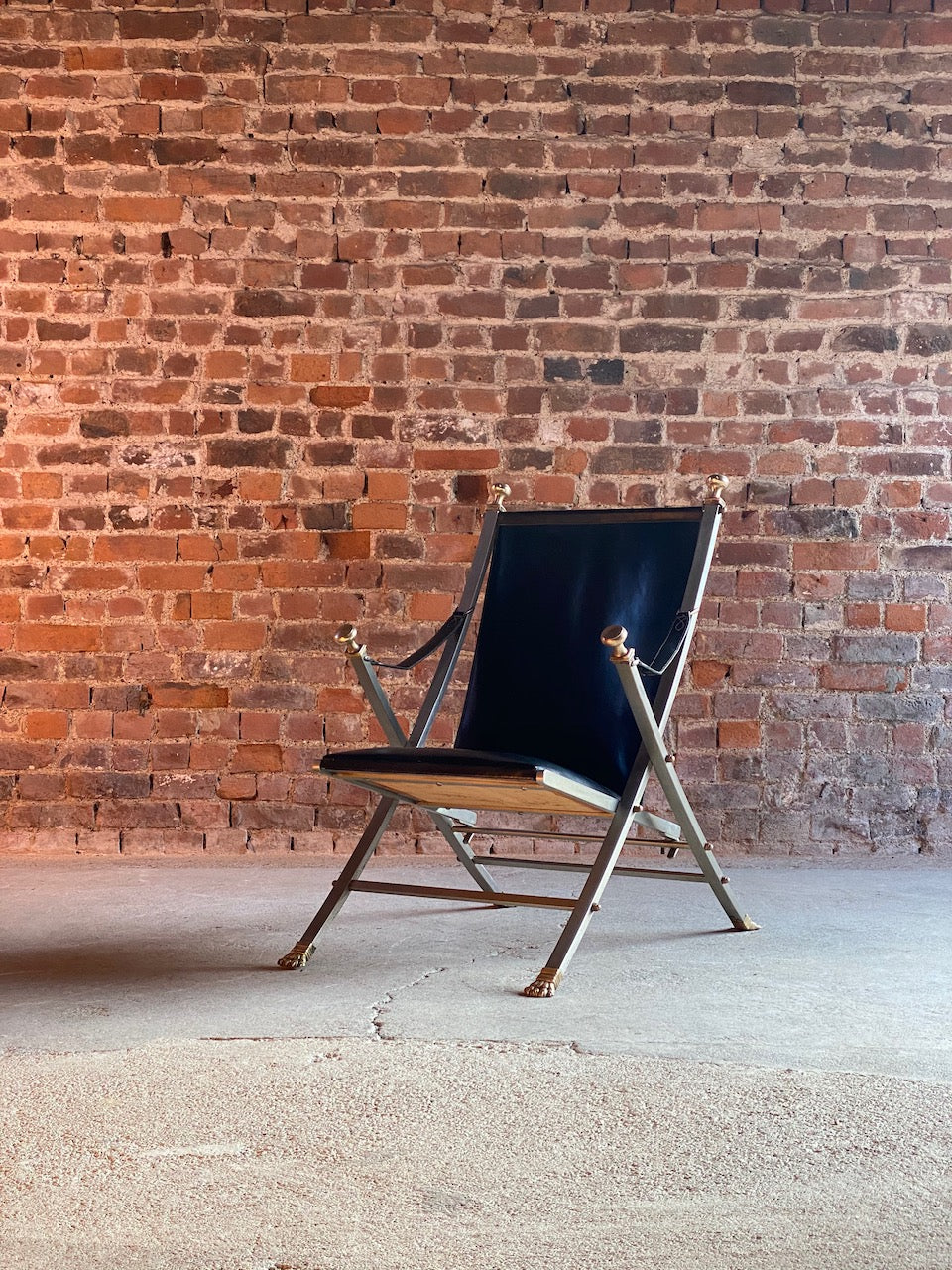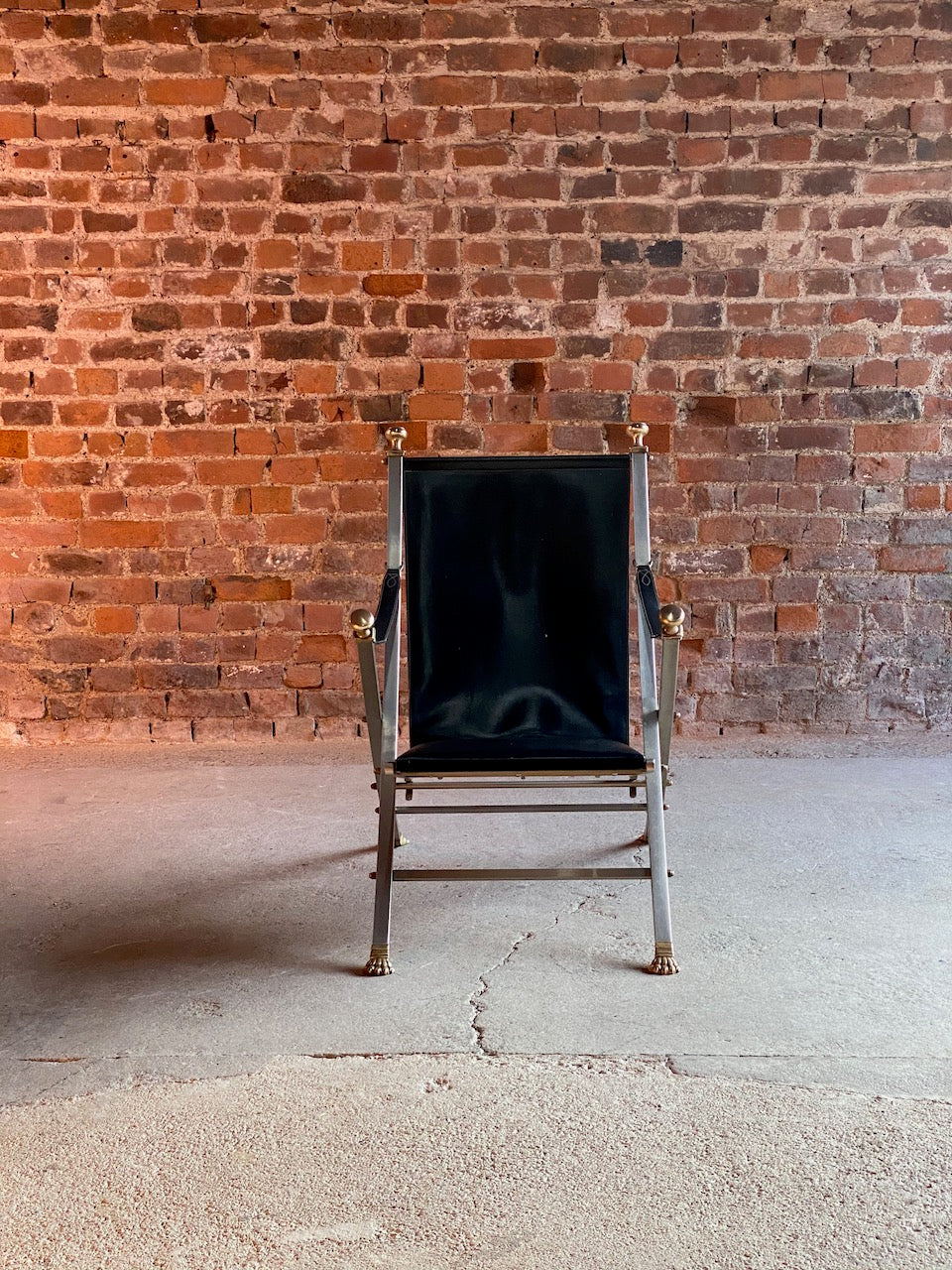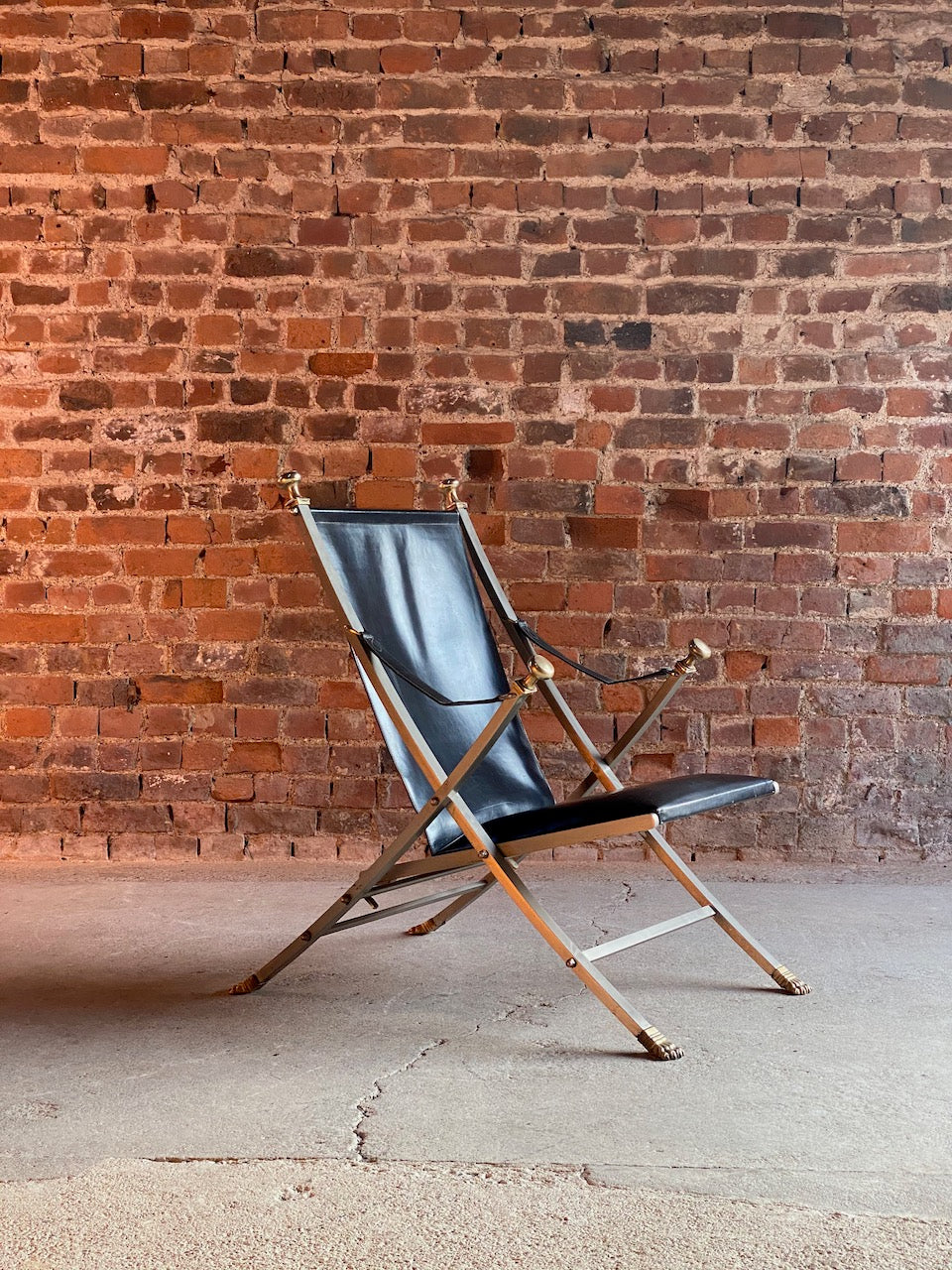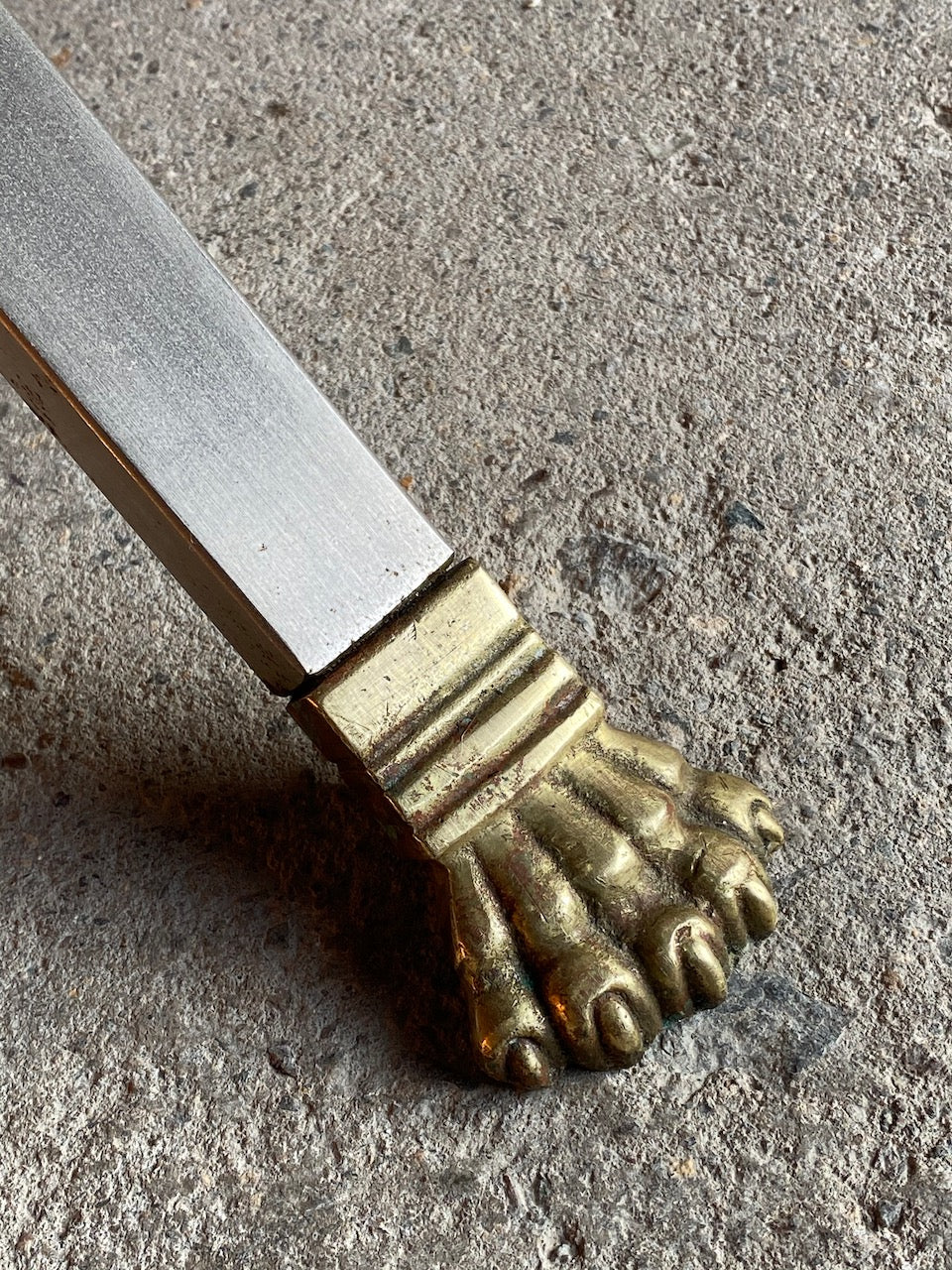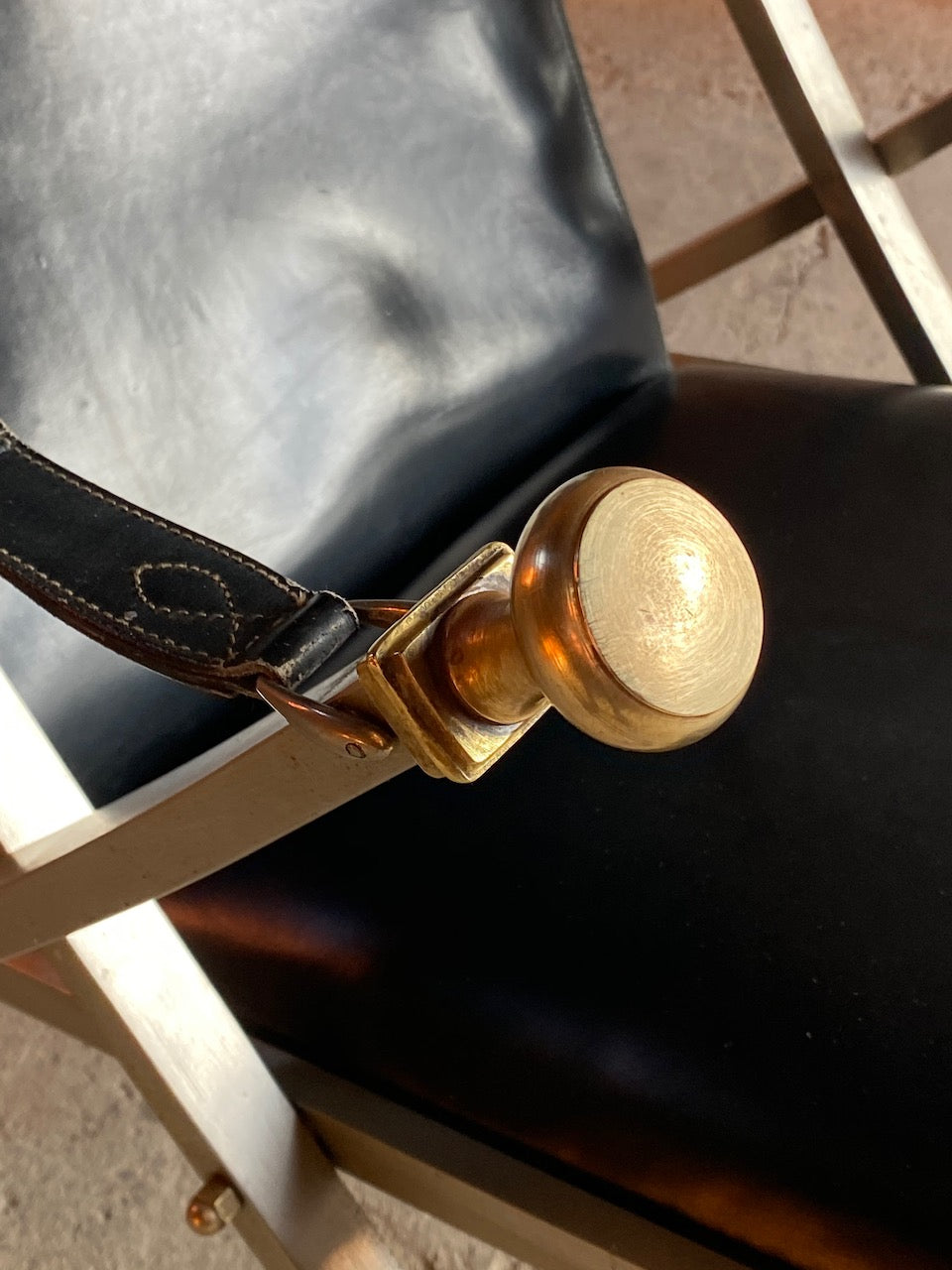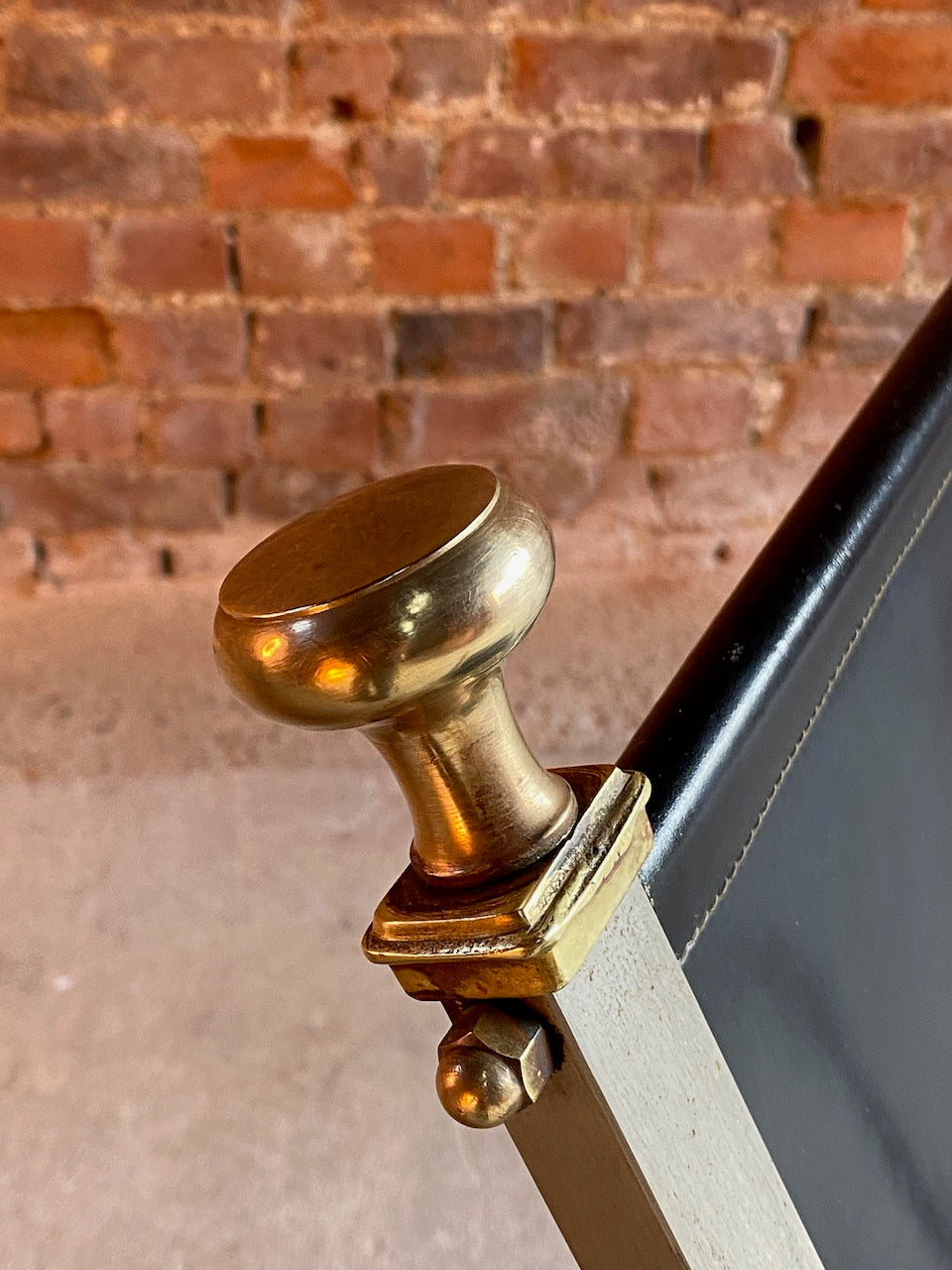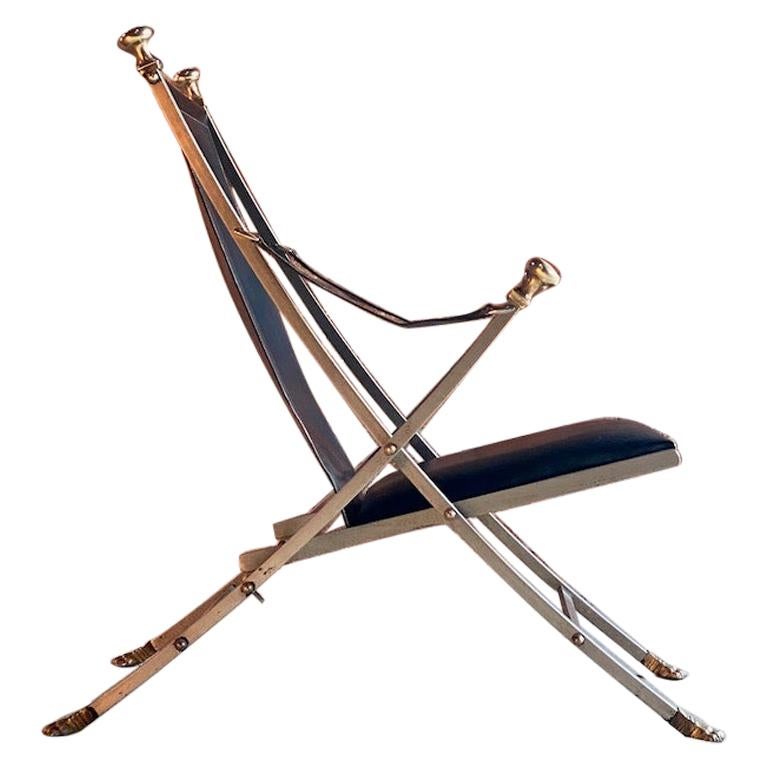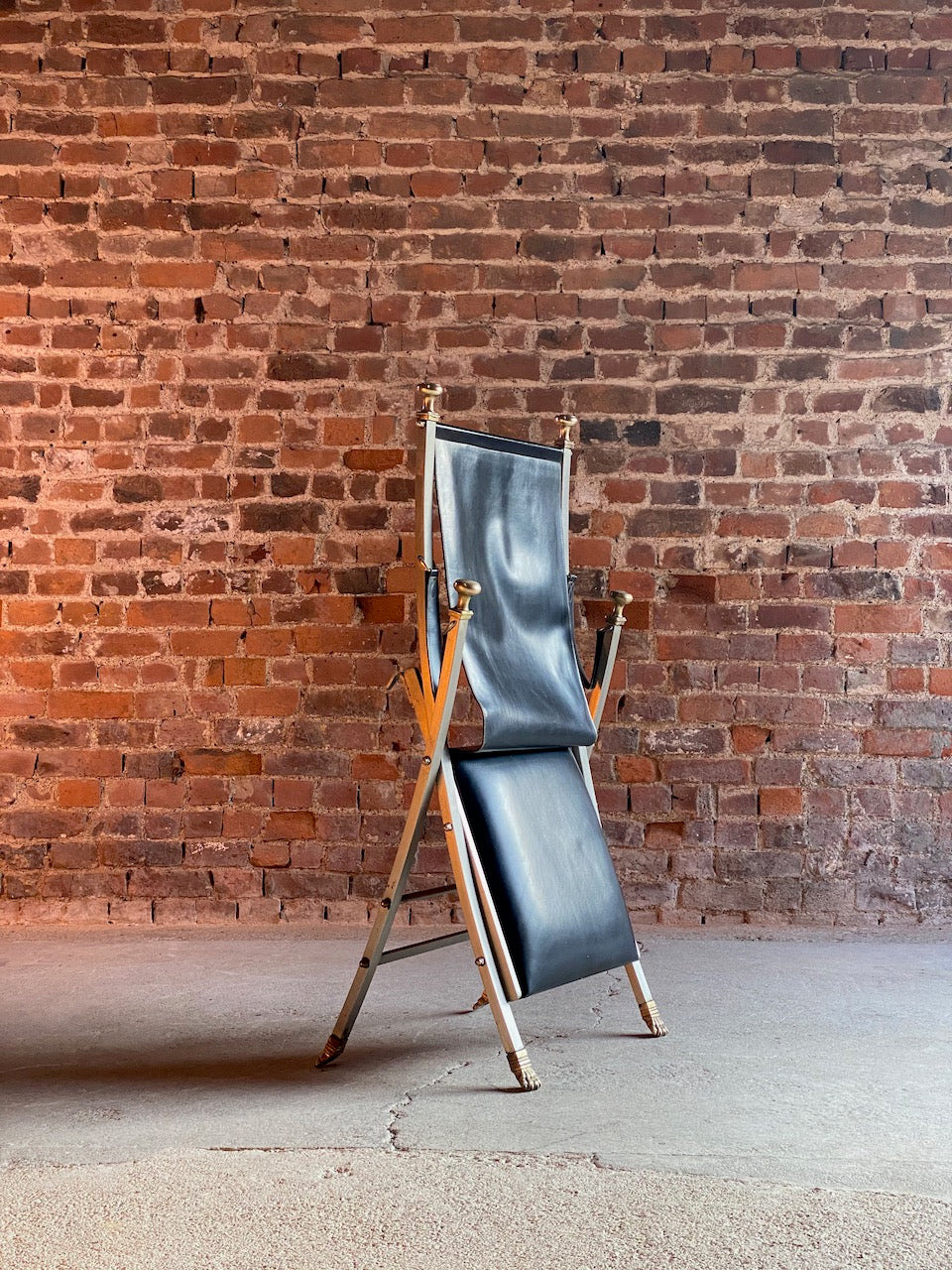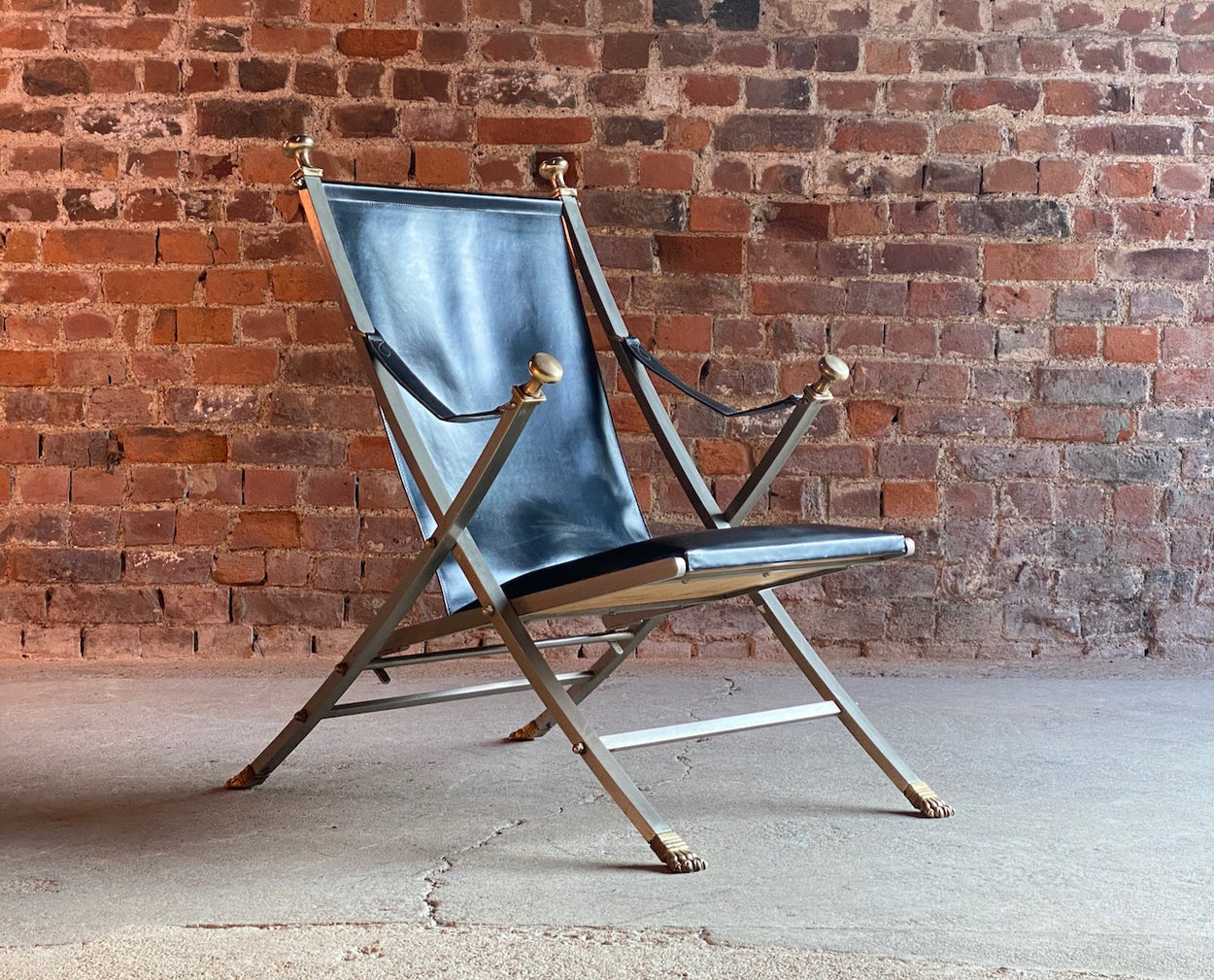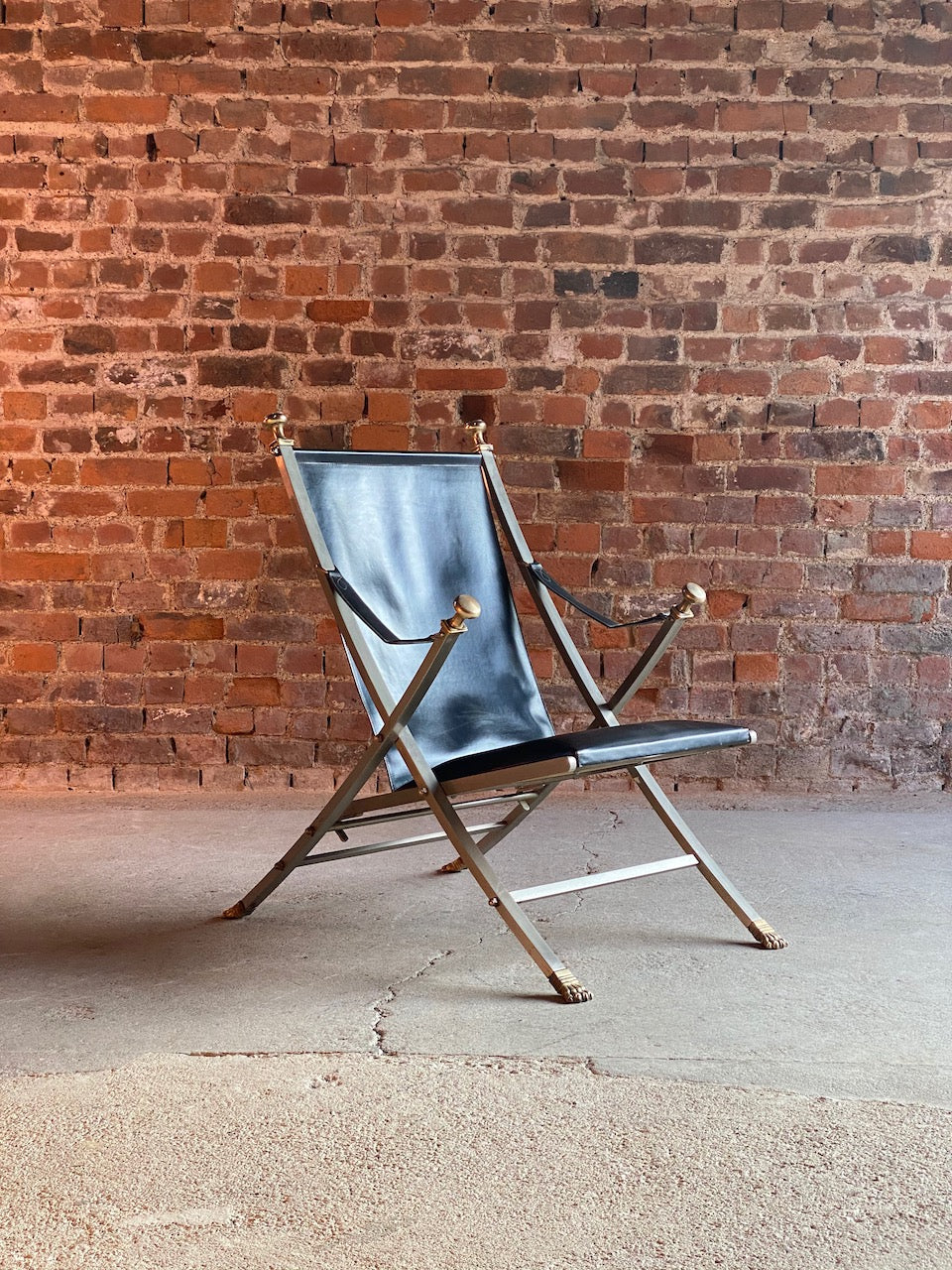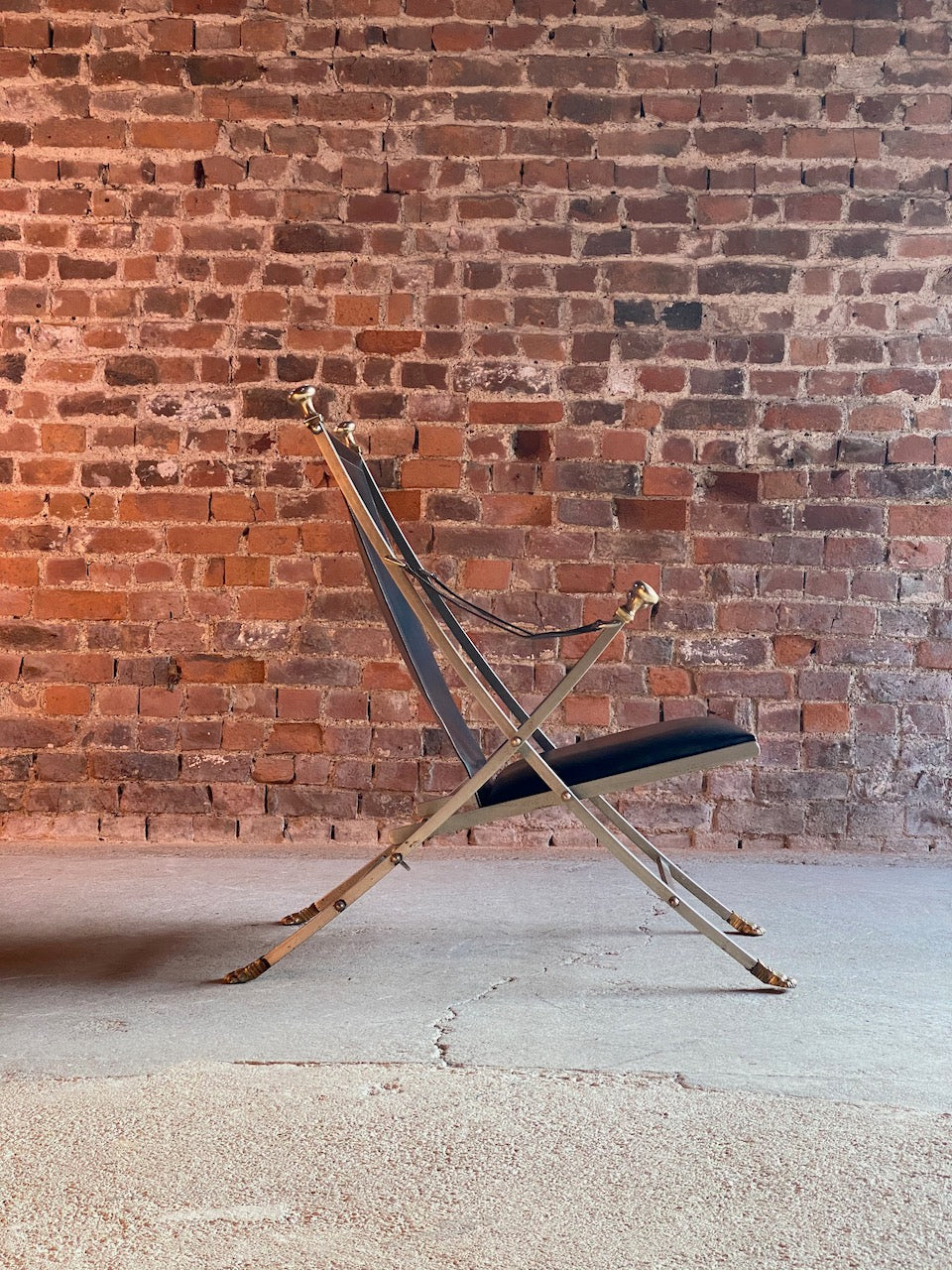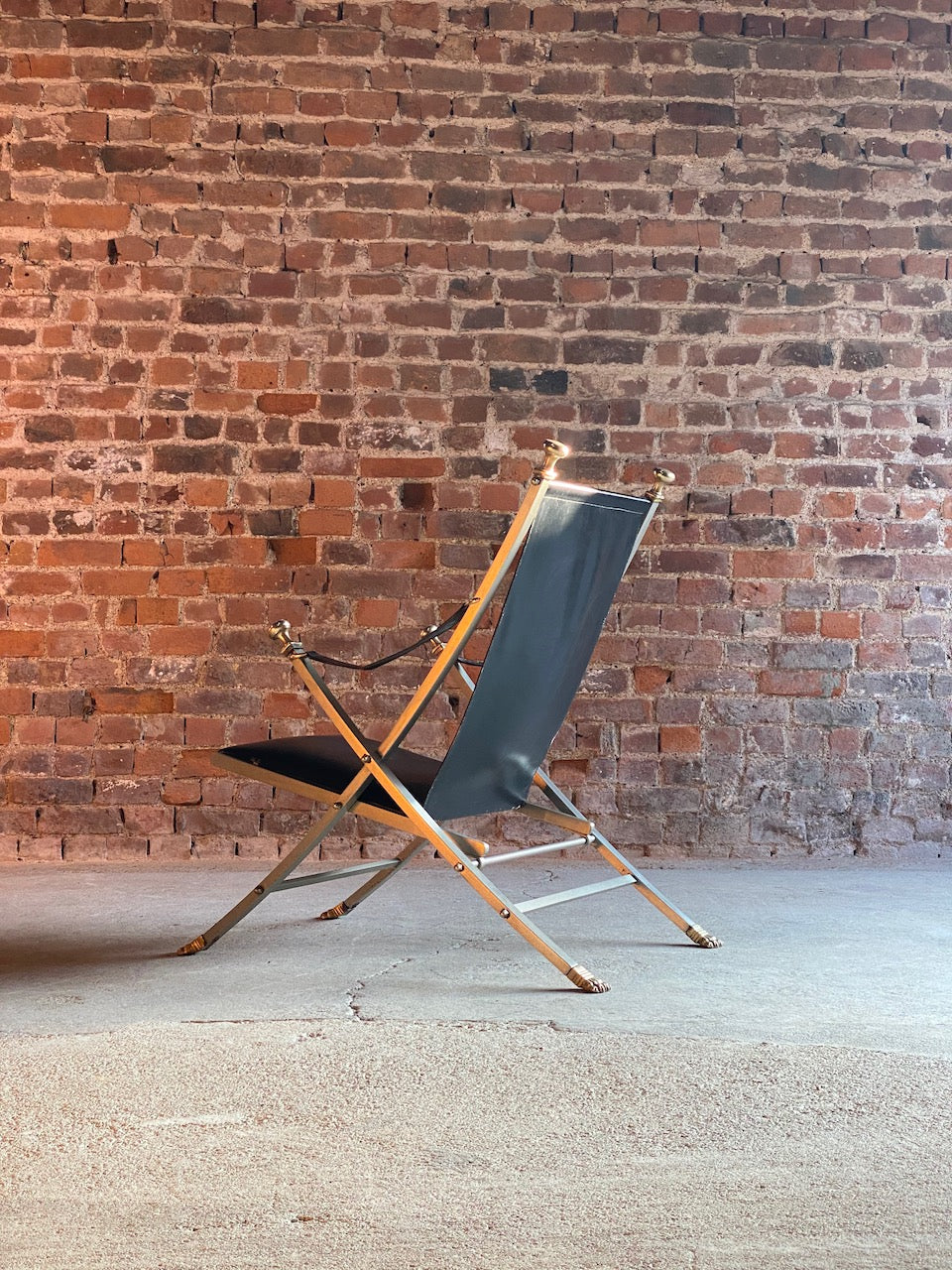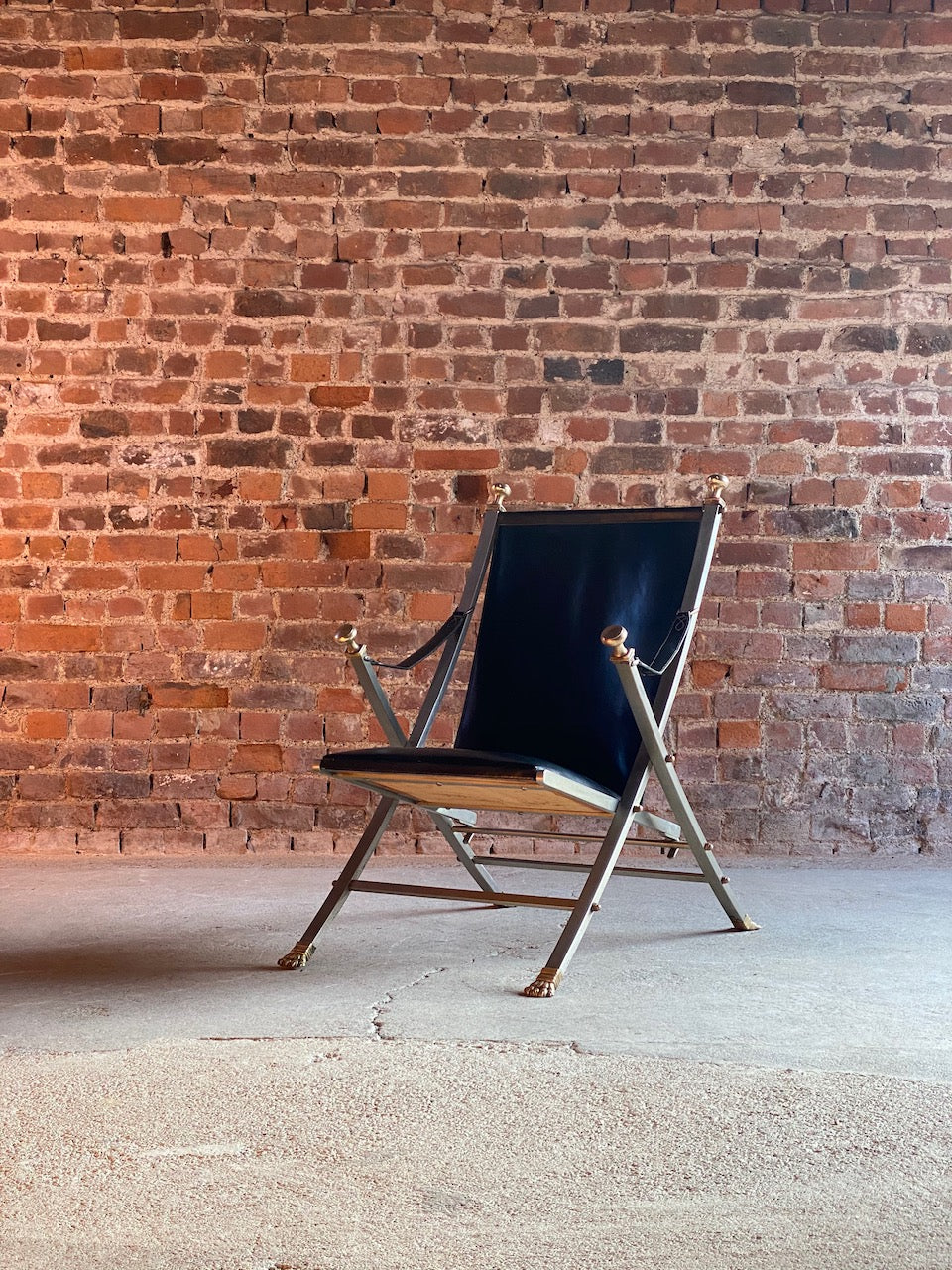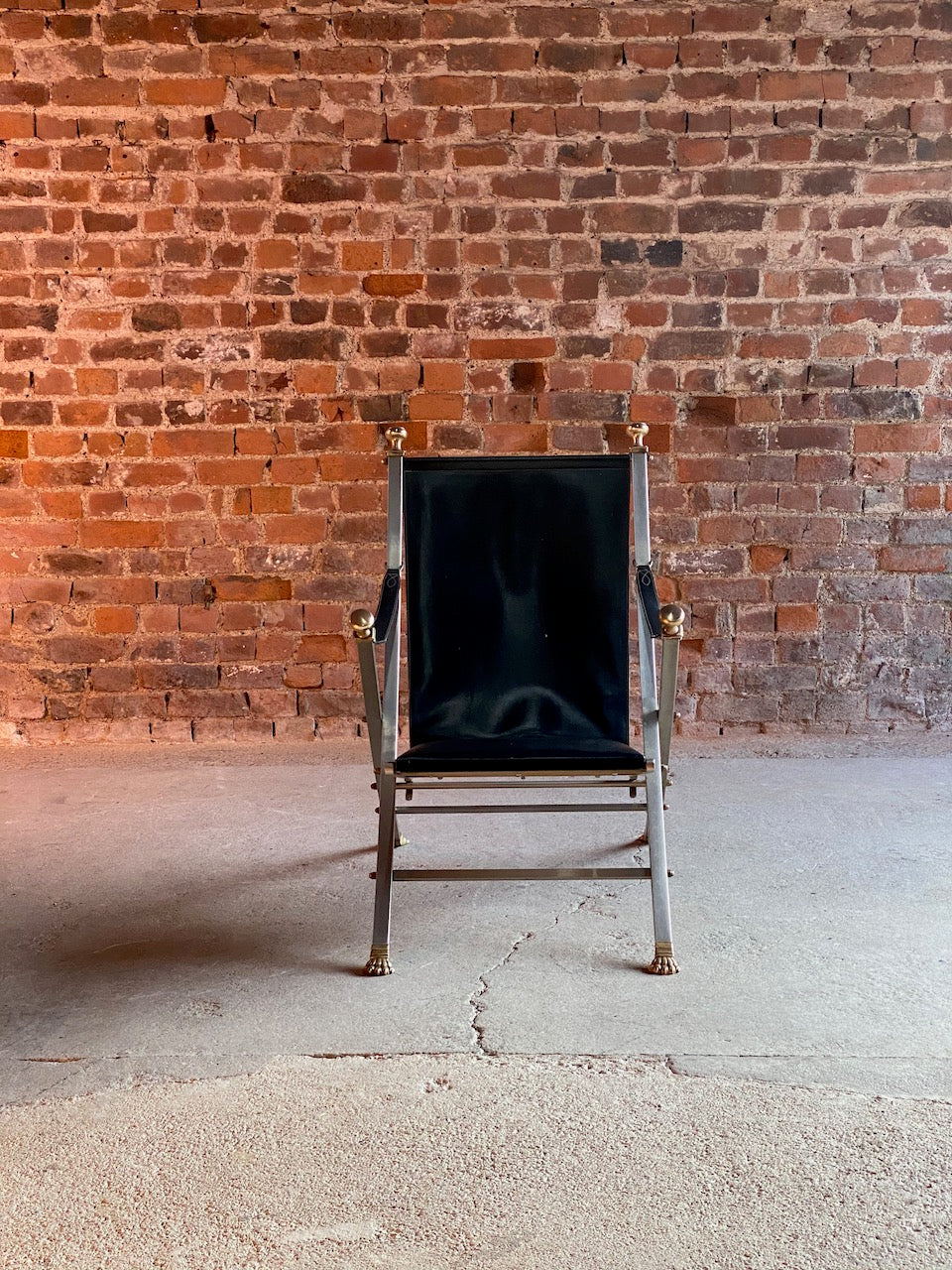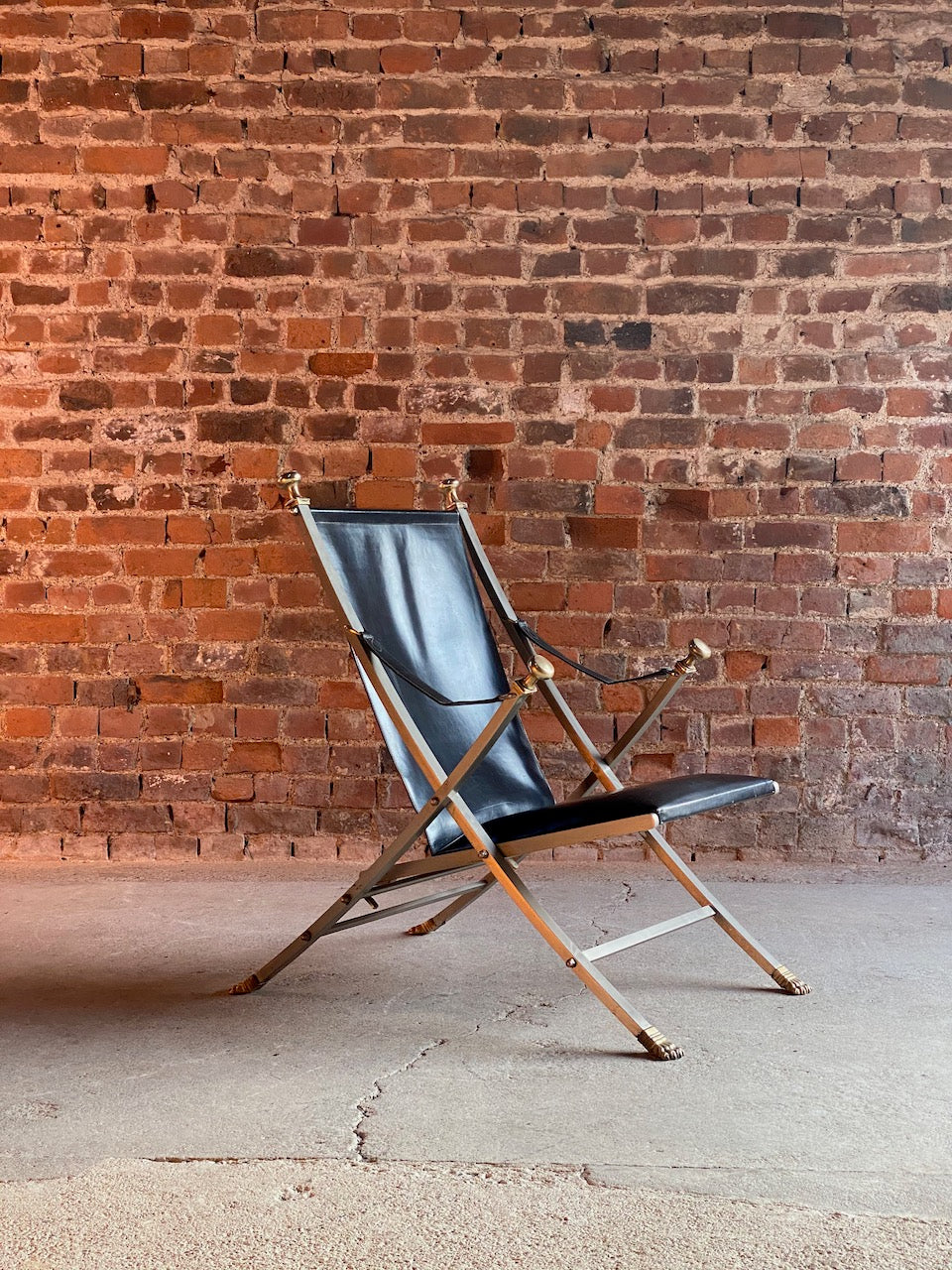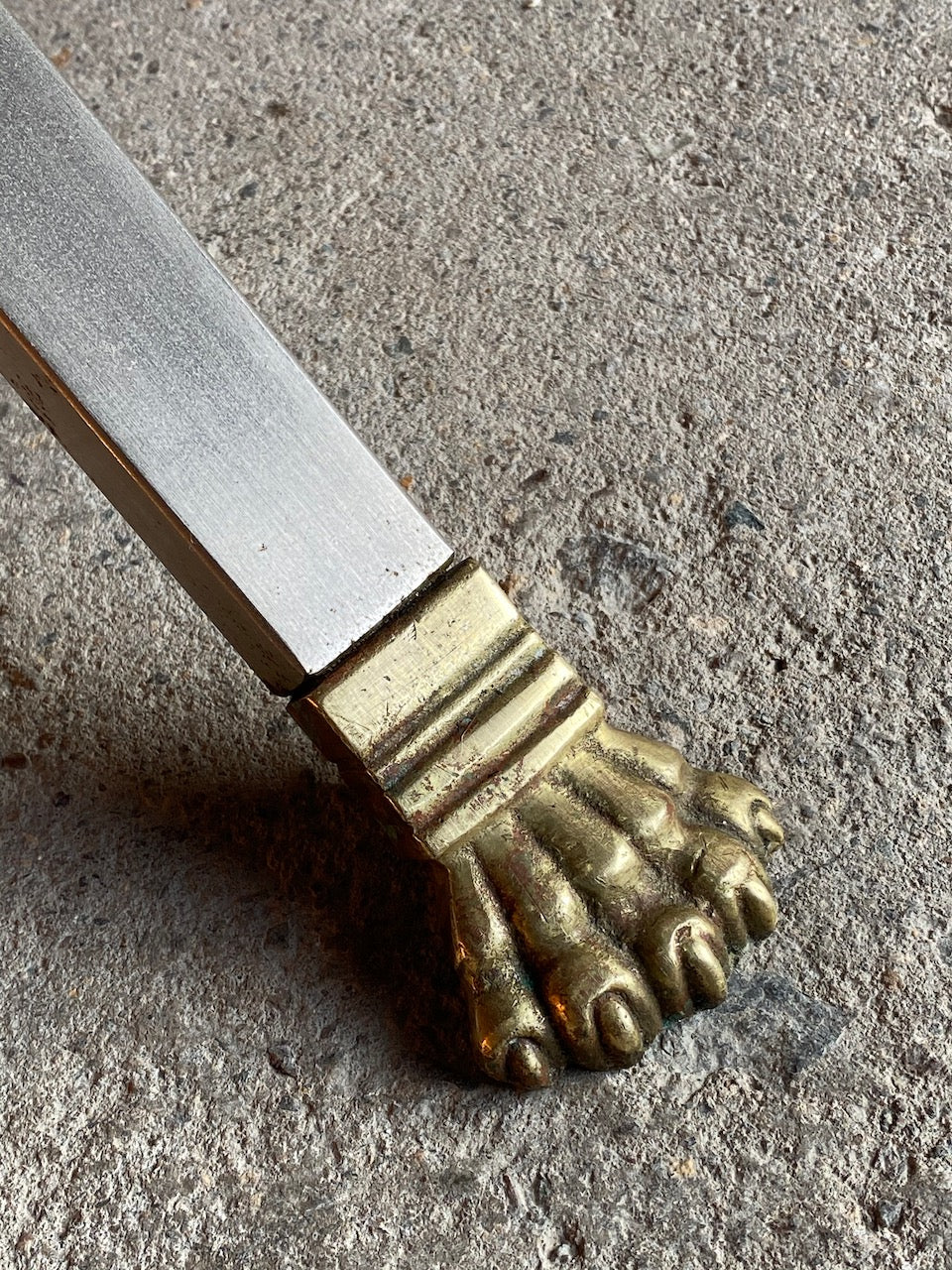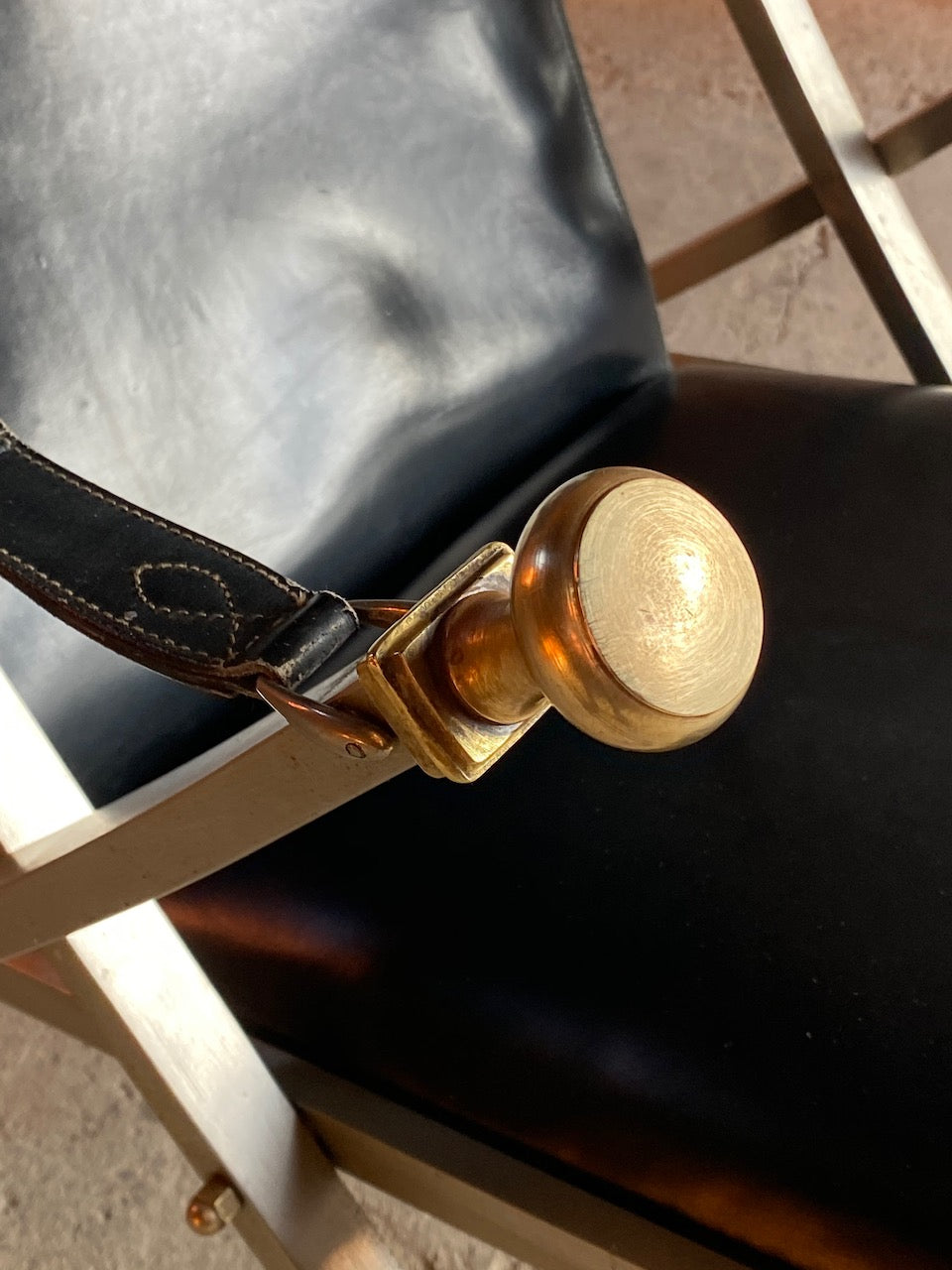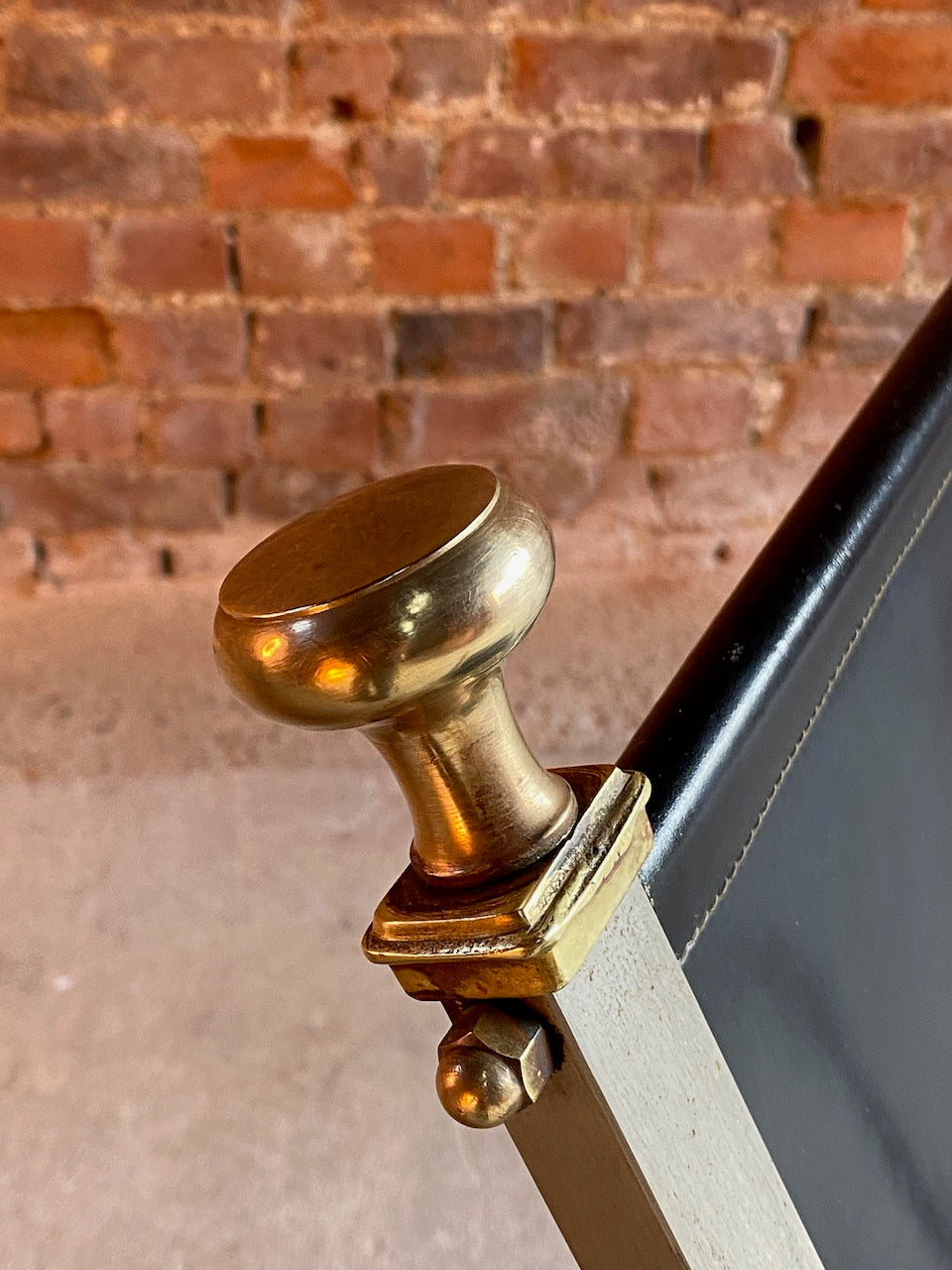 Mid Century Otto Parzinger Campaign Chair by Maison Jansen Paris 1960
SOLD
Mid Century Otto Parzinger Campaign Chair by Maison Jansen Paris 1960

French midcentury Otto Parzinger for Maison Jansen campaign chair, Paris circa 1960, the folding neoclassical brushed solid steel frame with black leather armrests, seat and back, solid gilt bronze paw feet and bun finials to arms and backrests, with its ancient Greek influences, the simple and elegant campaign chair was created by Otto Parzinger for Maison Jansen, the first true international interior design firm, a truly stunning design classic masterpiece.

Campaign chairs get their classification from the fact that they were, quite simply, used during military campaigns. The simple and foldable designs made them easy to carry during the march, and have been in use ever since the times of Julius Caesar.  The bronze finials and noble pawed feet also emphasise the neoclassical style, stunningly regal in spite of their modest design.

Background: Maison Jansen (House of Jansen) is a Paris-based interior decoration office founded in 1880 by Dutch-born Jean-Henri Jansen. Jansen is considered the first truly global design firm, serving clients in Europe, Latin America, North America and the Middle East. This House is located at 23, rue de l'Annonciation, Paris, France.

From its beginnings Maison Jansen combined traditional furnishings with influences of new trends including Anglo Japanese Style the Arts and Crafts movement and Turkish style. The firm paid great attention to historical research with which it attempted to balance clients' desires for liveable, usable, and often dramatic space. Within ten years the firm had become a major purchaser of European antiques, and by 1890 had established an antiques gallery as a separate firm that acquired and sold antiques to Jansen's clients and its competitors as well.
In the early 1920s Jean-Henri Jansen approached Stéphane Boudin, who was then working in the textile trimming business owned by his father Alexandre Boudin, and brought him on board. Accounts of the arrangement vary. Speculation existed that Boudin was able to provide financial solvency to the prominent but capital-poor atelier. Boudin's attention to detail, concern for historical accuracy, and ability to create dramatic and memorable spaces brought increasing new work to the firm. Boudin was made director and presided over an expansion of the firm's offices and income.

The White House Red Room was designed by Stéphane Boudin, during the administration of John F. Kennedy Boudin furnished the room primarily in the American Empire style with many pieces by the cabinetmaker Charles-Honoré Lannuier. Decorative tapes for the Napoleonic campaign style drapes were woven by the firm Tassinari et Chatel.

Mid Century
Otto Parzinger
Maison Jansen
Original
Neo Classical
Campaign chair
Leather
Brushed Steel
Gilt Bronze
Paris, France
1960
Folding
The chair is offered good original condition with minor age related wear, the leather is in very good condition with no tears or rips, supple and well maintained, the steel frame and bronze are in excellent condition
Height: 37" / 93.98cm
Width: 24" / 60.96cm
Depth: 35" / 88.9cm
Seat Height: 15" / 38.1cm

Free delivery is offered to England & Wales only when buyer pays full asking price, next day delivery is not possible due to the size of the piece, please allow between 7-14 days delivery