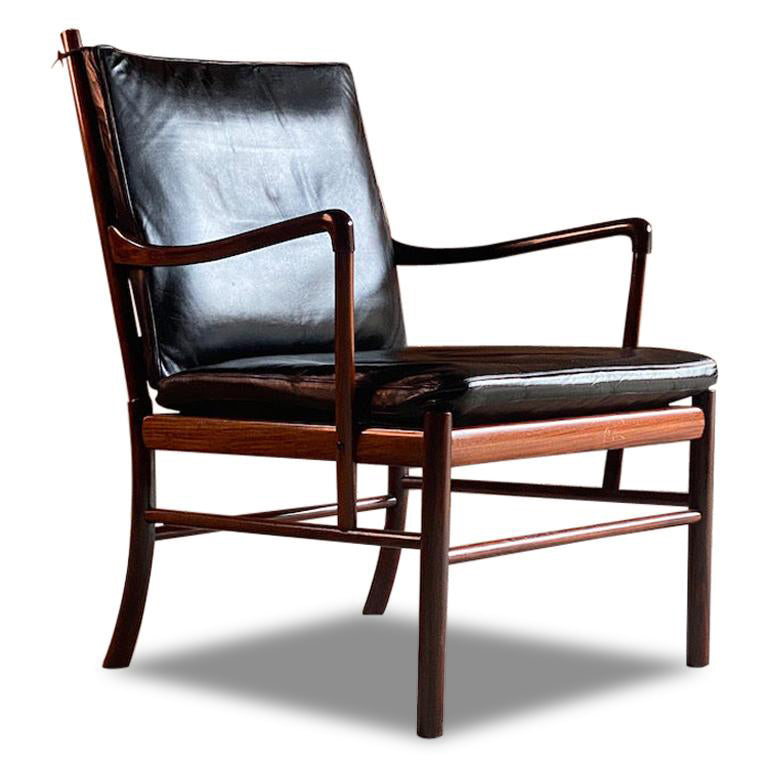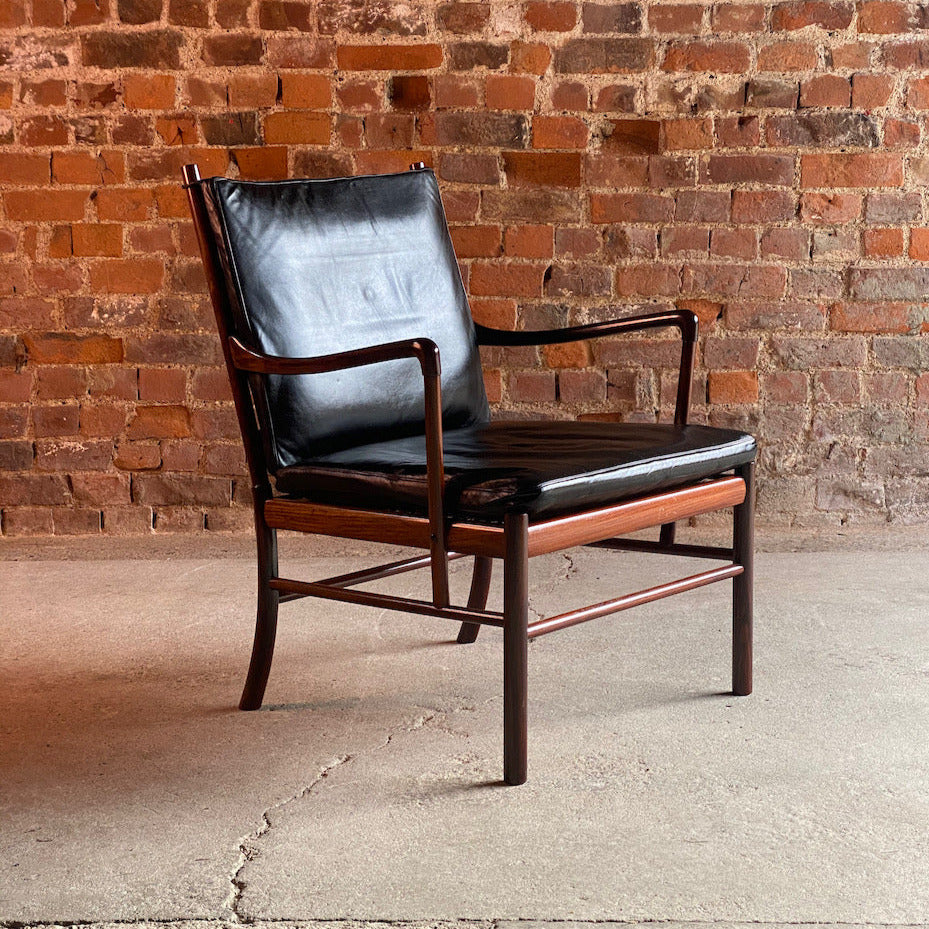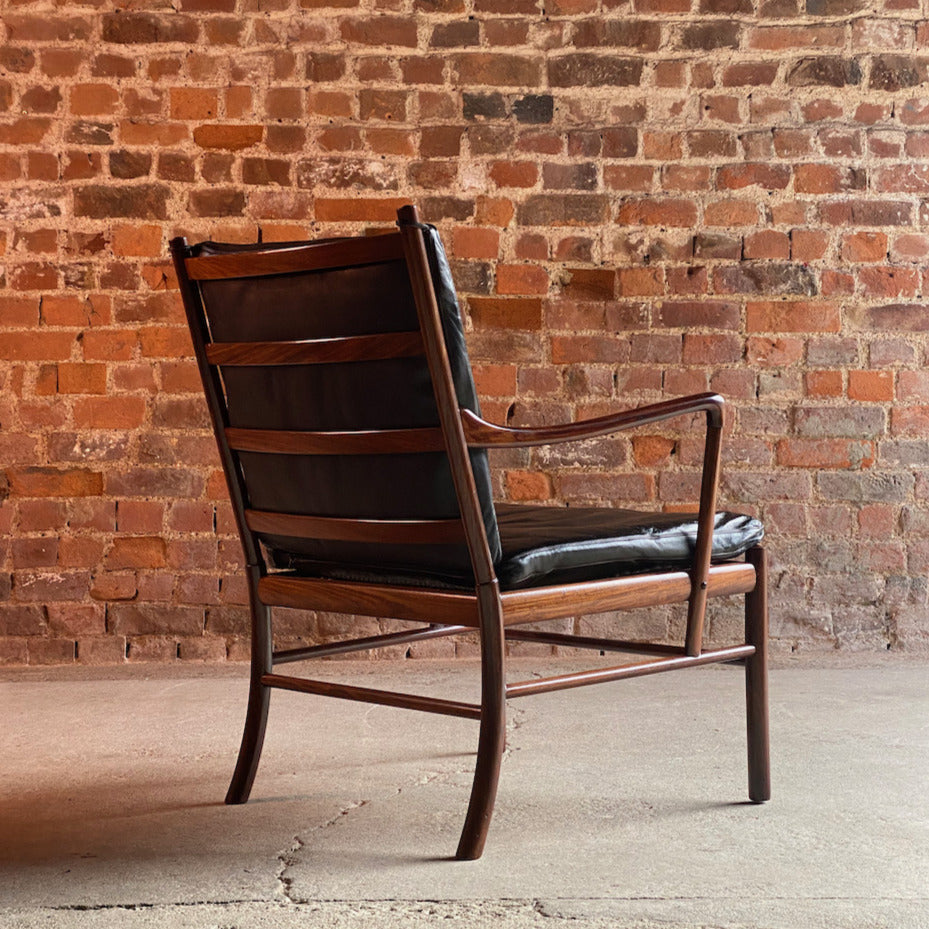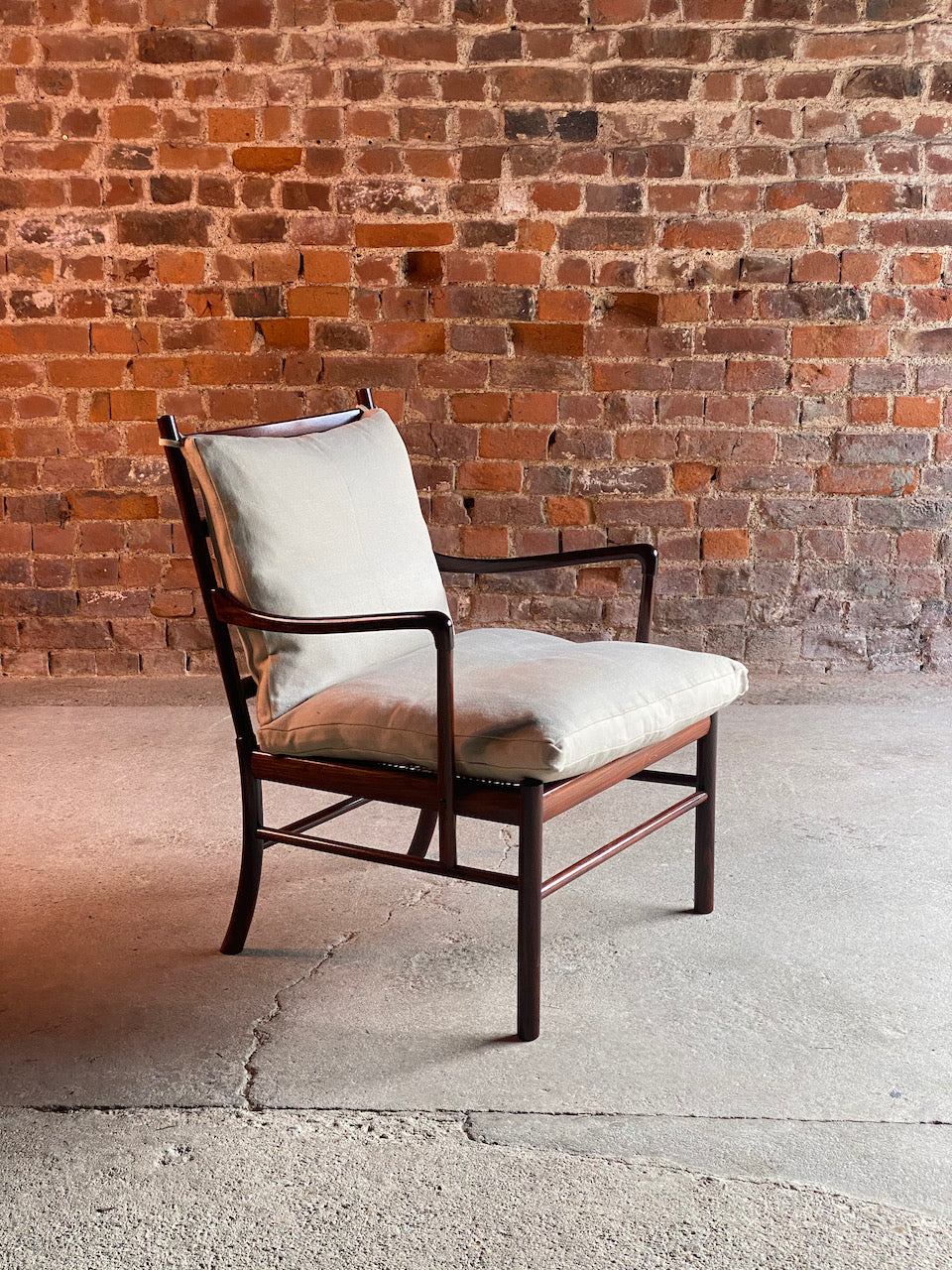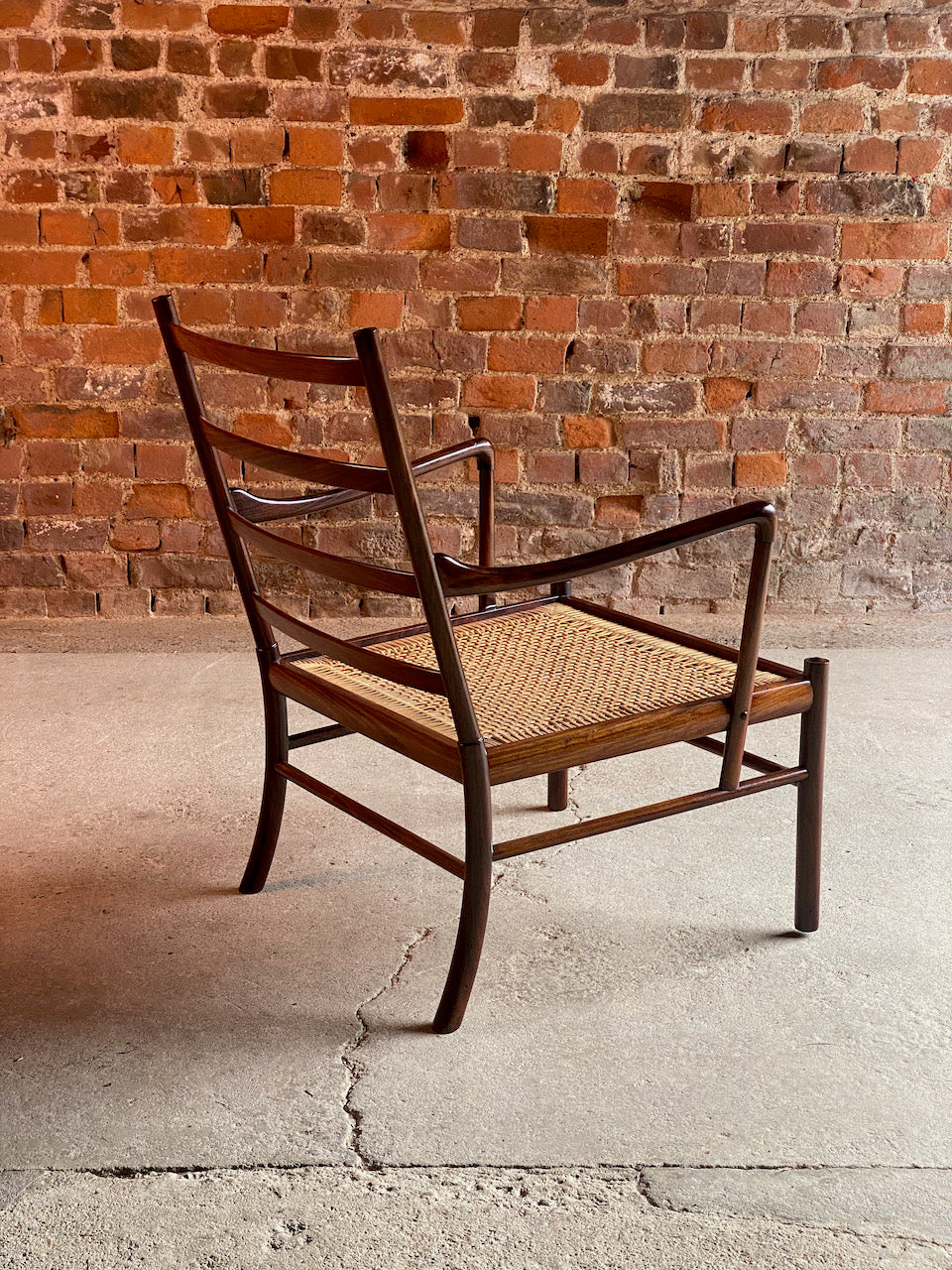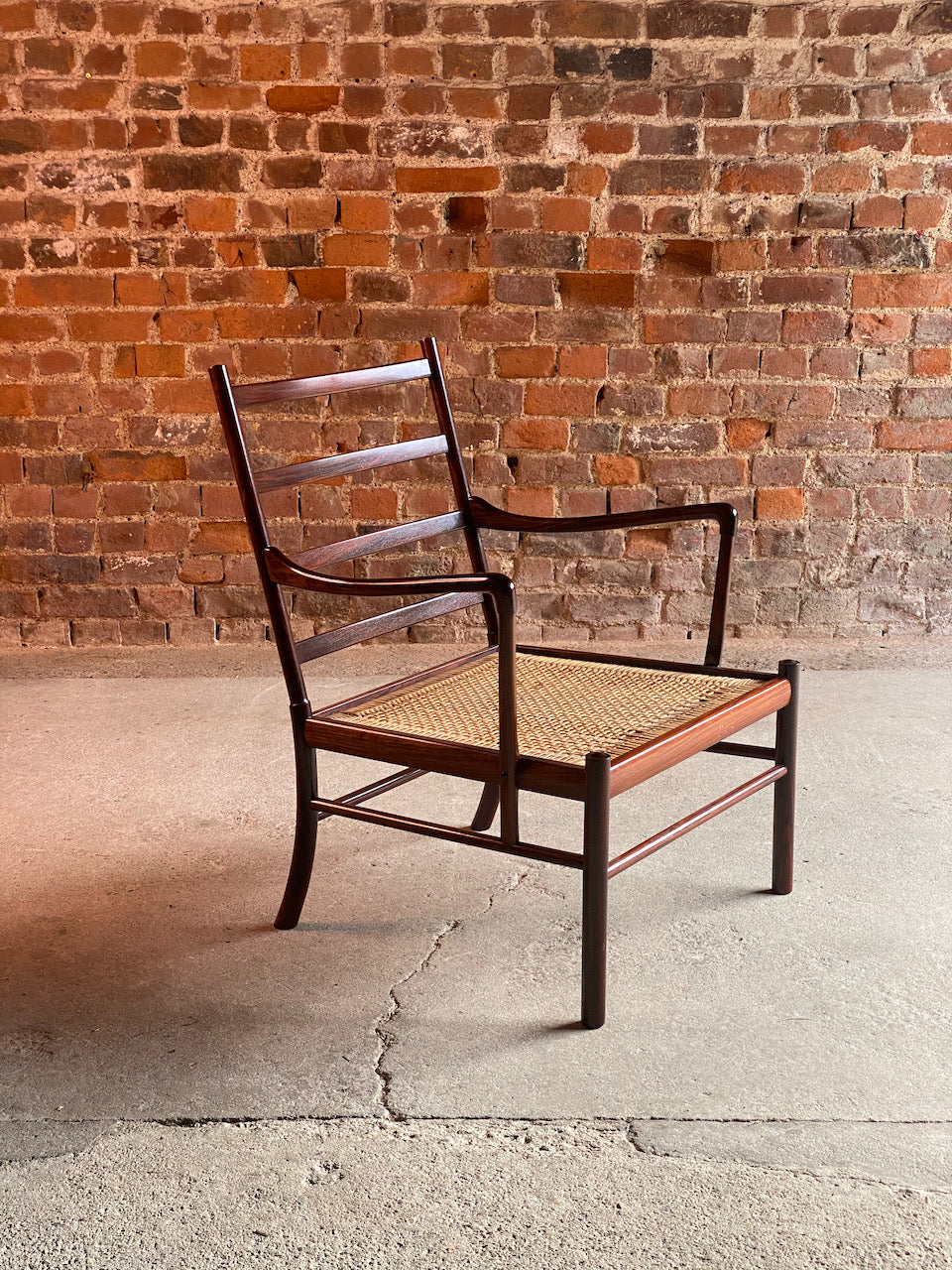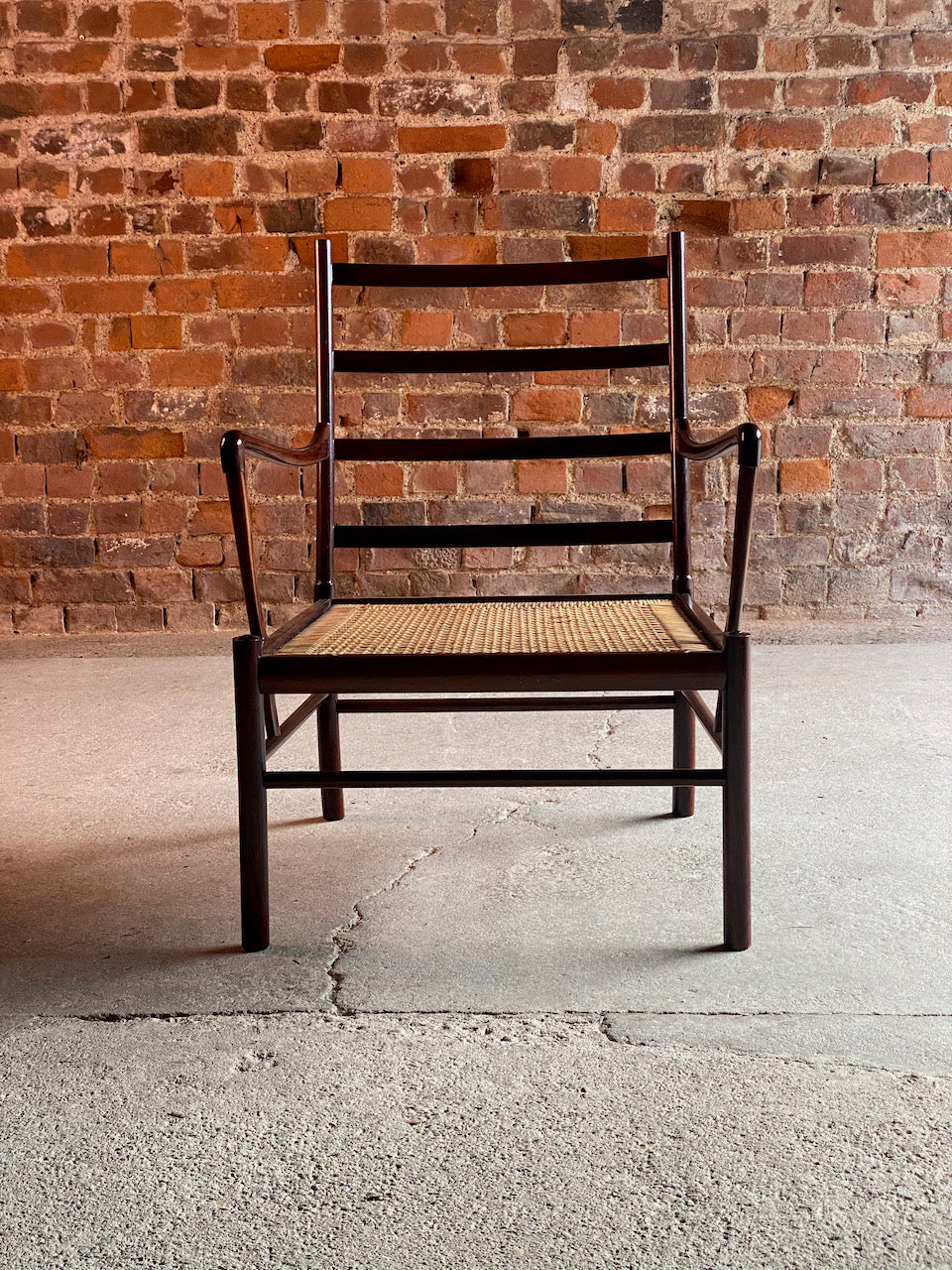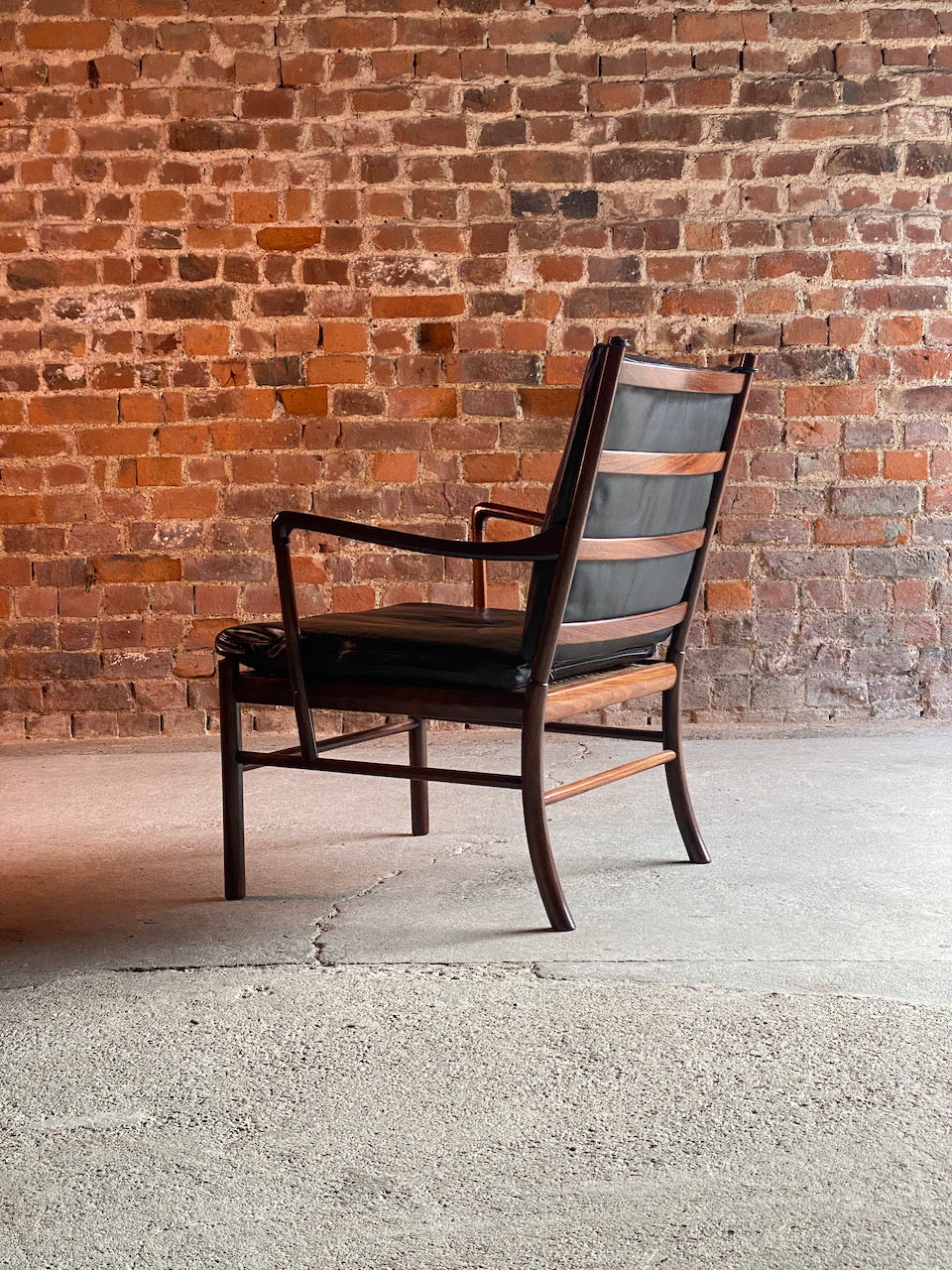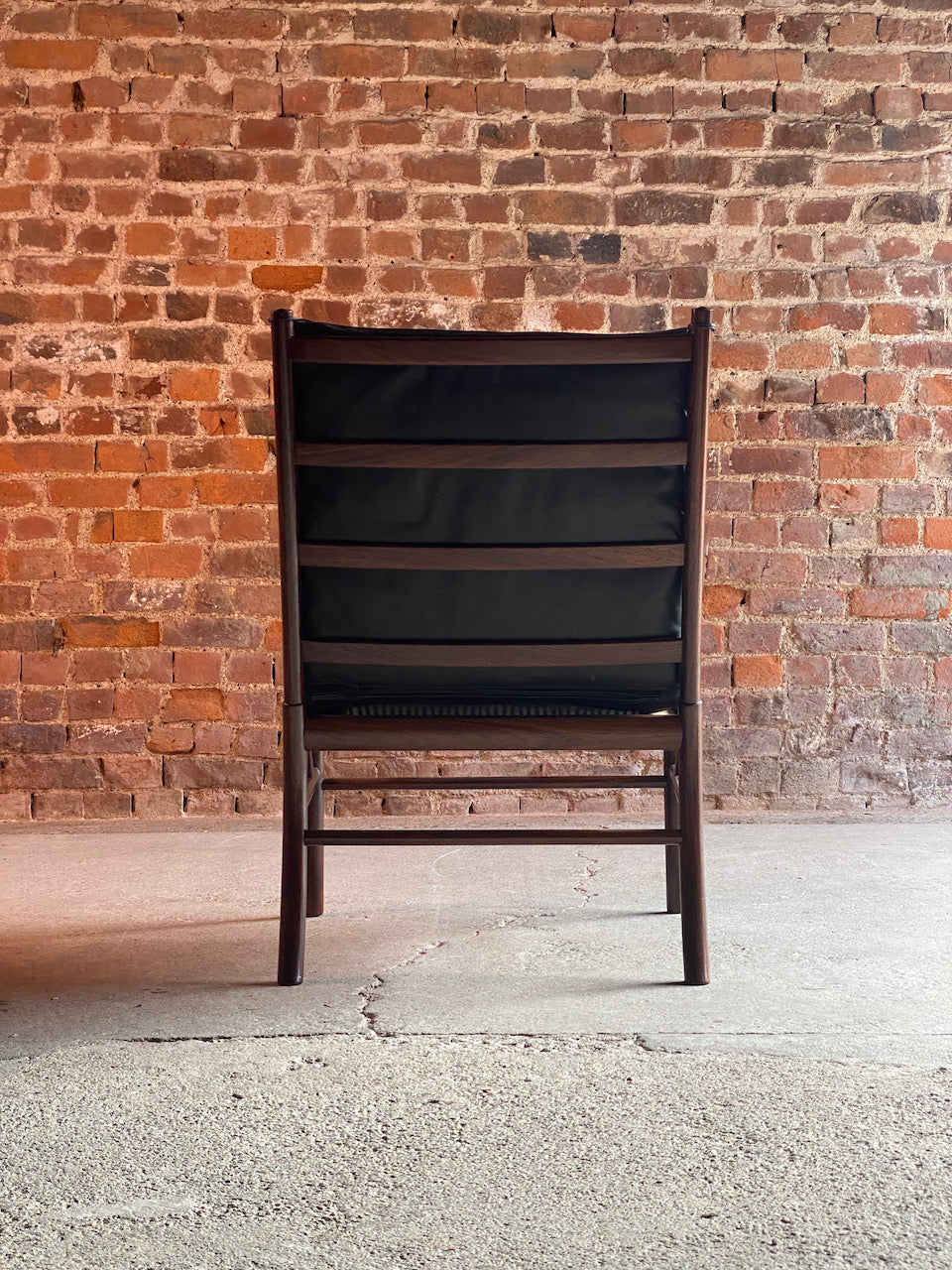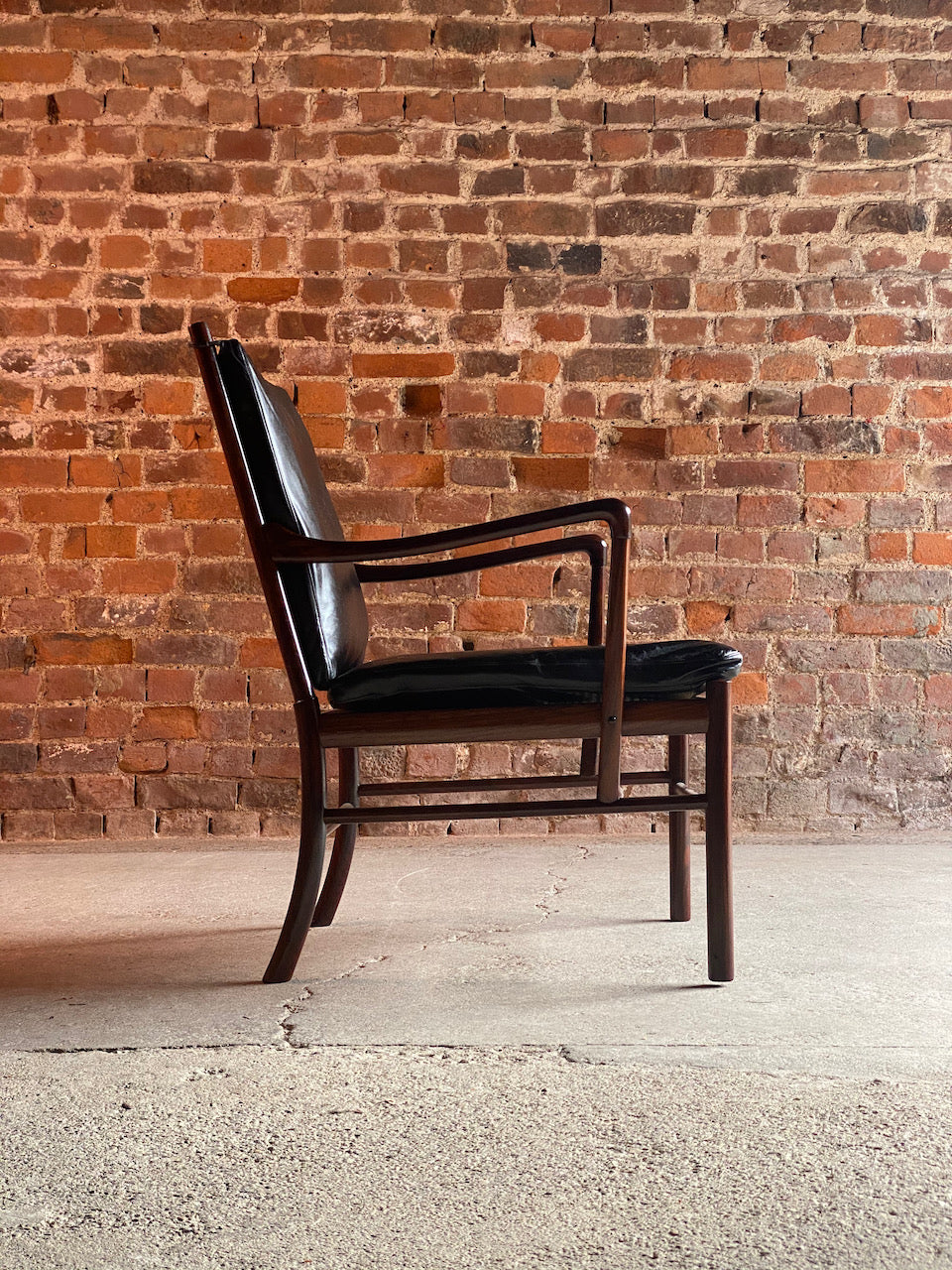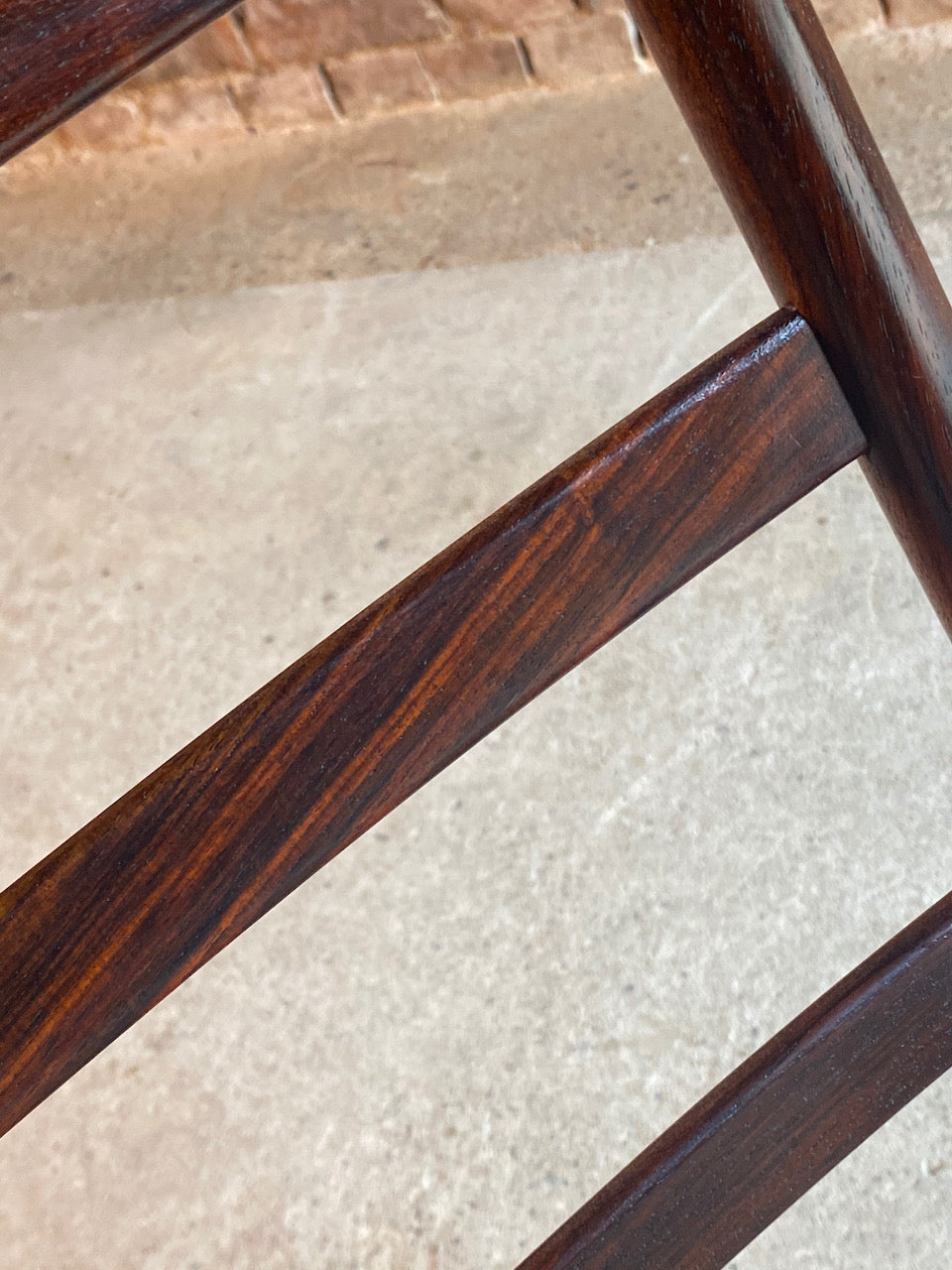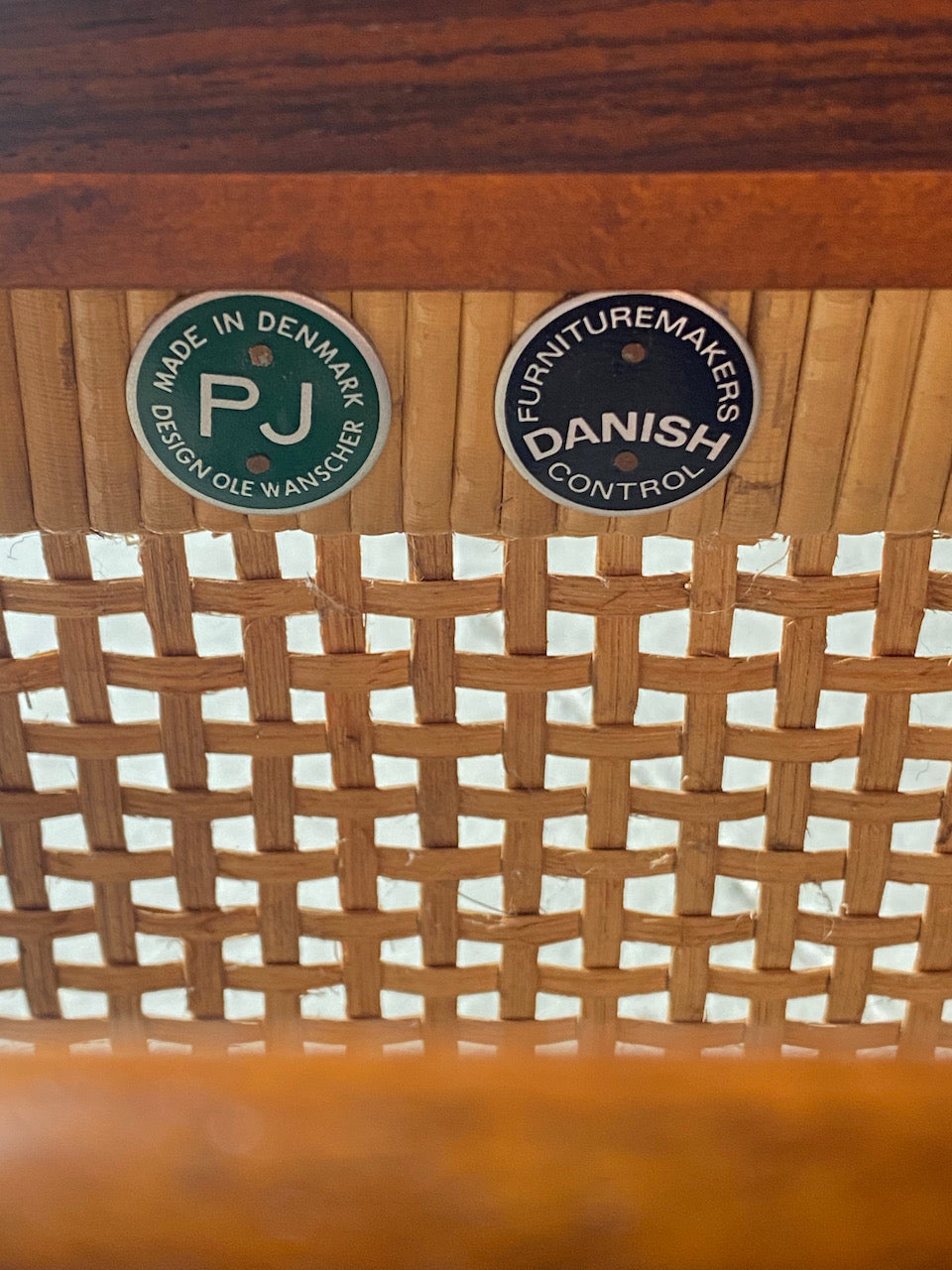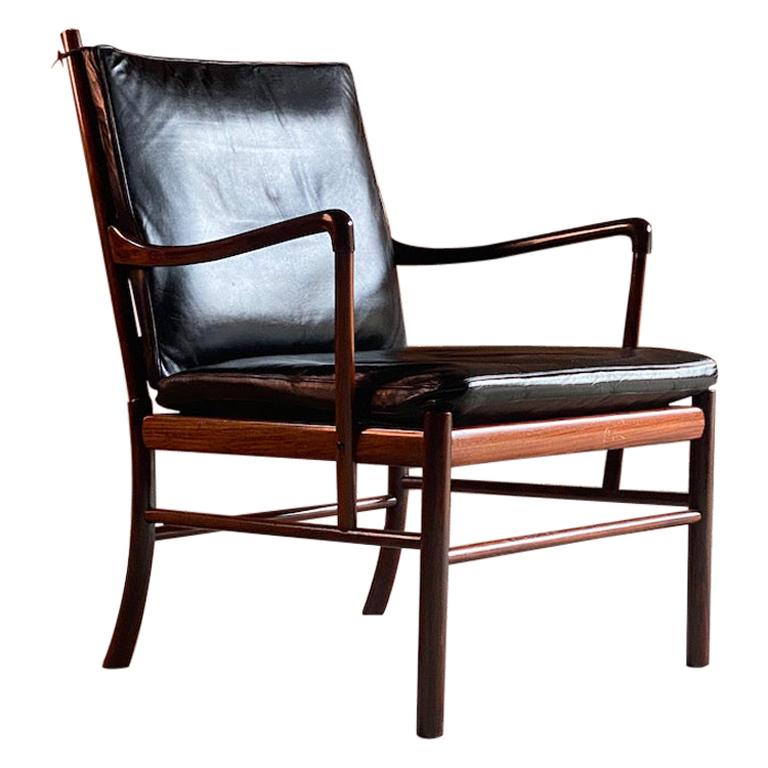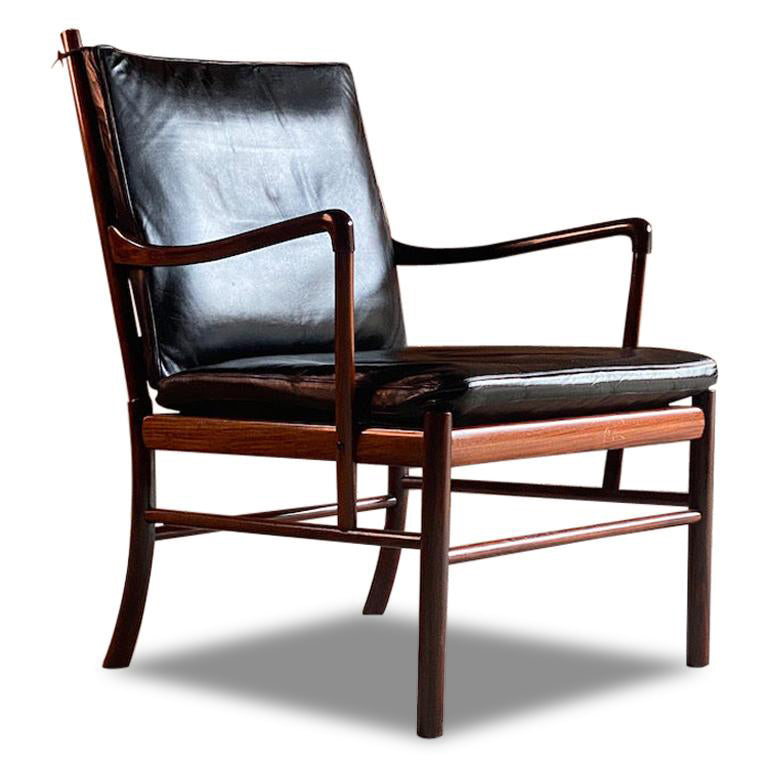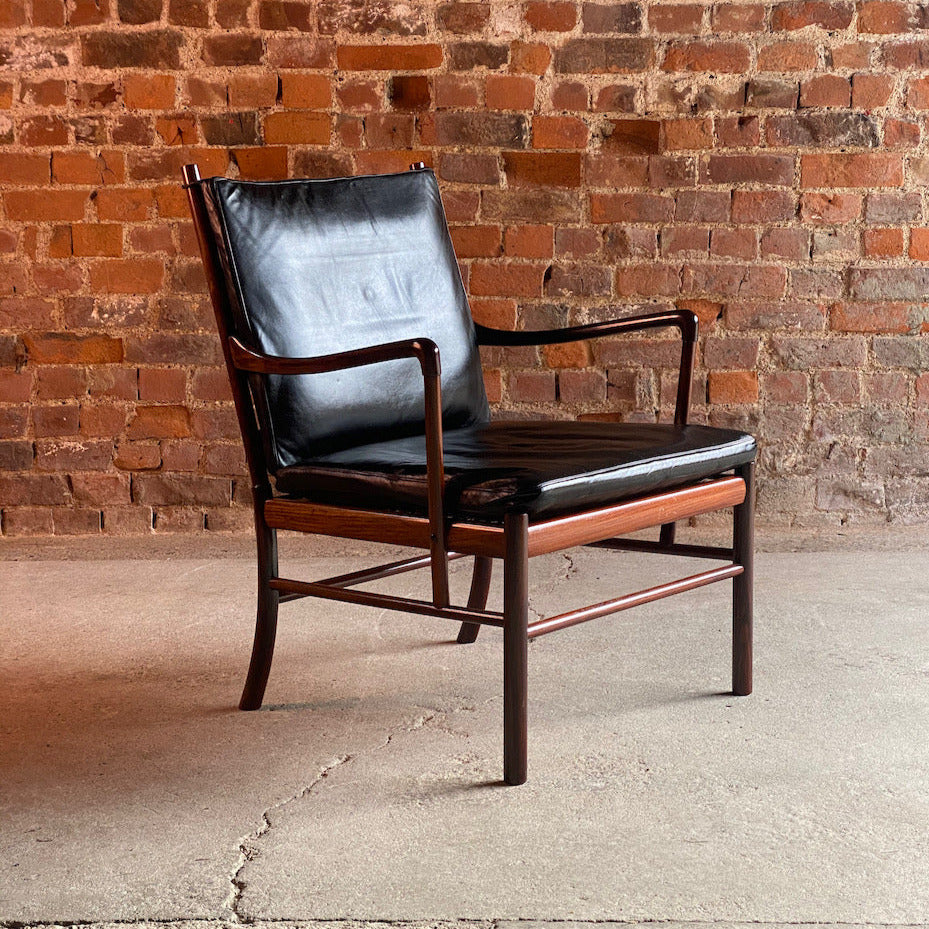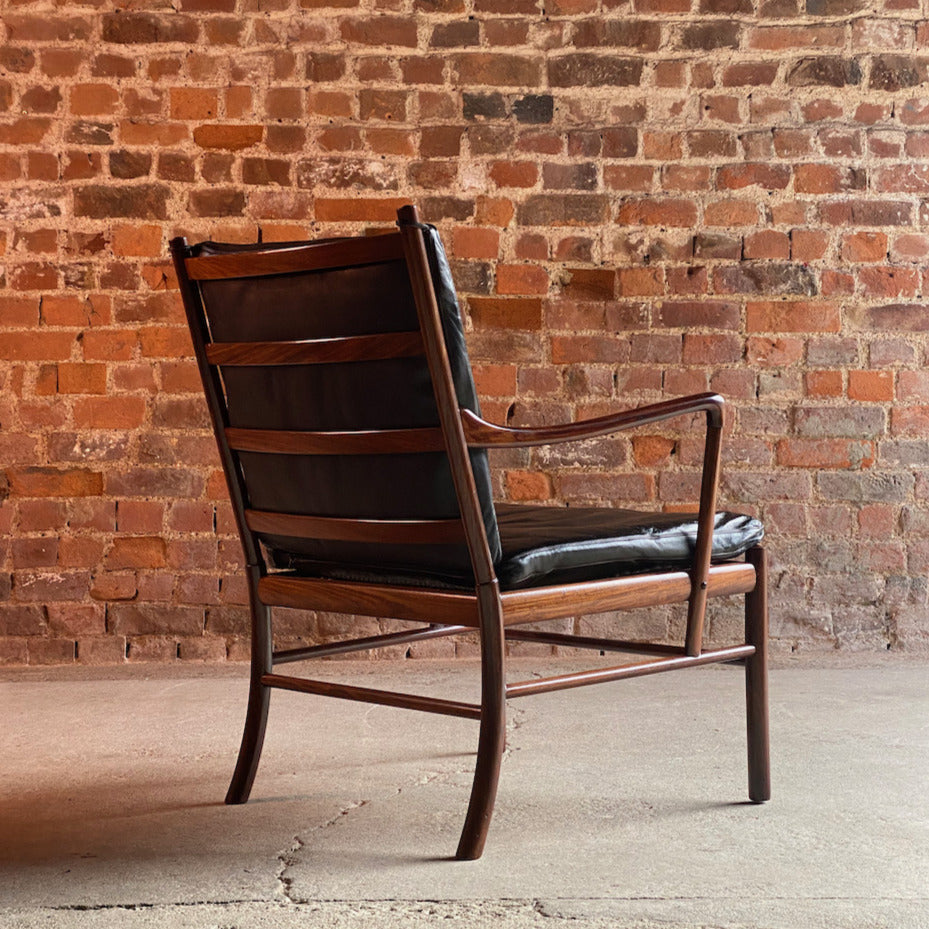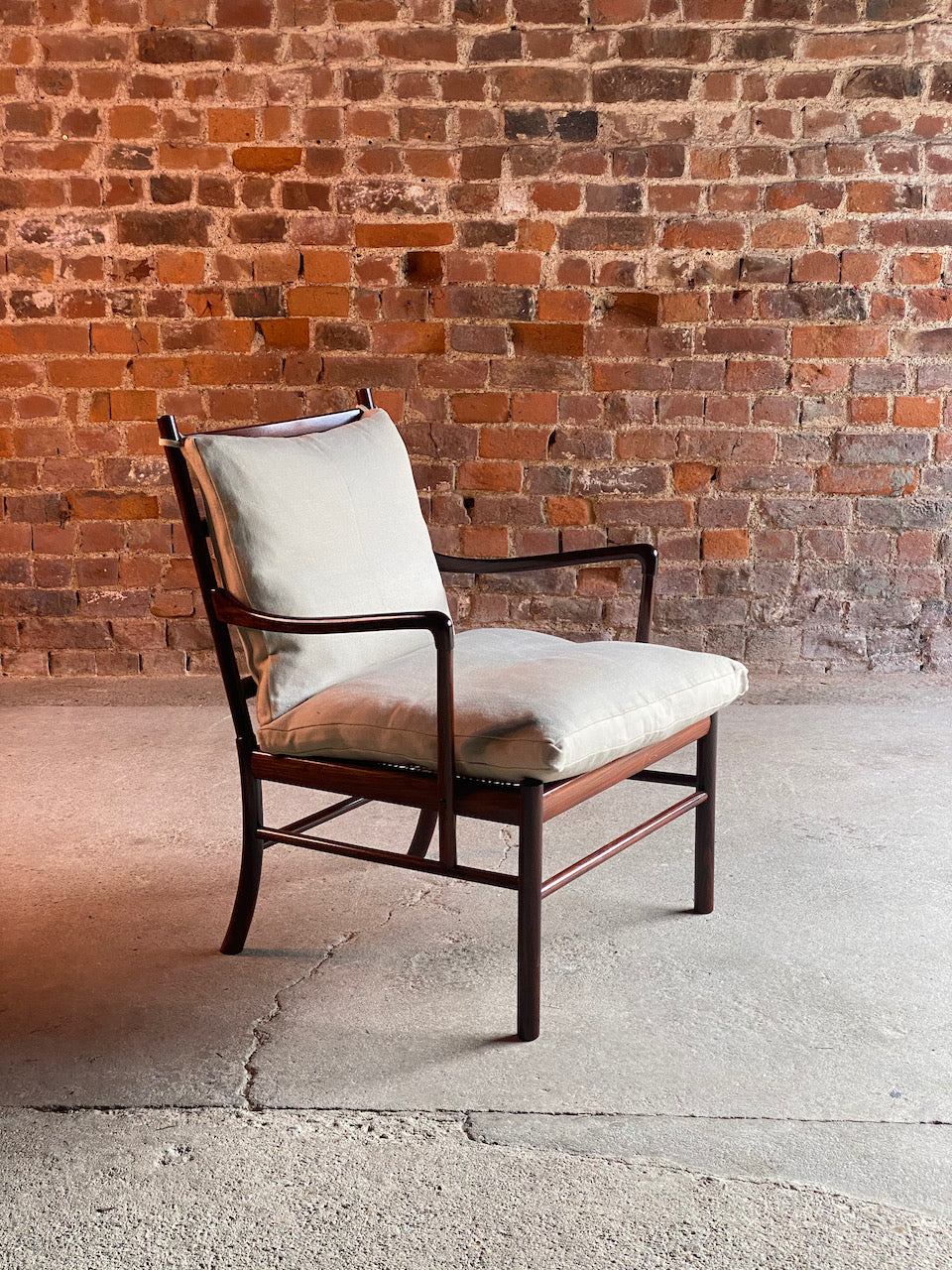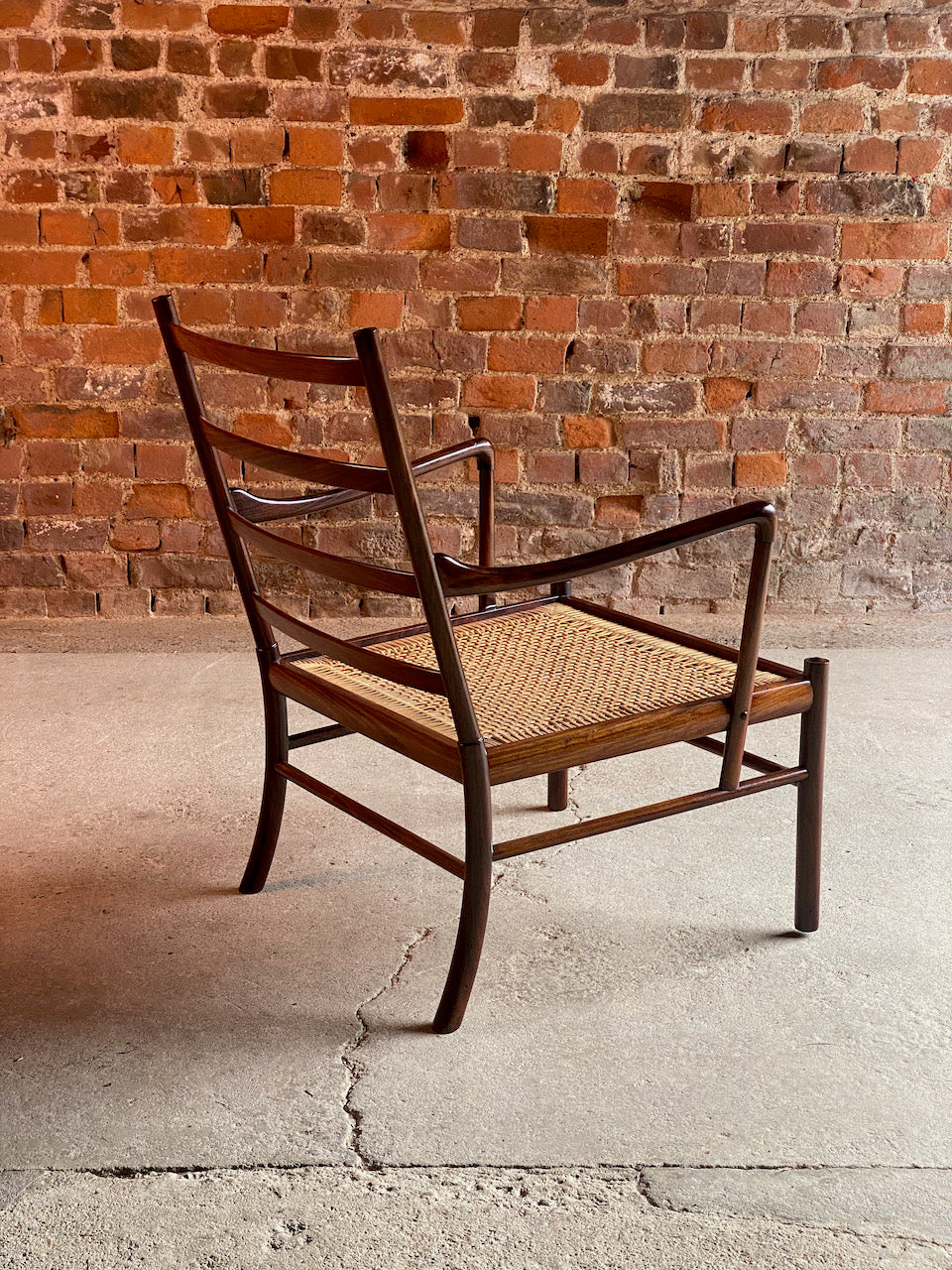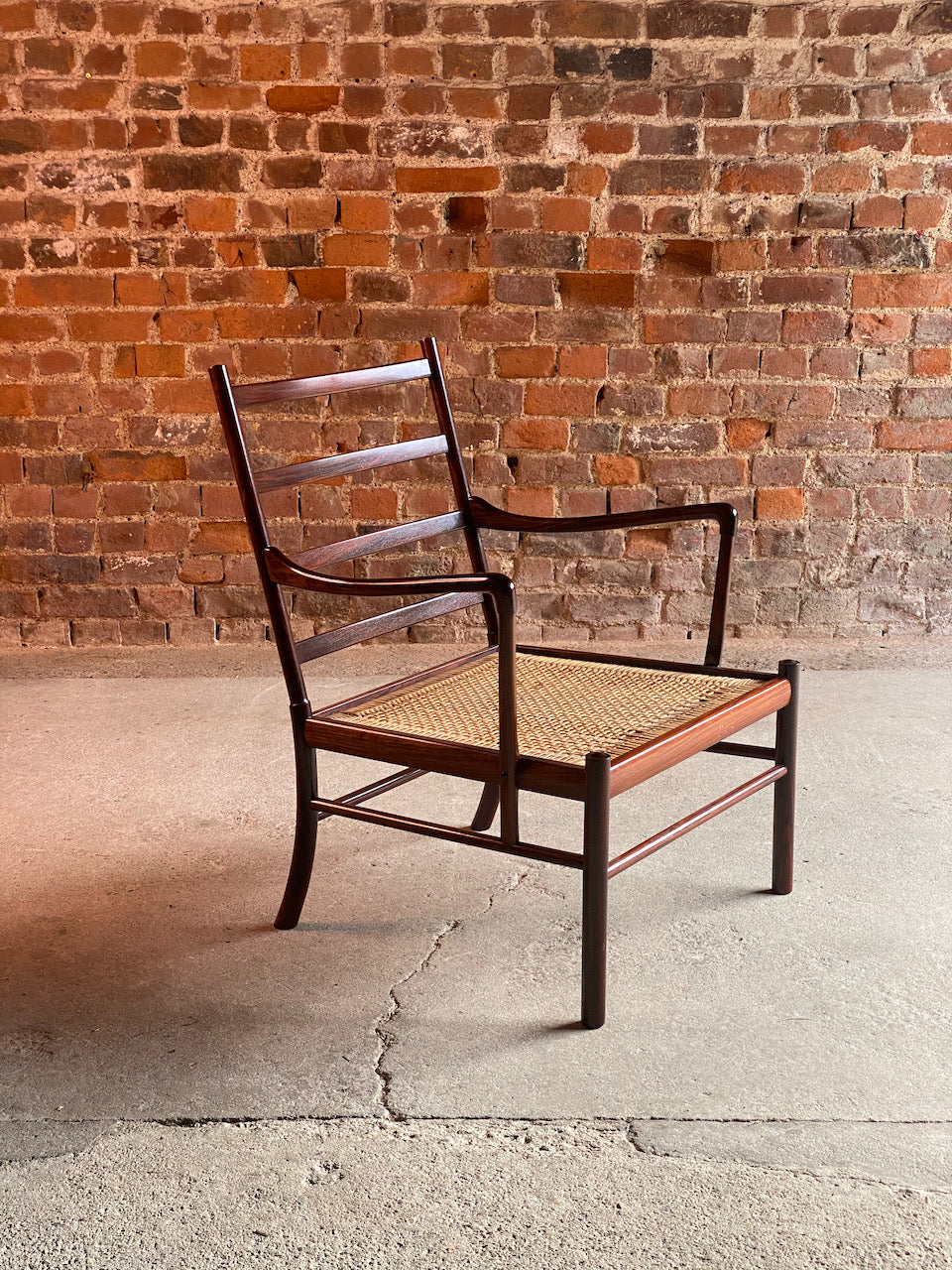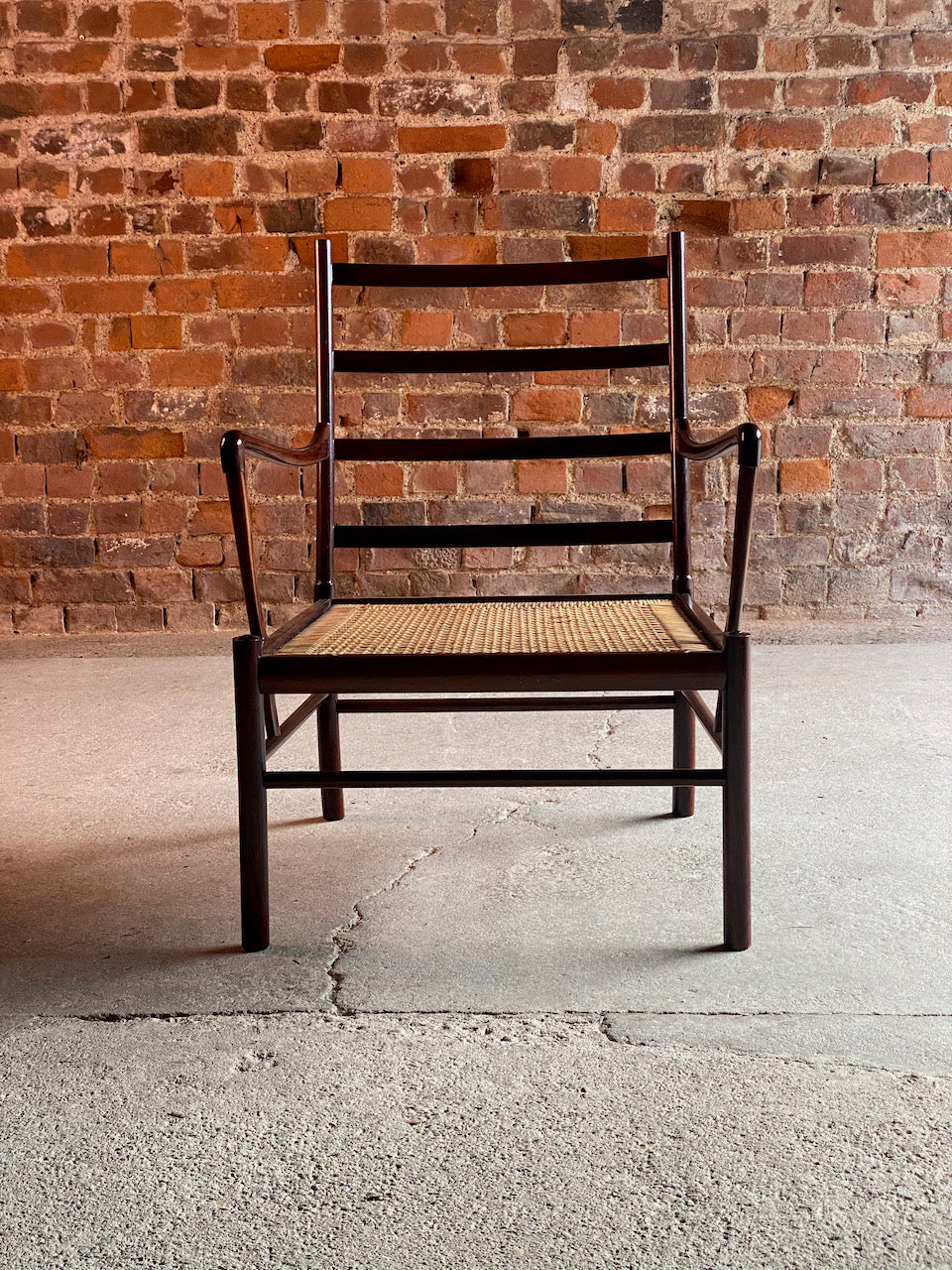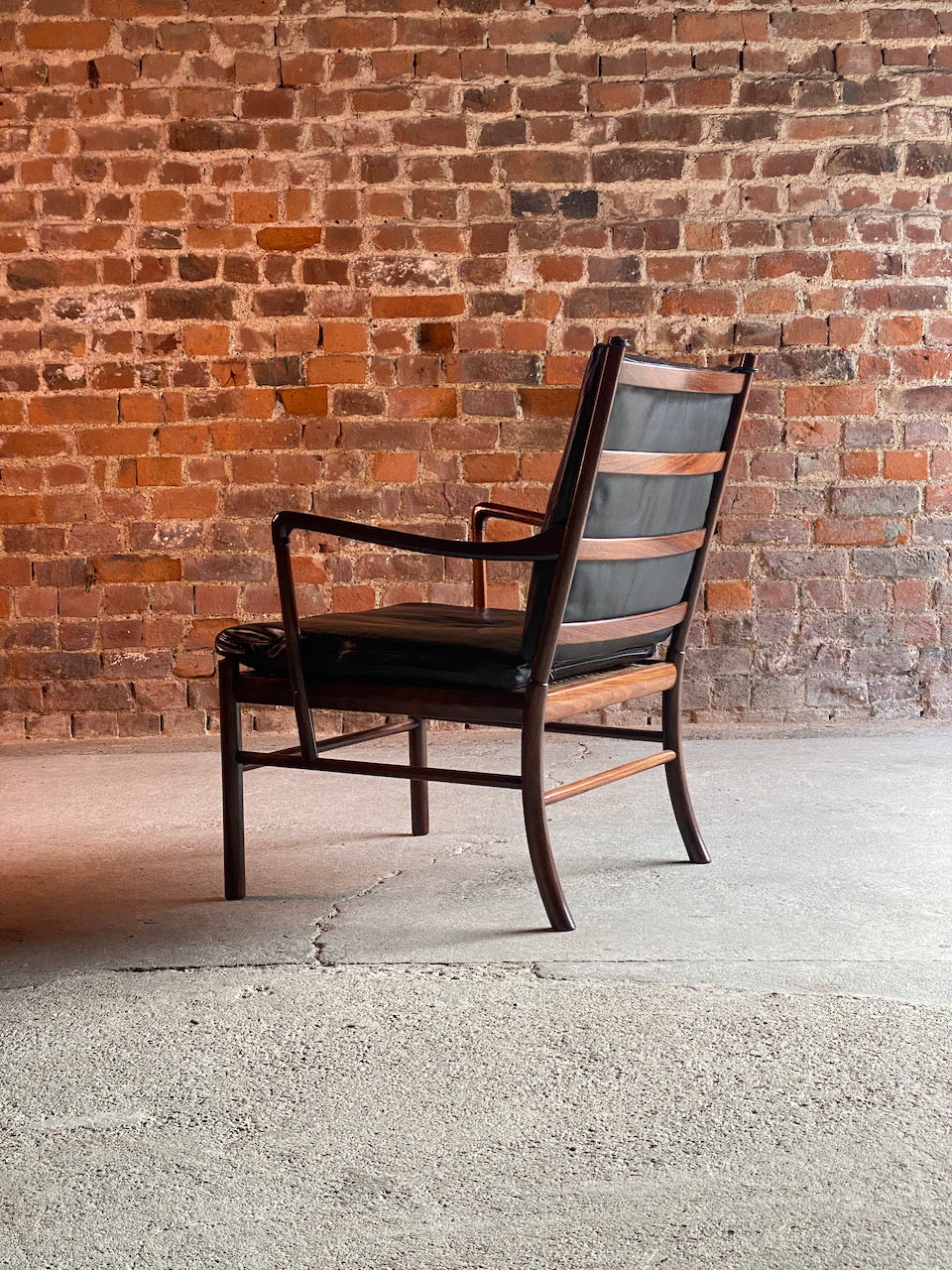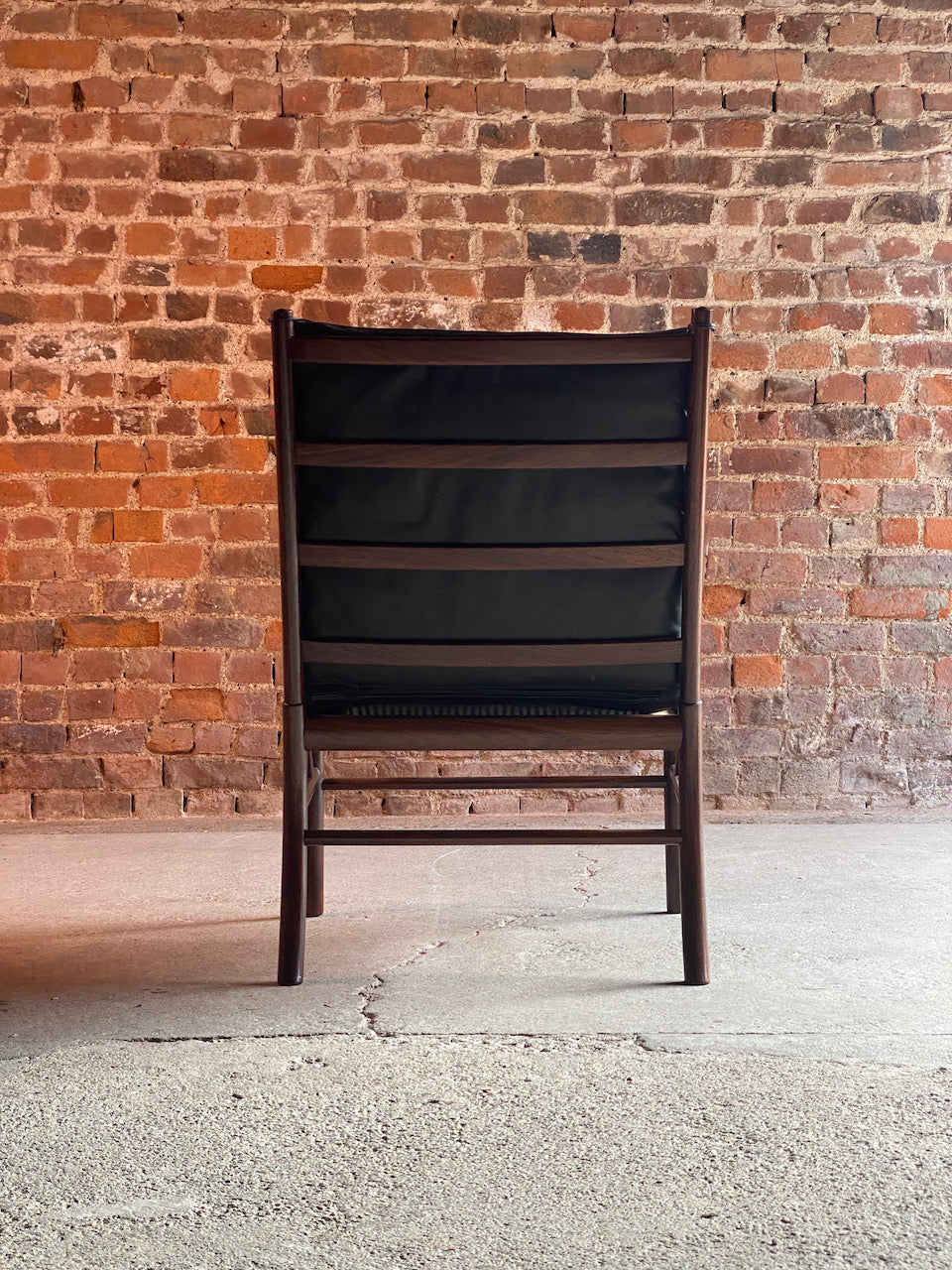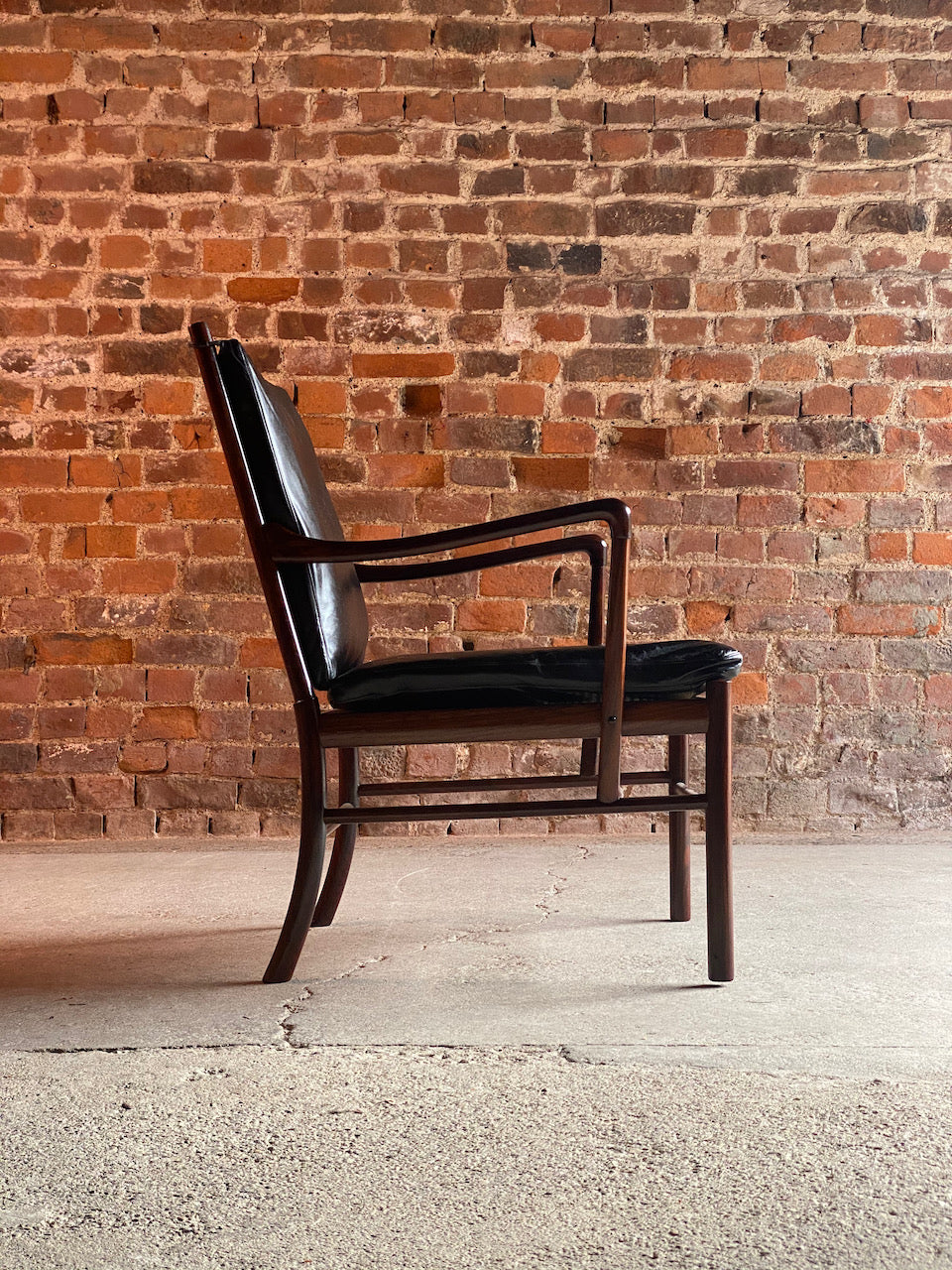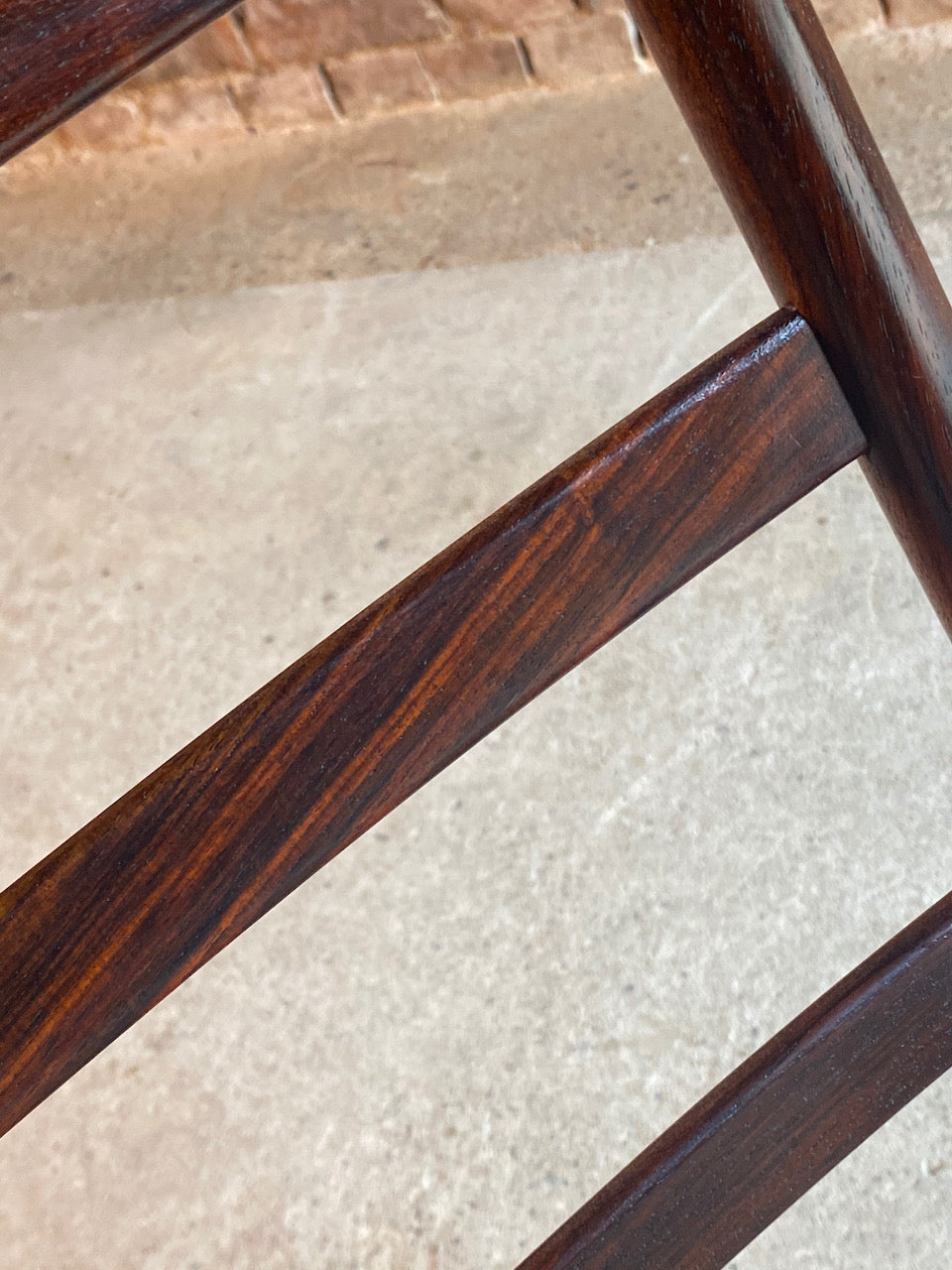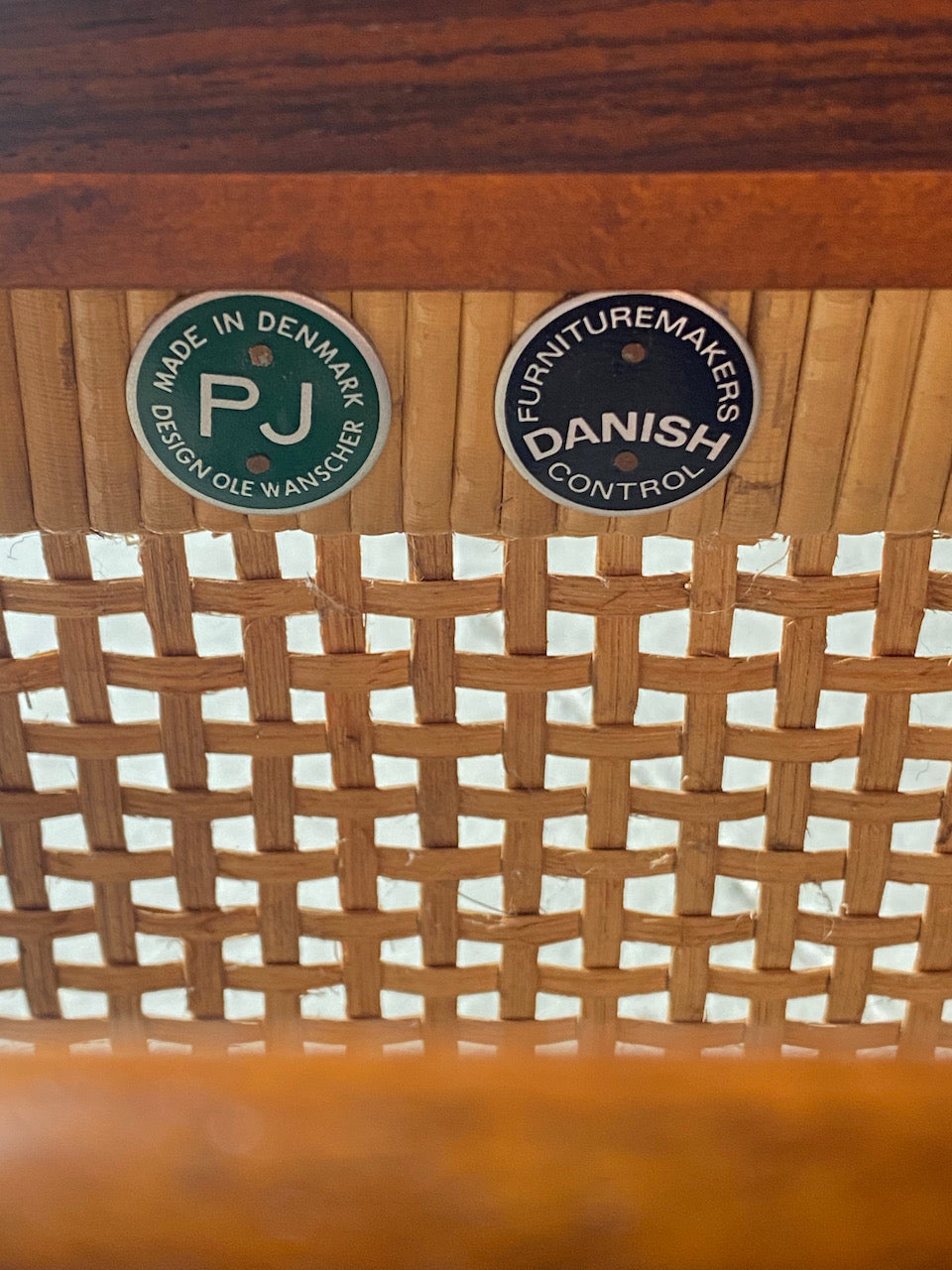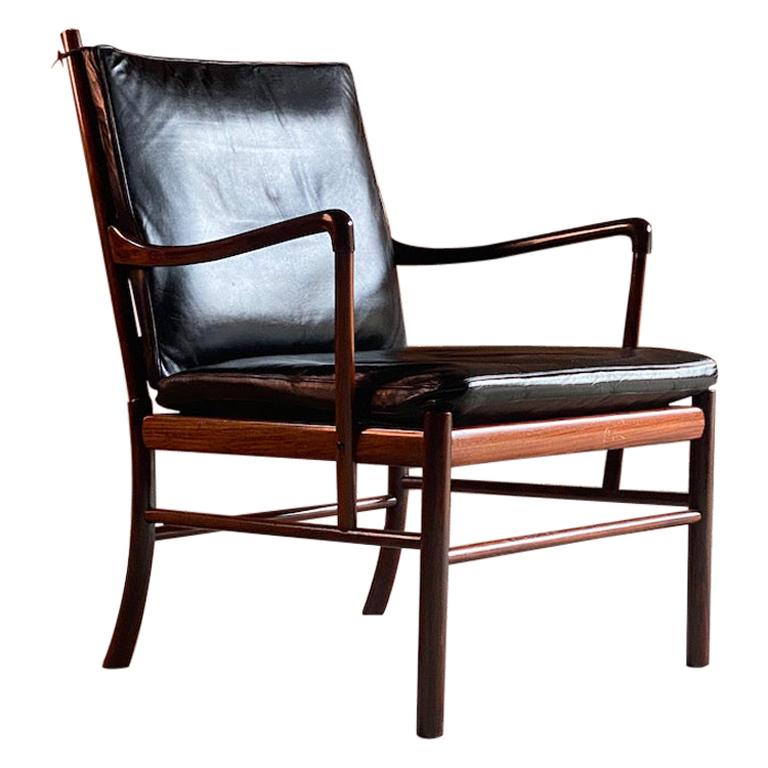 Ole Wanscher Model 149 Rosewood Colonial Chair by Poul Jeppesens Denmark circa 1950
SOLD
Ole Wanscher Model 149 Rosewood Colonial Chair by Poul Jeppesens Denmark circa 1950

Magnificent mid century Ole Wanscher Model 149 'Colonial' chair in Brazilian Rosewood  for cabinet maker Poul Jeppesens Møbelfabrik, Denmark circa 1950, this very rare example is made from stunning Brazilian Rosewood with woven rattan cane seats with loose feather filled black leather cushions and cream coloured summer cushions, bearing 'Danish Furniture makers Control' label and 'Made In Denmark PJ Design Ole Wanscher' label to the underside of the seats, reserve now.

CITES certificate number 595665/02

About: Ole Wanscher (16 September 1903 – 27 December 1985) was a  Danish furniture designer. He was one of the leading figures in the Scandinavian Design movement (a part of Mid -Century Modernism), at a time when Scandinavian Design achieved worldwide popularity.
After completing his studies, Wanscher worked with Kaare Klint, from 1924 to 1927, at which time he set up his own office, specialising in furniture design.
Throughout the 1930s and 1940s, Wanscher, working with master joiner A.J. Iversen, produced dozens of designs that are now seen as modern classics. In the 1950s, Wanscher left his private firm and began an association with P. Jeppesens Møbelfabrik A/S that would last for the rest of his professional life.
Like his mentor Kaare Klint, Wanscher was influenced by a variety of sources, from 18th century British design through the furniture design of Ancient Egypt. One of Wanscher's most famous pieces was his so-called "Egyptian Stool" of 1960. He was also influenced by Greek and Chinese design.

While many of Wanscher best known designs were built with master joiner A.J. Iversen, Wanscher also showed a particular interest in the mass production  of furniture, and several of his pieces were designed with mass production in mind. One of Wanscher's best known designs is the teak easy chair designed for France & Son in 1951.

Scant information remains available on Danish furniture manufacturer P. Jeppesen Møbelfabrik A/S, even though the company achieved a great deal of success between the 1940s and 1960s producing the designs of well-known designers Ole Wanscher(1903-1985) and Grete Jalk (1920-2006), alongside the work of lesser known designers like Wilhelm Wohlert, Gorm Lindum, Jørgen Posborg, Troels Grum-Schwensen, and Morten Gøttler.

Sometimes also written as Poul Jeppesen or PJ Furniture, the date that the company was established is unknown. However, records show that sometime in the 1950s, Wanscher left his private firm and joined P. Jeppesens Møbelfabrik as head designer, a role that would last for the rest of his professional life.
Notable P. Jeppesen designs include Wanscher's PJ-149 Colonial Chair (1949), Rungstedlund Dining Chair (c. 1950), and PJ-112 Sofa (1951); as well as Jalk's iconic postwar GJ Chair—also known as the Shell Chair (1963). This teak-veneered, molded plywood piece features a distinct origami-like shape achieved through an intricate bending and laminating process; the complexity of the fabrication in those early years limited its manufacture to only a few hundred. Nevertheless, it was snapped up by New York's Museum of Modern Art the year it was released. In 2009, the GJ Chair went back into production with Danish manufacturer Lange, and, unsurprisingly, the original mid-century editions remain highly sought after on the secondary market.
Mid Century Modern
Ole Wanscher
Poul Jeppesens Møbelfabrik
Model 149
Colonial Chair
Stamped
CITES certificate number 595665/02
1950s
Danish
Original
Investment
Practical & Beautiful
Free UK Delivery
Wonderful condition, frames have been re-polished by our restorer,  the cushions are in perfect original condition with wonderful patina.

Width: 26" / 68cm
Depth: 27.5" / 70cm
Height: 33" / 84cm
Seat Height: 17" / 43cm
Free delivery is offered to England & Wales only when buyer pays full asking price, next day delivery is not possible due to the size of the piece, please allow between 7-14 days delivery