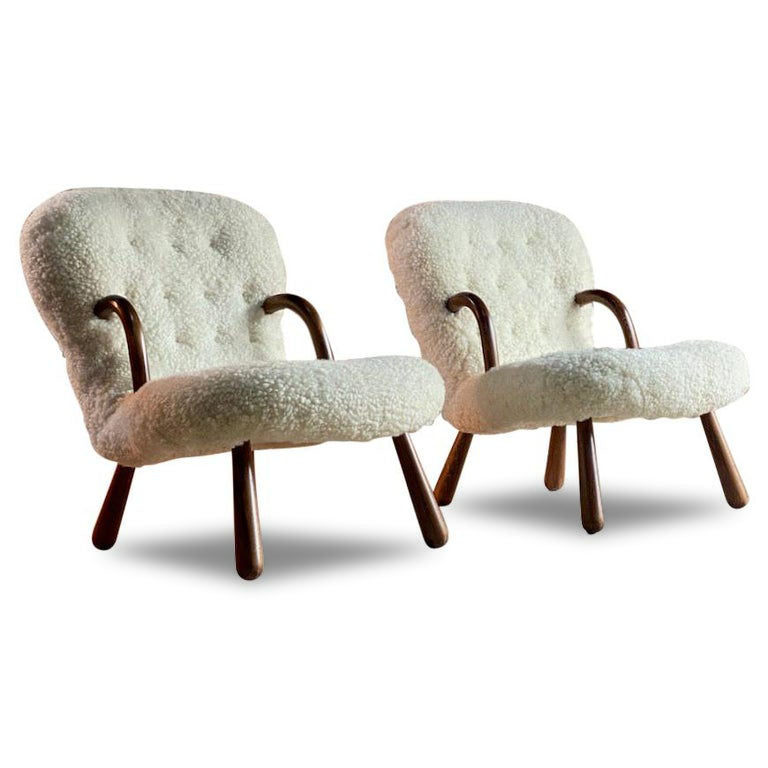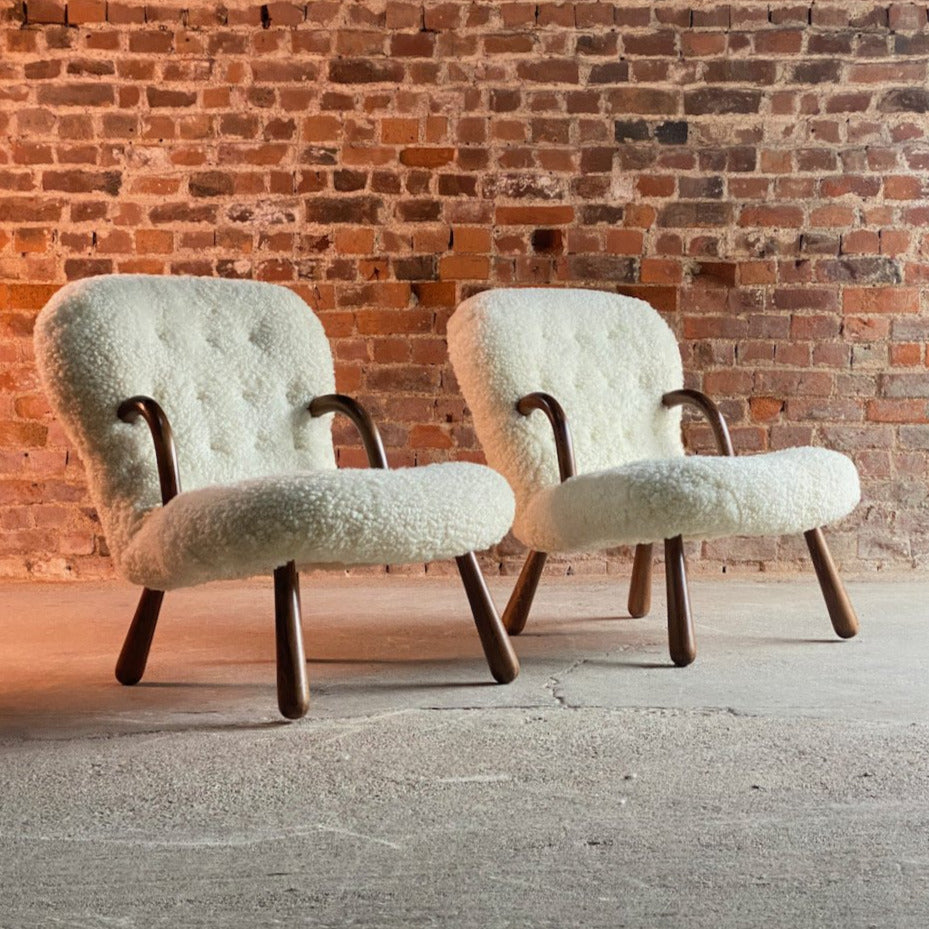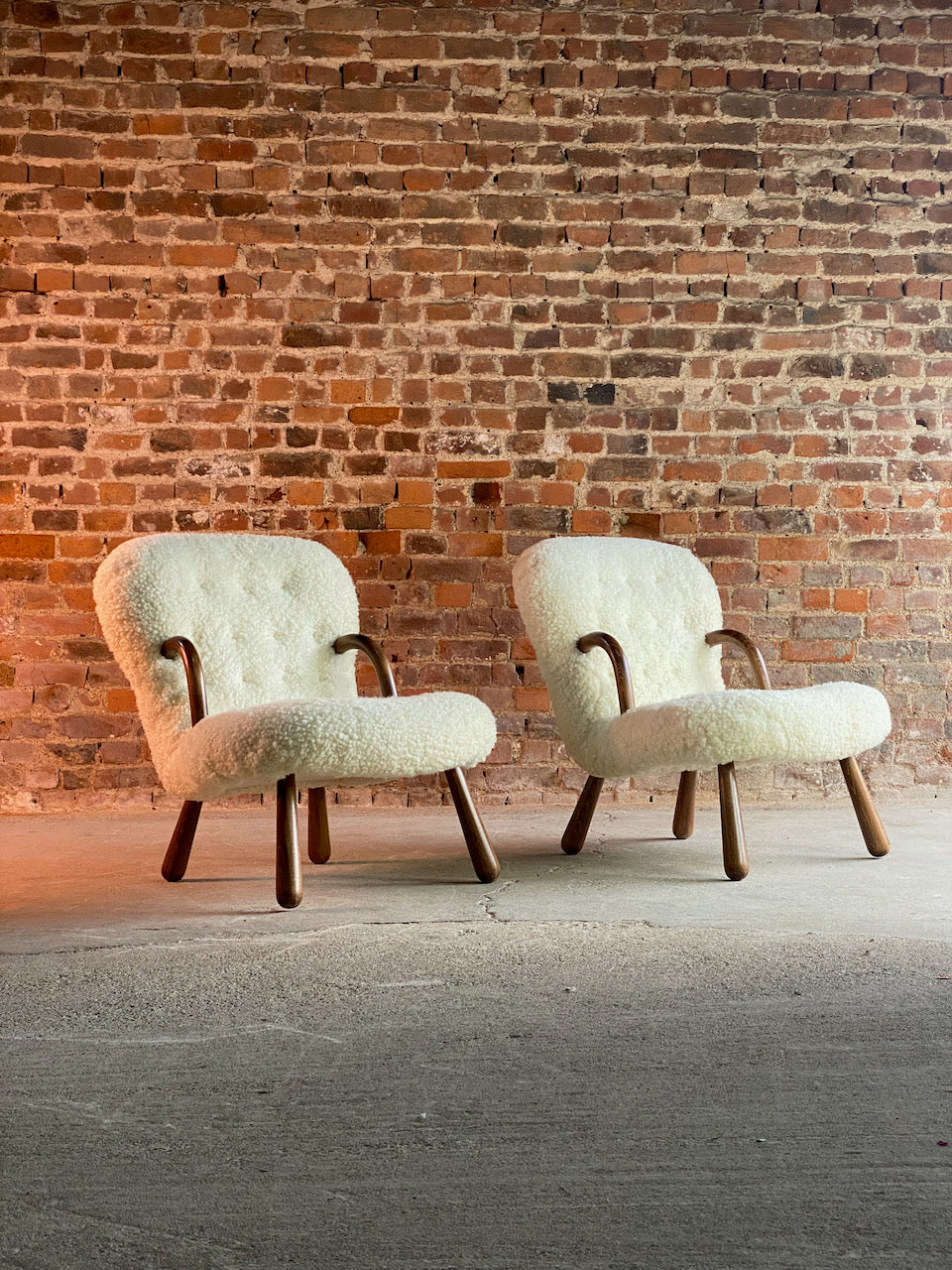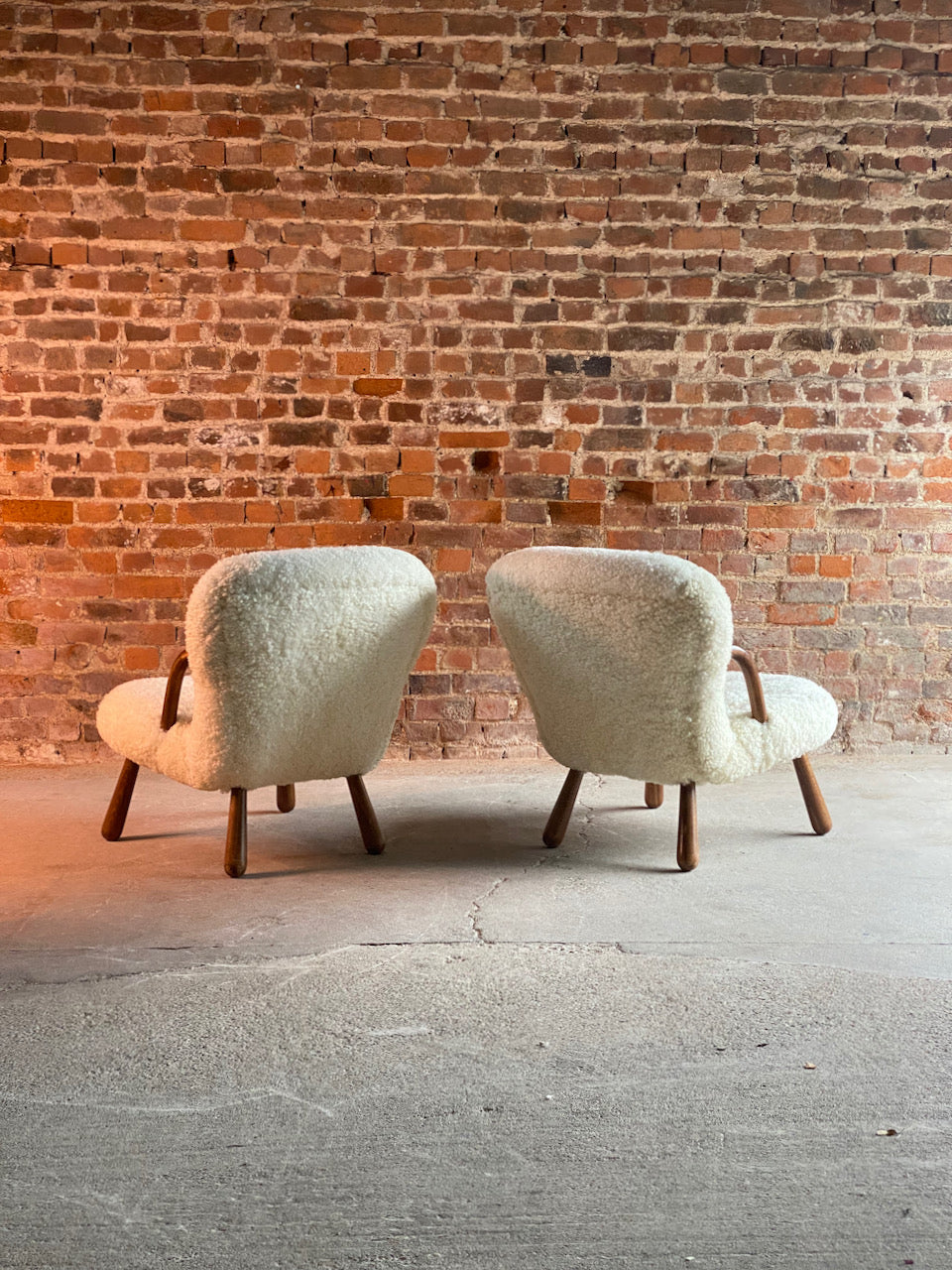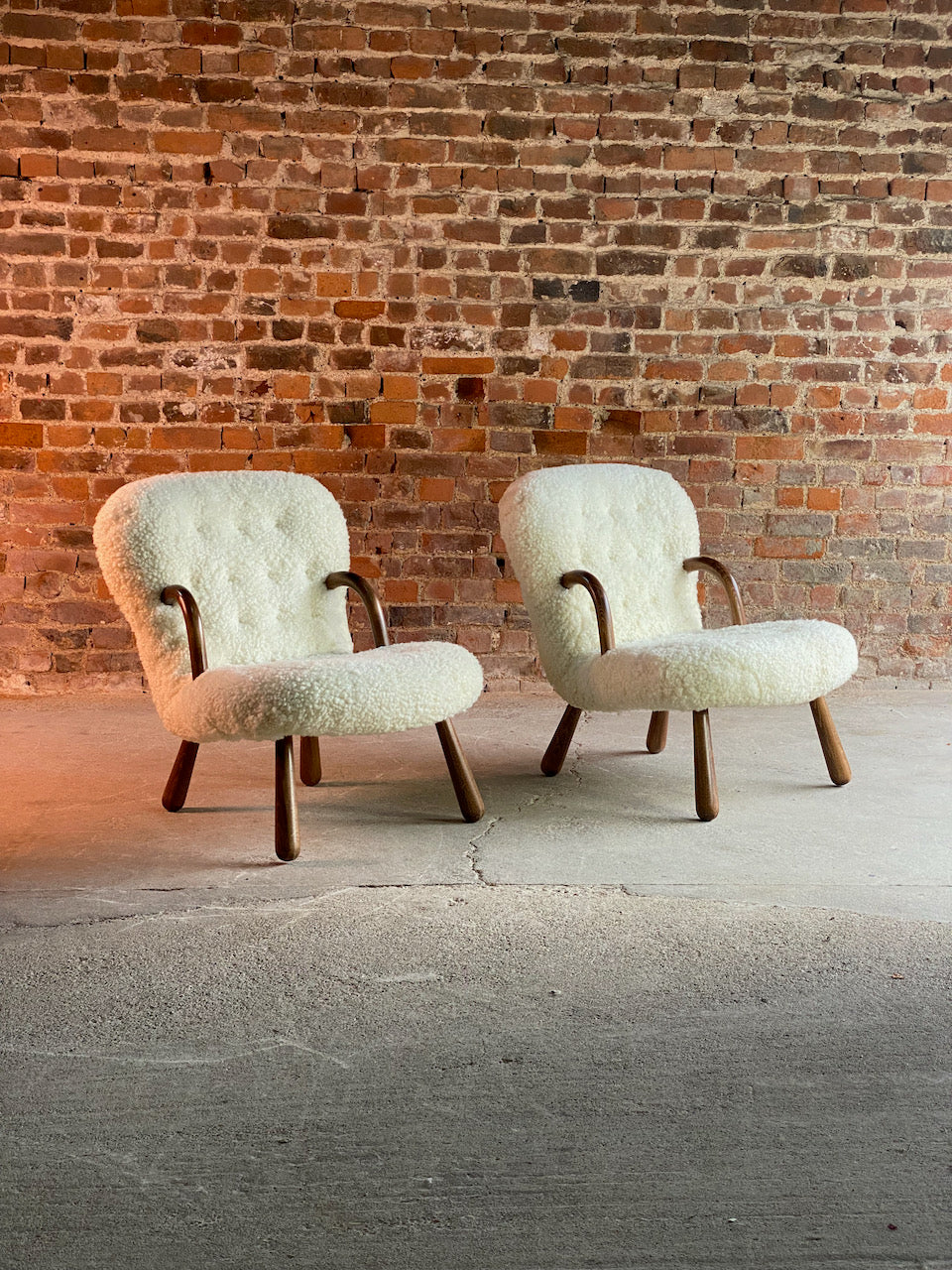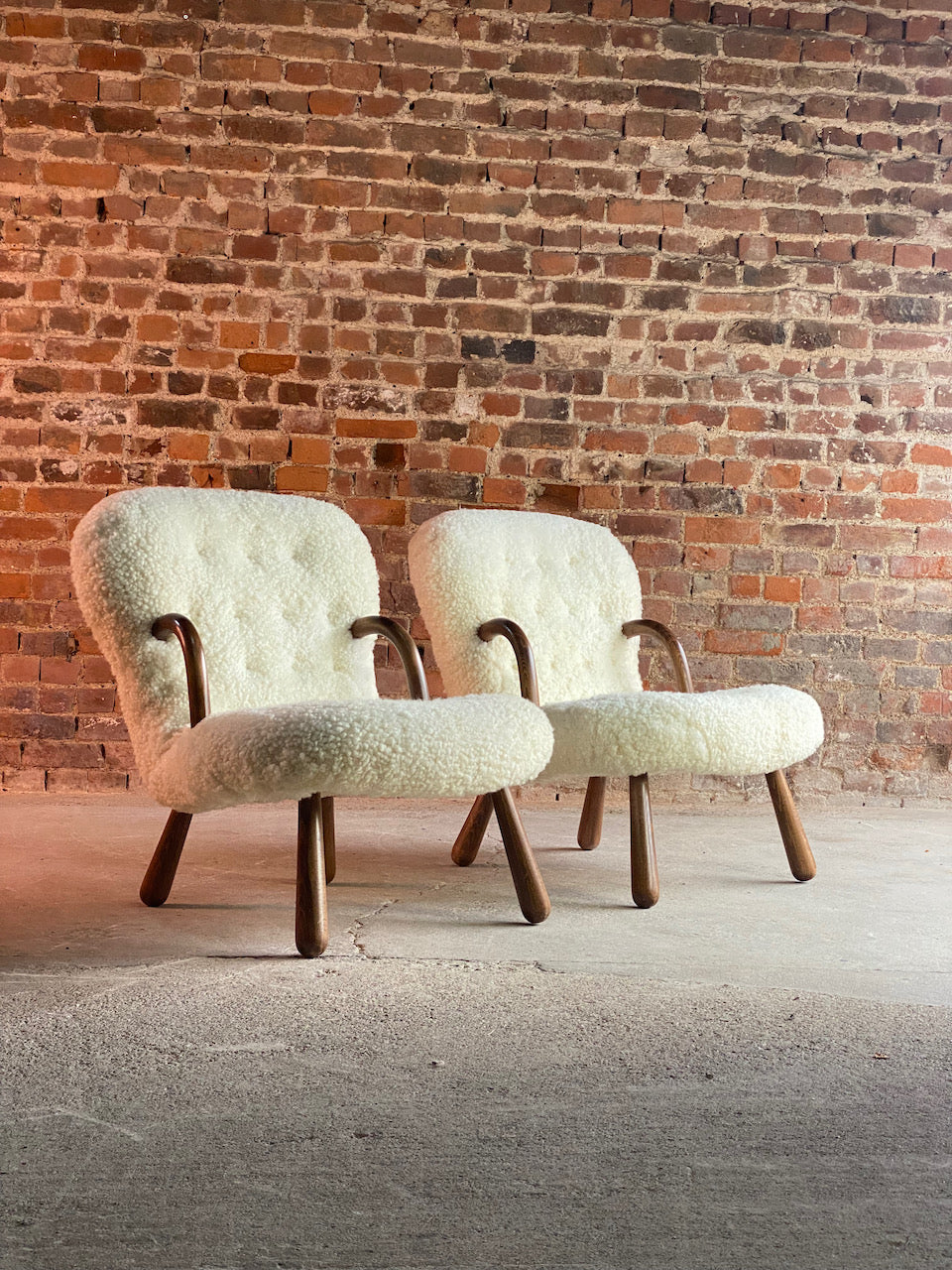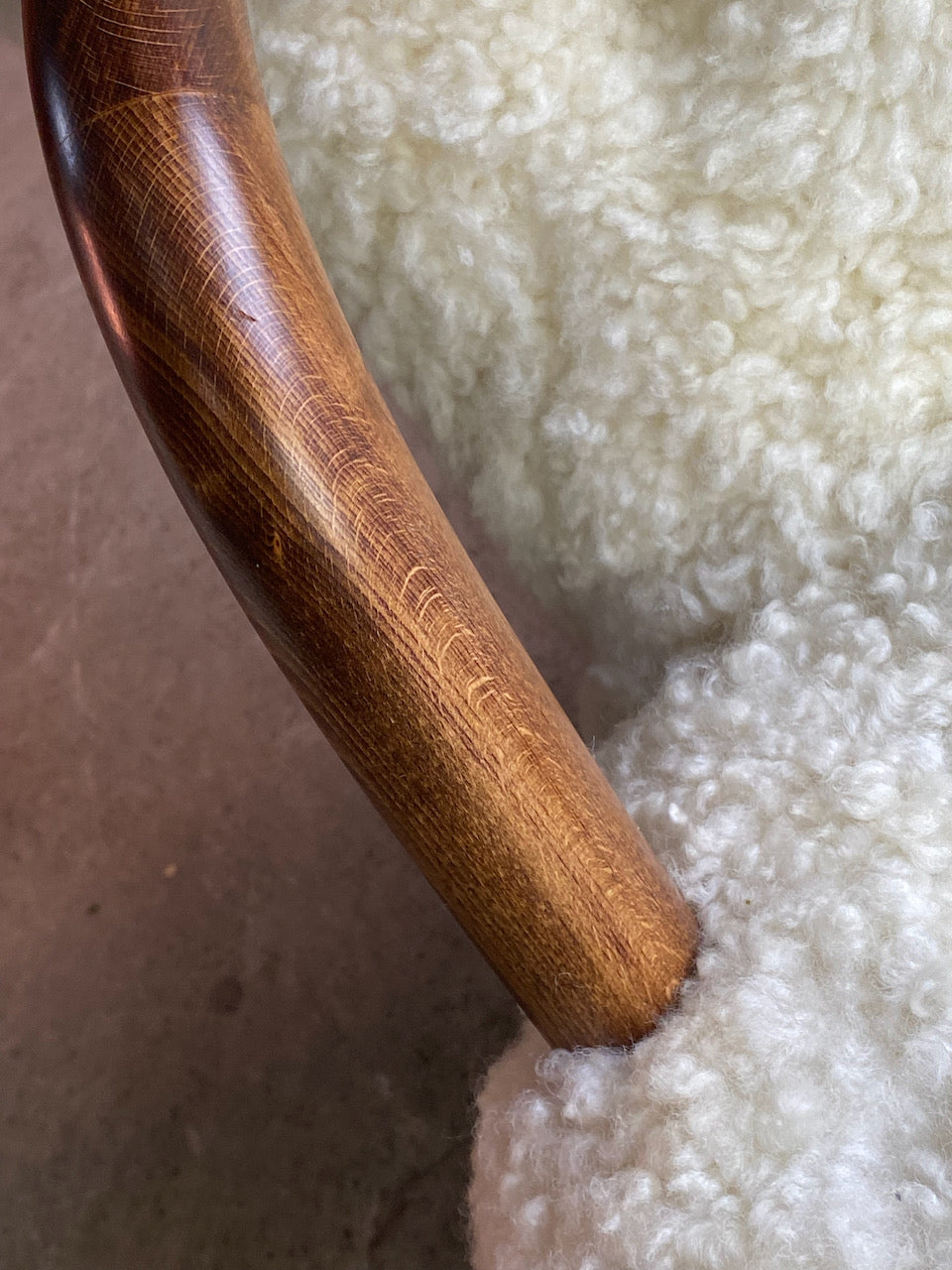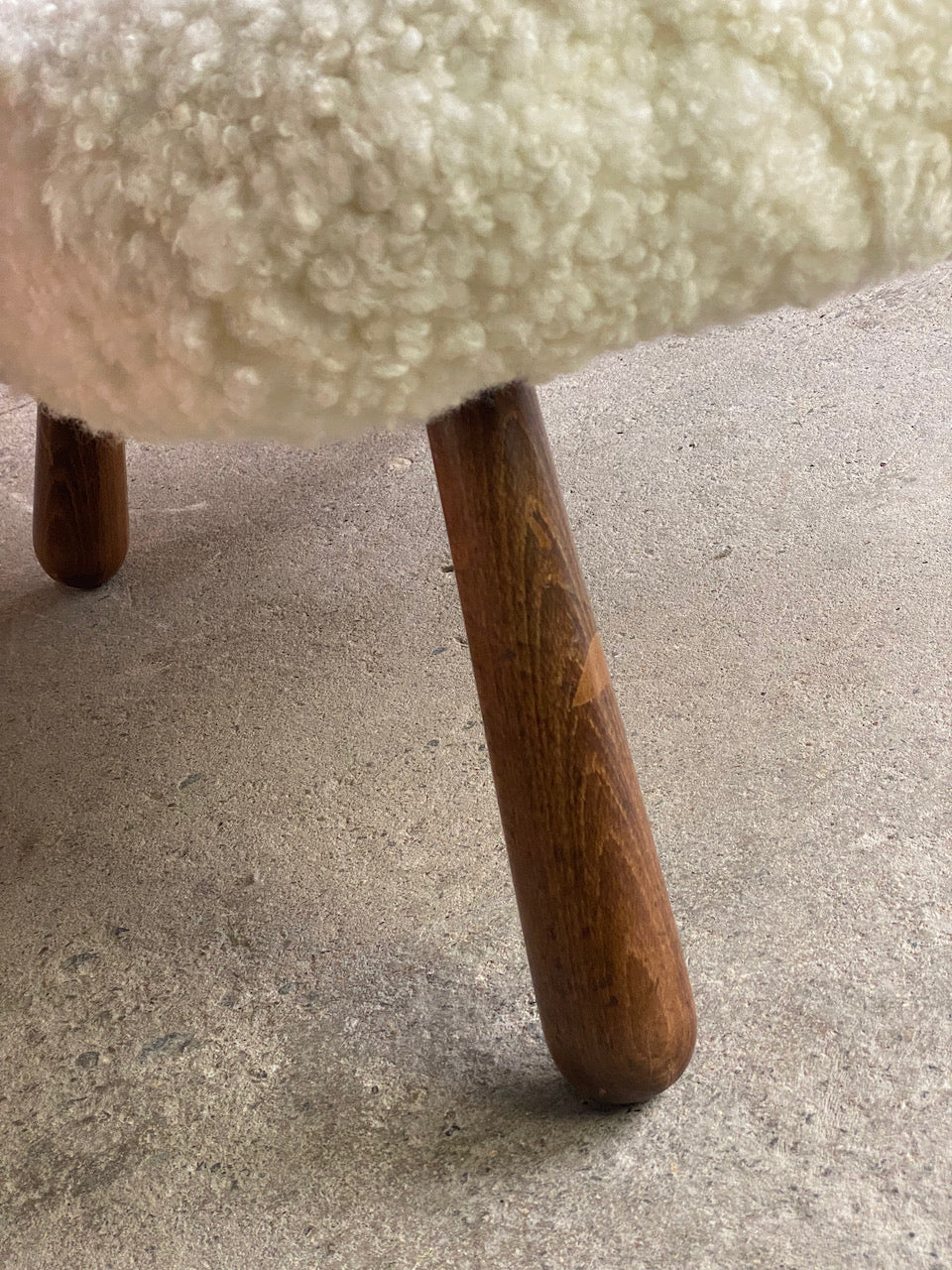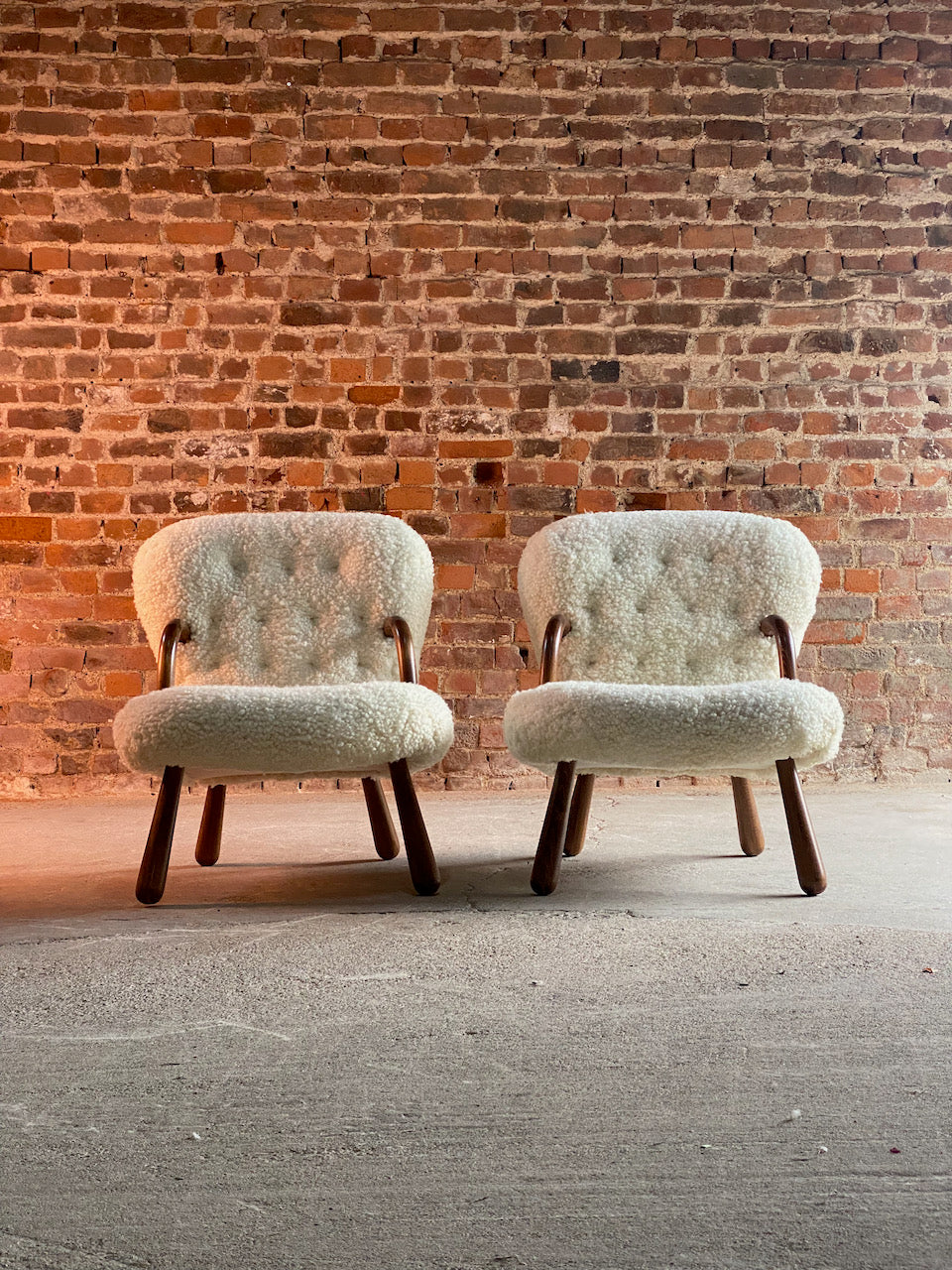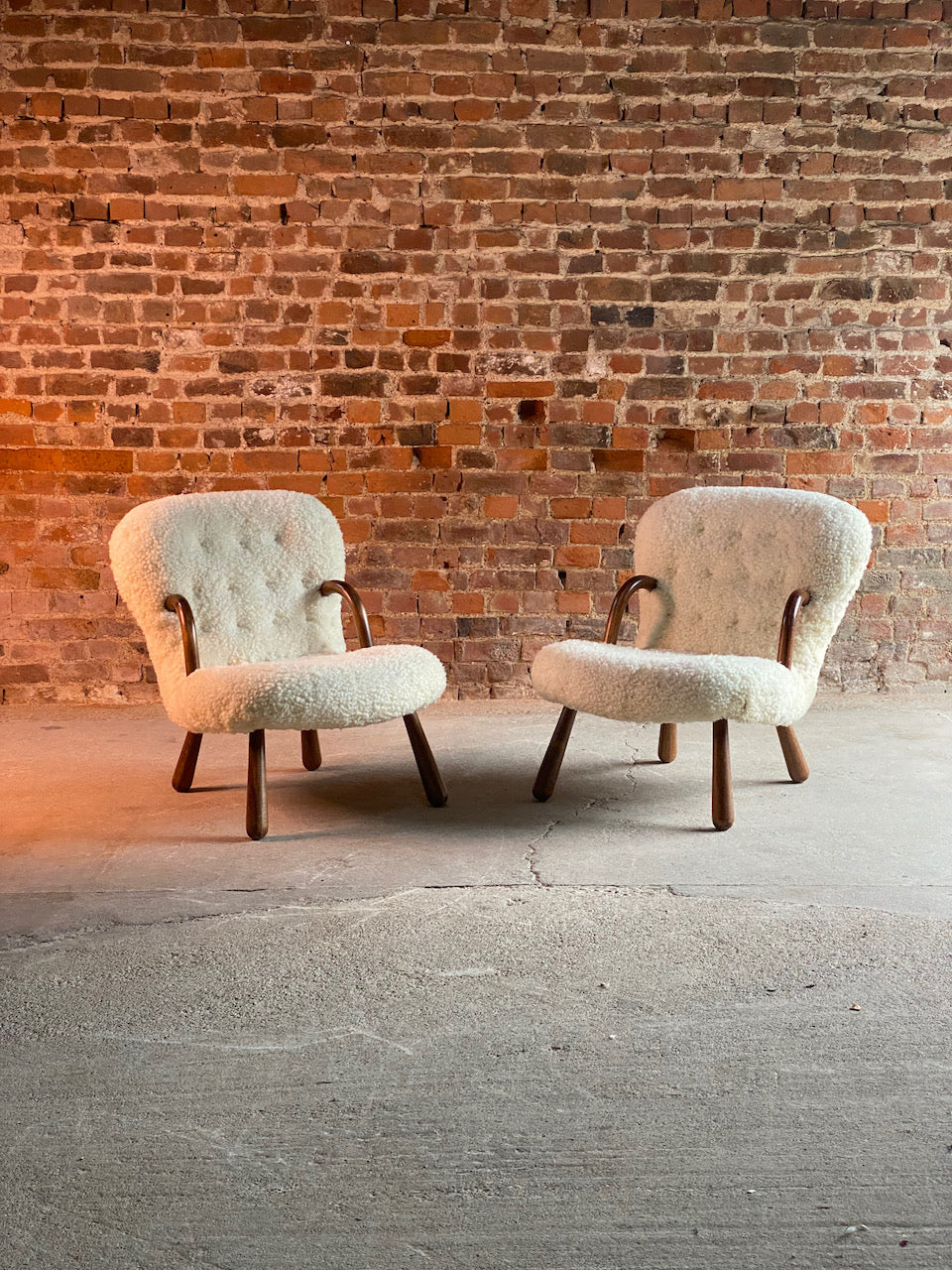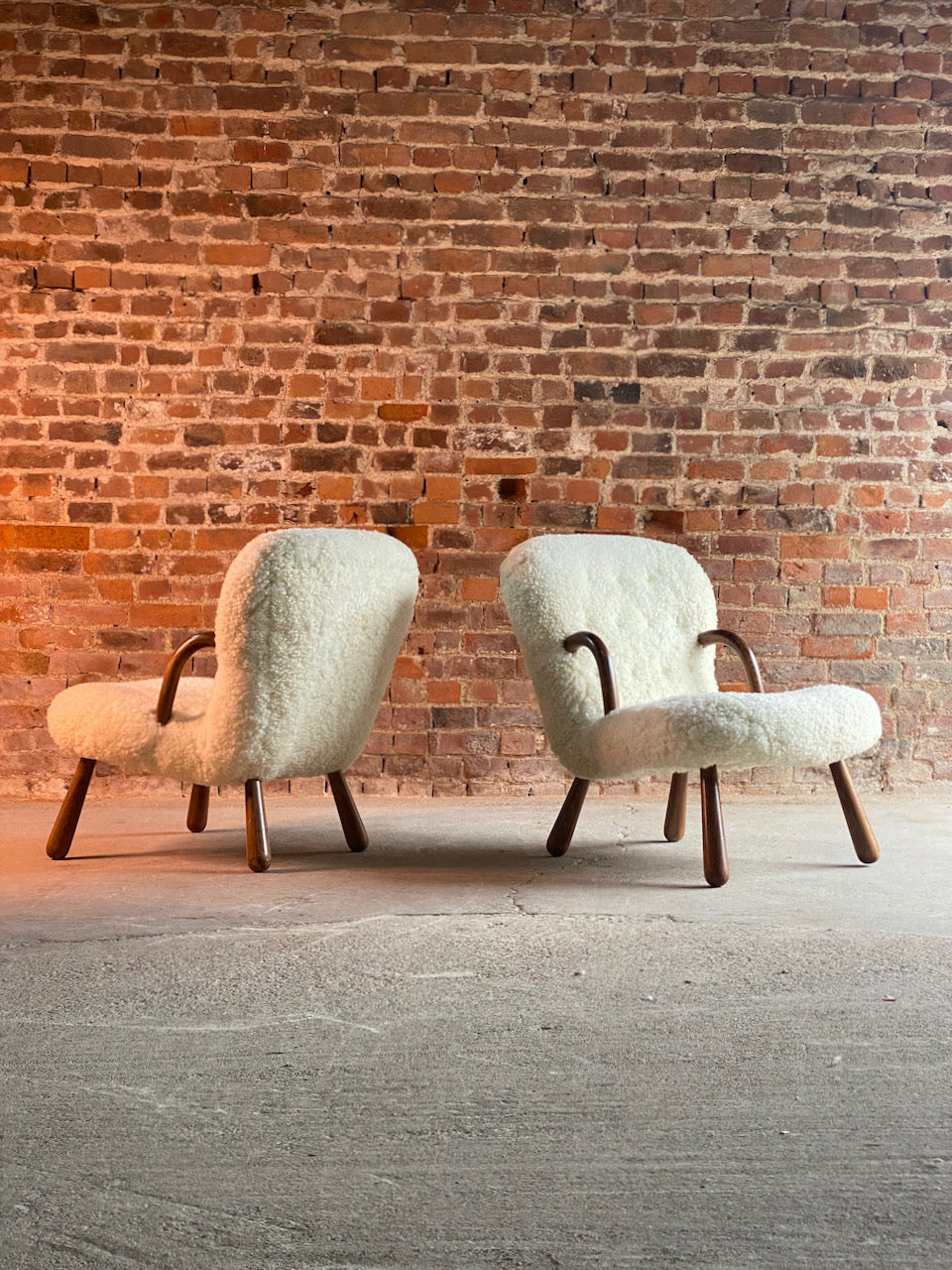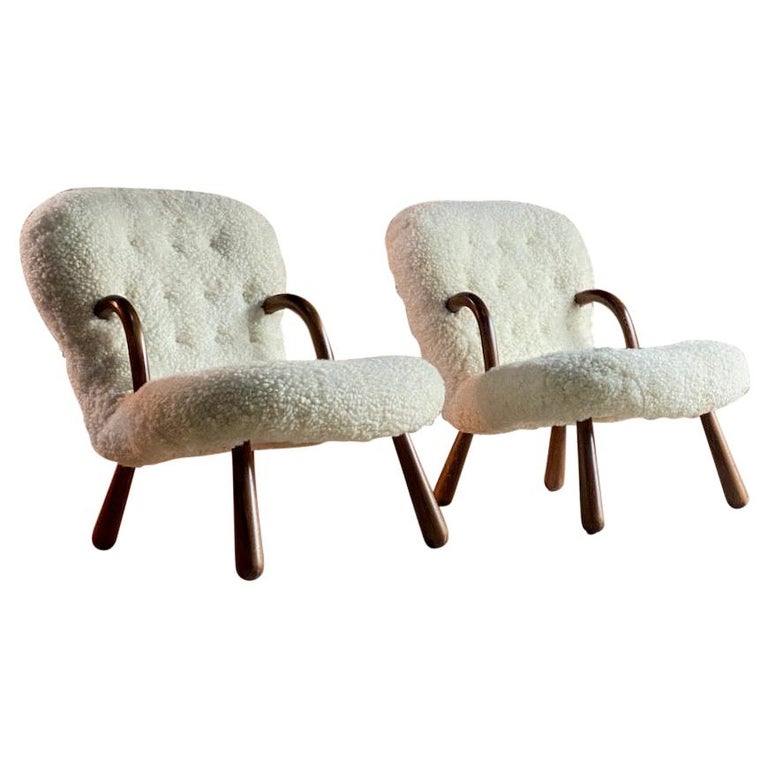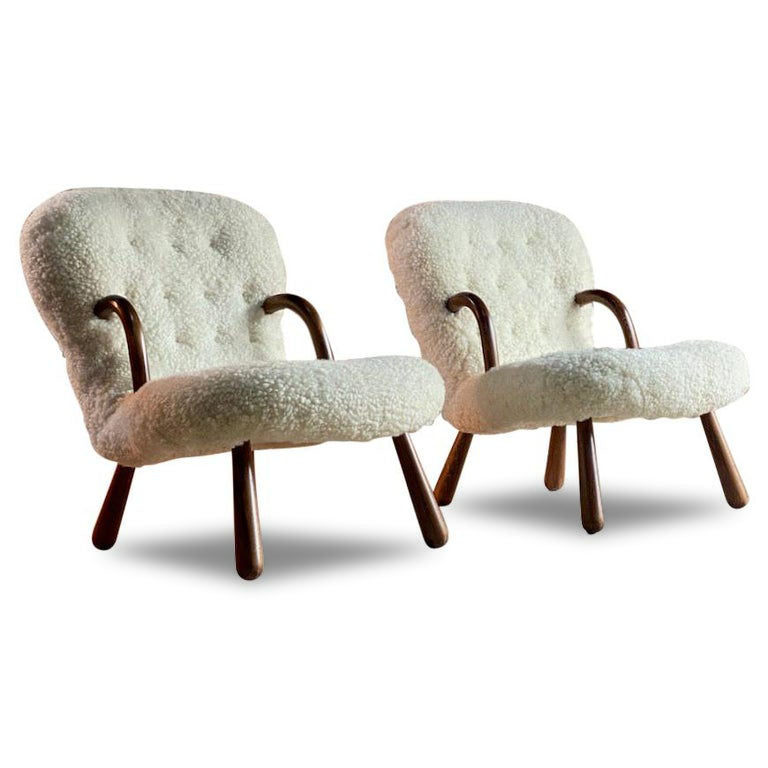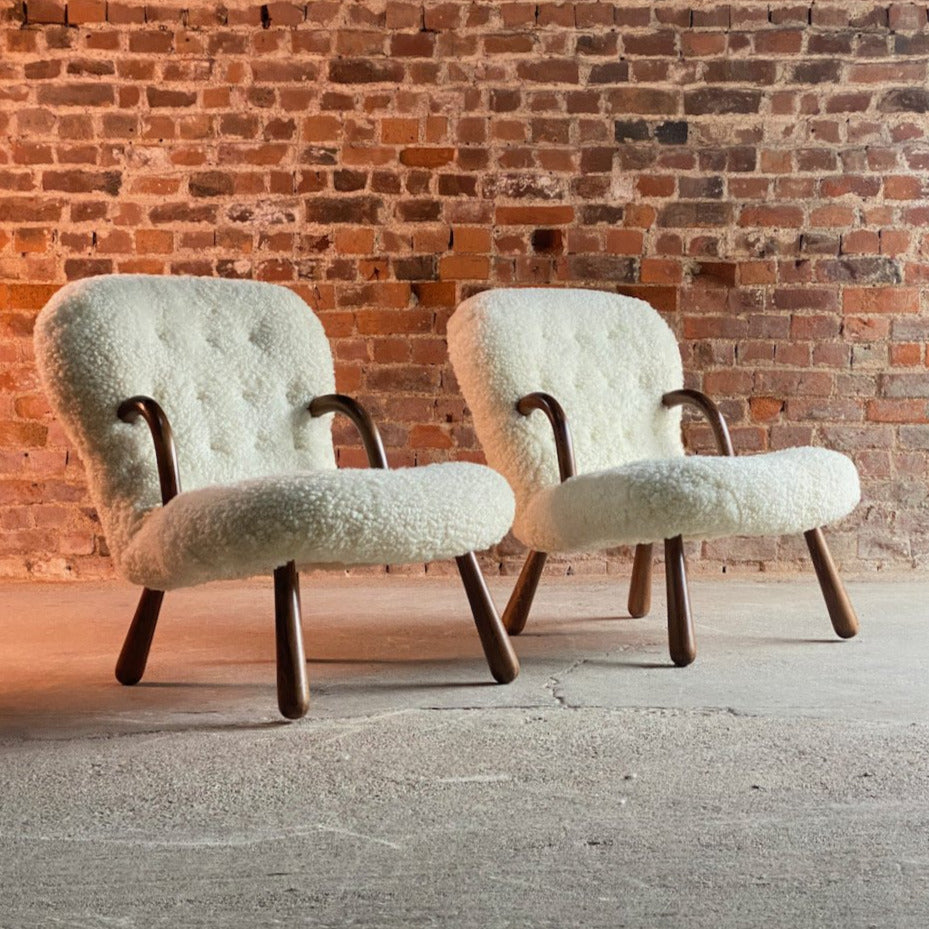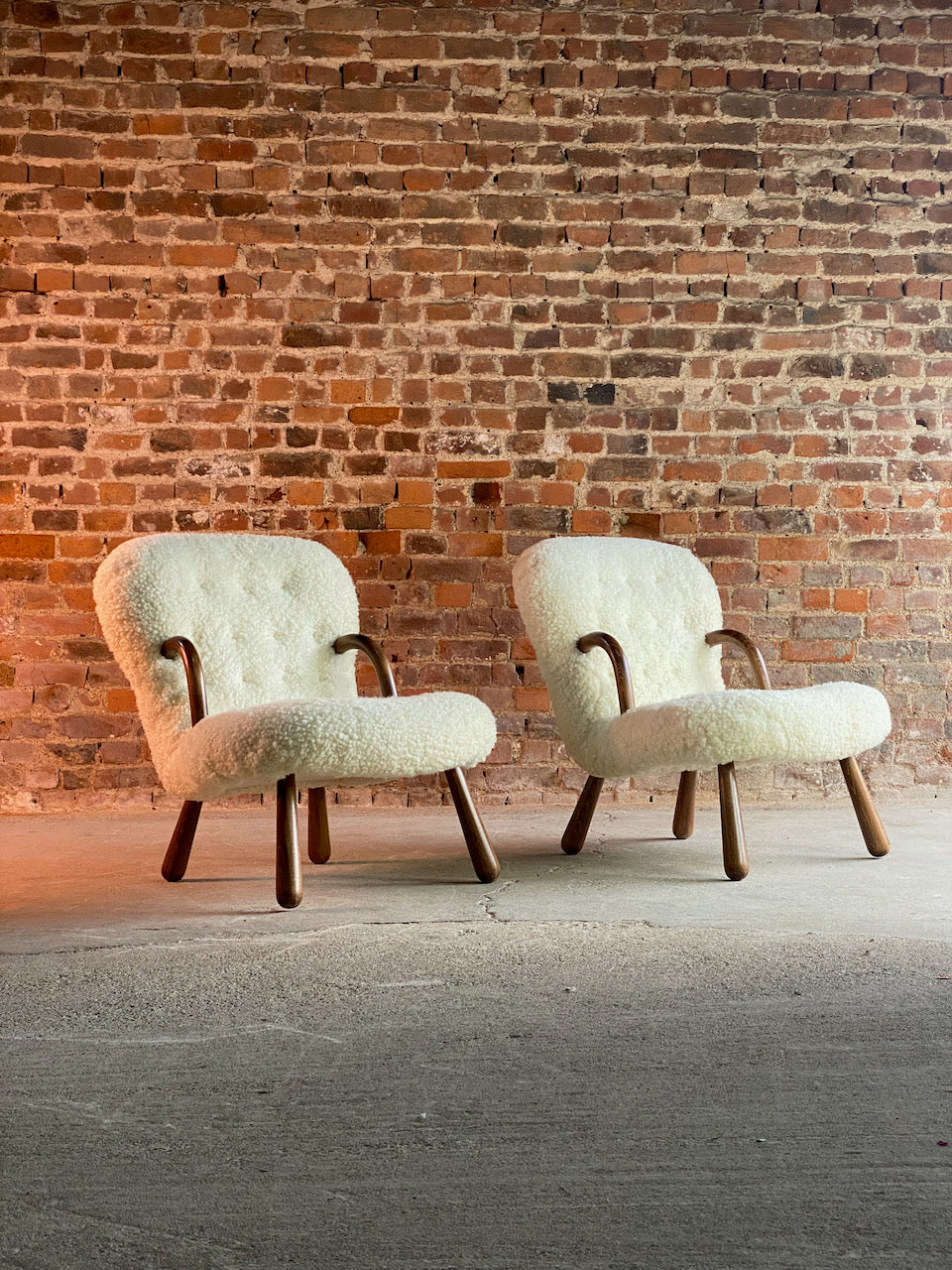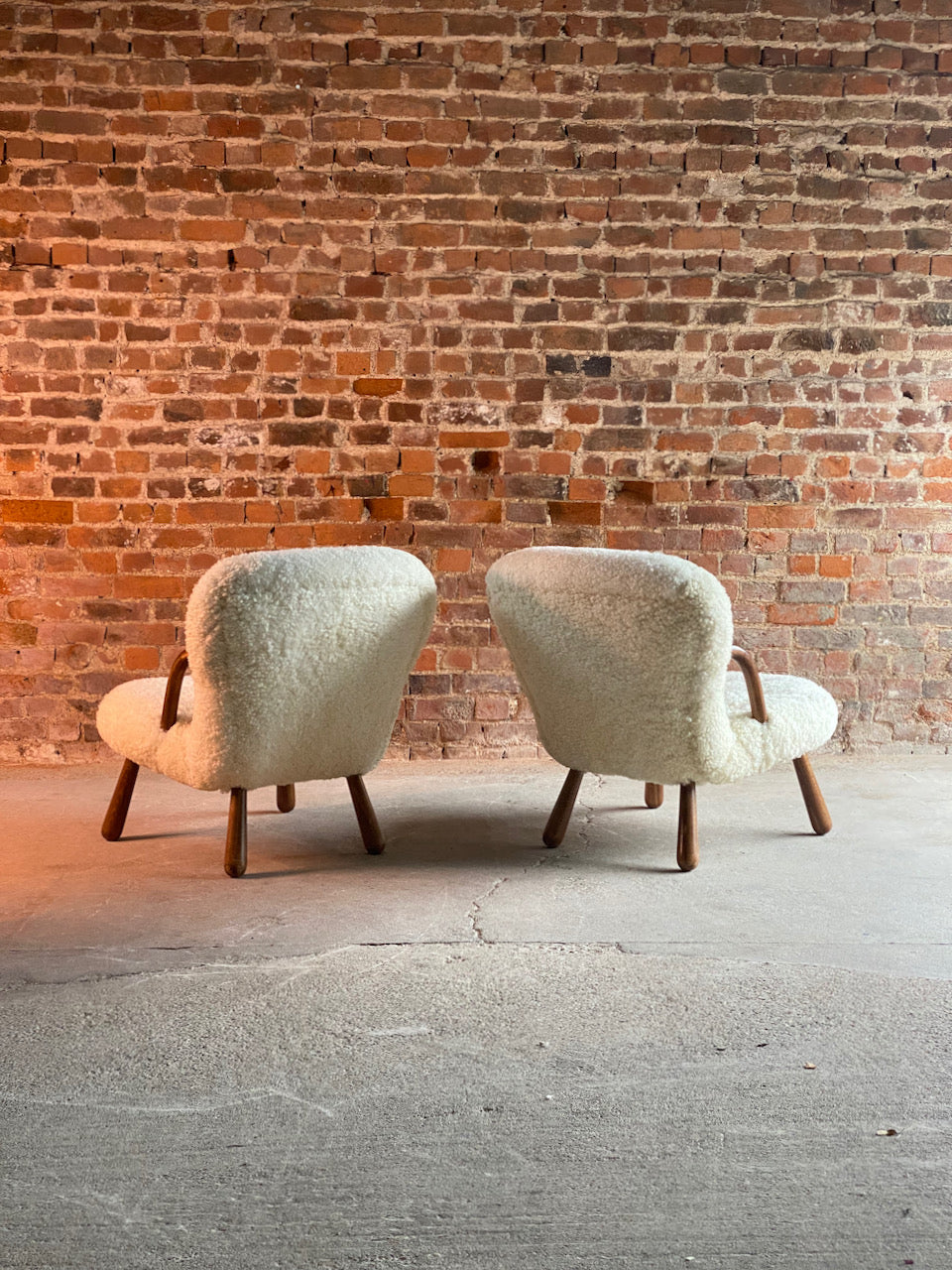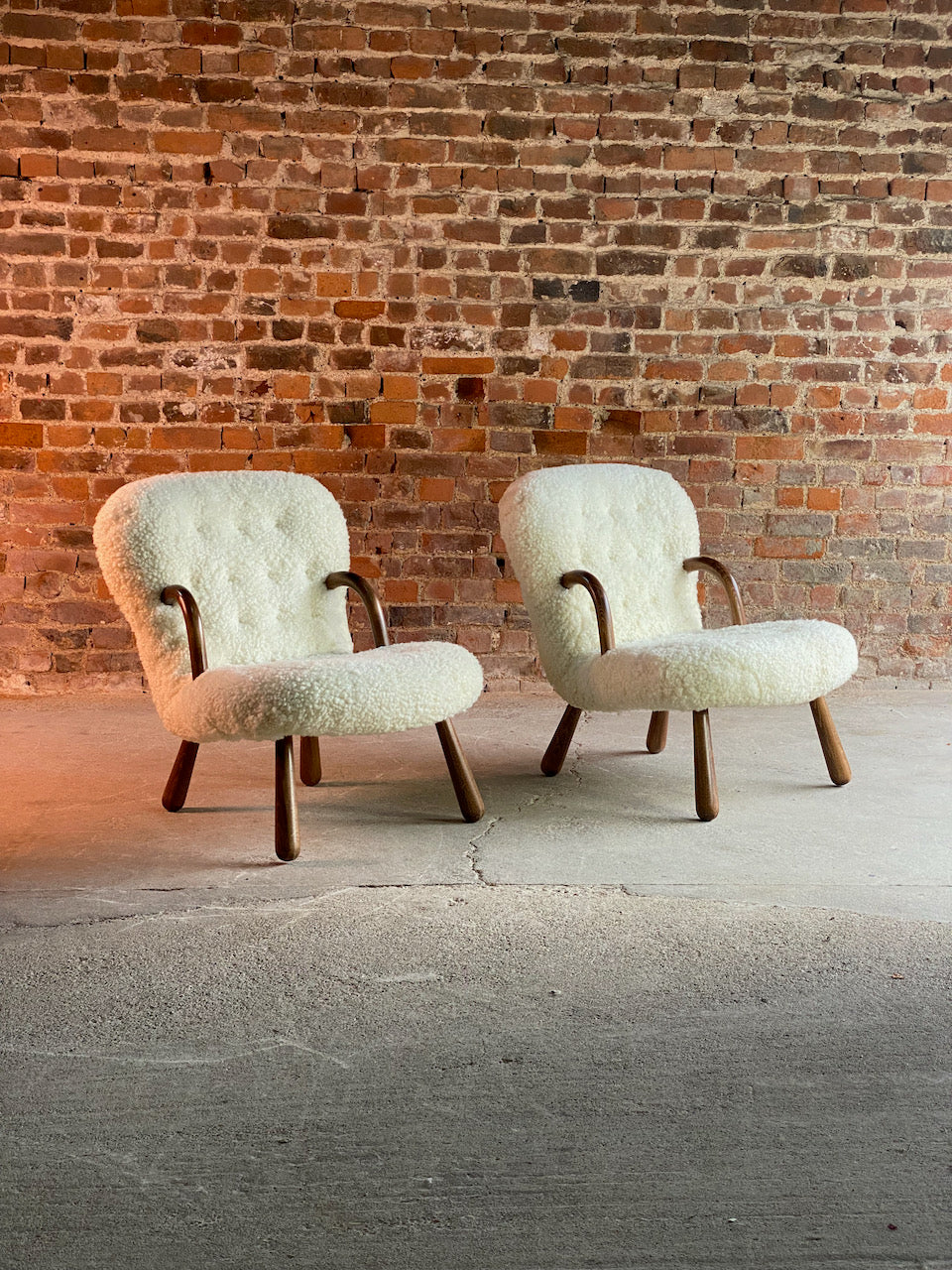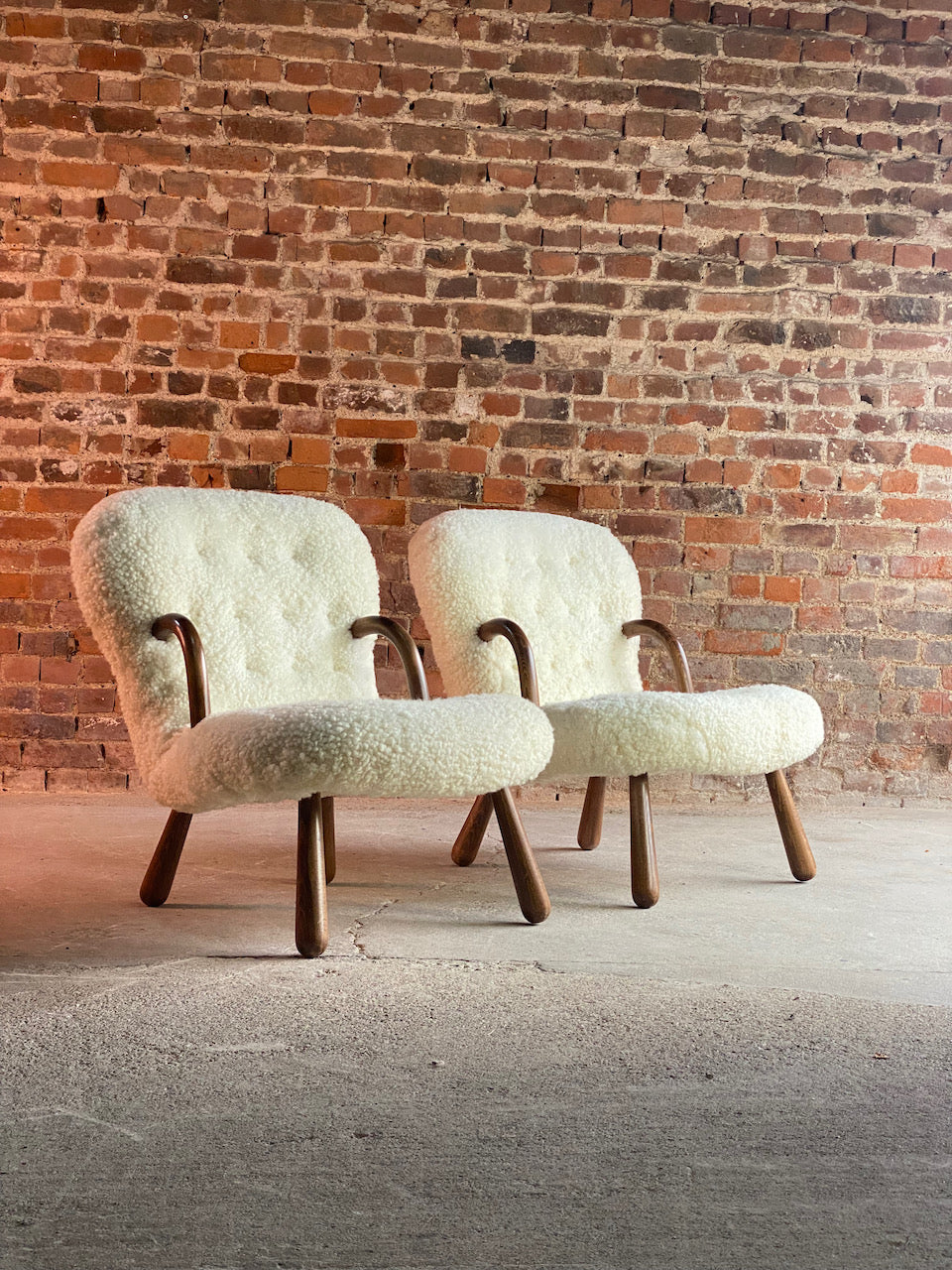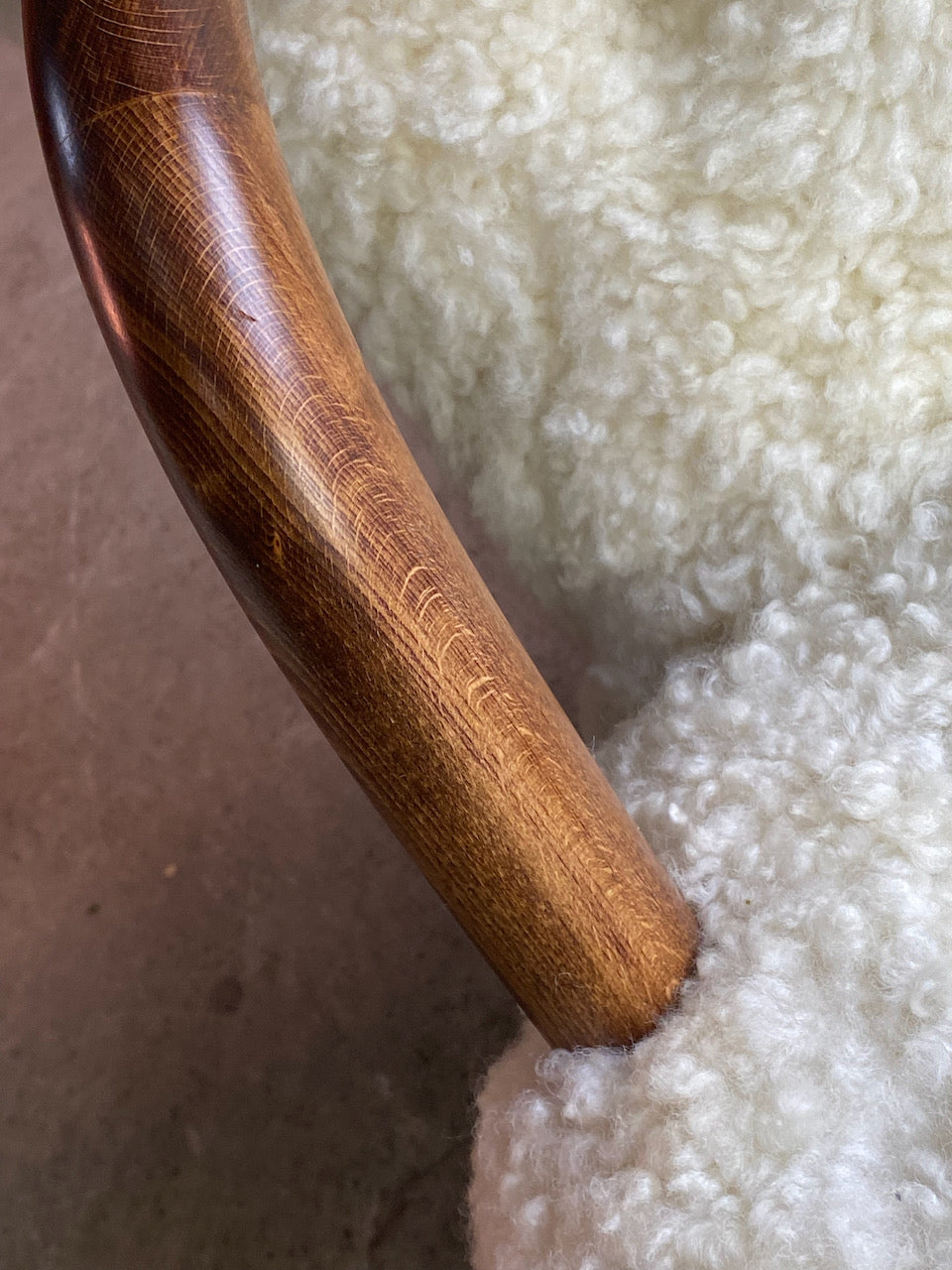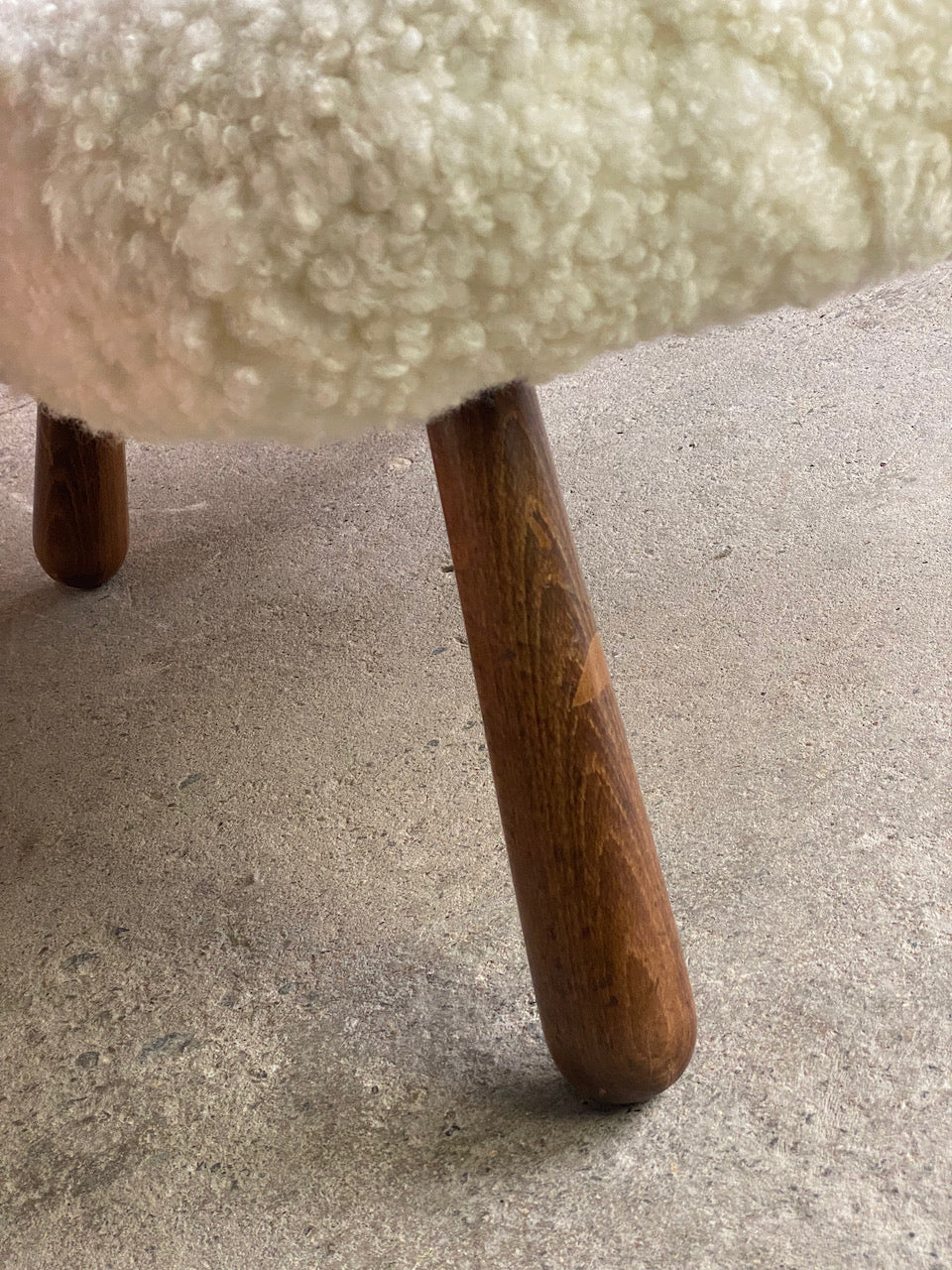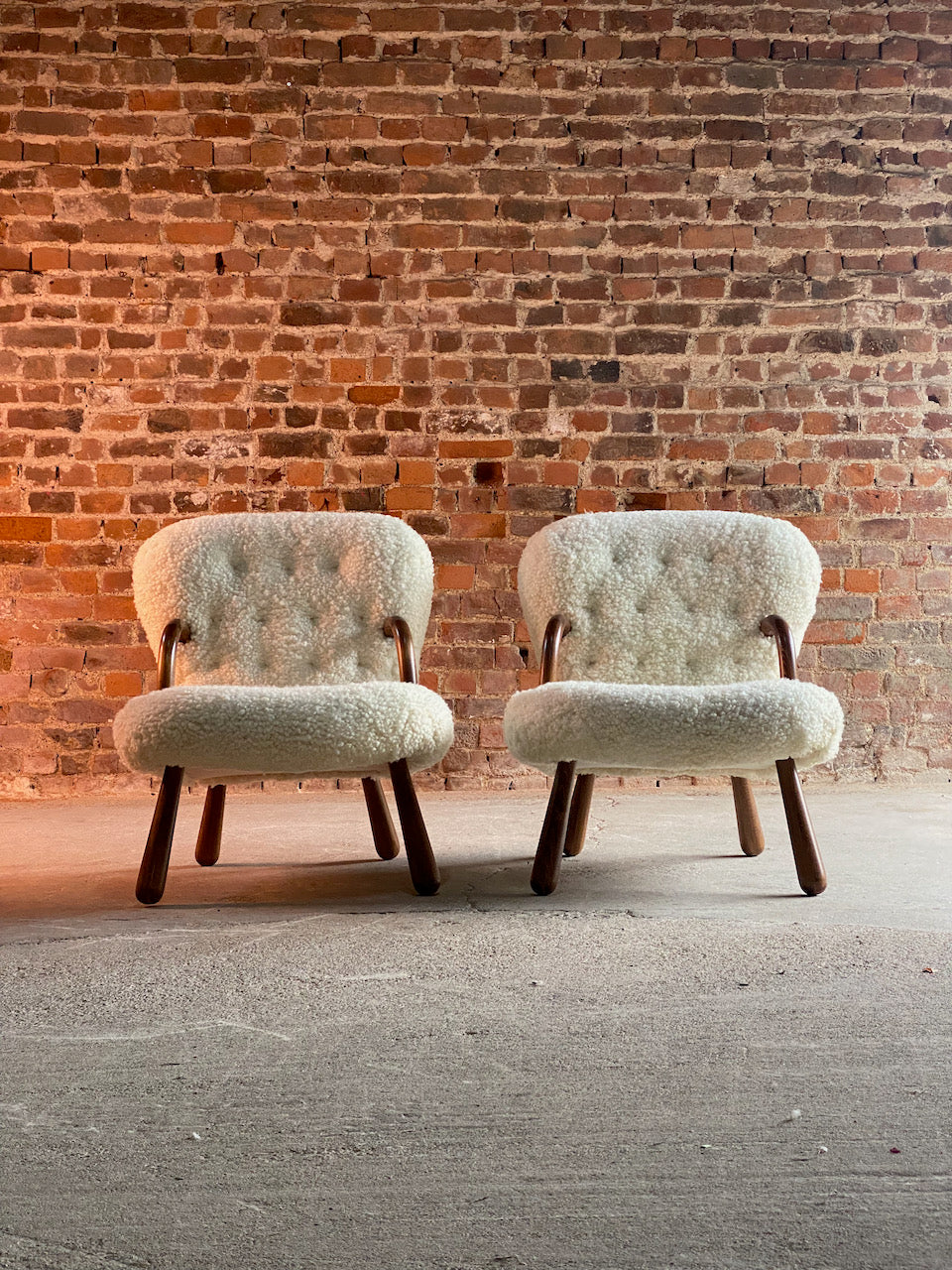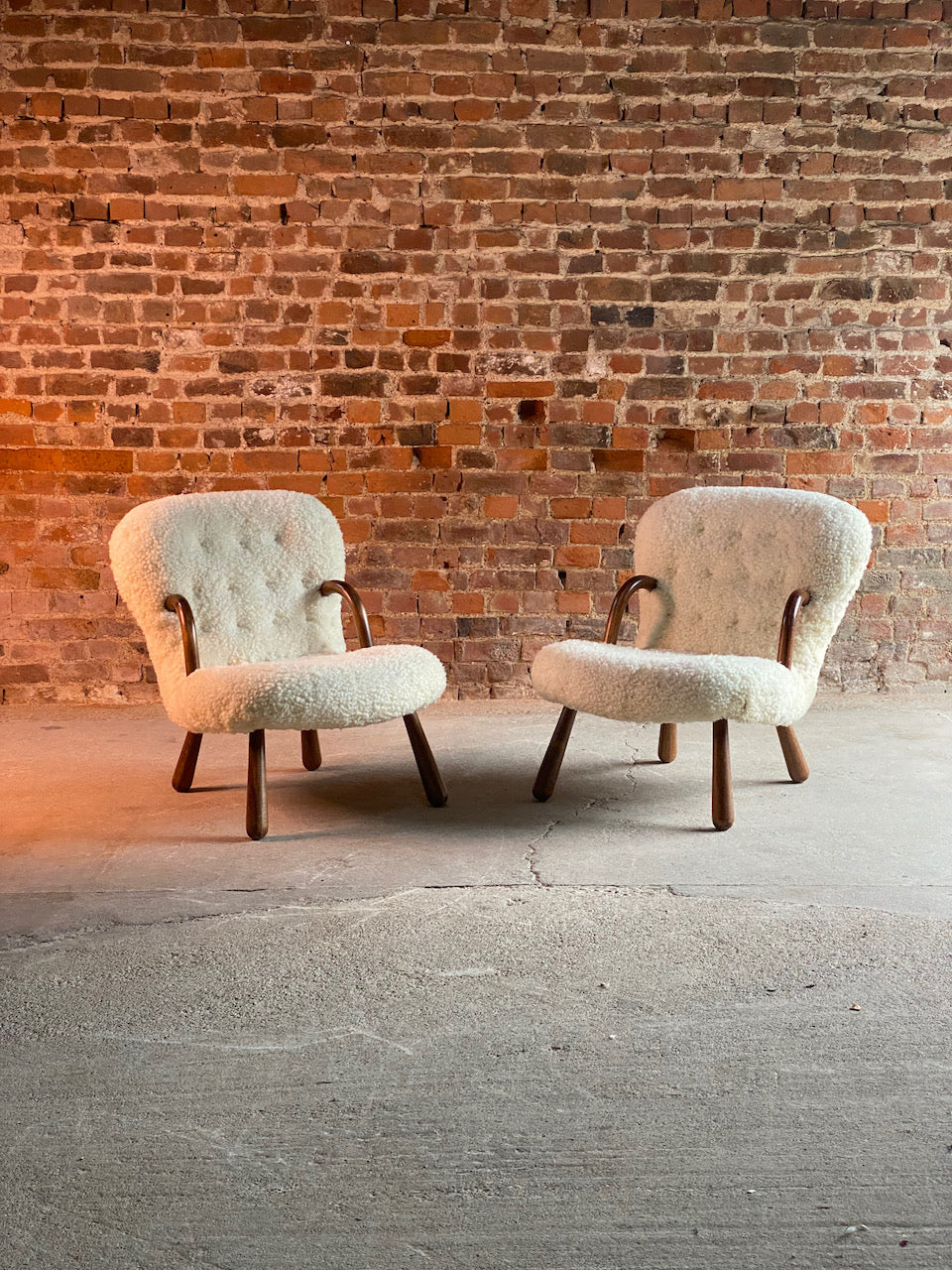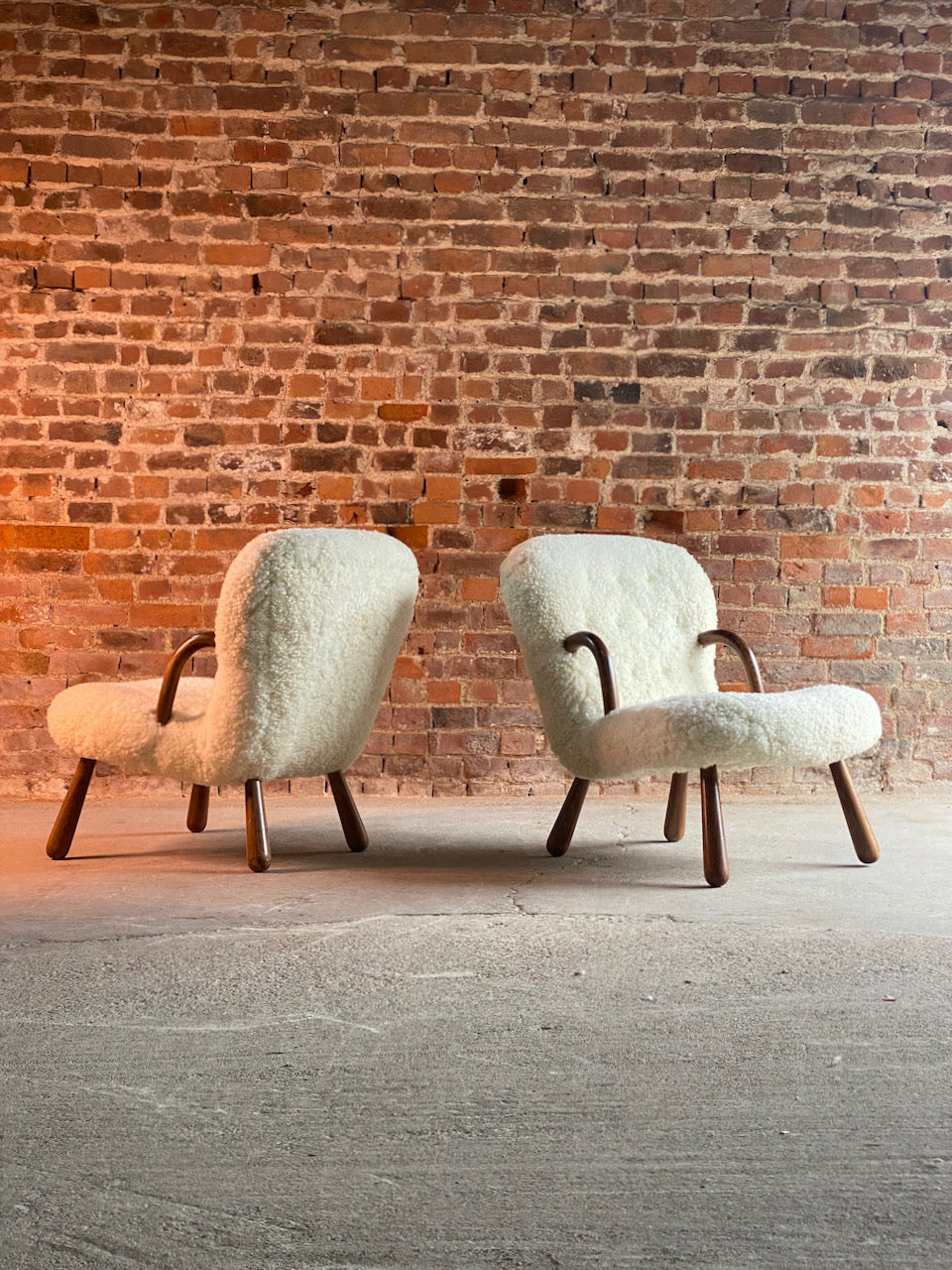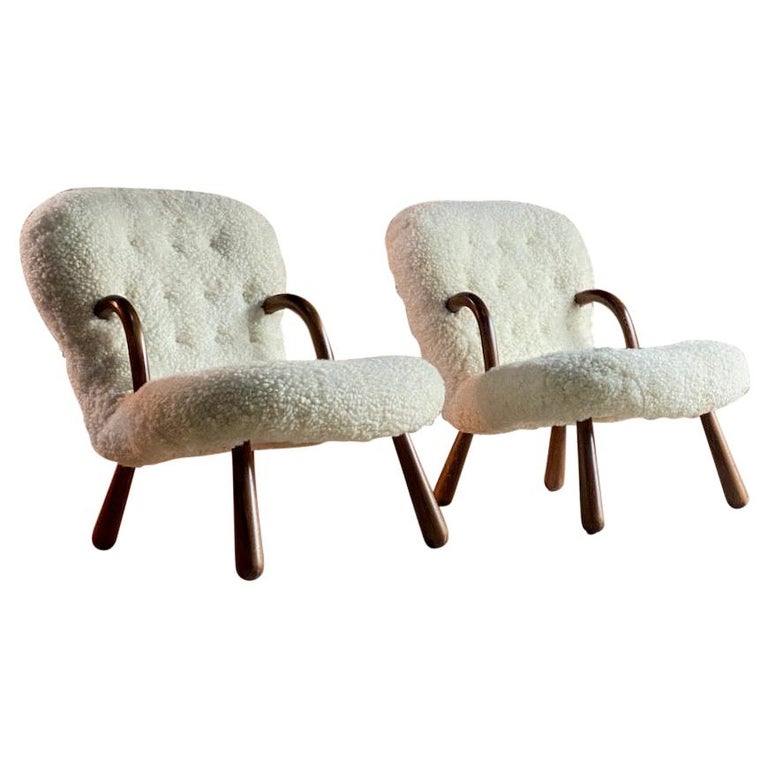 Pair of Philip Arctander 'Muslingestole' Clam Chairs
SOLD
Pair of Philip Arctander Muslingestole Clam Chairs in Sheepskin Norway 1950s

Magnificent pair of Philip Arctander "Muslingestole" or Clam chairs originally designed in 1944 by the Danish architect Philip Arctander and first produced by Nordisk Stål & Møbel Central, Denmark, this design has been produced under license by Vik & Blindheim in Norway since the 1950s, the birch frames and solid beech 'baseball club' style legs with their signature rounded arms have been dark stained in a rich walnut colour, the chairs are covered in the finest tufted New Zealand sheepskin with deep-set buttons, one of the most iconic chair designs of all time and worthy of any collection, this stunning set dates to late twentieth century and is offered in mint condition, reserve now.

Provenance: From a private London collection

Background:
Danish architect Philip Arctander (1916 - 1994) is a somewhat usual cult figure. A fringe architect with limited output, he's known essentially for his directorship at the Danish Building Research Institute (1968-1981) and his UN advisory role supporting affordable housing.

In 1944, amid a broader post-grad stint freelancing, he and five other architects were solicited to design furniture as part of a contest sponsored by newly opened supplier and storefront NY FORM A/S in Copenhagen. Arctander's contribution was striking: the beech-legged and sheepskin-backed Muslingestol (Clam Chair). The piece immediately enjoyed a limited Copenhagen release, both through NY FORM A/S and Nordisk Staal & Møbel Central. By the time Arctander left the furniture profession entirely sometime in the late 1940s or early 1950s, Muslingestole abounded as Nordic suppliers like Ikea and Vik & Blindheim got into the bivalve business, taking the design into a brief period of mass production.

But only recently has this story been told; by some Sophoclean-bend to his design career—perhaps given his brevity working with the trade—Arctander became dissociated from his signature design. When the chair began surfacing within auction contexts in the late 1990s, it was sold uncredited. For a good two decades, the chair was obscured by mystery, collecting a series of misattributions along the way—namely, the Danish architect Viggo Boesen, as well as "Martin Olsen," which, it was discovered, was nothing but the name for a now-defunct Oslo furniture store. Eventually, Arctander's childhood friend and colleague, the Danish architect Poul Erik Skriver, confirmed it was indeed Arctander who designed the chair.

The mystery, it seems, has only added prestige to the Muslingestol's iconic status; on the trophy market of late, the chair has regularly sold well above the $300 price tag it originally garnered in late 90s auctions. In 2013, a pair (misattributed to Martin Olson) went for over $220,000.
Arctander passed away January 27, 1994

Mid Century Modern
Danish Design

Philip Arctander
Vik & Blindheim

Clam Chairs Pair

Sheepskin

Norway
Beautiful & Practical

The chairs are offered in excellent condition with no odours or smells, the sheepskin covers are in almost new condition with no stains or damages, the frames are solid to joint, the legs and arms have been polished and stained.
Width 29"  / 74cm
Depth 35" / 89cm
Height 33" / 84cm
Seat height 17" / 43cm

Free delivery is offered to England & Wales only when buyer pays full asking price, next day delivery is not possible due to the size of the piece, please allow between 7-14 days delivery