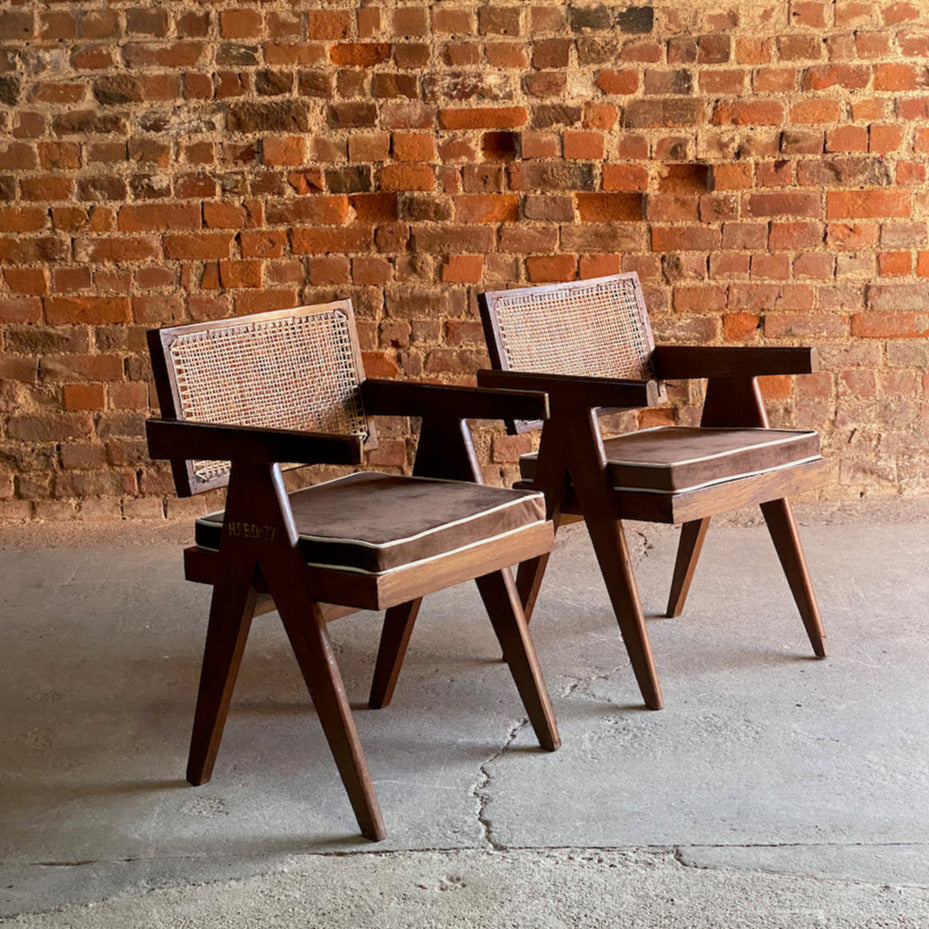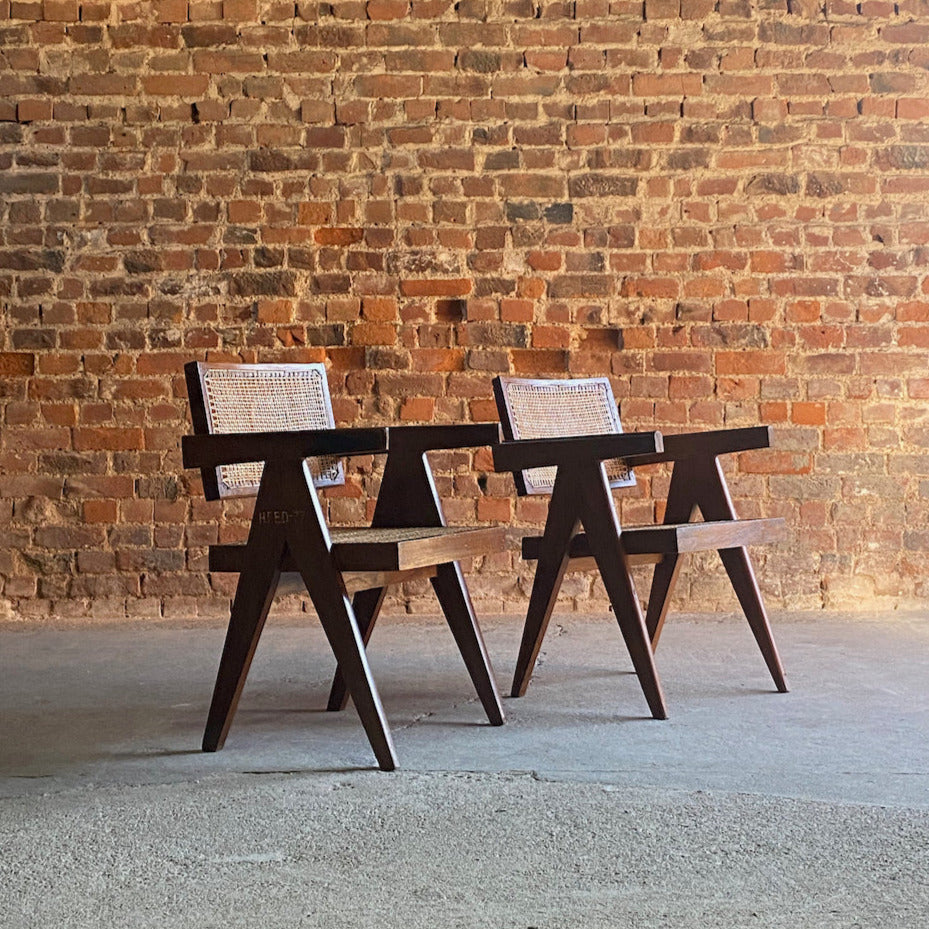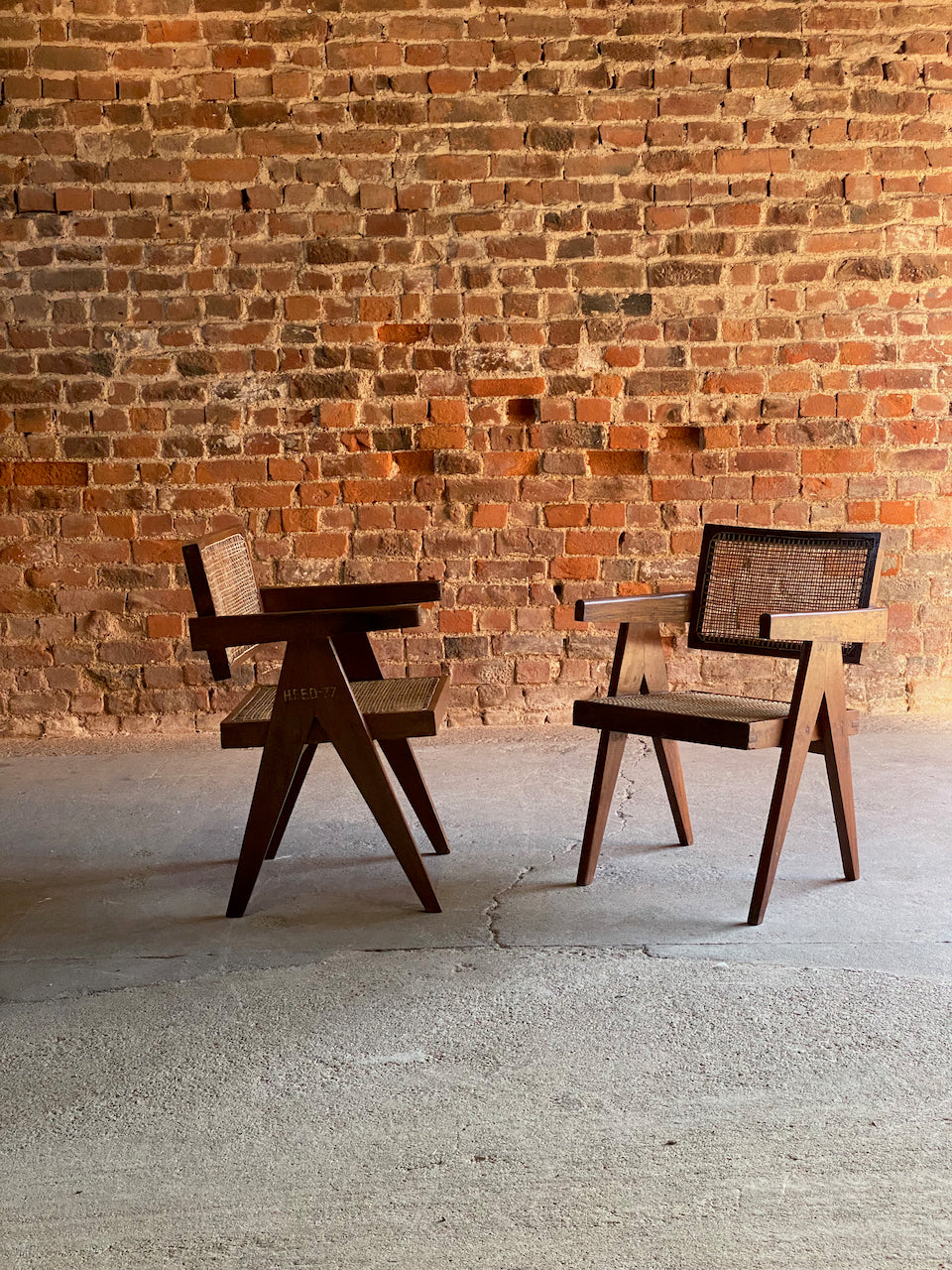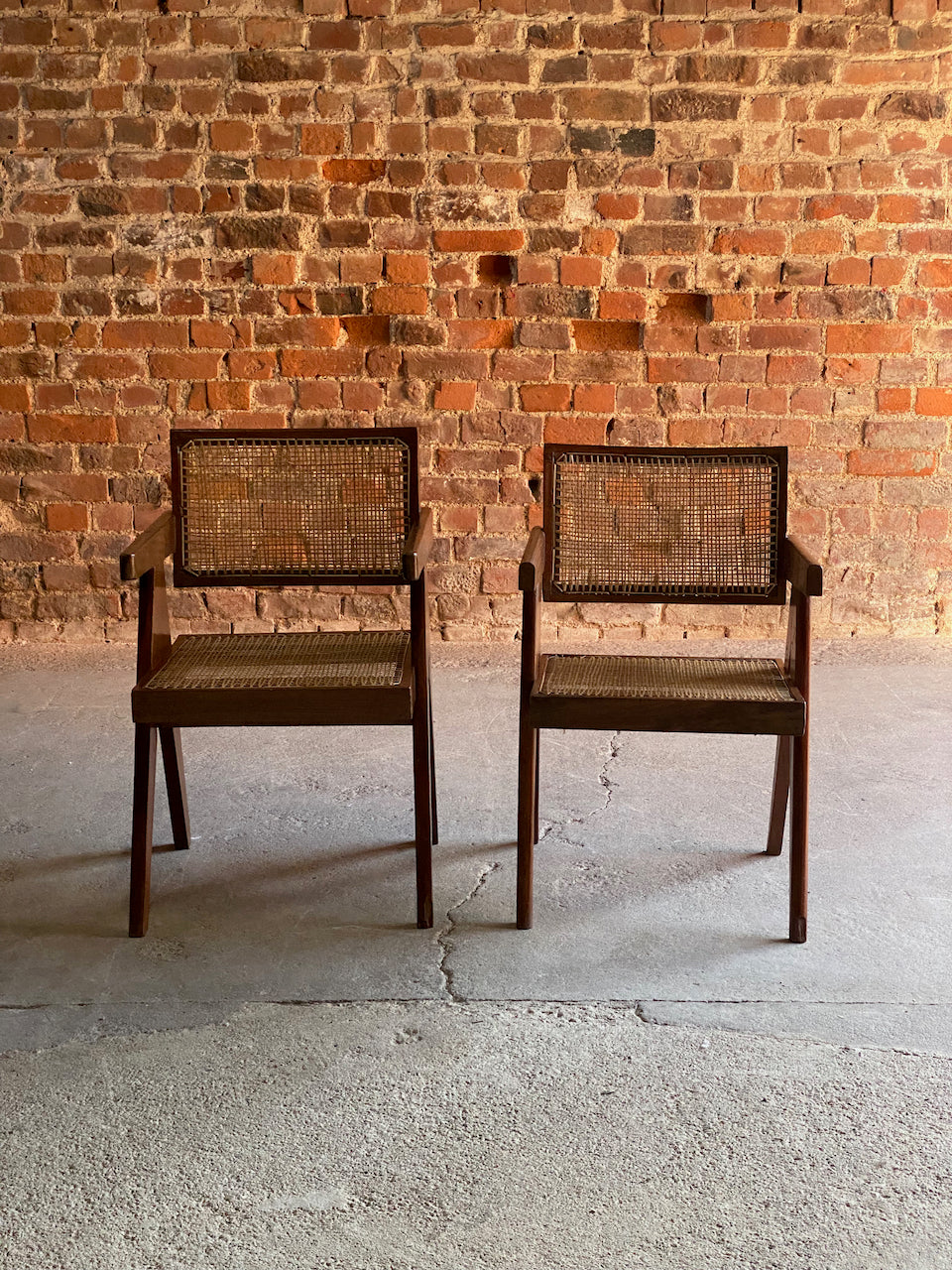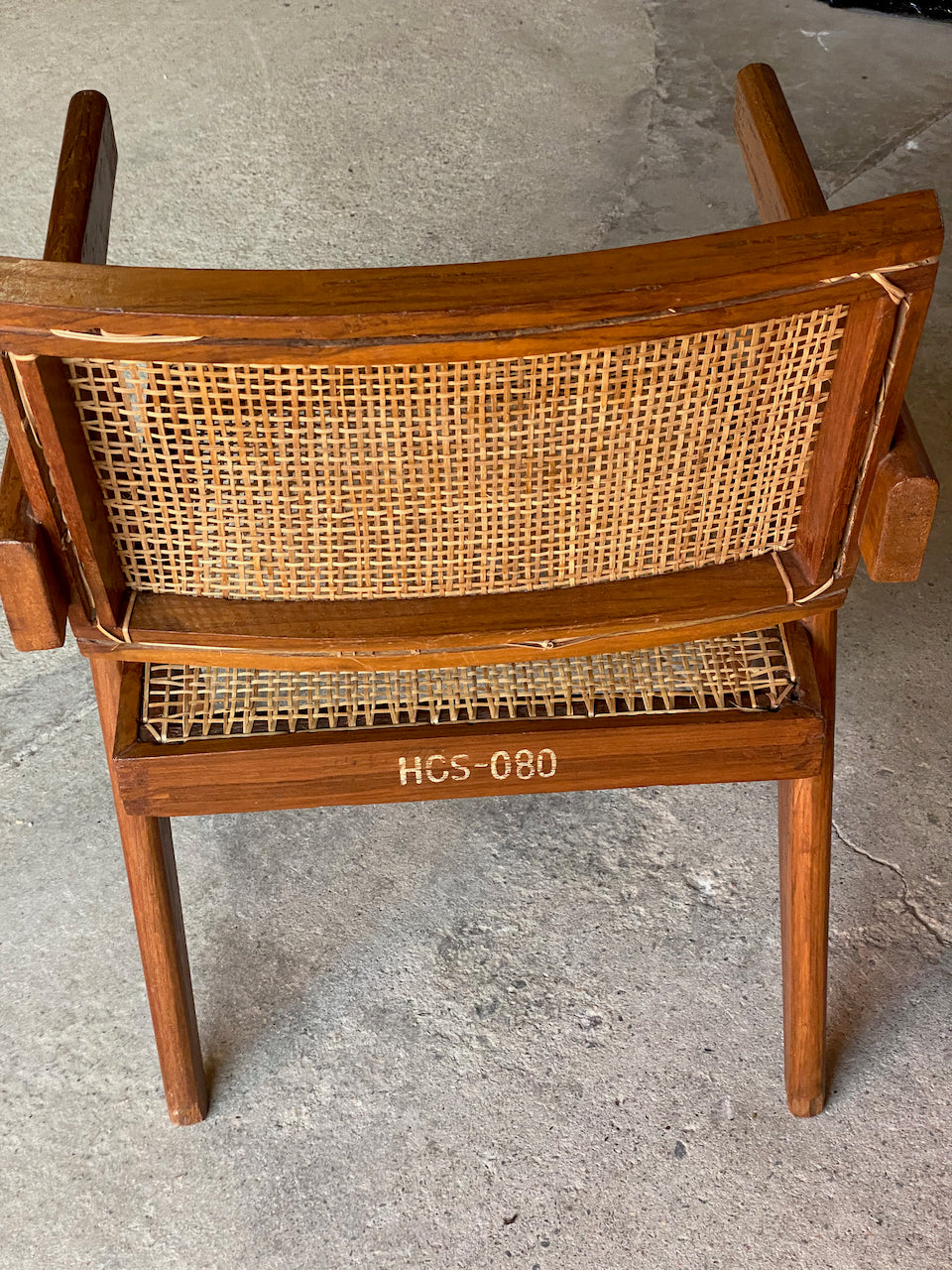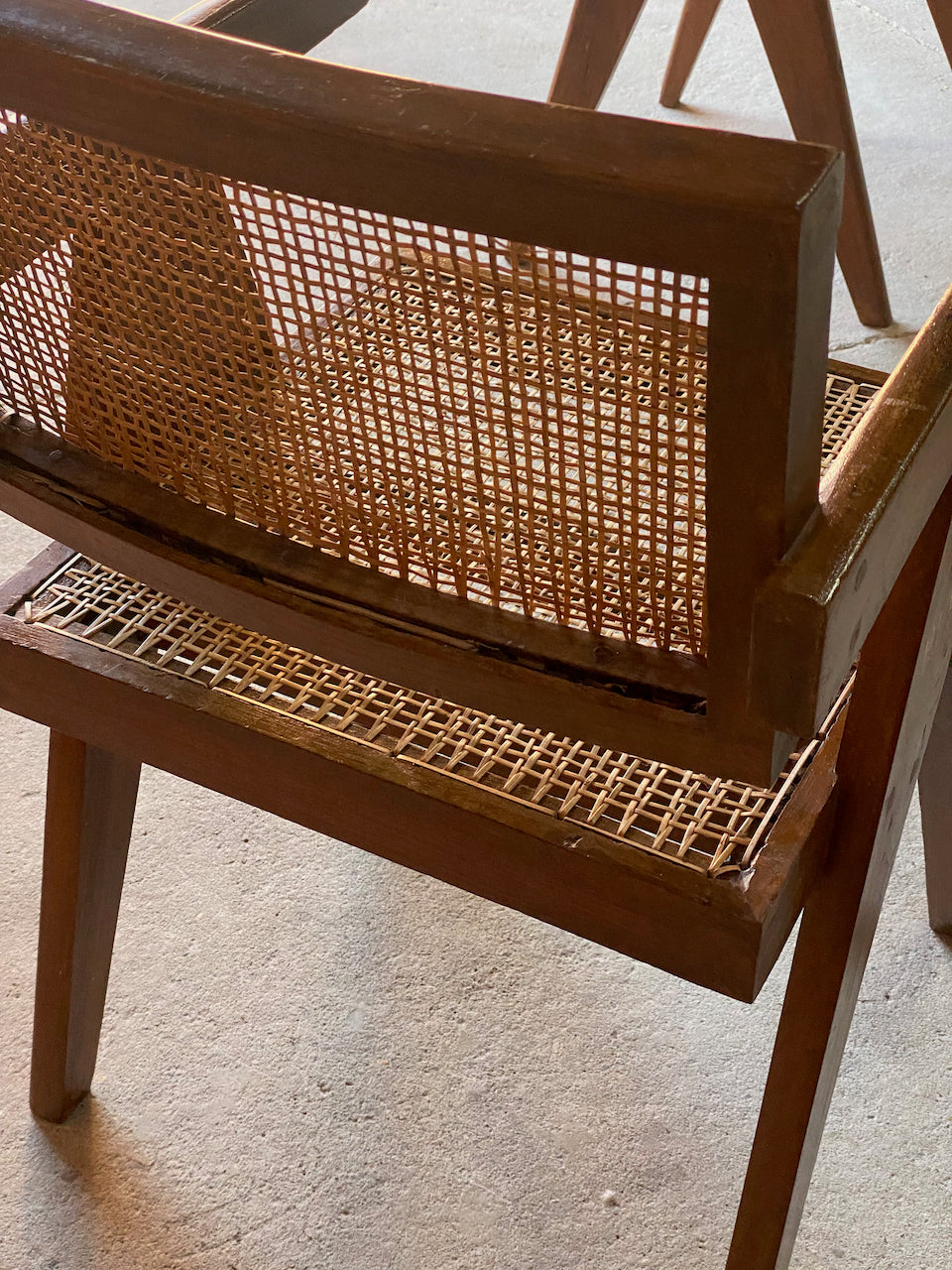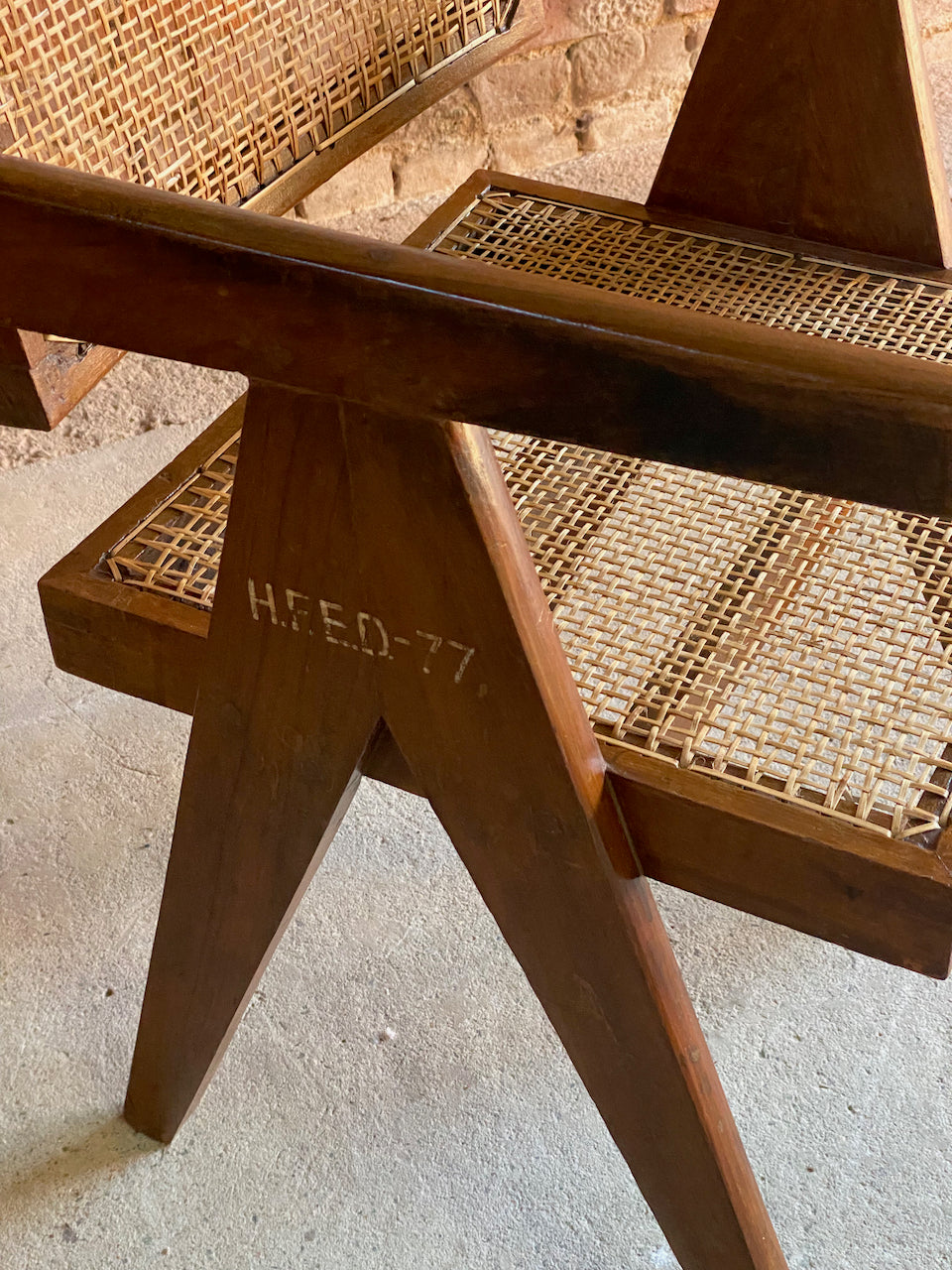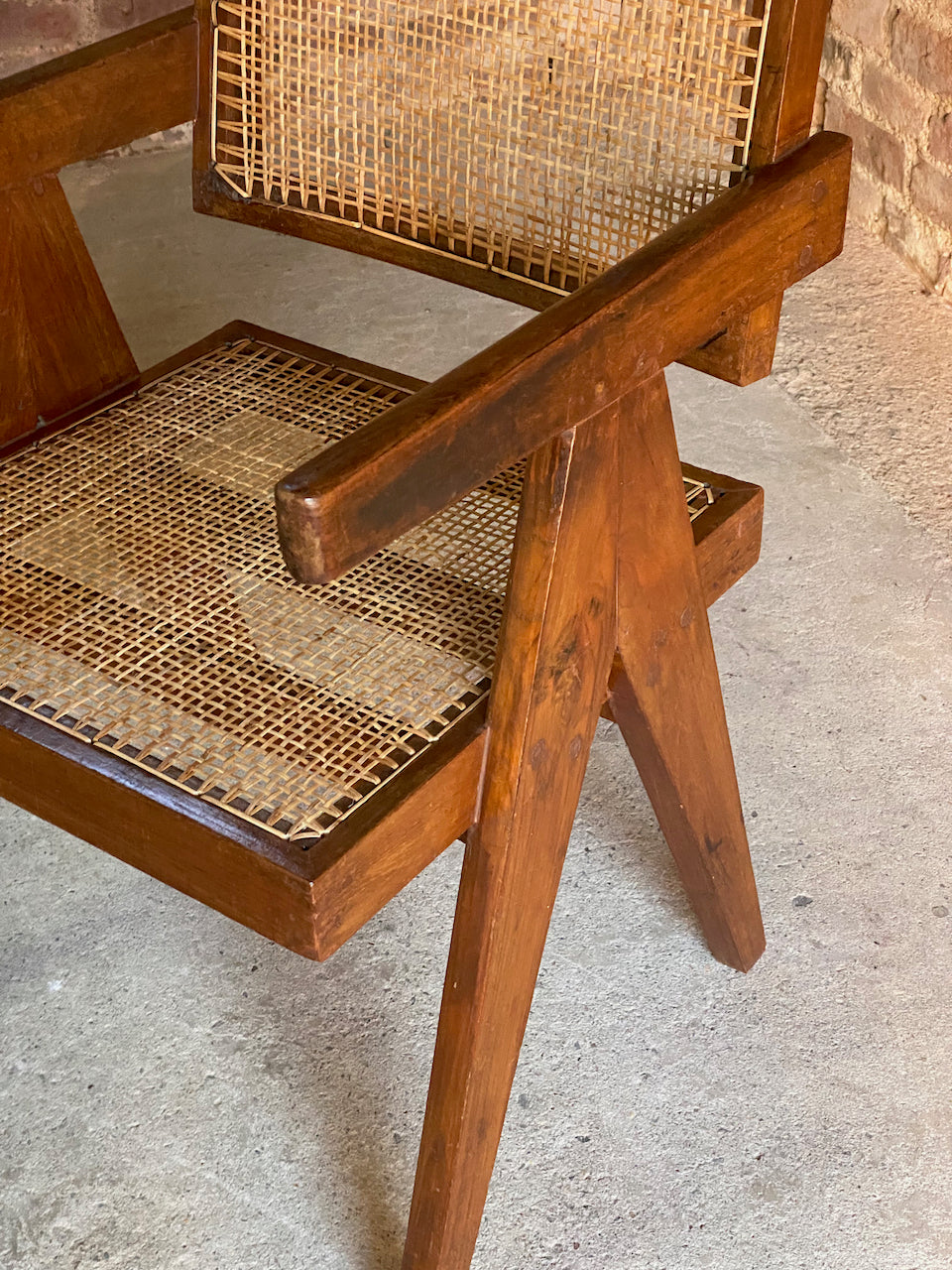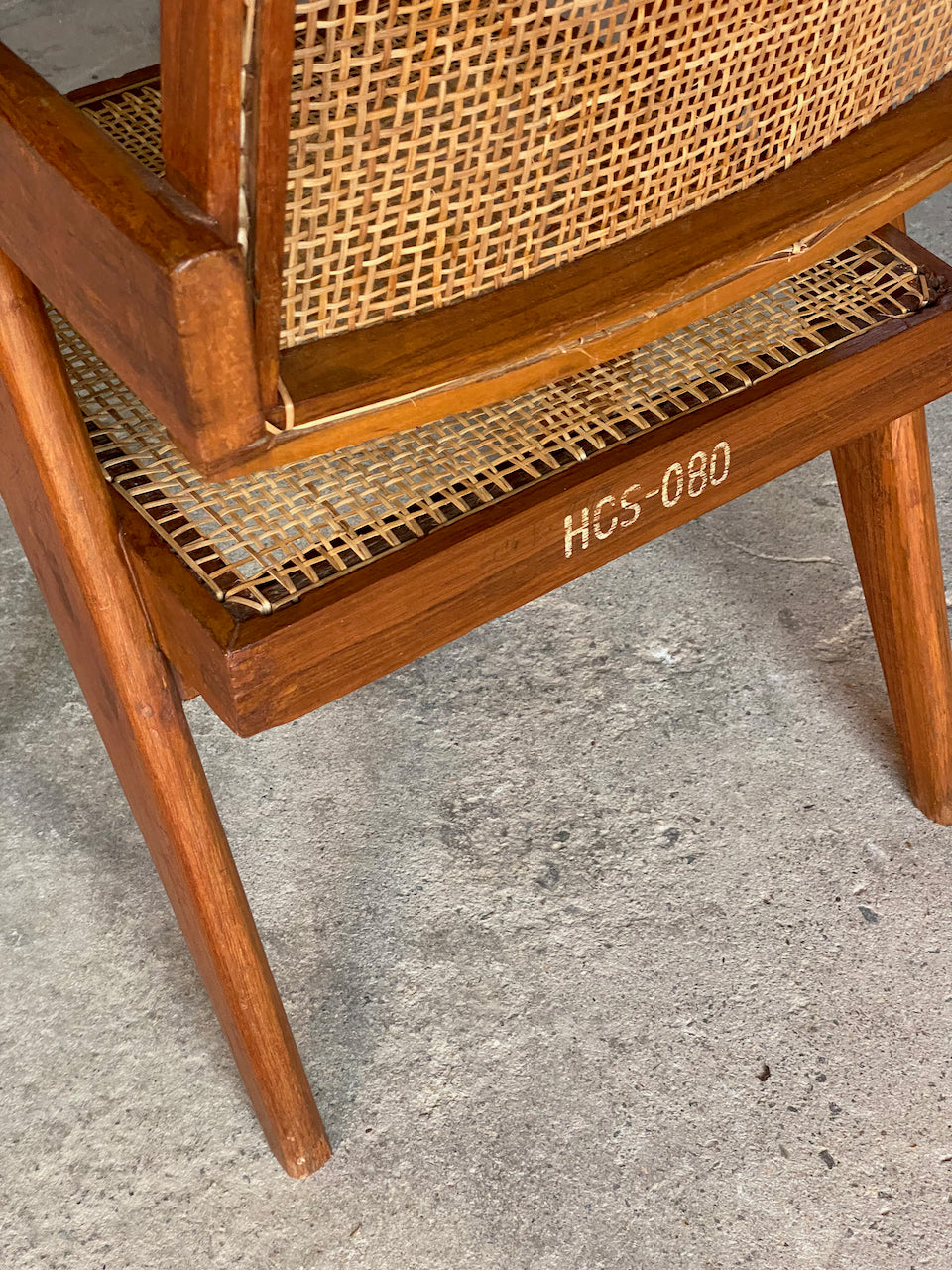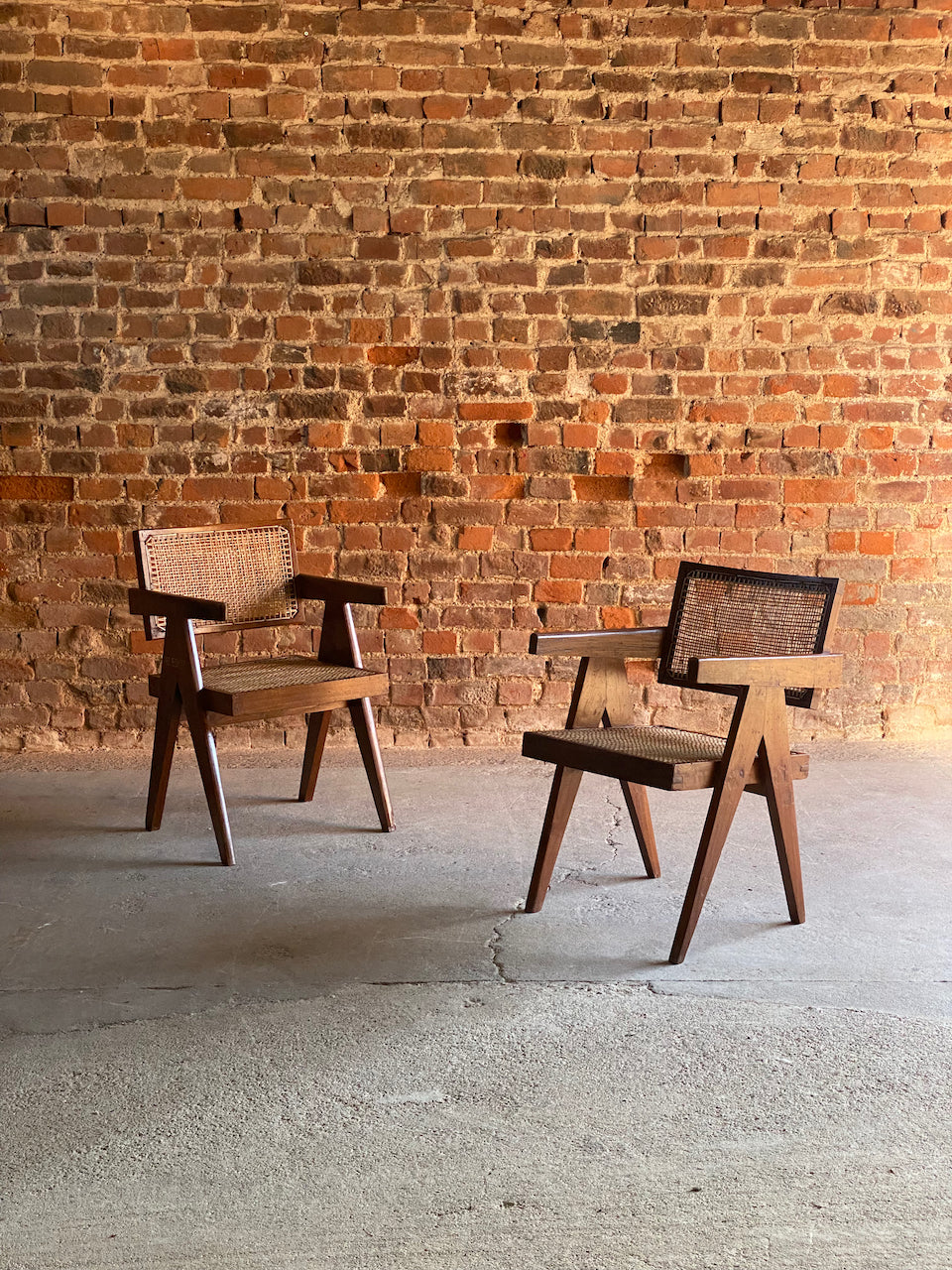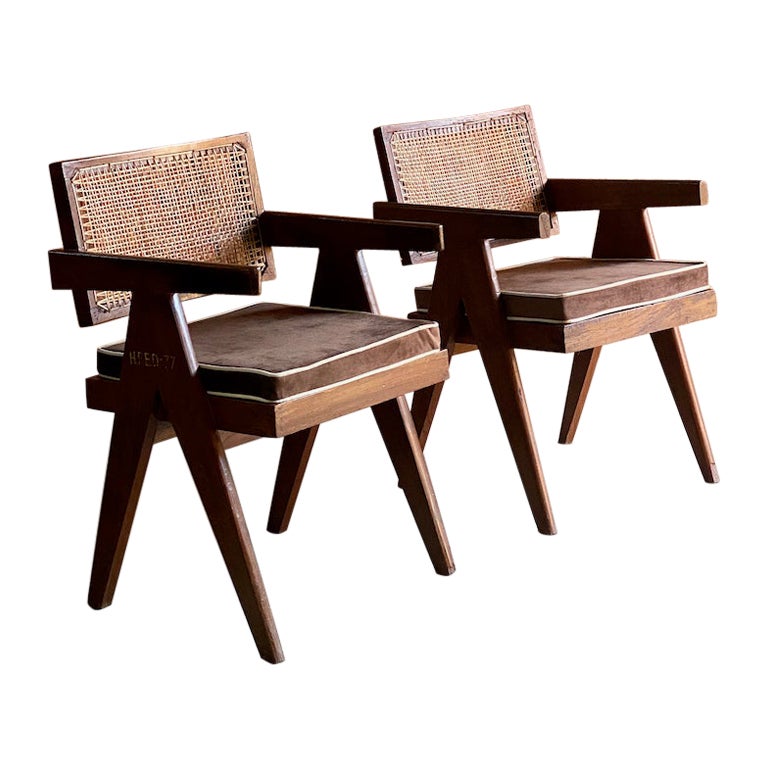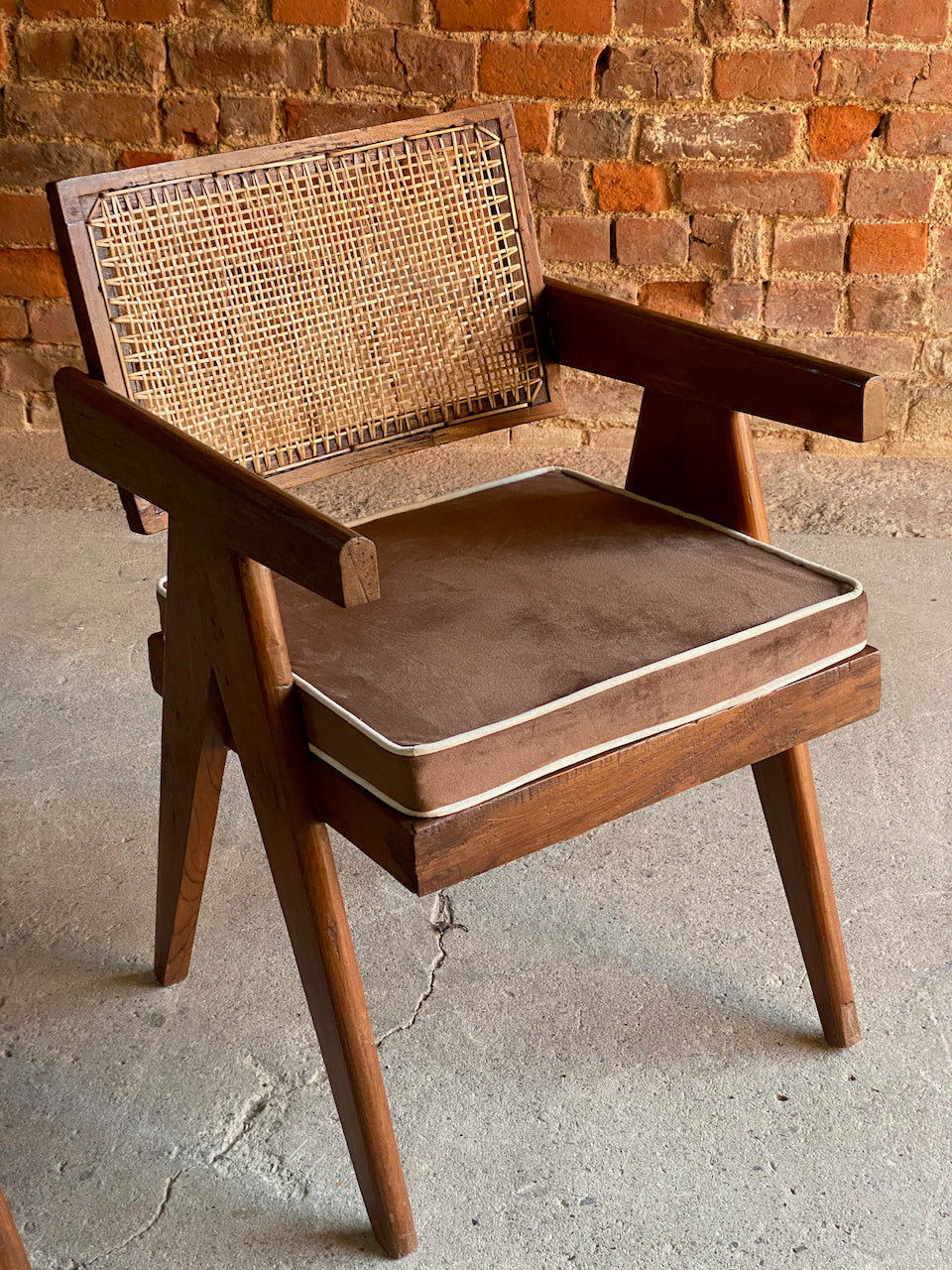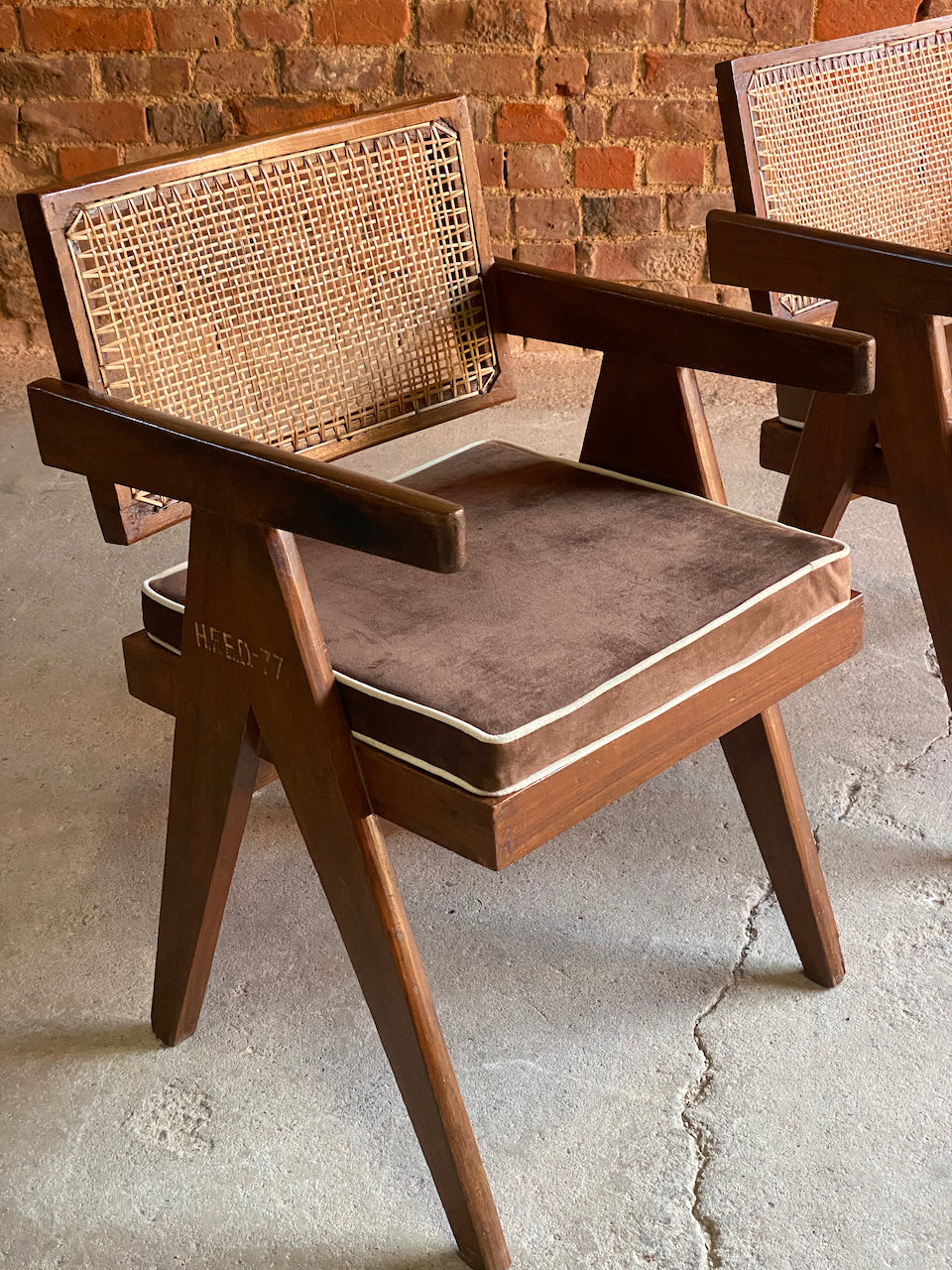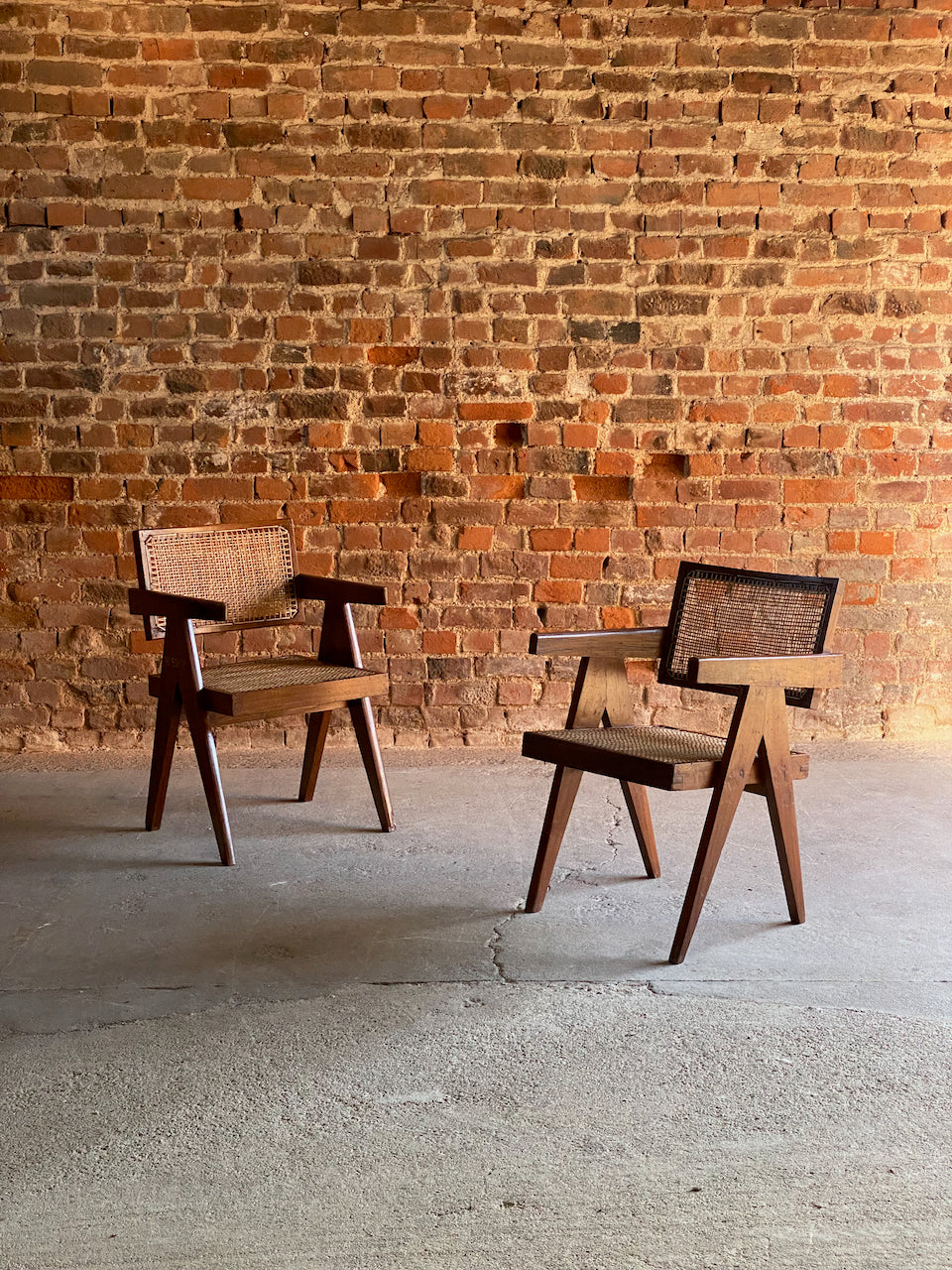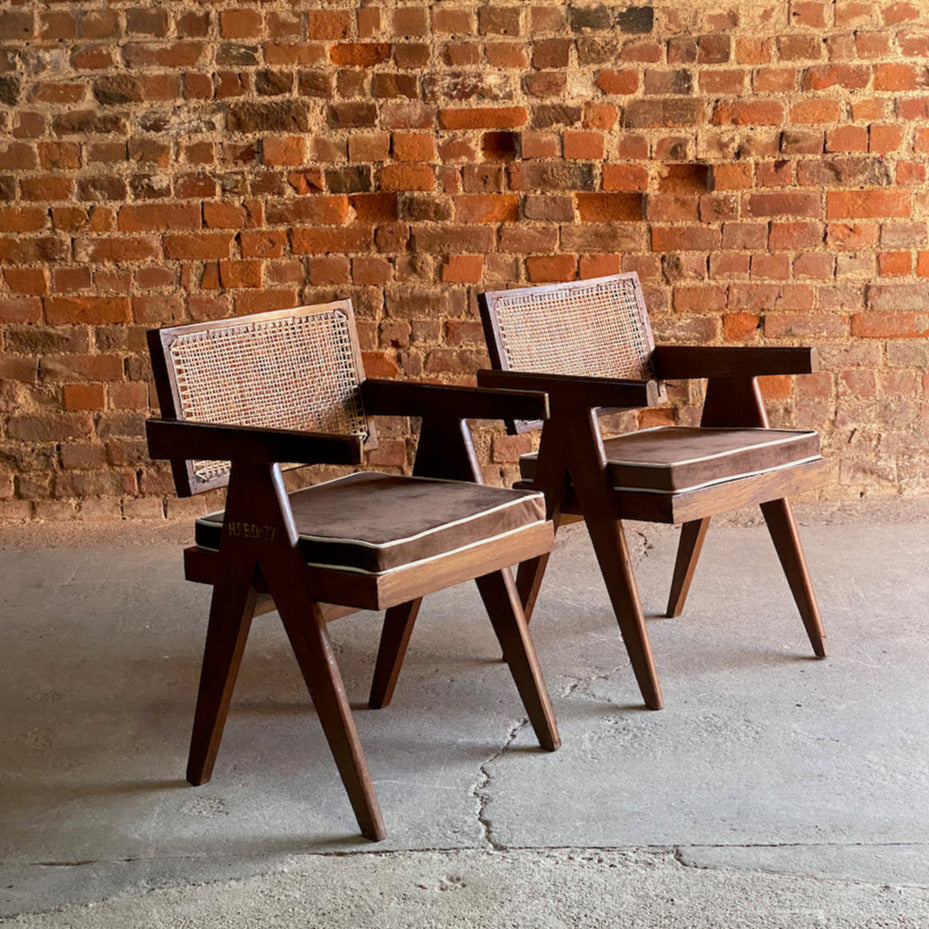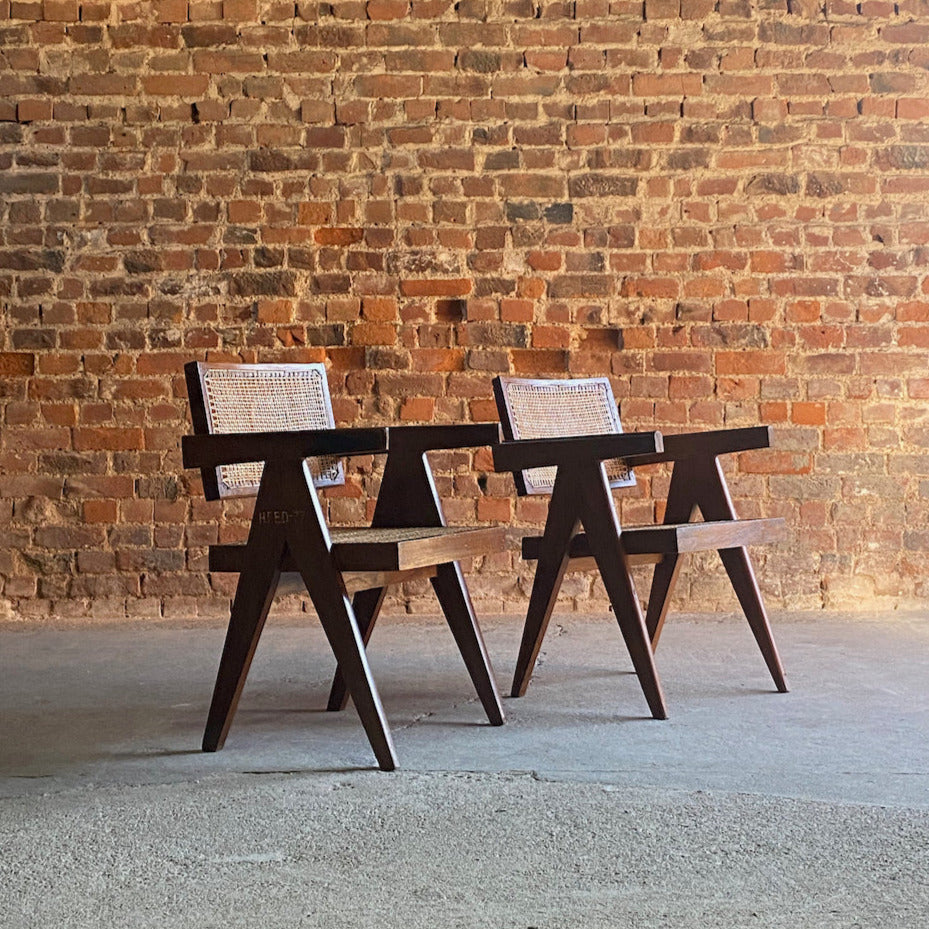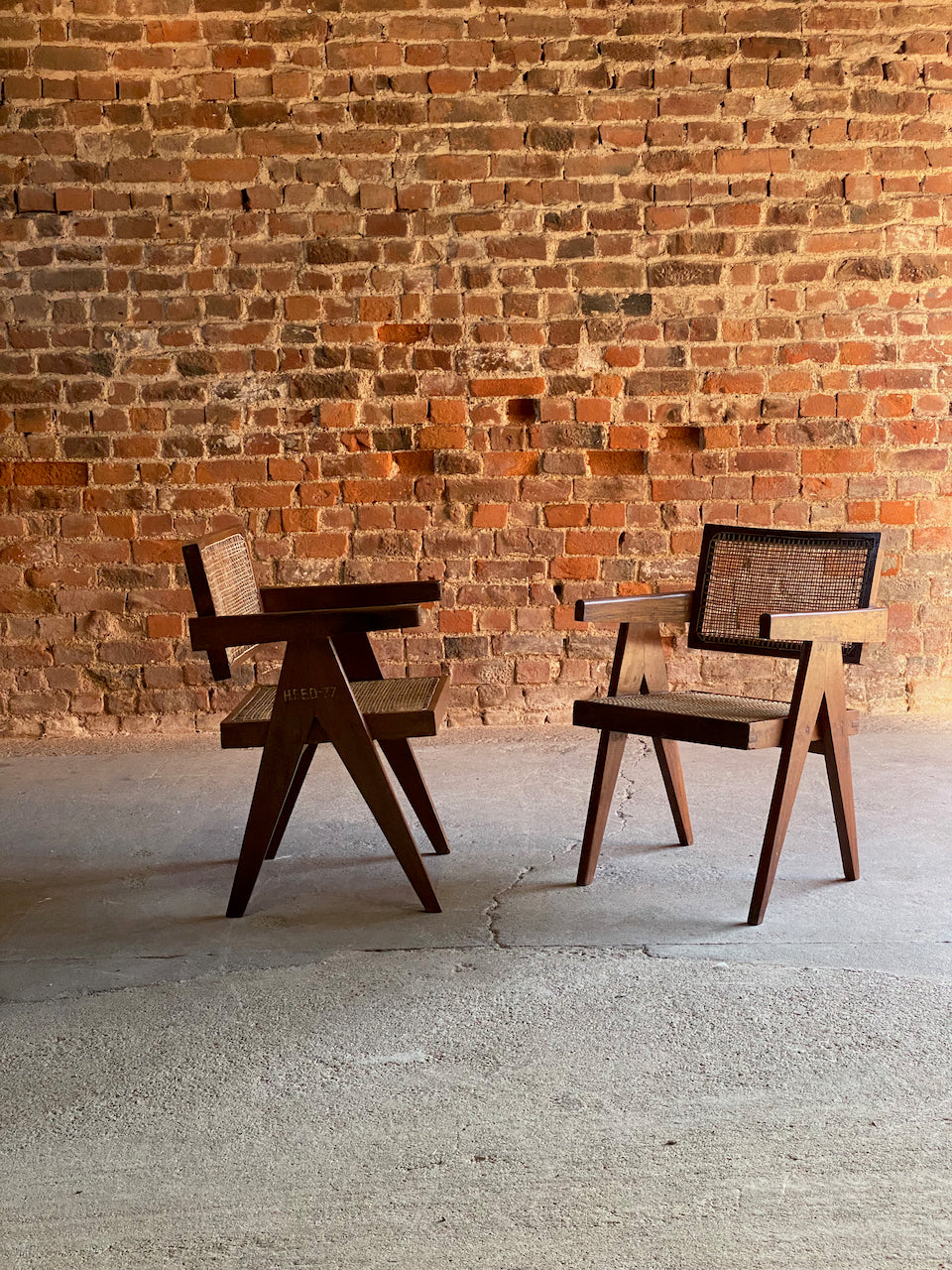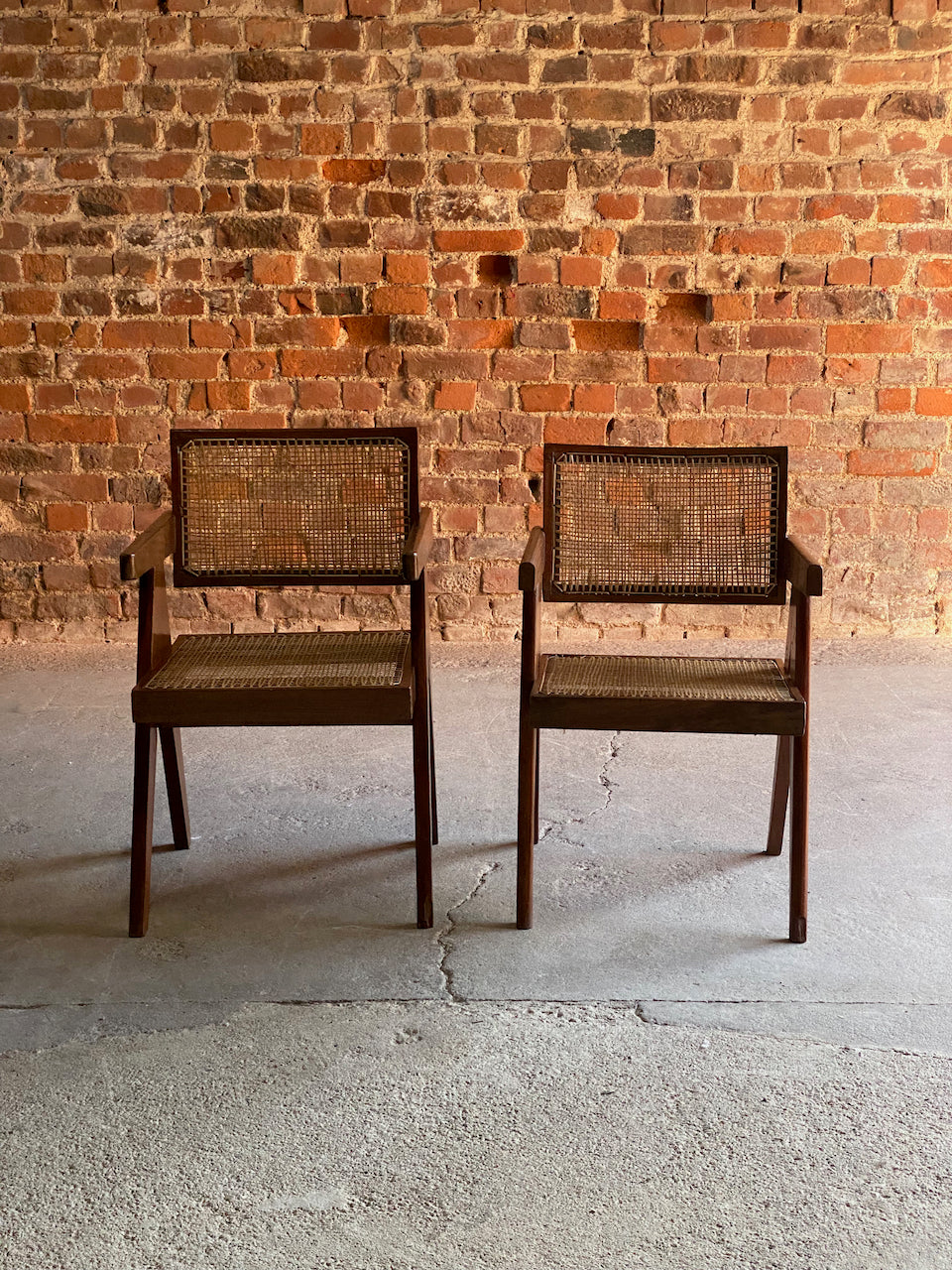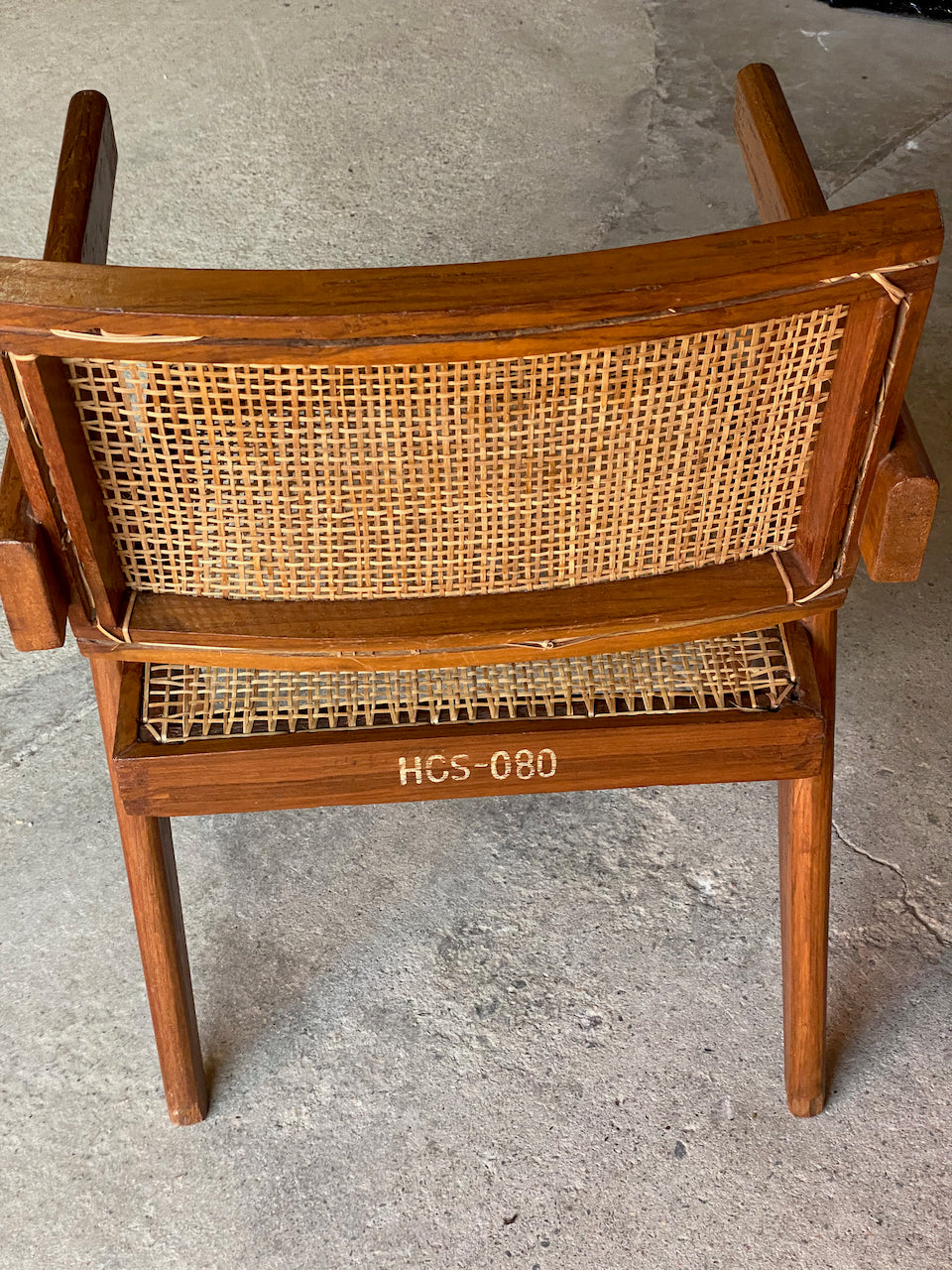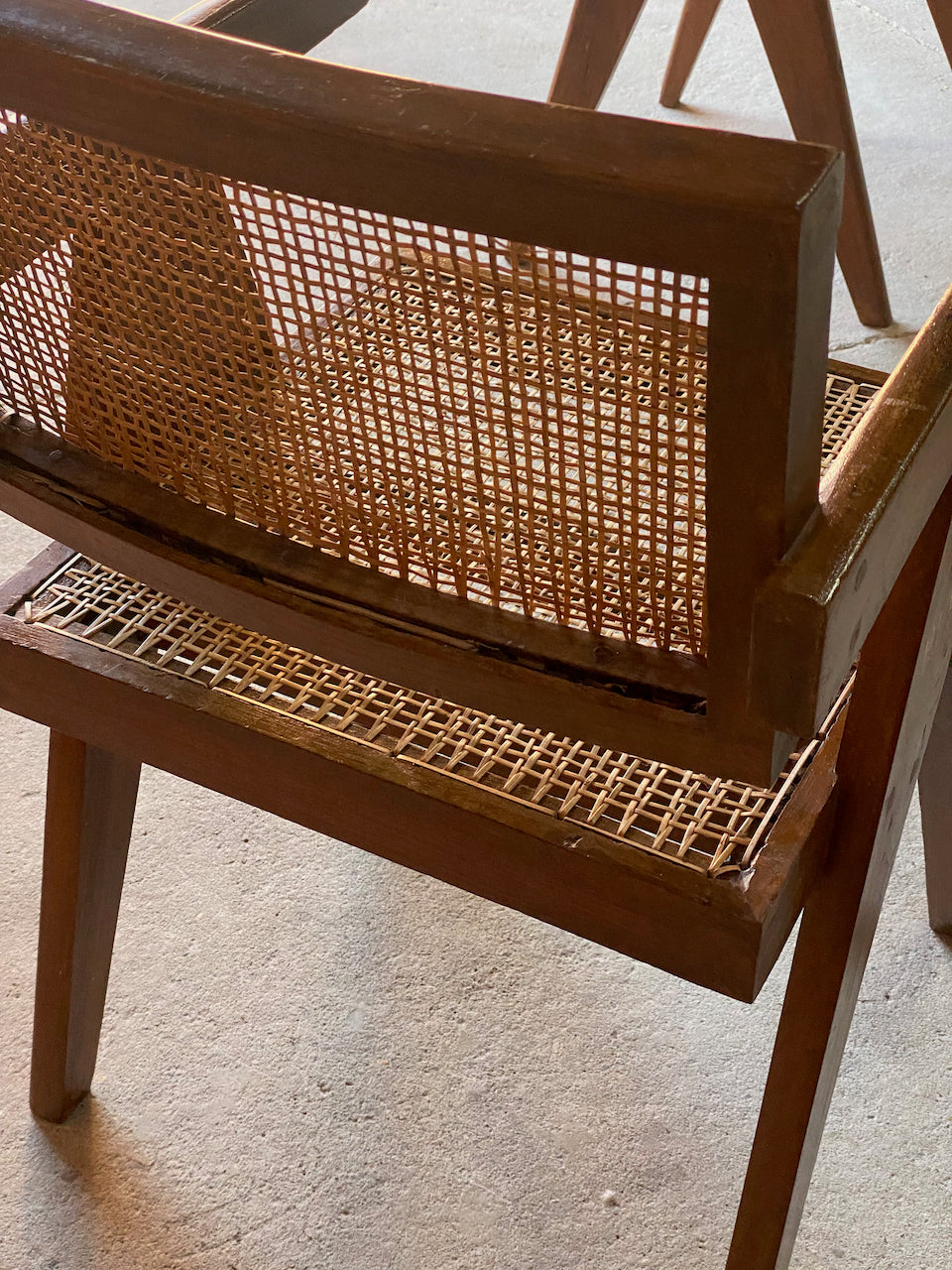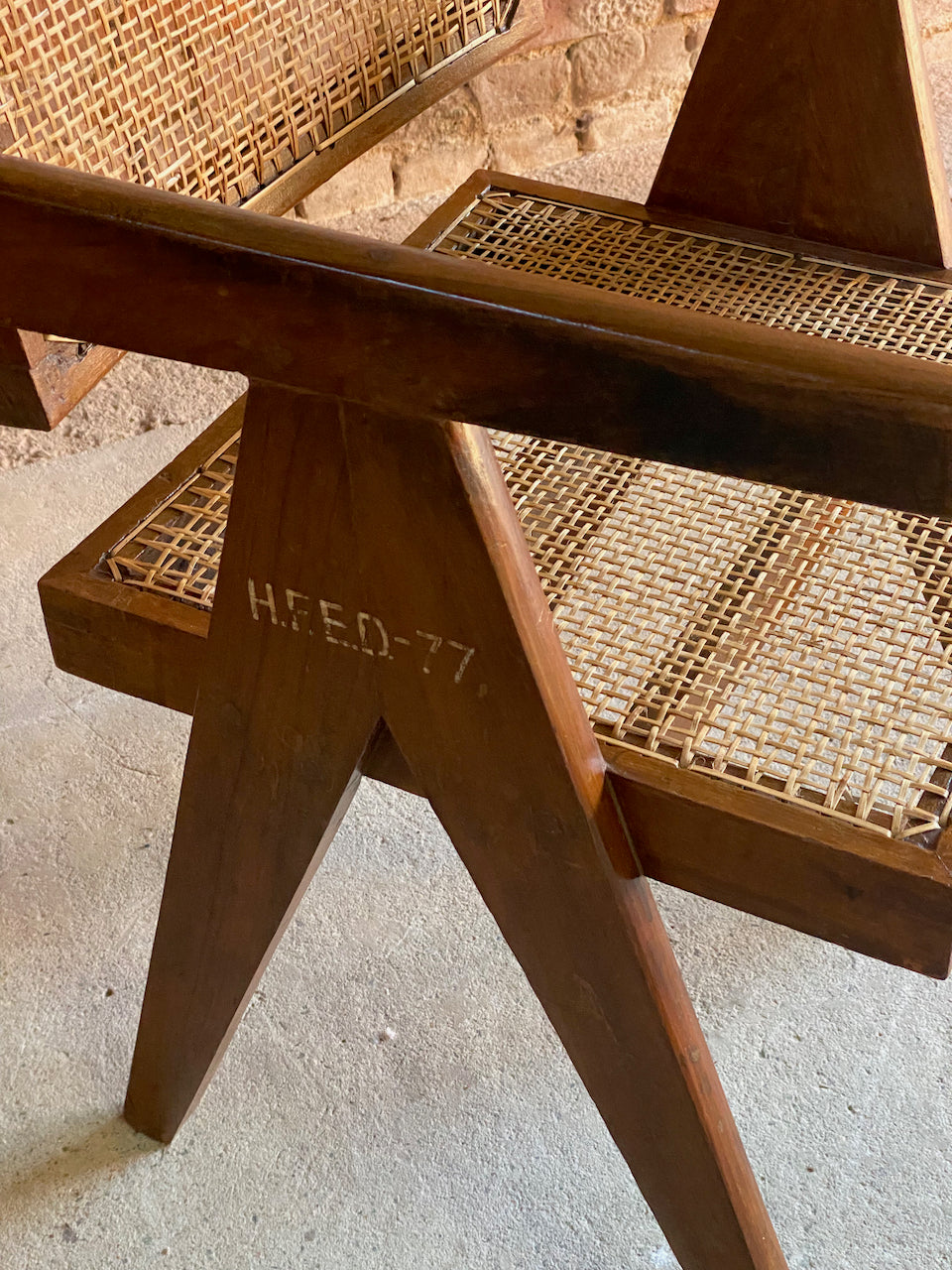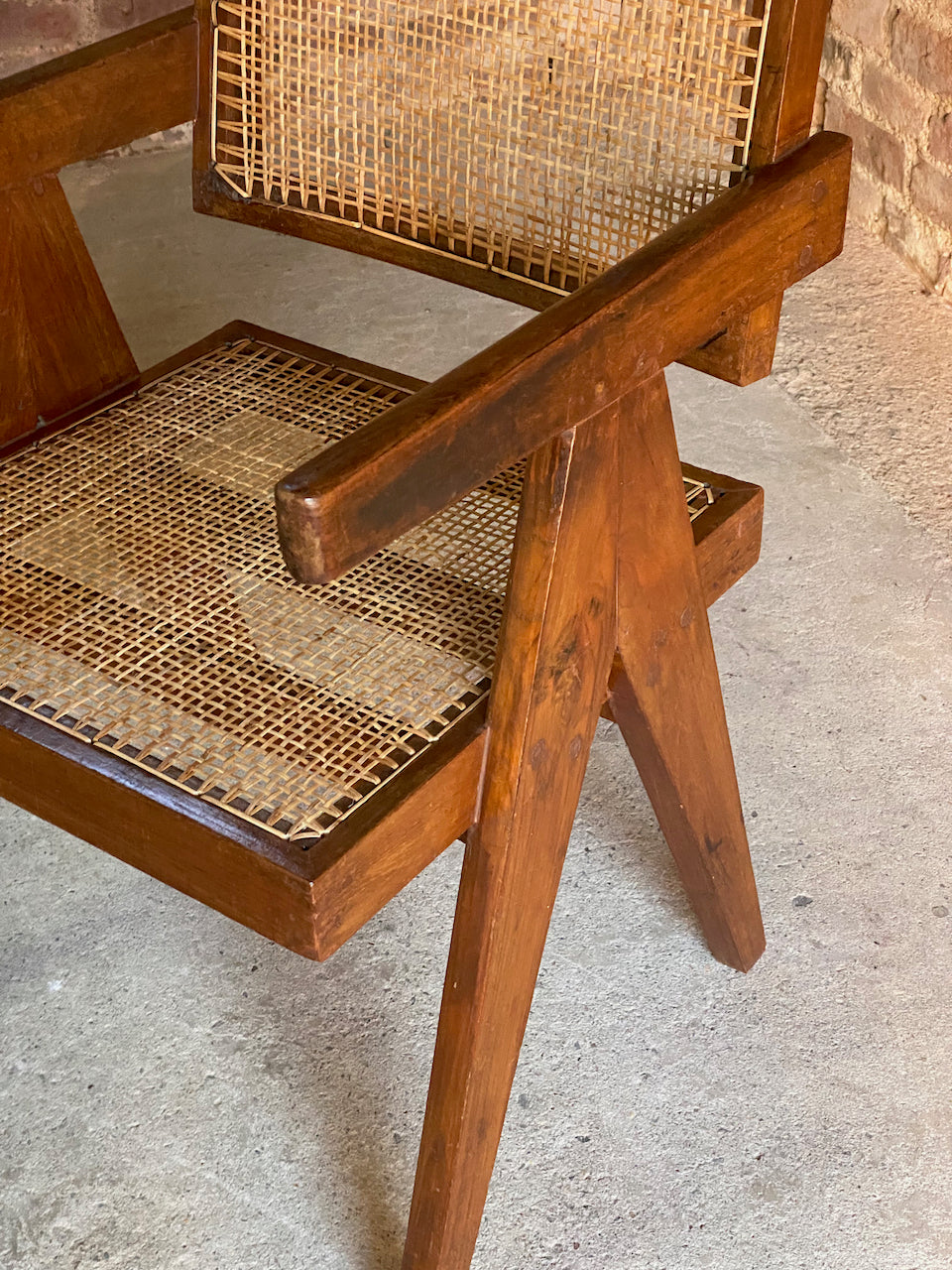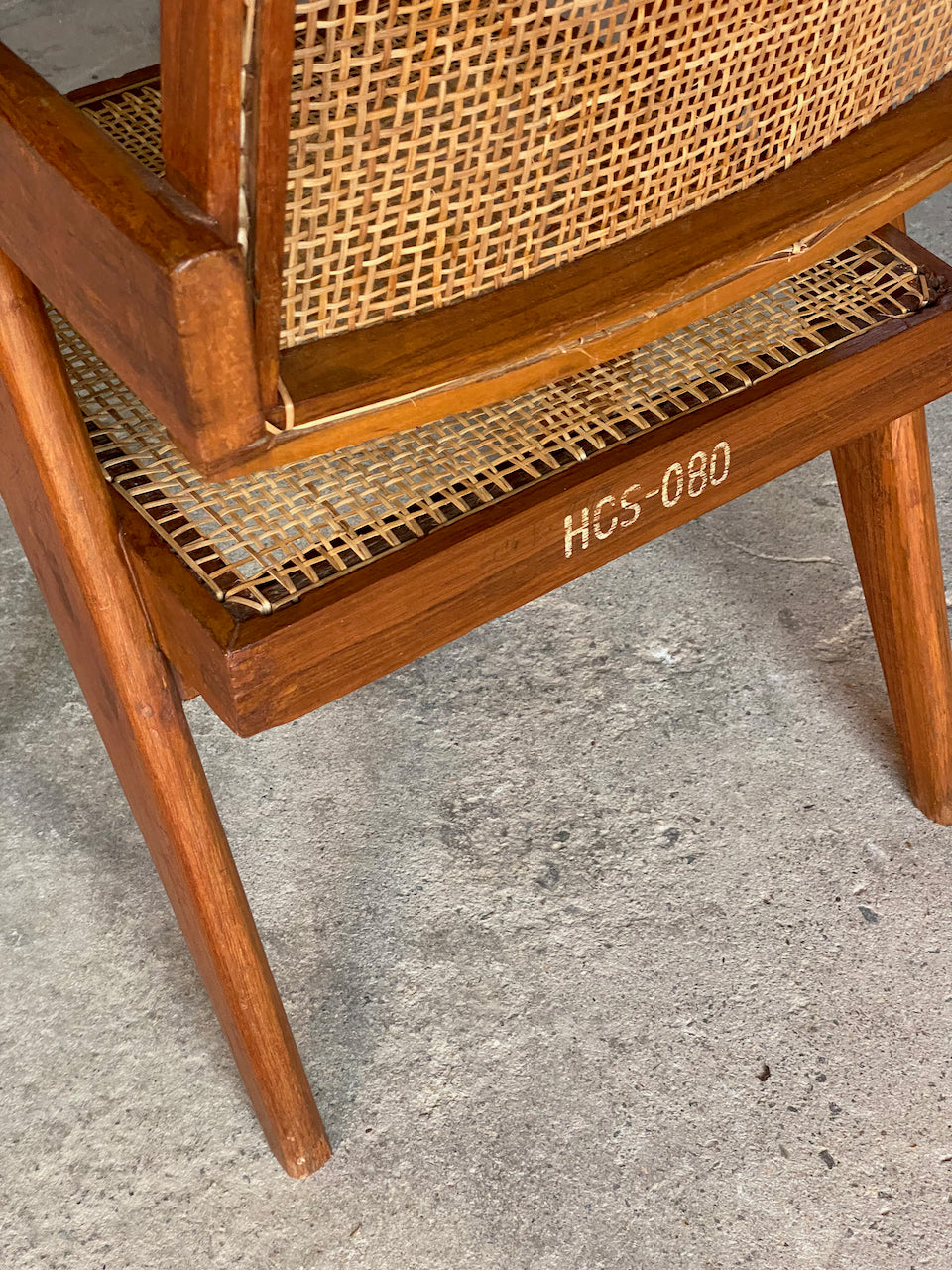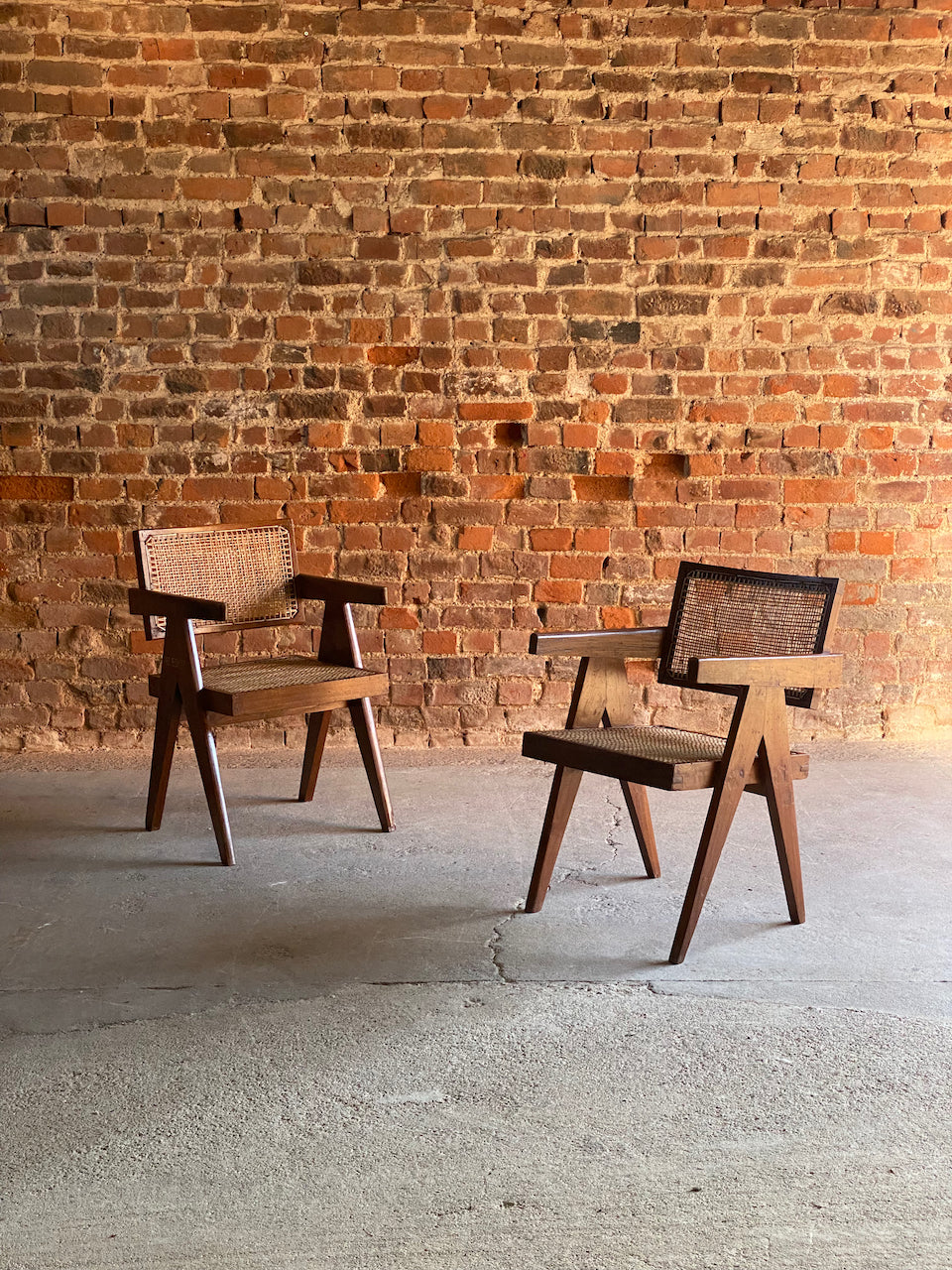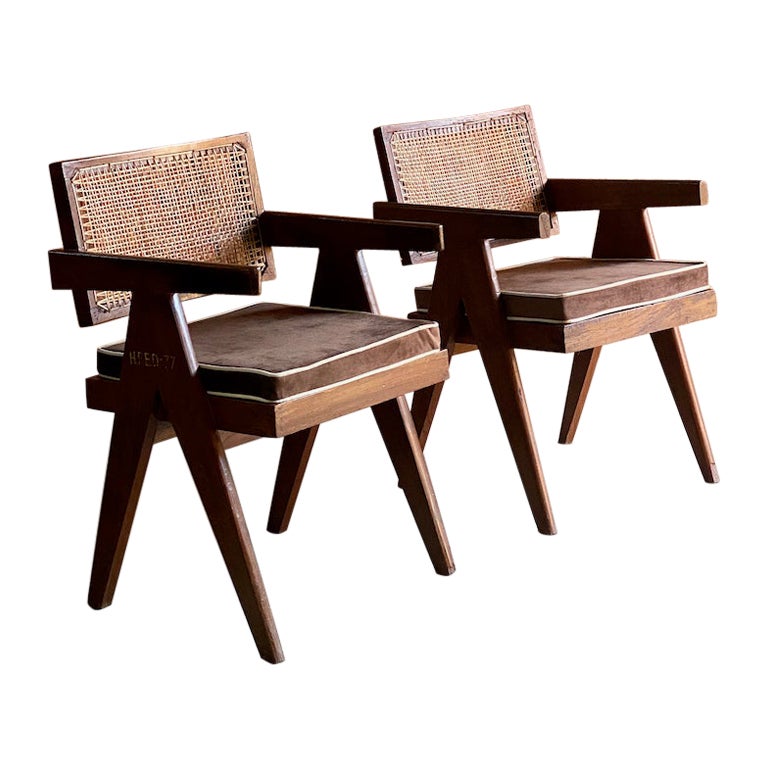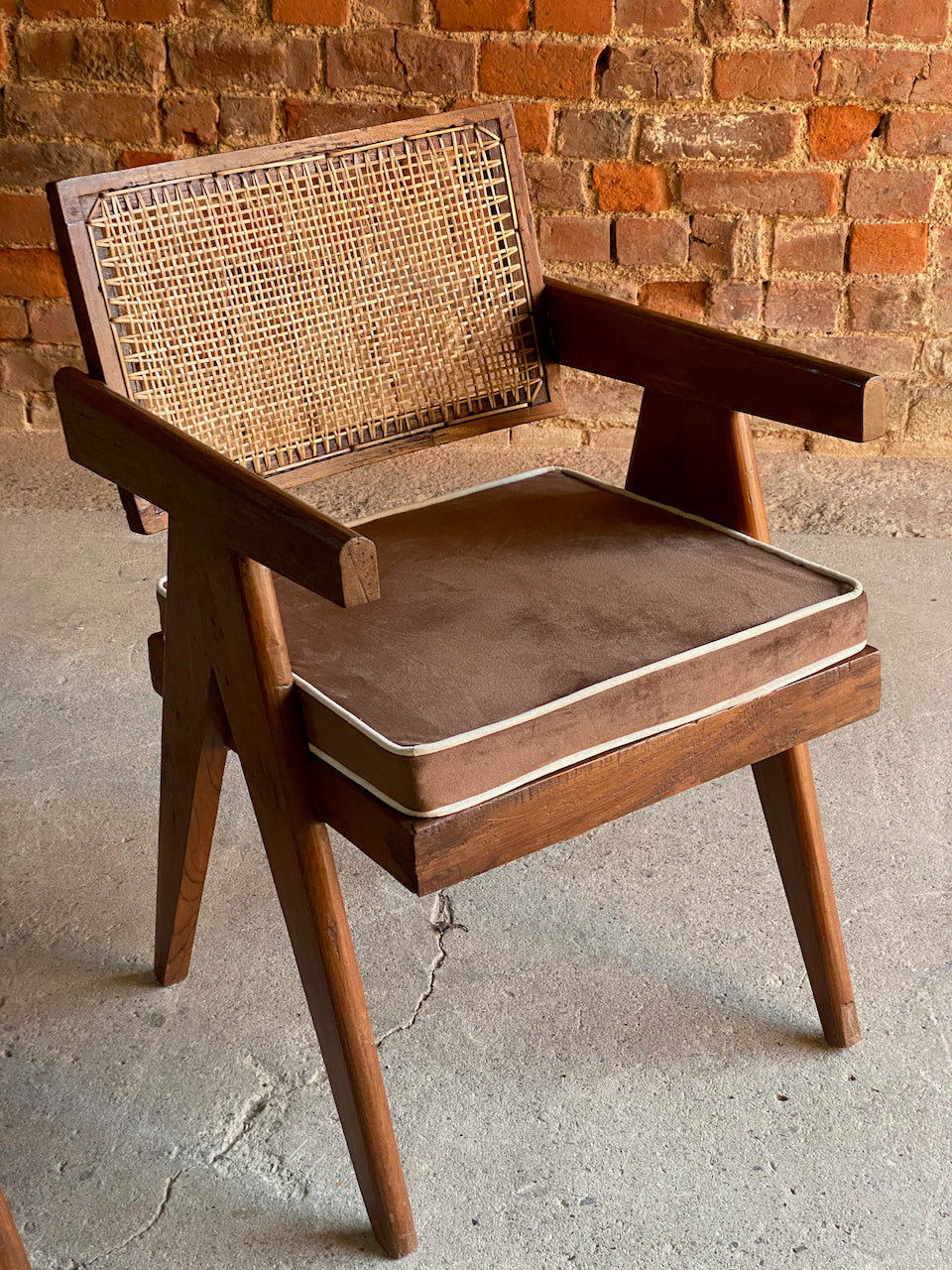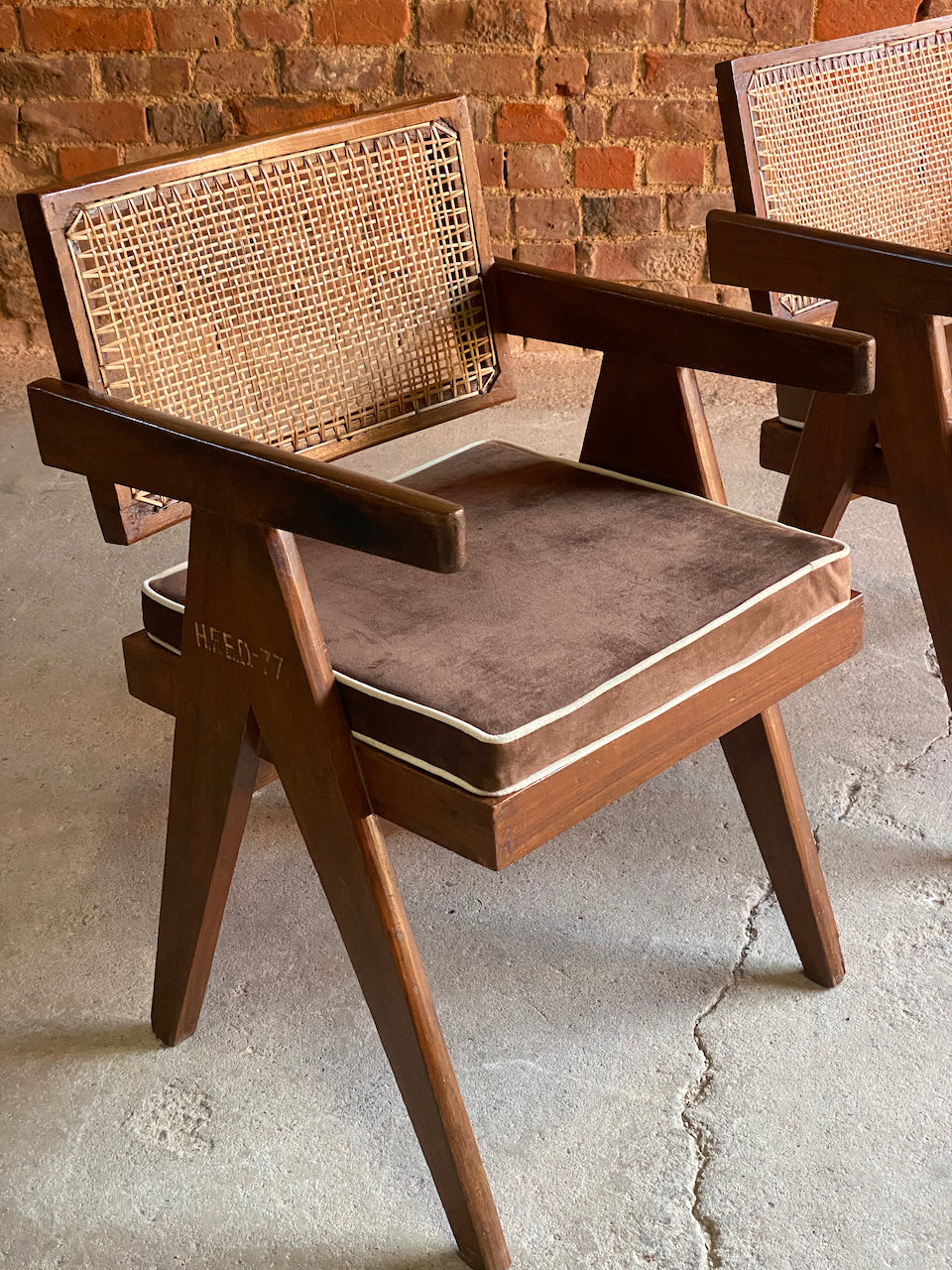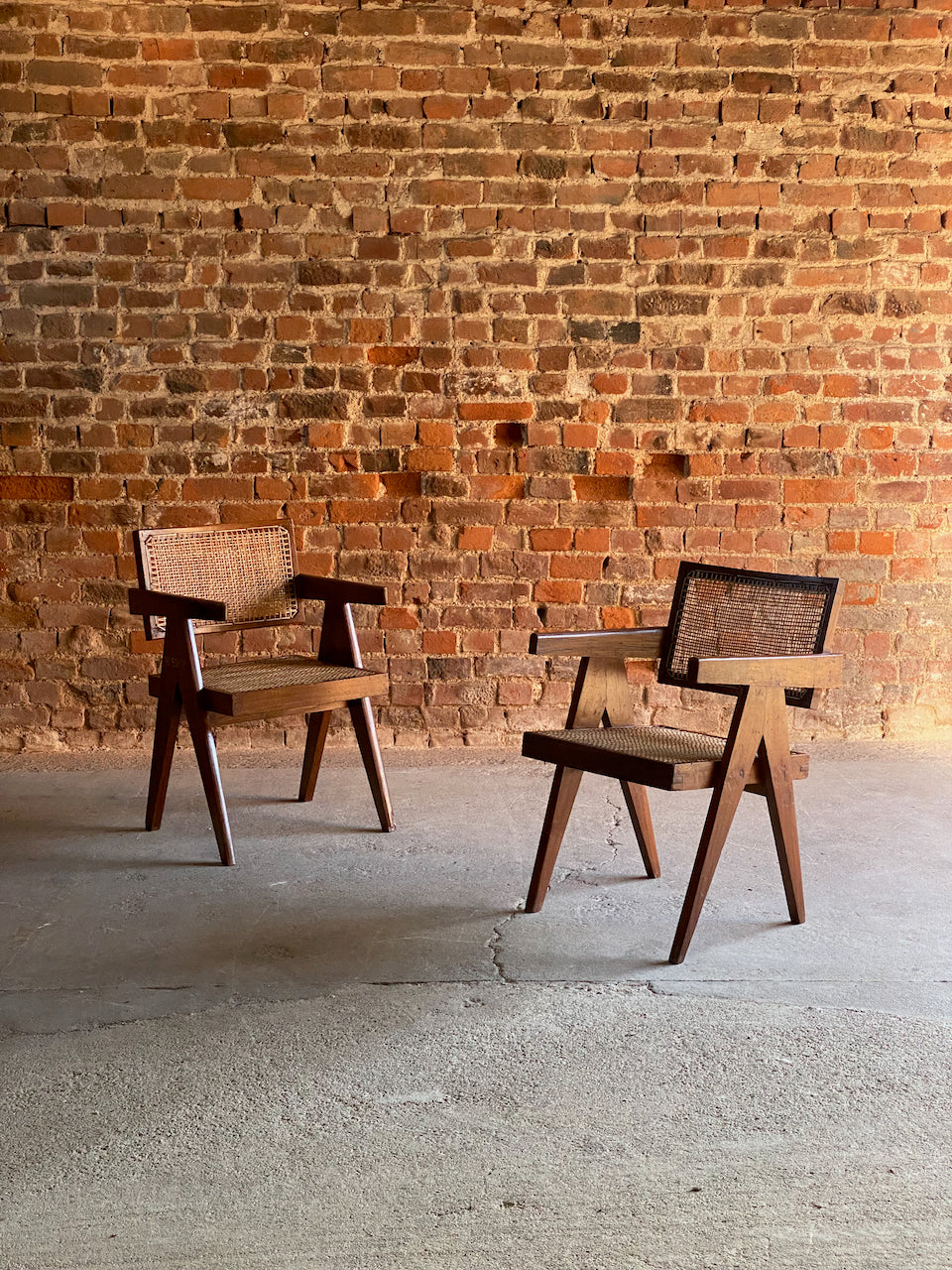 Pair of Pierre Jeanneret Model PJ-SI-28-A Floating Back Office Chairs Circa 1955
SOLD
Pair of Pierre Jeanneret Model PJ-SI-28-A Floating Back Office Chairs Circa 1955

Fabulous Pair of mid twentieth century Pierre Jeanneret PJ-SI-28-A 'Floating Back' Office Chairs Chandigarh India Circa 1955, designed for the Architects Offices, Secrétariat and administrative buildings in Chandigarh, the chairs have identification marks, a truly wonderful pair of chairs originating from the historical UNESCO World Heritage site, designed by probably the most important architect of the 20th Century, these chairs have been sympathetically restored and show signs of age with a rich patina, both chairs have new caning and come with new brown and piped velvet cushions.

Provenance: Chandigarh India, Each item we sell is hand picked and sourced directly from our trusted partners in Chandigarh whom we have been working with for many years, we only buy unrestored original items and only after we have thoroughly inspected and carried out our own checks to validate the authenticity of each piece in order to guarantee the item is an original.

Once we have purchased the items they are lightly restored in order to maintain their originality, character and patina, the only elements that will be renewed and replaced will be the cane work, there will always be new cushions or upholstery, you are buying an original piece of furniture that will have minor flaws and show signs of age as is to be expected.

For your comfort we will supply a certificate of authenticity and whenever possible also supply archival  images of your items in a pre restored state showing age, condition and history, this is vitally important as the market is riddled with remakes or copies.


Summary:
Period: Mid Twentieth Century
Designer: Pierre Jeanneret
Model: PJ-SI-28-A
Style: Floating Back Office Chairs
Origin: India, Chandigarh
Location: Architects Offices, Secretariat and Administrative Buildings
Quantity: Two
Materials: Solid Teak Wood & New Cane
Extra: Cushions
Design Period: Circa 1955 -6
Validation: Certificate of Authenticity
Provenance: Pre restored images

Condition: Both chairs have age related wear, knocks, marks and splits, each piece will have its own character and markings, both chairs have been lightly restored and will have been oiled and waxed, joints will be strengthened and made solid, cane work will always be renewed and in perfect condition as will cushions and upholstery, each item will be unique and each piece will not be exactly the same as the next, the patina may slightly vary as these items date from the 1950s and 60s.

Dimensions H.E.E.D - 77:
Width 19.5" / 49.5cm
Depth 20"  / 51cm
Height 32" / 81cm
Floor to seat: 17.5" / 44cm
Floor to Arm: 26" / 66cm

Dimensions HCS-080:
Width 19.75" / 50cm
Depth 20"  / 51cm
Height 29.5" / 75cm
Floor to seat: 17" / 43cm
Floor to Arm: 25" / 64cm

Delivery:
Free delivery is offered to England & Wales only when buyer pays full asking price, next day delivery is not possible due to the size of the piece, please allow between 7-14 days delivery