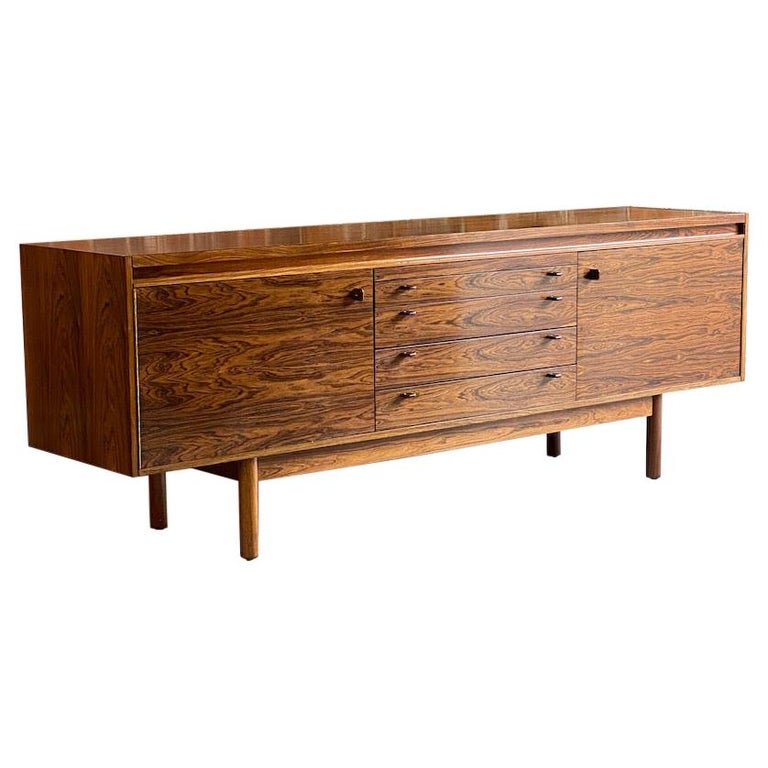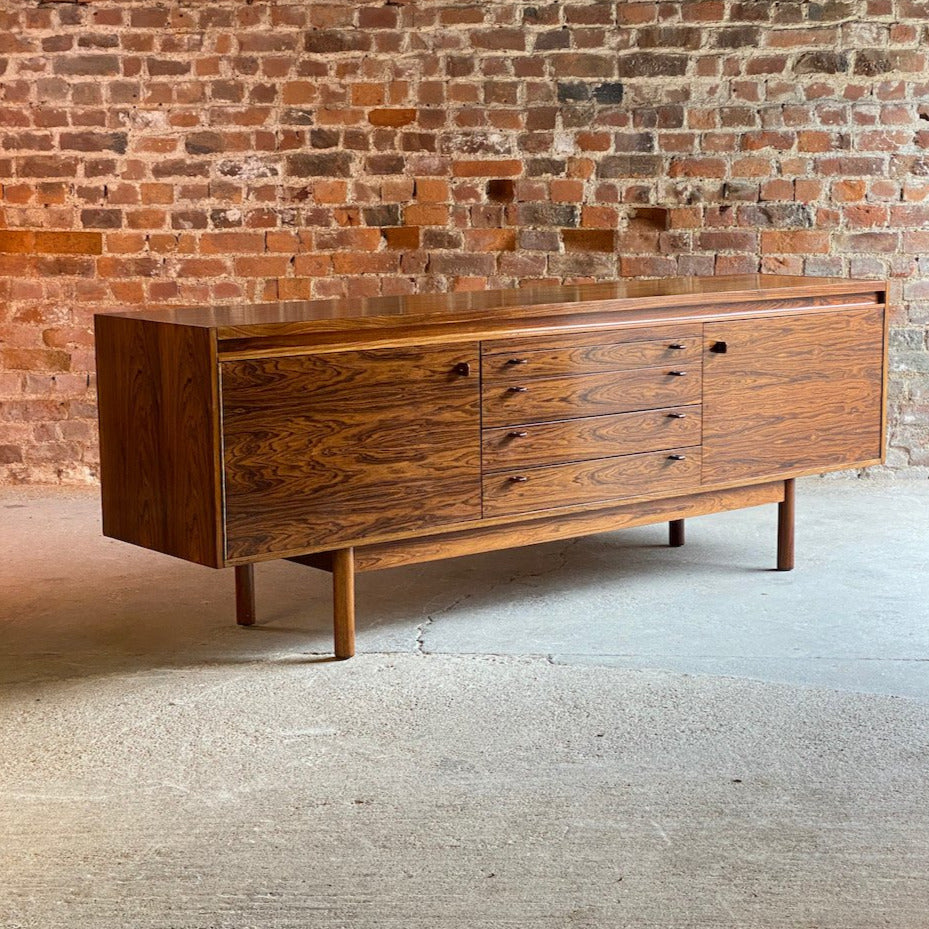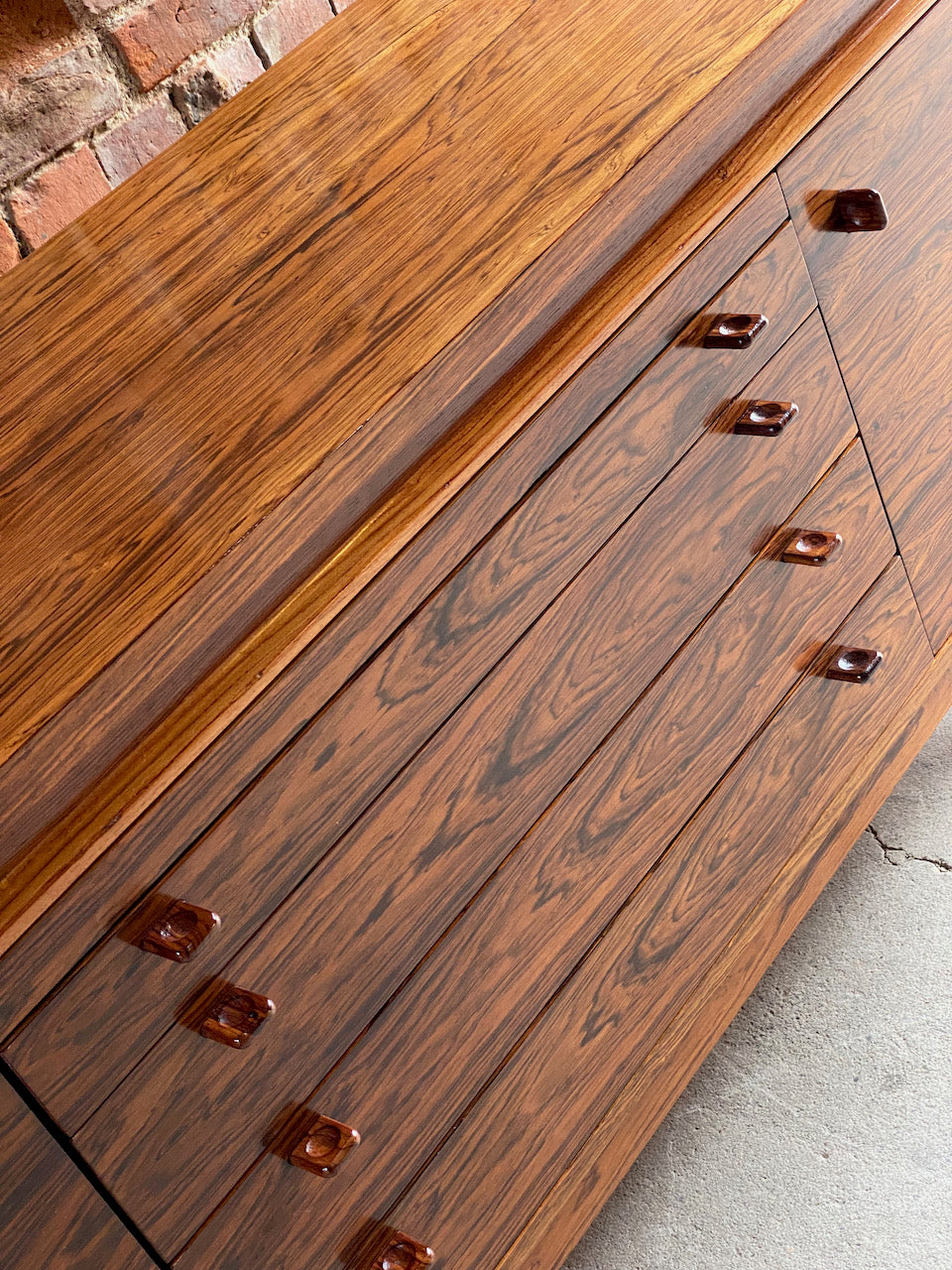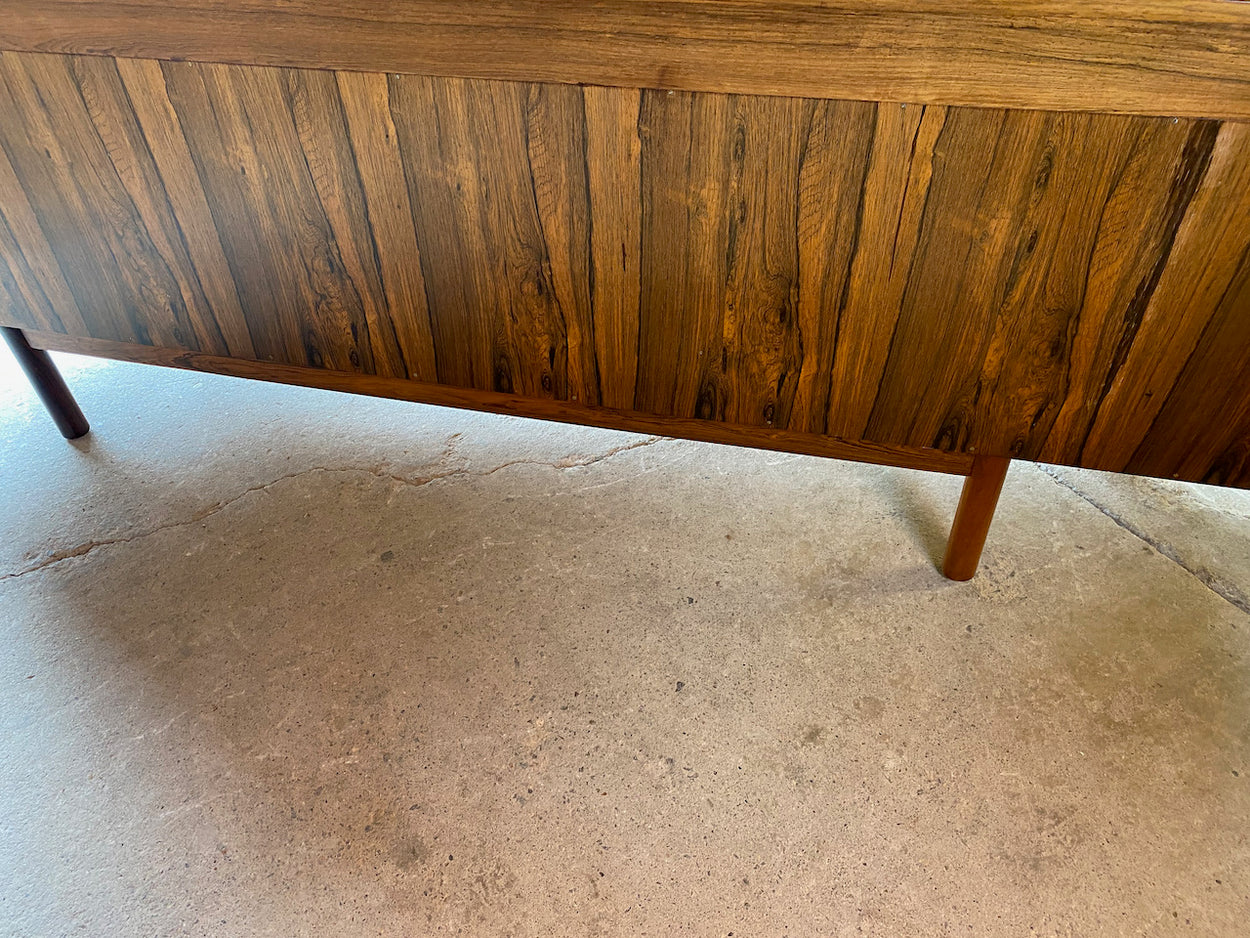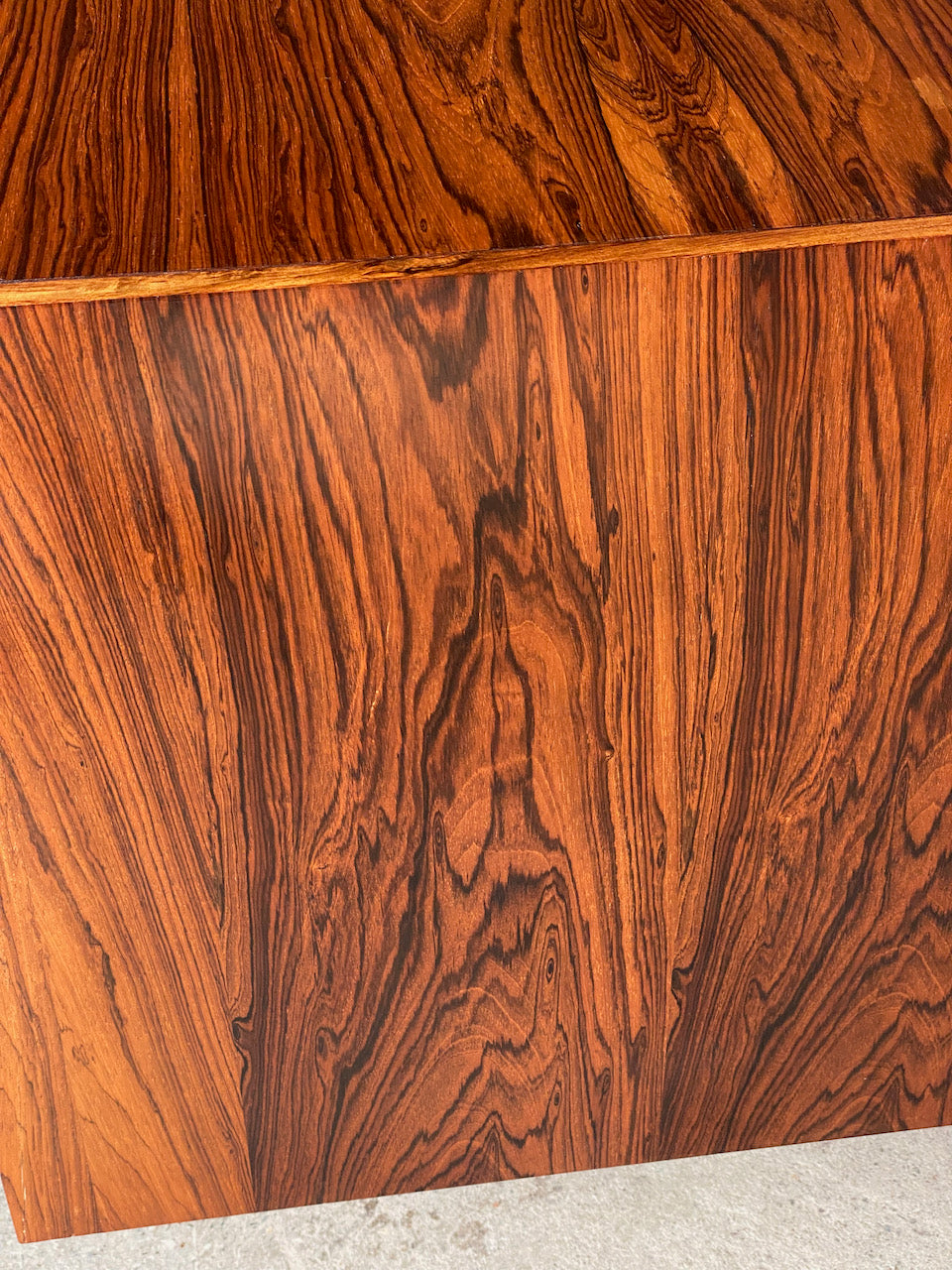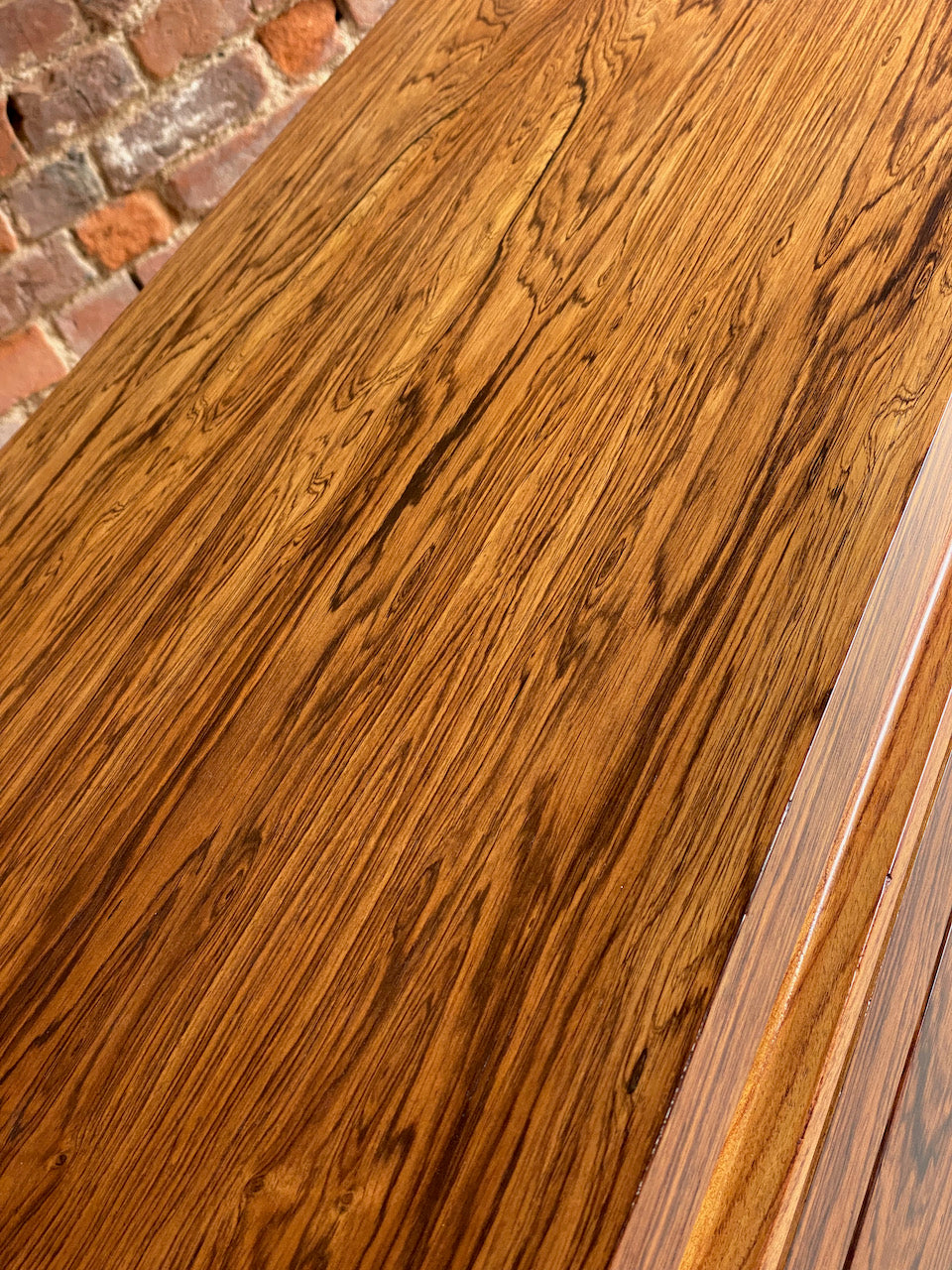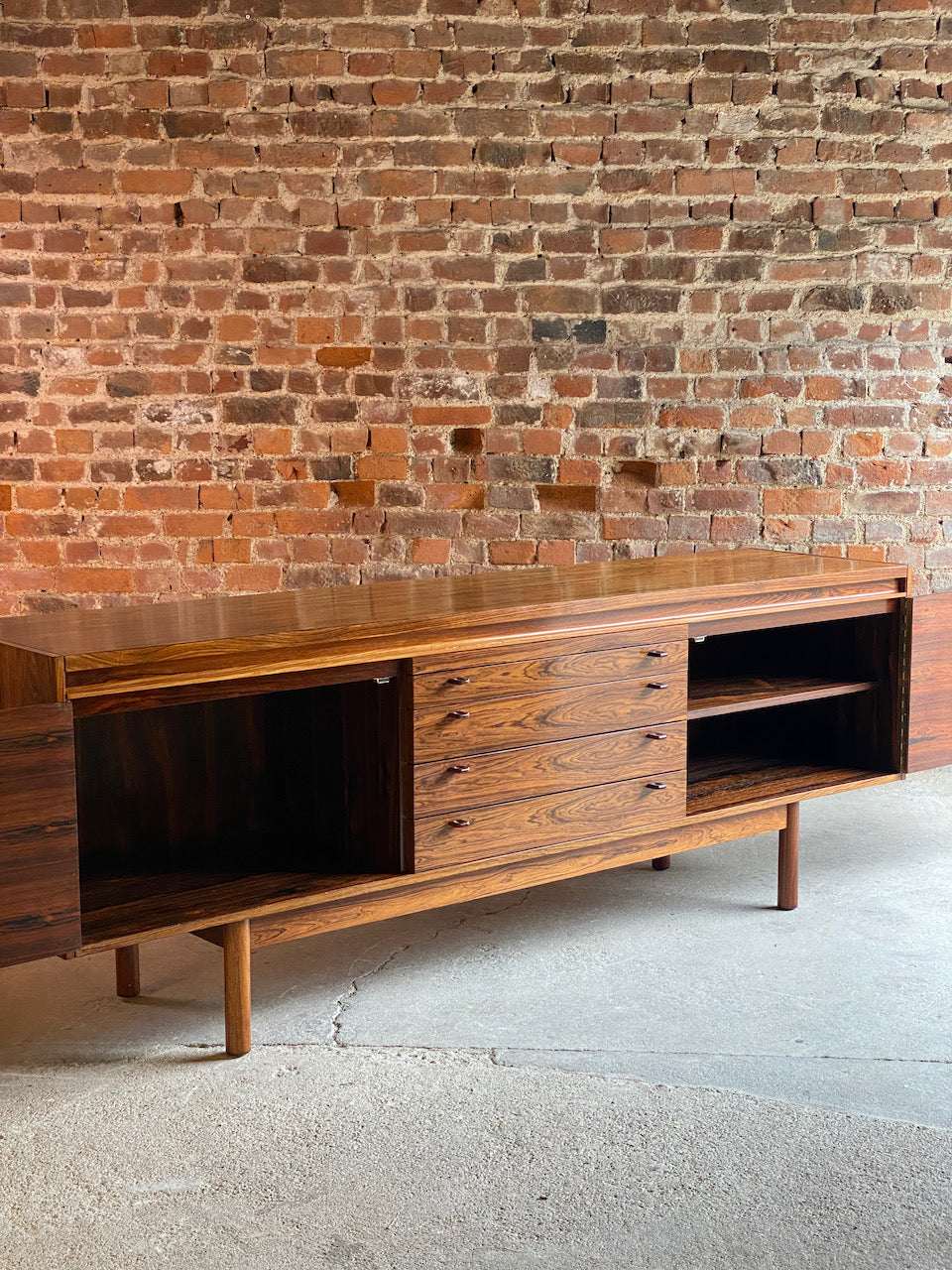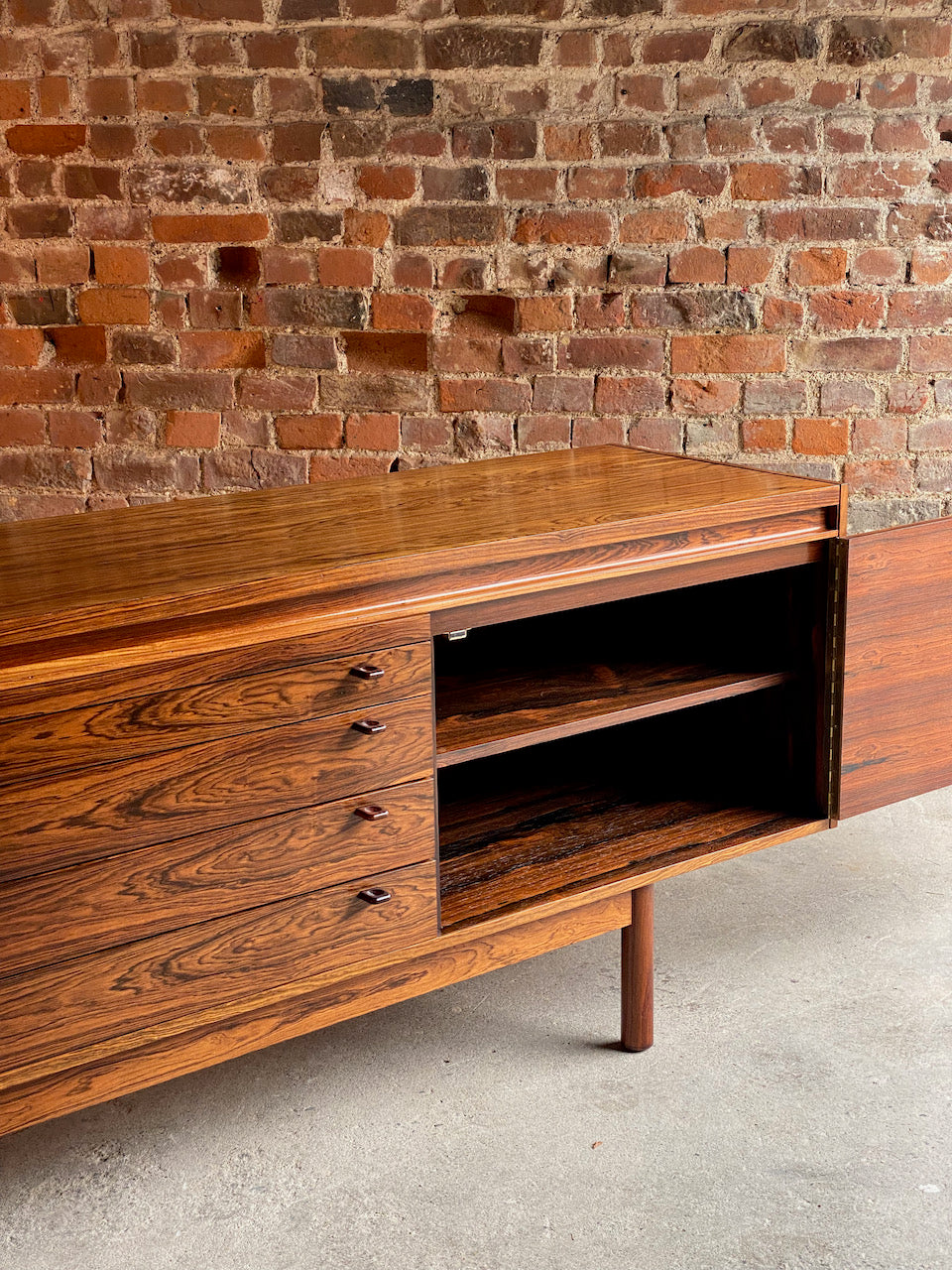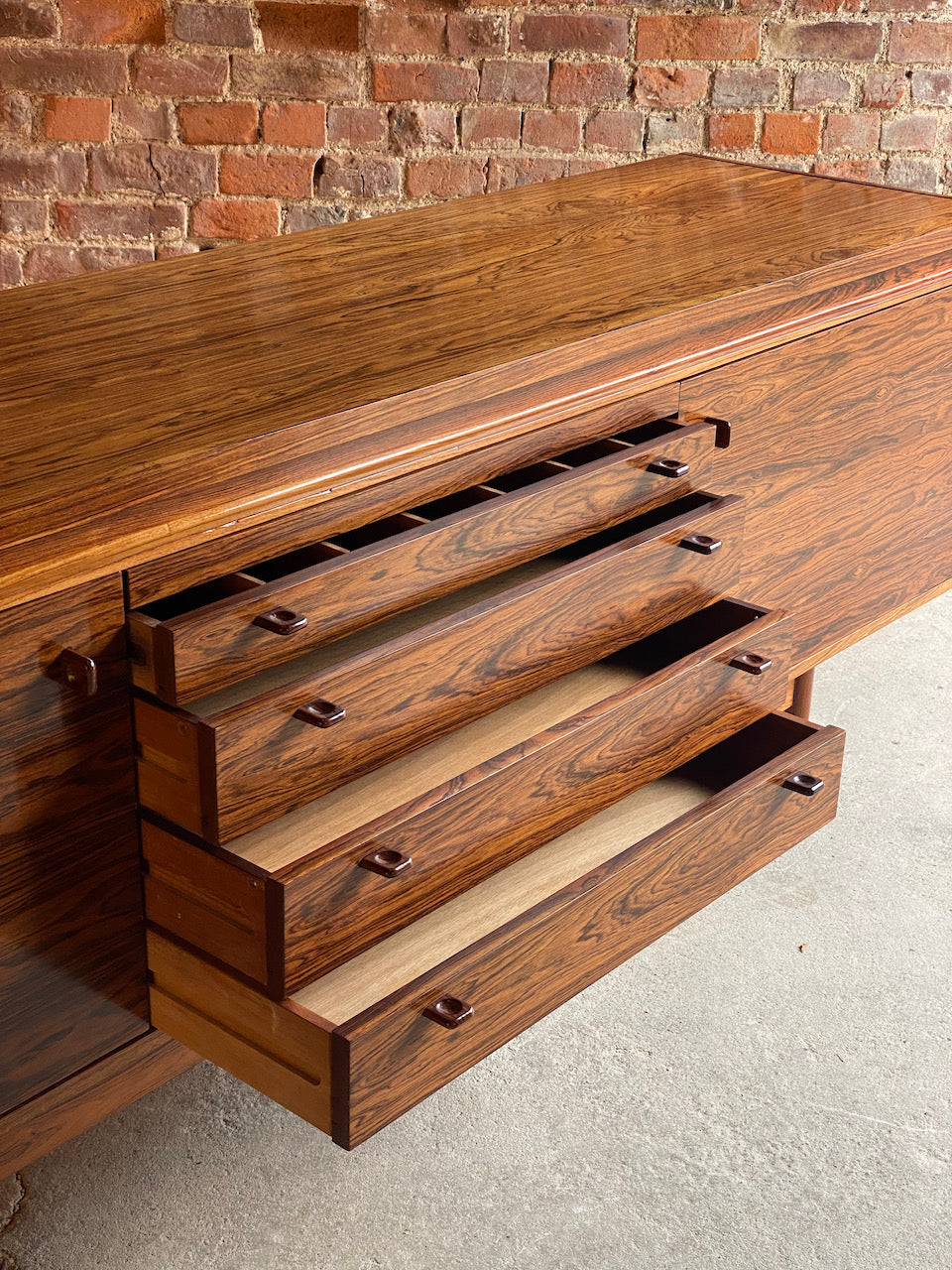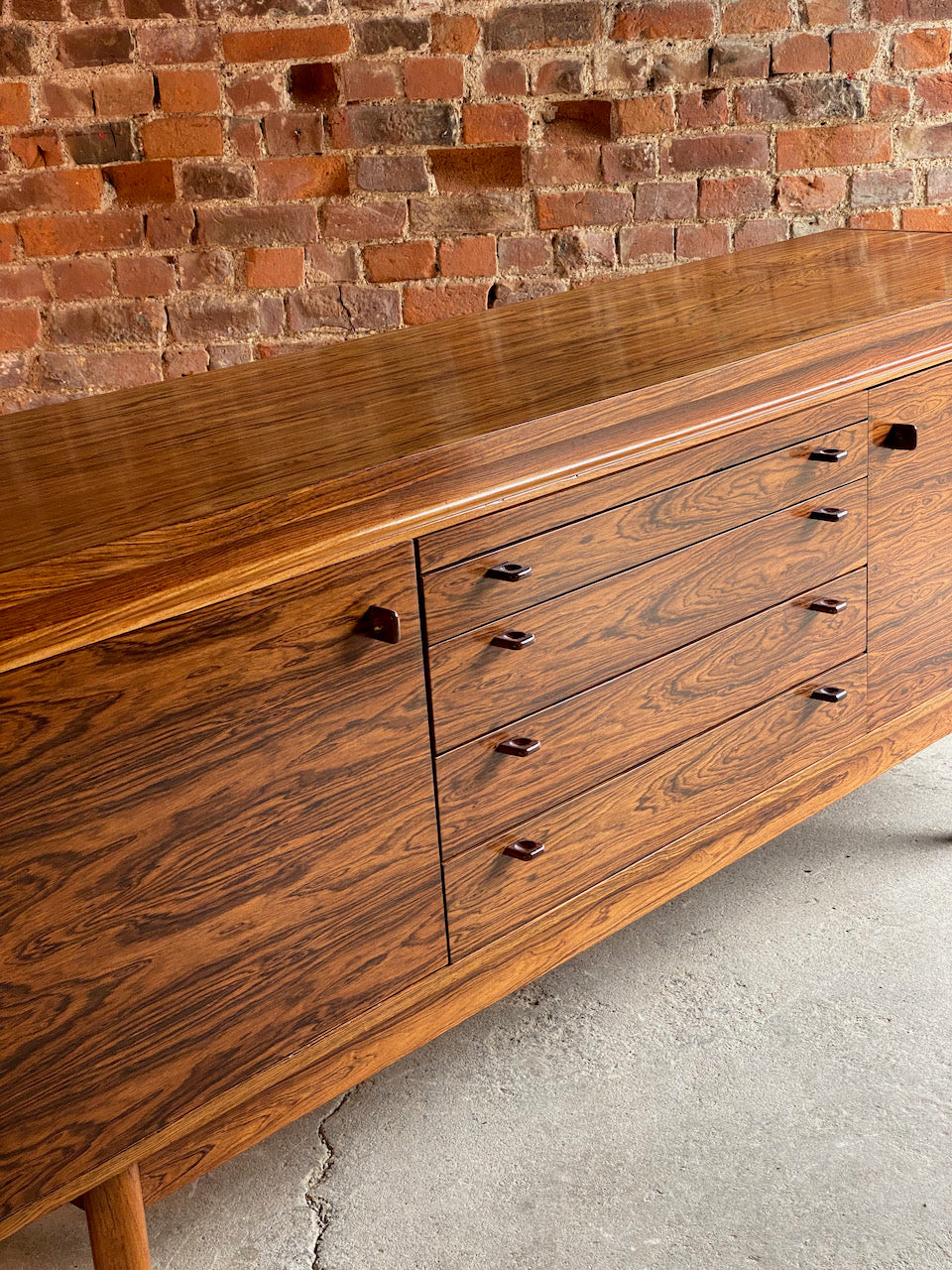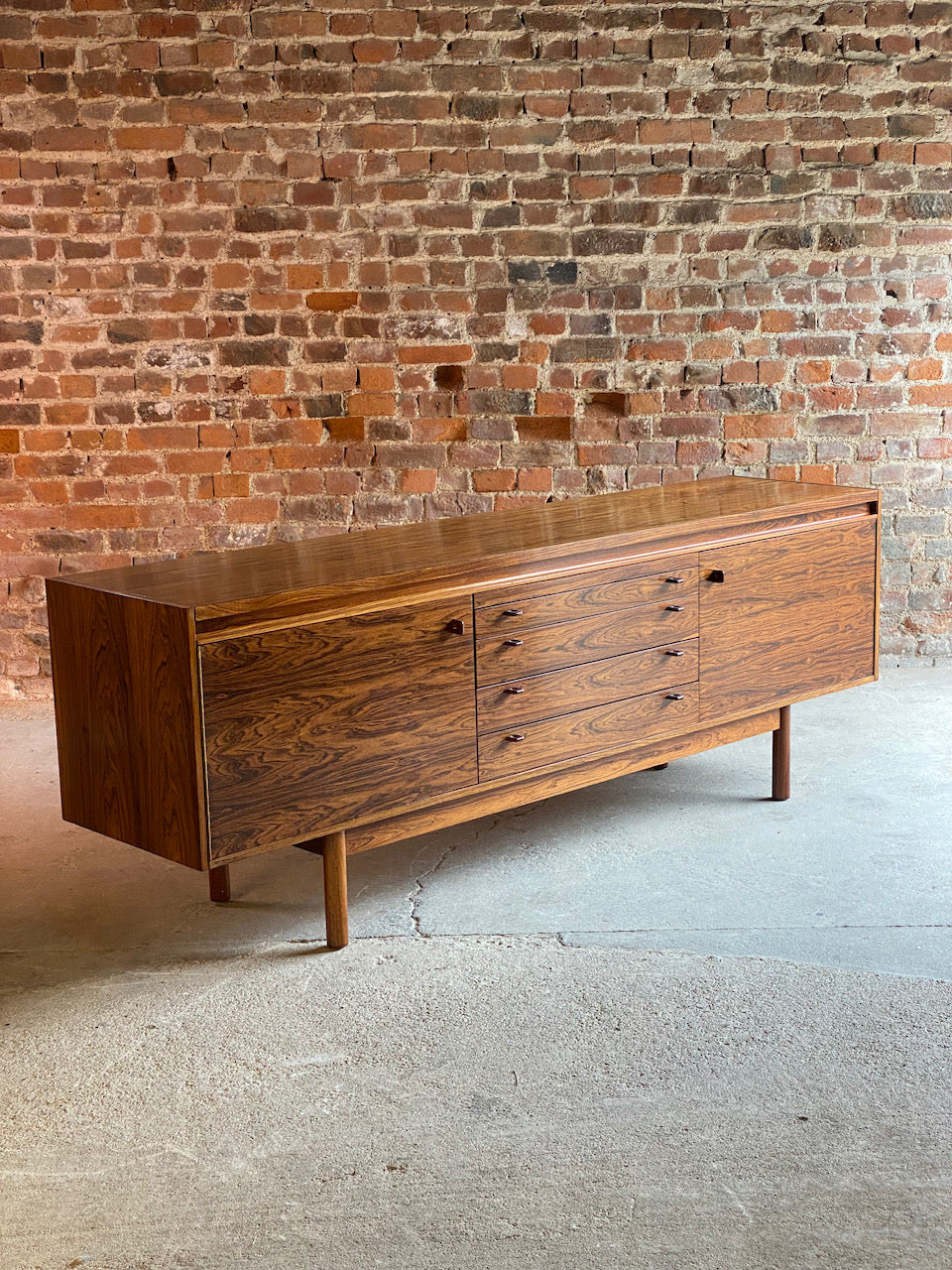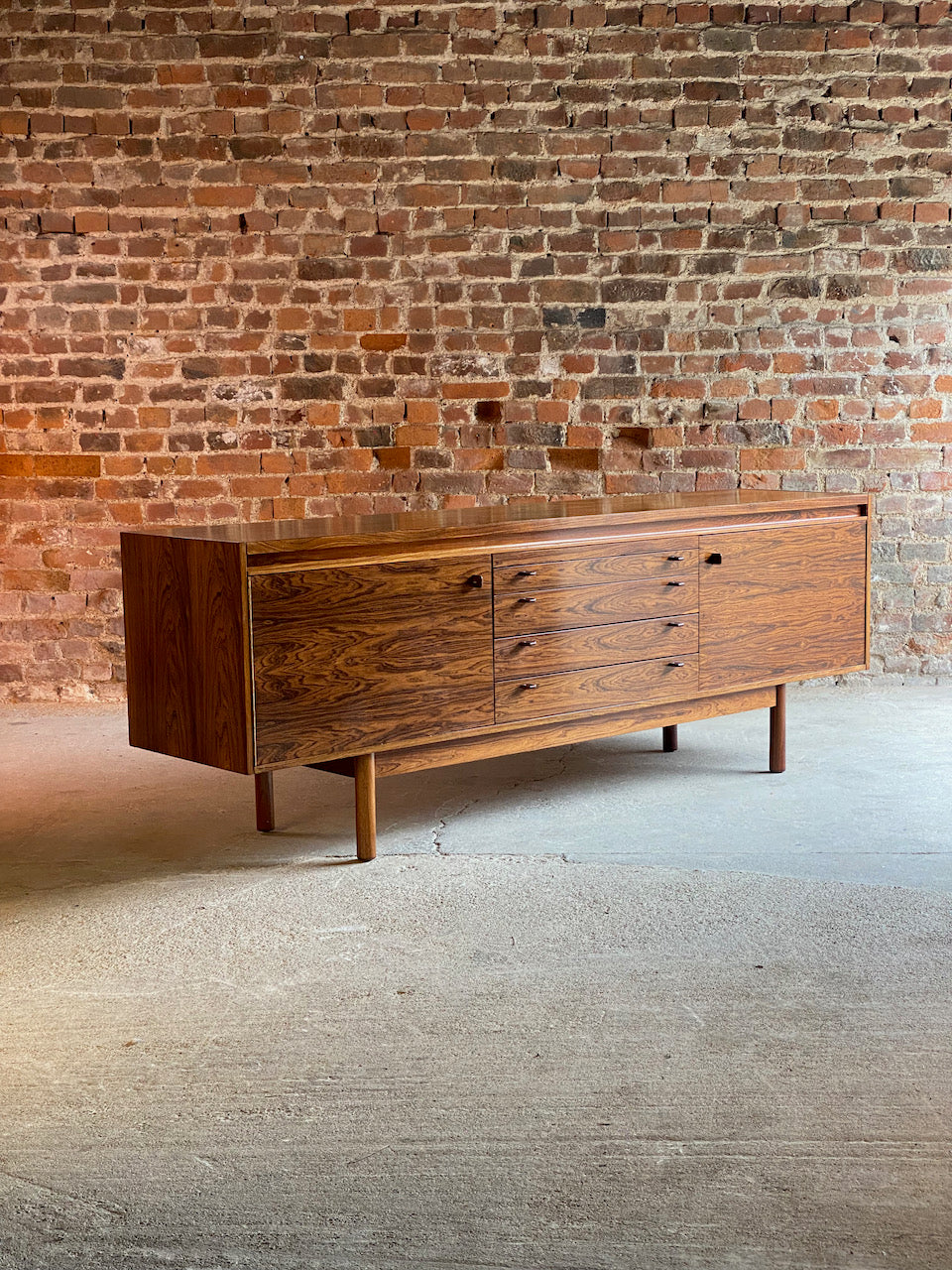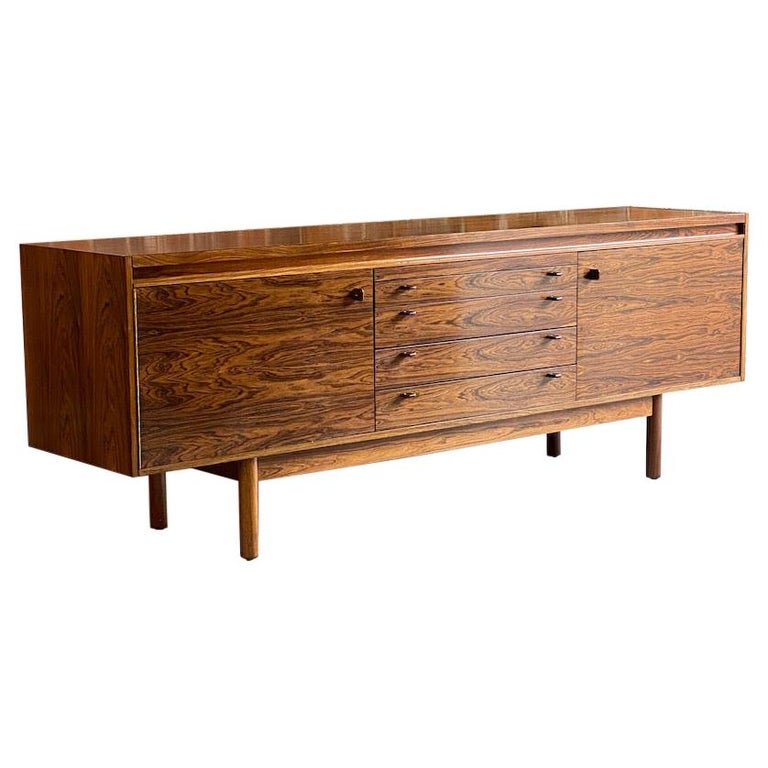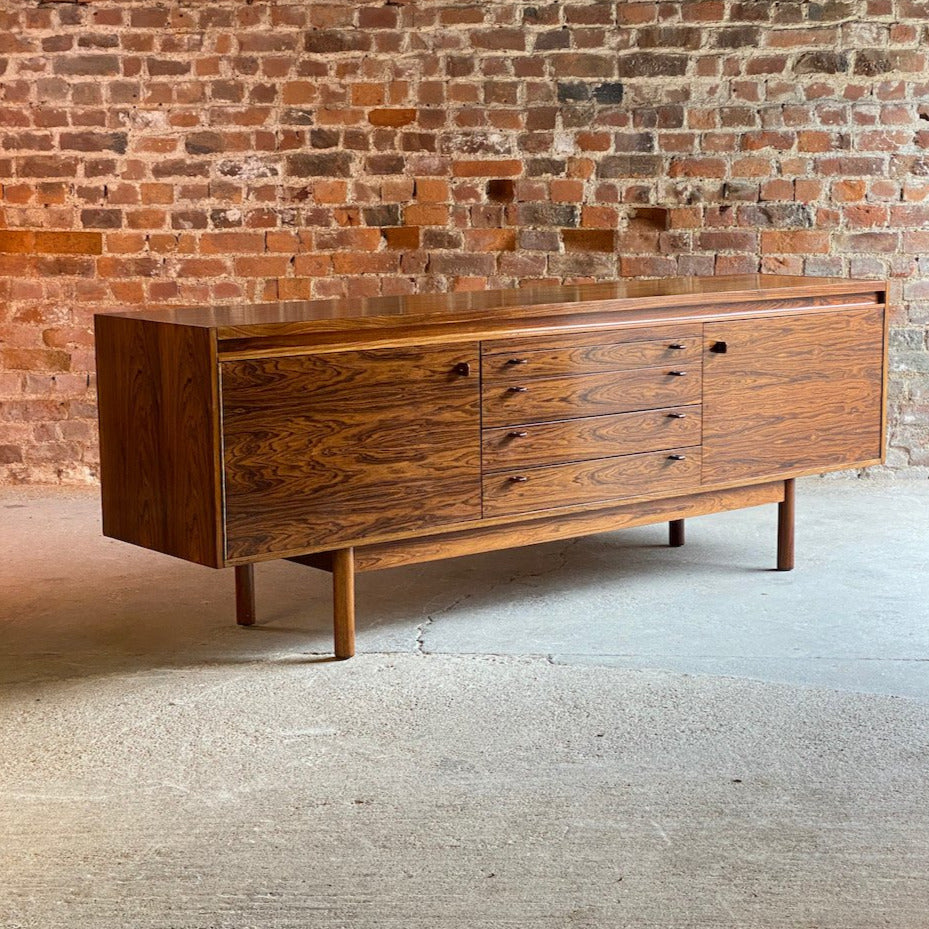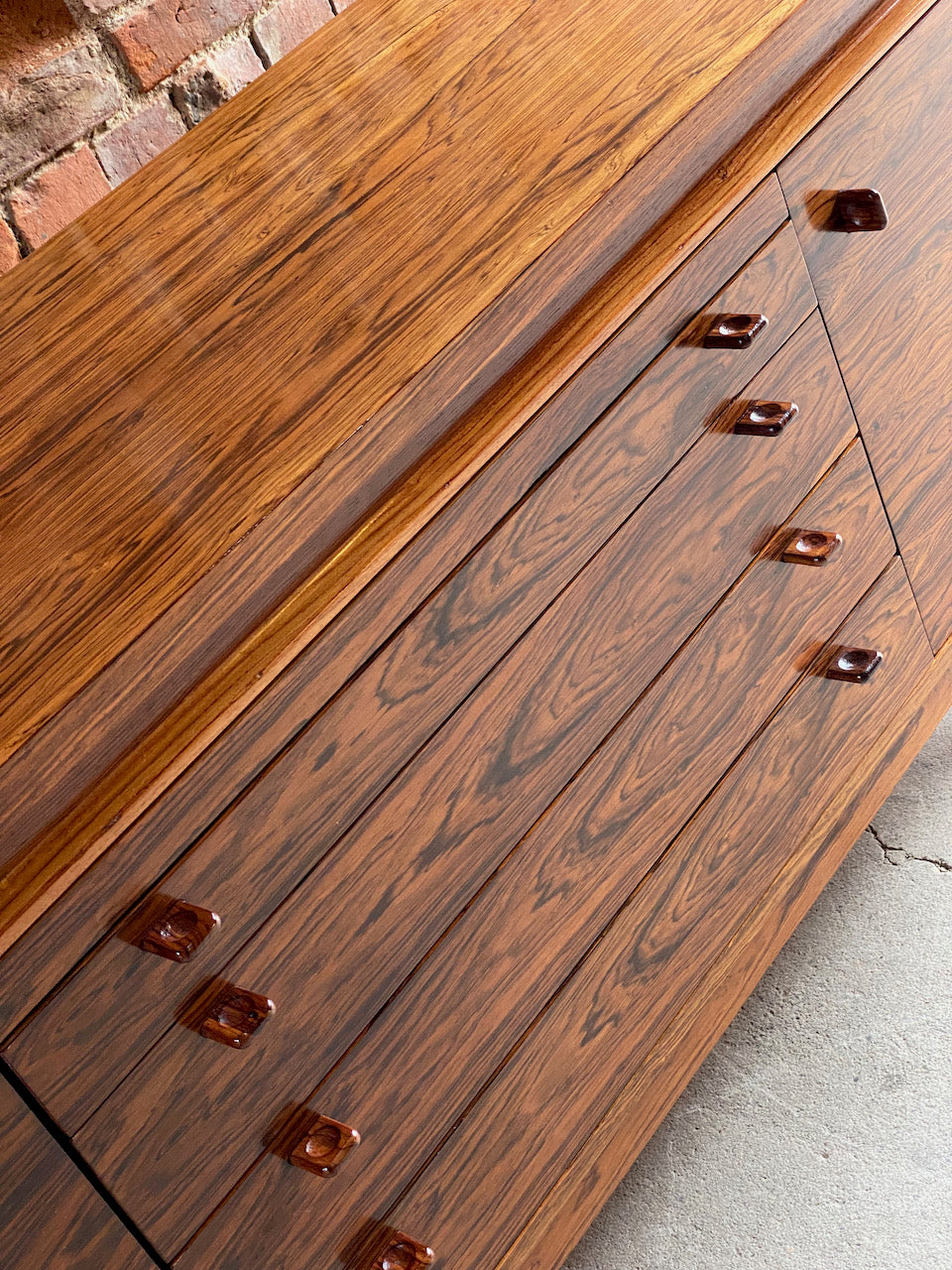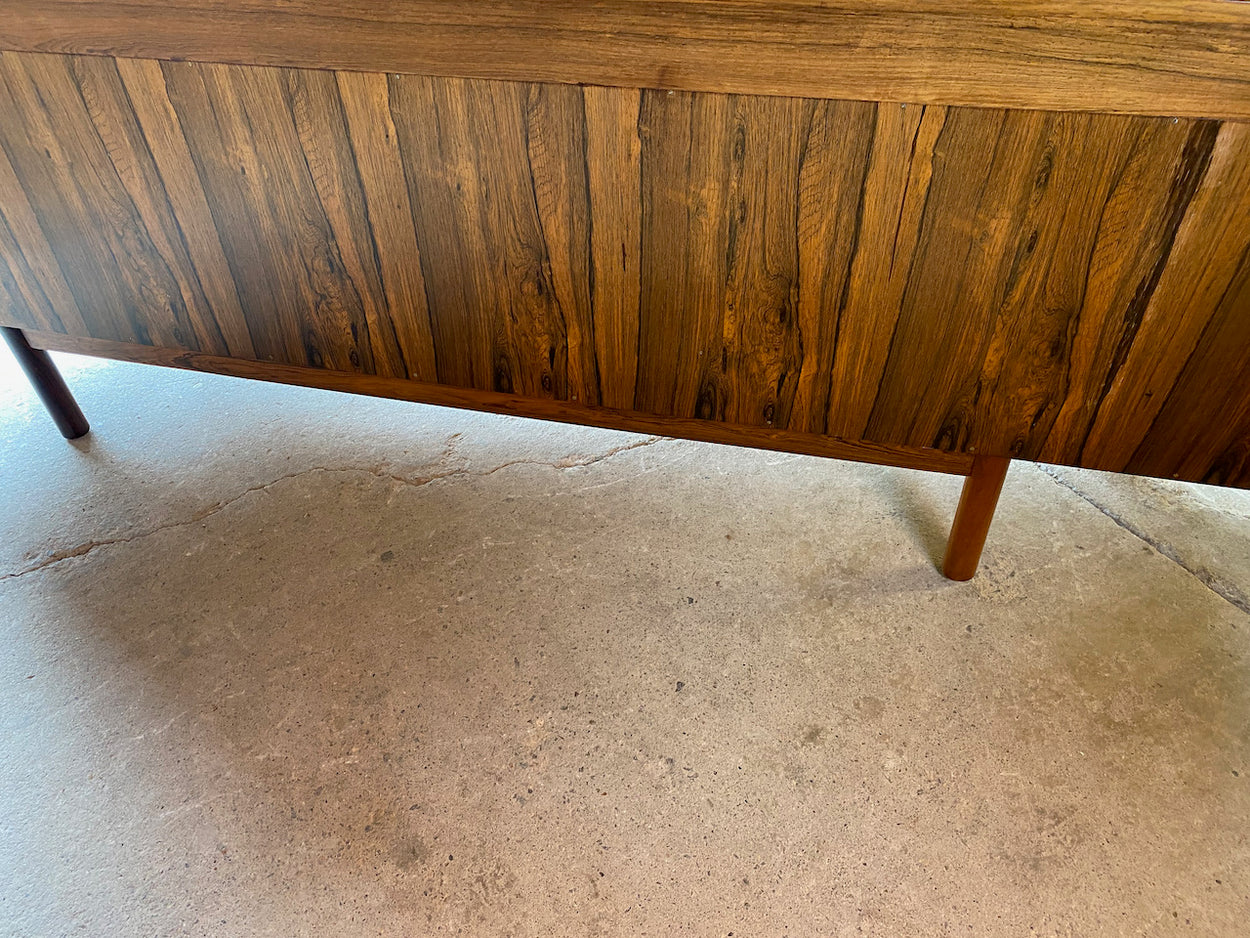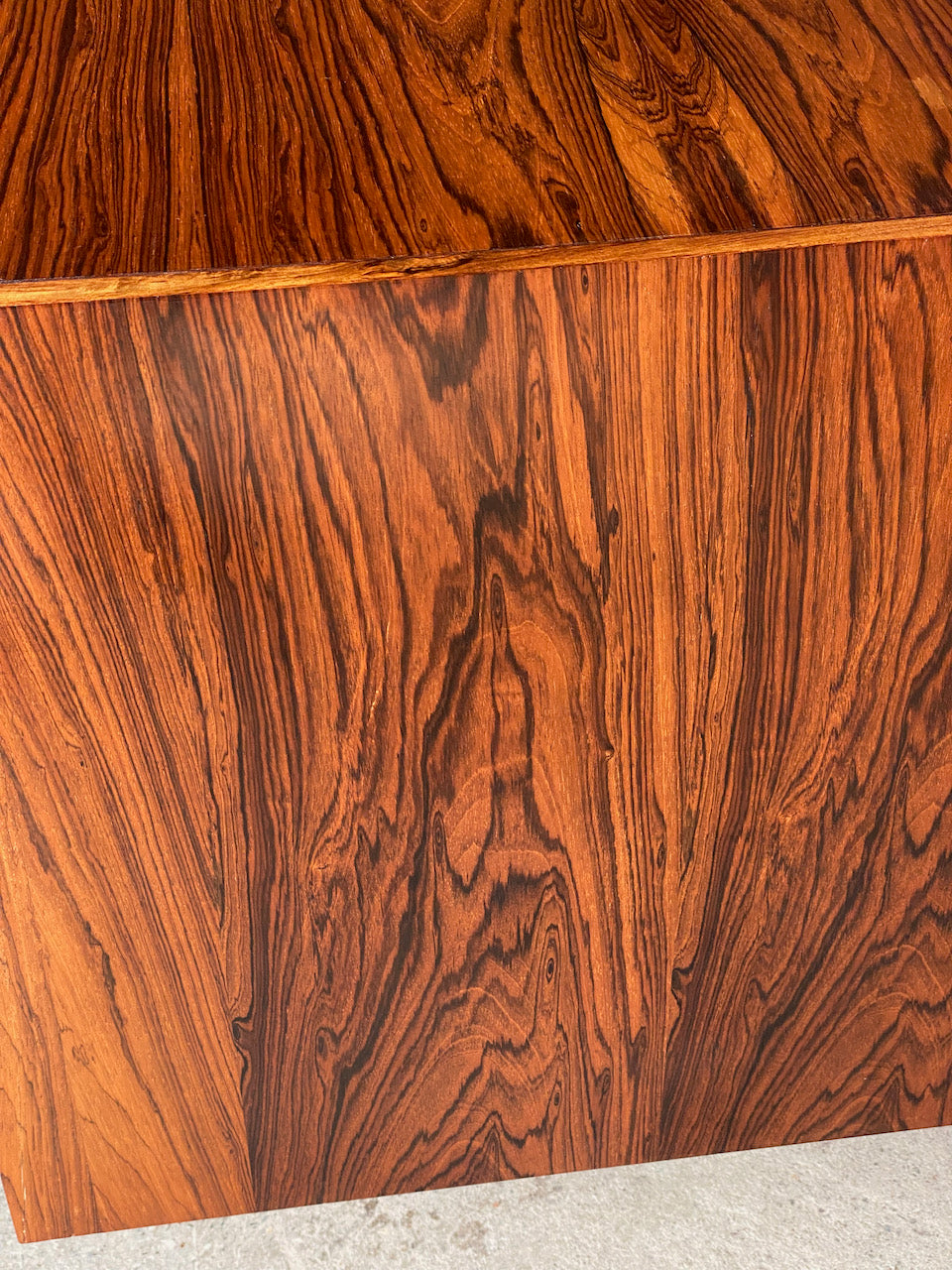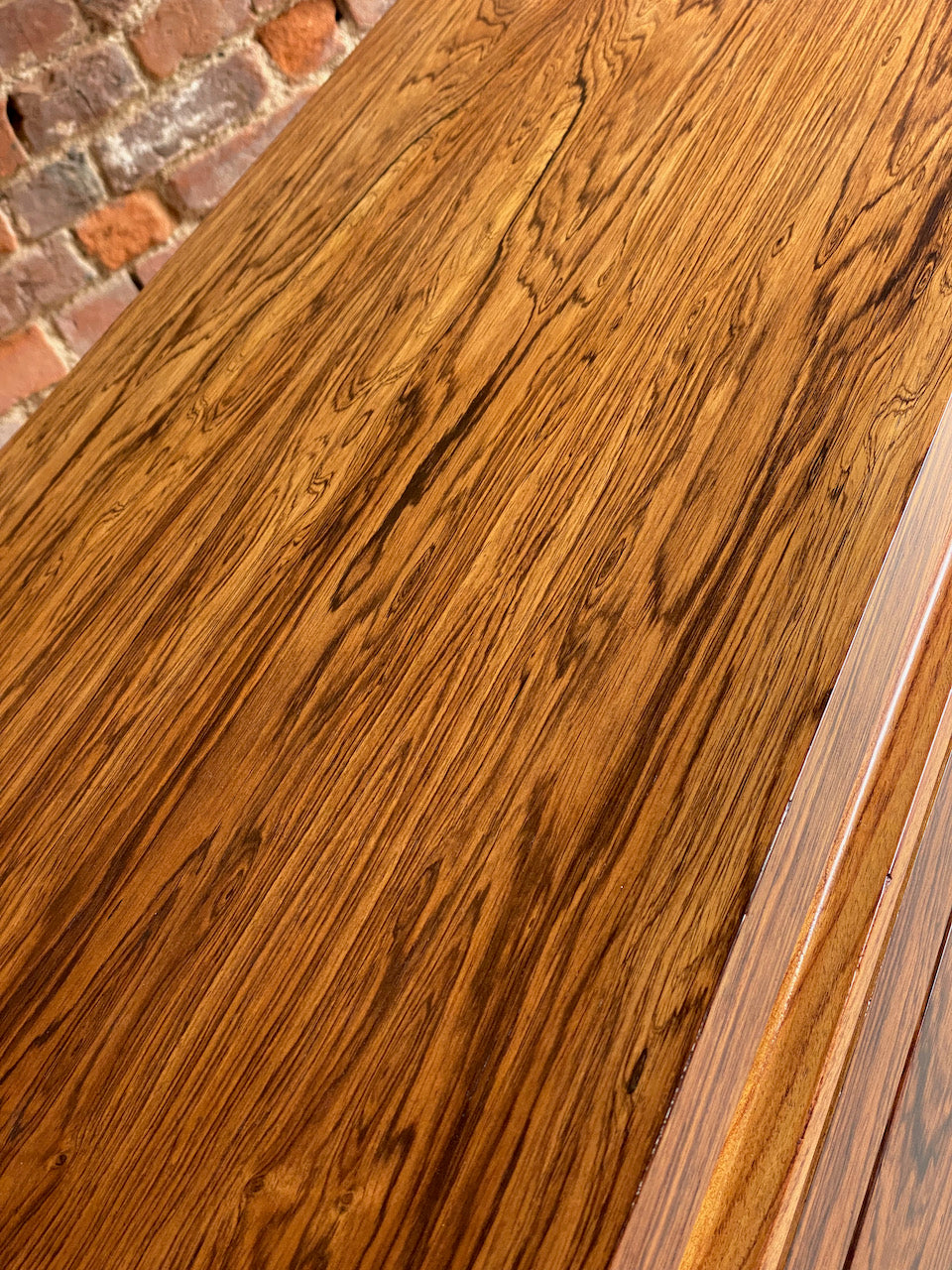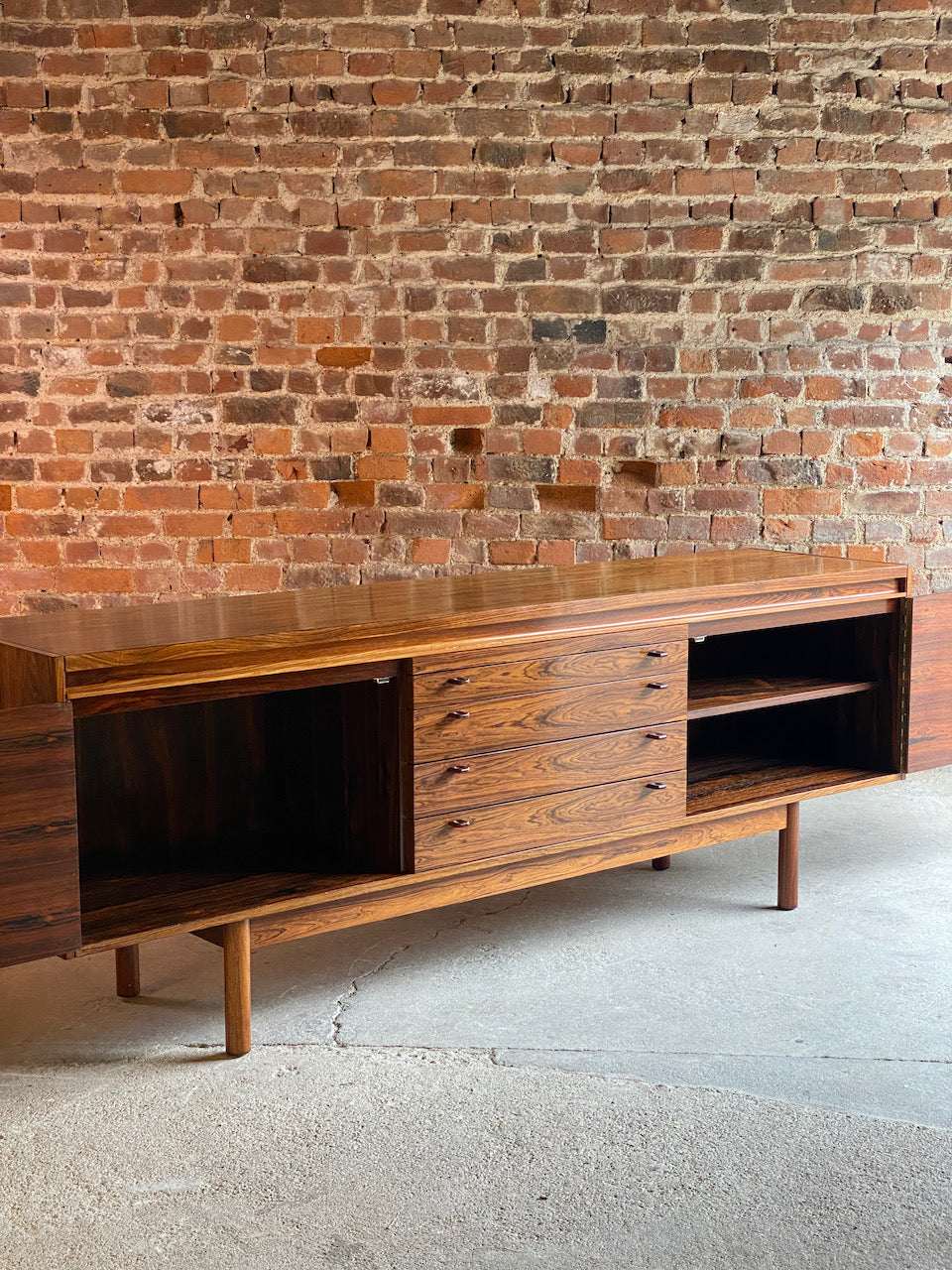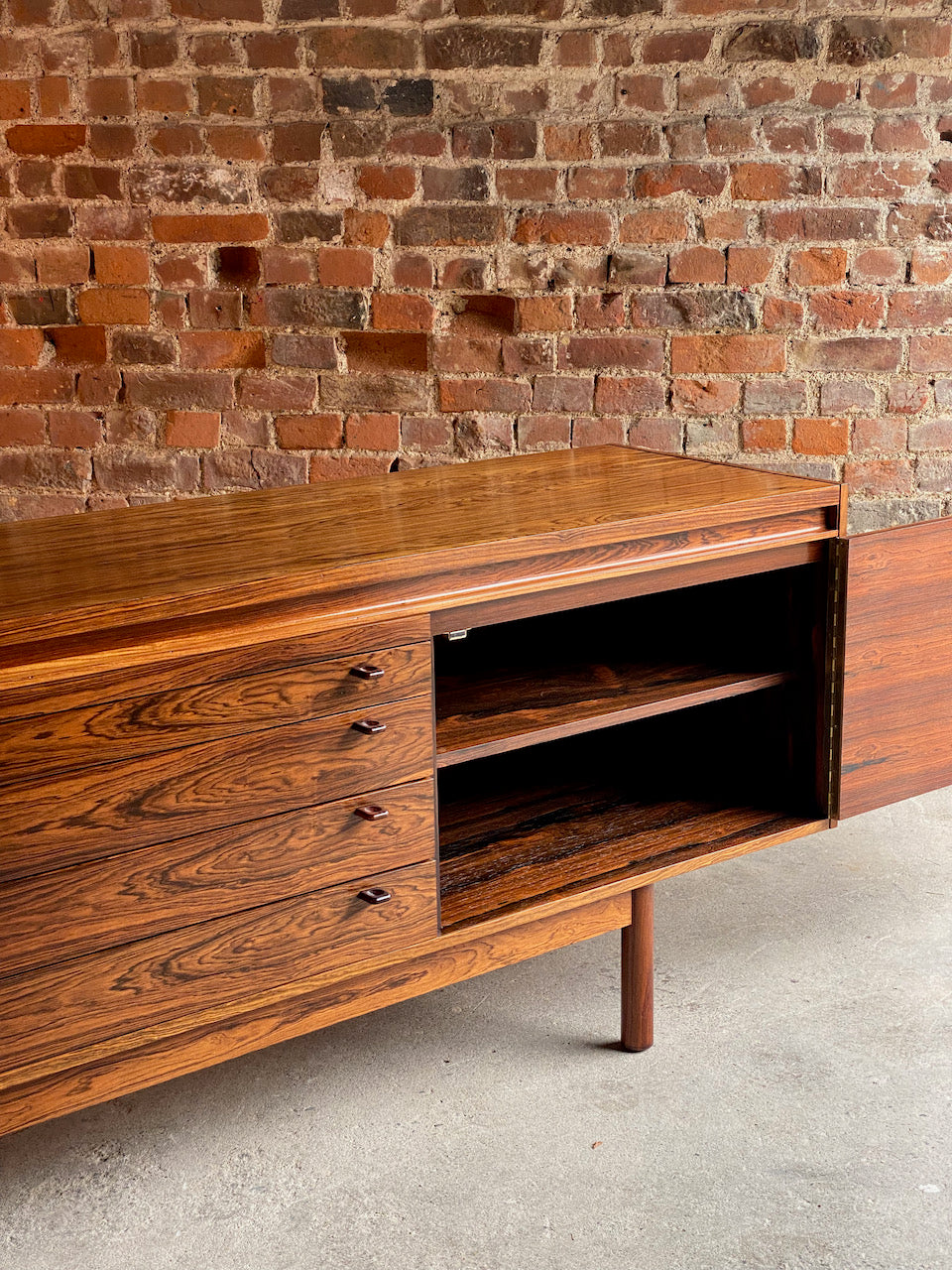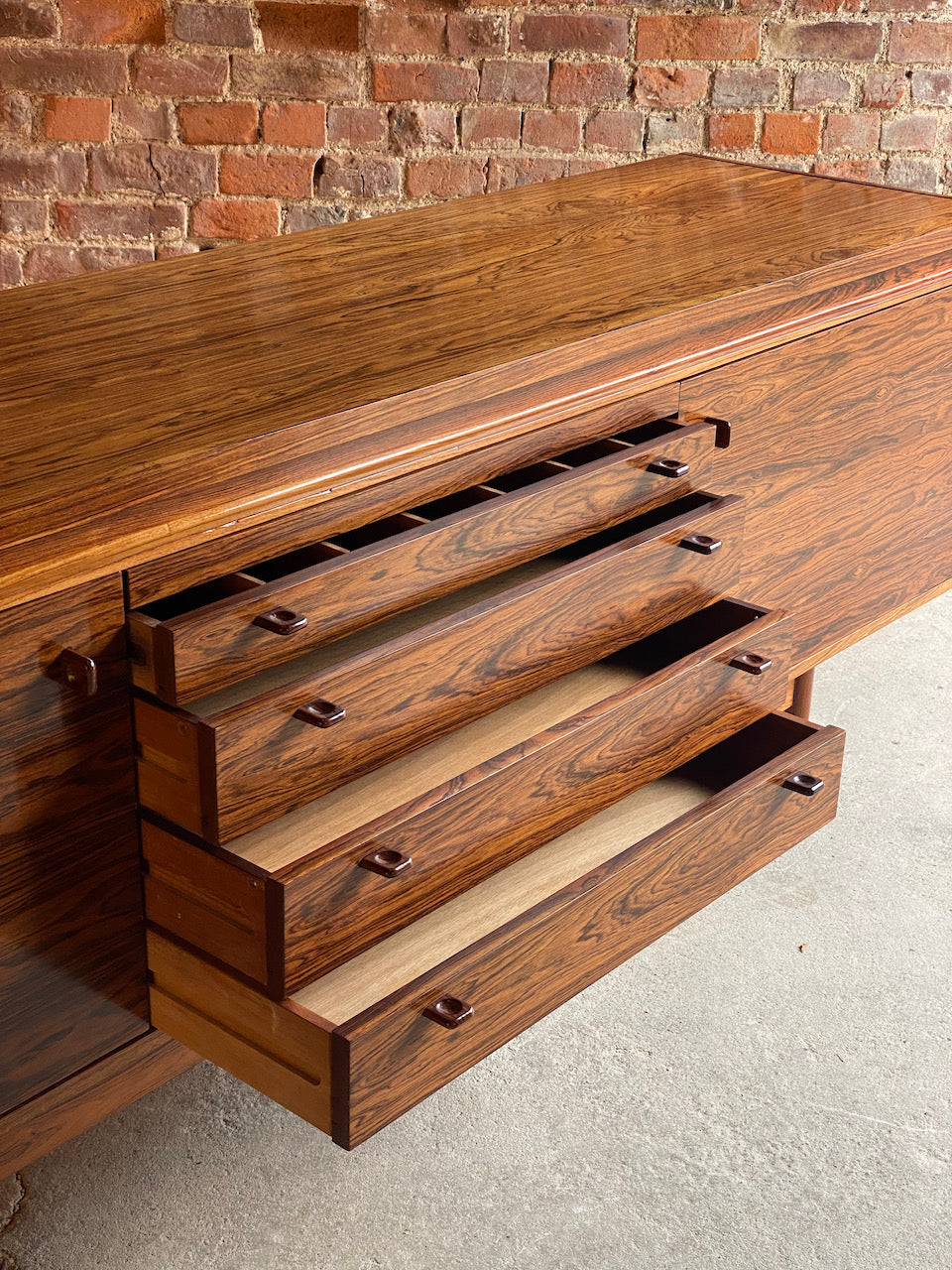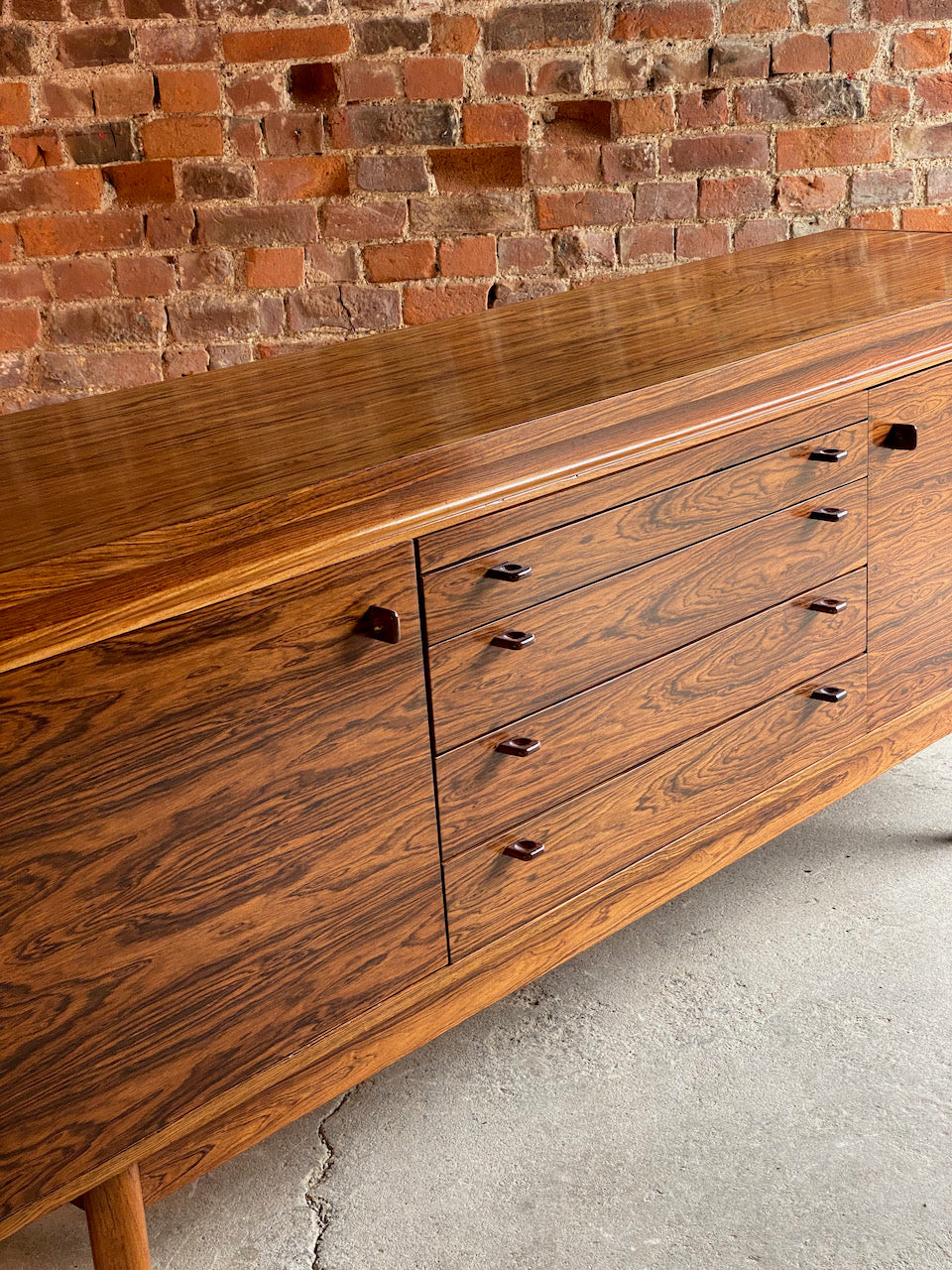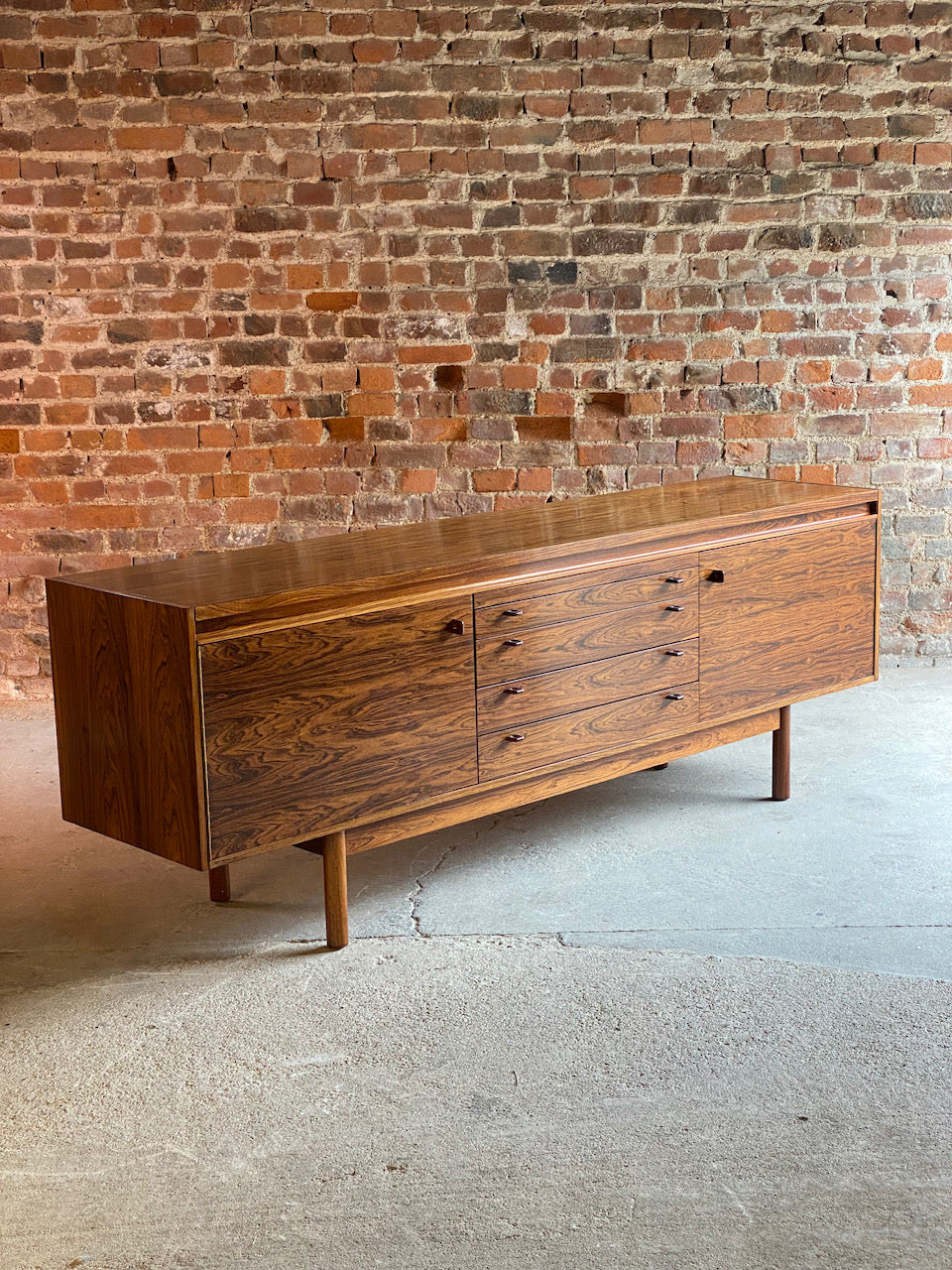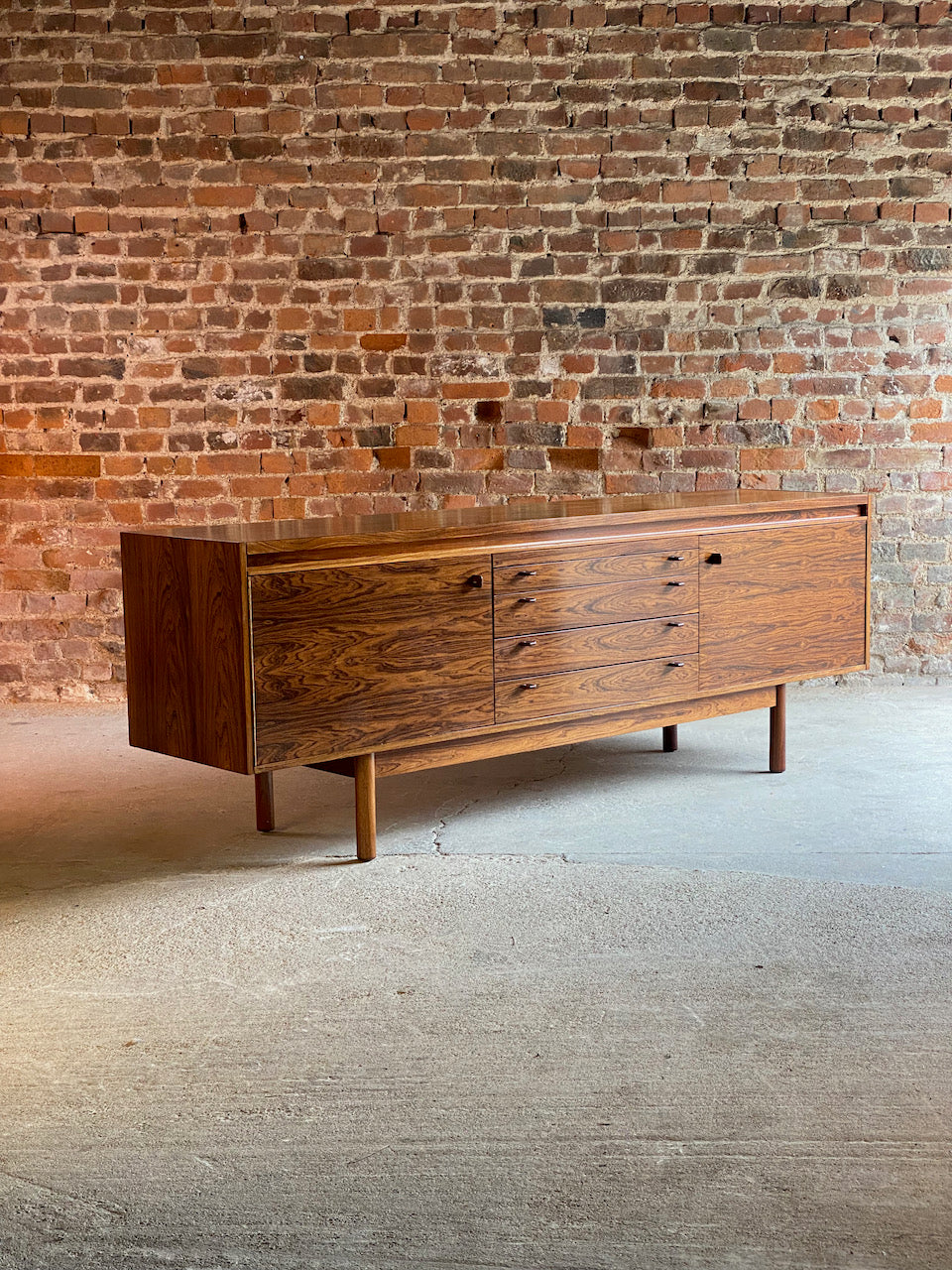 Robert Heritage Granville Rosewood Sideboard By Archie Shine Circa 1969
SOLD
Robert Heritage Granville Rosewood Sideboard By Archie Shine  Circa 1969
Magnificent Robert Heritage Granville Rosewood Sideboard by Archie Shine circa 1969, this rare and highly sought after sideboard with its wonderful figured Brazilian rosewood finish has four central drawers flanked by two cupboards either side with internal shelves raised on four  circular legs,  rich figured Brazilian rosewood patina, the sideboard has perfectly finished figured rosewood backside allowing it to be placed in the middle of the room as a room divider, reserve now.

Cities Certificate (Non-Transferable licence) No. 595871/01

Provenance:
The sideboard was purchased directly by the previous from Archie Shine himself at his Clapton factory in 1969.  His father who had a business in Lea Bridge Road a few minutes' walk from the factory, knew Archie, well and introduced them. The sideboard, as shown in the showroom, had a hotplate under a lid in the top, but he did not want this so this sideboard with a custom solid top was made specially for him.  It has been in his possession ever since for 52 years.

Background:

Robert Heritage was one of the top British furniture furniture designers of the mid 20th century . His collaboration with the high end maker Archie Shine carried on for many years , but he also designed pieces for many other less expensive British makers from the mid 1950s until well into the 1970s as well as being a highly influential lecturer and professor of furniture design . The great thing about Robert Heritage is that he came up with so many totally different design features , so there is no one Heritage look . He definitely was not a " one trick pony " as the variation in designs on sideboards alone is tremendous, yet all manage to look modern clean and contemporary even 50 or 60 years after they were designed .

Archie Shine was passionate about the pieces his company made, If a piece wasn't 100% right he wouldn't sell it, he'd rather destroy an item rather than have it leave his workshops with a minor fault, Archie Shine's standards were high so the furniture his company made was always top quality and high end, Archie Shine pieces were mainly sold through exclusive high end retailers like Harrods of London and Heals particularly in the 1960s when there were no financial constraints.

Mid Century
British Design
Robert Heritage
Archie Shine
Sideboard
Four Drawers
Two Cupboards
Rosewood
Circa 1969
Practical & Beautiful
Investment
This piece is offered in very good condition, wonderful rosewood patina no odours or smells.

Wide: 84"/ 214cm
Depth: 20" / 53cm
Height: 30" / 76cm

Free delivery is offered to England & Wales only when buyer pays full asking price, next day delivery is not possible due to the size of the piece, please allow between 7-14 days delivery